If you are a company or freelancer who actively uses social media, what you write under the photos on Instagram is as important as the photo you posted. In this blog, you will witness the importance of Instagram captions and their contribution to companies' brand awareness and communication with customers.
Are Captions Important on Instagram?
Of course yes! Captions are as important as the posts your business will present to the audience your business wants to reach. Unforgettable posts can be obtained when aesthetic and creative images, funny titles, and relevant hashtags are added.
Instagram captions have more impact than you think. With proper and understandable captions, it becomes almost impossible not to attract attention.
What Makes a Good Instagram Caption?
Having the best Instagram captions is about the areas you are interested in and the audience you are interacting with. Captions that can grab the attention of your company's general audience increase your engagement and make it more likely to appear in personalized ads from followers with the same interests. Even more important than the number of followers of a company or freelancer is interaction, it is directly proportional to the right captions and the value given to the wishes, problems, and suggestions of the followers. As a result, every Instagram post caption, and hashtag you write about your interests bring you success, collaboration, followers, and likes.
Instagram Captions that Change Over Time
Nothing stays the same as time flies by. Especially in a time when technology is so dominant, it becomes almost impossible for things to stay the same. These changes are reflected in the photos we take, the songs we sing, and even our captions.
The biggest example we can give is that the habits, jobs, and social lives of all people have been turned upside down with the global pandemic in 2020-2021. Before the pandemic, many people were using Instagram to show the places they visited. When this was blocked due to the pandemic, people started to be more creative with photos and captions.
We shared our hobbies and activities, especially during our stay at home. We wrote captions about them. Let's take a look at these!
Best Instagram Captions 2021
" Destination: isolation."
" I made delicious bread. The best thing quarantine has taught!"
" Another puzzle is done."
" I'm starting to like zoom meetings."
" I can't wait for the drive-in cinema!"
" I made the famous TikTok dalgona coffee. It looks delicious yummy!"
" Quarantine is the perfect time to glow up!"
" Photo dump"
Photo dump is to share more than one photo in the same post, but another difference is that it is the photos you take while living the moment without thinking about it. At the end of a day or a few days, you can write this caption under the photos you post without editing. You can personalize it as you wish by tagging people or typing the date of that day.
Top Instagram Captions for Business
Inspiring Captions
Write about inspiring captions could be difficult. Any company can use such captions. Companies that encourage their followers and get them to do something always leave a positive impact. In this way, they are remembered more in the market. Those who read the captions feel enough, as a result, the interaction of the Instagram page increases.If you have the instinct to take action while looking at the company's photos, they have succeeded. For example;
" Don't quit your dream."
" Old keys won't open new doors"
" Working on myself, for myself, by myself…"
" Don't call it a daydream, call it a plan"
" Your only limit is your mind."
For example in this Instagram caption, Nike says that your gender doesn't matter, that how you look doesn't distract you from what you want to do.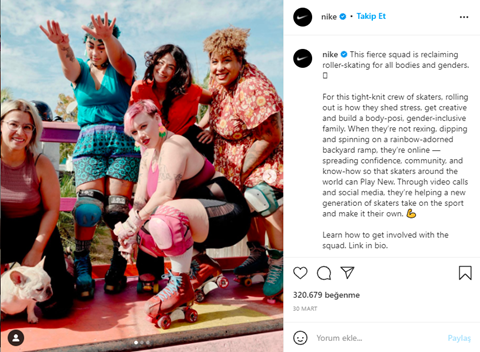 'Get to Know Us' Captions
Such captions are important for brand awareness and credibility. It allows it to establish more interactive communication with its customers. While promoting both itself and the product they offer, the brand increases it's interaction with it's customers by asking questions in its captions. For example;
'' What do you prefer, hamburger or pizza?''
'' We know your time is valuable, but it's important to relax and reward yourself! Call us today and take advantage of our massage options. What about your favorite relaxation method?''
'' We all know how important it is to drink water. Do you think you are drinking enough water? You can download our app to keep track of how much water you drink! 🙂 ''
'' Want to make managing your money easy? You can do it in 5 steps by clicking the link in the bio.''
The Instagram account gets to know its followers by asking questions in this Instagram thread and reaches more people by increasing their interaction.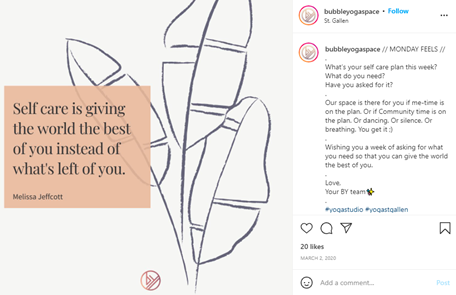 Feedback Captions
Feedback is vital for companies. The reason for this is to gain new customers and, more importantly, not to lose existing customers. Sharing the feedback both individually and for everyone to see will be a great improvement for brand reliability. If we're going to give an example;
'' Thanks to the feedback from many of our users, we are happy to present our new interface to you.''
'' We would like to thank our customers for supporting us in the growth process. We would like to say that we will have a gift for them.''
'' We are proud to share with you the success of the fastest growing website of the year! We are excited to share our new update with you.''
New Product Captions
In your posts, you directly present the products that you have just released or that you plan to release to your customers. You can accurately predict the success rate of the product you are offering in proportion to the comments and the number of likes under the post.
Captions will be the most important communication source for companies. You can describe your product as you want and arrange it in a way that attracts the attention of your customers. Knowing what your target audience likes will always take your brand value and recognition one step further.
" New ones are being added to our spot of stain-proof shirts that you all like very much! We are happy to present you with new colors and patterns."
" We brought together your favorite chocolate flavors. Our 5 different kinds of chocolate packages will be in our stores soon. "
Thanks to the well-taken product photo, it increases the possibility of reading the caption, so that its followers have information about the product. And followers will look forward to trying the new product.
Daily Captions
The fact that brands use their Instagram accounts only for business can cause some of their followers to be unfollowed. To prevent this, brands will be able to keep the customer's interest alive by writing different captions related to the products they offer. Or, being sensitive about periodical important events and writing captions about them can cause them to gain customers.
Captions for Tutorials
Helping other people on a subject you are a professional and doing it from Instagram posts and captions, not one-on-one, can inform a larger audience. Doing this step by step with captions and videos can solve the customer's problems without question marks. Here are examples;
'' We made a video for those who have difficulty using our application. Just click the link to watch our video!''
'' Good news to our followers who like the arrangement of our photos and ask questions about it! If you follow the instructions below from our photo-editing application that we have made for you, you can reach the image you asked us.''
The photo editing made by the Instagram page attracts the attention of its followers and makes the tutorial result predictable for them and becomes helpful.
Best Instagram Captions for Selfies
The most important thing that we do not get tired of sharing on Instagram, from young to old, are selfies. We are undecided about what we should write as captions on the selfies shared for years. Being creative about captions is much more difficult than other content since it is a photo that you will only share your face.
Whether you share your selfie with your pet, your new haircut, make-up, or your successful post-workout smile, the captions below will immortalize the memories in your photos. Keep in mind! The best Instagram captions ever are your best self-expression. Each caption will start to reflect you more than the next.
Here are the best Instagram captions for you!
" If you're looking for a sign, just listen to your heart."
"Create your happiness."
"But first, let me check my makeup."
"Only good vibes."
"Less perfection, more authenticity."
"Just stay in the moment."
"Life is better when you're positive."
"Be your kind of beautiful."
"Home is where my cat is."
"I only dress up for mirror selfies these quarantine days."
As a result, Instagram is a friendly communication place therefore the captions you write under the photos you share both in your company and your accounts are the things that show your attitude in general. If you are a company the age of your target audience, their interests and professions are some of the factors that affect Instagram captions. If you want to increase your interaction with your target audience, you should try to get to know them closely. In this recognition work, monthly and annual statistical data can be used. If you know the statistics of the topics your target audience interacts with and your company's goals. You can write the top Instagram captions.