In this article, we'll tell you about the story behind Juphy's success on AppSumo. But first of all, the whole team would like to highlight the fact that we definitely owe this success to our growing community of "Juphy Lovers" and customers. Since day 1, we always perceived Juphy's customers as our most valuable investors and advocates as they trusted and supported Juphy since the earliest days, and gave us incredible feedback to make Juphy a product loved by everyone! Therefore, we are truly thankful to our users and promise that no matter the direction of Juphy, our lifetime deal purchasers will always have equal opportunities as subscribers.
If you would also like to become a part of our growing community; please follow the links to our community page on Facebook and public product roadmap:
https://www.facebook.com/groups/juphyrians
Now let's dive into the story behind Juphy's campaign on AppSumo! 🌮
What is AppSumo?
AppSumo is a daily deals website for digitally distributed goods and online services with over two million monthly visits by early adaptors, technology geeks, and tech-savvy users from all over the world, but mainly from the United States. They carefully select and promote SaaS products with a significant discount to their audience, but despite the discount, it takes substantial effort to succeed on AppSumo, as its visitors are highly experienced SaaS users with high expectations. The best-selling ones are easy to set up, with a great customer support team and an appealing lifetime deal price.
What is Juphy and the story behind why we collaborated with AppSumo?
Juphy is a collaborative unified inbox solution for businesses that enables customer support teams to manage and respond to all their user engagements from email, social media, chat, and third-party review sites in a single dashboard. Our mission is to help companies speed up their customer support and improve team collaboration, leading to faster response times and better customer service.
We operate in a highly competitive market with a total market size of $110 billion, which is led by major help desk companies such as Zendesk and Zohodesk. Since the market is huge and the competition is tough, we decided that the best way to differentiate and capture a market share lies within the ability to create a very customer-centric company with absolute transparency. Therefore, our number one priority has been to establish a very strong community that would give us invaluable feedback about the product and create a relationship of personal accountability between our customers and the company. For this reason, we created a "Juphy Lovers" group on Facebook and also decided to publicly share our product roadmap on Canny, so that we can gather feedback in a highly organized manner to build Juphy solely based on our user's own voice.
However, we needed active members to cooperate on our Facebook Group and Public Product Roadmap to make better product decisions. Therefore, we decided to start with a Lifetime Deal pricing strategy to attract the attention of early technology adaptors and experienced SaaS users.
We launched two lifetime deal campaigns in March 2020 and October 2020 with the support of an amazing Facebook group, Martech Wise which promoted Juphy to their open community of marketing technology fans. Thereupon, we would like to take this opportunity to thank Amber and Donald, founders of Martech Wise, for their invaluable support.
During our first and second lifetime deal campaigns, Juphy gained 327 paid customers and earned $35k revenue, and our community began to grow. We started to receive a lot of feedback, new feature requests, and upvotes on our public roadmap:

In the meantime, our development team made significant improvements on the product with the feedback of our earliest purchasers and we secured a pre-seed investment from a major VC, APY Ventures, which helped us hire Juphy's first three employees to help with marketing, support, and development. During this process, our community has been an incredibly valuable source as they helped Juphy gain social proof on G2 Crowd, the leading reviews website for SaaS businesses. We received many positive reviews on G2 from our lifetime deal purchasers and thanks to them G2 officially rated Juphy as a High Performer in the Social Customer Service category! This helped us gain deeper insights about our user's satisfaction and significantly improved Juphy's credibility on online channels.

Based on our user's reviews, we understand that Juphy still needs further product development, but the current stage of our software is also loved by the users as they ranked us above the industry average in "Ease of Use" and "Quality of Support". We strikingly ranked as the 5th best company in the implementation index, outshining even market leaders such as Zendesk and Zoho Desk. Therefore, we were convinced that Juphy was ready to start subscription pricing.
However, we were aware that AppSumo is a great chance to launch one final Lifetime Deal Campaign as they had a huge community of experienced SaaS users who would give us invaluable insights about Juphy and it was also a great chance to reach maximum capacity in the world of Lifetime Deal campaigns before transitioning into a subscription-based business model.
Hence, we reached out to AppSumo, and after careful consideration, they agreed to work with us and our preparations for the AppSumo campaign began! (If you would like to learn more about the preparation stage, please contact us directly through Linkedin and we would be very happy to help!)
What happened during the AppSumo campaign?
We launched Juphy's final lifetime deal campaign on the 1st of February 2021 on AppSumo. During our 36 days, we sold 3136 codes and generated $170k revenue! This was even more than we anticipated, but the campaign ran very smoothly as we were experienced in executing lifetime deal campaigns from before, hence we were very lucky!
Juphy's paid users increased from 327 to 1954 and our website traffic increased from 906 unique visitors to 3096 unique visitors just within the first day! We saw the direct impact of Sumolings (AppSumo users) on our website just within a couple of hours after our deal page went live!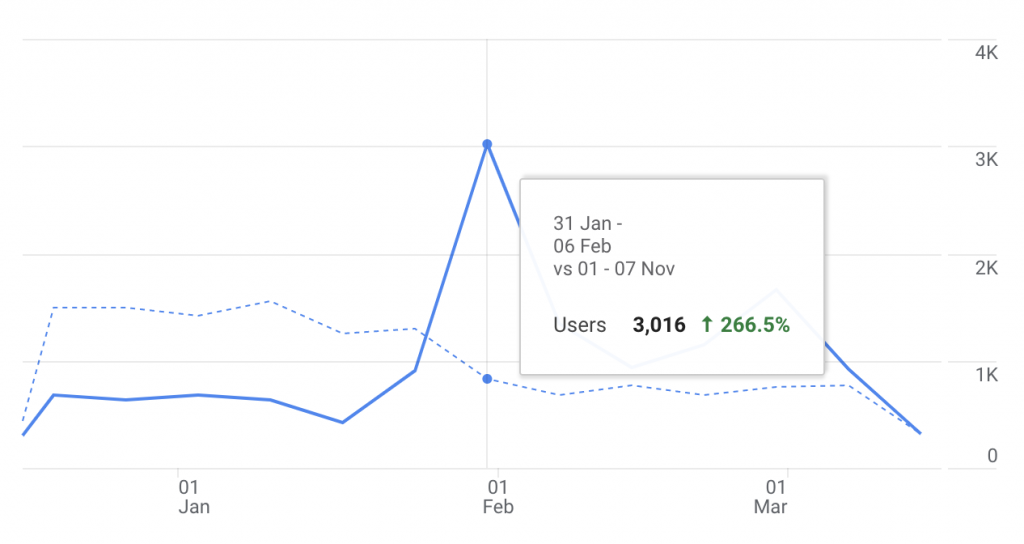 Our community page got highly active as the number of upvotes on our public product roadmap increased from 1850 to 5961!

And we caught significant attention of tech-savvy YouTuber's who voluntarily filmed product walkthrough's of Juphy to their community and followers: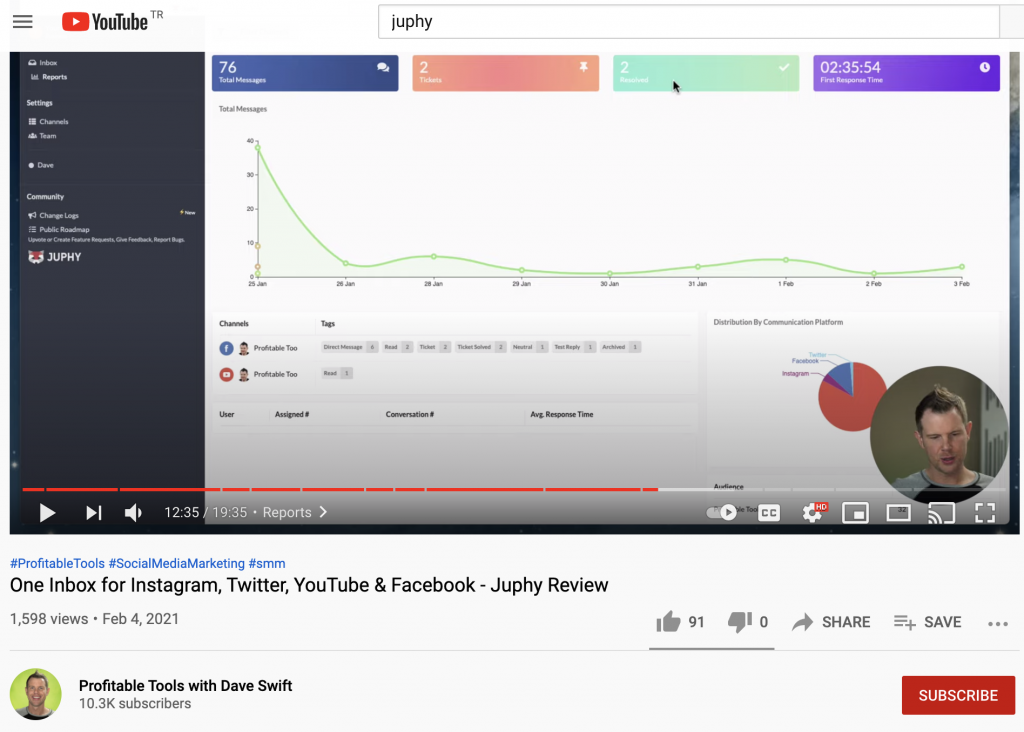 To watch Profitable Tool's product walkthrough on Juphy: https://www.youtube.com/watch?v=VgYEoujHuGM&t=4s
The Most Important Success Factors on AppSumo
Along the way, we learned two very important success factors that have a direct impact on the number of sales on AppSumo:
1. Speed and Quality of Support
Speed and quality of support is the most important factor for the success of your AppSumo campaign. This means that all the comments and questions on the deal page should be answered in a very fast and prompt manner. It's very important to prove to Sumolings that your support team is a fast responder. But it's also worth mentioning that customer support is not only about problem-solving, but also about building a relationship with the customer, establishing a community, and getting feedback from them regarding the product.
You can expect to have the highest deal page questions and support ticket volumes during the first 72 hrs after going live and then the first 72 hrs after the first introductory email goes. Sales spike in waves during these times. Later on, sales will taper and then you should see the biggest spike after the "last chance" email which goes out 72 hours before the deal ends. Juphy made 41% in the last 3 days after the "last chance" email went live! Therefore, it's very important to keep up your support performance in the last few days.
We are a team of five and we all constantly checked and answered support requests. But we were also very lucky because our Co-Founder Erdi lives in the US while the rest of the team lives in the European timezone. This situation enabled us to assist our users with guidance and help 24/7.
During the campaign, Juphy received more than 100 questions on the deal page, 149 emails at support@juphy.com, and 806 comments on our public product roadmap. We also had to follow comments under influencers' YouTube videos, what's being written about Juphy on Facebook LTD groups, etc. Overall, it's been a very hectic period but our Community Manager Cem showed an outstanding customer support performance. Based on Juphy's performance reports, Cem's average response time was 7 minutes! And all the Sumolings loved Juphy's support performance thanks to Cem!

2. Reviews & Average Taco Rating
Secondly, social proof is key to guarantee your success on AppSumo. The number of reviews and your product's average taco rating has a direct impact on the number of sales.
During the first few days of Juphy's campaign, the sales were quite low as we did not have any reviews on our deal page. Then we emailed all Sumolings (AppSumo users) and asked for their help to support Juphy by writing a review if they love how Juphy is helping their business and trust in the future of our product.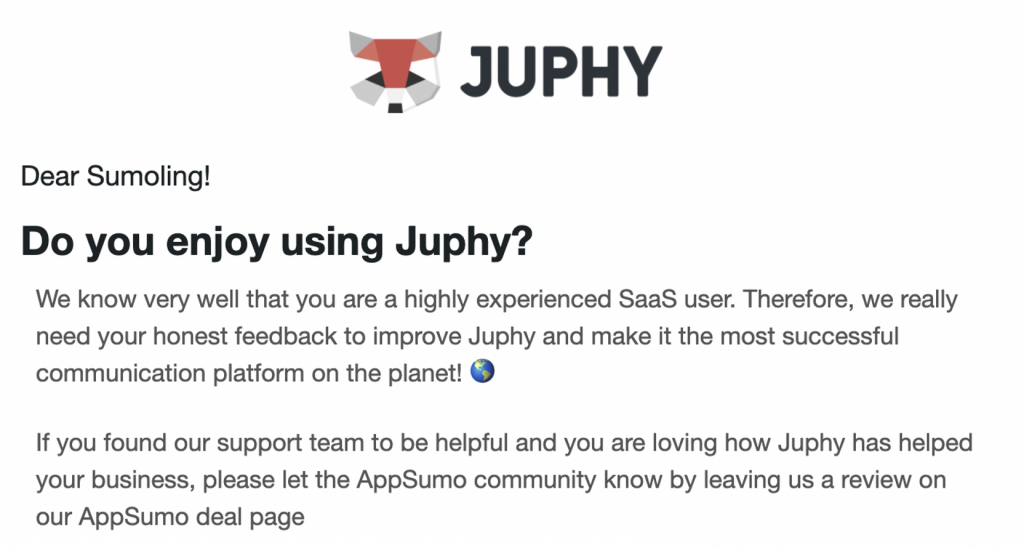 The result? Juphy received 96 reviews and an average 4.80 taco rating on AppSumo! After the reviews started coming in, the number of sales spiked! Hence, this situation once more proved that social proof is very important to acquire new customers for SaaS businesses. Especially if you are competing in a highly competitive sector, social proof is key to gain success. We always had great relationships with our community since we launched Juphy back in February 2020, and it helped us greatly to gain social proof and acquire new customers.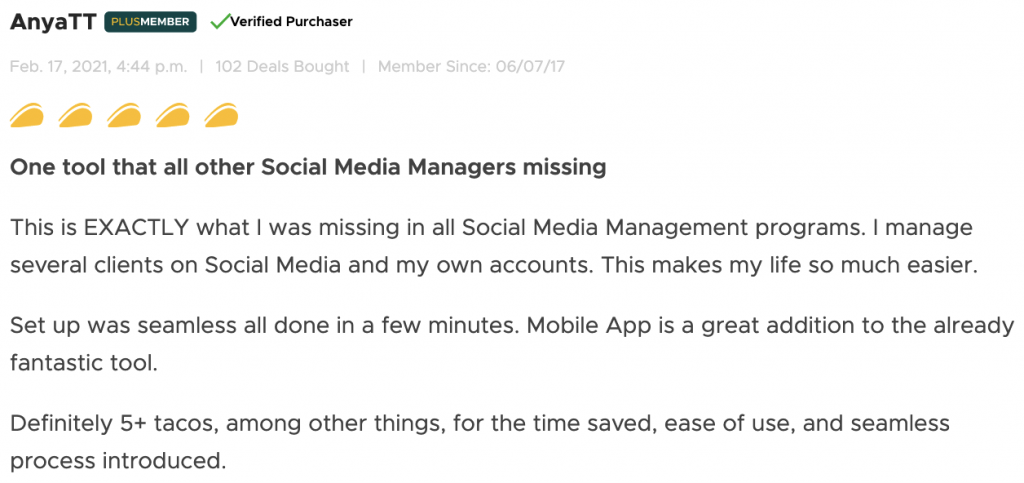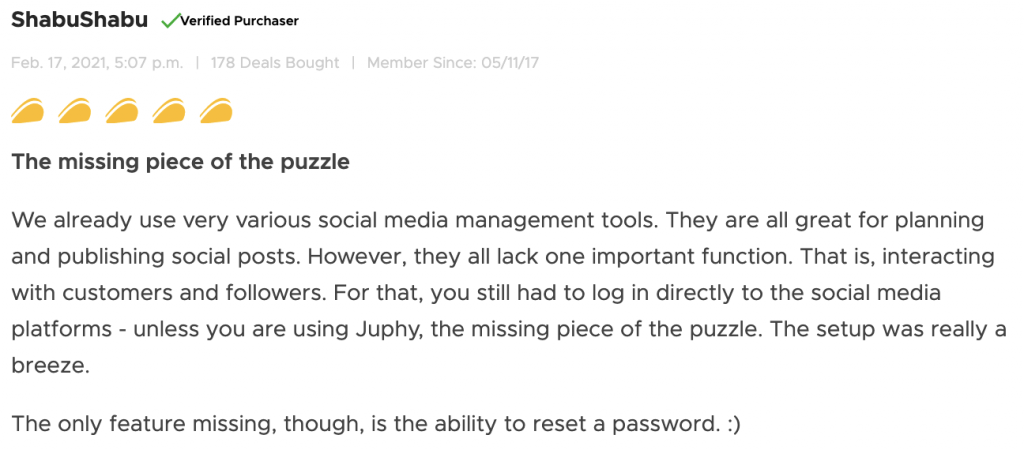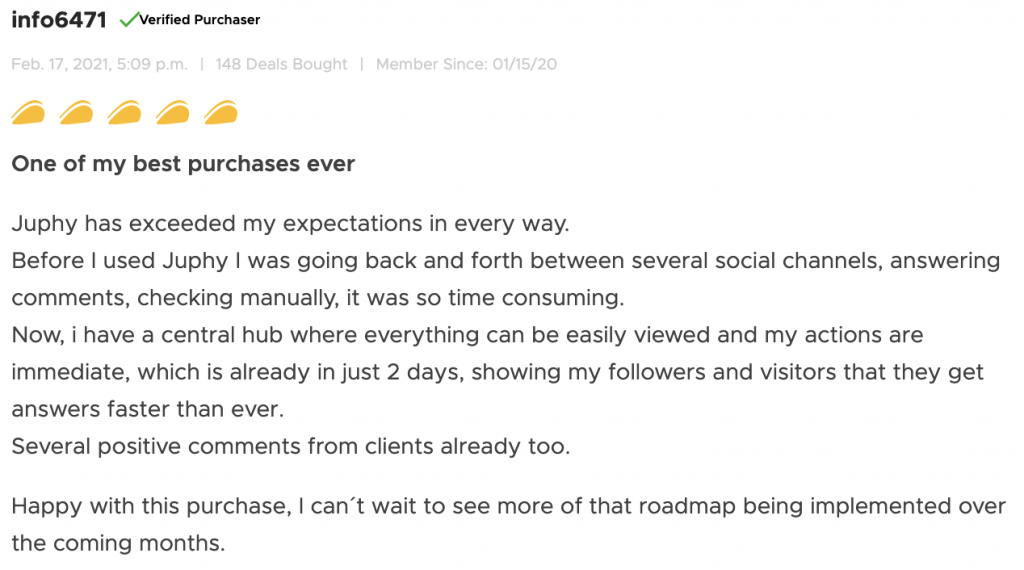 If you would like to read the rest of Juphy's reviews, please check out the following links:
https://www.g2.com/products/juphy/reviews
Overall, Juphy's lifetime deal campaign on AppSumo helped us immensely to grow our community and collect great feedback from Sumolings to develop Juphy to an indispensable stage. First of all, we are going to be an official partner of Google and complete Juphy's Gmail integration. Then we are going to focus on finishing our mobile app and white-label features as these were the features requested the most by our users on Juphy's public product roadmap.
We always believed that Juphy's Lifetime Deal purchasers are its number one investors as they trust in the future of the product and the team, and invest at a very early stage. Therefore, we highly value AppSumo as it enabled us to reach our most important investors.
Today, Juphy has reached the maximum number of customers in the Lifetime Deal community and now we are more than ready to transform into a subscription pricing strategy! To date, we've been trusted by the worlds leading brands such as Estee Lauder, who became our first client and subscriber, and more than 1900 SMB's, freelancers, and agencies who purchased our Lifetime Deal and trusted the future of Juphy.
Now, our mission is to position Juphy amongst the leaders in the Social Customer Service category within the next two years by applying the feedback we gained from our amazing community and sustainably scale Juphy further amongst SMB's and agencies! This is just the beginning – the destination is Jupiter!