When we find out about anything for the first time, or we want to get more information about something, the first thing most of us do is look it up online.
We want to get quick and accurate info about places, services, or businesses from real experiences and make sure we are not wasting our time or money. That's why most of us prefer "googling" businesses before engaging with them.
So, the existence of your business on the Internet is very important. If you want your business to achieve its goals, you should always pay attention to your online showcase.
Here's exactly where Google Business Profile (formerly known as Google My Business) reviews get into the game. Oh, those reviews… enthusiasts, haters, and all.
Google Business Profile is one of the most common tools that help you control and manage your business reviews online (and more, yet this is not the case in this article).
You need to manage them effectively because people want answers, and your reviews are sometimes likely not to show up. What? Another ghost hater? That's okay. But hey, an invisible enthusiast? Unacceptable.
Either way, there must be a good way to better prevent Google reviews that are not showing up. Let's get to work.
Create Your
Social Inbox Now
Manage all social media customer support inquiries in a unified inbox.
What Is Google Business Profile?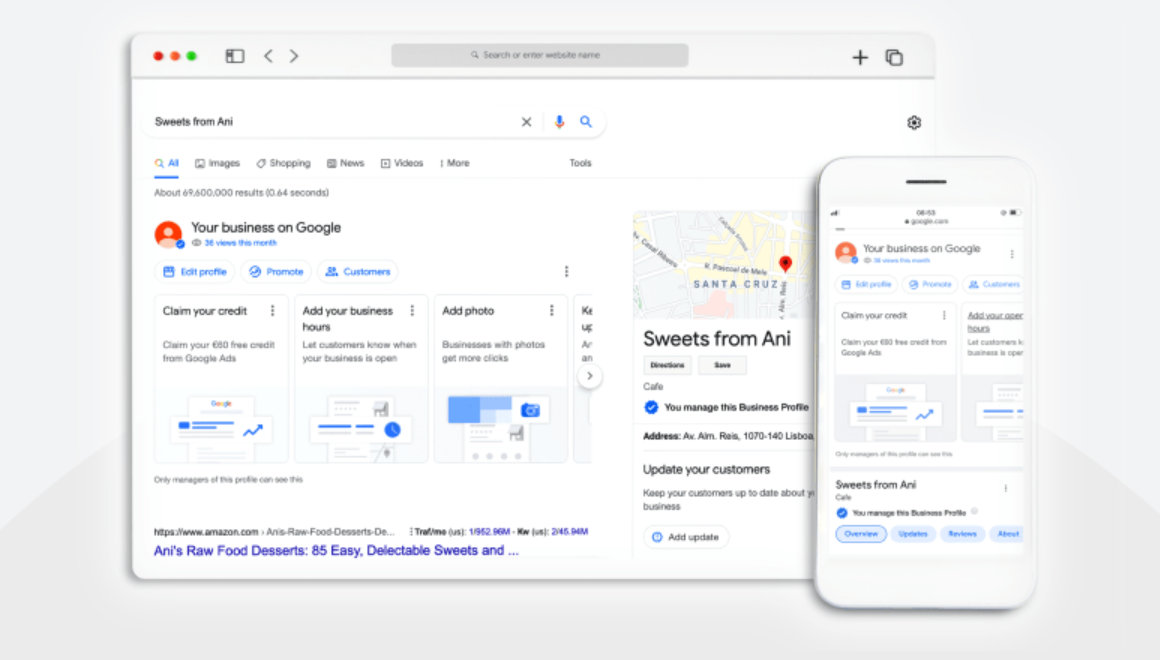 How your business shows up on Google has a direct connection with being discoverable and preferable. Keep that in mind.
Google Business Profile is a free business listing platform by Google. With Google Business Profile (GBP), you can manage the appearance of your business on Google as well as observe insights. Is this important? Well, if you want your customers to have correct information about your business and if you are looking for data on how your business interacts with the clients, yes, this is important.
Using GBP makes controlling your business interactions easier and clearer. GBP allows you to manage the name, location, working hours, description, phone number, photos, and reviews of your business. Plus, with GBP, you can see how clients find and benefit from your business, observe search insights, and get much more useful data.
Your business' online profile is vital for;
Providing correct information about your business
Reaching potential customers
Having the ideal online reputation
Enabling people to have an idea about your business (through descriptions, user reviews, etc.)
Creating an image of your business
Observing analytics
Building trust via reviews and user rankings
But let's take reviews out of this list and take a deeper look at it.
Importance of Google Reviews for Your Business
First things first, why should Google reviews be taken seriously, and why do you need a good Google reviews management strategy? Your total success depends on the reputation and image of your brand or company. When your reviews on Google show up properly, it means that prospects will be convinced more quickly to move forward. I mean, what can be more convincing than social proof?
In other words, Google is your turning point to whether people make shopping decisions or drift away. The higher number of reviews you get increases the credibility, fastens the decision phase, and takes your company to another level.
However, even when it has this much importance, sometimes, your reviews do not show up on your Google Business Profile page, or it takes so long to show up.
Why does it take so long for Google reviews to show up or sometimes worse; why don't they show up at all?
Google reviews might not show up because of a problem with your GBP listing. Mostly, a quick fix can solve the issue quickly. Yet, there are some other likelihoods that can cause reviews not to show up on your listing.
Temporarily disabled Google reviews: In some cases, Google disables the system or begins maintenance, and the reviews written during that time are not posted immediately. As soon as the maintenance is done, submitted reviews show up.


Duplicate Google listings: In that case, it is possible that a review is posted on the duplicate listing.


Inactive Google listing: Your business might have lost its verification if you don't show any activity on your Google Business Profile for a long time.


Listing information changes: Your information updates might sometimes cause reviews not to appear.


Google's Algorithmic Updates: As you might know, Google frequently updates its algorithms for better user experience and to ensure fair competition. In some cases, these updates might affect the visibility of your reviews. If Google's algorithm suspects that some of your reviews are generated artificially or don't comply with its guidelines, they might not show up. Staying up-to-date with Google's changes and guidelines can help mitigate this problem.


Non-Google users: Google leads customers who do not have a Google account to sign up on the page, which causes most of them to exit the page without writing a review.


Delay: It might take 2-7 business days for reviews to go live.


Inaccurate listing information: The reviews are automatically refused when your information cannot be confirmed.


Users delete reviews: It is also possible that after you get a review notification, the customer might simply change the decision and delete the review.


Reviews violate Google's policies: If Google detects a violation of policies, it removes the review.


You're just missing them: I assume you haven't thought about this one, but everyone makes mistakes (if they don't have a good way to keep up with the reviews)

What we are trying to say is by managing Google reviews and its other features efficiently, Google Business Profile can become an inseparable part of your business to go higher and higher. This is where Juphy helps you manage your reviews and get the best of GBP.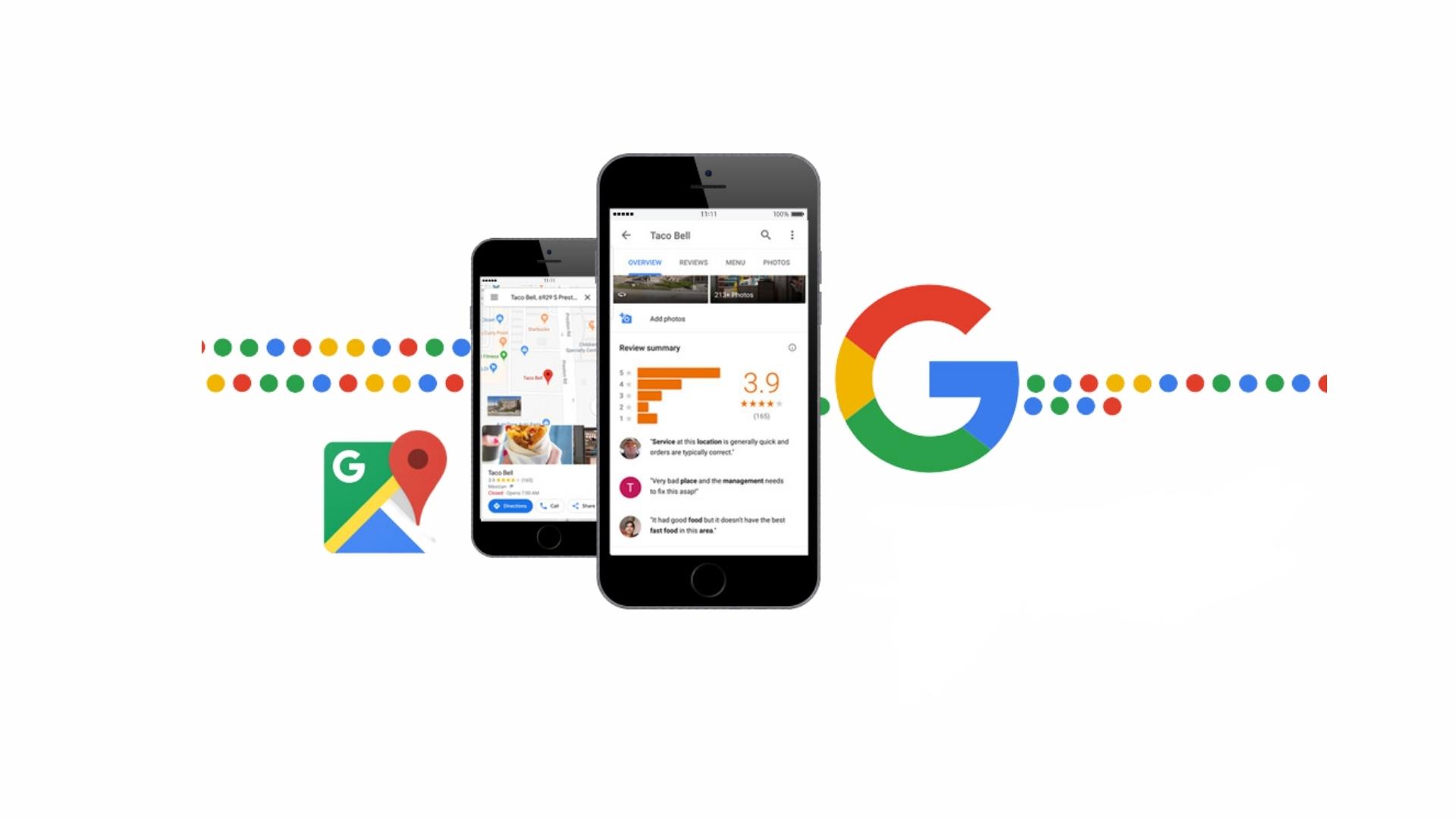 Google Business Profile is always on the move to make things easier and more efficient for us. And guess what? They did it again! In February 2023, they're bringing in some changes that'll make our lives a whole lot easier. They're putting a clear focus on user actions, getting rid of the split between "direct", "discovery," and "brand" searches, and giving us an overview of which keywords are used to find our business. Plus, they'll show us where our profile is viewed (Google Search vs. Google Maps, Desktop vs. Mobile). But wait, there's more! No more insights on photo views, post views, or data on post clicks.
And you know what else is cool? Now, you can manage your Google Business Profile directly on Google. No more searching for "Google My Business" in the search bar to obtain the dashboard's URL. The dashboard takes center stage now, making it super easy for us to make edits and modifications. This new update brings forth a more visible and easily accessible location for users to make edits and modifications. Moreover, an intriguing new hack emerges, empowering you to effortlessly access your Google Business Profile by simply searching for the name of your business on Google. This streamlined approach grants instant visibility and control, enabling swift modifications and updates. It's important to note that to access this feature; you need to be logged into the Gmail account associated with the management of your Google Business Profile.
These updates signify Google's commitment to providing an enhanced user experience for businesses and individuals alike.
Additionally, the changes indicate Google's dedication to fostering a fair and transparent environment for businesses and customers. Now, businesses have an equal opportunity to make an impression based on their products or services and customer relationships rather than mere manipulation of reviews or search engine optimization (SEO) tactics. As such, your strategy for managing your Google Business Profile should align with Google's evolving approach – focusing on authentic customer relationships, accurate information, and regular activity.
By simplifying and streamlining the process of accessing and managing your Google Business Profile, Google empowers businesses to exert greater control over their online presence and engage with customers more effectively. With your Google Business Profile now at the forefront, you have the opportunity to showcase your business's key information, including your logo, address, and other essential details. Ensure that your profile is accurate, up-to-date, and enticing to potential customers.
How to Monitor and Manage Your Google Reviews via Juphy
Juphy, which is an all-in-one platform to manage all your business' customer engagement from email, social media, chat, app stores, and review sites, also enables you to integrate your Google Business Profile reviews.
Once you integrate your GBP account to Juphy, you'll be able to keep up with your reviews more effectively and won't miss any of this valuable feedback. As we said before, Google is our one and only when it comes to making decisions about a business or company; and it should also be business owners' as it is some kind of guidance for you to improve your service with honest feedback from suggestions, love, hate, comments, to complaints.
By integrating your Google Business profile into Juphy, you can get real-time data to your dashboard every 10 minutes. Of course, it is not only about getting the reviews, but you can also categorize reviews with labels, mark them as positive, neutral, or negative, or assign specific a review to be evaluated by the relevant team member.
How to Integrate Your Google Business Profile with Juphy
Simple, two-step integration. In your "Channels" dashboard, you can simply choose the platform "Google My Business" and then click on "Add Google My Business Account".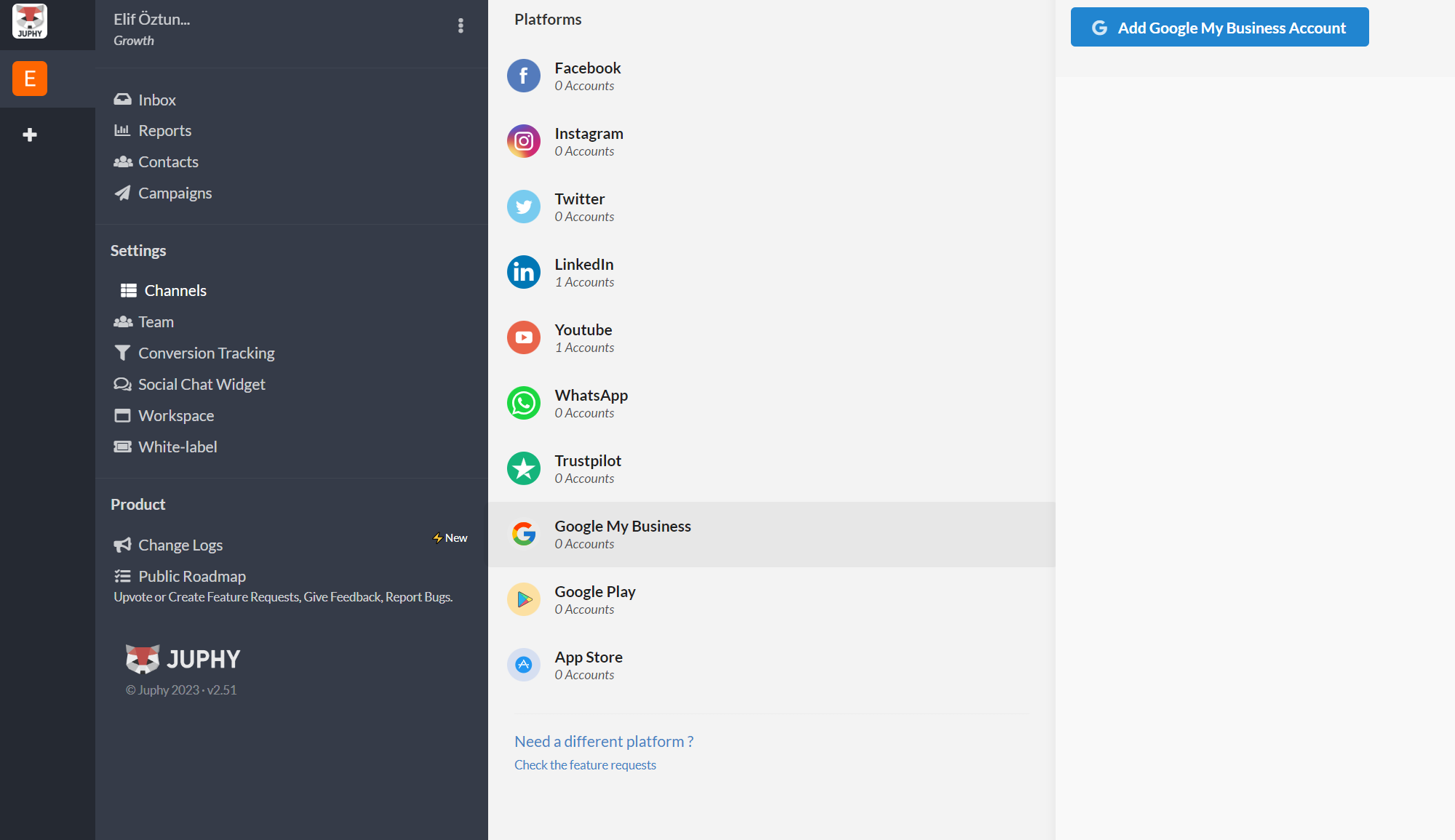 This click action will lead you to the Google account sign-in page. After signing in, you can confirm the integration of these two platforms. Yes, that's all!
How to Use Juphy to Get More Customers from Google Reviews?
A happy customer brings another. That's how it even works with the referral chain. That's how we acquire most of our loyal customers. That's how we see getting more customers is actually easy while spending big money on marketing or sales campaigns. What about the unhappy one? We work hard to make them happy, too, at the end of the day. We show them we care, so it is a win-win game.
Google reviews or *any* other review platforms are your easiest way to get into this win-win game. After that, it is all about managing these reviews in the most effective and efficient way possible.
Therefore, what we aim at Juphy is to create a single, easy-to-use platform for you to manage your reviews productively and then get more customers when least expected.
Moreover, by breathing in Juphy's comfy user interface with your Google reviews,
You can assign the most relevant person in your team to a review or when you need
You can check your review history and filter it based on names, headers, comments, or any other keywords.
You can get notified in an advanced way when a new review is submitted.
Your whole team can view the review at the same time and discuss it with Juphy's internal notes feature.
Lastly, Juphy offers comprehensive analytics, tracking the performance of your reviews, how they are impacting your business and the overall sentiment toward your business. By leveraging these insights, you can make more informed decisions to improve your services, cater to your customers' needs more effectively, and ultimately boost your online reputation and visibility. This way, Juphy transforms Google reviews from a mere feedback tool into a strategic asset for your business growth.
Conclusion
Efficiently managing your Google reviews can make a profound difference in your business's success. Not only can they help you improve your services based on honest customer feedback, but they also serve as invaluable social proof that can significantly enhance your online reputation.
With Juphy, you can effortlessly manage your Google reviews in a centralized, user-friendly platform. Whether you want to assign reviews to your team members, get advanced notifications, or simply keep a record of all your reviews, Juphy has you covered.
But it's not just about review management. Juphy is also about turning these reviews into opportunities for growth. By helping you understand your customers better and respond to their needs more effectively, Juphy ensures that every review – positive or negative – becomes a stepping stone to your business's success.
So why not give Juphy a try? Start today and see how it transforms your Google reviews management and, in turn, your business's fortunes.
Create Your
Social Inbox Now
Manage all social media customer support inquiries in a unified inbox.