In today's age, we all search where we want to go, what to eat, what to buy from a certain place, what to do in a certain situation, how much does something cost in prior before we call in to action ourselves. We want to know, if the product we're going to buy or the service we're going to get is worth it thus we look at the ratings and the reviews. We see what other people think of, so we decide accordingly whether it's worth it or not.
To see positive reviews for the product or service that we look into, makes us rely on the product or the service; but what about the responses and the behaviour of the business at stake?
Why should I respond to positive reviews?
Positive or negative, customer reviews are the most essential ways to add value to your business in a competitive environment where everyone searches and sees everything on Google.
Think about yourself, before you call to action about trusting a business to get a product or service, what do your eyes search for? A five star ranking? 10K Instagram page? Or a nice looking website?
As they are one of the many ways to market your business to the better, positive customer reviews are your essential ones. Your potential customers' eyes look for a sincere, positive yet trustworthy experience that's coming from someone else before trusting the business they're about to engage with. Let's say your business has brilliant reviews, but what about how you handle them? Are you appreciative to your customers or ignorant? These all matter when a customer decides whether to choose you or not.
Today we're sharing some tips to help you appreciate your customers and evaluate positive reviews as a business. Let's dive right in!
How to Respond to Positive Reviews
Acknowledging your customers is the first step.
First of all, let's get this thing straight: customers come and go but you need to make them stay. As well as attracting new customers, you have to know your current customers' worth.
Customers in general want to feel special, like they're the one and only to your business. So if they leave a positive review for you on any platform by sparing their time and effort on it, you have to let them know how appreciative you are.
Be sincere in your responses, don't just do it for the camera.
While you're acknowledging your customers and making them feel special, don't overdo it. When you're not sincere about it and just trying to use your reviews as a free-marketing tool, it shows.
Try to know your customers, remember them, be understanding and caring; appreciate them as much as they're appreciating your product.
Differentiate and specify your responses.
Would you be happy if a business you've just written a nice comment on their Facebook profile responded to you with the same template that they used for another customer's response just two weeks ago? Certainly not. So there goes the sincerity and appreciation. Be sure to write personalized and specialized responses to reviews you're getting; as they're coming from different people and experiences.
Keep your answers brief.
While responding in upmost thankfulness, try to be brief. Your customers don't want to read paragraphs of your reply, whatever you're going to say, positive or negative; give the message briefly.
Encourage other customers to share their experience in a likely-positive manner.
You can also give some gifts to your customers rather than showing your appreciation from time to time. A discount, a free trial of a new feature, or a chance to be a beta user for your new updates might do the trick. This would encourage your current customers to see the gifts others are receiving and push them to leave a review in a likely positive manner; and therefore it'll attract potential customers that see your generous behaviour and handful of positive reviews.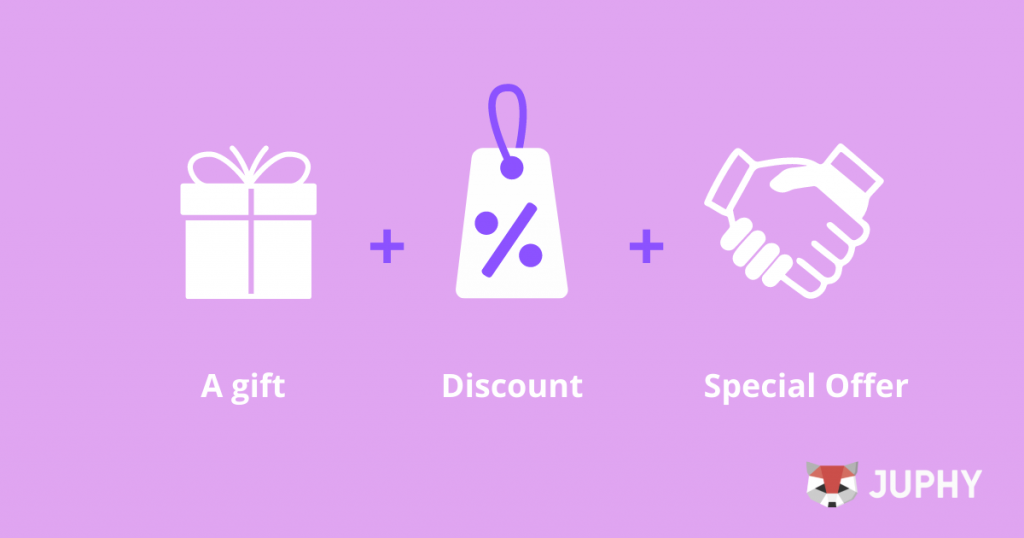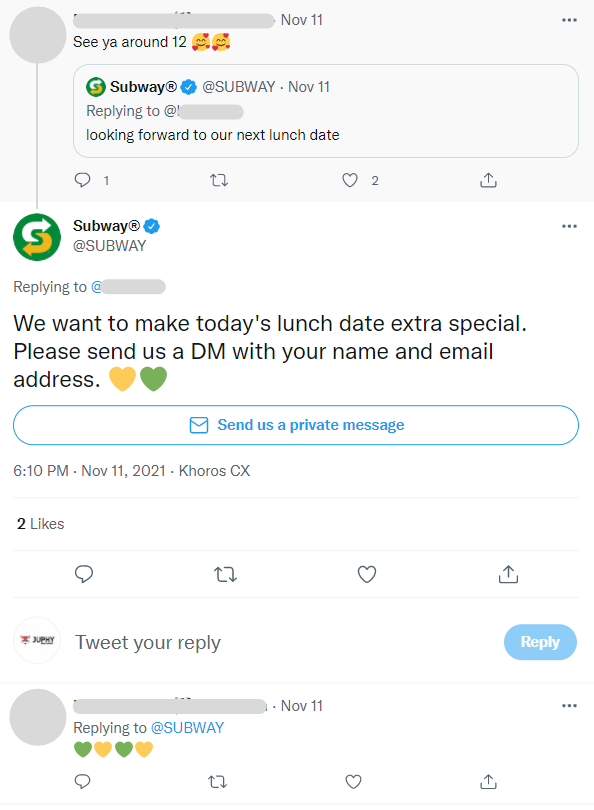 Fasten your average response time.
Even if you have a good or a bad review about your services, you have to be responsive and fast when it comes to responding to them back. As reviews are some kind of customer service too in this age of internet, it's highly beneficial for you to be fast if you don't want to lose any of your customers to another competitor in the market.
If you are a small team or an individual that tries to level up their community engagement and create a loyal costumer base therefore attract new customers; but feel like you cannot be fast enough, use Juphy to provide the fastest replies for every other of your current or potential customers. With Juphy, you can manage multiple social media, email, chat and review accounts within the same unified inbox and be present in all of them in no time. As well as being fast on responses, you can see how much you've improved yourself by taking a look at your average response time datas and graphs on Juphy's reports dashboard.

Support your answers with CTA links or suggested actions.
Fast replies might also lead the customers to take action. What do we mean by call to action? When the review is still newly made, support your thankful message with a link to your Instagram page, a blog of yours that might interest them in scope of what their review was about or a new feature/product you just launched that they might like. An example to this would be adding a phrase like the one below to your response:
"As you've seemed to like our update on the product, check out our Instagram page where we share news and updates about our products and make sure to follow to never miss one again!"
"We're so happy to hear you've liked our new feature! Follow the link to become a part of our Facebook community and be the first ones to know about a new update."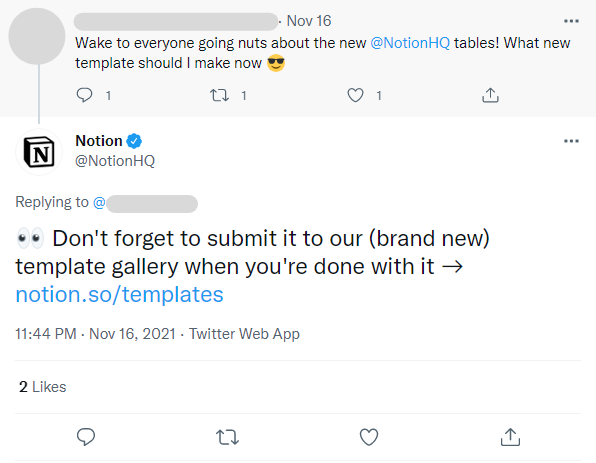 Bring out your strengths by positive reviews you're getting.
As people look for a piece of positive review that you have in order to consider your product, you have to make your reviews as visible as possible. Share some of your favourite reviews that you got on your website, review forum or social media accounts, as these are real comments that come from real people, they'll create reliability right away for a potential customer.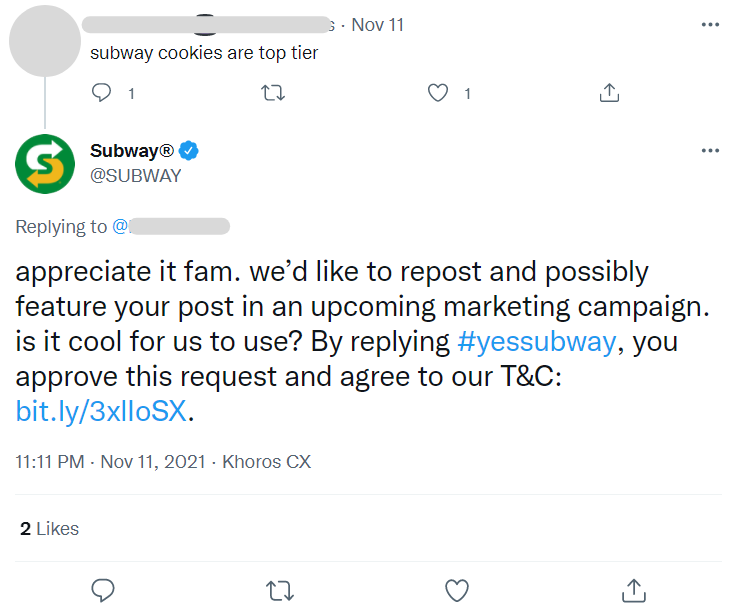 Tip: As Subway just said, always get permission from your customers to use their testimonials!
Reply accordingly to the platform you're on!
At the end of the day, you're a business and wouldn't want to lose your professionalism but you have to be relatable also. Balancing these company behaviours online could be hard from time to time when you're switching and being present in various channels. If you know which platform to act professional on and which one not so much, it can help you so much along the way; 'cause you're going to be marketing and introducing your company the right way.
Let's say if you got a positive review on Linkedin, you should act professional and write something accordingly. You can have a more strict template, a style of answering; but of course never the same!
If you're on Twitter on the other hand, we all know it's much more of a casual place among other platforms and a business account might act like a comedian even. So if you receive a positive review on a platform like Twitter, you can write a more relaxed, down to earth message to the customer at stake.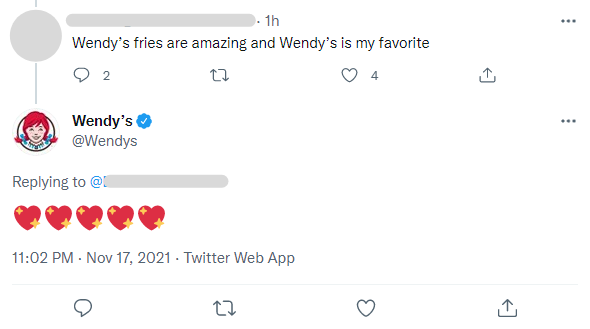 Wendy's is known to be constantly in an argument with another fast-food chain whether it's McDonalds or Burger King. And they're keeping their answers, mentions and social customer service behaviours as relatable as possible as if they're a public figure, not a business.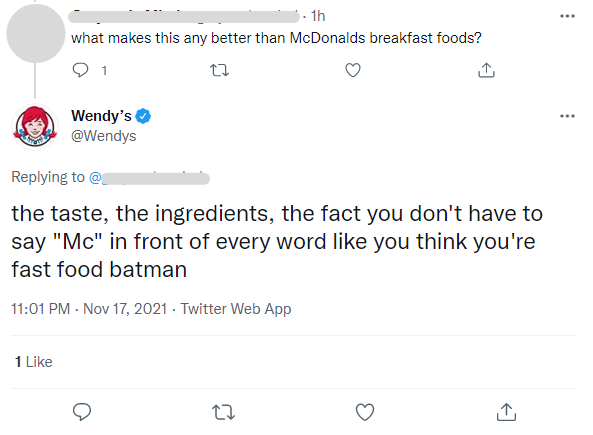 Tip: If you're in a sector that gets their reviews on some important forums for people that are highly interested in the community like G2, Shopify, AppSumo, Reddit or Quora; these places are also used as product/ service shops for the ones interested in specific sectors so you might want to explain or clarify some certain features that was mentioned in the comment you're replying at the moment for other people to see and understand it much more better.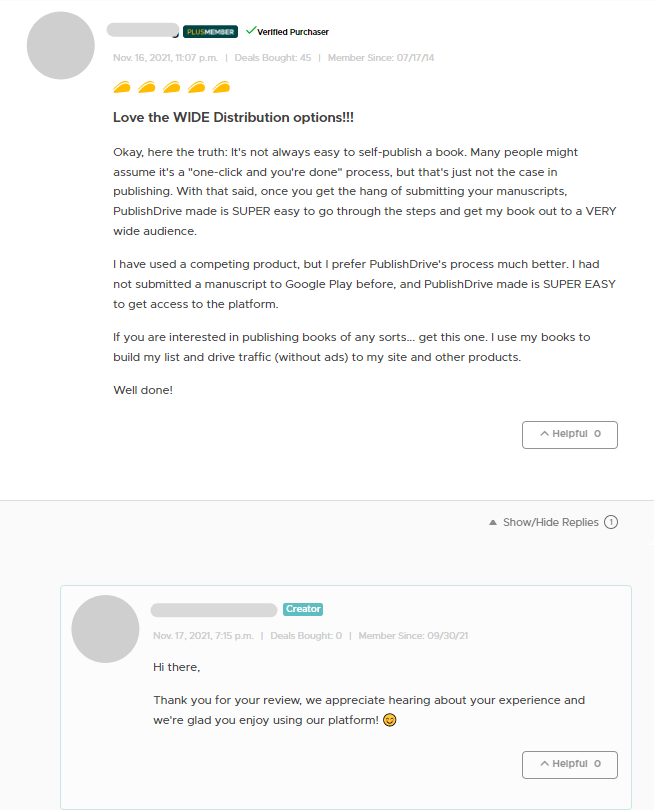 How to Respond to Positive Reviews Examples
If you've been getting positive reviews lately for your business or your product on certain reviewing platforms or social media, writing responses much similar to those below will help you to build a sincere and loyal community among your customers. Here are some examples on how to respond to positive reviews:
Hi Maddie!
It's so nice to hear that you're enjoying our product as much as we do! Thank you for sparing the time and effort to give us lovely feedback, we're so happy to have customers like you.
Have the best day, (Company Name) Family
Hello Thomas,
Reading your review really made our day as a team. We're working really hard to make the (Product/Service Name) experience better and it sounds like we're reaching our goal.
Thank you for the comment and hope to hear more from you.
Team (Company Name)
This was a lovely feedback Madison, we're so happy that our customers are thinking this way. We'll work harder for our customers that are always supporting us on this journey, just like you.
Thank you for making the time to write such a review for us,
Best,
Crew (Company Name)
If we sort out these responses by the messages that they want to give, we can have a simple template that we can follow. Keep in mind, not all positive review responds include same elements. Remember to specialize your replies every time according to the situation!
You can use the examples above, but can also create your own template by following the simple steps below:
Refer them by their name: Always start on a specialized note, directly refer to the customer by their name.
Thank and explain: Thank them by saying what you think about their review and why you're thankful for it.
Add an encourager: Maybe add a CTA or a gift to encourage others as well as making your customers feel special and involved in the community.
Let them know who's responding: Mention your name as an individual or company name as a team at the end.
How to Get Positive Reviews?
To respond to a positive review about your product, first you have to get reviews. If you're a business that cannot get any reviews, yet positive ones, follow these steps to get them!
Remind and let your customers know about the products and features that you currently have.
The first reason that you're not getting any reviews might be the missing information on what your service or product is, what good it does or how it works. Make sure to explain the core elements of your product/service to both your current and potential customers first, before expecting a review.
Your product might be open to improvement. To know if it does, ask your customers via email, send them customer feedback surveys or create feedback pages that your customers can reach out easily.
After you follow these steps, if you start getting feedback but no specific positive reviews in sight still, reach out to your customers and start the trend of writing good comments and reviews by offering them something in exchange.
Remind your active satisfied customers to leave one via email or encourage them to do so by giving them a gift or a discount.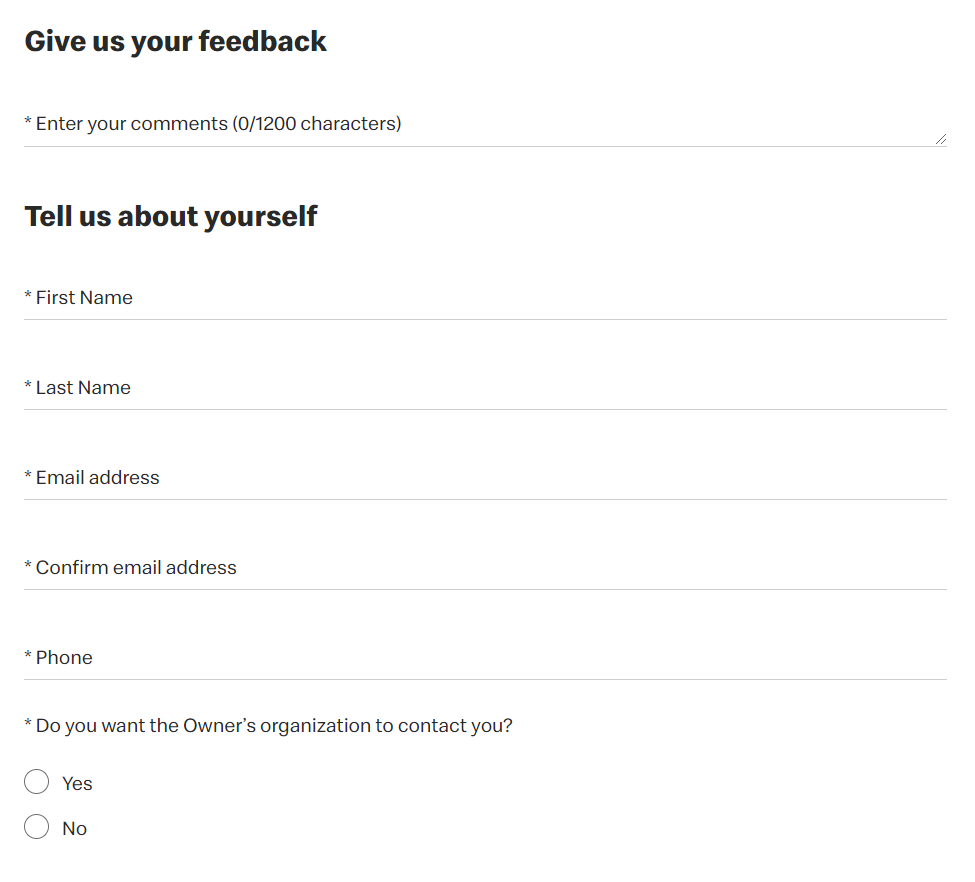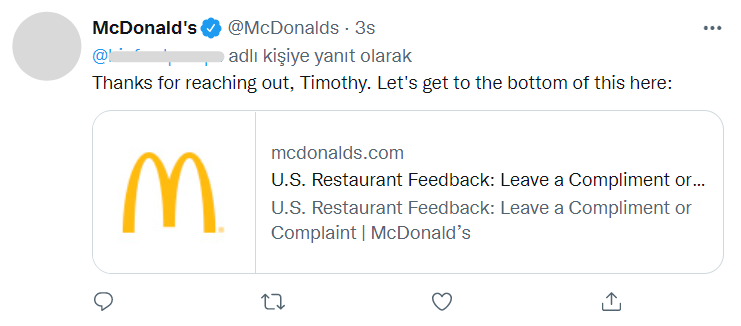 At the end of the day, turning back to positive comments or reviews is as important as replying to negative feedback with utmost attention and care. If you follow these steps and tips to respond to your positive reviews about your product, you'll end up with nothing but happy and appreciated customers and it'll bring you a satisfied and loyal community along the way.