If you plan to improve your brand's presence on social media, or, if you think that your social media strategy and performance is no longer working; social media audit is a concept you need to know and understand well.
If you want to know exactly what social media audit is, we have covered all the details about this topic for you.
So, let's start!
What Is A Social Media Audit?
Social media audit is a regular review to evaluate the performance of your brand on social media. It also includes organizing and analyzing data on all your social media channels.
Data and information collected for social media audit allow you to clearly see the situation of your competitors, if your active social media channels are suitable for your brand, which marketing techniques are worth investment and which issues you need to improve.
Results you get from a social media audit help you plan better for your future campaigns. This will also help you strengthen your business' presence on social media.
So, what do you need to evaluate during this audit?
Your profile information
Audience demographics and psychographics
Interactivity rate and other relevant metrics
Content performance
Channel-specific metrics
Referral metrics and traffic
Social Media Audit Template
Since the algorithms of social media platforms such as Instagram and Twitter are constantly changing, a social media strategy of yesterday may not work today. That's why you need to follow every social media platform, constantly.
What makes the social media audit so important is that the algorithms are so variable.
Social media audit shows you if your efforts are working well with these algorithm changes and lets you see the following:
What is being done?
What works?
What doesn't work?
Social media audit templates work here if you think about how to see all the data from the answers we asked above, at the same time, on the same screen. If you're not sure where to start the audit, these templates help you during the whole process.
We have shared a detailed example of an audit template with you below, covering competitors and opportunities. With this template, you can decide what to include in your social media audit template. You can also make your audit template very comprehensive or stick to the basics, as in the example below: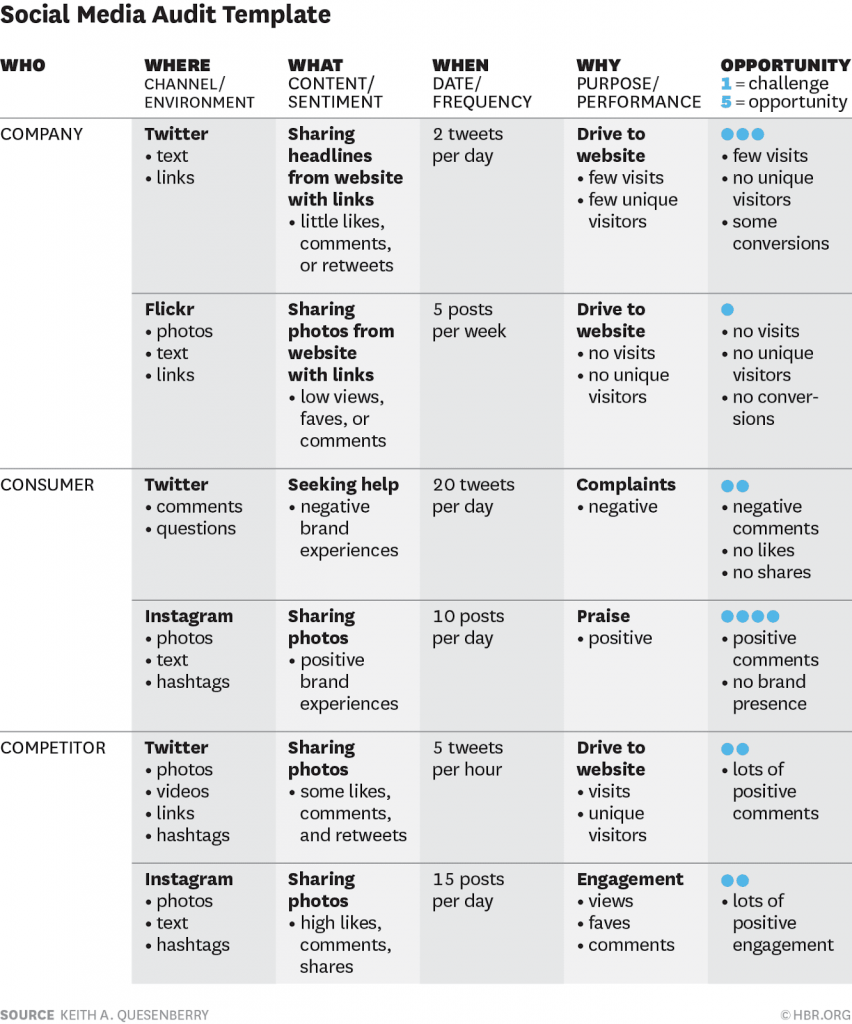 Social Media Audit Checklist
No matter the industry or company size, a successful social media audit checklist finds some common points. These common points are as follows:
1. Target audience data
Check which social media platforms your target audience uses and target your message according to the rules of the social media platform.
2. Profile information
Check if all the information and links you post on your social media accounts are up to date.
3. Interaction rate
Does your target audience respond well to your messages? What are the best-performing posts on your Instagram account? How fast is your follower count increasing? How does your content come out on social media? The answers to all these questions will allow you to see your interaction rate on social media.
4. Post schedule
How often do you post on certain social media channels?
5. Referral traffic
Which social media channel attracts the most traffic to your website?
Since all social media channels have different metrics, you must create separate Google Docs e-sheets for each platform or use a social media audit template.
Social Media Content Audit
By performing a content marketing audit, you can determine how to develop your website content and achieve a greater return on investment (ROI).
In other words, you can see if your texts and posts are working, or if the time and resources you've spent are for good.
While there are tons of different content metrics you can have a look at for the content audit, here are the most important metrics:
Number of visitors from the content
Number of organic visitors
Rankings in the content
High and increasing exit rates
Less relatable conversions than the content
Here are some of the best content moderation tools to measure all these metrics:
Ahrefs
Buzzsumo
Yoast SEO Plugin
Google Analytics
Grammarly
Social Media Audit Tools
You can find the most popular tools for social media audit, below:
1. Juphy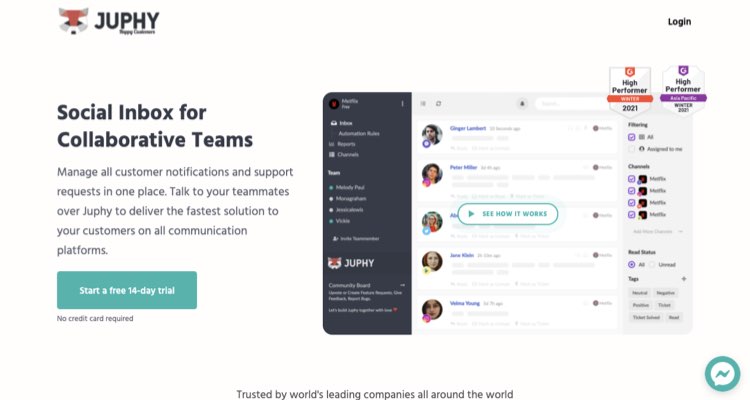 If you're responsible for a brand's social media audit, Juphy provides you with most of the metrics that will help you for the audit.
Thanks to the sentiment analysis in Juphy's reporting feature, you can see whether the customer interactions from social media are negative or positive, identify the most interacted social media channels and the most contacted customers, view the total number of conversations by platform and monitor the average response time for support requests on social media.
As we mentioned, Juphy allows you to see many useful metrics for the social media audit. This way, you can change your customer communication strategy on social media and find more effective solutions.
Juphy doesn't only help you with the social media audit. It also provides an all-in-one customer service solution that helps you speed up the customer support process by managing all the customer notification and support requests in real-time over a single platform.
If you want to try all these features free for 7 days, you can click on the link now.
2. Google Sheets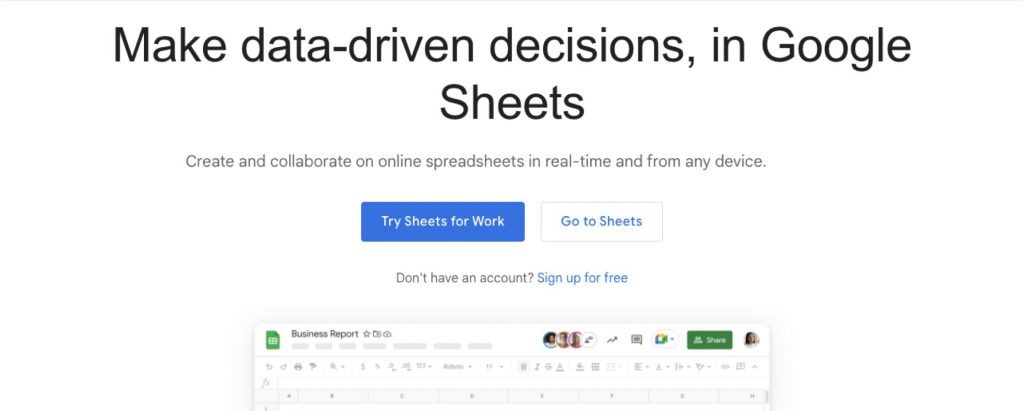 Google Sheets; during the social media audit, allows you to create tables, graphics, sheets and also make the following:
Keeping a list of all KPIs and key metrics to monitor after an audit.
Creating tables to compare your current and expected results.
Monitoring all the data collected during the audit.
Price: This service offered by Google is free.
3. Analisa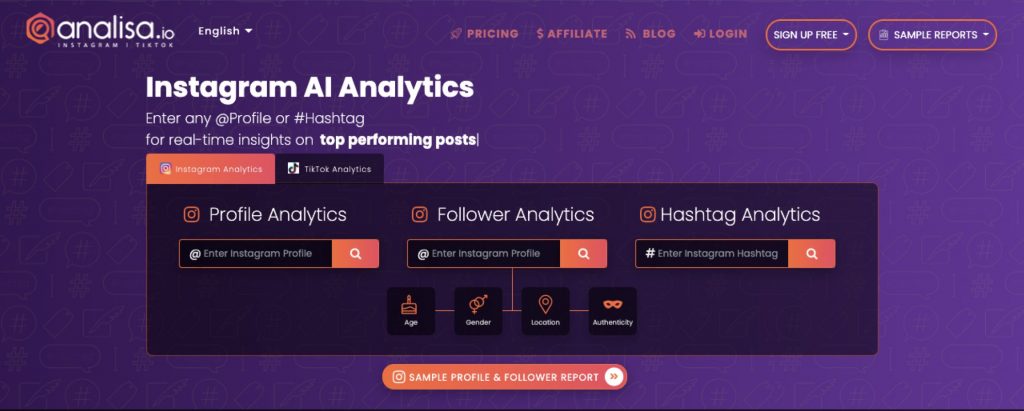 Founded in 2019, Analisa is an AI-supported Instagram and Tik-Tok analysis platform that allows you to access data such as the number of followers, follower demographics, hashtag analysis, comments, number of likes and interaction rate. If you use Instagram and TikTok often, your data from Analisa can be very useful for your social media audit.
Price: In addition to its free version, it offers three more subscription plans. The most affordable plan starts at $69 per month.
Social Media Audit Example
Creating your own social media audit template can be difficult if you've never done it before. That's why you can create templates similar to the social media audit examples we share with you below.
1. Buffer
The template below is a simple example made by Buffer over Google Sheets. You can access the template by clicking the link, then use the template and edit according to your needs.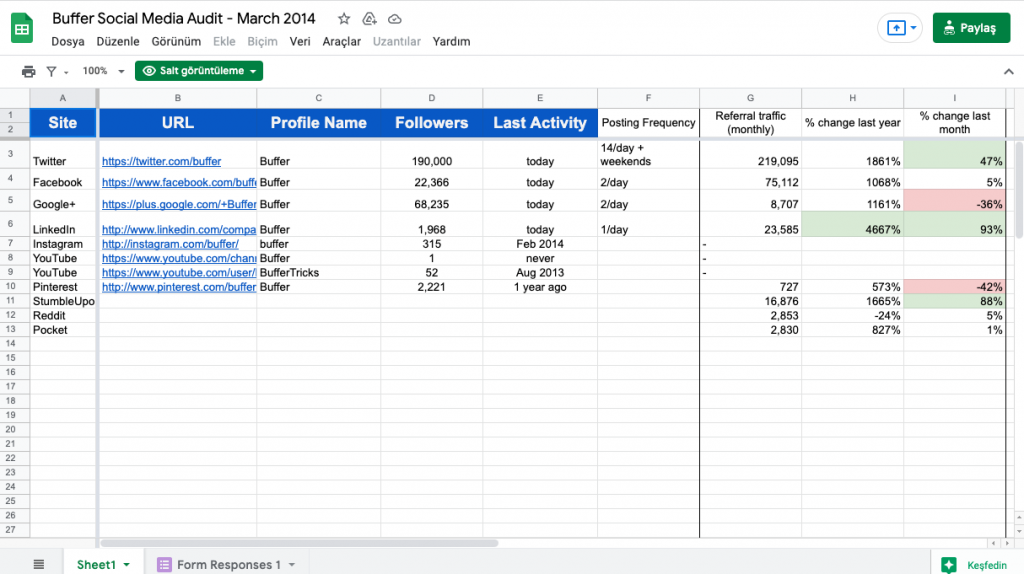 2. Hootsuite
The template below is a custom social media audit template by Hootsuite.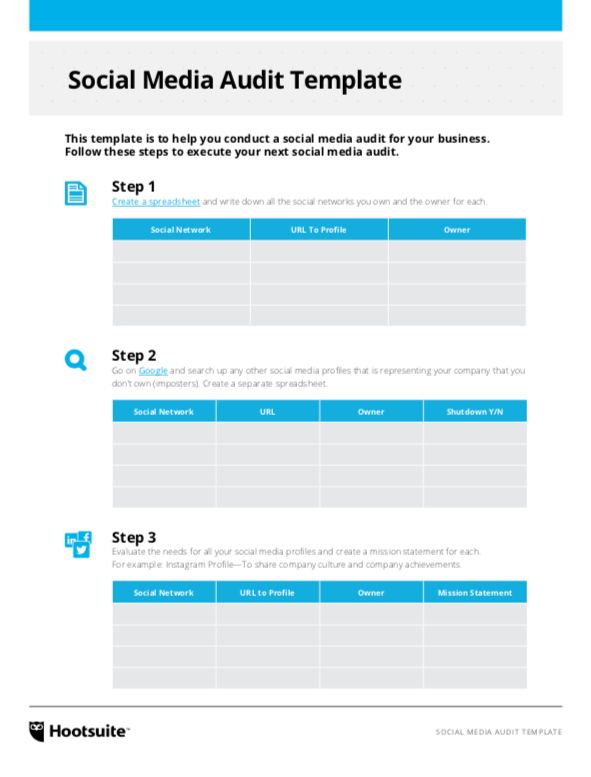 Social Media Report Example
Social media reports show the performance on the social media networks of your brand. While the report will include metrics that are important for performance, it should at least include KPIs such as viewing, interaction and follower count.
As for the design…
Social media audit reports can be customized or different in design.
As Juphy, we allow you to automate your reporting over a single platform, so you don't have to deal with a lot of data manually.
Here is an example of the report that Juphy automatically creates for its users: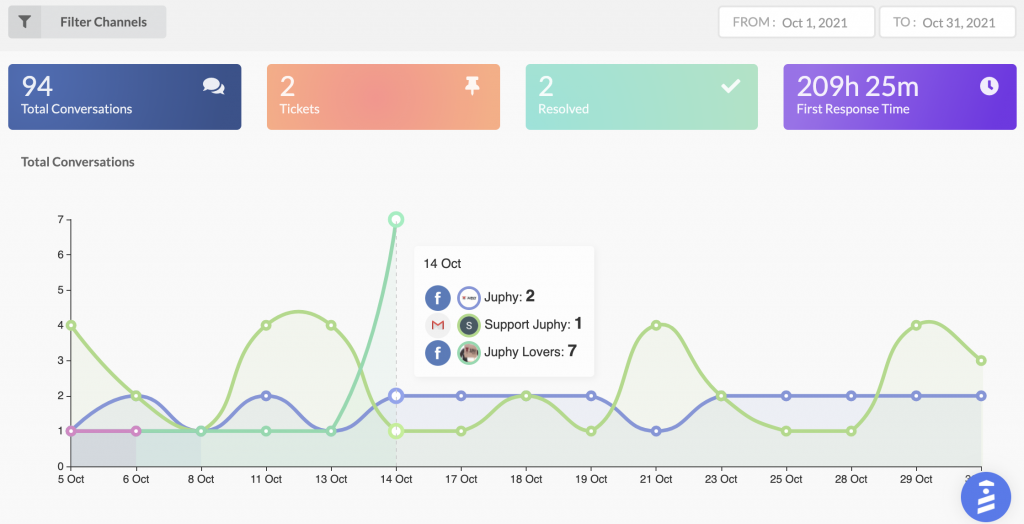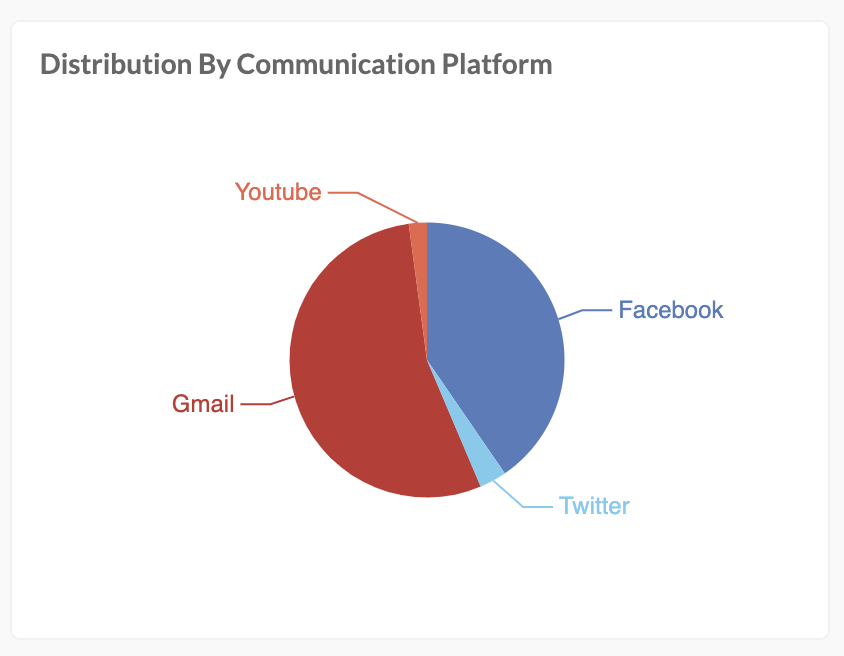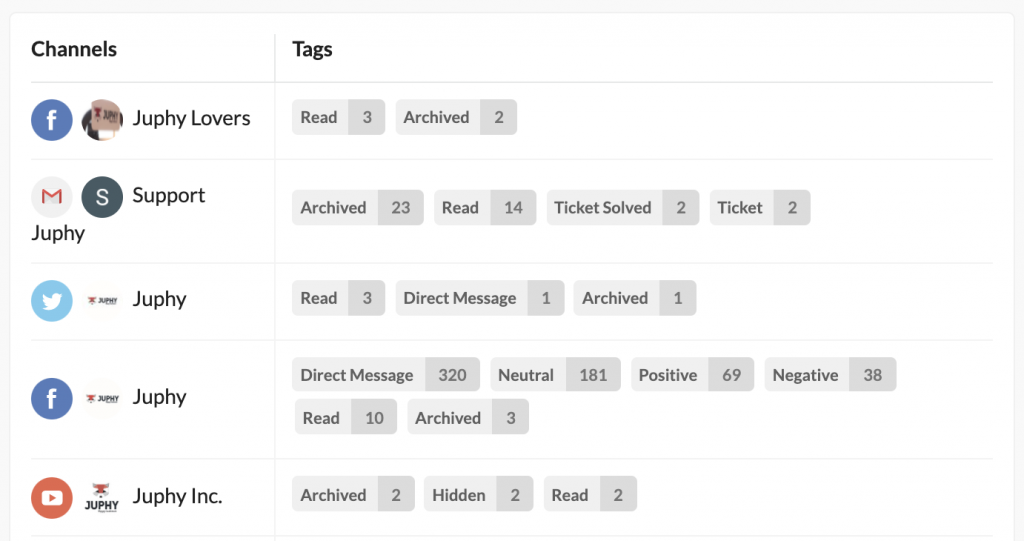 So, after all, we tried to share all the details about social media audit with you. If you have different questions regarding the social media audit and Juphy, please write to us in the comments section. Do not forget to share your experiences and suggestions to improve our content.