Social media has evolved into a new concept of engagement. When we talk about social media, it is impossible to not mention engagement.

What we had first? Kevin Systrom's photo of a stray dog sitting near a taco and Jack Dorsey's first tweet of "just setting up my twttr".

Now we are in an era that these social media platforms provide a two-way experience for businesses more than individuals, or dogs.

Accordingly, social engagement has become a major impact on the services provided by these businesses.

What really is this social engagement and how to be increased? Well, you're in luck. We have several suggestions for you to develop a successful strategy.
What is Social Media Engagement?
By engagement, do you mean the likes, comments, and retweets? Exactly, but not as a one-way experience.

Activities across social media are overall the way how people interact with your brand and seek a connection with you.

Every "like", "comment", "mention", or "save" is a form of interaction that shows people out there are interested in your brand.

These interactions can happen in a variety of more forms like:
Clicks, Likes, Upvotes, Celebrates, and Favorites
Comments, Replies, Mentions, Tweets, and Direct Messages
Shares, Saves and, Retweets
Social media engagement, in that sense, is a measure of these interactions between you, your content, and your audience and a way of strengthening your connection with them.

Better yet…
Why Social Media Engagement Has This Much Importance?
What exactly is the real deal with social media engagement? In a word, building meaningful relationships. Social media platforms are a means of establishing and maintaining a relationship with your customers and users, which opens the way to build brand loyalty, increase social proof referrals, and convert leads into customers.

Every customer interaction shows that they either appreciate what you are doing or have something to say. They also expect to get a reply from you. So, social media engagement gives you more opportunities to gather feedback, create communities, and provide customer support.
Lastly, social media engagement provides you with insights into the performance of your content with your audience. It enables you to track your performance, optimize your strategy, and improve your product and service.

On the other hand, a good piece of social engagement overall brings you organic reach, which is on a big drop recently.

Organic reach on Facebook went from 16% to 2.27% in 2015, and user engagement on Instagram was dropped to 0.9% from 1.54%, in only three months. However, with good social engagement, it is almost impossible to be affected by this drop.

So, the importance of social engagement emerges in significantly different ways. All these ways enable businesses to build relationships, show empathy, and, most importantly, improve their product in the light of their customers' reflections.

How to Increase the Quality of Your Social Media Engagement
1. Create actual conversations

You just cannot go to dinner with your friends and sit silently. People will know when you don't want to talk and believe me, they would wish they never invited you.

Similarly, who cares about a business that does not reply to people and only shares things that people do not even care about.

So, the first rule to increase your social media engagement is to be a real human being, that enjoys sharing news and talking to people on social media.

When Juphy was launched on Product Hunt (related article link), we tried to create as many actual conversions as possible and got really excited. This excitement had spread like sparks and we heard many good wishes and thoughts.
With these kinds of launches, you'll see the power of being social. Love and engagement increase when shared.
2. Develop a consistent brand voice
Your brand voice is your brand identity. It is the way you engage with your audience and the reason that encourages them to create connections, and believe in your product.
Think about Product Hunt. What is their formula for success in social engagement? Having a voice.
They provide their target audience with a unique experience. The sense of humor. The warmth. The coffee. The tea. They do not only surfaces products listed on their website, they create an atmosphere.

Having a consistent voice is also important for the management of social media accounts. You may have a team of five to share posts and all of them should behave similarly to preserve brand identity.

Your posts, replies, tweets… almost everything depends on your voice. Therefore, having an authentic voice is one of the most important components in increasing your social media engagement.
3. Share valuable content, post regularly, and make it interesting
We talked about being actual, having a voice… One is missing. The last side of this Bermuda triangle is valuable content.

All these three work in harmony to better your social engagement. If one is missing, this means that you have to take an action ASAP.

Content, as everybody keeps saying, needs to be authentic, unique, and valuable. People are now smarter than you think they are. You cannot fool them with fake information, stolen images, etc.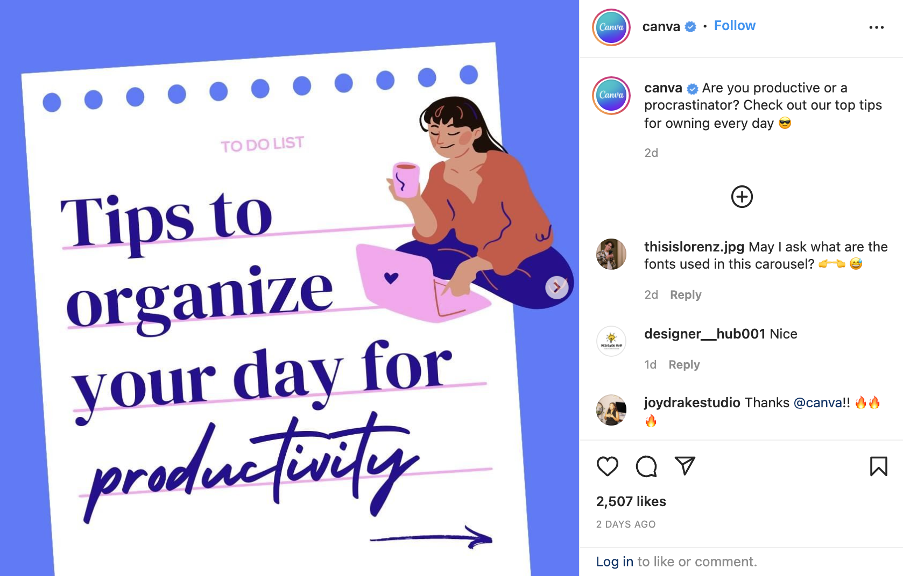 Canva, for example, mostly shares tips and best practices to engage their audience.
Not only the creative part but also your distribution should be well-developed. You can follow trends closely and provide different forms of content like videos, gifs, reels, tweets, and posts.
You can take a look at our Instagram Reels Guide to share interesting reels like Shutterstock.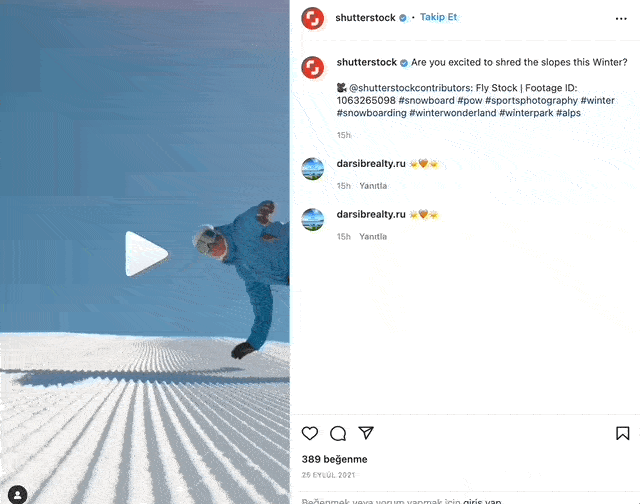 So, long story short, you also need to give the necessary importance to content creation and distribution for better social engagement.
4. Optimize your strategy by integrating your social media platforms

All the possible ways to optimize a better interaction are fair; so does integrations.

If you want to get the best results, you need to have a consistent strategy that can be optimized and improved in a single place over time.

Optimization by switching one platform to another, and using different tools for different platforms might be time-wasting and exhausting.

At this point, using customer service tools like Juphy will be the best solution for increasing the quality of your social media engagement.
It will enable you to reply to all direct messages, comments, mentions, ads comments, emails, and reviews in a single dashboard.

By seeing all of your social media engagements together, it will be easier to optimize and improve them.
5. Monitor and measure your social media engagement
Monitoring and measuring the impact and performance of your social media engagement is an important factor for the improvement as well.

Many businesses measure it through engagement rate. However, it is not as straightforward process as it is thought. You can calculate the impact under different titles like customer support, brand identity, and audience activity.
Reports | Juphy 🦊

With Juphy's performance reports, for example, you can keep a close eye on your customer support performance and identify areas of improvement based on your customer interaction data.
Better yet, you can't just have engagement; you have to build engagement. Meaningful conversations and turning them into loyal customers do not come just like that.

It's in our blood to find the best solution ever for a better workflow.
Juphy, the Best Social Media Engagement Tool for Small Businesses
So, let me introduce you to Juphy first. Juphy is a social media engagement tool for managing all customer communication channels like email, reviews, chat, and most importantly, social media in one place.
Unified Inbox
With a mission to speed up and simplify the customer support process, Juphy aims to manage all your real-time messages in a unified inbox.
As each interaction has vital importance in social media engagement, your first aim should be never to miss any of them.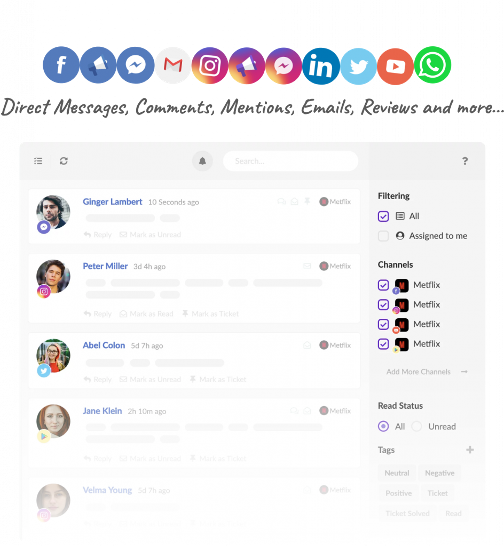 In the light of this purpose, Juphy allows you to quickly respond to all mentions, reviews, and comments through its dashboard and never miss an important engagement.
"Juphy has been a game-changer for us. We run multiple Facebook, Twitter, and Instagram pages for ourselves and our clients. Our response rates were pretty poor, for both comments and inbox messages. That has all changed. Finally, our head seems to be above water!"

Robbie Forsyth, CEO of YSF
Switching between different platforms? It is the dusty pages of history. Save tons of time with better solutions.
Social Media Engagement Calculator
How many total messages were responded to on social media? How many conversations were opened and resolved by whom? What is our average response time? Is our strategy works well and is supported with the right metrics?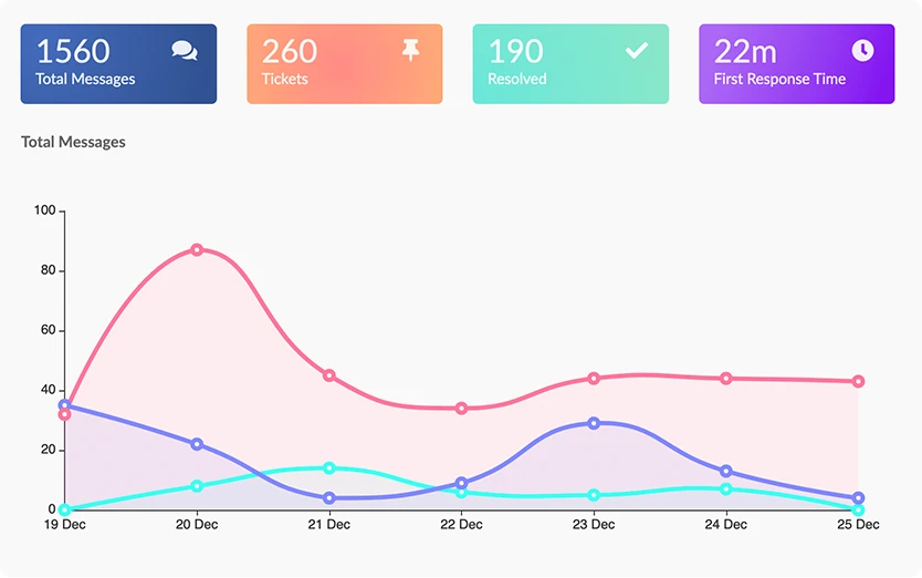 Juphy's custom reports enable businesses to view their overall social media engagement rate, channel performance, audience performance, and customer support team performance.
On a table, you'll be able to see your customer support team, their conversation numbers, and average response time separately. This will allow you to improve your customer support team's performance.
Canned Responses
Automated messages and bots have become an inseparable part of our life. Sometimes, you get the same question more than once and need a way to automate this process for saving time.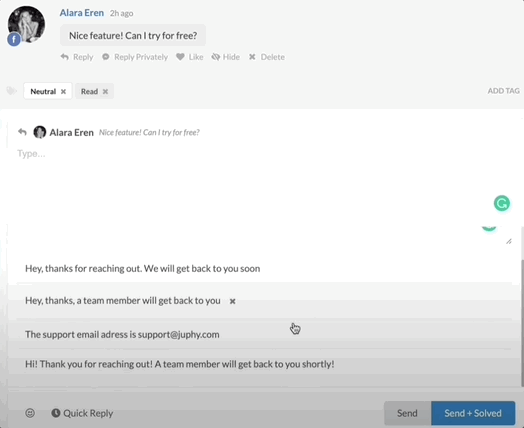 "Most people feel like they don't have enough time to reply to every comment or email. Juphy allows you to log in to one dashboard and handle this matter in minutes. Canned replies and automation are priceless."

Alara Eren, Marketing Manager at Juphy
Instead of writing the same answer over and over again, with Juphy, you can create canned and quick responses to answer frequently asked questions.
Let's Engage
Social media is the new engagement. When optimized well and supported with social media engagement tools, it will be your best way of connecting!
Start interacting with your customers and improve your social media engagement strategy in the best way possible. Give Juphy a show to help your business and sign up for their 7-day free trial!
Thumbnail credit to Ash, Start interacting with your customers and bettering your social engagement strategy in the best way possible. Give Juphy a shot to help you with your business!
Thumbnail credit to Ash, https://dribbble.com/