Thanks to (or maybe because of) the technology, we don't want to wait to get what we want anymore. People were used to waiting in the past, but now everything has become much simpler and quicker. Same goes with customer services.
Sending emails, waiting in queues, staying on hold while speaking to a customer care representative became hard to tolerate with time and this is where social media comes to the stage.
Social media is much more than it was when social media platforms first emerged. Besides sharing their life and interacting with others, people use social media when they want to be informed about something or when they want to reach someone directly.
When it comes to customer services, it is clear that customers prefer instant replies and solutions nowadays. Social media customer service enables you to provide help to your customers in a convenient ambiance.
What is social media customer service?
Social media customer service means providing service to customers via social media platforms where they can get support simply and quickly.
Businesses provide services like answering questions, offering guidance, dealing with complaints, even issuing refunds through social channels like Instagram, Twitter, etc. Social customer service is an affordable, simple and quick alternative to conventional customer service.
In addition to its comfort, social media customer service costs much less when compared to call centers. According to Forbes, solving a problem through social media costs x6 less than solving it through a call center. For an organization, a call center call costs around $6 while a social customer interaction costs around $1. So, there is a win-win situation for the customer and the business.
Why is social media service important?
Due to the rise of online businesses, customer service expectations get bigger day by day. People want to get help and solve their issues in a fast and effective way.
Using social media channels like Instagram, Facebook, WhatsApp, etc. enables customers to express themselves in a comfortable and familiar environment. Plus, your company shows how much they care about their customers by making an effort to meet customer expectations.
Social media service also makes 7/24 support possible. Always keeping in touch with your customers becomes possible through social customer services. This shows how reliable and caring your services are and the importance you give to your customers.
However, with great power comes great responsibility.
Social media strategies are essential in providing social services since they might also damage the brand or the business if things are not handled well.
How to provide customer service on social media?
There are a few tips that every business should know before using social media for customer service.
1. Have a professional social media customer service team
A customer service team can help you deal with customer support issues effectively. Having professionals communicate with the customers will shape your company image in a caring and professional way.
Not missing a message might be seen harder and harder as your customers grow. However, with the help of professional teams and some tools, it is possible to achieve your ideal social media customer service performance.
2. Have communication guidelines
With an organized team, you can create a tone and attitude for your services. If the customer support team follows particular guidelines, your company will have a style.
This image is beneficial since your reputation is the key to communicating with your current and potential customers. This kind of repute is a great bonus for companies and organizations.
3. Monitor online platforms for useful data
Not everybody will choose to mention you by tagging while talking about your company. But don't worry, there are ways to monitor mentions of your brand. This way, your company might be able to take a step forward by solving the problems of people who don't directly reach out to them.
4. Engage in conversations
Many people work so hard on their social media image with the posts, stories, and everything. These are all important elements but not enough to create a mutual bond. Building real relationships with customers will help create a caring and reliable image, which is also good for sales and preferability.
5. A proactive approach is the key
Rather than just responding to your customers, changing your services and improving them in a way that meets the requirements and answers the questions of their customers. This proactive approach lets you help your customers and create self-help content.
If some questions become frequent, you can provide help through social media and make your customers' lives easier. This saves them from reaching out to customer services and the responsive attitude is proof of how the company makes an effort to keep the customers satisfied.
Examples of Social Media Customer Services
Spotify
Spotify is one of the most popular music platforms that enable online and offline music streams. They have a Twitter account called @SpotifyCares that reaches out to customers with problems. Plus, Spotify dedicates appropriate songs to each of its customers who reach out for their problems.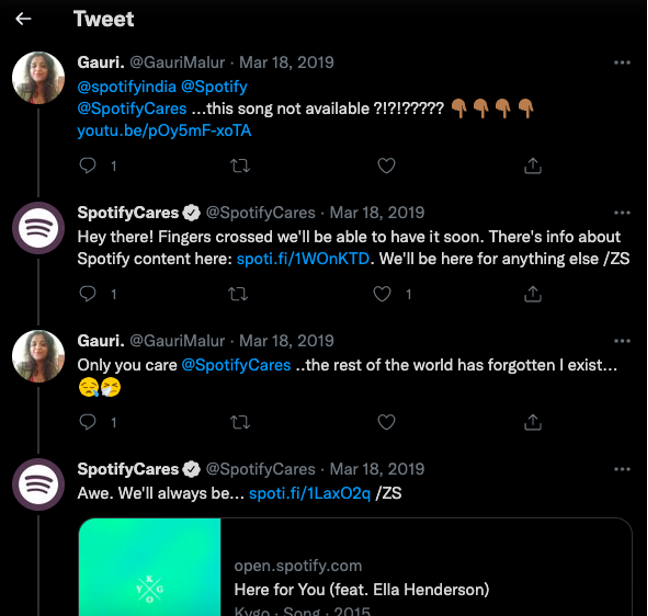 Plus, this makes finding solutions easier for Spotify customers, since these tweets can be seen by anyone who looks up their problem online.
Xbox
With an average time of 2 minutes and 42 seconds, Xbox has the Guinness World Record for "The Most Responsive Corporate Account on Twitter". Their Twitter account responds to mentions as quickly as possible and nearly every mention gets an answer.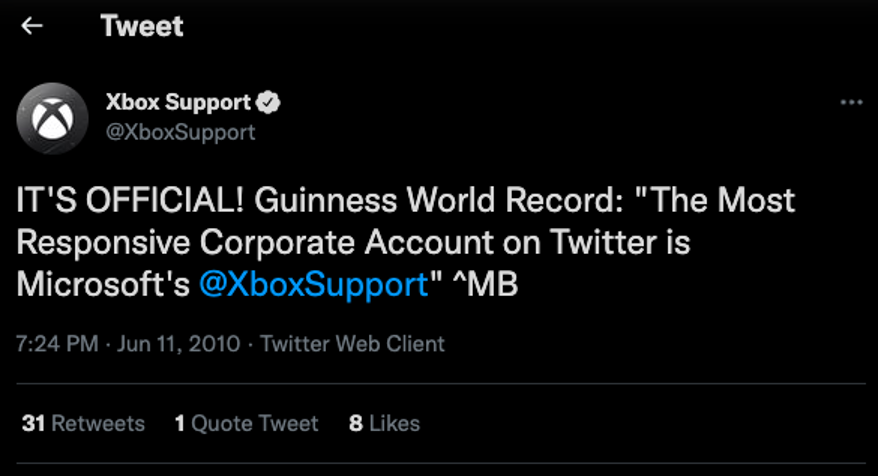 But how? This success is not a coincidence. Microsoft Xbox has teams that focus only on Twitter support. Their customer service team responds to all mentions publicly and even mentions people who talk about their problem in a tweet. With some monitoring tools, they find ways to have an interactive relationship with their customers.
Social Media Help Desk: Juphy
Thankfully, you don't have to move heaven and earth. You can always get assistance.
Juphy provides a unified inbox service. Rather than switching between platforms to answer messages, you can see all your messages in one place.
With Juphy, your email, WhatsApp, Instagram, Facebook, Twitter, LinkedIn, YouTube, Google Business, Twilio, App Store, and Google Play messages are gathered in one platform.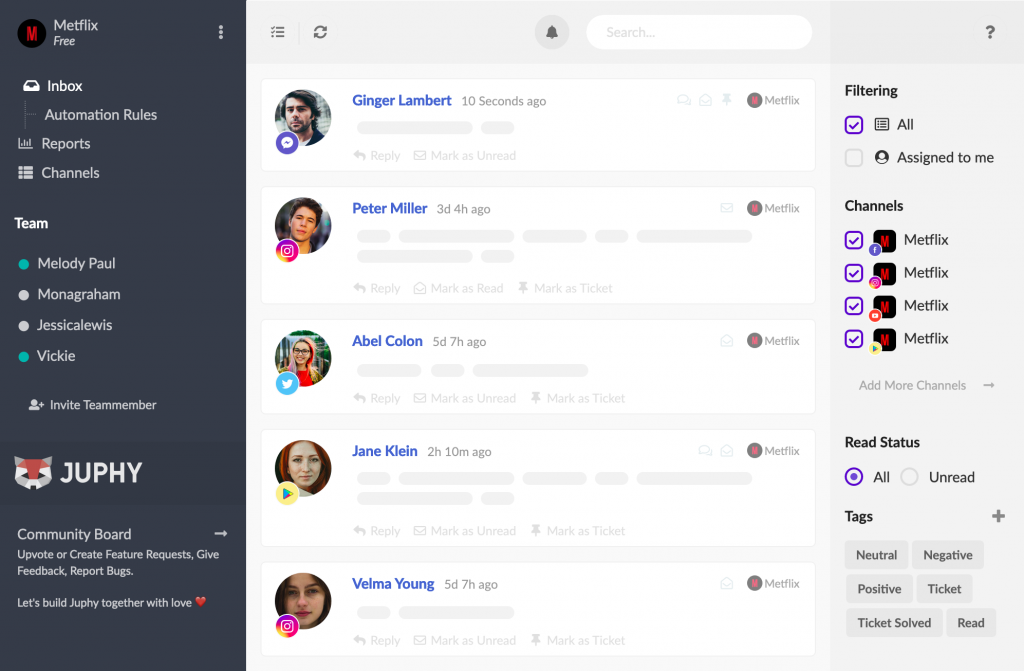 Juphy offers:
Everybody in one place. Agency, call center, and support team members are all in the same place and ready to collaborate on customer inquiries altogether.
Personalized interface. You can change your view of the shared inbox platform however you prefer. You can set your own domain, URL, and email address and even hide the Juphy branding.
Different workspaces for different brands. You can create workspaces for each of your brands and manage them separately. This keeps your brands organized and easy to control.
Customer support performance reports. How can you improve your services without the data coming from your customers? With these reports, you shape your development strategies, and meeting customer expectations becomes easier. Insightful reports provide ideas for growing your services.
Classification of messages is possible through filtering. With certain keywords and sentiments, incoming messages are classified automatically. This saves time and helps customer service workers while replying.
Quick responses for common questions. These responses are automatic and canned answers to messages from the customer. Frequently asked questions are a common part of your customers and answers help them find solutions.
Communicating with your customers can become a part of your customer service process and it can be a win-win situation for your business and customers. Benefiting from social media this way is important for your brand development. With the right strategies, it is possible to achieve your ideal operation processes.
Benefits of Juphy
Juphy makes interacting with your audience easier. With their successful Product Hunt campaign, we know their customers are happy with Juphy's services.

According to their customers, Simplicity and user interface are the first reasons why they choose Juphy. Thanks to the easy UI/UX designs, transformation processes, and practical usage, their customers enjoy using Juphy.

Another reason is Juphy's efficiency and how it saves time. Interacting fast with the clients, seeing all messages in one place, deleting spam comments easily, pre-written responses, and many other services save your time and reputation.

Juphy enables its customers to do all these easily and safely. This kind of unified inbox enables your company to keep interactions under control. You can always start your free trial from their website (https://juphy.com/) and see suitable plans for you and their pricing.
Thumbnail credit to Takakuni Ikuma, https://dribbble.com/Takitabanana