In his book The Psychology of Money, Morgan Housel writes "Controlling your time is the highest dividend money pays". Working with a versatile social media inbox unifies the processes while reducing the clutter, which allows you to control your time more effectively.
When you create a piece of content and distribute it through your preferred social media channels, several processes come into play. If the content is somehow thought-provoking, hopefully, it will drive huge engagement. As the notifications pile up, you'll end up constantly jumping from one platform to another to scroll through hundreds of comments for endless hours while keeping an eye on your emails and other reviews the whole time. To crown it all, if you work on more than one account, everything can easily get out of hand in the chaotic domain of social media. Managing and reporting all those interactions for every content of each account manually increases the possibility of error significantly. Unless of course, you can see the big picture in a small social media inbox.
What is a social media inbox?
As the name suggests, a social media inbox or a "social inbox" is a unified inbox that lets you manage all your social media interactions on a single dashboard. If you are managing your Instagram ads on Facebook Business Suite, you should be familiar with the concept. They basically share the same platform and when you receive a query on Instagram, it also shows on Facebook.
But what about the interactions on other social media, such as Twitter, LinkedIn, and YouTube? What about all those comments, direct messages, and mentions? Also, what about real-time messaging apps like WhatsApp and Twilio? If you have a product, how will you be able to keep up with the App Store and Google Play Store reviews? You should also be receiving emails from both users and clients.
Although these can be gathered together in a small paragraph, every social media manager knows that it takes a ridiculous amount of time just to check them all. Jumping from platform to platform to reply to the queries one by one can easily turn into a crisis, especially in situations when you are racing with time and never-ending updates.
With a reliable social media inbox management tool, you can keep track of all your user engagements without the fear of missing important updates and collaborate with your team to manage specific issues.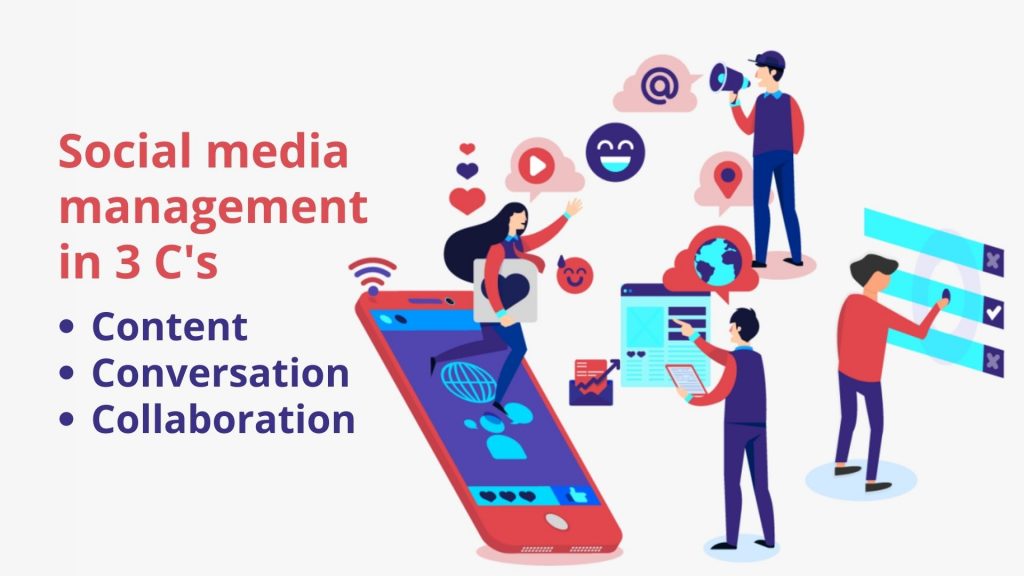 Why do you need a unified inbox for social media management?
We can sum up social media management in 3C's: Content, Conversation, and Collaboration.
Contents that incorporate the right communication messages create a stir on social media. Users start writing their views about your product, service or campaign, sometimes ask questions or simply show their appreciation with emoticons. The process expands with reshares and mentions. If you respond appropriately and on time, you can turn the noise into a conversation, which drives better engagement scores, brings higher customer satisfaction, and even directly leads to sales.
As mentioned before, it quickly becomes overwhelming for one person to keep up with multiple platforms and accounts. On the other hand, nobody has all the relevant information. Real-time communication between client, agency, call-center and support teams can be essential in some situations. You'll need to take some risks because social media account information will be available to a couple of people. Tackling this problem with great teamwork is easy if you have a sound collaboration system, where relevant information is always available, each member is assigned a specific task and delivers on time without any major errors.
Sounds simple but it actually isn't. That's why there are tons of tools on the market specializing on issues from project to team management, from social monitoring to support ticket systems. Many of these tools work brilliantly in their specific fields but this also raises an important question: How many tools do you need in order to get a job done?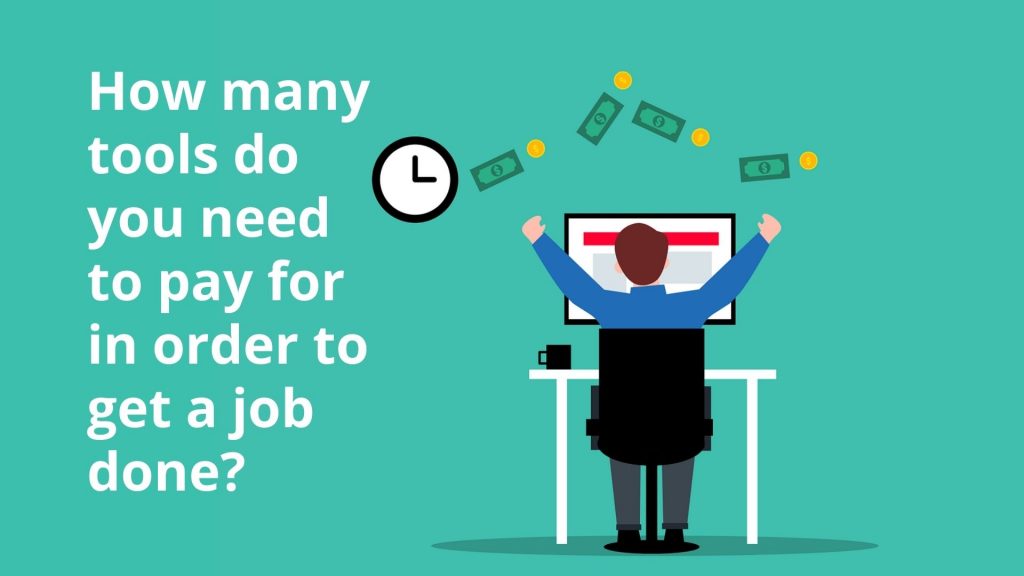 The answer is "one". A comprehensive social media unified inbox can save you time, energy and money while providing outstanding customer relations.
How to use social media inbox together with content publishing tools
A unified social inbox combines all queries on different social media platforms in a single dashboard so you won't need
A support ticket system to respond to direct messages
A monitoring system for keyword listening
A project management system for replying, hiding or deleting comments, mentions, ads comments
A team management system for collaboration and performance measurement
Several spreadsheets for appropriate responses
Real-time messaging tools
Or even different browser tabs
Simply integrate your accounts to the combined inbox and start communicating with social media users from one central point, regardless of what platform they are on. Gather account groups in the shared inbox for further collaboration, increase the speed of response and enjoy better efficiency with lower costs.
These are some of the great benefits of a social media inbox. Now add a clean and user-friendly interface, incredibly simple navigation, insightful reports, customization options, and continuous improvements to this mix to get the best social media inbox.
The best social media inbox: Juphy
Being featured on Product Hunt and having received 4.8 stars from 300+ customer reviews, we can confidently say that Juphy might be one of the best things that happened in social media management processes lately. As an official marketing partner of the industry leaders, Juphy provides a holistic approach by supporting all the social media platforms you currently need.
Juphy's unified inbox helps you manage user queries not only on multiple social media platforms but also for multiple accounts. Switching takes only one click. And there are many more cool features in this minimalistic app that combines all social media.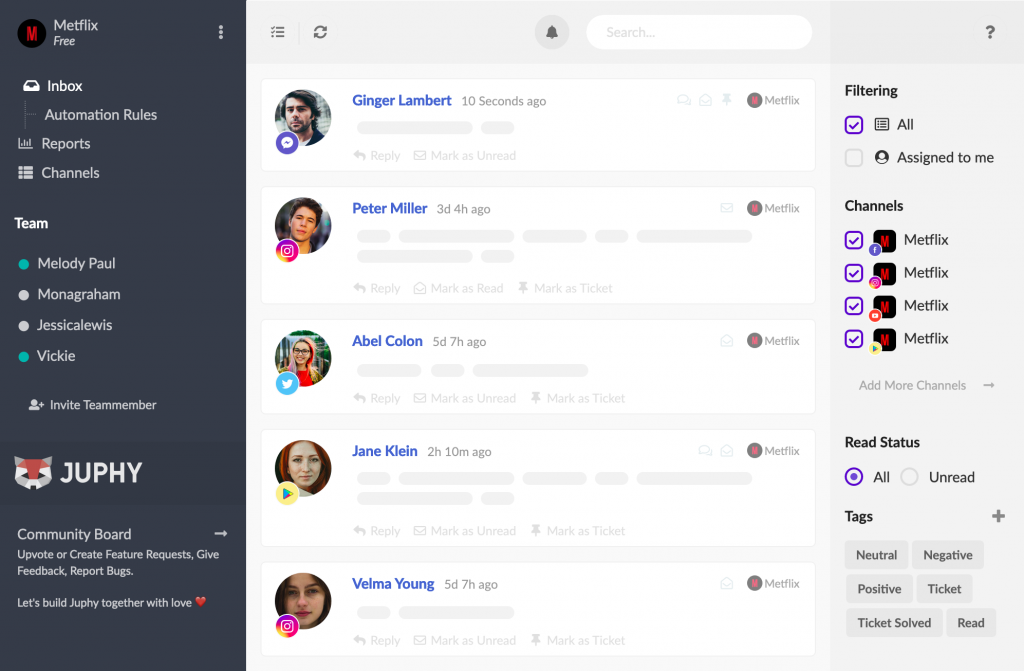 Benefits of Juphy's social media inbox
Track & Respond: Juphy enables your business to manage all user engagement from Facebook (Facebook page & group comments, Facebook Messenger, ads comments), Instagram, Twitter, Linkedin, YouTube, Google My Business, AppStore, Google Play Store and Email in a single dashboard. You no longer have to switch between different platforms to keep track of your engagement on these platforms.
Search: Just type in the keywords and find the whole conversation that you had some time ago in your inbox. Find out about the tickets opened for a specific issue, how it was resolved and the team members that provided support.
Team collaboration: No more wasting time waiting for support from teammates. You can collaborate with your team while responding to a message in real-time, right from your social inbox. Juphy works as if Slack and Zendesk had a baby.
Filtering options: You can filter the messages by channels, status and date. On the other hand, tags are one of the most useful filtering options. You can tag several messages as positive, negative, dark posts, tickets solved, etc. and see only those messages with a single click.
Automation rules: Classify your messages automatically based on sentiment or keywords. After selecting the channel that you want to set an automation rule, type in several keywords and link it together with a tag. When you set the rule, incoming messages that contain the defined keywords will be automatically classified. Since Juphy offers keyword monitoring on Twitter, you won't need a separate social listening tool either.
Canned responses: Answering frequently asked questions might have taken a significant part of your time until meeting Juphy. If you have predetermined answers for some questions, don't bother finding that on a spreadsheet. Just create a quick response and answer with a single click whenever those questions come up.
Performance reports: How will you know that Juphy increases your customer support performance? Take a look at the reports sections. The actionable and insightful reports will show you the total messages, tickets and resolved issues along with first response time. You can also see message distribution by communication platforms so that you can make better assessments.
White label: You can customize the branding of your social inbox with your logo and colors to make it truly yours. Hide Juphy branding, set your own domain, URL, and email address. Piece of cake.
Start your 7-day free trial now and test it for yourself. No credit card information is required. It takes only two minutes to set it up (1-click if you are a G-Suite user) and the user-friendly UI makes it extremely easy to operate. If you like your overall experience, share your comments on any of your social media accounts. Thanks to Juphy, your comments will definitely not go unnoticed.