Projected to hit an astonishing $6.3 trillion in 2023, the global e-commerce market is a gold mine waiting to be tapped. The e-commerce market is a rapidly expanding industry that offers small and large-scale businesses the opportunity to sell their products online.
If you want to start an e-commerce business, you should know the basics. This guide offers just that and more.
Create Your
Social Inbox Now
Manage all social media customer support inquiries in a unified inbox.
Understanding E-commerce: The Basics
Embarking on the entrepreneurial journey of establishing a business from the ground up is undoubtedly rewarding, and you must first understand the basics to succeed at it. Here's what you should know about the e-commerce industry.
What Is E-commerce?
Simply put, e-commerce refers to purchasing and selling goods and services online. In e-commerce, transactions and payments are conducted through electronic devices. E-commerce business transactions occur in different ways.
These include business-to-business (B2B), business-to-customer (B2C), customer-to-customer (C2C), and customer-to-business (C2B).
Why Is E-commerce Important?
E-commerce is important due to the benefits it offers. First, e-commerce allows many businesses to broaden their reach. With more consumers shopping online, e-commerce businesses can display their products to consumers anywhere in the world.
E-commerce also offers cost reduction, fewer risks, more marketing opportunities, and more. Below are the seven key steps to take if you decide to start an e-commerce business.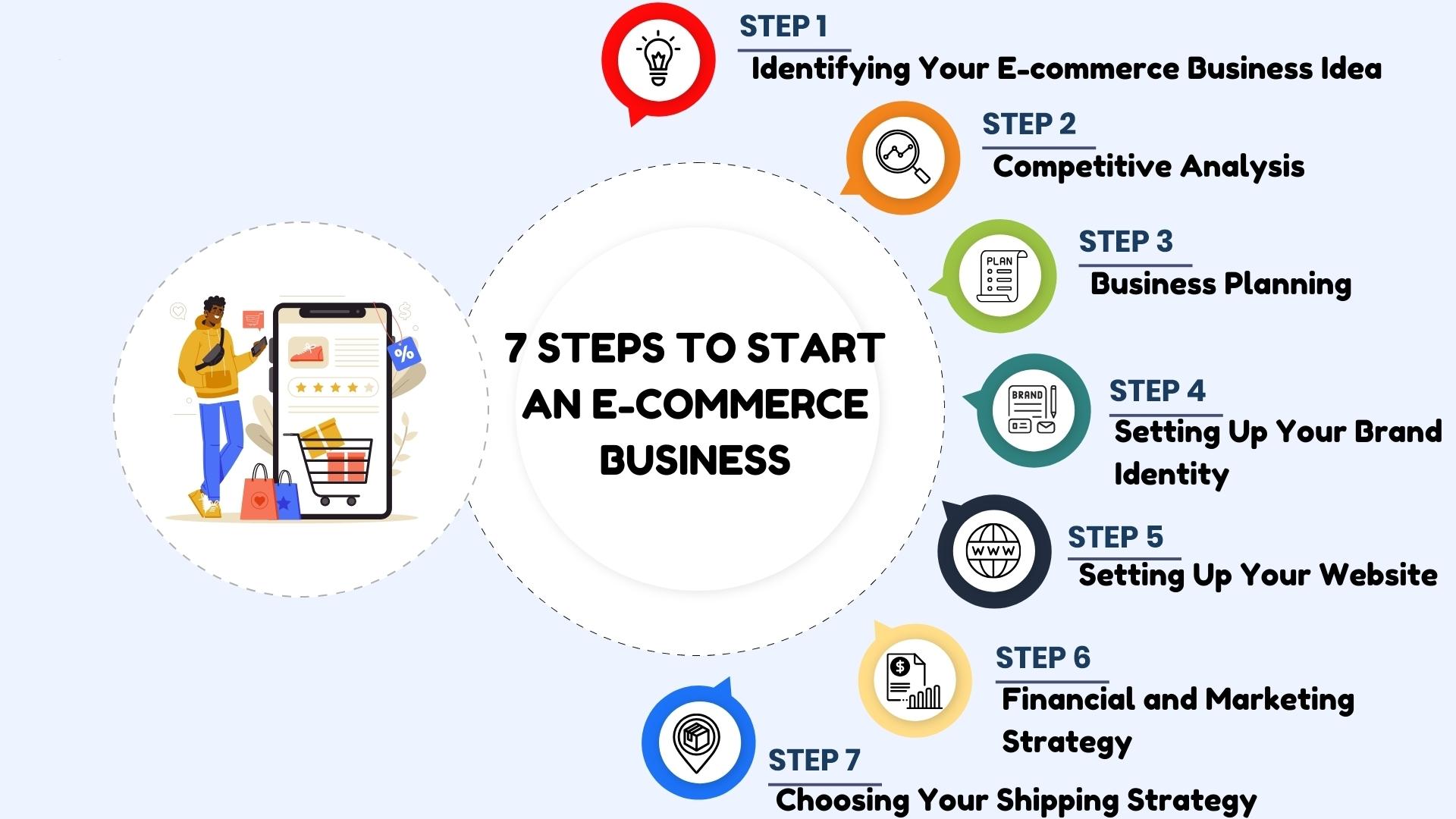 Step 1: Identifying Your E-commerce Business Idea
Kickstart your journey by crystallizing your business idea. As we mentioned above, e-commerce businesses come in different formats. Based on your interests and abilities, you can decide to sell digital or physical products or services.
Finding a Product to Sell
A key step in developing your business idea is making a product selection. It's advisable to find a niche and stick to it rather than offering different kinds of products and services at once. For example, Abercombie & Fitch offers a range of clothing items. You need to choose a product that you're passionate about and is easy to source.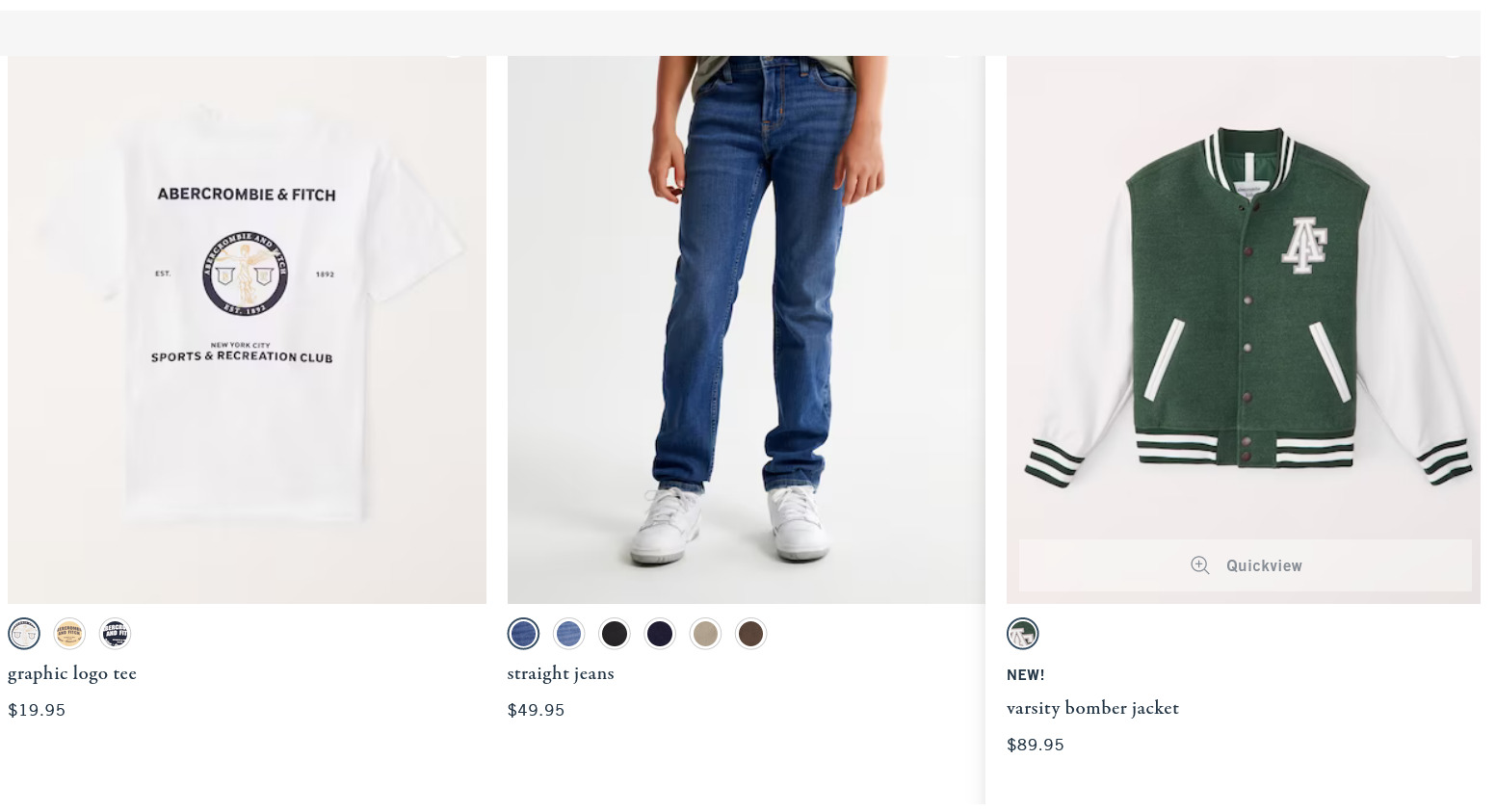 Before you make a final decision on your product selection, you need to conduct market research. This will give you an idea of the demand for that product. You can use tools such as Google Trends and Keyword Planner to view how many people are searching for products in your niche.
Step 2: Conducting a Competitive Analysis
After choosing your product, the next step in your journey to start an e-commerce business is analyzing your competitors. Doing this will help to refine your product selection, help you avoid mistakes, and help in creating an effective business strategy. Below are the key things to consider when conducting a competitive analysis.
Identifying Your Competitors
First, you should identify the major players in your niche. If you're running a small-scale e-commerce business, then it's best to avoid niches strictly dominated by major brands. It's important to know who customers are shopping from, as well as their market strategy, pricing, and business model.
You can identify competitors through Google search results, industry blogs, online reviews, and social media.
Learning from Your Competitors' Strengths and Weaknesses
After identifying your competitors, carefully study their marketing strategy, customer service, reviews, and other important trends. From this, you can identify their strengths and weaknesses to adapt and improve on them or avoid them (weaknesses). 
Also, look out for gaps in their product selection and fill those gaps in your business strategy.
Step 3: E-commerce Business Planning
Now, it's crucial to put pen to paper, documenting your ideas and strategies, as well as the data you've gathered from market research. The goal of this step is to set a clear roadmap and determine the viability of your e-commerce business idea.
Below are some vital aspects of business planning when you start an e-commerce business.
Understanding Profitability, Audience, and Product
These three are key to the success of your business idea.
First, you should understand and determine how likely it is for your business to make a profit after accounting for your expenses, pricing strategy, and operational costs.
Also, you should understand the interests and behaviors of the consumers in your niche. Identify your target audience, including their demographic and psychographic information. Lastly, ensure your product offers value and is in demand.
Writing Your E-commerce Business Plan
Once you properly understand your audience, product, and profitability, put your business into writing. Your e-commerce business plan outlines your business idea, goals, target audience, competitors, marketing strategy, and other vital aspects of an e-commerce strategy.
Step 4: Setting Up Your Brand Identity
In the highly competitive e-commerce world, your brand identity sets you apart from your competitors. Your brand identity includes your persona, brand name, and logo. Creating a brand identity helps to maintain consistency and memorability.
Choosing a Name for Your Business
A crucial aspect of your brand's identity is your business name. Choose a catchy but simple name that will stay in the minds of consumers who come across your business. When choosing a name, ensure you conduct enough research to ensure you do not choose the same or similar name as another brand.
A logo helps to make your brand more recognizable. Choose a creative logo with a unique design and attractive colors. Check out Alibaba's easily recognizable logo.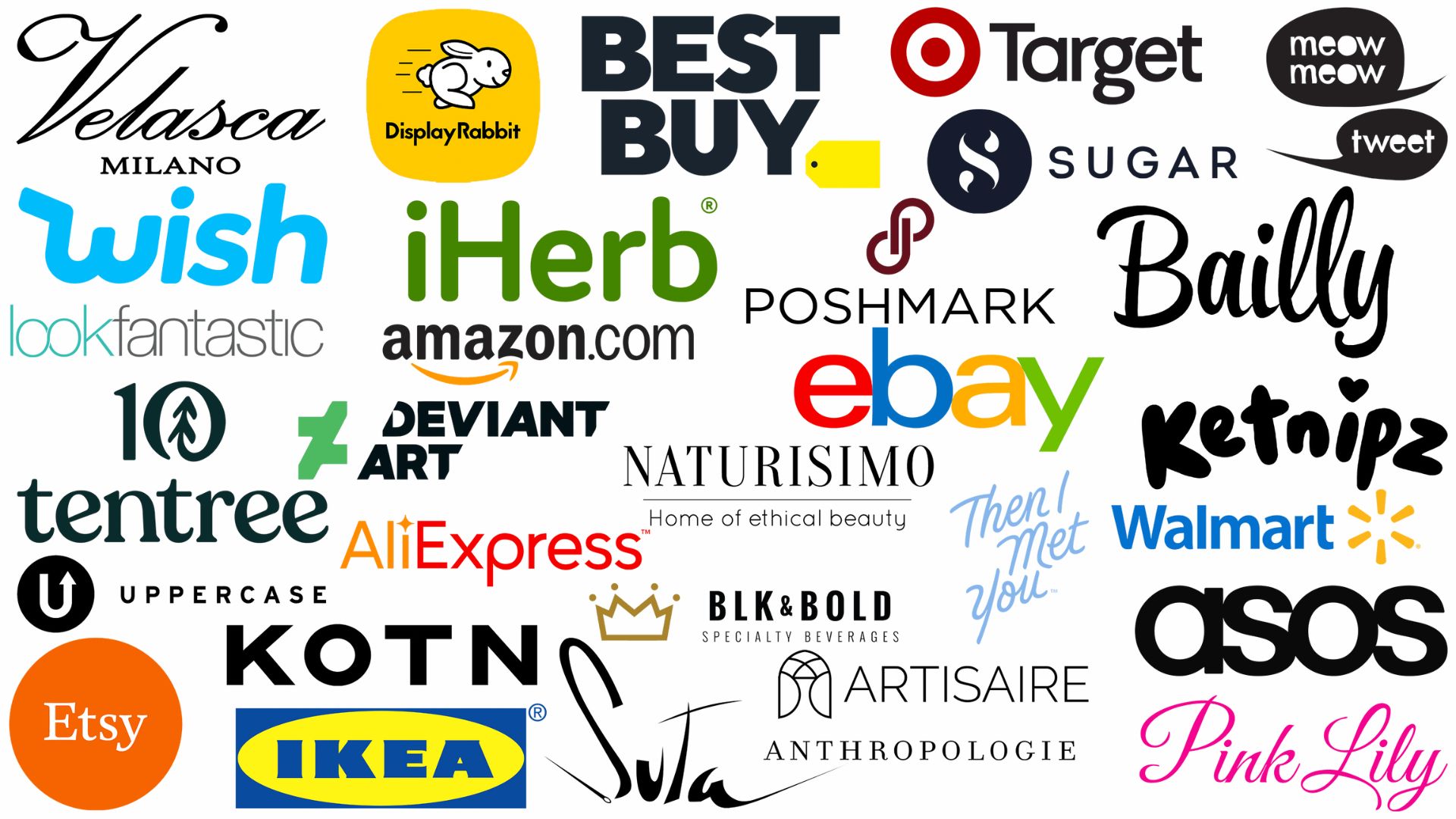 You can either consult a graphic designer or use a logo creator online to get one for your brand. Business logos can be text-based, graphic-based, or a combination of both.
Step 5: Setting Up Your E-commerce Website
Since there's no physical store, your website should be where potential and existing customers will know more about your business. Through your e-commerce website, you can expand your reach, create unique experiences, and build your brand.
Creating Your Online Store
You'd need to register your domain and then create your online store. Ensure you choose a design that suits your brand identity and target audience. Hire a reputable web designer that'll help to create an attractive online storefront.
Your online store will include product photos, descriptions, pricing details, and other essential information.
Choosing the Right E-commerce Platform
When choosing an e-commerce platform, there are certain factors to consider. You should consider the loading speed, compatibility, payment options, SEO performance, customizable features, mobile optimization, etc. Also, ensure you choose a platform that can meet your traffic needs.
Mobile optimization is not just a luxury but a necessity. An ever-growing number of consumers are choosing their smartphones and tablets as their primary shopping tools. Hence, ensuring that your e-commerce website is seamlessly accessible and user-friendly on these devices is paramount. This involves ensuring that images load correctly, smooth navigation, and streamlined checkout processes for smaller screens. A mobile-optimized website not only enhances the user experience but can also influence their buying decisions, making it a critical aspect of your e-commerce setup.
Step 6: Planning Your Financial and Marketing Strategy
This is a crucial aspect of your overall business strategy. Your financial strategy covers budgeting, cost analysis, profit margin, etc. Your marketing strategy includes your marketing goals, target audience, and content marketing.
A well-thought-out financial and marketing strategy is vital to maintaining growth, generating profit, managing costs, increasing brand awareness, and having measurable results.
Calculating E-commerce Business Startup Costs
Before you start an e-commerce business, ensure you have a clear idea of how much it'll cost to run various aspects of the business. Your business costs include website development, payment processing fees, product sourcing, marketing expenses, and shipping.
These costs can vary based on your location, the products you offer, and the size of your business. However, your operating costs should be lower than your expected profit.
Setting Sales and Marketing Goals
Create clear and realistic sales and marketing goals. Also, create quantifiable metrics for your sales and marketing results. For your sales goals, create a timeframe for the number of expected sales and expected profit across the available sales channels.
Marketing goals include brand visibility and reach goals, lead generation, expected website traffic, and conversion rates.
Step 7: Choosing Your Shipping Strategy
Your shipping strategy can affect your conversion rate. If your shipping strategy isn't efficient and attractive, many customers will likely abandon their carts and shop with another brand. EVERLANE, for example, offers free shipping on U.S. orders over $100.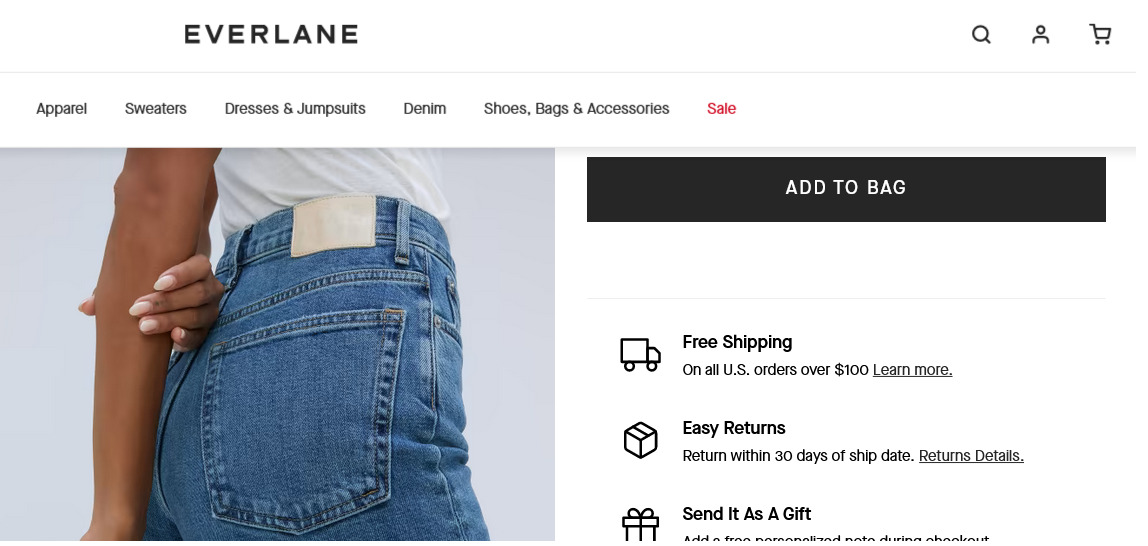 Due to this, it's necessary to pay extra attention to your shipping policy. You should consider the different shipping strategies and choose one that suits your business.
Understanding Different Shipping Strategies
There are different shipping strategies for e-commerce brands. The first one is free shipping. However, this might not be suitable for small-scale e-commerce brands, depending on the type of products and their location.
Another shipping strategy is charging a flat rate shipping fee. However, this might be disadvantageous to your brand when there are large orders. E-commerce brands that have a physical location can adopt a local pick-up strategy.
The last strategy is real-time shipping. This involves calculating a shipping charge based on the order made by the customer.
Selecting a Shipping Strategy That Fits Your Business
Based on the advantages and disadvantages mentioned in the previous point, you can then choose what works for your business.
To summarize everything, here is a video from Shopify that summarizes how to start an e-commerce business:
Empowering E-commerce Startups with Juphy
Starting an e-commerce business comes with its own set of challenges. Staying connected with customers across various platforms is crucial. With Juphy's unified social inbox, seamlessly manage interactions from Facebook, Instagram, WhatsApp, and more. Address repetitive questions efficiently using our canned responses, ensuring prompt replies every time.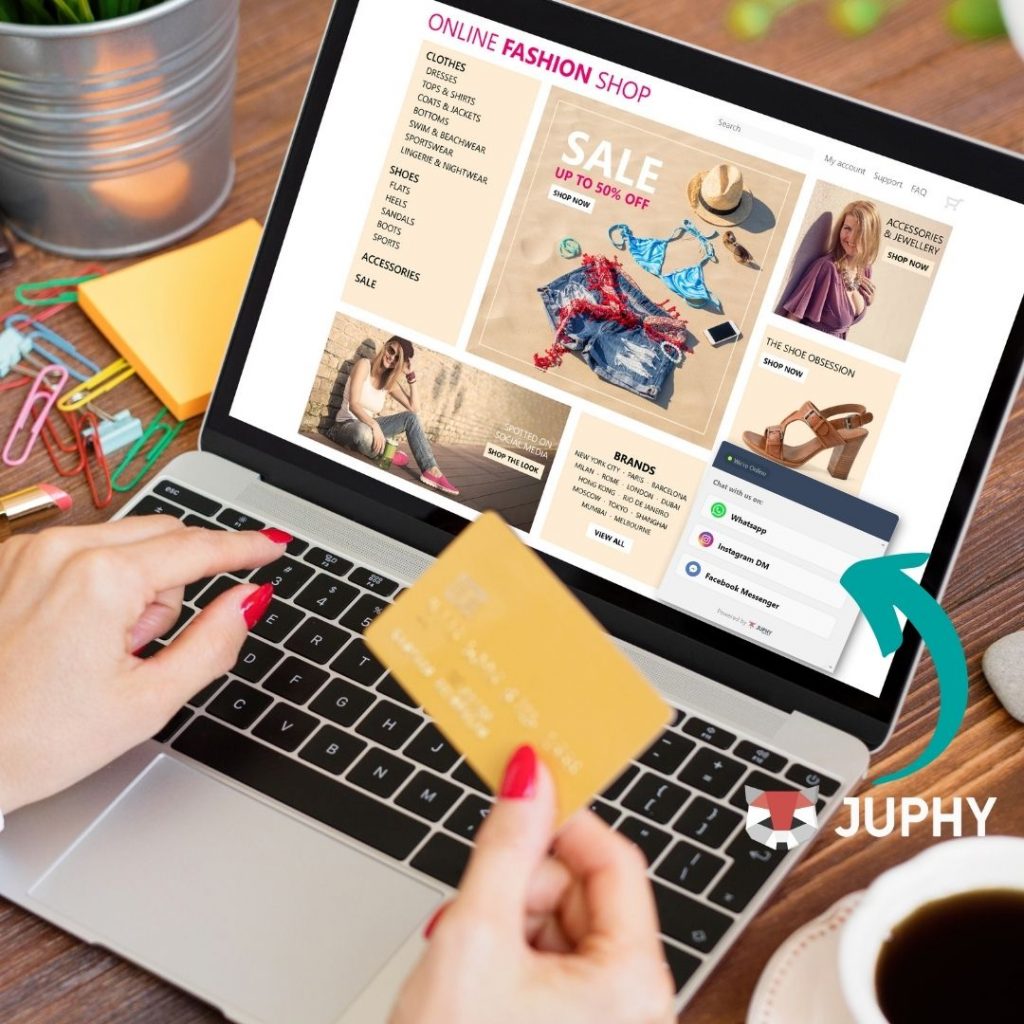 The Social Chat Widget further enhances customer engagement, allowing immediate connections via platforms like Facebook Messenger directly from your site.
And to understand your customer's journey better? Use our conversion tracking feature. It provides invaluable insights into user behavior, helping you refine your strategies. Additionally, our reports dashboard sheds light on metrics like response times and team performance, while the Social CRM lets you personalize interactions by segmenting your audience. Juphy is here to simplify and enhance your e-commerce communication needs, setting you on the path to success.
Conclusion
Now that you've learned the steps to start an e-commerce business, you can begin creating your e-commerce brand. The key is to start simple and maintain adaptability. Be on the lookout for new industry trends, marketing tools, and strategies to help you grow your business, and you're solid.
Create Your
Social Inbox Now
Manage all social media customer support inquiries in a unified inbox.