Effective customer communication is key for a brand's survival and development. Properly prepared customer communication strategy enables reduced customer acquisition costs, maximized customer value and improved retention rate. That is why good customer communication management is a serious issue that all businesses need to deal with.
So, what exactly should businesses understand from the concept of customer communication management?
In this article today, we will be explaining the whole process step by step for you, from the answer to the question of customer communication management to all the tools you need.
Let's get started!
What is Customer Communication Management?
In short, customer communication management, namely CCM, is for businesses to understand customer demands and provide effective and consistent communication in all the channels.
CCM also focuses on strengthening customer communication. Having a strong communication strategy helps businesses acquire and retain customers.
But, you should not think of customer communication as just e-mail and phone-based communication. As the number of online channels and platforms have increased significantly in recent years, it is no longer enough for a company to simply have a website or only communicate via email. Researchers also support this situation.
A survey of executives revealed that more than half of American businesses use at least 10 different channels to interact with customers, varying on the type of business, audience, and type of communication. In this context, we can say that every channel and contact of businesses with customers includes the customer communication.
Customer Communication Management Tools
CCM acts as an integrated solution and fills the gap between the business and its customers. CCM tools allow you to overcome customer demands effectively and manage customer communications efficiently.
CCM tools also enable businesses to manage and automate customer communications over a single platform. So, this allows you to centralize your control and enable customer communications to be viewed, tracked, and managed by multiple departments within a business. In this way, you can produce real-time solutions for the customer demands.
Especially, if you are a small and medium-sized business communicating frequently with the customers via social media, email and third-party review platforms managing the customer communication process entirely with your own team, or, if you are an agency to manage the customer communication channels of multiple brands or a freelancer with customers, CCM tools provide cost-effective solutions to help you connect with the customers in real time.
It also allows you to customize and automate all your customer correspondence, maintain customer loyalty, retain the customer, and most importantly, provide customer satisfaction.
So, if you want to know how to best provide all this communication for the customers, we have listed the best customer communication management tools for you:
1. Juphy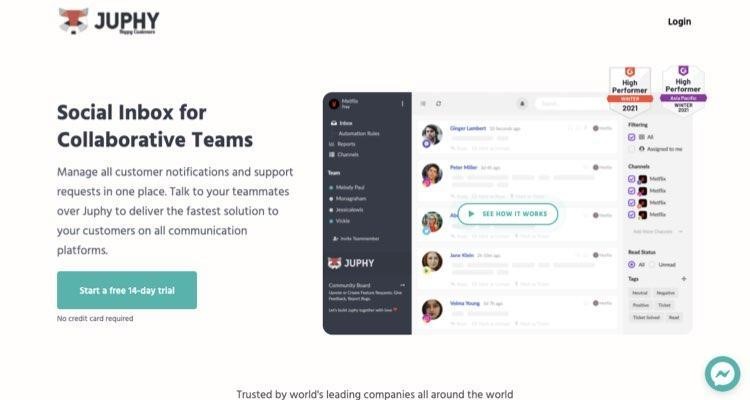 Juphy is an all-in-one customer service platform that helps you accelerate the customer support process by enabling you to manage all customer notifications and support requests over a single platform in real time.
With the help of Juphy's dashboard, you can quickly respond to messages, emails, mentions, reviews and comments from Facebook, Instagram, YouTube, Twitter, Linkedin, Google My Business, Gmail, Google Play Store and IOS App Store (also Facebook Groups soon) in just one click.
By this means, you can gather your brand, call center, agency or remote support team under one roof and solve any customer problems instantly.
Some of the features you can get using Juphy are as follows:
Real-time tracking of customer interactions on social media platforms such as Facebook, Instagram, Twitter, YouTube, etc.
Real-time tracking of the mobile app reviews.
Managing the entire customer support flow with automated reports.
Automatically classifying the incoming customer messages.
Searching with any keyword.
Automatically exporting filtered data by date range.
Exchanging ideas with your team members about incoming customer messages.
Getting notified for the new incoming messages.
Creating templates for the quick responses.
Managing the clients in separate workspaces if you are an agency or call center.
Juphy also allows customers to create feature requests or vote at any time to develop the platform with their customers.
If you want to experience all these features free for 7 days, you can click on the link now.
Price: Business $19/mo, Agency $39/mo, Enterprise Custom
2. TalkDesk
TalkDesk is designed to help midsize and enterprise businesses reduce customer support costs and increase overall customer satisfaction.
It uses artificial intelligence and machine learning to improve customer service.
Some of the features you can get using TalkDesk are as follows:
It provides you with a cloud platform to store important customer information.
It can easily manage a large customer base.
Smart routing feature directs the calls to the most qualified agent.
It also uses AI (Artificial Intelligence) to recognize Customer Satisfaction Score issues.
It allows you to create Customer Satisfaction Score surveys in order to assess customers' moods.
It also allows you to record the phone calls.
It allows you to easily navigate over different CRMs.
It provides detailed reports.
Price: Starting at $65/mo per person.
3. Help Scout
Help Scout is a cloud-based customer communication management platform enabling small businesses and small teams to manage customer communication and provide personalized support. The platform provides all customers with a common space where they can receive information via email. Live chat sessions integrated with customers help businesses gather feedback and also create more strategies. Help Scout also keeps reports on related business operations. Reporting feature helps users measure the team performance, identify trends, and view customer satisfaction. The users can filter, export, and access information with a few clicks. The platform allows users to integrate more than 50 tools like Slack, SalesForce, Mailchimp etc. into their workflow. In order to ensure appropriate protection, Help Scout uses advanced security features such as SSO, SAML authentication, IP address restriction and HIPAA compliance.
Price: Standart $20/mo, Plus $35/mo, Custom
4. Intercom
Intercom, referring itself as the "Customer Messaging Platform", is a customer communication platform that focuses on sales, marketing and customer support processes. Targeted content allows you to personally communicate your customers with messages and conversational support.
Some of the features you can get with Intercom are as follows:
Corporate messaging
Sales bot
Support bot
Targeted messages
Applications + Integrations
Customer data platform
Live chat
iOS & Android Apps
Price: Starting at $79/mo
5. Zendesk
Zendesk is a customer service, sales and customer management software platform. Its main purpose is to help improve the communication and relationship between a business and its customers. Zendesk software has been developed with a powerful, flexible and scalable structure to meet the needs of companies of different scales.
It allows businesses to communicate through a variety of channels, including social media, mobile devices, phones, and email. Zendesk collects all customer interactions under one roof for a smooth process.
Price: ​Starting at $19 a month for the basic needs and goes up to $215 a month for a support package with additional features for businesses.
Customer Communication Management Trends
We have listed the customer communication management trends for you below:
1. Artificial intelligence and chatbots
Automation and chatbots can now provide some basic customer support requests. Apart from the automatically sent welcome or generic messages, chat robot systems are now available providing advanced support by analyzing keywords in customers' questions. By this means, businesses will start to increase their investments in these systems in order to meet the incoming demand and reduce customer support costs, and respond to their customers more quickly.
2. Integration of digital and traditional customer communication
Consumers no longer communicate only with the traditional customer communication management solutions, such as phone or email, but also benefit from other digital methods too. Consumers now expect brands to offer customer support through live support systems and social media.
3. Direct video calling or instant messaging
Businesses that want to take customer communication one step further have also started to invest in direct video calls. This system is considered as one of the methods to make customer support more effective because it gives you the feeling of talking to a person face-to-face. Apart from the live video calls, instant messaging with live support systems also provides faster and more effective feedback in customer support.
So, after all, we tried to share all the details about customer communication management with you. If you have different questions regarding the customer communication management and Juphy, please write to us in the comments section. Do not forget to share your experiences and suggestions to improve our content.