Manage every social media customer inquiry on a single platform with Juphy Never miss a message, improve customer satisfaction, and save time. See it in action.
Free Demo
We're absolutely thrilled to have you here on this exciting journey into the world of social commerce. It's a fantastic time to explore and take advantage of the countless opportunities that this fast-growing landscape has to offer. In this guide, we'll cover everything from understanding the basics of social commerce, engaging with your target audience on various platforms, and mastering the art of social selling to optimizing your strategy and leveraging cutting-edge tools like Juphy for success.
This comprehensive guide is filled with strategies, tips, and real-life examples to help you navigate and conquer the social commerce arena and boost your sales. So, grab a cup of your favorite beverage, sit back, and let's dive into this amazing journey together.
Cheers to your success in social commerce!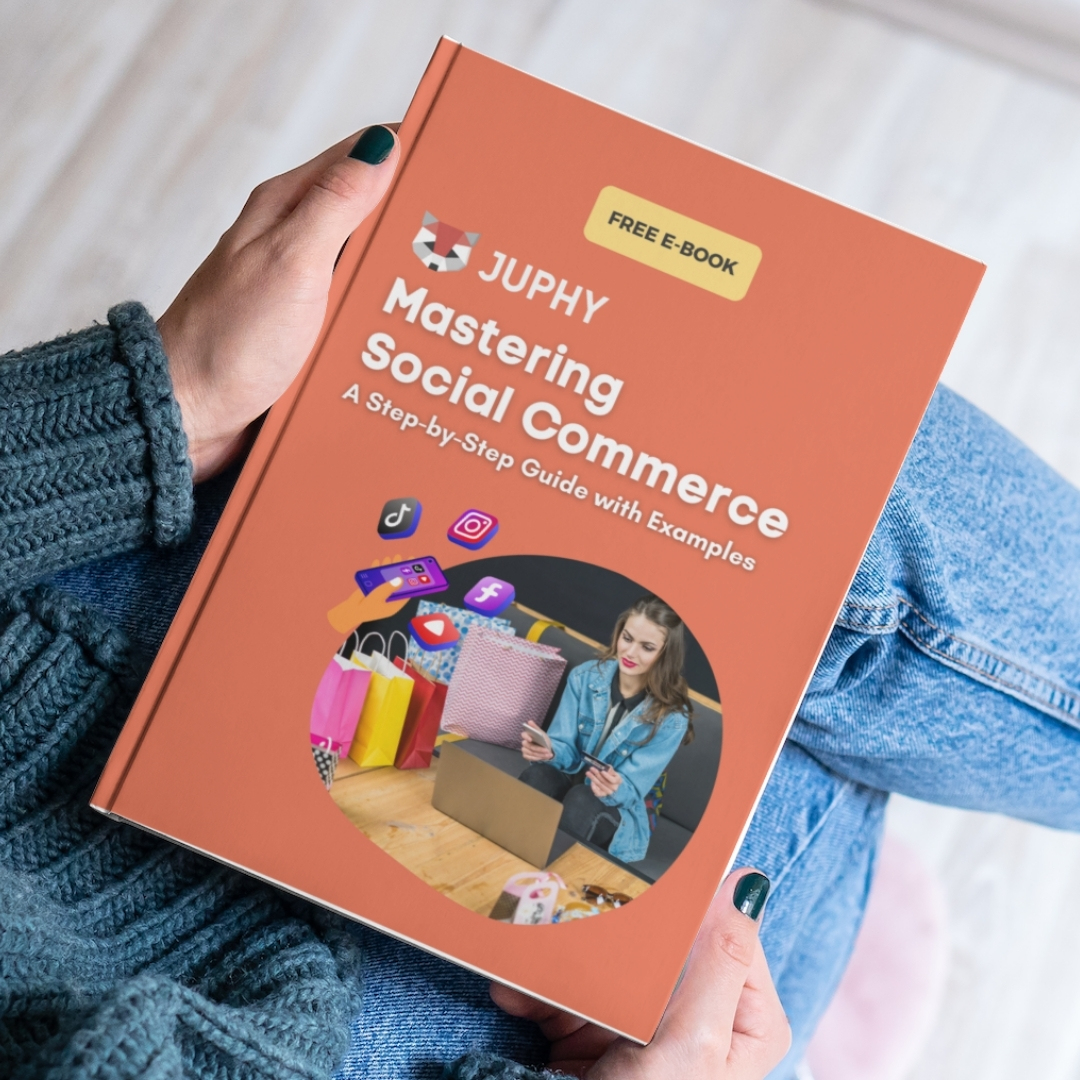 You can download the complete guide as a free e-book by filling out the form below.
PART 1: INTRODUCTION TO SOCIAL COMMERCE
What Is Social Commerce?
Social Commerce is a shopping experience that is entirely led on social media. From the discovery of the product or service to the checkout, the whole process of selling and buying takes place on social media.
Let's start from the beginning. The Social Commerce concept was introduced by Yahoo in 2005 based on the idea of "getting recommendations from trusted people, finding goods and services, and then buying them.", which means increasing customer trust in the online shopping experience. And it is not that hard to see that the concept and its promise have been raised very correctly.
Since it entered our lives as an innovative category with the convergence of social media platforms with e-commerce channels, it has become the rising star of recent years. According to a research report, the global social commerce market was valued at USD 727.63 billion in 2022 and is expected to expand at a compound annual growth rate (CAGR) of 31.6% from 2023 to 2030 and reach 6.2 trillion dollars by 2030.
Implementing social commerce is a shopping experience of selling products and services directly on social media. Instagram, Facebook, Whatsapp, Pinterest, and TikTok have become social media platforms with built-in social commerce tools. Twitter is also planning to join the club soon.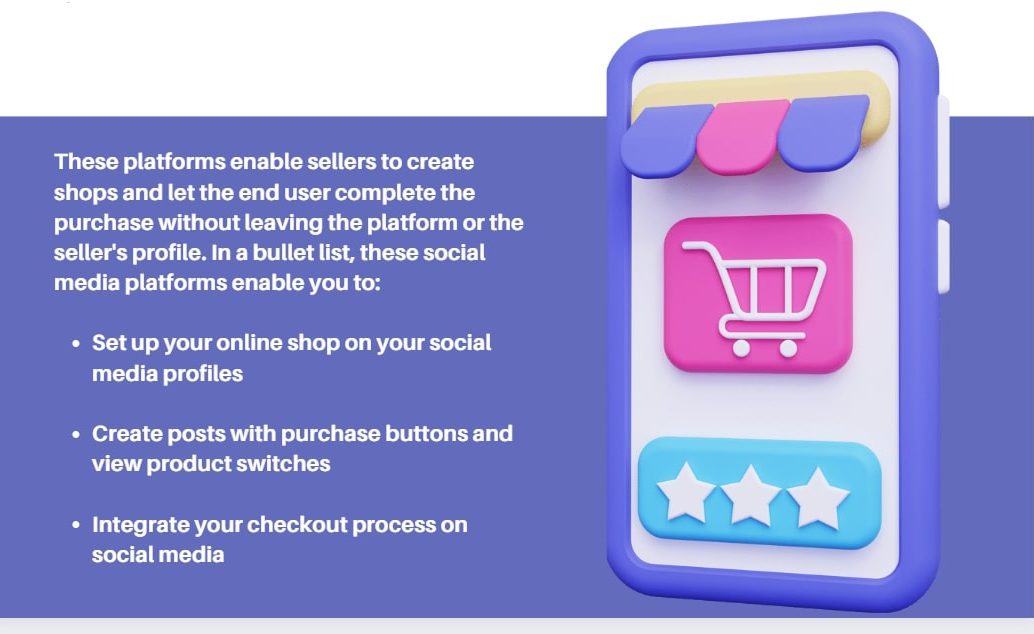 In a way, social commerce removes the trust barrier and helps sellers and buyers reach out to them in a trusted environment. Especially influencer marketing has made this available more than ever.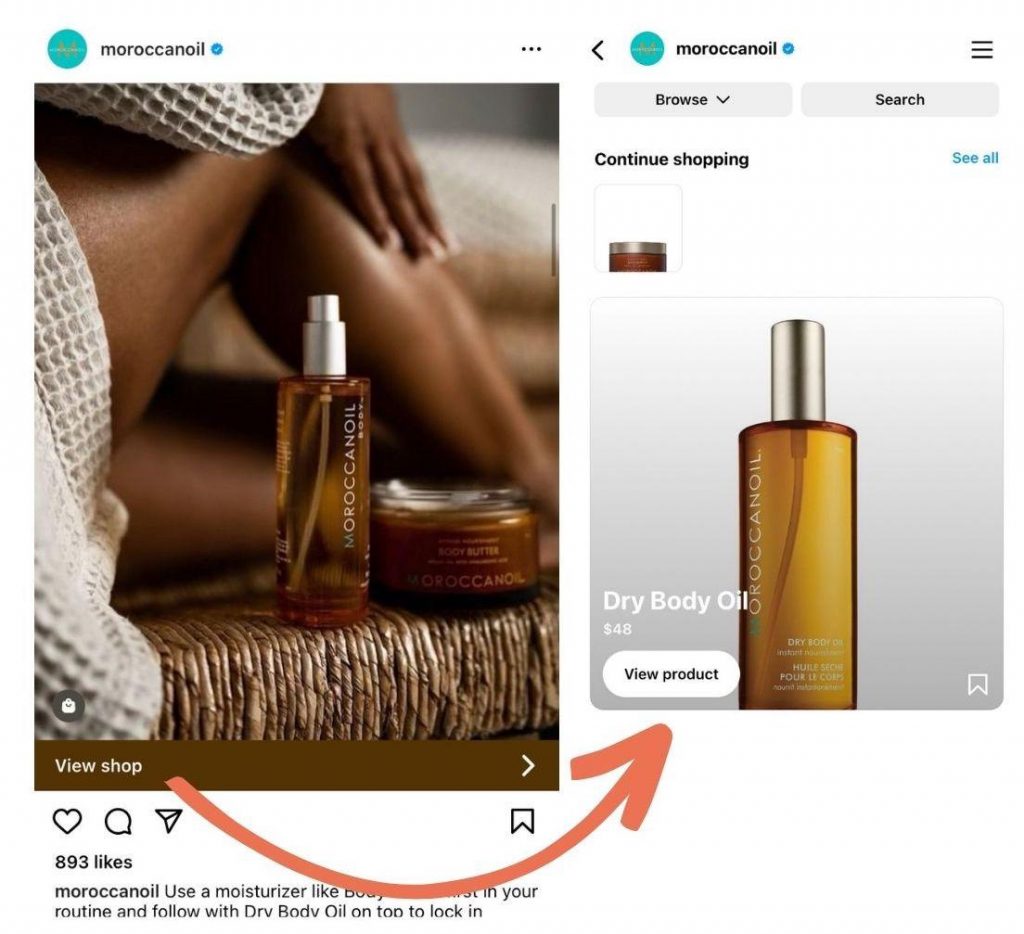 With social commerce, the end user can encounter the body moisturizer they have wanted for a long time in the post of the influencer they've been following, view the shop, and complete the purchase without leaving the app.
Or they might see a crop top at a good price while scrolling through Facebook, click to view the product, and move forward to the checkout.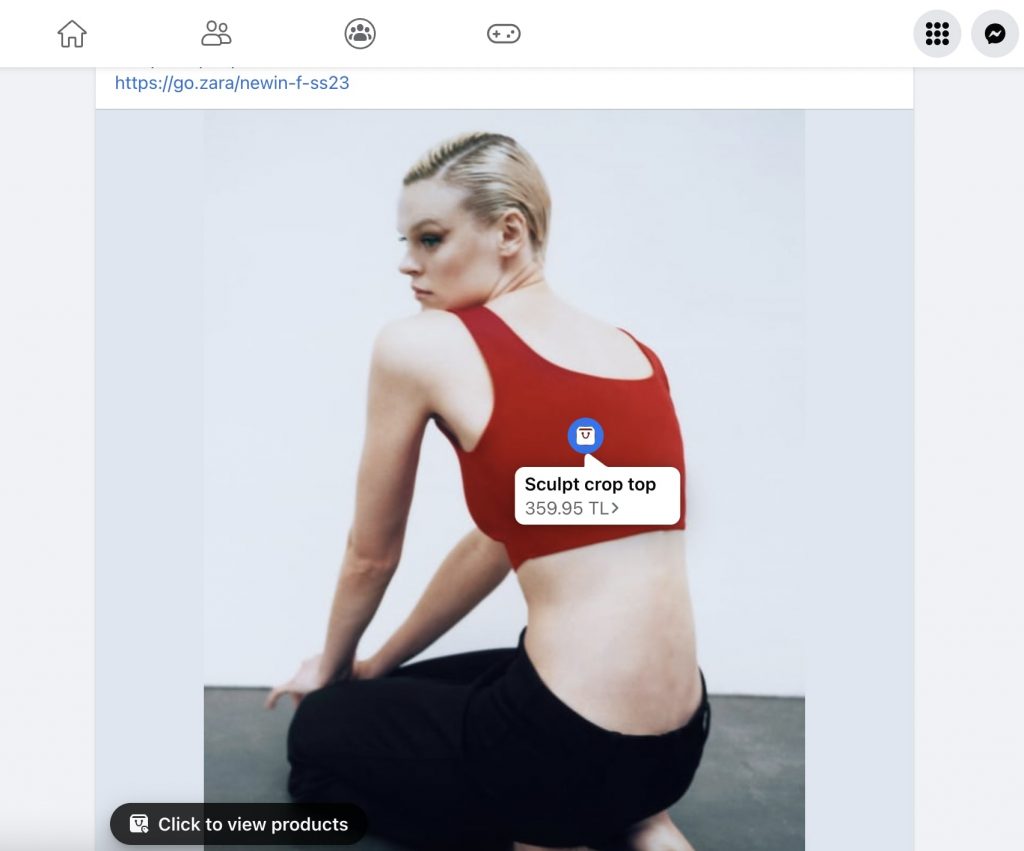 These are all better shopping opportunities created on social media platforms with the powers of social commerce.
Social Commerce vs. E-commerce
E-commerce is a shopping experience of selling products or services online over the Internet. In e-commerce, all processes occur online, and buyers can choose their products as they wish in an online shop.
Social commerce is also part of e-commerce because it involves selling products online on social media. Still, differently, it allows customers to interact with, discover and buy products on social media without having to leave the platform. With a solid conversational marketing strategy, social commerce is changing how brands use social media and opening up new possibilities and opportunities.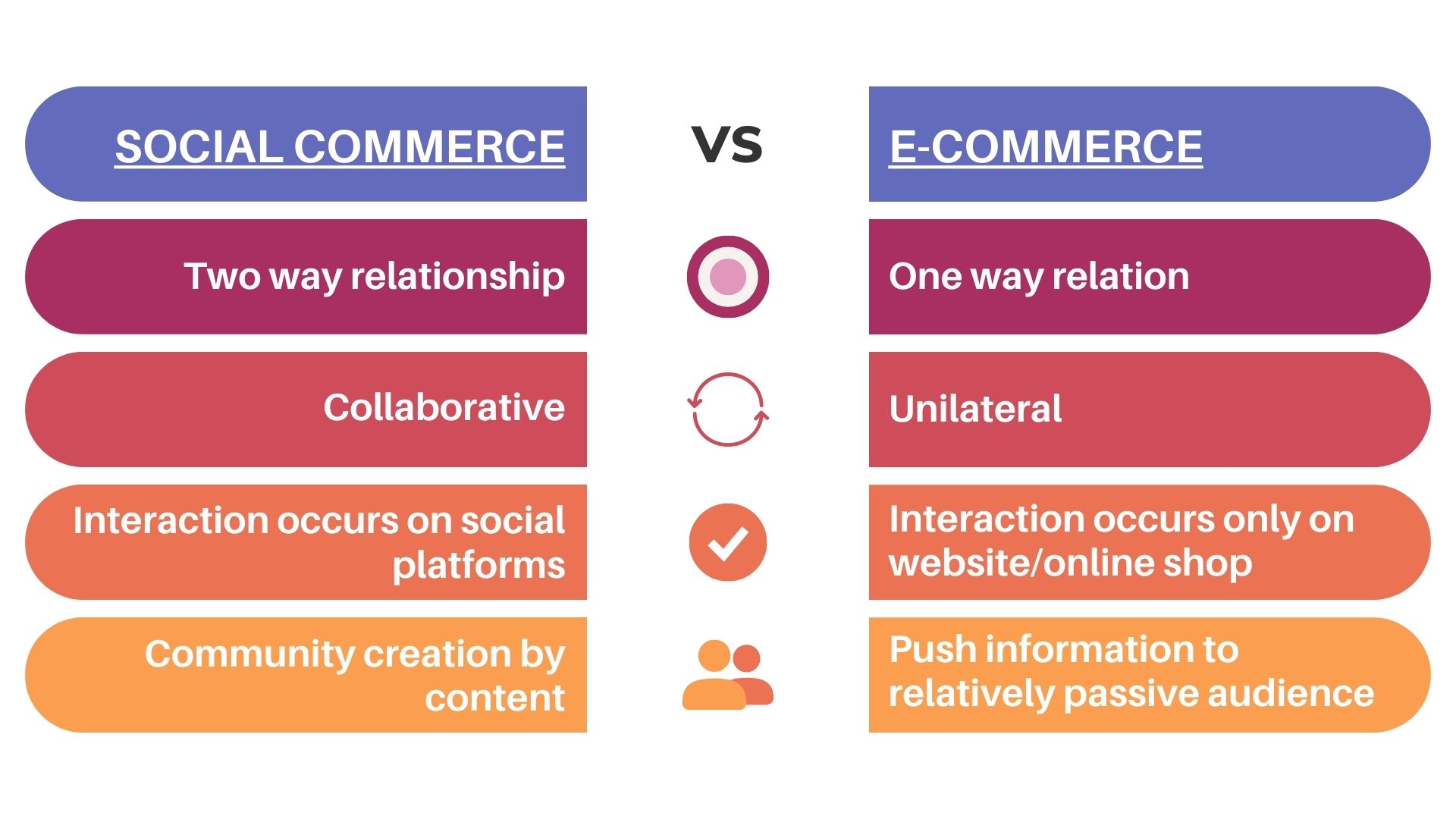 So, there are some similarities between e-commerce and social commerce. Most basically, both types of commerce take place online. Since it is done online, both types may have options such as online payment or payment at the door options. There may be similarities in terms of the selling of the product.
However, social commerce and e-commerce differ in how they approach customer engagement, branding, competition tracking, advertising, lead generation, brand awareness, product traffic, and buying decisions.
Social commerce aims to increase customer engagement, humanize the brand, and empowers businesses to sell where customers already are. It uses social media platforms to generate leads, enhance brand awareness, and drive traffic to products. Social commerce also seeks to impact buying decisions by leveraging social proof and user-generated content.
The most apparent difference between social commerce and e-commerce is the way of the shopping experience. In e-commerce, the shopping experience is led by the online shop and the website, yet, social commerce provides the shopping experience within the social media platform, all the way from discovery to checkout.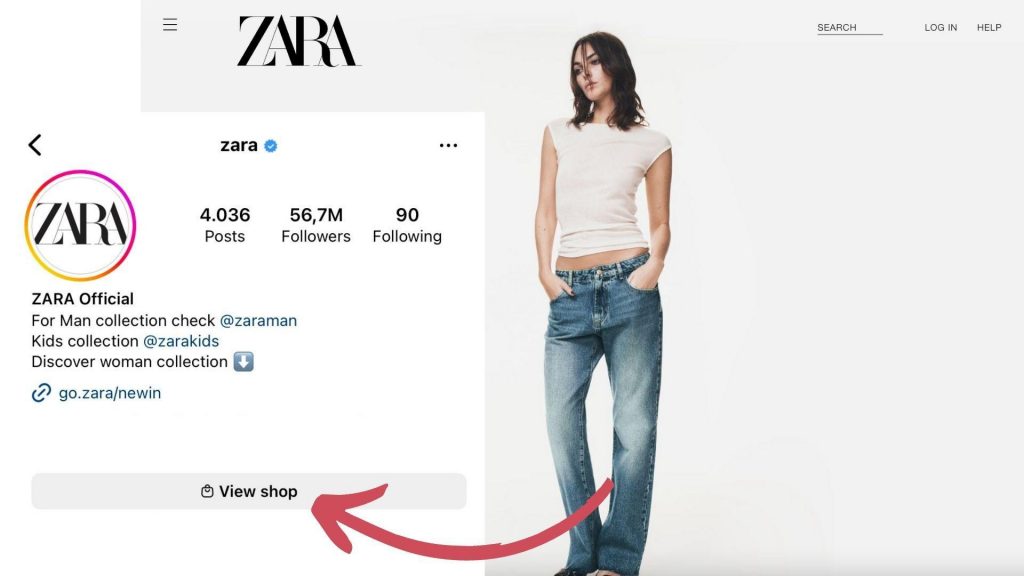 For example, most of the best-known clothing brands have both online shopping websites and social shops and provide their customers with an option to shop without leaving the social media platform where they encountered the products. In traditional e-commerce, customers must leave the application to view their shop.
While social commerce creates a two-way relationship between the seller and buyer, e-commerce creates a one-way relationship with customers. So, while social commerce is collaborative, e-commerce is unilateral.
Finally, we can mention the distribution of content and the creation of communications. Social commerce enables a way to communicate content and helps companies to create a community on social media. Yet, in e-commerce, the information is sent from the seller and can only be received by the customer. So, e-commerce creates a more passive audience, while social commerce increases your active audience.
Especially for medium size businesses that are in the growth era, social commerce enables them to create a community under their product posts. People can express their thoughts as comments and affect others.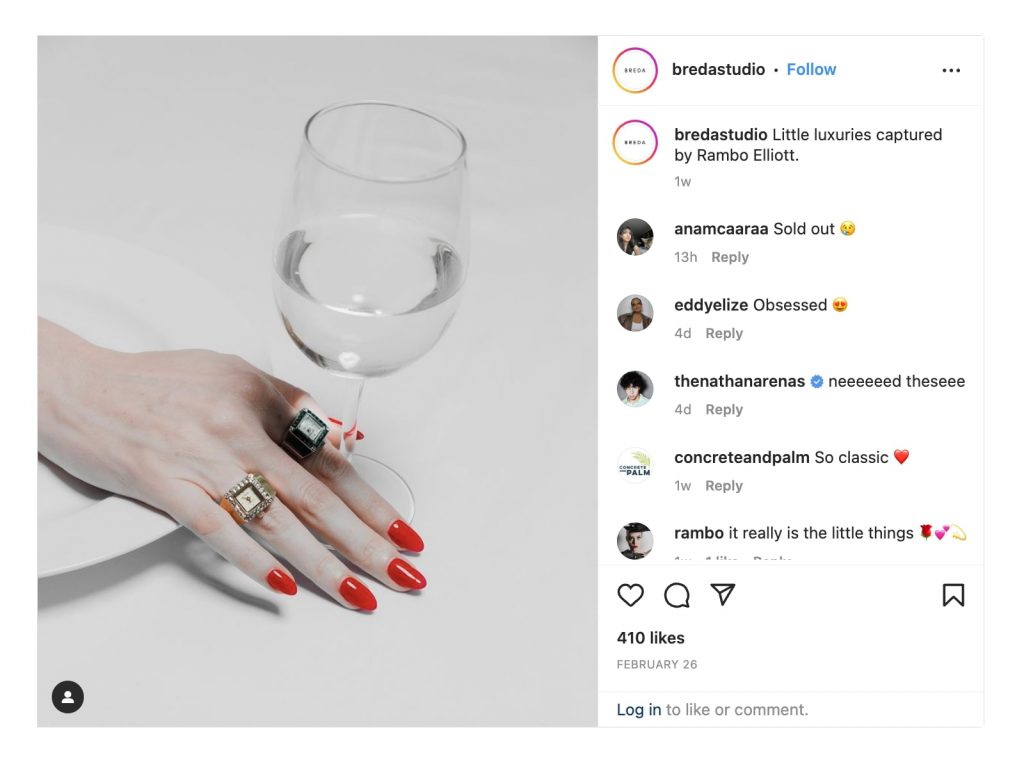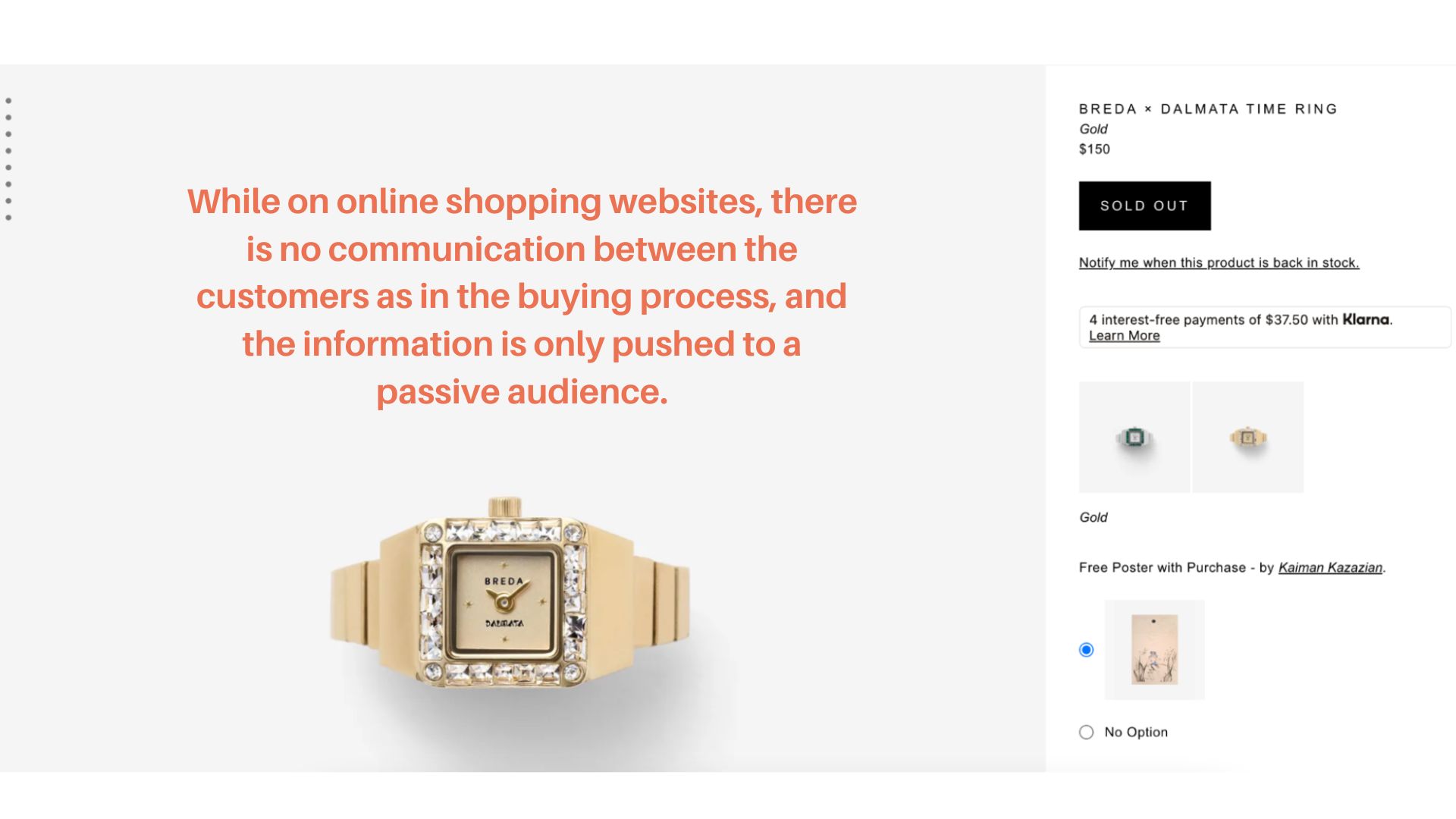 Benefits of Social Commerce
Social commerce enables businesses to harness the power of social media platforms for selling products and services, offering numerous advantages over traditional e-commerce approaches. These benefits include: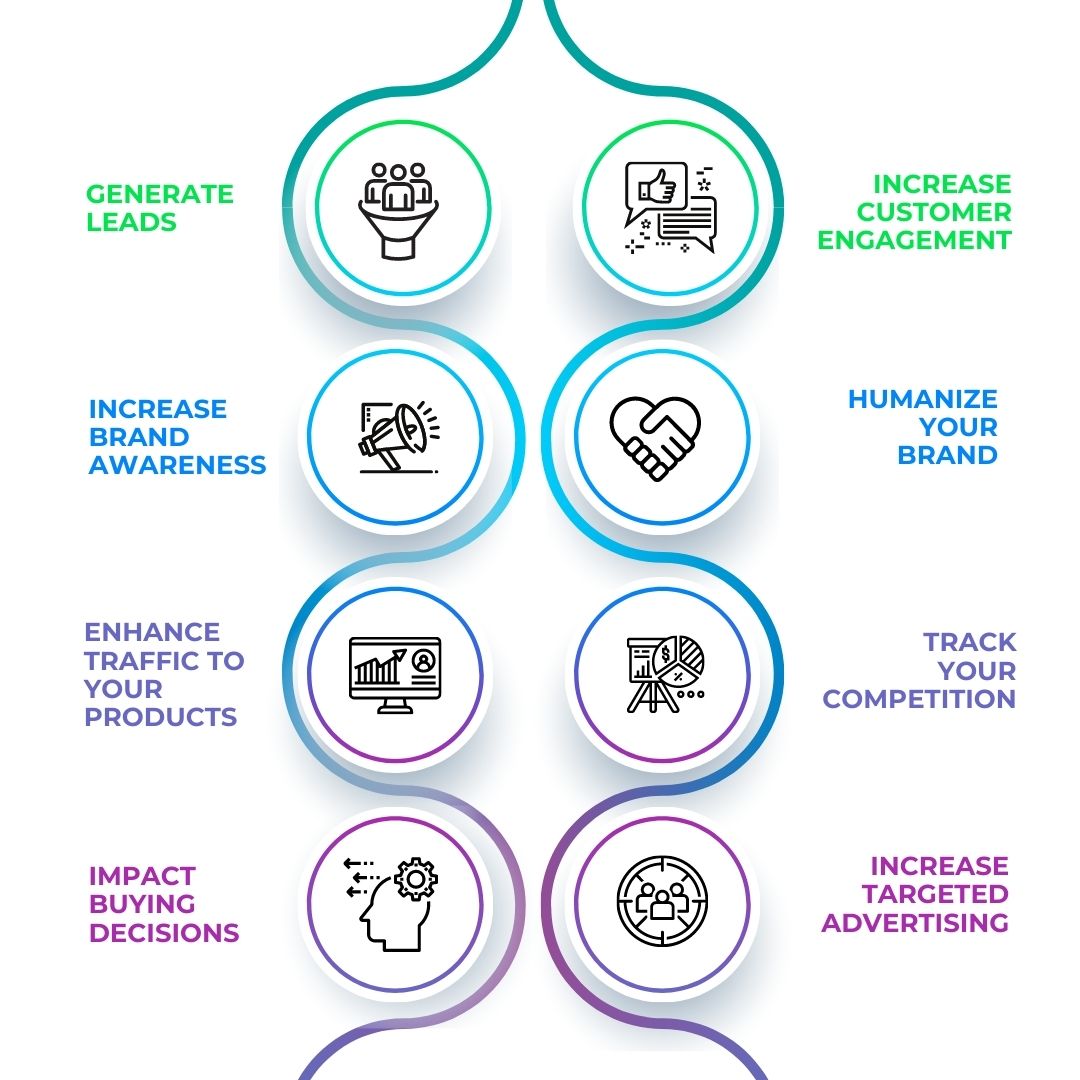 Social commerce enables companies to use social media platforms and social environments to share their products or services and engage with customers on these posts. By doing so, businesses can increase customer engagement, humanize their brand, and decrease card abandonment rates by handling everything in a single app that consumers use the most, such as Instagram, Facebook, or Whatsapp.
For example, when your customers share your product on social media, their social networks discover you, and your product reaches an audience you might not otherwise reach. Potential customers highly depend on social proof and user-generated organic content, which can impact their buying decisions. Social commerce leverages these factors to increase sales in that sense.
This, combined with targeted advertising to generate demand, creates a powerful and affordable acquisition strategy. Social media platforms play a crucial role in moving your customers from the buying stage to the engagement stage. Social commerce strategies such as branded hashtags and user-generated content are excellent customer engagement-building tools that create excitement around your brand. Social commerce also allows businesses to target their advertising to specific audiences, generate leads, increase brand awareness, and enhance traffic.
Gone are the days of creating a "business account" on Facebook, Instagram, or Twitter and occasionally posting a product image that forms your social media strategy. You need to stay up-to-date on the latest social trends and strategies to keep up with your customer's changing social media behavior. So, social commerce is changing how e-commerce brands think about their social media strategy.
Setting S.M.A.R.T. Goals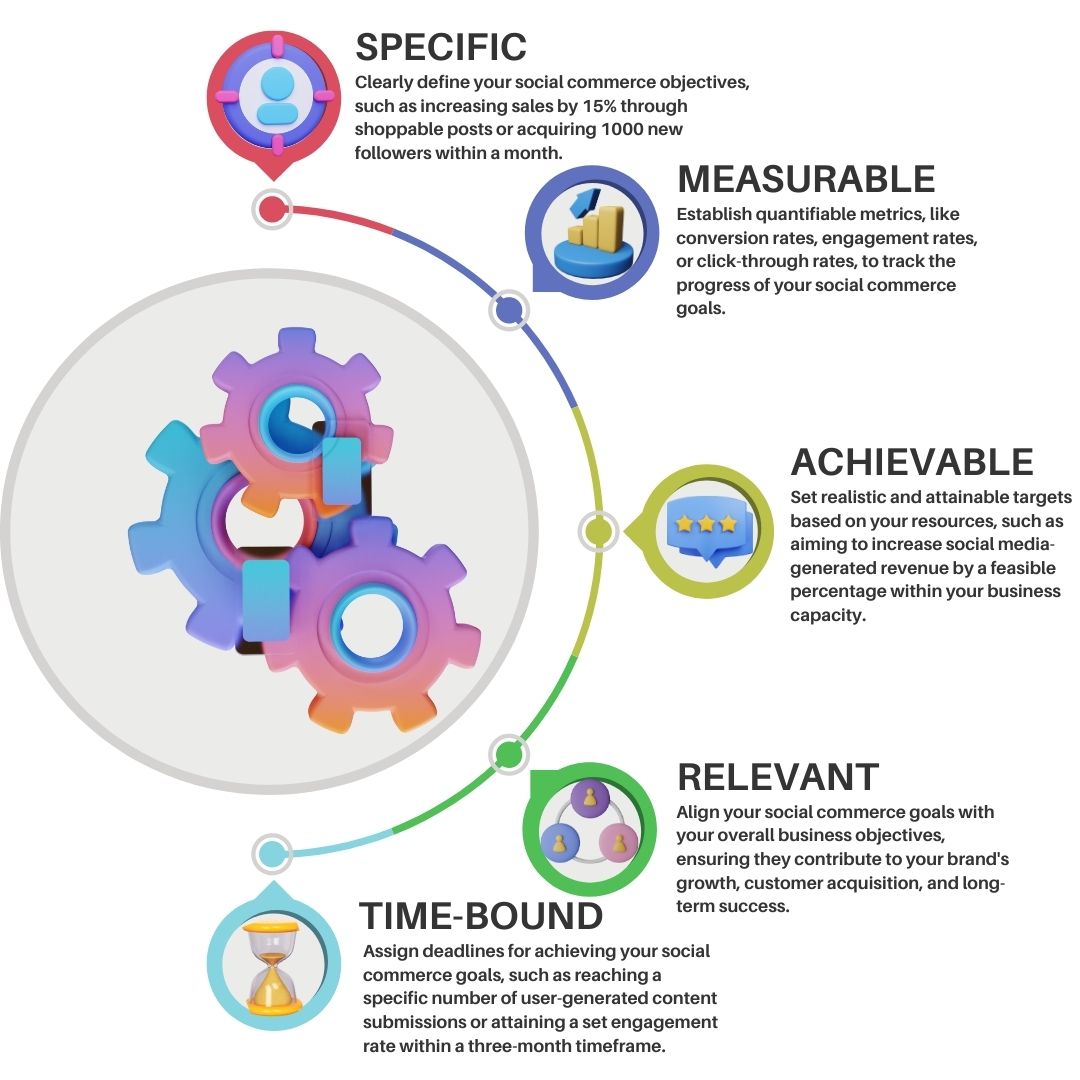 Top Goals of Social Commerce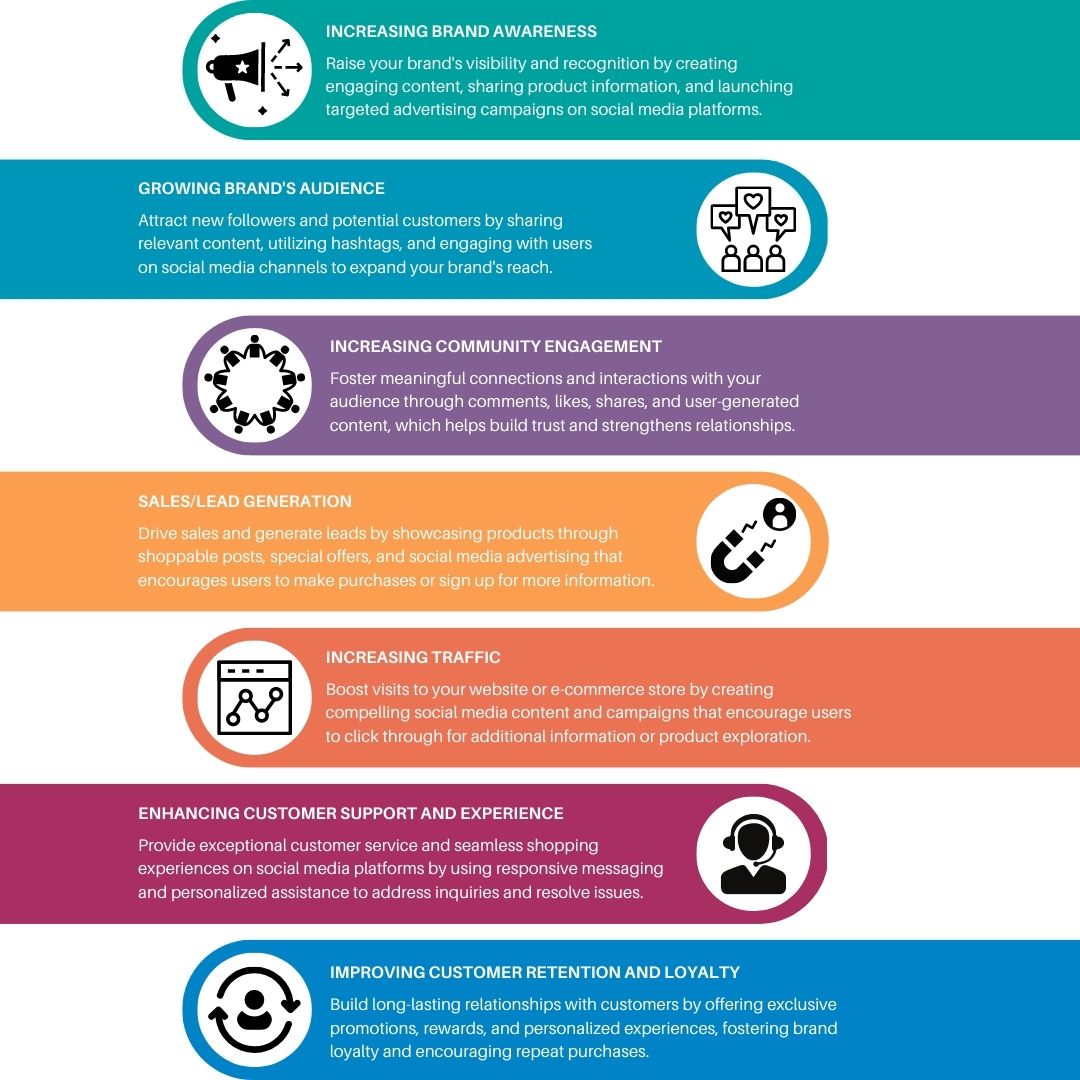 Social Commerce Landscape
When this all started, social media was a place to share what you are doing, what you eat, where you go, places you see, and views you like. Now, it is a different world from which businesses can benefit. Social media platforms let businesses have another identity in the online world. Of course, each platform has its own role in the online commerce industry. Let's see some of the best platforms for social commerce.
Market Overview & Key Statistics
Social commerce has become one of the most popular ways of shopping since it allows shoppers to connect with shops or businesses without having to step outside and leave the comfort of their houses.
The value of social commerce worldwide is expected to rise to 2.9 billion$ in 2026, according to another source.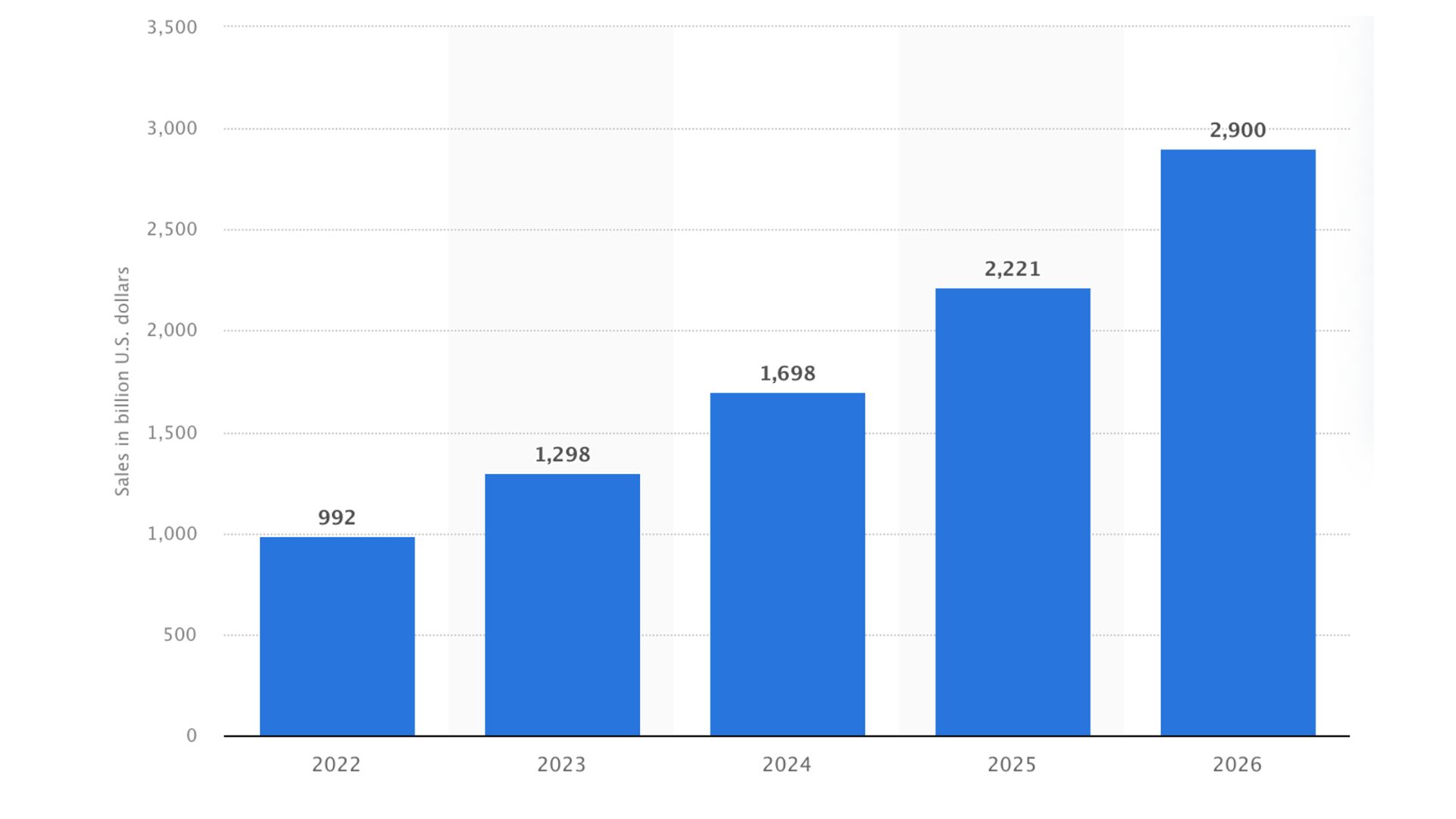 The increasing popularity of social media is directly proportional to the popularity of social commerce. In 2019, over 3.51 billion people were using social media worldwide, and this is projected to increase to almost five billion in 2023.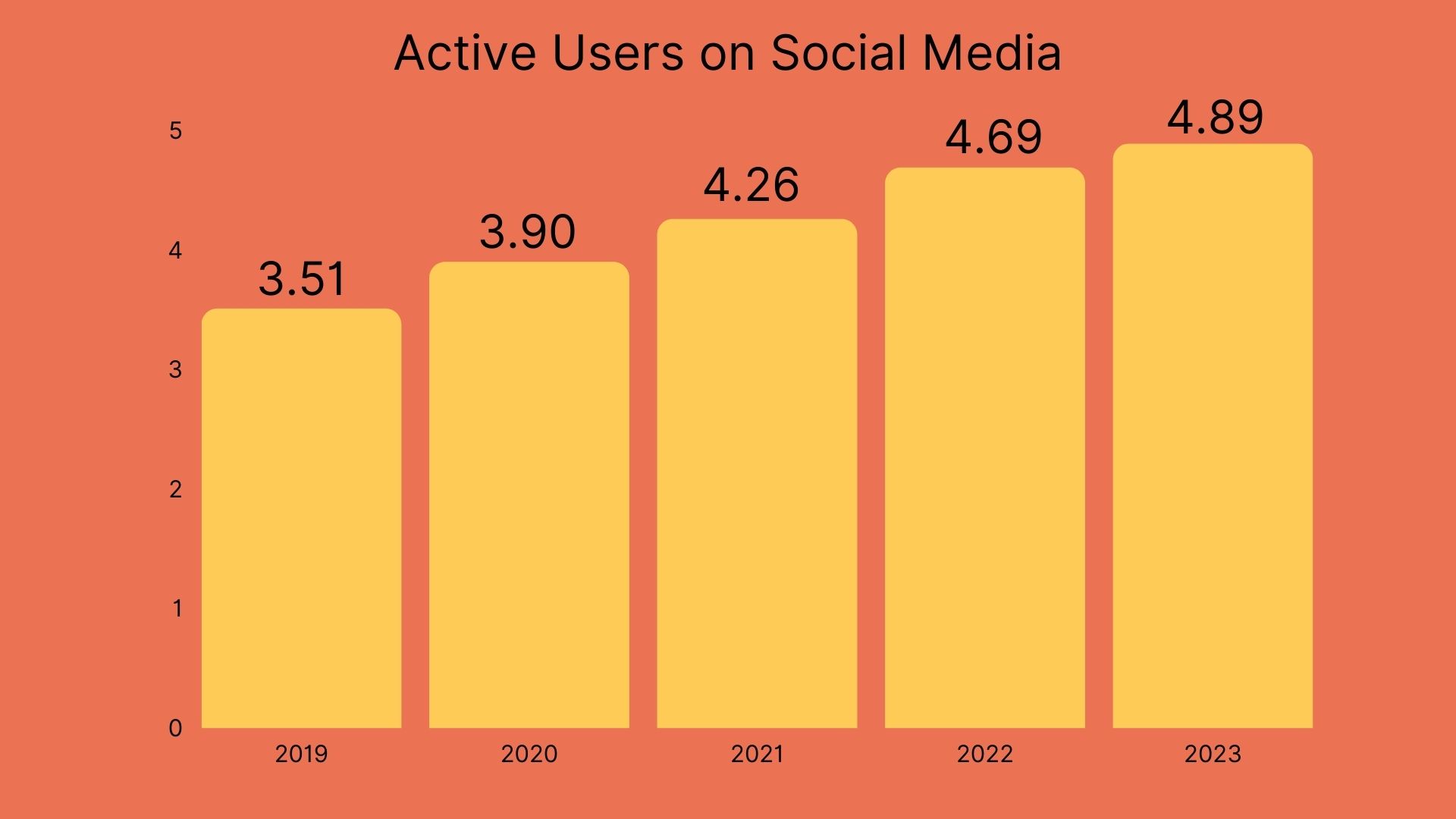 The users that are active on social media can be divided into different social networks. Based on Statista's report on the most popular social networks, market leader Facebook sits at the first seat with more than 2.9 billion monthly active users, while YouTube and Instagram are following Facebook with more than 2.0 billion active users. TikTok, Snapchat, Twitter, and Pinterest, on the other hand, follow YouTube and Instagram with around and less than 1.0 billion monthly active users.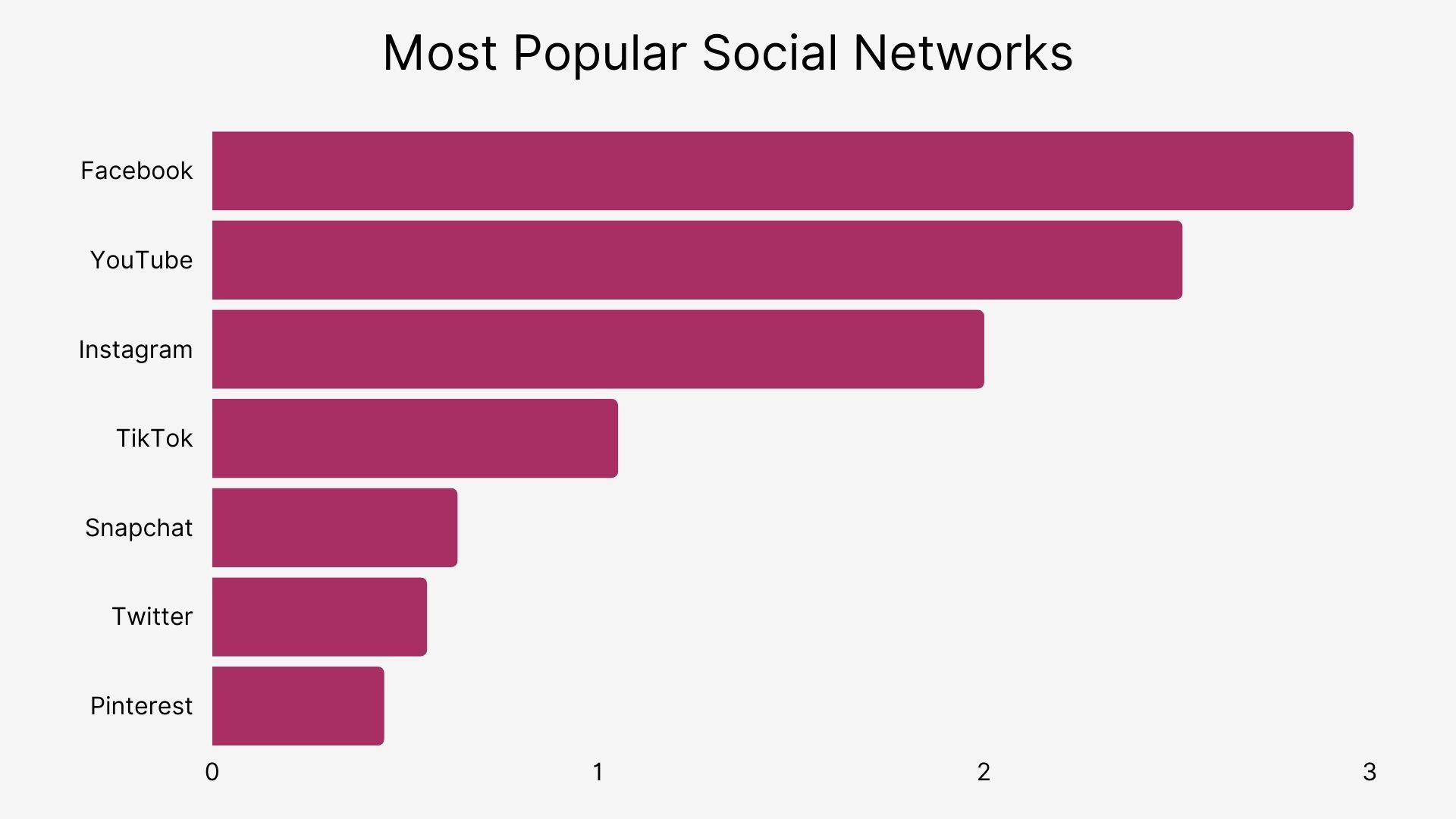 The global social commerce market size was estimated at USD 727.63 billion in 2022 and is expected to reach USD 913.90 billion in 2023 (Source: Grand View Research)
4.59 billion people, or 57% of the global population, currently use social media. This figure is projected to reach 5.17 billion by 2024. There's more opportunity than ever before to reach a global audience through social media.
30% of internet users in the United States already make purchases directly within social platforms, but China is the clear global leader. – US market will grow
In the US, social commerce is predicted to be worth $79.64 billion by 2025.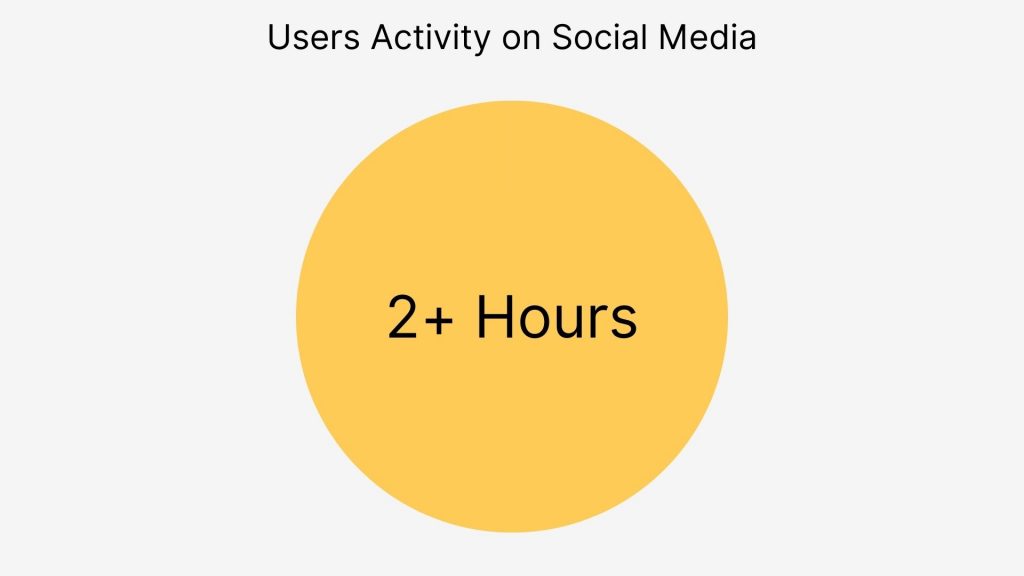 According to another report performed in 2022, each user spends more than two hours on social media.
And finally, among all these user, activity, and market stats, according to estimates performed by Statista in 2022, the average social commerce sales per buyer in the United States has exceeded 500 U.S. dollars in 2022. Forecasts suggest an 80 percent increase in this figure by 2025, amounting to approximately 937 dollars.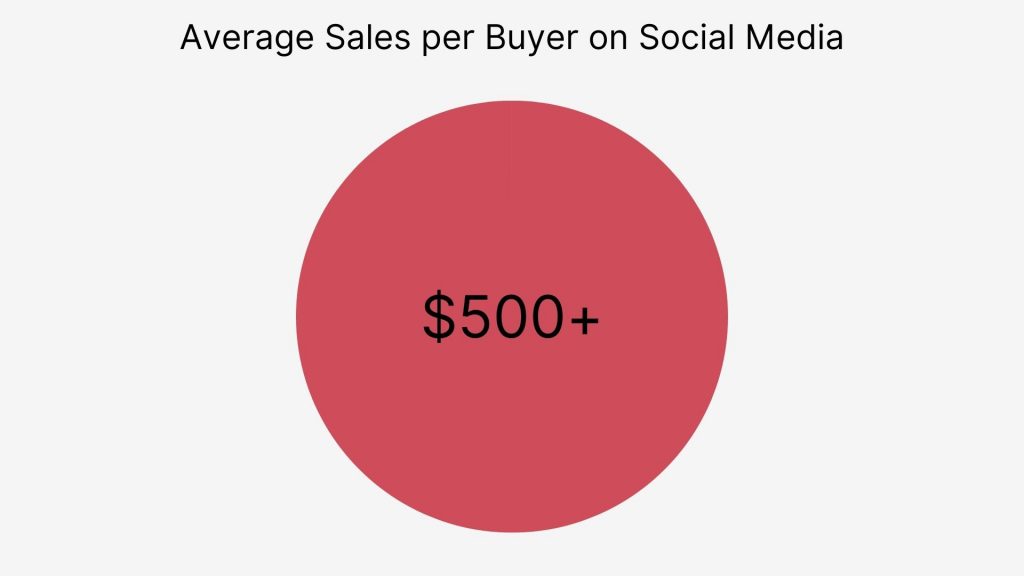 Breakdown of Top Social Commerce Platforms
Navigating the social commerce landscape can feel like a jungle, with numerous platforms competing for businesses to promote their products, boost brand recognition, and engage with customers. Each platform comes with its unique features, opportunities, and offers, making it essential for businesses to select the perfect platform(s) that resonate with their business type, style, and brand identity.
At its core, social commerce is about leveraging online platforms like social media, messaging apps, and blogs to drive sales. Jumping into these platforms brings a treasure trove of benefits, such as reaching new customers, sparking conversations with your community, simplifying product information distribution, and offering diverse purchasing channels.
To truly harness the power of your social commerce efforts, it's vital to properly integrate your social accounts, just as you would with traditional e-commerce websites. With that foundation in place, let's dive into an exploration of the top social commerce platforms and what they can bring to the table for your business.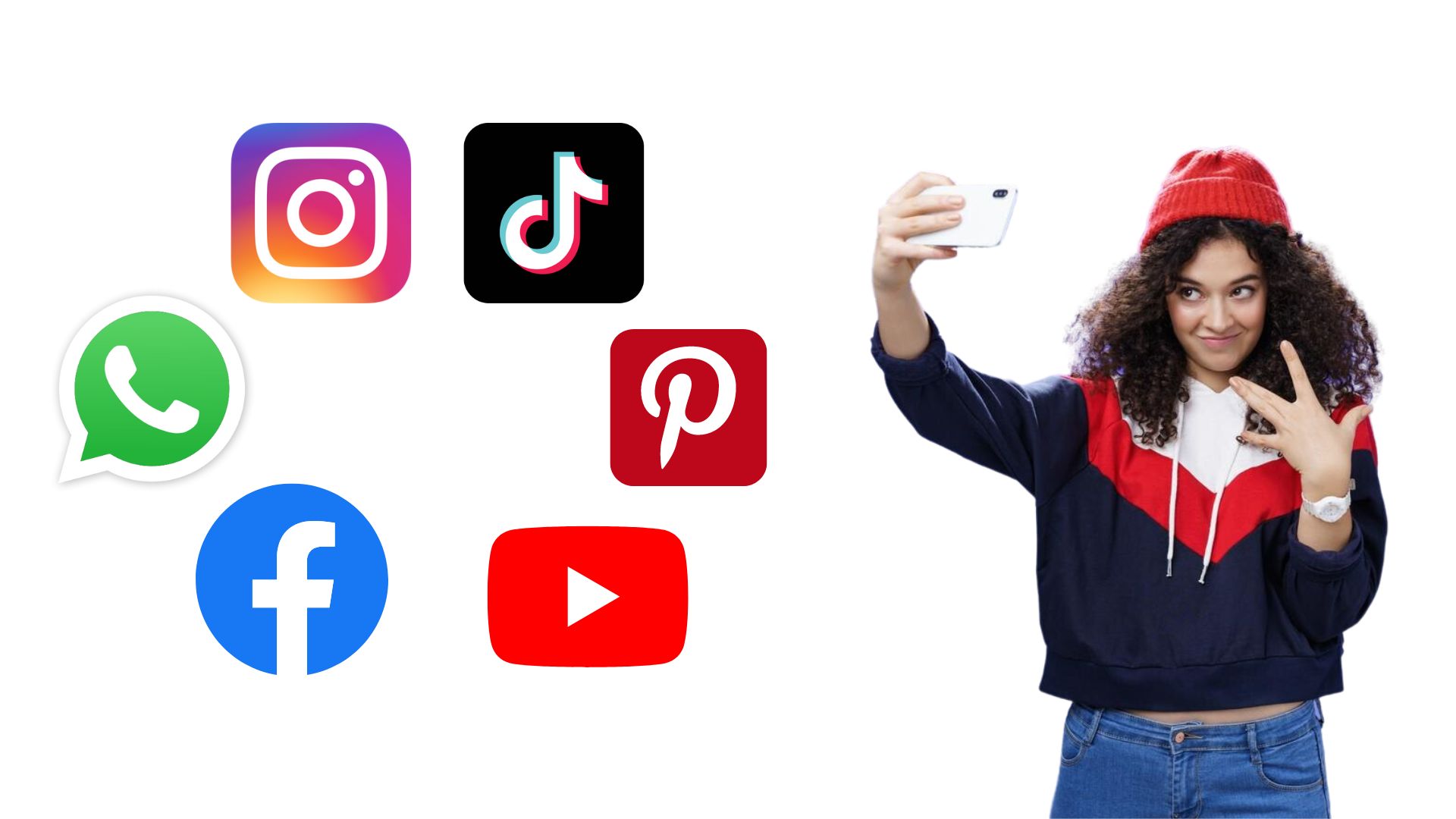 WhatsApp
WhatsApp Business, rolled out in 2018, has become a game-changer for businesses looking to communicate with their customers and offer shopping experiences right within the app.
As a platform that millions of people already use daily for personal conversations, WhatsApp Business provides businesses with valuable marketing tools and a seamless way to engage with customers.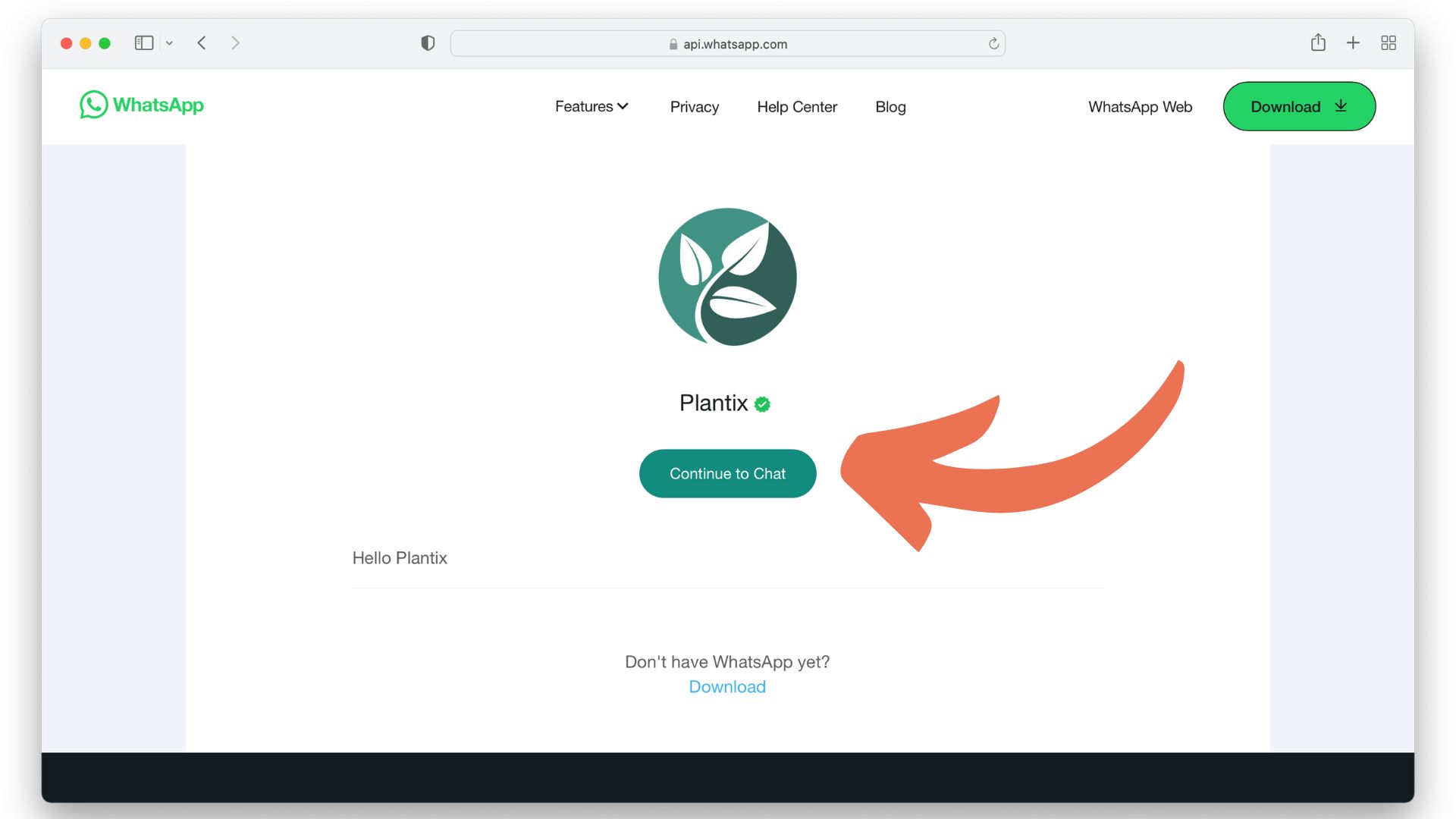 This savvy service allows businesses to establish a professional presence on WhatsApp, opening up opportunities for growth through effective customer communication. By capitalizing on a widely-used communication platform, businesses can offer customers an easy and familiar way to get in touch.
To make the most of WhatsApp for social commerce, businesses can create a WhatsApp Business account, add product catalogs to showcase their products/services and use automated responses for customer chats.
WhatsApp's built-in messaging and calling features make it simple for businesses to communicate with customers, address questions, and process orders. Integrating payment options can further streamline transactions, creating a hassle-free shopping experience for customers.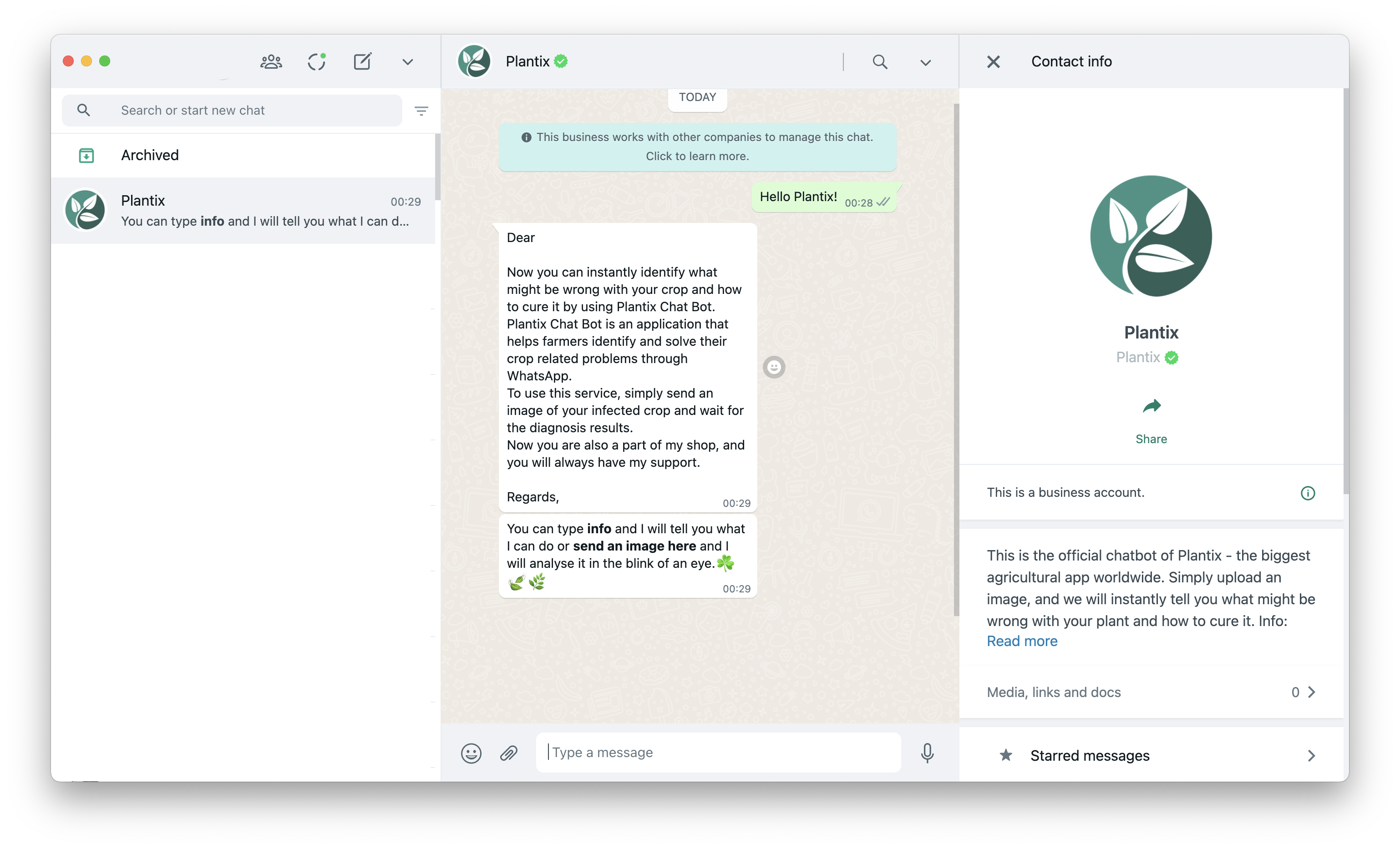 Embracing WhatsApp Business for social commerce enables businesses to connect with a vast audience and deliver personalized, convenient shopping experiences. To truly unlock the platform's potential, stay in the loop with the latest features, trends, and best practices to boost customer engagement and drive sales.
Instagram
As of 2023, Instagram has become an essential platform for businesses and sales, with a significant percentage of people worldwide using it regularly. We used to use Instagram for sharing memories, but today, it is one of the most used platforms for businesses and sales. With the addition of Shops, live streaming, and influencer collaboration features, the platform is now used by the vast majority (92%) of online merchants as part of their social commerce strategy, surpassing Facebook, Pinterest, and TikTok. Instagram says that their survey shows that %44 of people surveyed use Instagram to shop weekly.
When we look at the Instagram Stores feature, Instagram Checkout, launched globally in 2019, and the fact that the store tab will be available just below your hand (on the bottom right screen) in 2020, Instagram provides sufficient infrastructural facilities in this regard.
With this potential, businesses can benefit from Instagram with a successful management strategy.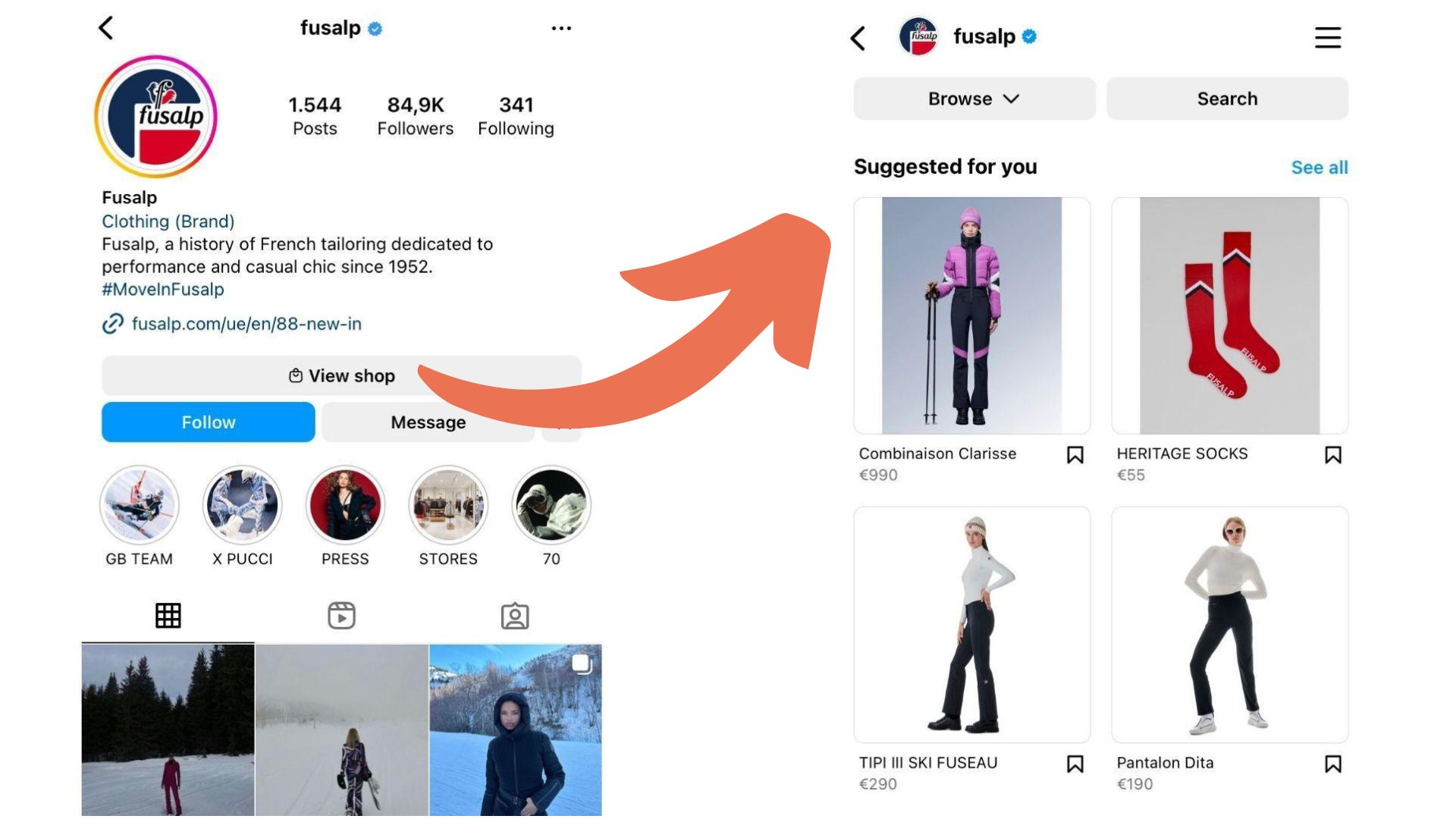 Instagram presently has over 2.35 billion monthly active users, and it is expected to surpass 2.5 billion monthly active users by the end of 2023. In terms of monthly active users, this places Instagram as the fourth most popular social media platform globally.
As Instagram's popularity continues to soar, it's vital for businesses to keep their finger on the pulse of the latest features, trends, and best practices to optimize customer engagement and boost sales.
By capitalizing on the platform's distinctive social commerce offerings, businesses can connect with an extensive audience and deliver a customized, visually engaging shopping experience that keeps customers coming back for more.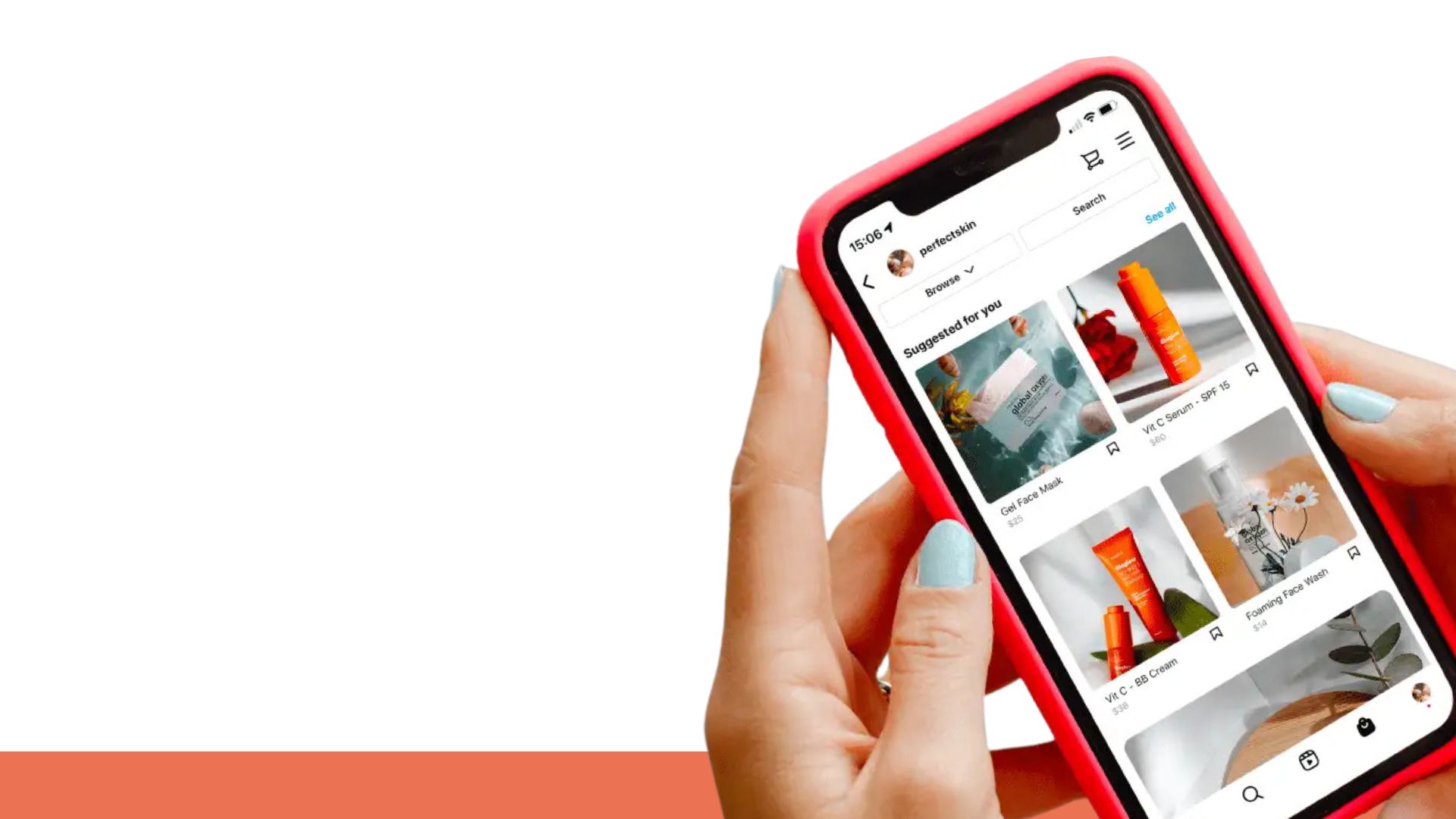 Facebook
In January 2023, Facebook boasted 2.963 billion monthly active users, making it an ideal platform for e-commerce businesses to run paid advertising campaigns and reach a vast audience. With its enormous user base, Facebook is the go-to place for raising awareness about your e-commerce business.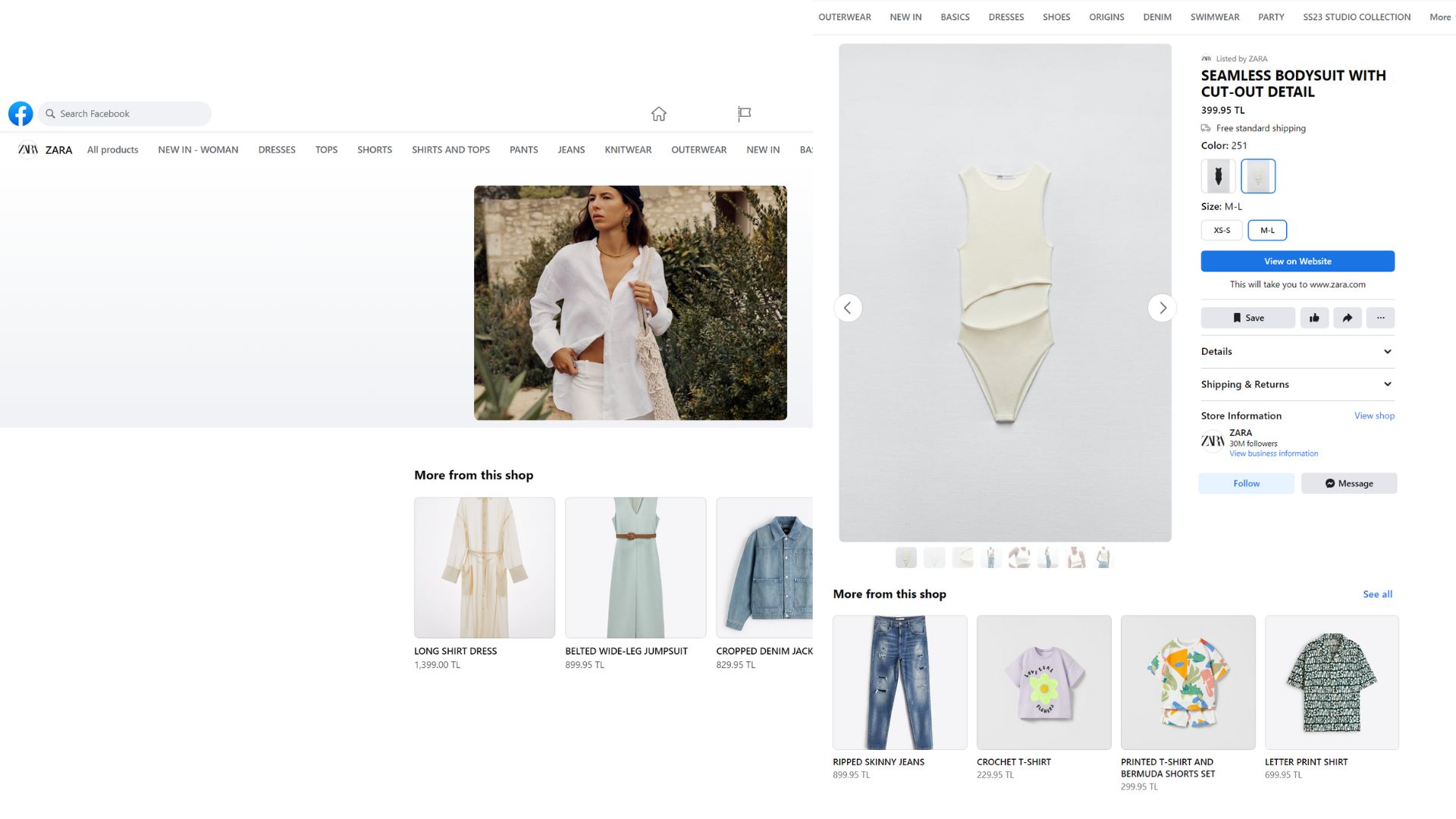 Facebook simplifies the purchasing process with features like Facebook Shops, Facebook Pay (Meta Pay), Dynamic Ads, Facebook Marketplace, and Custom Audiences. These tools allow seamless integration of products and services from the Trade Manager to the Business Manager, making it easier for customers to shop and pay within the platform.
To maximize the platform's potential, businesses can forge partnerships with communities related to their product category and collaborate with community leaders to create engaging content. Product reviews, live broadcasts, and interaction with relevant groups using a "Brand page" can further enhance brand visibility and customer engagement.
In addition to paid advertising campaigns, it's crucial for e-commerce businesses to focus on organic content and audience engagement. Building a strong and loyal following can lead to increased sales and better customer relationships.
To effectively utilize Facebook's social commerce potential, it's essential for e-commerce businesses to stay current with the latest features, trends, and best practices for crafting successful ad campaigns, managing Facebook Shops, and nurturing strong relationships with their target audience. This includes learning how to use Dynamic Ads, effectively leveraging Facebook Marketplace, and creating Custom Audiences to reach the right customers.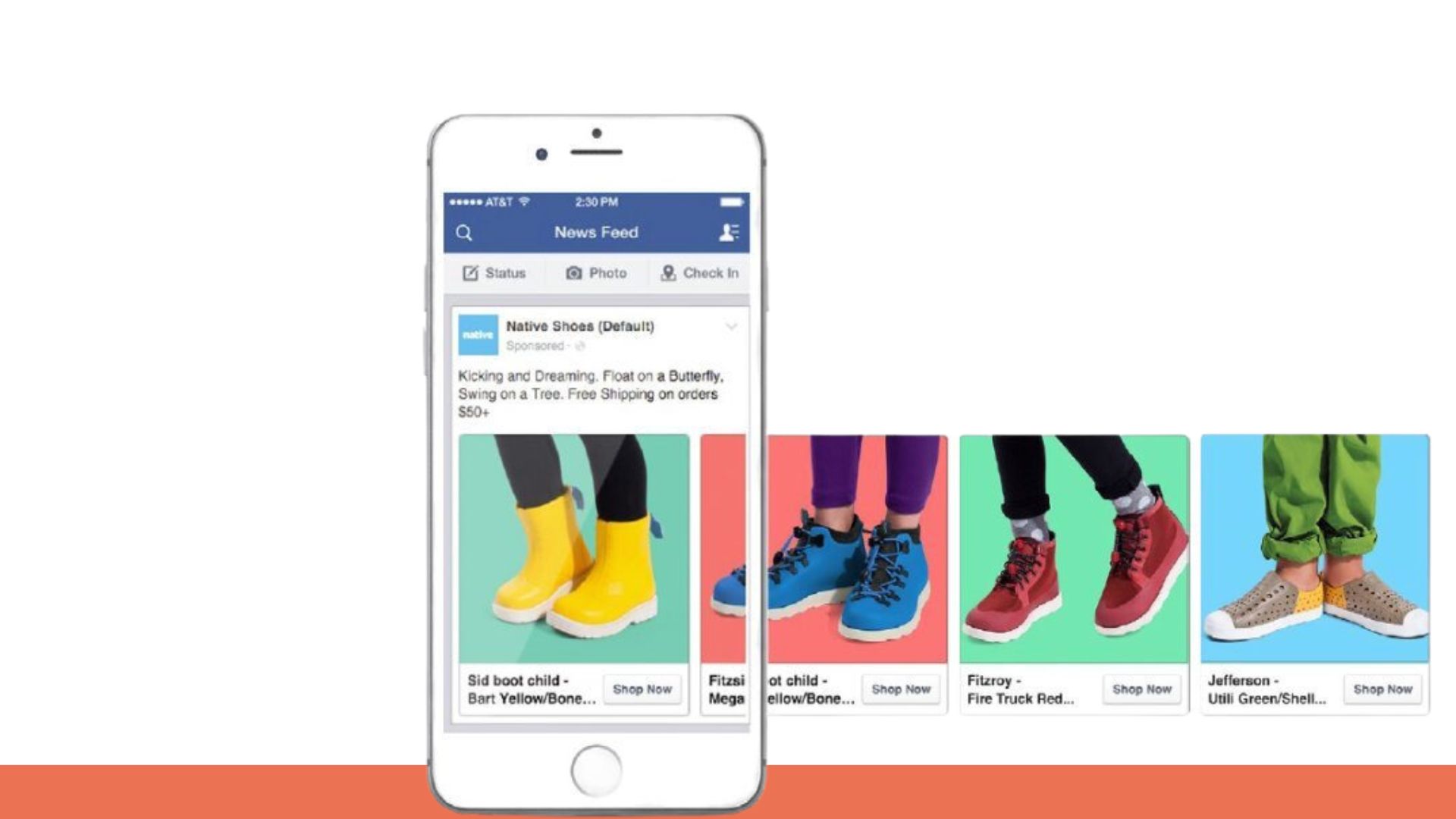 Pinterest
With its global popularity, Pinterest offers a unique platform for users to discover products and ideas, as well as learn how to use them. One of its most significant advantages is its ability to drive external traffic, making it an ideal platform for e-commerce site owners.
To make the most of Pinterest, businesses should understand its key benefits and features. As a highly effective full-funnel marketing channel, Pinterest excels in product discovery, allowing users to explore visually stunning images and ideas tailored to their interests. The platform's Rich Pins feature further enhances this experience by providing potential customers with direct links, references, and product recommendations.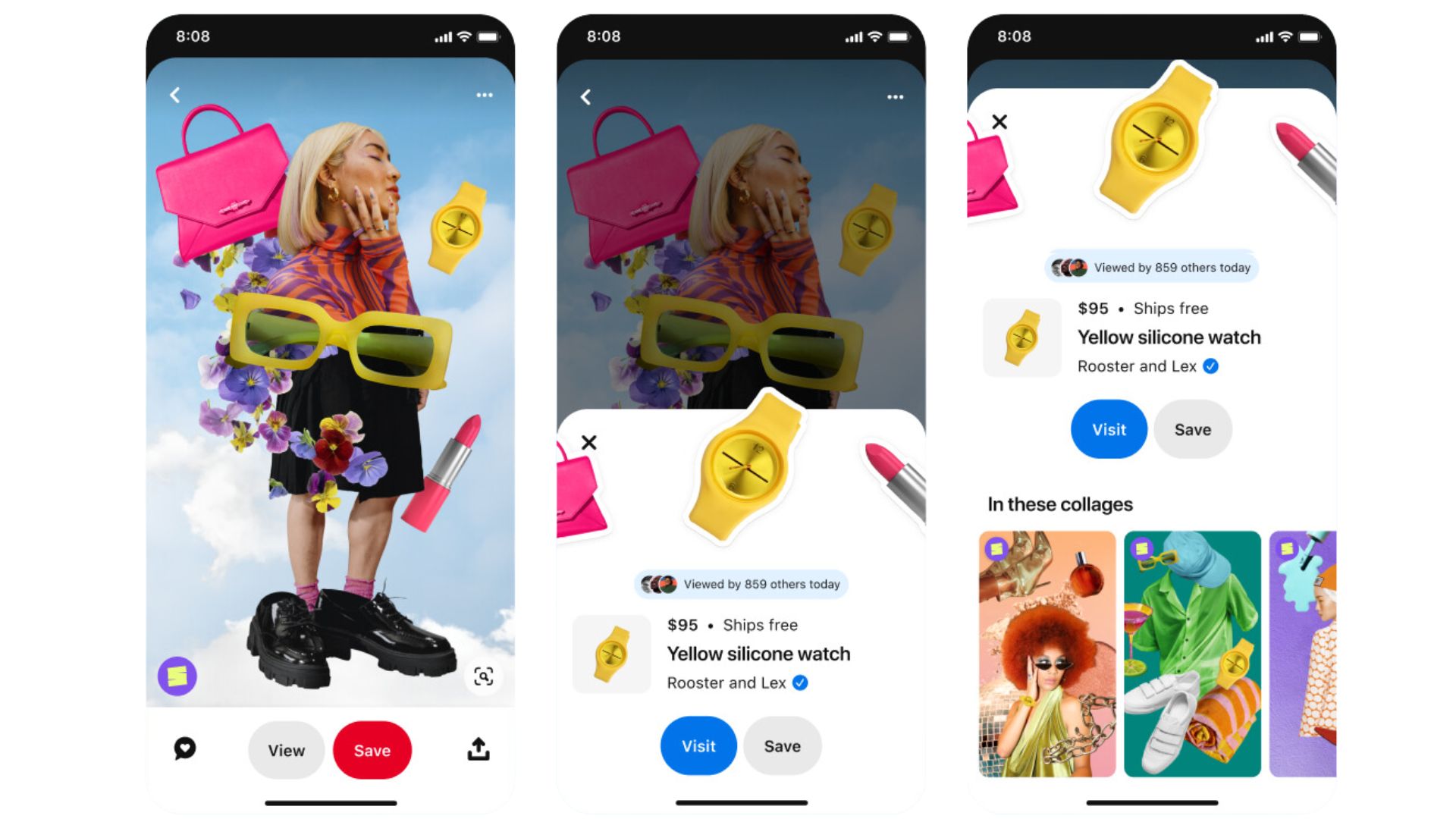 Pinterest also offers various advertising options to help businesses reach their target audience and drive sales. These include Promoted Pins, which are regular Pins that businesses pay to promote; Shopping Ads, which automatically turn a business's product catalog into visual, actionable ads; and Carousel Ads, which allow businesses to showcase multiple images and links within a single ad unit.
TikTok
TikTok, a rapidly growing platform that appeals to younger audiences, especially Generation Z, has emerged as a promising channel for social commerce. With millions of users actively engaged in short-form video content, the platform offers a unique opportunity for businesses to collaborate with influencers and capitalize on trending challenges to reach a wide audience.
TikTok's advertising options, such as In-Feed Ads, Branded Hashtag Challenges, and Branded Effects, allow businesses to create immersive and interactive ad experiences that resonate with users. Moreover, the platform's recent introduction of TikTok Shopping features, including in-app product catalogs and live shopping events, paves the way for seamless shopping experiences within the app.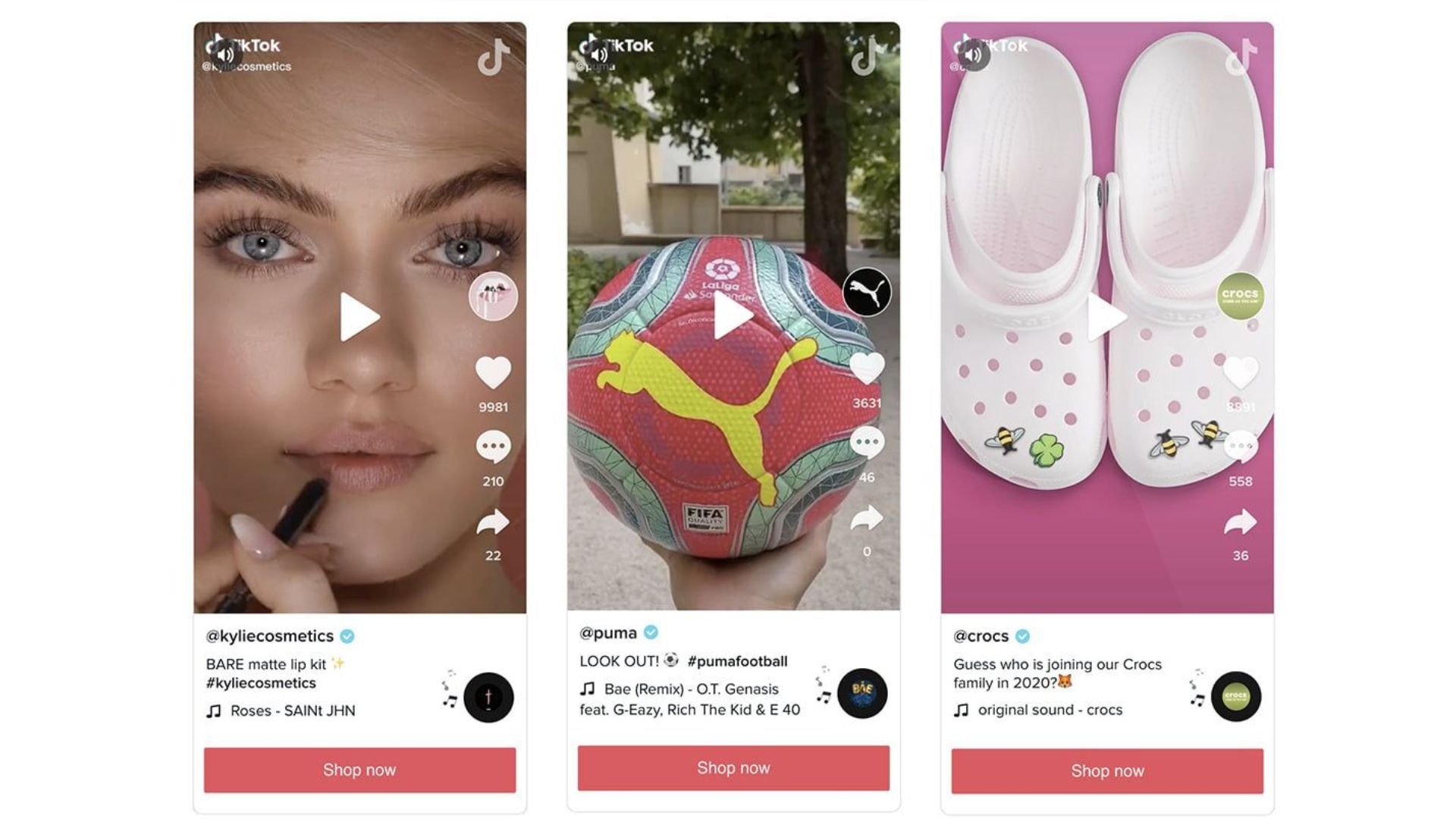 TikTok offers a distinctive environment for businesses seeking to capitalize on its energetic and creative community. To make the most of this platform for social commerce, it's essential to develop content that resonates with the unique preferences and interests of TikTok users. By embracing the platform's penchant for short, catchy videos and engaging with its fast-paced, trend-driven culture, businesses can forge genuine connections with their audience, boosting brand visibility and encouraging customer interaction that translates into sales.
YouTube
As the world's most popular video-sharing platform, YouTube boasts over 2.1 billion users, who collectively watch 694,000 hours of video every minute. While the platform has traditionally focused on affiliate marketing, where video creators promote products in their videos, YouTube has been expanding its social commerce offerings with new tools such as video series, live streams, and Shorts.
To take advantage of YouTube's social commerce potential, e-commerce businesses can create shoppable ads that allow users to purchase products directly from the video. Brands can also collaborate with influencers for sponsored content and product placements to increase brand visibility and drive sales. By developing engaging and informative video content, businesses can utilize YouTube as a powerful social commerce tool to reach a vast audience and boost their online presence.
Leading Companies in Social Commerce Industry
There are so many theories and advice about social commerce, but let's see some nice examples of companies that put these into practice.
Charlotte Tilbury
Charlotte Tilbury engages customers with personalized services on multiple platforms, utilizing LiveStream and Metaverse technologies. The cosmetics company pioneered digital storefront technology (VR), launching a 3D digital store in November 2020, where customers explore, shop, and receive personalized recommendations from virtual associates. Additionally, the digital store features live skincare and makeup tutorials.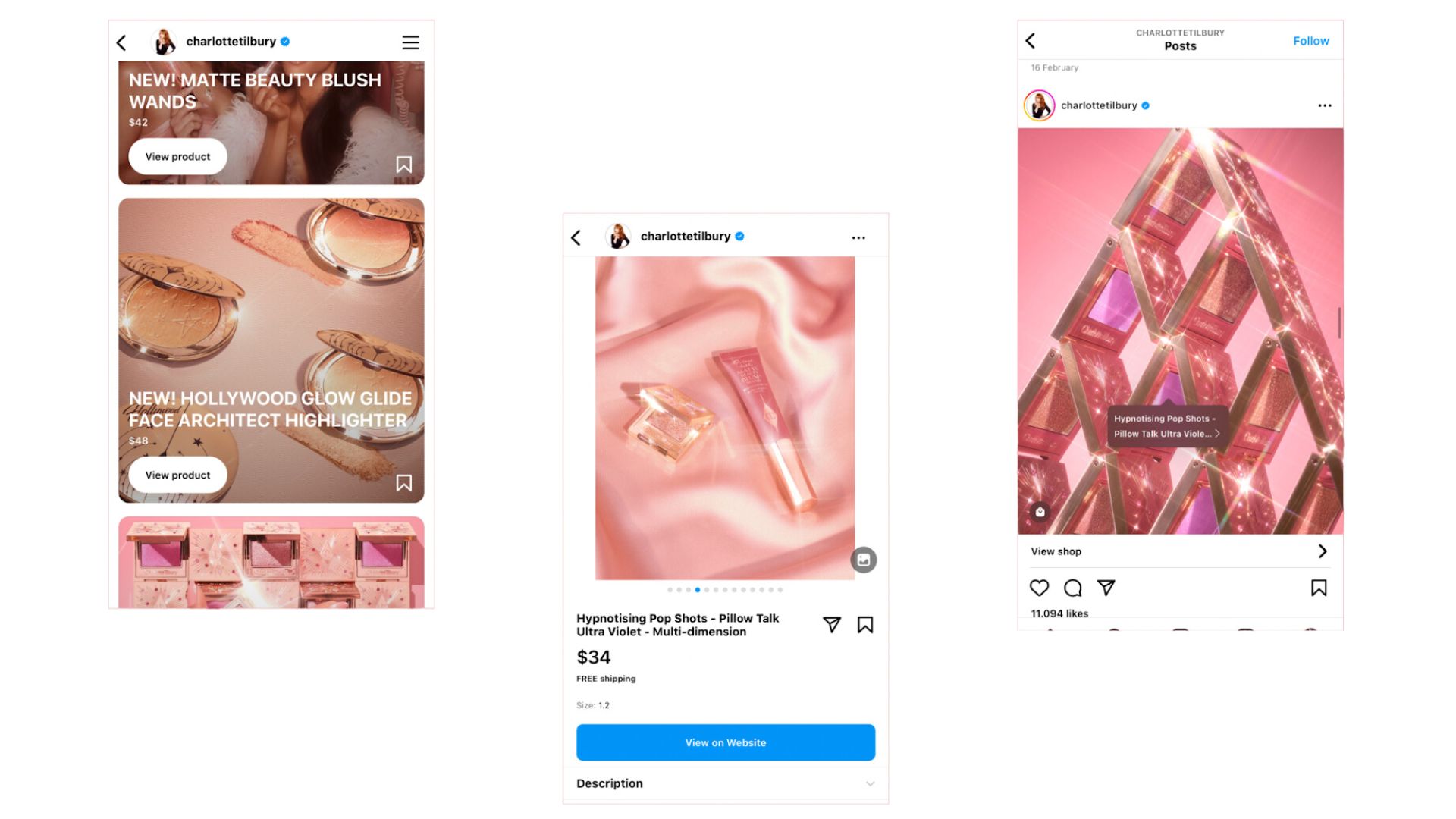 The company maintains a strong social media presence, particularly on Instagram, collaborating with influencers and showcasing products with eye-catching content. This approach has helped Charlotte Tilbury establish a loyal customer base and boost sales.
To gauge social commerce success, Charlotte Tilbury monitors key performance indicators (KPIs) like engagement rates, conversion rates, and return on investment (ROI) for social media campaigns. This data-driven strategy allows the company to continually optimize its tactics in the competitive social commerce arena.
Cluse
Cluse fully embraces social commerce by utilizing multiple social media platforms, including Instagram and Facebook, to showcase its stylish watches. Their shop profiles on these platforms allow followers to see the prices of watches in photos, and they create engaging content that resonates with their target audience.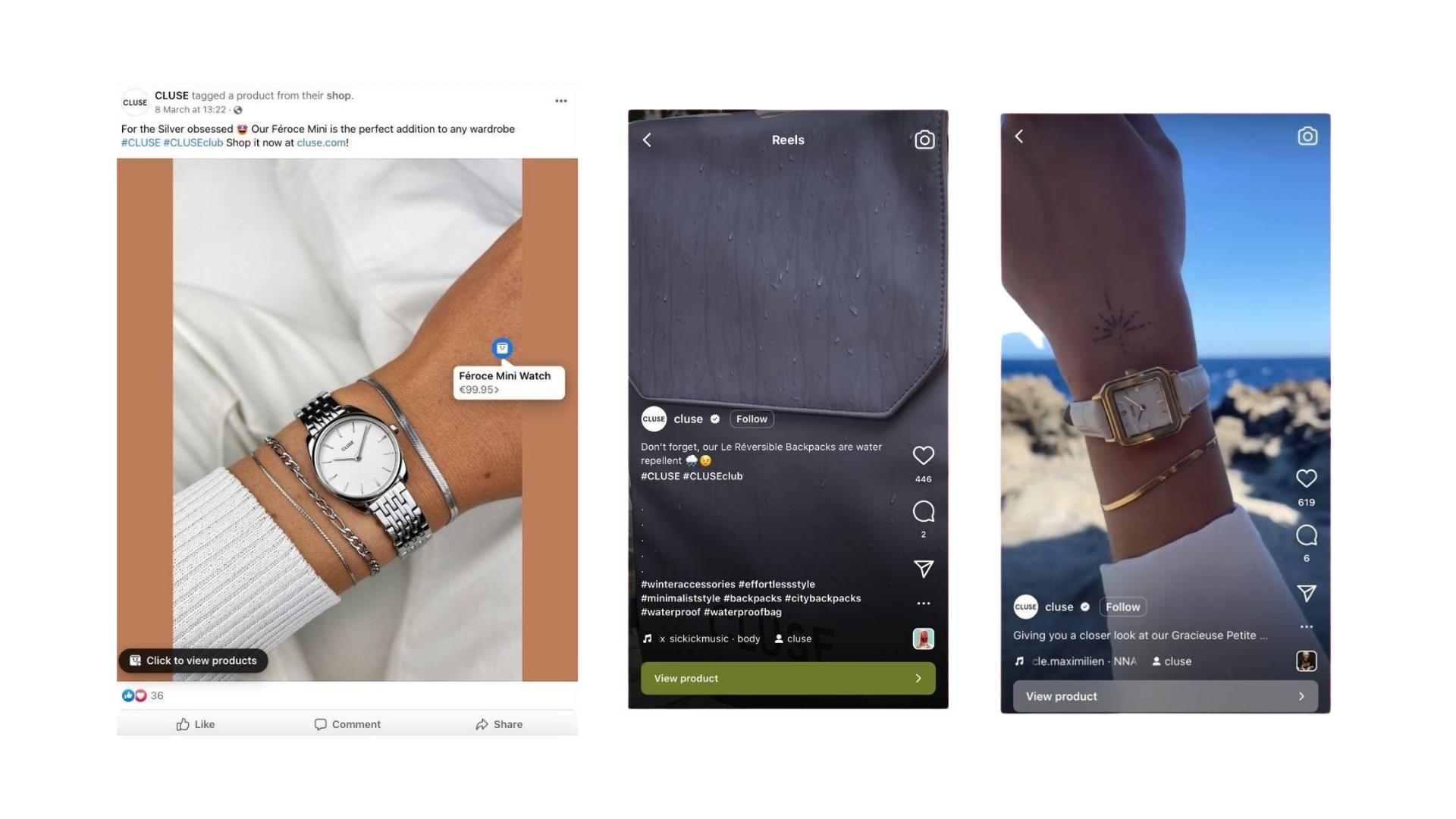 Adopting current industry trends, Cluse uses Instagram Reels and posts to encourage people to leave comments or share their content with others. The company frequently informs followers about its products through Reels, and its visually appealing content effectively showcases its brand identity.
Cluse also leverages user-generated content and influencer partnerships to further amplify its social media presence and reach a wider audience.
By incorporating a well-rounded social commerce strategy that spans multiple platforms and aligns with industry trends, Cluse has been successful in establishing a strong online presence and driving sales through social media channels.
Adidas
There is a reason why Adidas has a place that stays the same. They do not underestimate the power of social media and its opportunities. Adidas actively uses Facebook, Instagram, and Twitter to interact with customers. They use reels, guide sections, Instagram highlights, and Facebook features.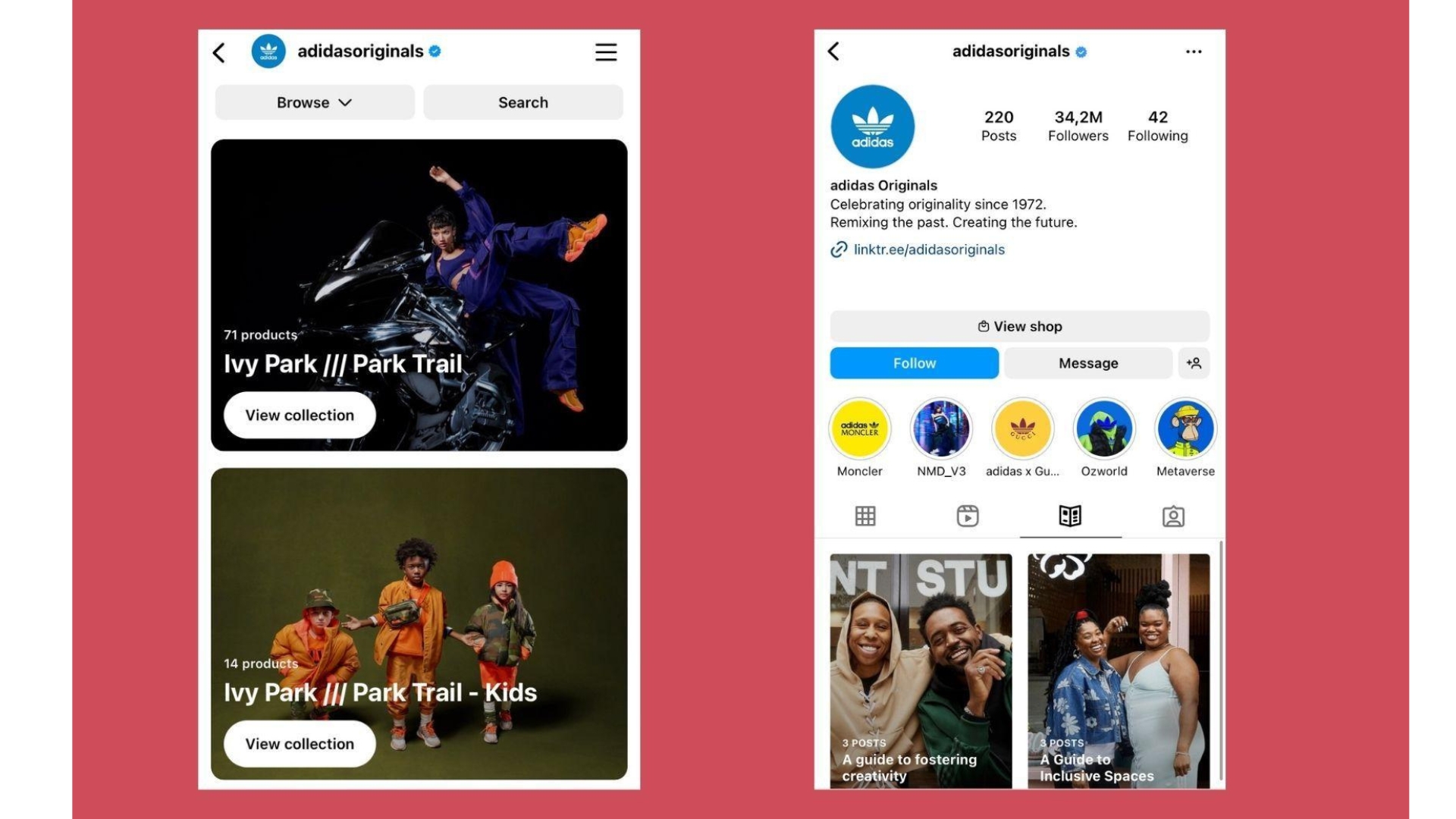 Adidas' social commerce strategy includes leveraging collaborations with well-known influencers and celebrities, as well as partnering with other brands to create unique product offerings. These collaborations help them expand their reach and engage with diverse audiences, contributing to their social commerce success.
This prioritization of digital interaction means that Adidas will focus more on social commerce. Adidas, which has recently come to the fore with its influencer marketing efforts, is expected to double its market share in the women's sports vertical thanks to its investments in this field.
PART 2: BUILDING, ENGAGING AND SELLING ON SOCIAL MEDIA
Importance of Target Audience
As in every business, you need to know the market and the audience targeted by the brand you manage on social media. Knowing the target audience is one of the most important tasks of a social media expert because when you know your target audience, you can determine how to develop your product or service, which marketing channels to use, and create your marketing strategy.
One of the first things you'll want to do before you start selling products online is to understand your audience's buying habits. You can do this by performing market research, using suitable software, receiving feedback, and analyzing your customers' buying patterns.,
Website/app analytics play a crucial role in understanding your target audience. Tools like Google Analytics or social media analytics provided by platforms such as Instagram, Facebook, and Twitter can help you identify the demographics, interests, and preferences of your audience. In addition, the statistics your social media accounts provide you with will give you valuable insights into the characteristics of your followers. Even if these people are not yet your customers, they have shown interest in you because they interact with your social media accounts. This information is invaluable for every business that wants to have a working and successful strategy.
To effectively understand and engage your target audience, focus on creating personalized content, tailoring your marketing messages, and segmenting your audience based on their preferences. By doing so, you'll be better equipped to meet their needs and ultimately drive sales in the social commerce landscape.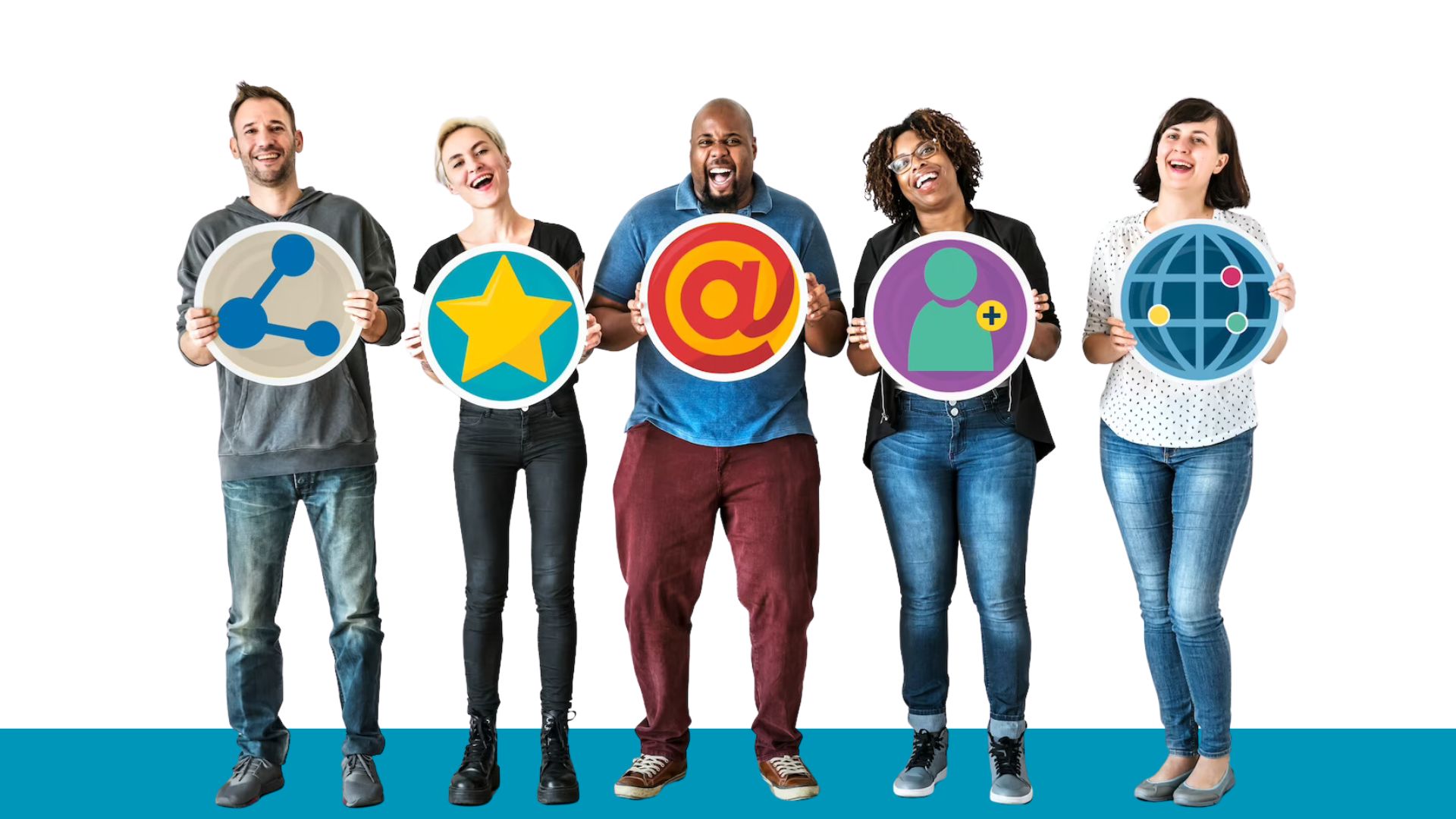 Social Media Behavior Analysis
Social media behavior analysis examines how your target audience interacts with content and other users on various social media platforms. It offers valuable insights into your target market's preferences, habits, and sentiment, enabling you to tailor your social commerce strategy effectively.
Understanding your audience's social media behavior is critical for several reasons:
Content Preferences: By analyzing the type of content that resonates with your audience, you can create more engaging posts that drive interactions, shares, and conversions. This includes identifying preferred formats (e.g., images, videos, or articles), topics, and posting times.
Platform-Specific Behaviors: Each social media platform has its unique features, user demographics, and content consumption patterns. Understanding these nuances allows you to adapt your strategy accordingly, ensuring you maximize the potential of each platform.
Influencer Identification: Social media behavior analysis helps you identify influential users within your niche who can amplify your message and drive traffic to your products or services. Collaborating with these influencers can boost your social commerce efforts and increase brand credibility.
Sentiment Analysis: Gauging the sentiment behind user interactions allows you to understand how your audience perceives your brand and products. Basically, the results of the sentiment analysis can guide your messaging, product development, and customer service efforts to align with your customers' needs and preferences.
Trending Topics: Need to stay ahead of the curve and capitalize on more opportunities? You just need to keep track of trending topics and conversations relevant to your industry to help you stay ahead of the curve and capitalize on increased engagement, traffic, and sales opportunities.
To conduct social media behavior analysis, consider using a combination of tools and techniques, such as social listening tools, native platform analytics, and manual observation. By leveraging these insights, you can fine-tune your social commerce strategy, create more engaging content, and develop stronger connections with your target audience.
Choosing the Right Social Media Platforms for Your Business
There are critical questions you should answer before deciding which social media platforms are the best for your business.
1. What is (your brand name here)? What products/services do you provide?
Your brand personality, products, services, and any other business-related detail are factors that should affect the decision of social media platforms. Facebook, Instagram, Pinterest, Amazon Live, TikTok, YouTube, and other platforms have different styles, offers, and types of entertainment, and you need to choose the most suitable one, which means the one that has the same vibe as your company.
2. Who is my audience?
When it comes to social media platforms, the audience is unquestionably the most crucial consideration. If your audience isn't active on the channel, nothing else counts, not even size. Facebook, for example, has the most active users of any network, but if your target group is on Snapchat, that's where you should be.
However, the station selection is not black and white. Many big corporations, such as Apple, have visually stunning brand presences that perform well on Instagram. Similarly, creative operations are still businesses that can profit from the services provided by LinkedIn. Some channels, such as Instagram, have a wide appeal, whereas some are more niche. You simply need to consider what is best for your company and realize that what your company does affects your options.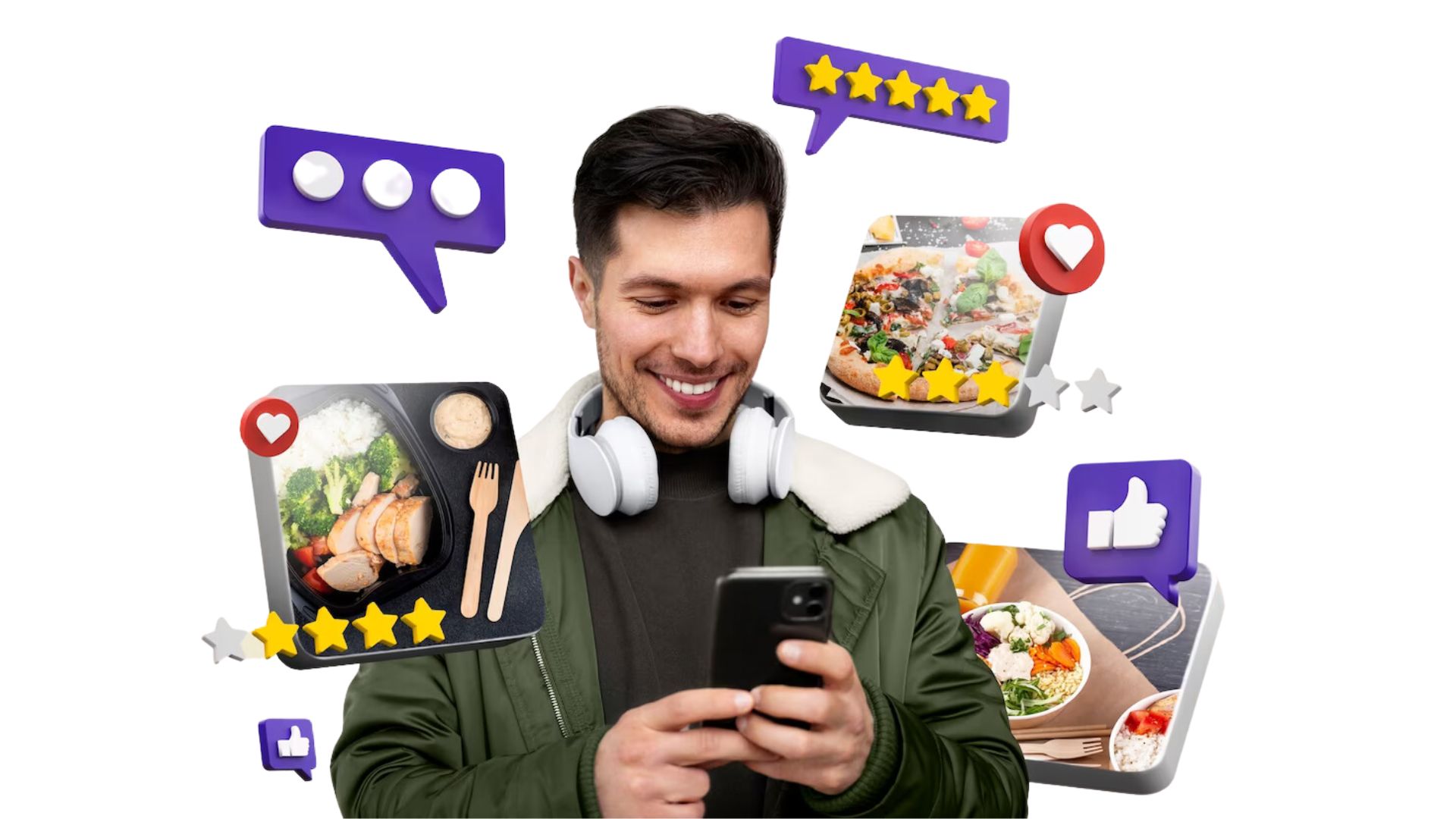 3. What are my competitors doing?
If your competitors succeed on a particular social media platform, you might. Conversely, if your competitors neglect a particular app, you might profit from that untapped market. You should be able to gather information on where your competitors are concentrating their social media efforts since most companies include links to their social media profiles on their websites. In addition, it is a good idea to check their social media pages to see whether they have been updated; an inactive social media presence shouldn't be regarded as an active effort.
4. What are my social commerce goals?
Questions come with questions. Do we want to achieve company awareness? Are we interested in attracting people to our business website/profile? Are we focused on increasing sales? These and similar questions will help you decide the suitable platform for achieving your goals.
Social media strategy has become an essential part of the success that businesses wish to achieve. Investing in social media never lets you down in this era. Businesses know that marketing outreach and promotion are no longer the only things you can do via these social platforms. Social media has shown that businesses can benefit from it through techniques such as lead generation and social selling, in addition to providing valuable interaction points between businesses and consumers.
5. Which platform is for what?
You should explore the channels and learn how things work in each of them. If you plan to connect through visuals, Instagram would be a nice platform. If your content is mostly text-based, other platforms like Twitter would be better. You only need to learn how to use these social media channels with the perfect communication strategy. This will not only assist you in selecting the best platform(s) for your business, but it will also assist you in avoiding communication blunders. Decide on the message you want to send. Learn the channels. Use them wisely.
6. Are you able to manage this social media platform successfully?
Of course, efficiently managing social media is the key to keeping your success. Once you decide on everything and create your profiles on different platforms, you need to keep up with everything while creating beneficial content and getting the engagement you want or achieving your goals.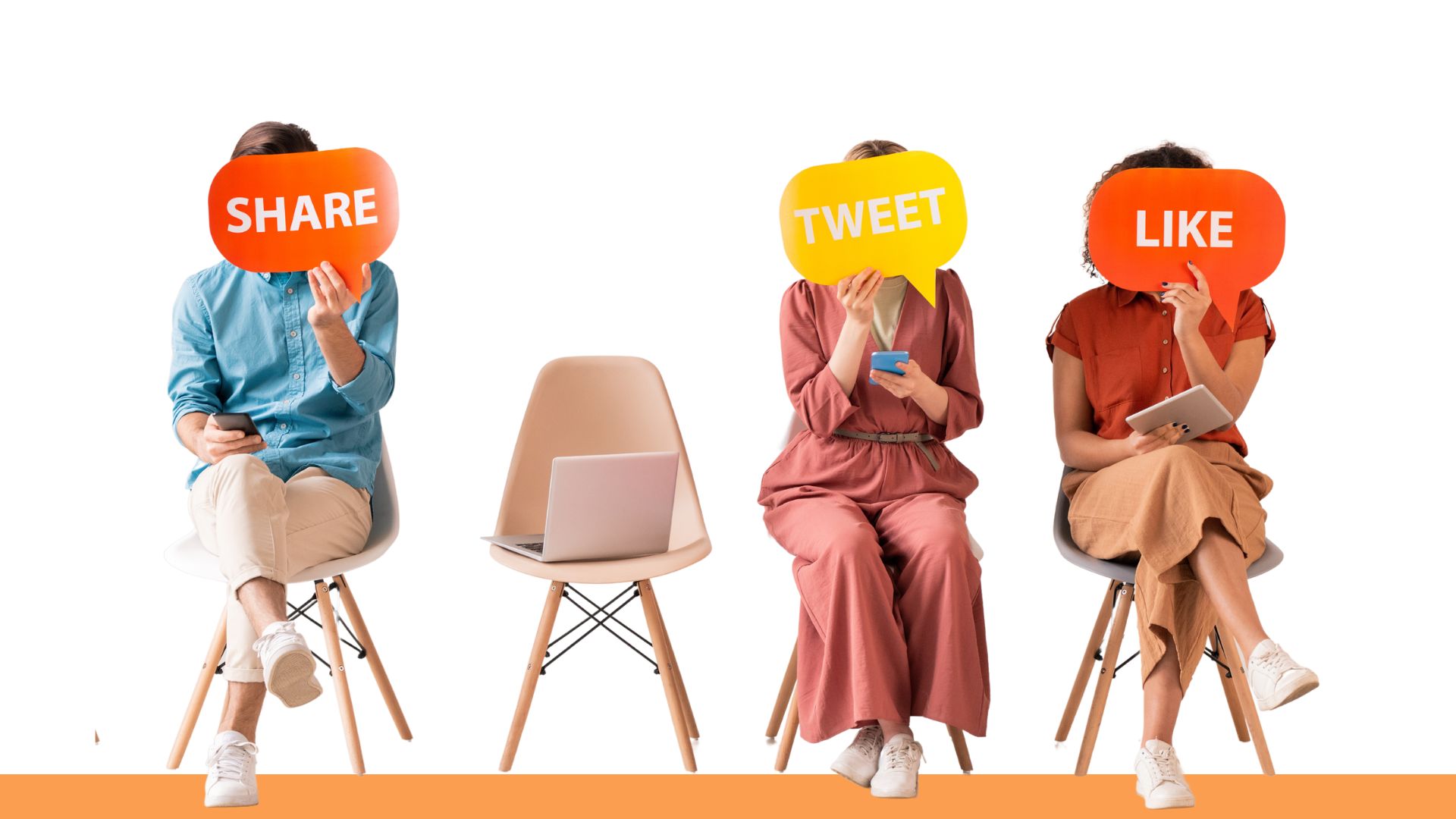 Different Social Commerce Strategies
Social commerce allows a full shopping experience to happen through a social media platform, but social commerce strategies come in a few different forms.
Shoppable posts: These types of posts make it possible for followers to explore and shop directly from your social content across various channels, such as Instagram Reels, Instagram Stories, TikTok videos, Pinterest pins, and Facebook images. By tagging one or more items in your photos or videos, you can showcase your products within social channels and provide users with a method to purchase them.
Shoppable ads: Shoppable ads share similarities with shoppable posts, but they're tailored to a specific audience and typically form part of a paid social campaign. Such ads can target potential customers or serve as reminders of products that a shopper viewed but did not buy.
Storefronts: Certain social apps enable businesses to establish a storefront or shop to improve shopping experiences on their social profiles. This shop acts as an e-commerce store within the social platform, displaying your products. Shops assist businesses in curating the shopping experience, driving product discovery, and allowing shoppers to explore products and complete purchases.
Influencer content: Collaborating with a social media influencer or micro-influencer can help promote your products, increase brand awareness, and direct users to your profile or store. Influencers tag your products in their content, and if a shopper expresses interest in the item, the tag will direct them to your product page on the respective social platform for purchasing.
Live shopping: Live shopping adds a more personalized element to a social commerce approach. Brands and businesses can utilize live stream video to engage with customers in real-time, showcase and discuss their products, and address customer inquiries. Shoppers can buy products from the live stream via shoppable posts or payment links.
In-app messaging: Engaging with customers on social media platforms through direct messages (DMs) offers an opportunity for customers to ask questions and receive product assistance. In-app messaging is also a valuable tool for helping customers discover products or providing payment links for swift checkouts.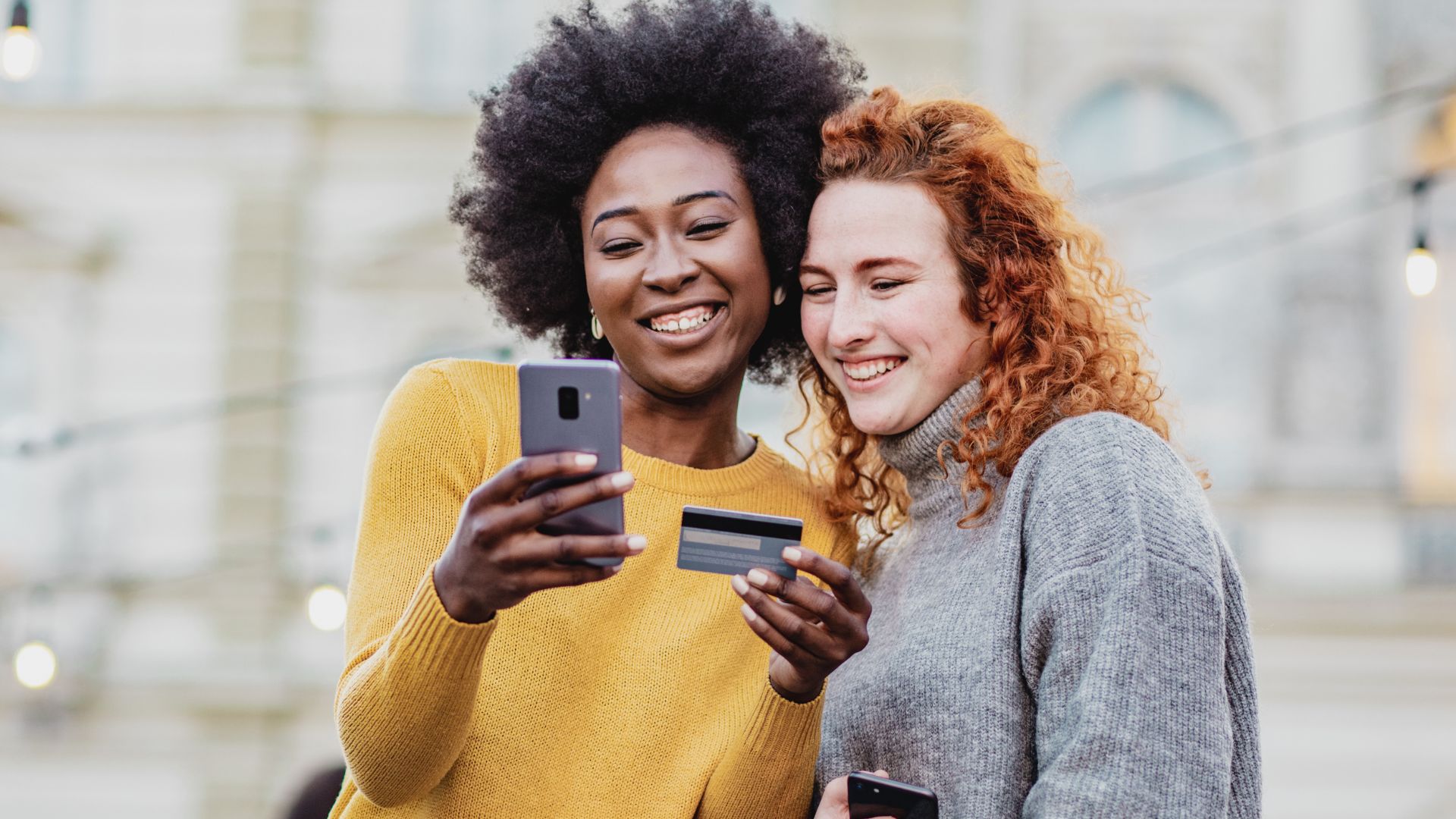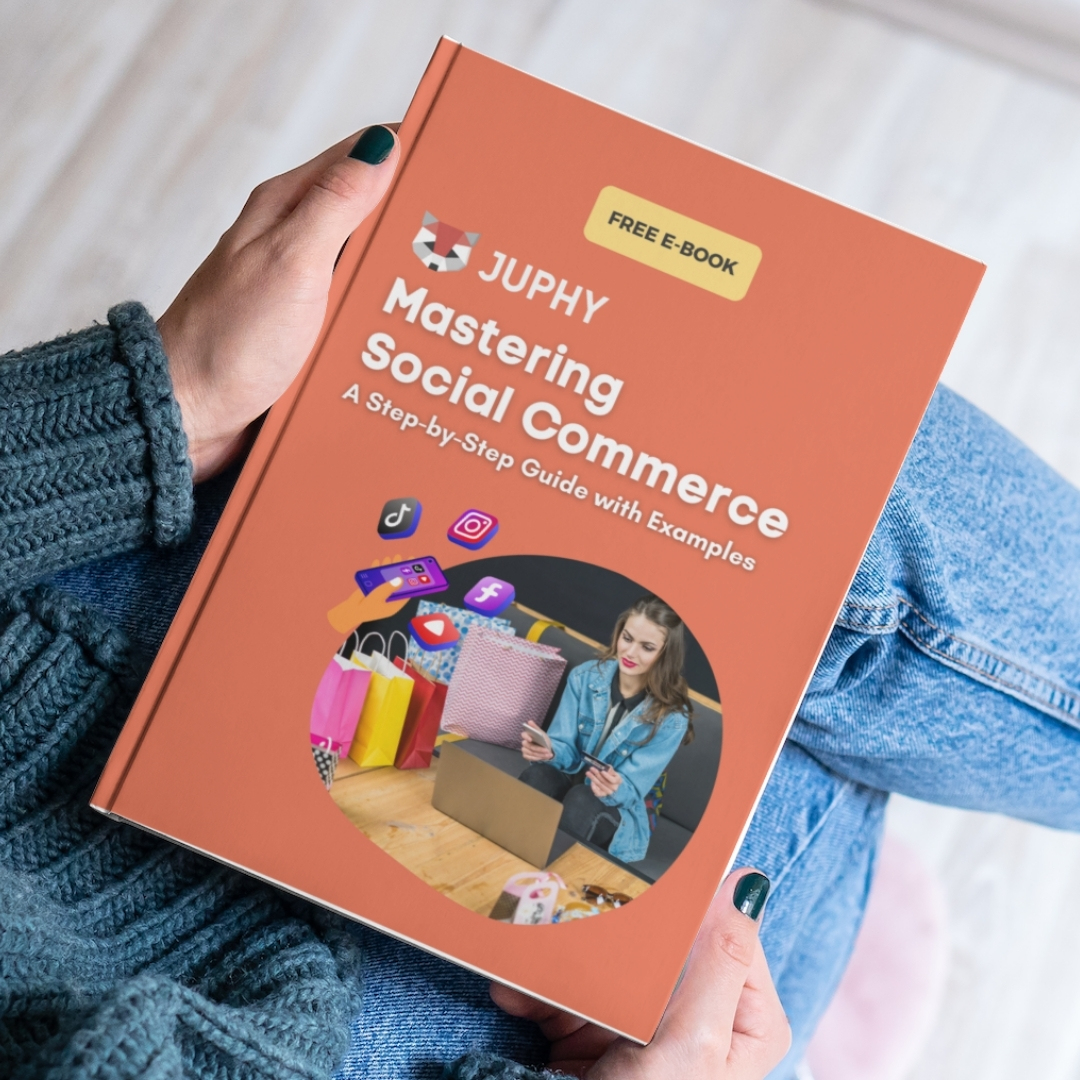 You can download the complete guide as a free e-book by filling out the form below.
Here is a brief list of titles in the complete guide:
Main Shopping Methods, Platforms, and Examples
Product Listings and Integration with
E-commerce Store
Branding and Creating Engaging Content
Video Marketing
Social Media Advertising
Influencer Marketing and Referral Programs
User-Generated Content
Conversational Commerce: Introduction, Benefits, and Examples
Chatbots and Conversational Interfaces
Setting up Chatbots and Conversational Interfaces
Creating a Conversational Flow to Increase Conversions
Analyzing and Improving Social Commerce Strategy
Measuring Success and Understanding Key Metrics
Customer Service and Support on Social Media
Building Customer Loyalty through Personalized Experiences
Managing Returns, Refunds, and Customer Inquiries
Improving Social Commerce Strategy with Customer Feedback
Managing Risks and Protecting Customer Data
Tool Recommendation: Juphy
The Future of Social Commerce and Key Takeaways
Staying Up-to-date with the Latest Trends and Best Practices
Predictions for Social Commerce and Conversational Commerce
VR-AR/Virtual Shopping Experience
Final Thoughts and Recommendations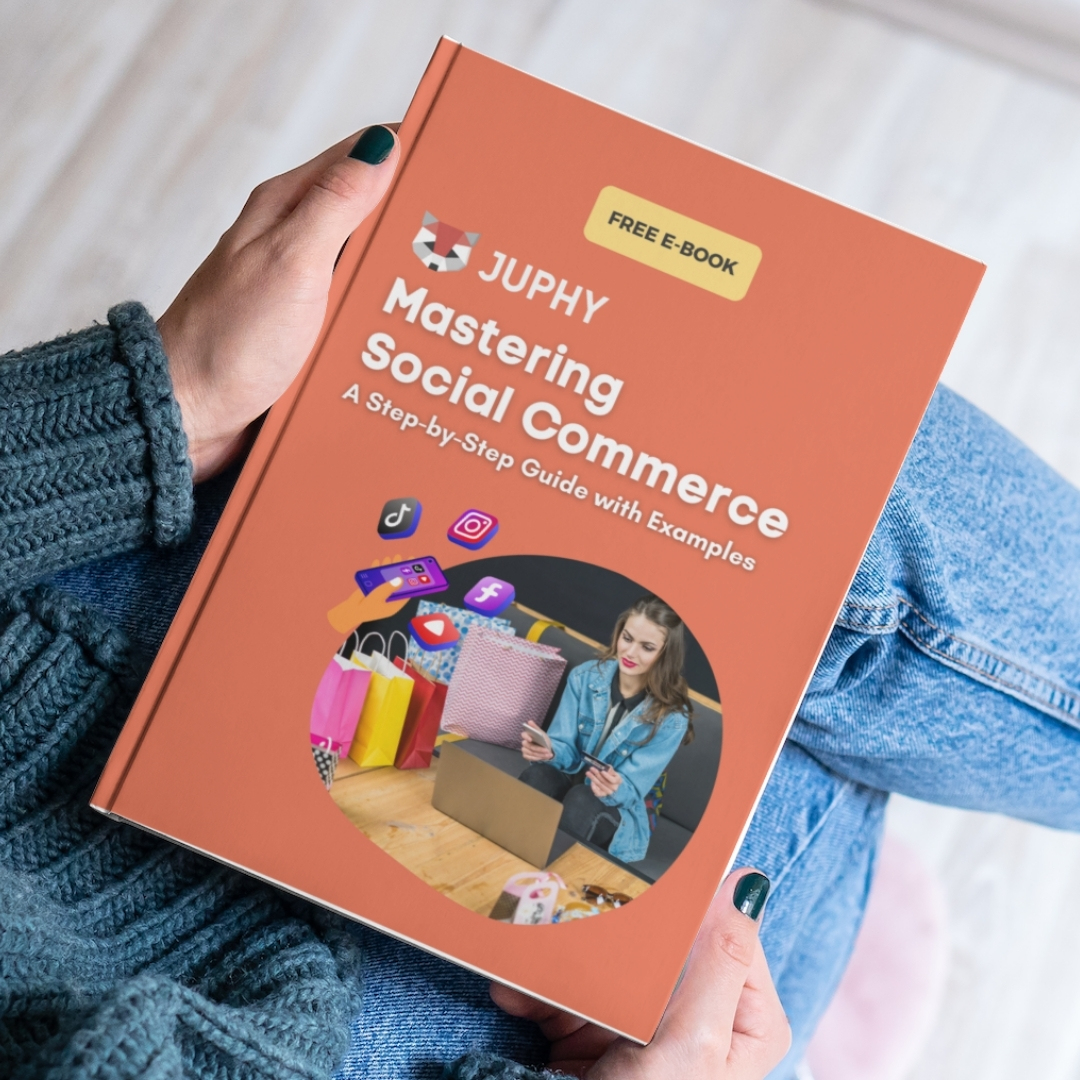 You can download the complete guide as a free e-book by filling out the form below.
FAQ
1. What is social commerce and why is it important for businesses?
Social commerce is the integration of e-commerce and social media, enabling customers to make purchases directly through social platforms. It's important for businesses as it helps increase brand exposure, reach new customers, and drive sales by offering a seamless and convenient shopping experience.
2. How can businesses effectively use shoppable posts and ads in their marketing strategy?
To effectively use shoppable posts and ads, businesses should create high-quality, engaging content that showcases their products and promotes their brand. Additionally, businesses should target their audience based on interests, demographics, and online behavior to maximize reach and return on investment.
3. What role do influencers play in social commerce?
Influencers play a crucial role in social commerce by promoting branded content and tagging products on their posts, stories, or other media. This helps businesses leverage the trust and authority of influencers to drive sales, increase brand awareness, and build customer loyalty.
4. How can live shopping benefit a business's social commerce strategy?
Live shopping allows businesses to interact with their customers in real-time, answer questions, and showcase products in an engaging and entertaining way. This helps create a sense of urgency, fosters customer trust, and ultimately drives sales.
5. What are the benefits of in-app purchases for social commerce?
In-app purchases streamline the buying process, allowing customers to complete transactions without leaving the social media platform. This seamless experience reduces friction, improves customer satisfaction, and can lead to increased sales and customer retention.
Create Your
Social Inbox Now
Manage all social media customer support inquiries in a unified inbox.