Dream big, start small.

Dreaming big has become harder for small businesses since the COVID-19 first break out. But, not impossible!

Social media has started to play a crucial role in supporting small businesses to dream bigger and bigger.

How (and why)? Because worldwide internet usage has gone from 4.1 to 4.9 billion since then and its history has just begun.

Pretty convincing, eh?

Hold on. Not only usage of the internet is increasing, but also small businesses' presence on social media has gone to another level.

In that sense, social media has become an inseparable part of small businesses to provide a smooth and immediate customer support service, and eventually make people happy.

At Juphy, customer happiness is at the basis of almost everything we talk about and build. That's how we do.

So, to point out the importance of social media customer support for small businesses from our eyes, we'll share some social media tips for small business owners!
The Value of Social Media for Small Businesses
While social media has become of this much importance, small businesses are the ones that can get the most out of it.

The increasing customer adoption of social media platforms provides much more opportunities for small businesses to take the attention of potential customers, advertise their brand, and answer their customers.

Billions of people keep scrolling down on Instagram, Facebook, and Twitter. Who can relate?

Each of these scroll downs ends up with different functions of social media that provide Michelin-star-benefits:
Low-lost opportunity for increasing brand awareness
Effective customer service
Targeted marketing for different ages, genders, locations, etc.
Content marketing through several tools like reels, spaces, podcasts, etc.
Hence, small businesses that focus on establishing a connection with their customers and creating communities on social media has much more opportunity to build powerful strategies.
How Social Media Helps Small Business with Customer Care
Speaking of the opportunities, when we evaluate the benefits of social media based on customer care, the result is even better for small businesses.
With Great Customer Satisfaction Comes Great Brand Loyalty

Customer care is one of the components that shape brand loyalty. Beyond all metrics, there is one thing that can measure loyalty: customer happiness.

Small businesses offer a more personalized customer experience when compared to big names. What do people want? Special care. What do small businesses provide? A cup of joy.
When this is the case, small businesses get a head start on social media with their understanding of customer care.
An Environment for Easy Connection
When people wonder about your brand, products, or services, they mostly go to search for your social media accounts before googling them.

Social media is an easy way of connecting with your customers and above all, let's agree on this, it's like a funfair; who doesn't like memes!

As these environments provide people with much easier and way more enjoyable opportunities to reach out, react, praise, or even complain, they look for their answers on these platforms.

Especially when your small business is more accessible and active through these platforms, people feel more comfortable with your brand.

One can easily and much more comfortably submit their problem via comments, direct messages, or in communities.
So, small businesses should stand as caring humans behind those brand names and support their users with anything they want (at least try) in order to make social media a good way of connecting.

5 Social Media Tips for Small Businesses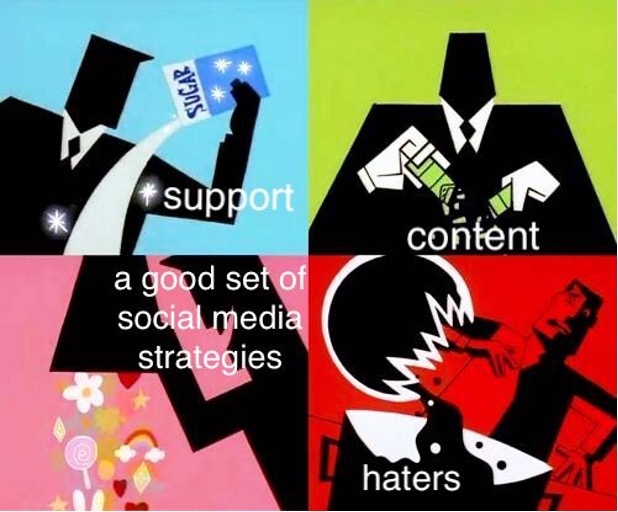 As Professor Utonium once created the Powerpuff Girls, (similarly but not quite the same) the perfect social media management for small businesses is a mixture of "support, content, and a good set of social media strategies".

People accidentally added an EXTRA INGREDIENT to the concoction… Haters. But, this is not even the case. What doesn't kill you makes you stronger.

So, simply logging in to your social media account and randomly starting posting things does not mean everything is okay. Your need is a good set of social media strategies.
1. Decide on your social media platforms
Before everything, you should start from scratch, as you do while starting your small business. You need to decide which platforms your target audience is spending time on.
Every social media platform has its own kind of spirit and voice, therefore, you should think of your brand spirit, find the right match and start your journey.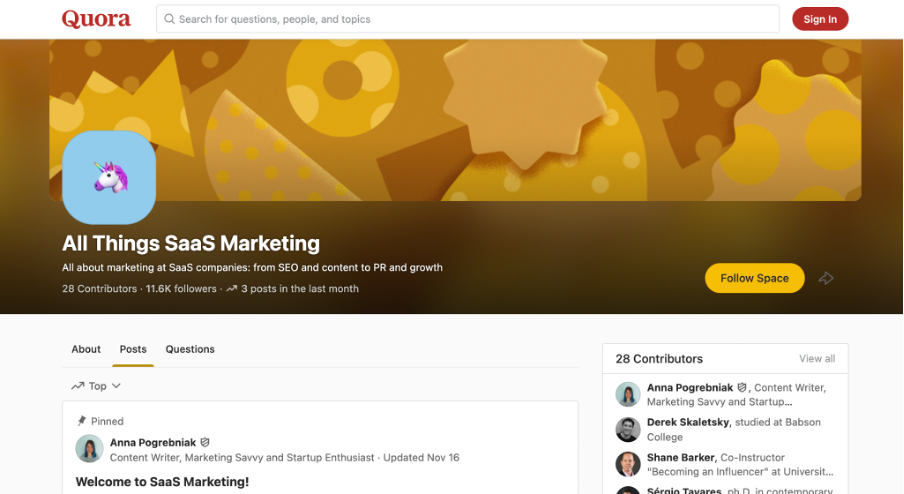 For example, if you have a textile business, you cannot find your target audience on Quora, Reddit, or LinkedIn. However, if you have a SaaS business, it is most likely to find people interested in your product on these platforms.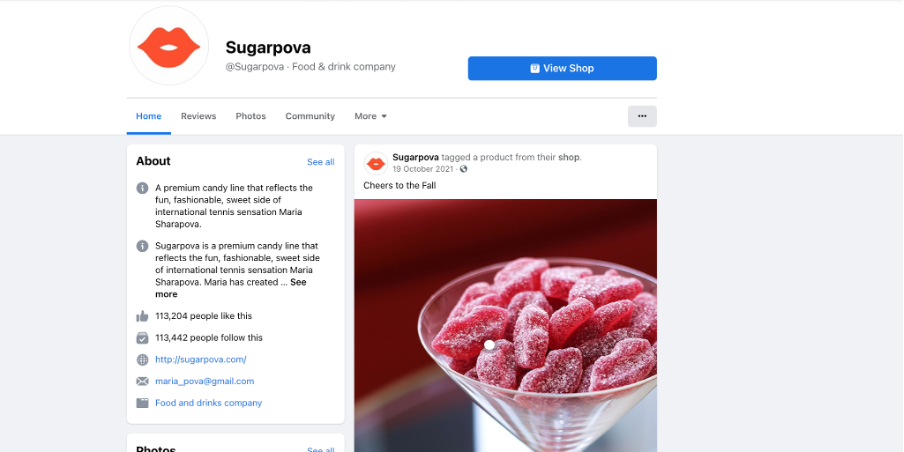 Let's give a specific example from Maria Sharapova's relatively small business Sugarpova, a premium candy business that brought a new level of quality to the candy category through fun, unexpected types, and shapes.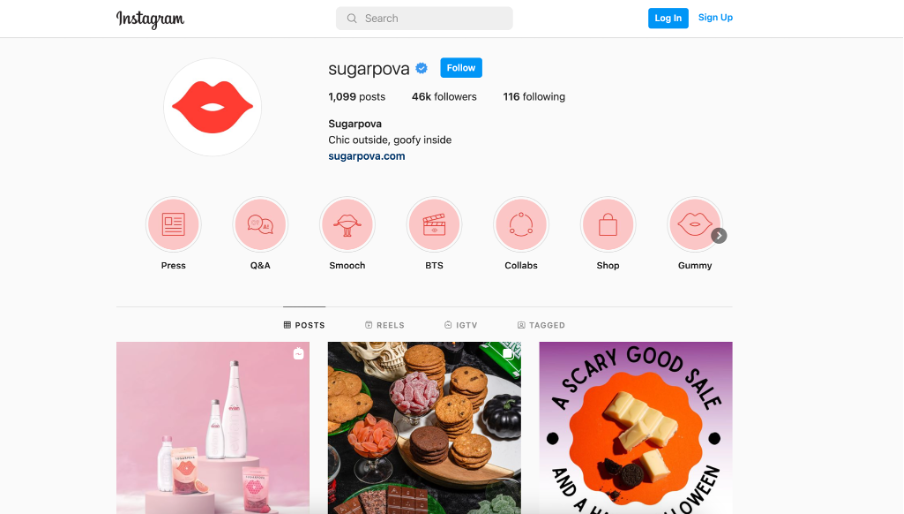 A candy business should use the platforms that are commonly used by women of all ages, from different backgrounds. So, they focus on Instagram and Facebook, more than Twitter and set goals accordingly.
2. Set clear objectives
Based on some parameters, you should set specific and measurable goals. What parameters?
Decide according to different social media platforms
Work on your funnel strategy
Make an industry and market research
After that, you will be able to set your objectives more clearly. They should be straightforward, appropriate, achievable, and measurable.
3. Measure analytics and run performance reports
Beyond tracking all metrics, it is important to track metrics that have an impact on your goals. You should make a well-rounded decision on how to measure your goals, which metrics will help, and when.
Running reports, on the other hand, will help you to monitor your performance in reaching your goals in the long term.

What metrics to track? Well, it depends.

People mostly misunderstand the value of the engagements. The metrics you track must be related to your goals. Total followers, likes, or comments are the vanity metrics that make you look good on social media but do not help you monitor your performance.

For example, if you are a local business owner with a small specific group of people, you should track related metrics like country-based activities.
4. Have a consistent brand-personality
I keep saying over and over again, but having a personality, a tone of voice is what makes your audience stay connected.

Treat your social media account as your small business store. You decorate your place, clean every day, spray perfume, and grow flowers. When someone gets inside, you would talk to them, make them feel comfortable and enjoyed.

Social media is much broader than that! It is one of the most important opportunities that social media provides to small businesses, so, use it. Most small businesses manage a great brand identity on social media, which I respect.

What might they think of while building their brand persona?
Target audience
Business values
Tone of voice
Interests
For instance, Ever/Body has a consistent persona that supports everyone's individual skin, age, gender, tone, body, and beauty. They make videos, reels, and posts about this context and reach out to their customers on social media.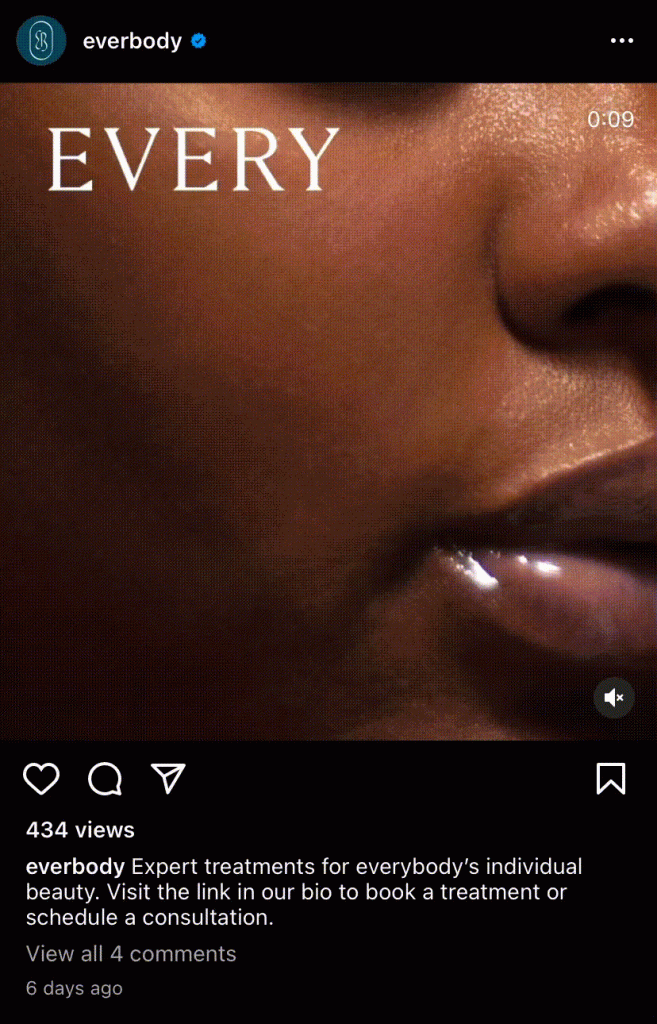 Askinosie Chocolate, on the other hand, have a sincere brand voice, share their excitements with their users and make creative reels.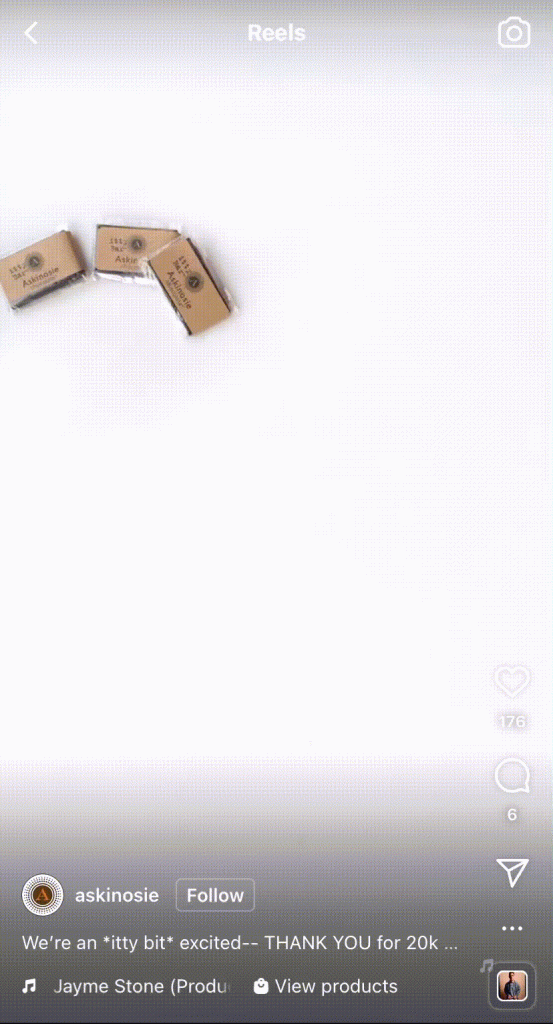 We have one more tip for small businesses but it is wholly another topic to talk about. Let's dive into it separately.
The Value of Social Customer Care
People's expectations in terms of help have changed since technology made us get used to doing things faster. That's one of the reasons why social customer care is becoming more and more important each day.

Social customer care is providing service to your customers through social channels like Twitter, Instagram, Facebook, etc. Caring about your customers in a familiar way will create a comfortable and easy ambiance as well as a reliable image of the company.
How to Implement a Social Customer Care Strategy
By now, we've talked about social media presence and how to do it right. Keep it in your mind; it constructed the foundation. Social media customer care will be built over them.

It will basically be consist of three phases: speed, accuracy, and honesty.
3 Social Customer Care Tips to Increase Customer Support Efficiency on Social Media
While people's expectations are pretty obvious, your customer care strategy should be too. There is a good deal of opportunities, waiting for you to use.
1. Quick, direct and simple responses
Let's be honest. People think that we don't have a life and sit in front of the computer all the time. I'm not getting mad; it is what we all expect. As we talked about above, that's how technology made us.

So, being able to communicate through these widely-used social media platforms offer customers a quick, direct and simple way of solving their problem, as well as the feeling of being cared about.


Huel, for example, always answers comment that requires support for a problem and reaches out to that person to solve their issue. It is also engaging to use names while answering; people love to be called by their names!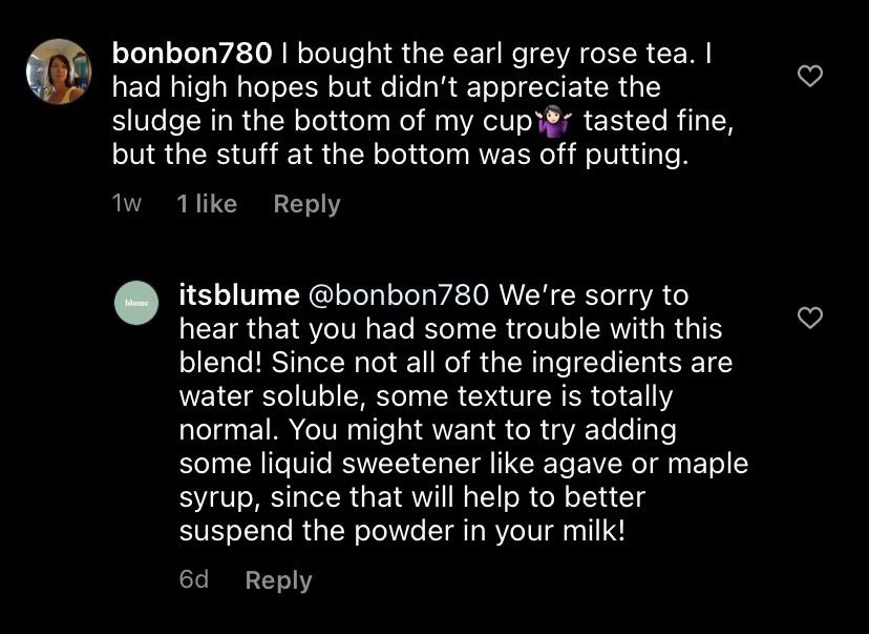 Blume also gets feedback from their customer and make suggestions to better their experience.
Speed is important in social media customer care, especially for small businesses as they need more valuable engagements in the fastest way.

In order to efficiently follow up the questions and catch up with them as soon as possible, unified inboxes are getting a must for better social customer care. For this reason, you may need a social media tool. Juphy, among others, helps you to take care of all customer queries including social media.
2. Honesty

We can measure speed by numbers, but we cannot exactly measure honesty. The only measurement for honesty is the good thoughts of people.

We know that people care about honesty as much as speed. Even most of them are making buying decisions based on the connection they have with a business.

You need to be open with every single customer. These behaviors eventually show that you value them and pay attention to their feedback. A personal touch always can help!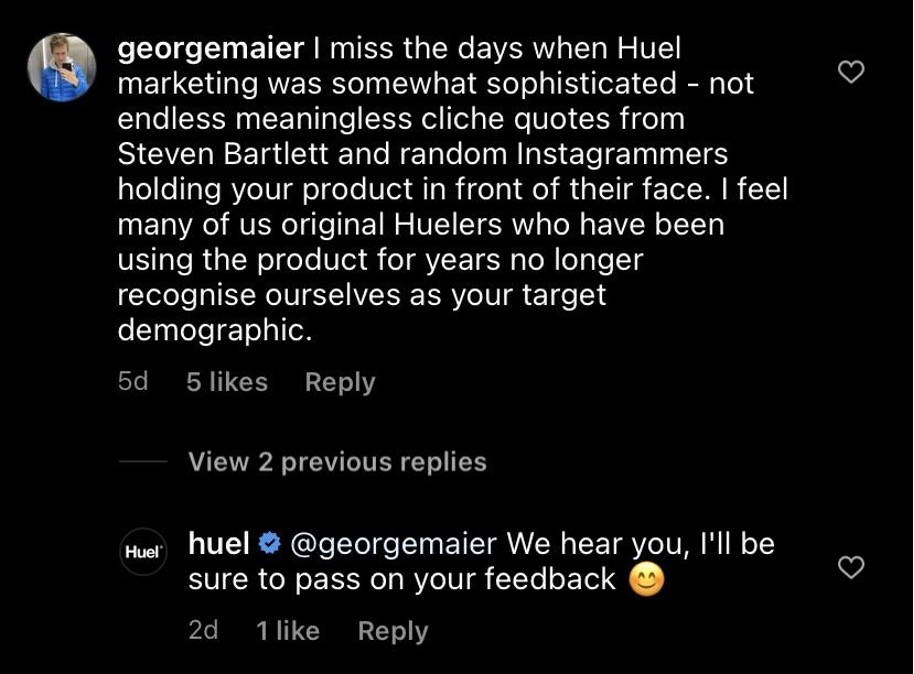 For instance, Huel kindly and openly accepts feedback about their marketing strategy. That comment might remain unanswered or even blocked, but this honest attitude is what makes small businesses greater than others.

"We hear you." Just a short phrase but can be very effective to turn this negative comment into a real relationship.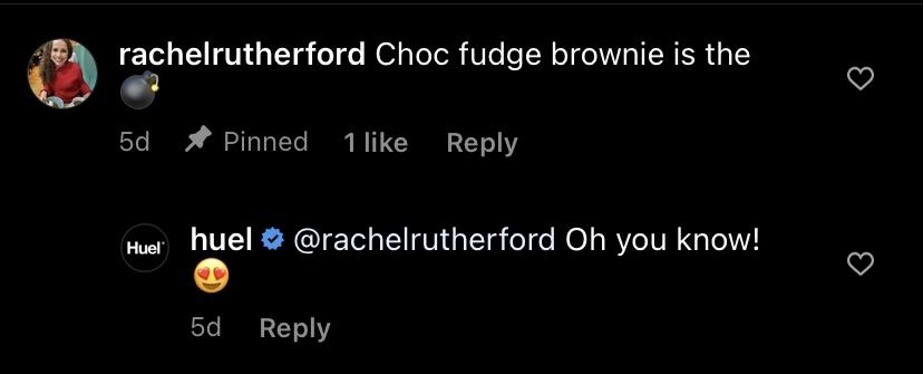 Or a simple uphold is very valuable in the eyes of customers (heart_eyes_emoji)
It is also so important to show that you are a real human being and make suggestions.
3. Monitor and Measure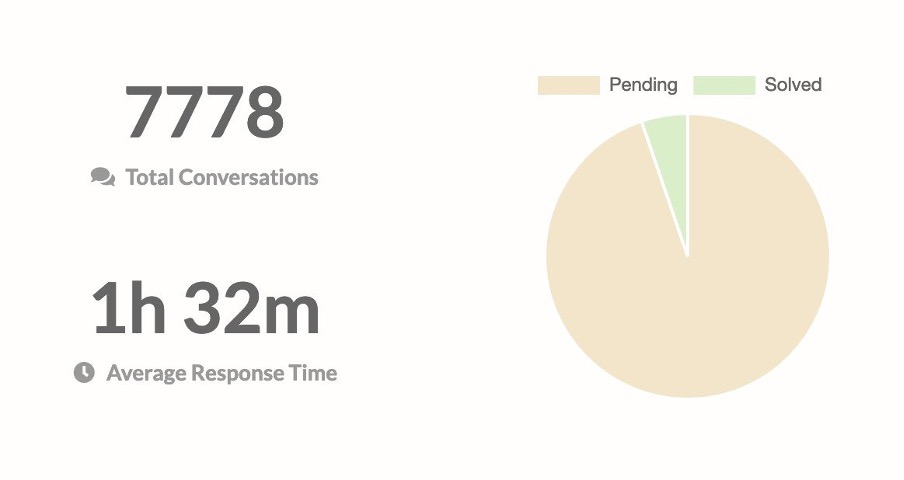 Customer support is not a one-time shot, it is meant to be improved in time. So, it is important to measure the performance of your strategy to find out the areas of improvement based on your reports. Which metrics to measure?
Message Volume
Resolution Rate
Respond Time
How many customers have reached out with a problem, how many of these problems were resolved and how long it took us to solve them?

Is it possible to improve your services without the data coming from your customers? With these numbers, you can monitor your performance and accordingly customer satisfaction with your social care.
Social Media Support Tool for Small Businesses: Juphy
Being quick and honest on social media comes with another problem… Management. Even for a small business, social media management can be hard.

But it won't be.

Luckily, no need to search far and wide, or even spend too much on enterprise-level solutions.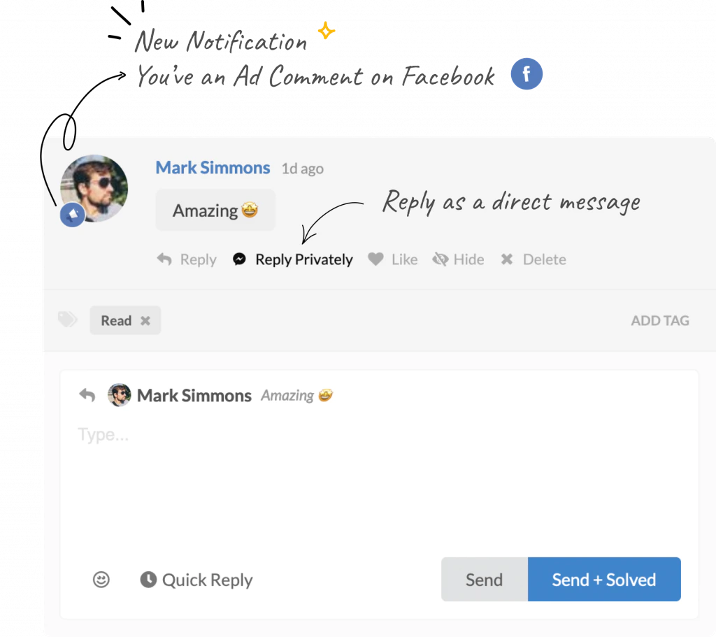 Juphy is a unified inbox service for managing a good social media support strategy. Within a single place, you can see all the incoming messages and answer them quickly.
With Juphy, you can integrate all of your social media account like Instagram, Facebook, Twitter, LinkedIn, YouTube, Google Business, Twilio, App Store, and Google Play in one platform. So, it unifies all social media direct messages, comments, tweets, and mentions in your dashboard.

Apart from enabling you to keep your social media account together, Juphy also allows you to measure your customer support performance. With performance reports, you can optimize your improvement strategies, and meet customer expectations easier. These reports give insights for growing your business, too.
Other Benefits of Juphy for Small Businesses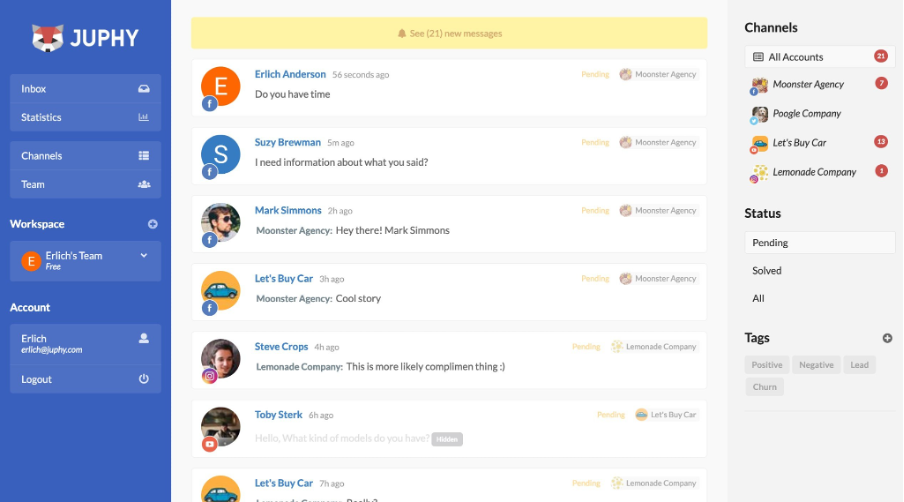 In your social media customer care strategy, there are several more components that lead to great results. Clear as water, Juphy makes connecting with your customers on social media easier.

Speed. Check. Honesty. Check. Metrics. Check. What's more?

All-teams-in-one place. Some questions or comments need multiple-step help. Therefore, Juphy enables you to gather your teams and deal with the customer issues together.
This is "your" experience, make it personalized in a way that better experience with your social media customer support strategy.
Different brands, different workspaces. Each brand needs special care because, at the end of the day, each customer needs special care. So, don't make things confusing and keep your brands organized to manage.
Ready-to-use responses for FAQs. Speed loves automation. Creating canned answers for commonly asked questions is an important part of your social care strategy.
Message filtering. Messages are classified automatically based on keywords and some parameters to save time.
Bottom Line

Social media for small businesses is gold, only when you know how to manufacture it. It is an important part of your social care and a platform to create unique experiences. With a well-developed strategy, it is possible to achieve your goals.

"Never underestimate the power of social media to build brand trust and recognition."

You are only a small business away from your dreams, start optimizing your social media strategy and social customer support with Juphy today! (At least try by starting your 7-day free trial here; you won't regret it.)
(Photo credit to https://dribbble.com/tarynoww)