When customers need to get in touch with a business, they usually send an email to a generic email address such as info@something or support@somethingelse and receive an answer from the same address instead of an individual user. This single point of contact is usually run by a delegated team, who monitor and answer questions from a shared email account.
What Is a Shared Email Account?
A shared email account is a way of collaboration within a team, much like Project Mayhem in Fight Club. The members of the team are assigned specific tasks, nobody has a name since they are answering on behalf of the account, and things can get messy if they experience coordination issues. Also, the admin can suffer from insomnia but it's optional.
It is different from setting up a personal account and sharing the username – password information with the whole team. A personal account is designed to remain personal and shouldn't be accessed by others for safety reasons. For example, if your Google Workspace account is used by different people in your organization,
Each time somebody logs in from a different computer, the account owner receives a security email
Failed login attempts might reach an account threshold
The user might need to be verified with a login challenge
which can result in a temporary lockdown.
A shared email account is different because the team cannot access it with a username and password. It is a collaboration group in an access control list, the names can be added or removed by the admin. Everyone in the access list can monitor and answer the queries using a single address.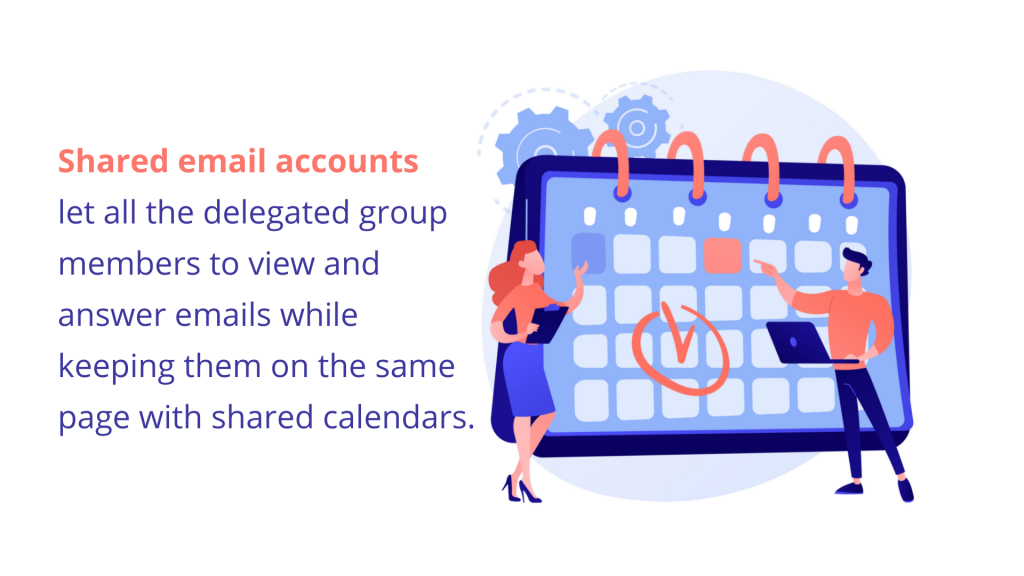 Google and Microsoft both offer collaborative and shared inbox features. They also offer shared calendars, so everybody can be on the same page about their appointments, shifts, or vacation dates. While having the first available person handle the next query works great in a small-scale business or for handling the communication between internal teams, shared email accounts have limitations. It can be challenging to keep everyone informed without endless email loops, spreadsheets, extensions, and more often than not, additional software.
What Are the Downsides of a Shared Email Account?
Setting up a shared email account on Gmail or Outlook is fairly easy and most of the time IT departments take care of the processes. Using it is another issue.
A shared email account requires great coordination between teammates but doesn't really offer all the necessary tools to achieve it. First of all, you can't actually track individual performance because it will be impossible to know which team member answered how many queries. This may also result in duplicate replies or no responses at all, because the system only allows viewing, answering, and deleting emails – you'll need an additional tool for assigning and tracking tasks.
In situations where more than one person's comment is needed to solve a problem, it gets a little more complicated. If you need to communicate with a third party while answering the query, you'll need to switch to a messaging app, send a separate email from your personal account, or literally call on the phone to ask a simple question. If you want to save that information for later use, a separate spreadsheet or a new email loop should work. But after a month of heavy customer correspondence, that little piece of information will be hard to find in an ocean of queries.
It's entirely possible to maintain a healthy collaboration system, even with loads of incoming emails, but it takes time. Also, there is a more productive collaboration option with many time-saving features.
A Better Collaboration Option: Shared Inbox
All your coordination problems and system-related shortcomings can be solved by using a shared inbox instead of a shared email account. They basically do the same thing: Having the whole team access a group of incoming emails and answer them as the generic account, not as an individual user. On the other hand, shared inboxes offer some amazing collaboration options which will definitely save you time, make seamless team coordination possible, increase overall performance, and boost customer engagement.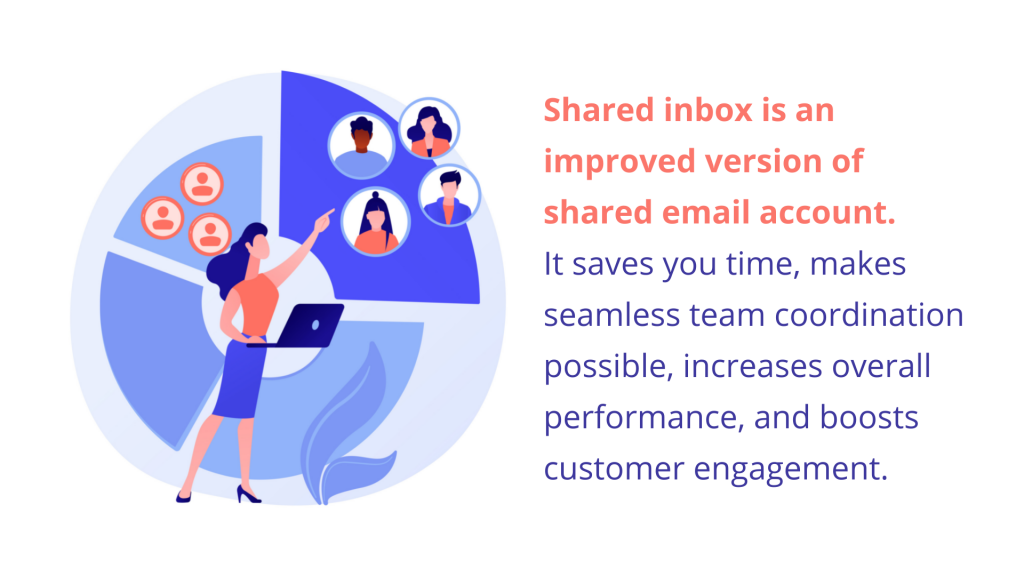 The Differences Between a Shared Email Account and Shared Inbox
Shared email account is a more primitive version of shared inbox. For now, shared inbox is the most advanced and scalable collaboration tool and works wonders in customer support. By using s shared inbox you can;
Grant access to all the parties involved with a specific account or department and centralize email management
Automatically sort and tag emails, assign tasks, open tickets and prioritize as you see fit
Have each team member view the email queue and see the status of each open request so you won't have to share constant updates
Organize incoming emails with automation
Add or remove members or adjust permissions without requesting help from IT
View historical customer data and prevent duplicate replies
Add comments, share notes and discuss the most suitable responses in real-time
View reports on overall progress and individual performance since everyone logs in to the system with their individual accounts
Integrate tools like Slack and eliminate the need to send reminders for awaiting responses
The list is getting larger and larger. You might think a shared inbox should be a complex structure if it incorporates this many features. Not at all. Not on the user side anyway. And when it comes to user-friendly design, one tool in particular stands out.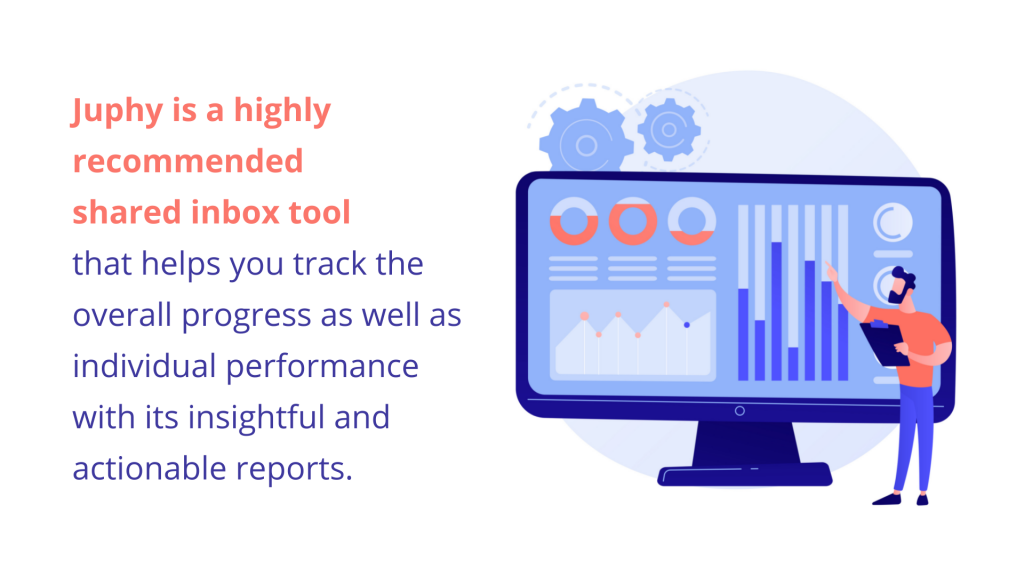 The Shared Inbox Tool That's Been Recommended by 300+ Users: Juphy
Juphy is a highly comprehensive shared inbox solution that was featured on Product Hunt and received hundreds of positive comments from users. Not only it works perfectly as a shared inbox for email correspondences, it is also a social media inbox that helps you take care of all customer queries, including social media and reviews. The simplistic design makes it incredibly easy to use and the extensive feature palette makes Juphy an essential tool in your digital collaboration system.
Benefits of Using Juphy
Seamless collaboration in real-time: You can create shared inboxes for different departments or project groups and add team members without requesting help from the IT department. The delegated team members can be assigned tasks and they can also view all the messages in order to provide support when needed. Team collaboration while responding to a message in real-time is possible, right from the shared inbox.
Respond to queries in record time: The messages are automatically sorted and nothing gets unnoticed. When you set an automation rule, incoming messages that contain the defined sentiment or keywords will be automatically classified and you'll be able to prioritize more efficiently.
Search, filter or simply ask: You can find historical data on issues and customers easily by typing a couple of keywords or filtering the messages by channels, status and date. If you don't have the perfect response to a customer query, you can pass internal notes about past conversations and discuss the issues behind the scenes with teammates before replying.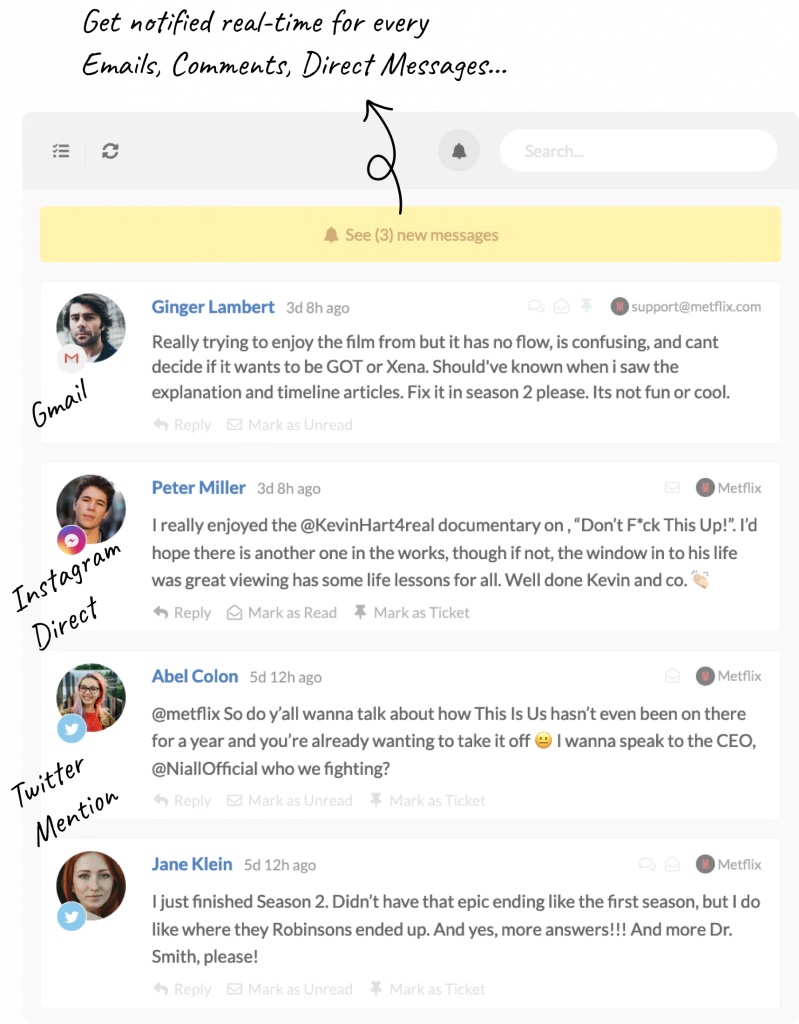 Customer support beyond emails: Juphy is a unified inbox that helps you manage both incoming emails and social media queries in a single dashboard. You can track and respond all your customer engagement from Facebook (Facebook page and group comments, Facebook Messenger, ads comments), Instagram, Twitter, LinkedIn, YouTube, Google My Business, AppStore and Google Play Store.
Clean performance reports: You can track the overall performance as well as individual message distribution since every member logs in with their credentials and password. The reports involve total messages, tickets and resolved issues along with first response time, which makes them even more insightful and actionable.
White label: You can customize the branding of your shared inbox with your logo and colors to make it truly yours. It is possible to hide Juphy branding, set your own domain, URL, and email address.
Start your 7-day free trial now and start using Juphy as your shared inbox in two minutes. No credit card information is required. If you have any comments about your experience, we'd like to hear from you. Just send us an email and expect a response in no time.