With a well-designed internal communication strategy, support teams can improve the quality of their service and ensure coordination between them.

Think about the internal body systems of a human being.

These systems communicate and work together to maintain your health.

Your bones and muscles, the respiratory and the circulatory system, and all that I cannot count communicate to complete a job.

We are not in the biology class, right? Class is dismissed!

Similarly, when it comes to businesses, internal communication is of vital importance (as much as your health).

Your company is your body, and all the departments or teams need to communicate effectively to keep your business on track.

In that case, if a company has more than one member (not surprisingly), internal business communication is the only way for the employees and employers to keep up with each other.

Especially after 2020, remote working and using digital platforms to interact became common for the companies. Communication within the company becomes even more important when this is the situation.

Let's shape a business body model to point out the importance of internal communication strategy and in addition, get more into the topic on the side of support teams.
CLASS101: What is Internal Communication Plan?

Internal communication is the exchange of several types of information between the teams of a company. This includes simple dialogues, exchange of information, sharing ideas, sharing knowledge, andother necessary interactions.

The main purpose behind all these types of internal communications is to raise awareness and sensation in the people around the company.

All these approaches together lead companies to make successful internal communication plans that set business goals and make sure your teams work together to achieve these goals.

Having an internal communication plan creates a unique "style" of the company in terms of communication styles, culture, and identity.
Why Internal Communication Is Important?
There is a clear connection between internal communications and the performance of the business.

The flow of information should be effective and clear between each person if the company wants to achieve their goals and thrive their services in the best way possible.
Good and correct communication can enhance each part of your business. Effective communication ensures clarity and avoids misunderstandings. This way, effective cooperation becomes possible.

Plus, having an internal communication dynamic also enables sharing values, habits, approaches, behaviors, feelings, and shhh… even memes.

This creates a sense of belonging and changes the employee's point of view regarding the business since they will feel cared for and considered important by the team. Just as good internal communication can improve the business in general, bad internal communication can have unfortunate consequences.

Poor communication within a company might cause misunderstandings, imperfect data, confusion, productivity problems, and many other negative impacts.

In order to avoid these kinds of communication problems, companies should have good internal communication plans and strategies. With efficient internal communication,

Employees are aware of what's going on in each other's departments and work.
Clear and necessary information flows through the management/employee chain.
Consistent and regular communication is maintained.
Employers can know the situation and needs of their employees.
A possible problem or misunderstanding can be avoided beforehand.
The company is able to stay up-to-date.
Moving the company forward becomes easier with continuous changes and improvements.
Exchange of views and ideas can give rise to good solutions or opinions.
How to Improve Your Internal Communication Plan?
Companies should shape their internal communication plan in accordance with their goals and business plans.

Having a plan for communication in your company provides guidelines for appropriate and effective interaction between the members of the company. Collaboration becomes easier and more productive as the employees become more and more engaged.
But how can you decide on an ideal internal communication plan for your company? There is no "best" plan or strategy for internal communication.

As a company, you should evaluate your current situation and then consider what your goals are and how you are planning to achieve them.
Know your team
Finding the strengths and weaknesses of your company might be a good place to start. This way, working on your weaknesses through benefiting from the strengths becomes possible.

Knowing your team enables you to understand and develop ways to communicate with them as well as find ideal ways for them to communicate with one another.
In addition to these, understanding the audience is very important in delivering messages because a company has a number of team members that makes a unified, standard way of communication impossible.

There are many ways to get to know your team and their needs. You can always ask your employees about their expectations or problems that they face.
Determine your goals
How do you want to see your company? What do you want to achieve as a team?

Setting goals as a company is important but achieving those goals is only possible through working efficiently as a team. Defining focuses and priorities might make it easier to plan your communication strategy in accordance with your team and goals.
Setting objectives like having "daily updates", "weekly meetings" or "regular briefing" could be a method of keeping up-to-date with what is going on in the company and what are future plans. Small objectives like these make realizing the big objectives easier.
Determining goals, whether they are big or small, enables taking fast steps and decisions towards the target.
Decide on ways to communicate
Deciding on the best way to communicate is important since the transmission of the message is just as important as the message itself. Depending on the aim and content of the message, you can choose between the internal communication methods like:
Instant messaging platforms
Notices / Memos
Group meetings
Team briefings
E-mails
Face-to-face meetings
Internal Communication Channels
After laying the foundations of your internal communication plan, another subject comes up, the purpose of that specific internal interaction. There are several purposes of internal communication that require different methods, and different channels to use.
Good internal communication within a company is possible through having good communication channels and methods based on the type of your internal communication.

After determining your strategy, you should decide on the channels of communication in the company. Using communication platforms like Slack and Discord, and other tools that provide internal communication like Juphy or Intercom can provide instant messaging and group conversations.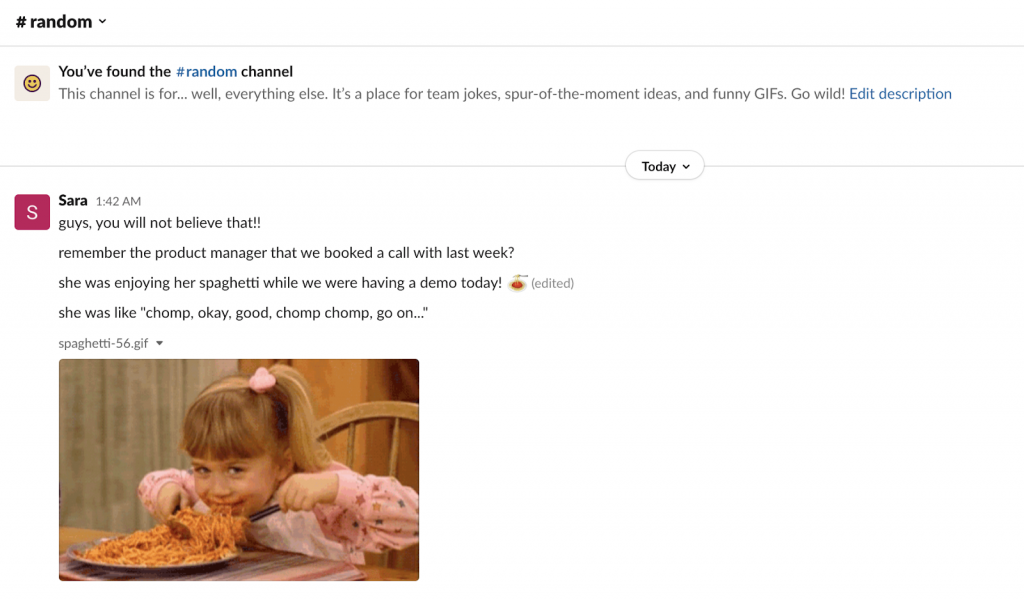 For example, when you experience an extraordinary call with a woman that eats pasta during your meeting, you can share your story with the rest of the team on Slack.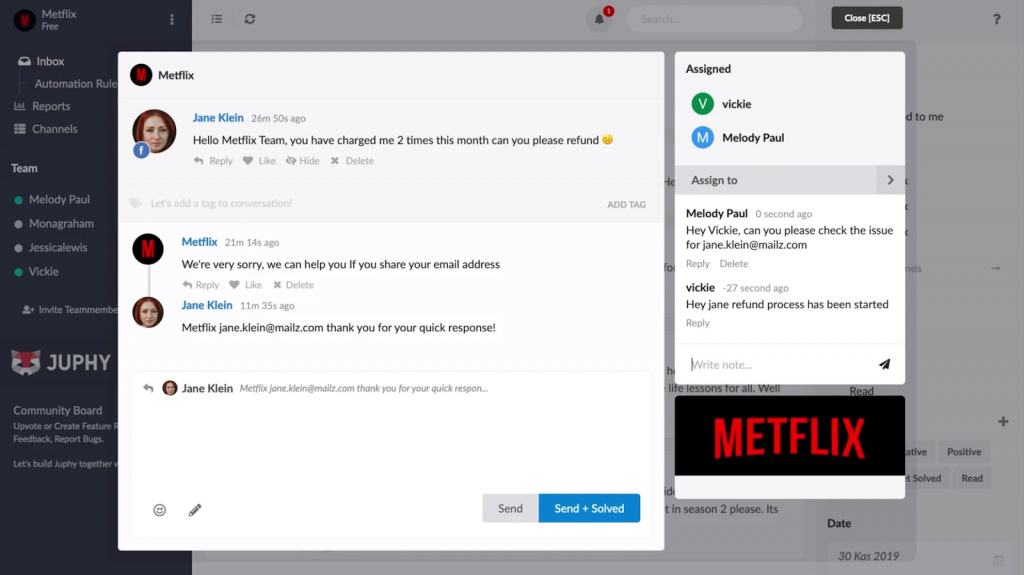 On the other hand, if you encounter a support inquiry in an area that you are not very well expertise in, you can ask for help from your team members by using the team inbox in Juphy.

This way, communication between the team members becomes easy and quick. Plus, for the employees, a relaxed ambiance might make expressing themselves easier.

Speaking of support queries, let's get into the fun (and the most important) part of this article.
Internal Communication for Support Teams
As much as it is beneficial for sharing memes, having good internal communication helps support teams to improve the quality of their service and ensure coordination among them. How exactly?
Internal communication helps support teams to solve support requests faster
If you want to improve the response time, you need a quick way of assigning the right customer support agent in your team to solve a query that requires expertise.
Internal communication supports team culture
What is greater than making customers happy? Making them happy as a team! Support teams with good internal communication have their back and solve a case together, which eventually increases their team culture.
Internal communication helps support teams to stay updated
Each member of the support team should be aware of the current situation of a customer query. When they communicate effectively, staying updated better their support quality.
Internal Communication Tool for Support Teams: Juphy
It is always better to discuss a support issue at the right time, in the right place. When is the right time? In real-time. Where is the right place? The team inbox.

Tools like Juphy allow support teams to communicate in private chats and make a contextual information exchange about a customer query. In this way, it helps support teams work closely and solve problems altogether.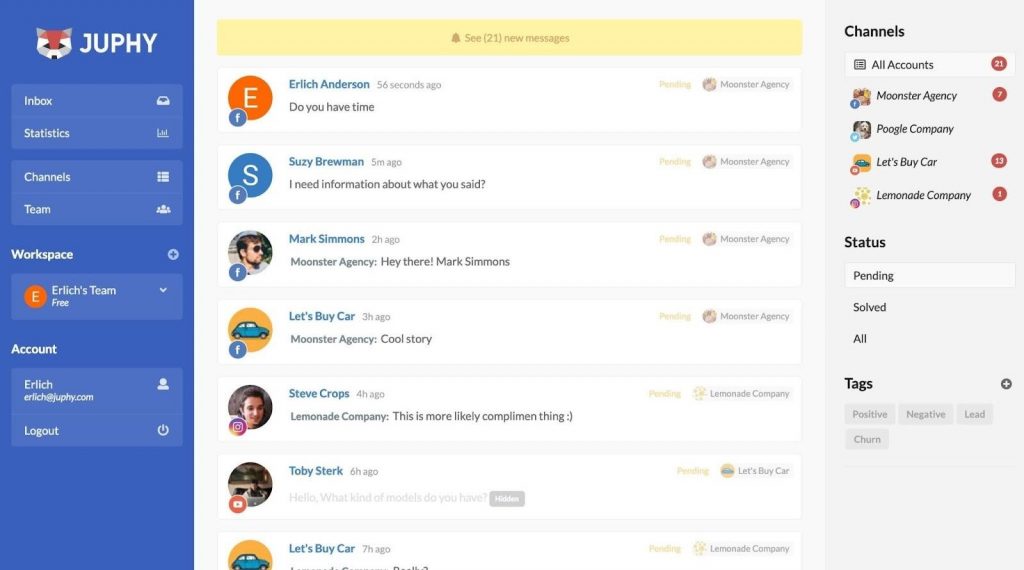 Team Inbox: Team inbox enables all support team members to reach all incoming messages. It allows them to see all new notifications about your business and monitor them in one place.

Team Collaboration: Juphy allows teams to work on your unified inbox collaboratively as a team to improve customer support performance and productivity on all communication platforms.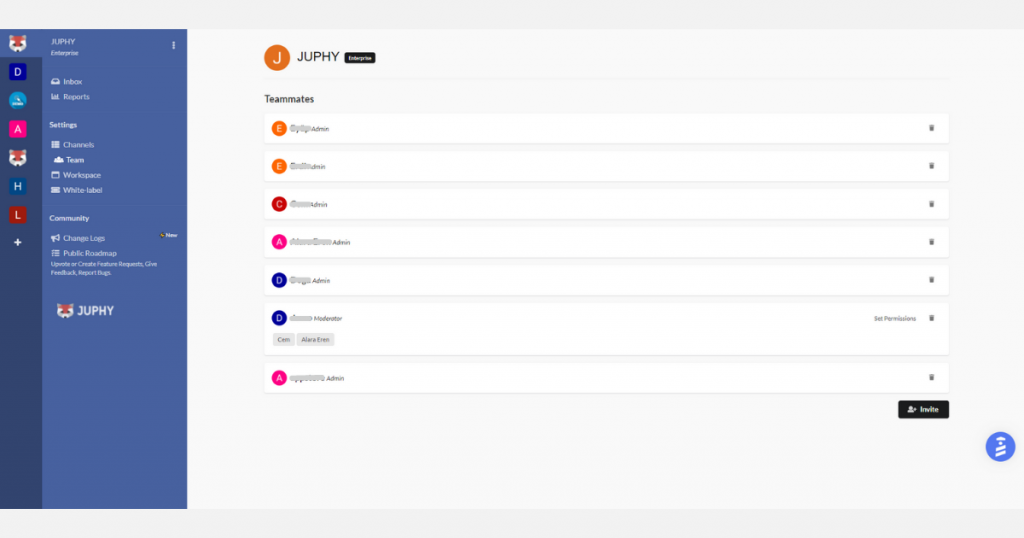 Assign Relevant Support Agent: Do you know that Sara can handle this query quickly? Then assign her to that message! With Juphy, you can manage the assignment process easily.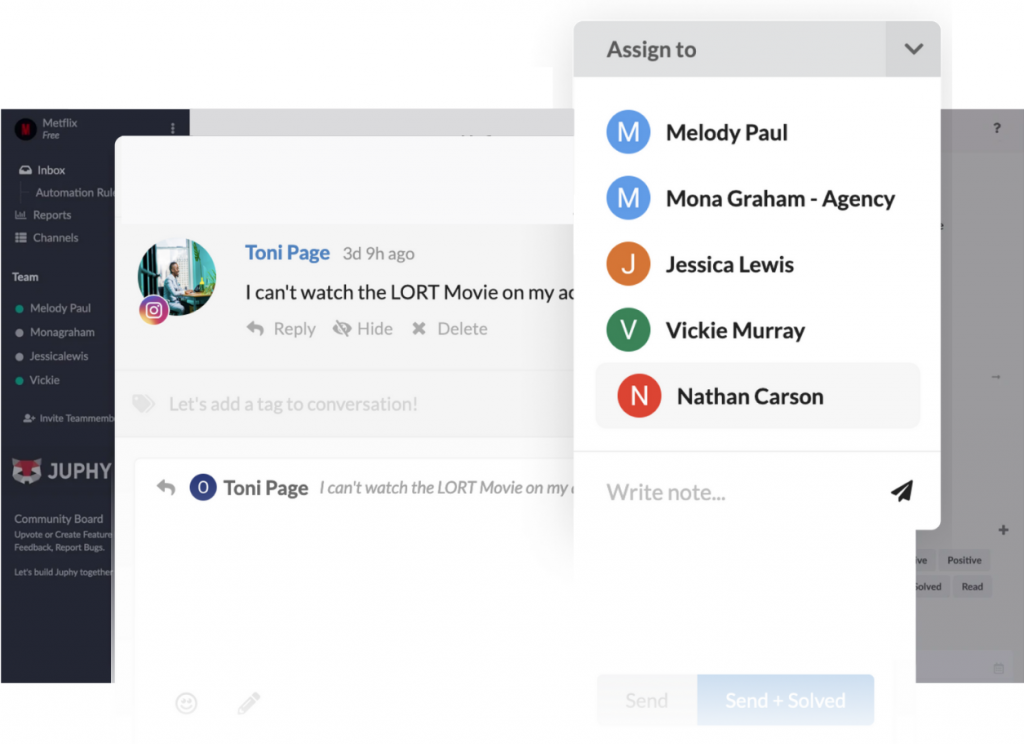 Write Notes: With Juphy, you can add internal notes about customer conversations and discuss customer queries behind the scenes with teammates before replying.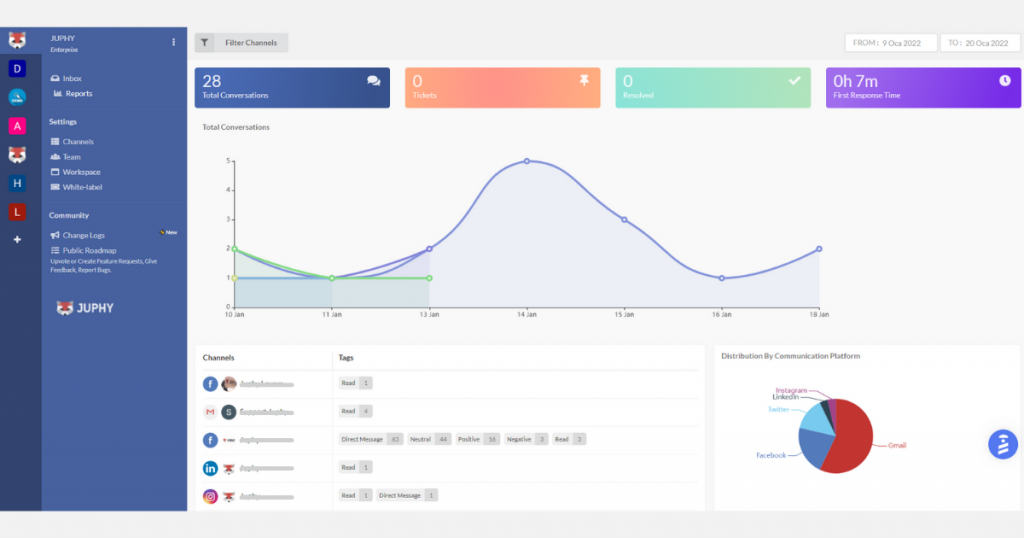 Track Team Performance: With Juphy's performance reports, you can see the average response time of each team member, and thereby optimize the performance of the customer support team.Even within a lovely team, competition makes things fun!
Final Words (not an internal one)
Success is having the best possible version of communication on the inside and out. So, internal communication is so important, as much as customer communications.

Support teams, as a matter of this article, can also get better results with a good internal communication strategy.

It helps support teams to solve support requests faster, support team members to stay updated, and eventually build a great team culture.

With Juphy, you can have even more than these… Let us help your support teams to communicate heavenly and monitor their performance about customer queries!