If you provide digital services and have an app, you also need to promptly follow the reviews and upgrade your app. It is the best way to boost your app and to reach your target audience. 
You can always ask your users to rate and review your app within the scope of the user experience. It is better to make the review request when users are most likely to feel satisfied with your apps, such as when they've completed an action, level, or task. Don't forget to make sure you are not interrupting their activities.
All of the App Store ratings range from one to five stars. A good App Store rating would surely need to have a higher number out of 5 stars. Usually, the happier and more satisfied a user is with your app, the higher the rating they will give you. However, keep in mind that some users can accidentally give a low rating and be unaware of that. So, in that kind of situation, you need to reply and let the user know in a very gentle manner.
Why Are App Store Reviews Important?
According to Apple, addressing feedback directly on your App Store product page can help you create a better user experience and improve your app's rating. You can monitor app store reviews, regardless of when they are written, from App Store Connect. When you reply to their comments, the reviewer will be notified and have a chance to update their review. Meanwhile, you can also edit your response and only see the latest version of your comment on the App Store.
There are many ways to manage and monitor app store reviews. You may use your app's rating as marketing material as long as it accurately reflects your app's current rating. You may only use customer reviews as marketing material if the reviewer accepts them. The only thing you need to be careful of is to make sure to not forget to check the reviews on a daily basis and consider the action points for your app's next upgrade or update.
As for why ratings on App Store matter is that a great rating and a bunch of positive reviews would impress and attract potential users.
Also, who doesn't want to be appreciated for their great work? In fact, App Store reviews and ratings can give your app a competitive edge, so you might get popular!
How to Integrate Your App Store Reviews With Juphy?
Juphy is a unified inbox service that enables you to manage all your social, email inboxes, customer reviews, queries, social media engagements in just one platform. Juphy makes it possible to monitor App Store reviews when you connect your App Store account. If you are asking "How to track and manage my Apple Store reviews?" you can check Juphy's 7 day-free trial period and decide if the service provides you the solution you need.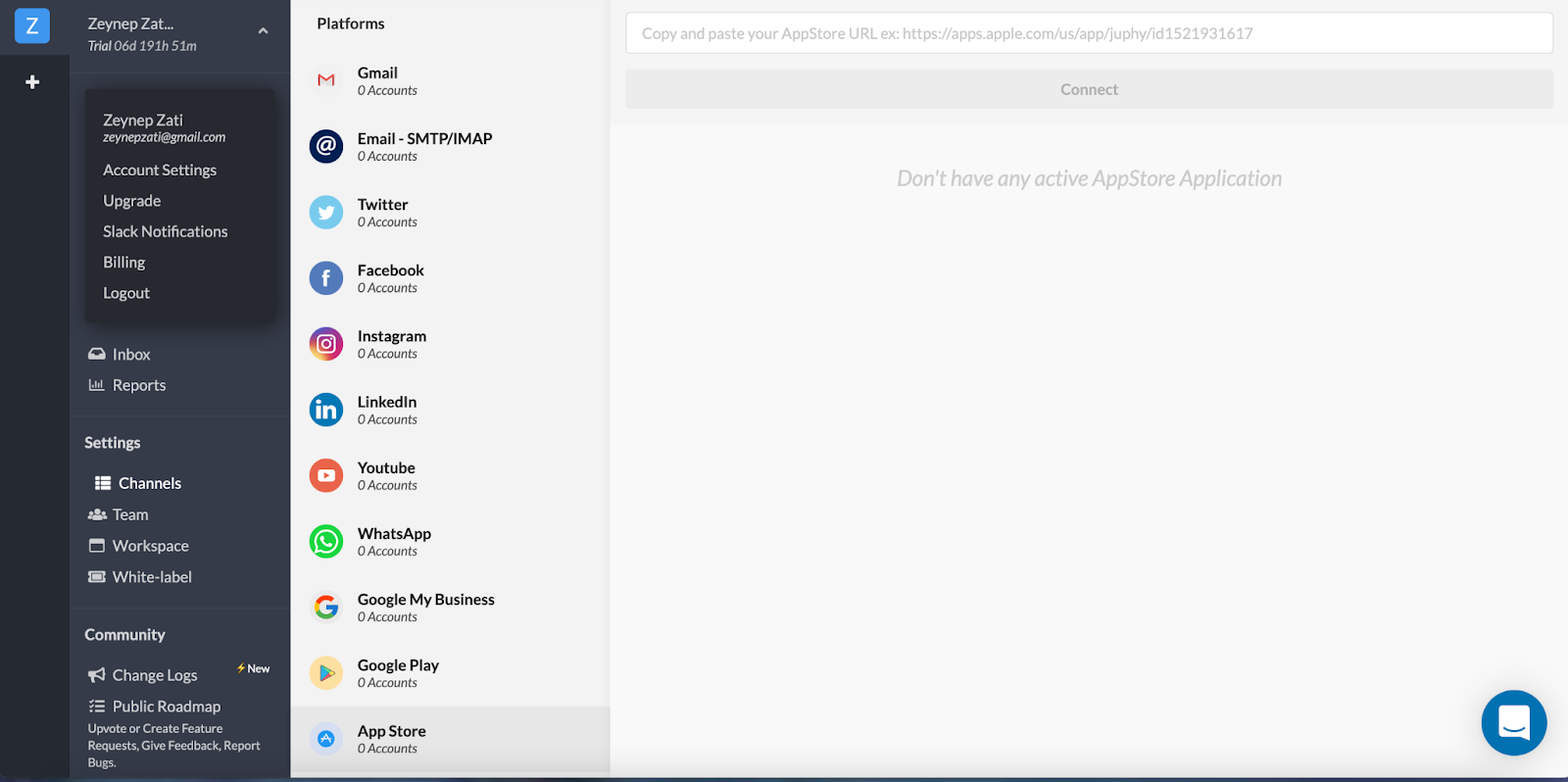 As on the screenshot above, you can integrate your App Store reviews easily into Juphy; all you need to do is to copy and paste your App Store link and click "Connect".
How to Manage Your App Store Reviews via Juphy?
Juphy is pretty easy to use with its user-friendly design and features. Once you integrate your App Store account into the system, you can always follow up on the ratings and reviews you receive from your customers. 
App Store reviews are the real deal, they will be your guide whether you need to upgrade your app or whether your customers like your app or service. It would be important to check the suggestions, complaints, and comments on a daily basis if you want to improve your brand and product. 
You can manage your App Store reviews with Juphy easily and categorize them with labels and mark them positive, neutral, or negative. You can also check Juphy's "Public Roadmap" page if you would like to see what Juphy's community is up to or if you have questions, maybe someone else asked them before so you can get your response right away!
Benefits of Using Juphy for Managing Your App Store Reviews
Juphy offers great benefits in terms of being a unified inbox, but it also serves important advantages for managing your App Store reviews.
Assign reviews to team mates
With Juphy, it is possible to assign conversations and tickets to your teammates whenever you need. You may also add internal notes and discuss the reviews within your team. It would make the handling and solving process of customer's issues quicker than the normal process.
All of Juphy's plans support "data history" feature. If you have the Starters package, you can access six months of history while the Growth package does not have any history time limit. After your 7 day free trial, you can upgrade your account within Juphy's plans.
Search reviews in advanced filtering
In Juphy's interface, it is possible to search for reviews and create advanced filterings according to your needs. You can search for any types of reviews, comments, keywords, and any other thing you need to search for.
Use white label solutions
You have the option to hide Juphy branding and set your own custom domain, email, and URL. You can personalize your own workspace with custom colors and logos. 
You can double your income by serving several customers from a single panel. 

 Every client will have their own team with separated workspaces. 

All social media messages will be unified per client. 
Juphy offers custom pricing depending on your requirements. Please contact us through support@juphy.com for further information.