Imagine you're calling Company-A from the number you obtained from their website, to ask for support about a product they manufactured. It would be weird if the call center agent answered "Hi, I'm John, working for Call Center and I can help you with Company-A's products." The same thing applies to help desks. You always communicate with the "brand", not the call center agent. 
This makes white label solutions an essential part of brand integrity. That's why all the managed service providers (MSP) and social media white label resellers need to stay invisible and let the brand shine with all its glory. 
What Is a White Label Reseller?
First of all, let's explain what a "white label" is. It is a product or a service produced by a company that other companies can buy, rebrand, and market to their clients. 
Most businesses provide customer support but not all of them manage it themselves. Developing and maintaining that kind of technology does not work for many companies. Obtaining the tools and learning the rules require too much time and budget, so instead of reinventing the wheel, they work with third parties. 
White label resellers are these third parties who already have these tools and work with them efficiently. They sell the tool's capabilities and its management as a service, after rebranding it as required. For example, a brand can have its own social network like Facebook, gather an engaged fan base, and deliver messages without being interrupted by other branded content. The white label social network is customized and managed by the white label reseller.
Managed service providers, on the other hand, are basically the same but they mainly deal with issues that require IT expertise, such as network, application, infrastructure, and security management. They do the brand's outsourced work remotely, either in the client's location or elsewhere, and they can bundle their services with hardware, software, and cloud technologies. 
One of the services that white label social media resellers and MSPs provide is help desk management. And in today's business world, every digital platform stands as a help desk.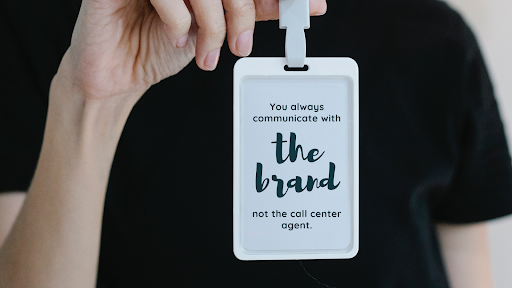 What Is Social Media Management White Labeling?
Customers can contact brands via many platforms. They can send a DM on Instagram, post a support request to one of the Facebook posts, ask a question on WhatsApp, or simply mention the brand in a Tweet. For a digital marketer who's dealing with several brands, managing all the queries from all the platforms manually and answering them in a reasonable period of time can be difficult. Add email, chat, review sites to this mix and the struggle can turn into devastation.
Managing social media and help desk requires meticulous attention and collaboration. Having multiple clients with similar workloads can be even more challenging and requires extreme organizational skills. One way to tackle this problem is scaling the business but it might not always be possible or feasible. Another option is using a help desk software that meets your needs with features such as;
Offering separate workspaces for multiple clients

Delivering queries from all the relevant platforms

Enabling seamless collaboration

Maintaining brand integrity through customization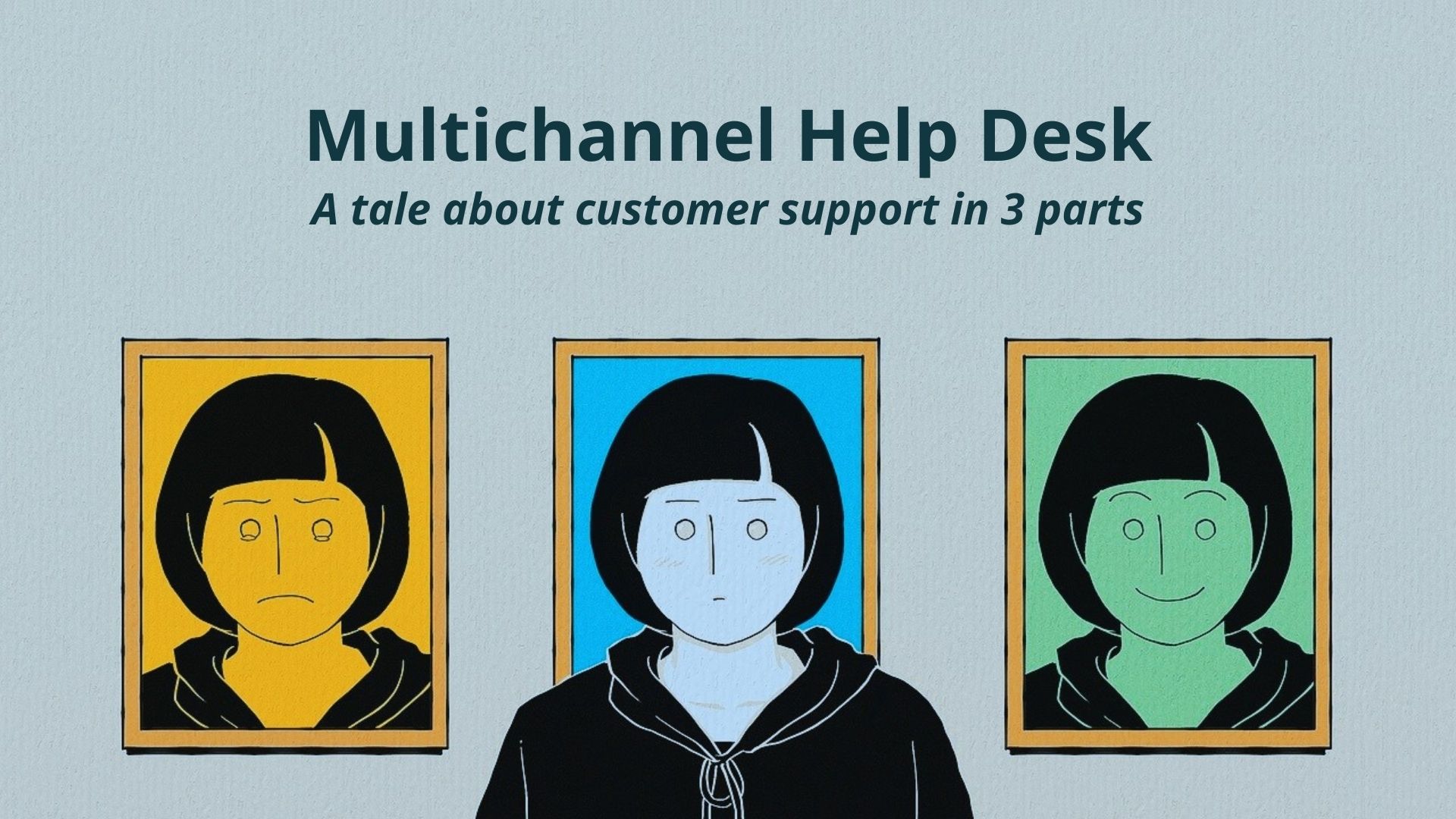 Multichannel Help Desk: A Tale About Customer Support
Multichannel customer support (also known as omnichannel help desk) is a fairly new and ever-evolving concept. With every new platform, comes new integrations. But before going deeper into that, let's go back to basics.
Read our article now
What Is Help Desk Software Used for?
Help desk software offers a single point of contact for customer support. The operators keep track of a company's internal and external user requests and deal with other support-related issues through help desk software. It enables faster and more efficient issue resolutions with features like ticket management systems, automation, and multichannel support. 
Web help desks are cloud-hosted or SaaS (software as a service) tools. They can be rented by companies and white label resellers on a subscription basis. They are more cost-efficient, flexible, and easier to scale than having your own help desk system built, owned, and managed.
In a nutshell, help desk management white labeling means outsourcing a brand's customer support system. It can be delivered as standalone software or along with a trained operating team that resolves customer issues under the brand's trademark.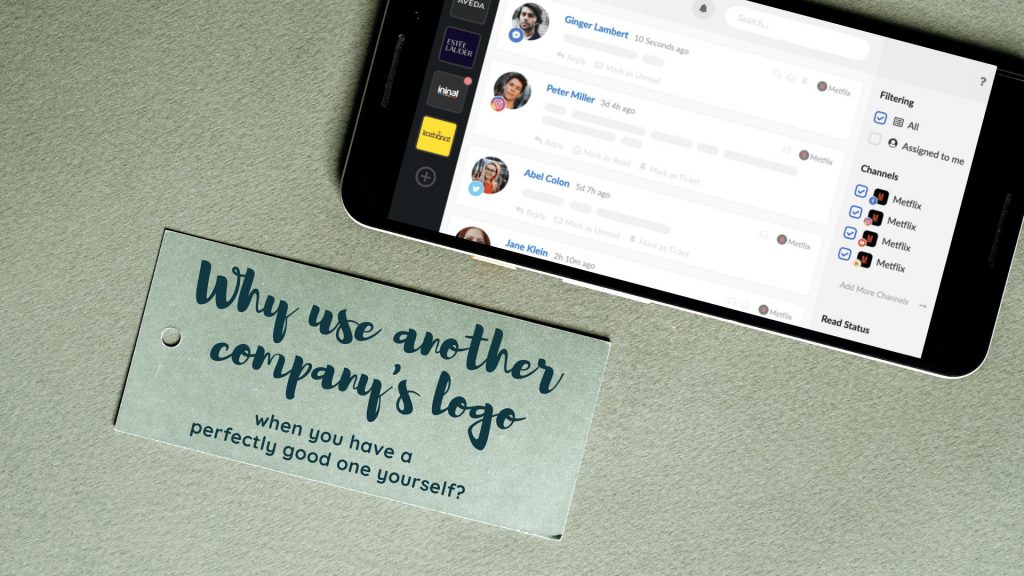 A Highly Advanced White Label Help Desk Software: Juphy
Juphy is a unified inbox that helps you manage all the customer support queries you receive through email, social media platforms, real-time messaging apps, and product review sites on a single dashboard. It is a great solution for MSP's and white label social media management resellers. Juphy is an essential piece of software in every marketing toolbox with its 4.8 stars from 300+ customer reviews on Product Hunt. With hundreds of separate workspaces you can create, managing the internal teams and external customer engagements of multiple brands through several communication platforms becomes a piece of cake.
What platforms can you integrate with Juphy?
Juphy's multichannel customer support is highly comprehensive with all the social media platforms you currently need and more. Along with email, you can track and respond to all your customer engagement from Facebook (Facebook page and group comments, Facebook Messenger, ads comments), Instagram, Twitter, LinkedIn, YouTube, Google My Business, AppStore and Google Play Store. You can also engage in real-time messaging with WhatsApp and Twilio.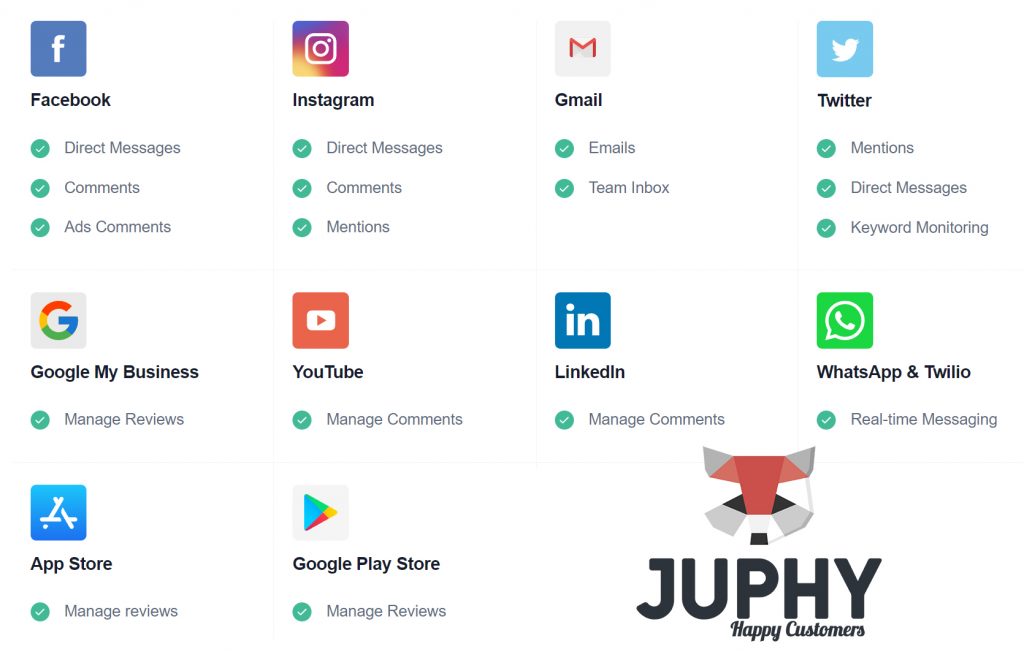 For some brands, merely receiving and responding to customer messages and comments can be enough. But not all users send direct messages, so it is possible to miss some relevant conversation in the chaos. Juphy offers you social listening features such as real-time monitoring, keyword listening on Twitter, comment tracking, and monitoring Facebook ads comments. You can set automation rules and classify the queries, and manage them right from your inbox.
Make Juphy Completely Yours
If you are looking for a reliable and user-friendly white label software solution for social media and help desk management, Juphy might be ideal for you to manage your business. 
With Juphy you can,
Create hundreds of separate workspaces for projects and clients

Hide Juphy branding and customize the workspaces with your or your client's logo and corporate colors 

Use your own domain, URL, and email address instead of Juphy's 

Invite your clients, team members, and other relevant third parties to your account to collaborate, discuss solutions or pass quick information

Manage all internal and external support related issues on a single, neatly organized dashboard

Create beautiful, actionable reports and get ready to receive praises for your professional work.
Other benefits of Juphy's white label solutions
With Juphy, you can practically run all of your customer support processes on a single dashboard. The process includes;
Receive all relevant queries from all of your chosen platforms. Even with multiple brands, a single dashboard allows you to see the big picture and organize your workflow efficiently.

Have the incoming messages classified automatically

, depending on keyword or sentiment. This feature saves you tons of time and helps you prioritize urgent issues.



Monitor keywords and catch relevant messages on Twitter

, even when they are not directly intended for you. For example, you can monitor keywords that are related to your competitor. You'll be instantly aware of their customer complaints and if you can handle them properly, their loss can be your gain.



Collaborate with your team

and other relevant parties in real-time, right from your inbox. You can add members to specific workspaces and discuss the issue at hand behind the scenes. Your guests will see the customized branding with the client's logo and all third parties will be gathered together under the roof of a brand.



Present the results of your work with your own or your client's trademark

, instead of the software solution provider's logo. Cleaning the irrelevant logos and remarks on Photoshop will be a distant memory.
Last but not least, Juphy is extremely easy to operate with its user-friendly design. You can start your 7-day free trial right now and experience the benefits of an advanced white label help desk software.