What Is a Universal Inbox?
A universal inbox is a unified inbox that allows you to view and respond to all of your communications/interactions in one spot. The inbox can collect and organize emails, social media communications, knowledge base tickets, and live chat messages into a single dashboard, making it an essential tool for customer service teams and organizations.
A universal inbox usually gathers all of your notifications from the platforms that it is integrated with whether it's a comment, a review, or a direct message. It also provides you with solutions to solve your customers' problems and pursue a smooth process of customer support. From the description even, it sounds essential, right? Well, it is, and here's the reason why.
Benefits of a Universal Inbox
Increases Productivity by Saving Time
Universal inboxes save you the time of logging on and off to every different platform throughout the day. This way you only need one login info for every platform you're going to monitor.
Companies that prefer a universal inbox for their customer support generally require less physical server space and less number of team members. This results in not only lower hardware costs but fewer resources going toward maintenance and support as well.
Creates Tickets for Never Missing out on Customer Needs
When you start solving a customers' problem, the comment, review, or message automatically becomes a ticket. This way you can manage every customer separately and see the process of the problem being solved.
Enables Effective Team Collaboration
By owning a universal inbox, team collaboration is the first thing that comes to mind. Universal inbox tools generally offer the feature of collaborating and managing the customer support process with your teammates. It makes the workload much lighter as well as increases customer satisfaction and fastens response times.
Generates Analytics for Building Successful Strategies
Once you start providing the customer support service, your support process starts to have its own history. Like average response times, how many tickets are solved; and if you're working as teams, the features differ accordingly. You can see many other metrics and analytics via the reports that are custom generated for you and your team in order to increase customer satisfaction and improve your social customer support service.

Unified Inbox Solution
One place to take care of all customer queries, including email, social media and reviews.
Start your 7-day free trial!
Best Universal Inbox Tool: Juphy
Juphy is a universal inbox solution for collaborative teams that handle the social customer support process. Once you integrate the various social media channels that Juphy offers, the messages, reviews, and comments will be never missed again. With its handy features and ease of use, sure it'll become your must-have tool for your business.
Juphy can be integrated with 
WhatsApp & Twilio

Instagram

Twitter

Facebook 

Gmail

Youtube

App Store

Google Play Store

Linkedin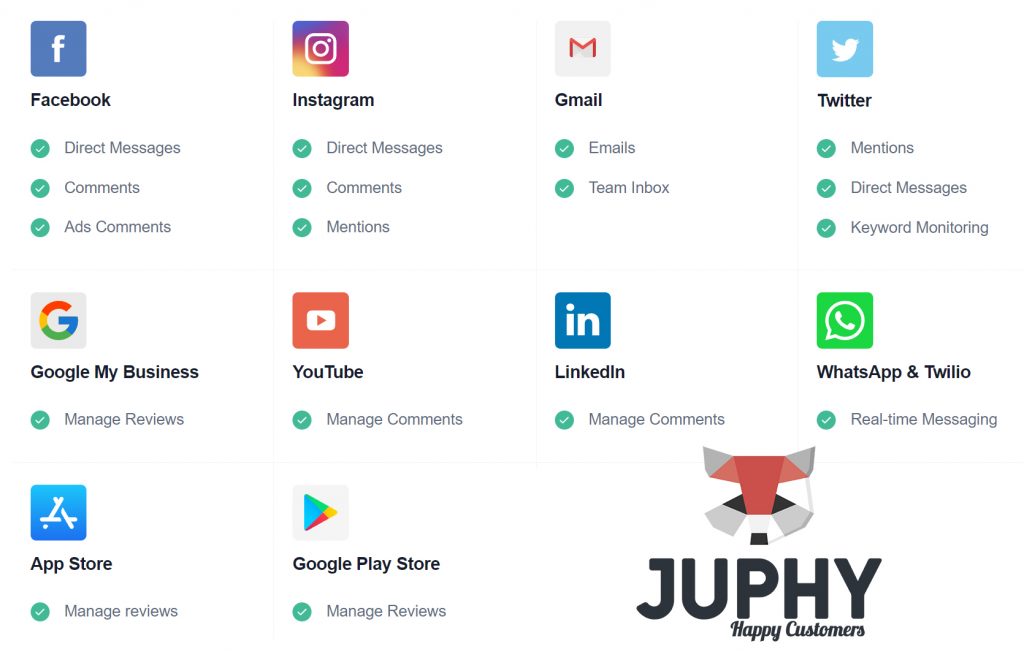 By integrating the platforms you're at, all of your notifications, messages, comments, and reviews show up on your Juphy dashboard. 
Juphy also has many beneficial features for you to easily monitor your notifications like:
Automation Rules:
You can categorize incoming messages based on contents, urgency, and tone by tagging them in advance. This way, certain kinds of messages will be categorized under the tags also you've created according to the keywords they contain. To learn more about this feature, read our "Automation Rules for Your Unified Inbox" article. 
Canned Responses:
Are you receiving similar kinds of questions? Tired of writing answers to FAQs or copying and pasting from somewhere. Juphy is here to help. Create pre-saved answers for possible questions or FAQs, this way when you start solving a ticket, your answers will be saved and ready for you to use whenever you need them! To learn more about this feature, read our "Save Time by Using Canned Responses in Juphy" article.
Team Collaboration:
By adding your teammates to your Juphy account, you can improve the quality and efficiency of your customer support as well as increase the productivity of your team and the satisfaction of your customers. You can internally chat with your team members or assign them conversations also. To learn more about this feature, read our "Team Inbox for Gmail and Social Media Channels" article.
Customized Reports:
You can measure your customer support performance quality with customized reports based on your actions on Juphy. You can see the areas that need improvement clearly and you can strategize accordingly.
Never miss a notification ever again
With Juphy's various integrations of platforms, you won't miss a comment, review, or message ever again.
Monitor multiple workplaces separately
If you're managing the customer support process for more than one business, open up different workspaces for them in Juphy so they won't be mixed!
Measure your customer support performance
With the customized reports that are automatically created by Juphy according to your interactive data, increase the quality of your social customer service and reach the goal of having happy customers.
You don't have to handle it all by yourself, add team members
You may be an individual that handles all of the processes by yourself, which is completely fine and so easy with Juphy; but having teammates also helps. Assign conversations, have internal communications, and distribute the workload equally in your customer support team.
Ease of use
Did you know that Juphy is selected as the 'Easiest Setup' & 'Most Implementable' software amongst 89 Social Customer Service tools on G2? Even if you or your team is not very tech-savvy, using Juphy will be a piece of cake.