It's no doubt that social media has become an important part of customer support as 67% of consumers use social networks to post questions, complaints and inquiries about products and services. Nowadays, support teams do not only take phone calls but also respond to dozens of direct messages, comments and inquiries on social media from active and potential users. In the meantime, Facebook has become the number one social network for businesses to provide customer support with its 2.6 billion active monthly users and numerous features that can be used to enhance customer engagement. Especially in today's circumstances where customers expect immediate responses and a vast array of mediums to reach out to businesses, it's crucial for a brand to manage online consumer activity quickly and efficiently, particularly on a powerful tool like Facebook. That's why, in this post, we will explore how to best utilize Facebook within your customer support strategy to enhance the ways your organization interacts with its customers.
Facebook Business Page
Your Facebook Business Page gives businesses a significant opportunity to build a strong online presence about your brand, identity and values, while introducing your products and services to a huge audience. It also serves as a highly effective communication medium where customers can obtain knowledge about your business and reach out to you. However, you should always keep in mind that customers demand quick responses. In a world where most of the information is one click away, you have to let your customers know that you are on top of your game and that you are easily accessible. This will not only increase customer satisfaction with the immediate interaction but will also build brand reputation for your business and increase brand loyalty. By responding quickly to customer inquiries and comments on your Facebook Business Page, you can establish your brand identity as a trust-worthy organization, which in turn will maximize customer conversion rates. Remember that the best way to reap the benefits of these Facebook tools is to use them in a timely manner. Therefore, your business page should always be highly responsive and accessible.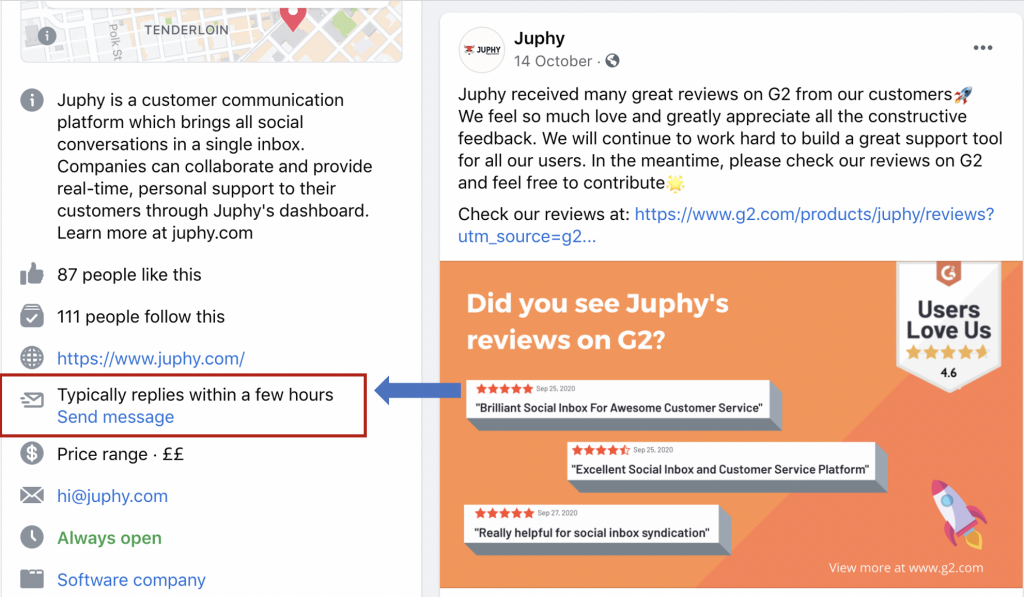 Facebook Ads
Facebook ads are specific advertisement posts about your business which you can use to transmit your brand's content to a targeted audience based on their location, demographic and profile information. On top of providing you with an exceptional audience reach, Facebook ads can become a perfect opportunity for your business to provide customer service. With your ad showing up on plenty people's feeds, predictably, it will receive many comments. As a business, it's crucial for your brand name that you effectively moderate comments on ads. The manner in which you do so, could be what makes or breaks your business's reputation because comment replies are a way of establishing relationships with your customers which will later determine their level of satisfaction. So whether it's a negative comment, a praise, or a question, you can – and you must – use the reply button to your advantage. It's a great way for you to issue appropriate apologies when necessary, to humbly acknowledge and thank positive feedback or to assist customers when they need your help. This will show that your brand is involved, and therefore, will gain the respect and trust of your customers by making them feel heard and taken care of.
n addition, there are more personal means by which you can connect and keep in touch with your customers through Facebook Messenger and groups.
Facebook Messenger
Facebook Messenger is a live messaging app built into Facebook that many users prefer to use when seeking customer service, because it's a channel that they are already using for their social interactions. Additionally, the fact that it's fast, direct, efficient and private also makes Facebook Messenger highly customer friendly. As a business, it's important that you provide your customers with the support they need through means that are adaptive to their habits. It's possible for you to facilitate their process of reaching out to your brand by making your business eligible through Facebook Messenger. This way, you'll get the opportunity to have one-on-one conversations with your customers and build personal relationships. You can enable Facebook Messenger for your business page by going to "Messages" under "General Settings" and then click "Edit" to select the option that allows messages to your page. Then, click "Save Changes". After you've enabled Facebook Messenger, you can also add it to your business website to start an omni-channel presence and boost brand loyalty and customer retention.
Facebook Groups
It's a feature that's built in order to bring together individuals who share a common interest. Therefore, it's a place for your customers to bond while having discussions about your business and learning about your services. It's your opportunity to build a loyal and authentic online community of people who are particularly interested in your brand. Therefore, through your brand's Facebook group, you can easily access your targeted audience. In addition, having Facebook groups dedicated to your business allows you to obtain real insight through communicating with and asking feedback from these specific consumers. Intimate Facebook communities are perfect channels for your business to attract new customers and to engage with existing ones while establishing long-lasting relationships with them.
Bonus Tip 1: you can set automated responses in Facebook Messenger to promote fast and consistent replies. However, you should always provide your customers with the option of connecting with a representative to establish a feeling of personalized attention.
Bonus Tip 2: Your Facebook business page displays your average response time on Facebook Messenger. So, you better not miss any inquiries. Also, you can obtain badges for your fast responses; the highest one being the "Very Responsive" Badge which you can receive if your response rate is at least 90% and your response time is less than 15 minutes for the last seven days. Having this badge displayed on your Facebook Page certifies that your brand looks after its customers and is actively working on solving problems. As a result, by being "Very Responsive" you gain your customer's trust and maximize conversions.
Bonus Tip 3: by clicking on the "Message" button below the comments you have received more than seven days prior, you can turn them into private messages if you believe a comment needs to be addressed quickly and privately.
Now that you know which tools you can use to provide customer support on Facebook, you're ready to take on the digital business world with your brand by providing immediate responses and building trustworthy customer relationships. And yes, we know that having to manage all that might sound overwhelming but don't worry, we got your back! Thanks to Juphy, you can easily keep track of all your Facebook customer activity from a single unified inbox which helps you to keep your customer engagements in a highly organized manner and collaborate with your team members, while increasing your customer response time to become a highly responsive and trustworthy business!
For more information about Juphy, please visit: juphy.com