Introduction
Social media's power is getting stronger each day. Almost all business owners have their social media accounts, and especially they are mostly active on Instagram. No matter which sector they are in, businesses should be visible on social media to reach a wider audience. Among all these different social platforms, potential-wise, Instagram is in the top three.
According to research on Sprout Social, more than one billion people worldwide use Instagram for inspiration, entertainment, and shopping. While consumers have started using Instagram for shopping, the brands are also online to provide the best shopping experience.
The same research states that the brands from every industry may benefit from being on Instagram as 90% of users follow a business on the platform. Plus, there's a positive perception of brands on Instagram by the customers: According to a Facebook survey, people say they recognize brands on Instagram as popular (78%), relevant (74%), and committed to building community (72%).
What Is Instagram Direct?
Instagram Direct is Instagram's main contact point with customers. Via Instagram's Direct Message (or DM) feature, you can create a personal communication space with your customers and make them feel special rather than using the comments section. Instagram Direct provides you a space where you can send messages to one or more people simultaneously. These messages may include text and photos or videos you take or upload from your device. You can also send the following content formats as a message on Instagram Direct: Posts you see in your feed and disappearing photos & videos.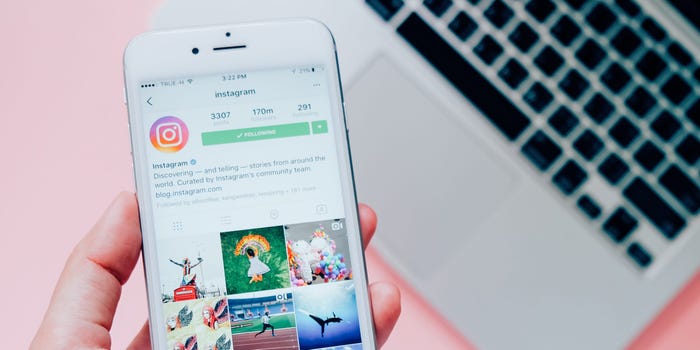 Why Is Instagram DM Important for Businesses?
Within the launch of the new Messenger API For Instagram, DMs are now the crucial point of effective customer service, and they will provide you a direct communication between your brand and customers. The ability to send Instagram DMs is nothing new. In fact, this feature has been around for over five years. Over these past five years, direct messages' popularity has increased to 375 million users, and that number continues to grow every second.
However, you have to ask yourself; are you managing Instagram DMs for your Instagram Business account correctly? Are you connecting with members of your target audience individually? Or do you know how to check your business messages on Instagram? Instagram is an incredible marketing tool because it provides businesses a platform to share their content and messages with many followers at once. This can also be a downside, because people usually like to perceive themselves as individuals, be spoken to directly, and feel special. This point is where the magic of direct messaging comes into play.
Benefits of Using Instagram DMs for Your Business
If used efficiently, Instagram DMs can be a fantastic tool to engage with your audience and provide social customer service. Here are some major advantages of using Instagram DMs for your business:
You can establish easy, effective, and direct communication with your audience.
To create a stronger bond, you can reply via DMs to customers who write comments under your content.
You can generate leads and boost your sales by providing one-to-one conversations.
You can improve your customer service by replying to inquiries promptly.
You can build a proactive and loyal community that appreciates your brand.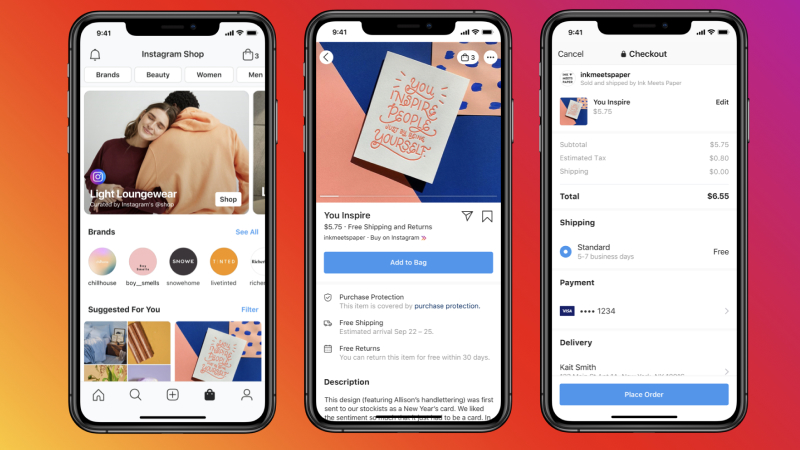 Best Practices to Use Instagram DMs for Business?
While businesses share their products and services through Instagram, they should generate compelling content and have an amazing customer-oriented approach to generate a better business value within Instagram's power and with the right Instagram DM communication strategy.
This DM strategy might differ according to your brand's culture, positioning, and tone of voice. Yet, it is clear that DMs are essential while communicating with the customers. Regarding using Instagram DMs for businesses, businesses need to have a team to handle their social media accounts promptly to provide fast and high-quality service.
The best way to start a conversation on Instagram DM for businesses is to create unique, interesting, and interactive content by asking customers to choose or to guess your products and services. While you make engaging content, some of your potential customers might send you a DM through their journey about their guesses or their answer to your question. Also, uploading high-quality images of your products can lead your customers to send you a DM as well. So as a summary, you can use Instagram DMs for the following purposes:
Informing about your promotions and campaigns,
Appreciating for engagement and following,
Replying to solve any issues or dissatisfaction,
Requesting collaboration from influencers,
Sending invitations to your physical stores, online or offline events,
Sharing daily trivia, memes, and GIFs that are relevant to your brand image through DM.
How Frequently Do You Need to Check Your Instagram Business DMs?
It is vital to check your business' Instagram DMs in a timely manner. Especially in this digital world, no one has patience. Everyone on social media wants to be responded to right away, and unfortunately, social media never sleeps. The correct way to check your business messages on Instagram is to check your messages every 10 or 15 minutes during your working hours. You can create automated responses about your business or working hours outside of these hours to let your customer know.
How to Integrate your Instagram Business Account with Juphy?
Juphy is a unified inbox solution where you can manage multiple social platforms at once by using a very simple and easy interface. To integrate your Instagram Business account with Juphy, you just need to sign up for a free trial and create your Social Inbox. You may also request a demo session if you feel confused or just wanted to learn more about Juphy's outstanding features before registering.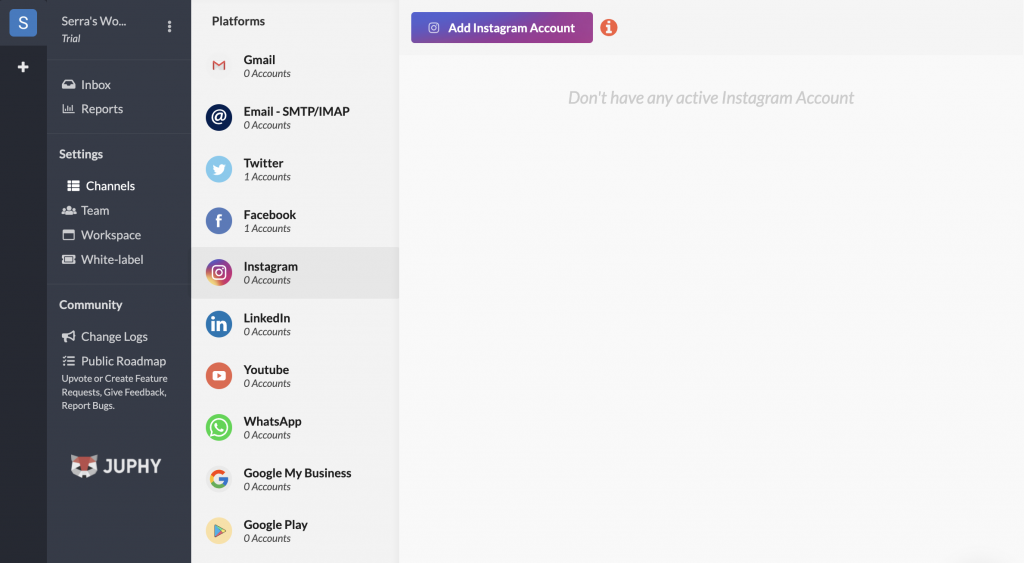 Juphy will let you see all your messages, comments, and reviews from social media accounts on the same dashboard so that you won't miss any of them. It will also make your job quite easier and lets you save a significant amount of time to spend on your business' other to-do's.

David H
Podcast Marketing / Production Expert
"I'm not a "social media person" and don't want to spend my day tracking down different accounts to make sure that I'm responding to everybody who is trying to get in touch with me. Juphy makes this easy by having all my accounts in a single place, so I can go in and handle all my messages very quickly. it had totally changed the way I do social media and given me back a lot of time."

How Do You Manage Your DMs As a Business via Juphy?
As a business, you can manage your DMs via Juphy in a pretty easy and convenient way! After you complete your registration, you will have your own workspace. You just need to integrate your social media accounts to Juphy's interface and let Juphy take care of the rest! You may now see all your notifications and DMs from your social media accounts in your dashboard.
With Juphy, you can use tags, personalize your dashboard within your brand's identity and manage the DMs according to your social media strategies. Also, through keyword tracking, automation rules, and canned responses, you will be amazed at how Juphy facilitates managing your Instagram Business DMs in the best way possible.
Conclusion
To summarize everything in this article, we may start with how crucial is to manage your Instagram DMs correctly and effectively. It may look challenging at first, but managing your Instagram Business DMs will be effortless when you find a helper tool like Juphy. All you need to do is register, create your workspace and integrate your social media accounts with Juphy's interface. You can manage your Instagram DMs with Juphy in a more effective and less time-consuming way.