Introduction
Twitter is a great place for businesses to interact directly with their followers and it helps you keep track of what is being said about your brand, how often it is mentioned, and who says what. Monitoring Twitter is crucial.
For many businesses, this type of data provides insights into consumer preferences, social media trends, and even competitors. These insights can be used to understand consumer behavior better and tailor marketing strategies accordingly. After all, it is a way to have fun while staying connected.

However, it can also be a terrible place to get stuck in an endless cycle of monitoring accounts…

Terrible how? Terrible the way it takes so much time. It's important to stay active on your pages, okay, but you don't want your time spent on this endless cycle of scrolling down.

Plus, when you use tools that monitor your accounts automatically and provide high-quality results, it will be easier to keep up with all of the Twitter activities while you're only focusing on how to improve them, we mean, maximum effectiveness!

Things are getting exciting, let's get into this as if we are on Twitter.
Thread 💈
Can Twitter Be Really Monitored and How Beneficial Is It?
Yes, but it is not about monitoring actively at all; it is mostly about how to get benefit from monitoring.

From small businesses to enterprises, you need solutions to better understand and engage with your target market. Twitter, apart from the other social media platforms, is harder to beat. You know that people or companies on Twitter are crafty, hard to be fooled, and have great skills to identify what is fake.

Therefore, monitoring and tracking the performance of your presence on Twitter can really be effective when done properly.

What people share about you, how they react with likes, comments; you can use all this data to determine if you are targeting the right audience. When you gain a good observation method on these, it means that you have found a good way of building a brand reputation. Besides, Twitter monitoring also helps you with;
Seeing real-time outcome: You can feel the pulse of people immediately.
Reaching a wide range of people: Twitter is a place for reaching a broad spectrum of people and detecting the target audience by monitoring the increasing demand.
Getting direct feedback: When you tweet, you can directly hear back from your audience and make them happy. (A simple growth tactic.)
How to Monitor Twitter Activity Properly?
We know in order to see the above outcomes, we need to track mentions, monitor our competitors, take part in trending topics or notice potential crises. Well, but, what exactly can be done to monitor these Twitter activities proactively?
Using Twitter filtering: Twitter's advanced search and filters enable you to widen your search and gain the complete result of the Tweets, accounts, people, or trends you want.
When you monitor what people say about the term you search, you'll be also able to better understand people's thoughts on this topic, take an active part in this universe, and decide on your next move.

Tracking real-time activity data: You need to track all the tweets, DMs, mentions, likes, and other activities associated with you. Time perception on Twitter is very different. Time really flies by there…
So, keeping up with the activities of your followers and your competitors is very important to keep your profile alive, and meet expectations.

Setting up alerts for key terms and hashtags: Getting informed about the key terms and hashtags mentioned with you also provides you with a general overview on the order of the day, including the thoughts of your target audience.

Setting up auto DMs: You can set a default welcome or greeting message to be sent as they follow you or open a conversation with you.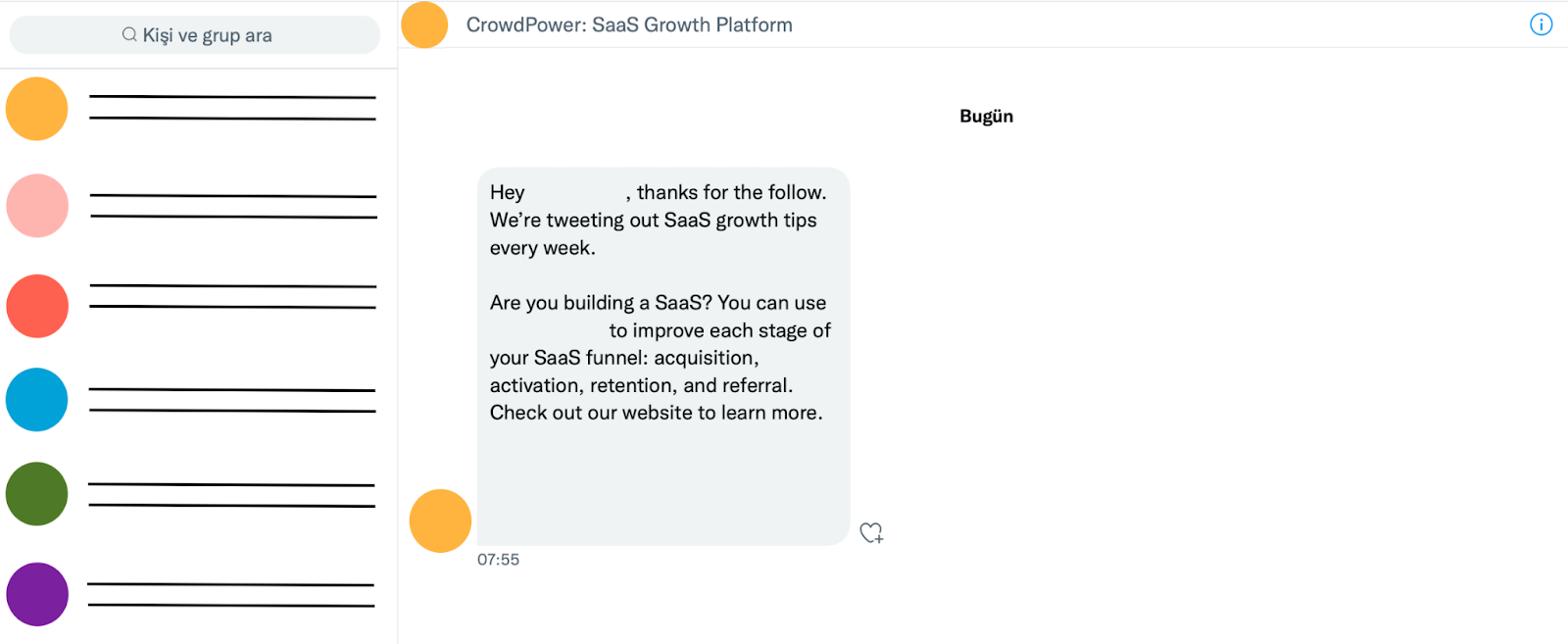 You can simply schedule auto DMs for sending automatic direct messages to your followers about your services, your business, or anything you would like to specify.

Moreover, If you're going to be away from your computer for a while, it's important that your followers know your status. Auto DM settings help you to let them know when you'll be on and off of Twitter so they don't feel like they're talking to a wall.

By naming the days of the week and times you'll be available, your Twitter account will send out a message letting followers know when they can expect an answer. Okay, good; we have several points to monitor on Twitter (only the tip of the iceberg) but when it comes to the active part, we need some tool friends.
Twitter Monitoring Tools and Juphy
There are many tools that can be used to monitor your Twitter accounts. These tools are usually web applications that help you log into your account and track specific keywords, phrases, or hashtags and regulate support quests on Twitter. You can use these monitoring tools to schedule your posts in advance, add canned responses, and generally save time.

Twitter monitoring tools also enable you to improve your outreach and provide a better experience for your followers.

Besides, If you have a large number of social media channels, it can be hard to keep up with them all. Monitoring tools can help to make this easier by automatically notifying you when something is said about your business on social media or when a new support request comes in.

Among all of these Twitter monitoring tools, for its functionality of simplifying each process of Twitter monitoring, Juphy takes the whole process to another level.

David H
Podcast Marketing / Production Expert
"I'm not a "social media person" and don't want to spend my day tracking down different accounts to make sure that I'm responding to everybody who is trying to get in touch with me. Juphy makes this easy by having all my accounts in a single place, so I can go in and handle all my messages very quickly. it had totally changed the way I do social media and given me back a lot of time."

How to Integrate Your Twitter Account with Juphy?
Before getting into this, first, let's integrate your Twitter account with Juphy. The simplicity starts with the beginning. In Juphy's "Channels" dashboard, you can choose Twitter and add your Twitter account. That's it, you're in!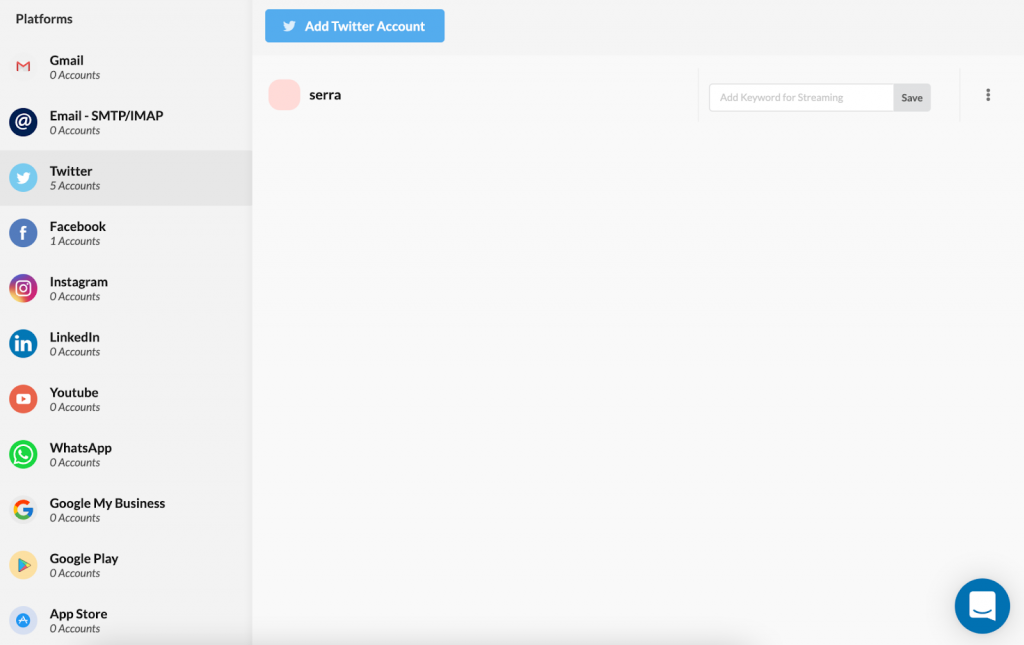 How to Monitor and Manage Your Twitter Account via Juphy?
Now that our integration is set up, let's continue with the how-to part. Juphy provides you with several monitoring processes to better your Twitter presence and social media customer service.

It enables you to get notified about the messages or tweets containing the keywords you added and control the support messages on Twitter with Juphy's unified inbox easily. You can also use Juphy to send canned responses, tag queries, and generally save time.

In short, Juphy offers a number of features including advanced inboxes, automation rules, and more. Benefits of Juphy for managing your Twitter account consist of:
Unified Inbox
With Juphy's unified inbox, you can assemble your support or customer service team members under the same roof and manage all the incoming messages, tweets, or mentions easily.

You can also assign messages or mentions to the related team member or you can drop a note to your team on tickets if you have something important to say with Juphy's note feature.
Keyword or Hashtag Tracking for Streaming

Twitter monitoring by keywords is really important. With Juphy, you can add the desired keywords to the system and get notified whenever a new tweet or mention including these keywords is posted. By getting notified about them in real-time, you can have a good grasp of the subject trends.
Automation Rules
You can set an automation rule for tagging messages, queries, or mentions that comes from Twitter. How? First, you can choose your Twitter account.

You can determine the keywords for incoming messages.

And then, choose the tag.

Eventually, you'll have an automation rule that will apply tags to the messages including the selected keywords. Whenever a new message consisting of these keywords is sent, the message is automatically categorized and can be filtered for further engagements.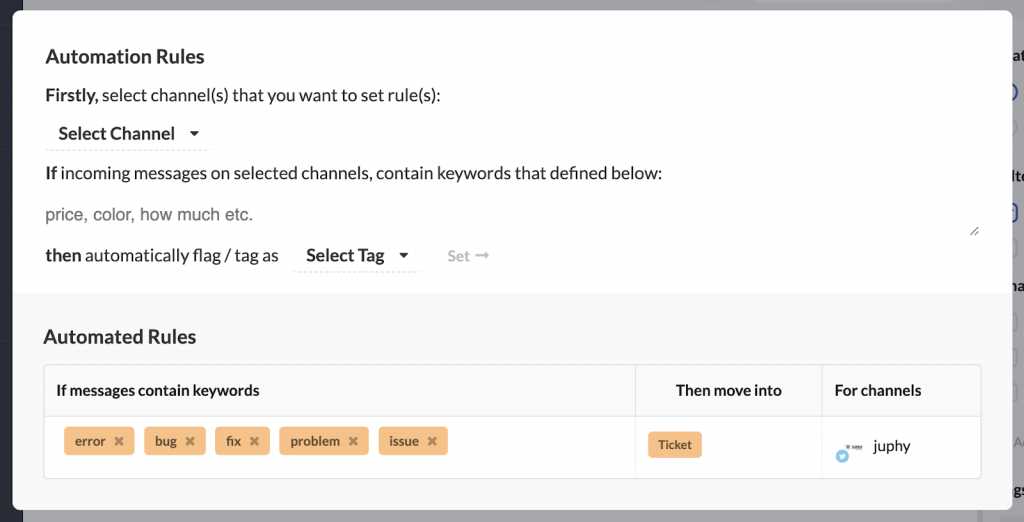 Canned Responses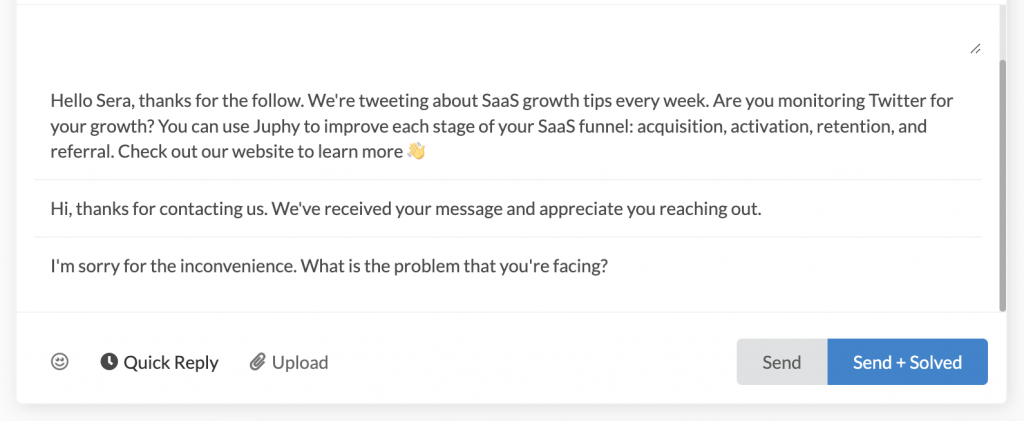 With Juphy's canned responses, you can increase the speed of responses and improve the performance of your Twitter monitoring. All you need to do is add a "Quick Reply" and whenever you want to use them, they will be ready to use in the archive.
Performance Reports

End of the Thread
Twitter is hard to beat, but we are stronger with Juphy. By managing a good monitoring method for your business accounts, you can get the most out of Twitter and build a brand reputation, while saving a lot of time.

There are various benefits of monitoring your Twitter account, from aggregating all the data from your Twitter to giving you a better idea of what is happening with this universe.

With Juphy, you can get the maximum effectiveness from your Twitter monitoring way.
Start Your 7-Day Free Trial Now!
NO CREDIT CARD INFORMATION REQUIRED