Hello everyone!
My name is Alara and I am the Marketing Manager at Juphy.
Today I am going to share our experience of launching Juphy on Product Hunt and how we managed to become the most commented product ever in Product Hunt's "Communication Tools" category!
But first, let me summarize what Product Hunt is and why it is important:
What is Product Hunt? Why It's Important?
Product Hunt is a website to share and discover new products every day. It's a place for technology and product enthusiasts to share and discuss the latest mobile apps, websites, and tech creations. The site includes a commenting and a voting system similar to Hacker News or Reddit, and the products with the most votes rise to the top of each day's list.
The most significant thing about Product Hunt is that it has over a million visitors per month on its website, 5 million subscribers in its emailing list, and more than 400k followers on its Twitter account. So getting on top of each day's list provides a massive level of brand exposure just in a day – for free!

According to Hoover, Product Hunt has led to the discovery of over 100 million products across 50,000 companies until 2016. It received funding from Y Combinator (#1 early-stage investor and accelerator in the US) and got acquired by AngelList in 2016.
What is Juphy?
Juphy is a collaborative unified inbox solution for businesses that enables customer support teams to manage and respond to all their user engagements from email, social media, chat, and third-party review sites in a single dashboard. Our mission is to help companies speed up their customer support and improve team collaboration, leading to faster response times and better customer service.
It is specially tailored for agencies, freelancers, and businesses who would like to manage multiple clients in a highly organized manner through Juphy's dedicated workspaces and white-label features.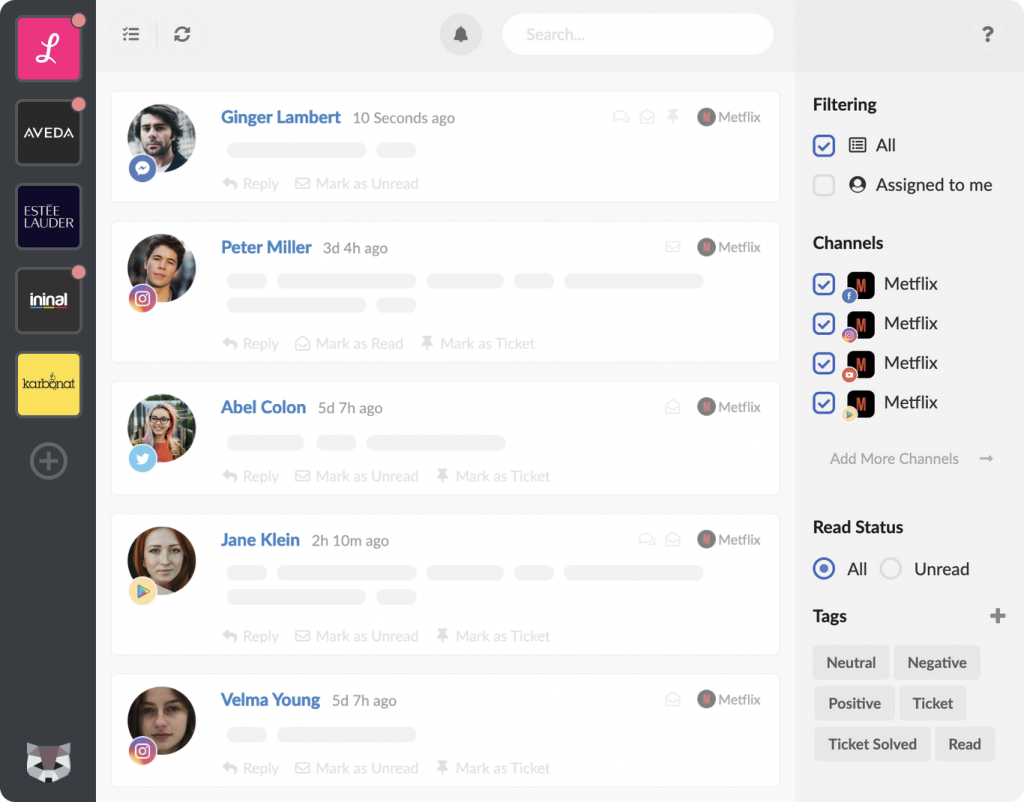 The Results of Juphy's Launch on Product Hunt
We launched Juphy on the 28th of April at 12:01am PST on Product Hunt and here is a recap of what Juphy achieved on the day of our launch:
Juphy has been selected as the number #2 Product of the Day on Product Hunt on the 28th of April by receiving 467 upvotes, 476 comments, 141 reviews, and a 5/5 rating! 🌟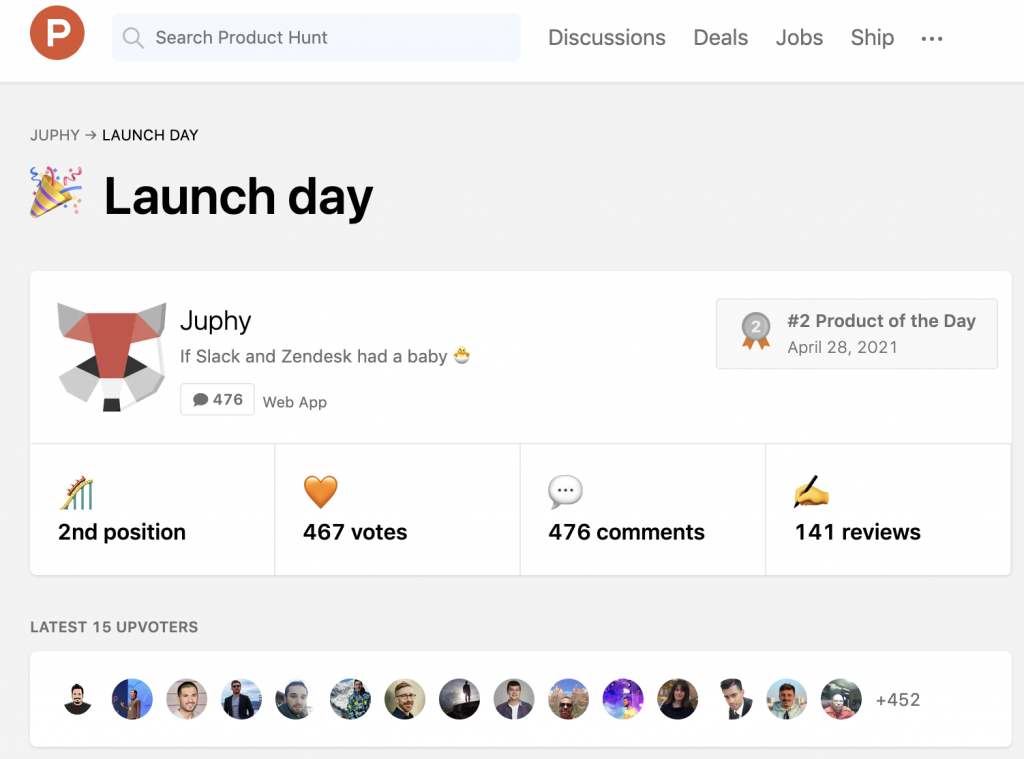 But more importantly, we were selected as the Most Commented App in the Communication Tools category: https://www.producthunt.com/topics/customer-communication?order=most-commented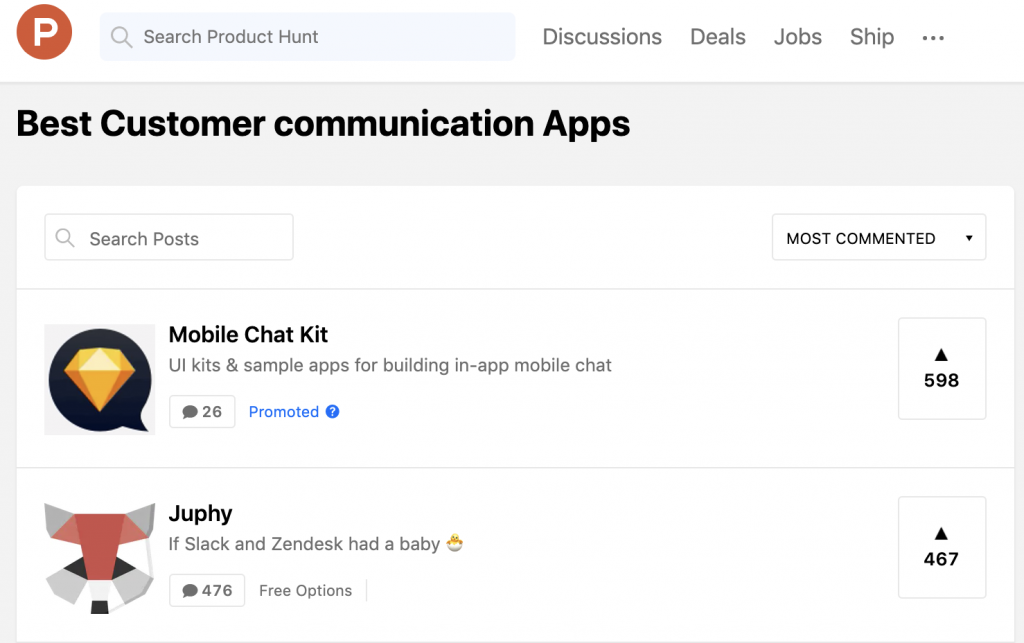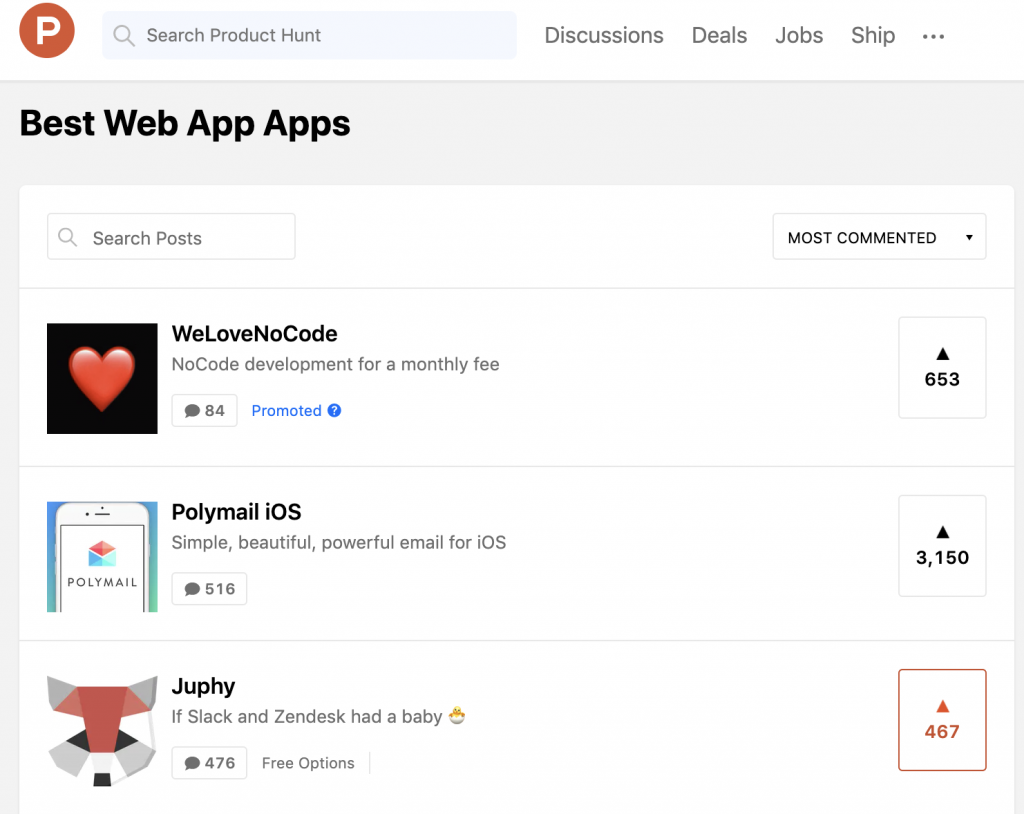 More than that, Juphy was organically selected and tweeted by Product Hunt's Twitter profile with 427K followers!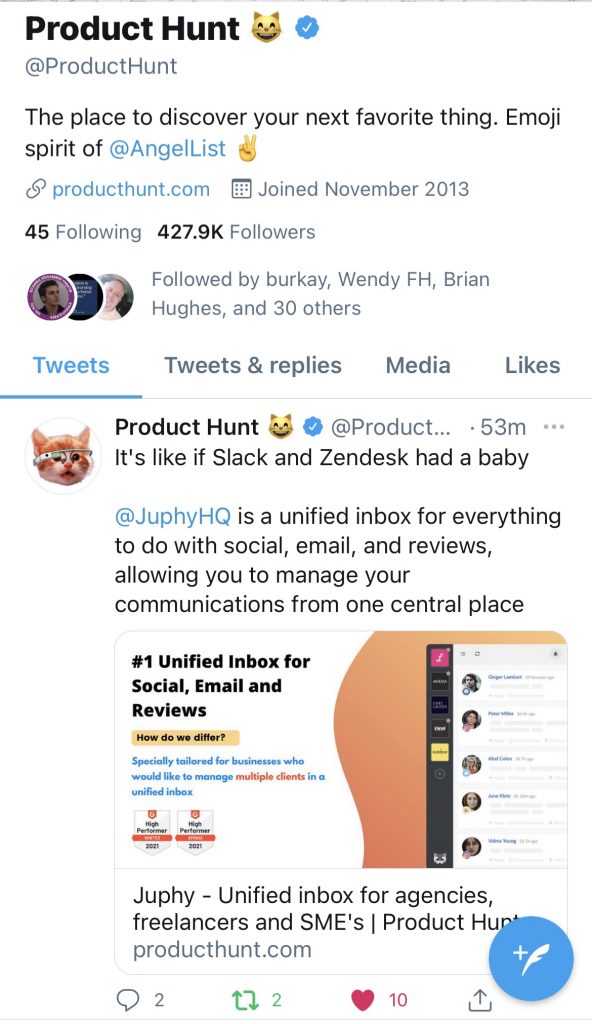 And we were also tweeted by Product Hunt's top hunter, and the inventor of Twitter's hashtag

Chris Messina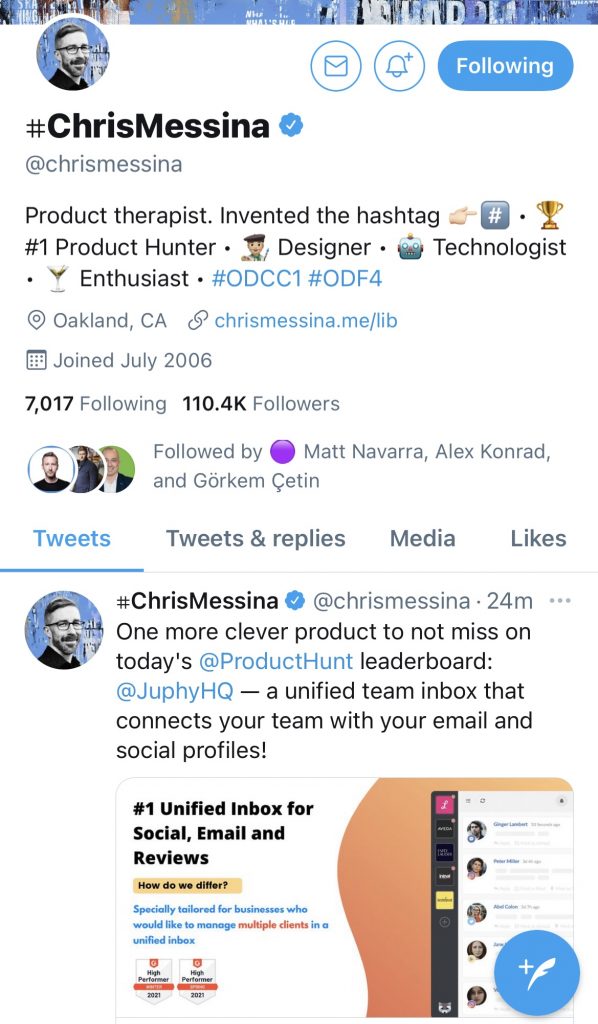 Consequently, on the day of our launch on Product Hunt, Juphy's website traffic increased by %900 from 85 unique visitors to 845 unique visitors, and 174 people subscribed to Juphy's free trial directly from Product Hunt on the 28th of April (in just one day!).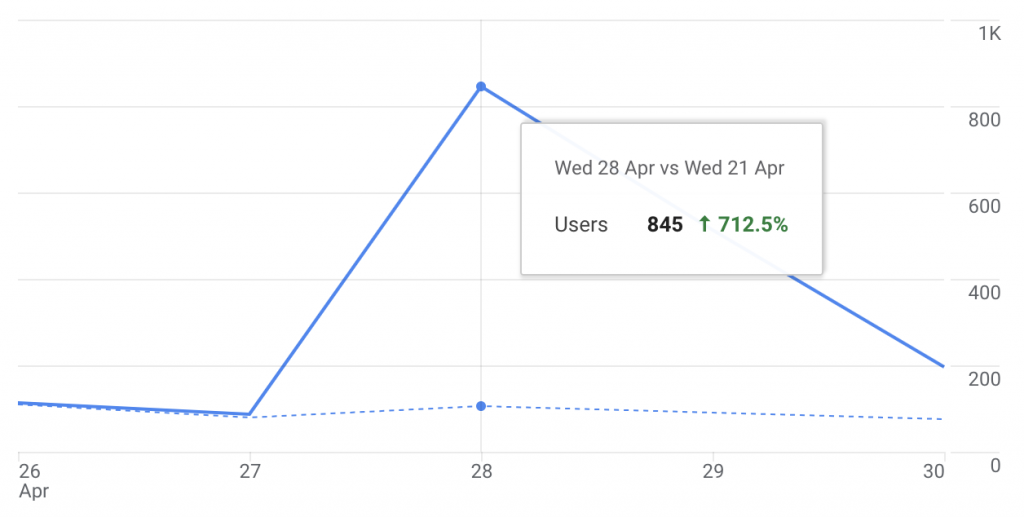 Tips & Tricks about How to Be Successful on Product Hunt
Overall it significantly improved Juphy's brand exposure, and we learned important tips and tricks along the way that we would like to share with you:
1) Collaborating with a Hunter Increases your Chances of Success
According to Product Hunt, "You don't need to reach out to "top hunters" or influencers to get your product hunted. Ultimately the community upvotes products they like and find useful, so it's far more important to build something awesome and clearly communicate its value to the world". However, it is proven many times that collaborating with a popular hunter increases your chances of success. Therefore, we collaborated with Chris Messina, who's known for inventing Twitter's famous hashtag, and he is also one of the most popular hunters on Product Hunt.
First, we reached out to Chris through Twitter and he send us this link to his website where you can submit a form and secure a date on the calendar if you would like to be hunted by Chris: https://chrismessina.me/
While completing this form, be very careful as everything you write and add there will be displayed on the actual day of your launch.
After you submit the form, Chris doesn't guarantee that he will hunt you (you can find further details about his likes & dislikes on his website).
In order to secure Juphy's launch with Chris, we booked a 30-minute call with him 1 month prior to our launch date. It was definitely very useful as he gave us a lot of feedback about the content, visuals, and community. At the end of the meeting, we secured our Product Hunt launch date for the 28th of April 2021.
Important Information to Pay Attention to When Collaborating with a Hunter
However, something unexpected happened on the day of our launch. Normally, our hunter Chris was supposed to hunt only Juphy on that specific date in order to prevent competition between his hunts. Seconds after our campaign launched, we realized that Chris also hunted another product named Butter on the same day, and he also posted a comment under Butter the second they launched. His comment gave Butter a massive boost and they managed to become the #1 Product of the Day.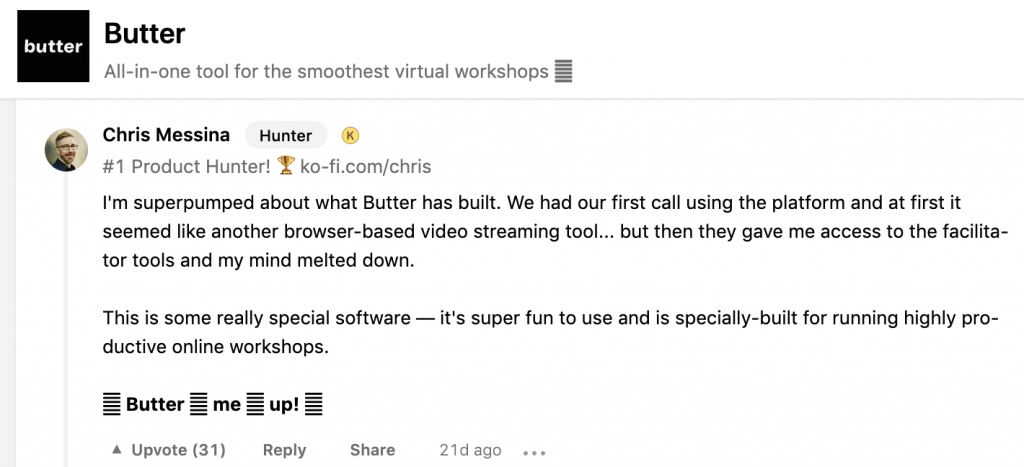 It's been very disappointing for us as we booked a month in advance, but apparently, Butter did a premium collaboration with Chris for him to become their mentor, and Chris gave Butter strategic and tactical consulting prior to Butter's launch. If you are also interested in a premium collaboration with Chris, check out this link to learn more: https://calendly.com/chrismessina/premium-collab?month=2021-05
If you're not interested in a premium collaboration, always ask your hunter if he is going to launch any other products that day, so that you can prepare for the competition 🙂
You can check out the list of top hunters and makers through here:
https://yvoschaap.com/producthunt/#hunt
2) Stand Out with Your Visuals, Content and Video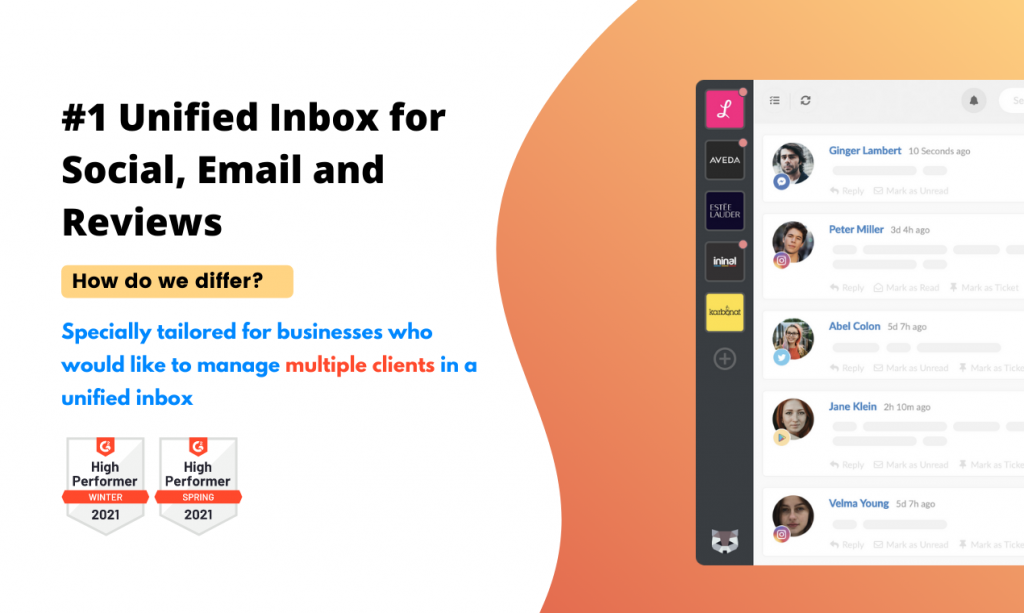 Dozens of products are launched every single day on Product Hunt, which is why you need to differentiate yourself with your product's video, visuals, and content to stand out from the crowd, as this is the first impression that you will give to Product Hunters. You definitely need to stay away from generic descriptions and mediocre visuals.
You only get to write 260 characters about your product description on Product Hunt. Therefore, your visuals are the key part where you get the tell your story and describe the value that you are offering. In your visuals, you should highlight something you do really really well that separates you from the competition. Explain what you offer, how you are different, and why you are better. Also, insert the deal that you are offering as a slide at the end.
Make sure that the first image has all the important information – because that's what shows when people post and share your Product hunt profile. A typical Product Hunt image would have a title, a subtitle, and a product screenshot.
In order to differentiate, you can really make use of videos as these are more eye-catching. Check out Juphy's Product Hunt video as an example and inspiration:
You can find some other good examples of images here, recommended by Chris Messina:
3) Give Details in Your Maker Comment
The maker comment is the first comment that one of your team members (usually the founder) should post on your launch page. This is a chance for you to dive deep about your product, and tell everything that you did not get a chance to tell in your description, video, and images.
A good maker comment would:
introduce your team
introduce your product
explains what problem you're solving and why you are solving it
cites evidence that your product works (reviews, traction) if you have any
offers a deal or reason why people should try your product today
might include a roadmap about your product and heads up about what's coming soon
and thanks your hunter (if you have any)
You can check out our Co-Founder Erdi's maker comment as an example:
https://www.producthunt.com/posts/juphy
4) Mobilize Your Community
What we realized about Product Hunt is that it is not a place to gather new customers anymore, but it's rather like a virtual party that you carry out with your own customers. And the product with the biggest community wins! The real difference is how well you're able to mobilize your own community and bring people out to support you. The support of our community gave an incredible boost to our Product Hunt launch, and we managed to become the #2 Product of the Day and the most commented communication tool ever thanks to the great reviews and comments of our amazing community! We definitely owe this success to our really supportive customers and we are truly grateful to them as a team ❤️
But how did we mobilize Juphy's community?
We first emailed all our customers and every single contact on our HubSpot list a month in advance. In this email:
We notified everyone that we are going to launch on Product Hunt on the 28th of April
Asked them to support our campaign if they find Juphy helpful for their business
Highlighted the fact that they should sign up to Product Hunt now and start exploring, as Product Hunt does not accept upvotes from profiles who signed up on the day of our launch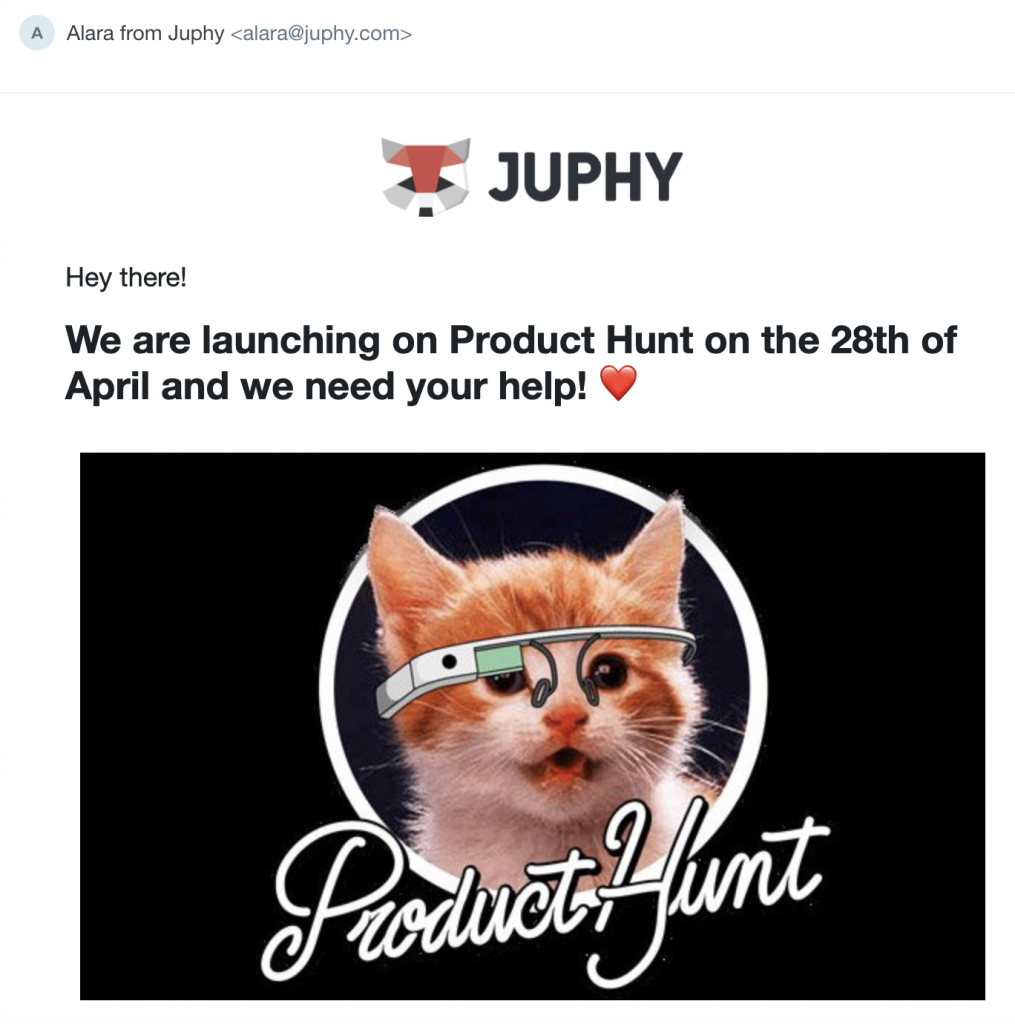 Then, we sent a second email 1 week prior to our launch date in order to remind our community of our launch on Product Hunt. Finally, we sent a final notice the minute we launched on Product Hunt, in order to get everyone to support our campaign.
Thanks to our amazing community, most of our customers were prepared and Juphy's comments section absolutely rocked! 🚀 We received almost 500 comments and 5/5 rating, and managed to become the Most Commented App in the Communication Tools category, and the 2nd Most Commented App in the Web Apps category in the history of Product Hunt!
We also posted on other platforms to notify everyone about our launch. So where else did we post?
Investors
Startup friends
Y-Combinator Startup School Forum
AppSumo General Group on Slack
Other SaaS related Slack groups
Facebook groups
Related subreddits & Indie Hackers & Hackers News & Quora
All our social media channels
Important Notice About Community Outreach
While reaching out to your community, there is an extremely important matter that you should avoid at all times: never ask for upvotes. Instead, ask people to support your launch on Product Hunt by leaving a comment or a review. If you ask for upvotes, Product Hunt may penalize you or worse, kick you off the leaderboard!
For example, on the day of our launch, there was another product called Instant, which started to gather a lot of upvotes very rapidly towards the end of the day, which was very suspicious. And they managed to surpass Juphy and finished the day as the #2 Product of the Day. But, a minute after 00:00, most of their upvotes got deleted, as they probably cheated by asking everyone directly for upvotes. As their upvotes got deleted, Juphy automatically became the #2 Product of the Day on the leaderboard.
5) Provide Real-Time Support
Real-time communication is critical. Responding immediately to comments can greatly influence your success as it is a significant indicator of how much you care about your customers. We recommend you allocate a full day (you and your team) to be active and engaging. On that day, we didn't sleep at night and were provided 24 hours support.
6) Support Your Campaign with a Live Event
You can organize a live event such as a webinar or a discussion room on Club House to celebrate your launch on Product Hunt. We didn't do this, but the #1 Product of the Day Butter did. They organized a full day of events to celebrate and support their launch on Product Hunt, and even our hunter Chris Messina was a speaker. It's definitely a great idea that would have a significant impact on the success of your campaign.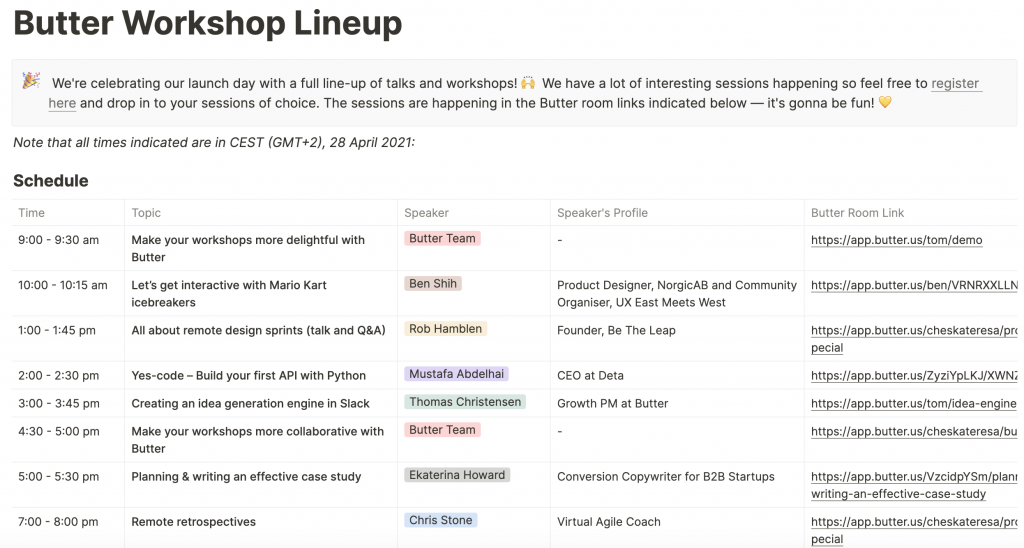 Other Tips & Tricks
Have a dedicated Product Hunt page on your website to welcome hunters and make them feel special
Prior to Launch:
Join Facebook Groups & Slack Channels related to Product Hunt to build up your community of makers and hunters
Put a Product Hunt widget on your website. A widget can drive traffic to your launch page and earn more comments, reviews, and upvotes
Reach out to Product Hunt influencers to support your campaign
Find Twitter influencers as well to share your launch
Create a List of Mentors & Advisors: ask them to support your launch on their social media channel
You can find a list of all the top hunters & makers here if you would like to reach out to any of them prior to launch:
https://yvoschaap.com/producthunt/#hunt
On the Day of the Launch:
Ask for support from Facebook groups & communities
If you have an existing community or list of potential clients, you can announce your Product Hunt launch via an email newsletter.
Send the link to your friends, family, and colleagues. They can submit a well-written review with pros and cons. Leave a comment, or reply to others' comments to start a discussion.
Whoever you reach out to, never ask for upvotes. Upvotes should come only from those who like your product. But you can always ask for feedback
If you are interested, you can check out the feedback our Community Manager Cem gathered from Juphy's Product Hunt launch:
https://juphy.com/blog/what-our-customers-think-about-juphy
Final Thoughts
Product Hunt is a remarkable place for startups to build a community and brand awareness amongst tech-savvy users, and the best thing about it is that it's free to everyone.
If you are looking for further details on how to launch on Product Hunt, we would recommend you to check out these blogs:
https://blog.producthunt.com/how-to-launch-on-product-hunt-7c1843e06399