Today we're going to learn about downloading Meta comments easily.
Downloading Facebook comments can provide a great opportunity to measure customer satisfaction with your brand by analyzing the comments on your Facebook page, but it's not quite easy because Facebook does not give you the ability to download your own Facebook page comments as a default option. You need to use a third-party solution at this point or you have to do it on your own technical knowledge.
Create Your
Social Inbox Now
Manage all social media customer support inquiries in a unified inbox.
There are three main ways to download Facebook comments;
1- If you want to occasionally download Facebook comments according to the post you chose. In this case, it is convenient for you to use a one-time application that we'll explain below.
2- If you want to constantly store your comments and download all the comments according to the selected date range instead of the specified Facebook post, then you should use Juphy.
3- If you have programming knowledge, you can benefit from the Graph API we mentioned in the last option.
Let me explain the ways with more details;
1- Download Facebook comments by the post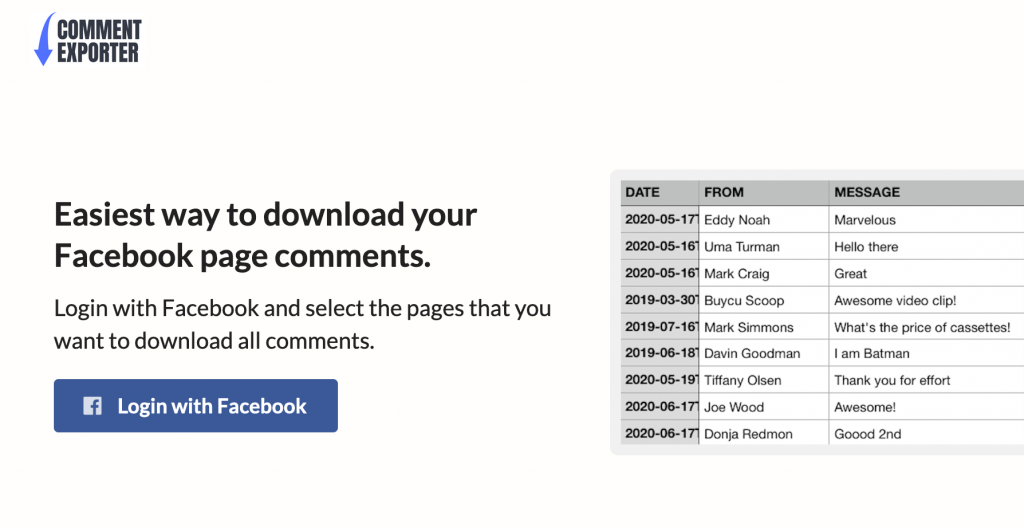 Comment Exporter (cmntexport.com) is the best and most secure way to download your Facebook Page comments. This tool is completely developed for all-size businesses. It has Free options and also affordable paid options to help you download all of your Facebook page comments with a single click!
Actually, Comment Exporter is the only solution that has the option to download all of your Facebook page comments from the date beginning of the page creation. There is no other platform that can help you in this case, others only have the option to download comments by Facebook Post URL. This is the reason that Comment Exporter unique Facebook Page comment download solution on the internet.
How can I download my Facebook page comments with Comment Exporter?
it's quite easy! Just open https://cmntexport.com and click Login With Facebook button and the system will redirect you to Facebook to have permission to reach out to your pages, approve the permissions and you'll see the list of your Facebook pages.
You'll see Start buttons next to the pages, click Start and your. CSV files will be ready to download in minutes. You can download your latest 500 comments for Free anytime!
Comment Exporter ( https://cmntexport.com ) is a product that developed in the US. All of your comment data will be stored in Atlanta, the USA for 7-days. If you want to delete your data from the servers immediately after you download, just send a message through live chat to the product owners, they're really helpful and they'll help you quickly to solve your request 🙂
For personal usage with limited functionality.
The easiest way but not the most effective way to export your Facebook page comments is exportcomments.com! You can download your comments as a .csv file by defined POST Url.
Follow the steps to download your comments;
a. Find one of your Facebook page's FEED/POST URL that you want to export comments.
P.S. In order to get your post's URL: On your Facebook page's timeline. Select a post and click the time link of your post to get the post's URL.
b. Copy POST URL and Paste it into exportcomments.com's input.
c. You'll receive a .csv file at the end of the downloading process.
Yes! Exportcomments looks very promising and useful but it's hard to download your comments one by one with their POST URLs. If you're a business you have more than 100+ or 1000+ POSTS on your Facebook page timeline probably. In this case, exportcomments.com could be useless. In addition, the FREE version of Exportcomments limited to 500 comments.
You need a more professional solution to download Facebook comments by date range.
If you have an active business, it will be more efficient to use a service where you can continuously store comments and provide engagement and customer communication in real-time, instead of constantly downloading comments one by one by their Facebook posts. At this point, Juphy starts to collect all your Facebook Page's comments after you start using the product, your comments are aggregated in a single database in real-time and you can log in and export your comments whenever you want.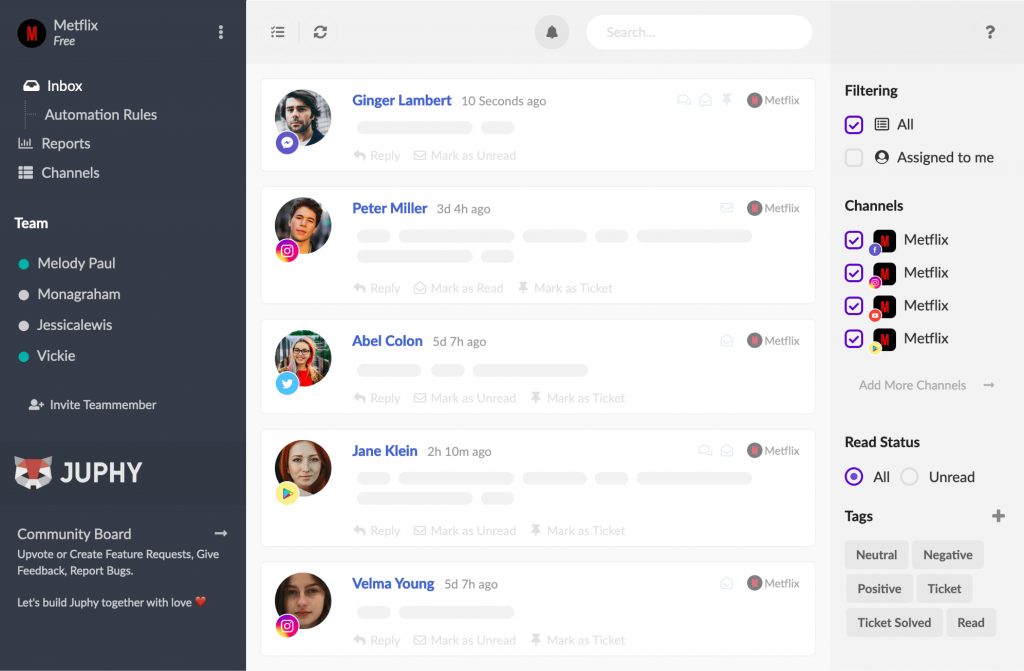 Please note that You won't be able to download comments based on the Facebook post when you use Juphy. However, if you need an advanced comment management product for your business, you can reach this goal by using Juphy.
3- Downloading Facebook comments through Graph API
Another way to download all of your Facebook page's comments is by using Facebook's GRAPH API. We assume that you're a tech. person and know the dynamics of the application programming interface, otherwise you must choose the first or second solution to download your Facebook page's comments.
Let me explain how you can download your Facebook comments through Graph API.
Go to Facebook for developers website. Create your developer account.
Find the Graph API explorer at the inside of menu the top of the page.
Firstly, get a valid access token before running your query.
Then, run the query to get your Facebook page's comments.
As you can see, you can reach the comments on your page! but you need to automate this with a programming language.
If you're a developer, please check these Graph API SDKs to test and download;
Lastly, If you need to download comments which belong to several Facebook POSTS, you can choose the first method. If you need a business solution to download your whole comments by date range, the second solution is perfect for you. Because Juphy gives you all of your comments, between the oldest to newest also included. The third solution is only for developers and tech guys.
Today, I tried to explain how you can download your Facebook page's comments. If you have any question, please do not hesitate to leave a comment. I'm always here to help you.
Create Your
Social Inbox Now
Manage all social media customer support inquiries in a unified inbox.