Introduction
Customers may start a dialogue by leaving a comment, sending a message, or writing a review of your content. It may be a fantastic way for businesses to interact and engage with their social audience. Responding swiftly to your Facebook comments and messages will enhance your business relationship with the customers and ensure an ideal reputation. Communicating with your audience through Meta comments and messages is an excellent method to connect with your target profiles. Facebook is an important social media platform for businesses to use for conversational marketing and to help them benefit from interactions. This is the point when Facebook comment and message control comes into play.
Why Is It Important for Businesses to Manage Comments and Messages on Meta?
Facebook is the most used social media platform with roughly 2.91 billion monthly active users as of the fourth quarter of 2021, the exact time the company changed its name to Meta and gained even more popularity.

That means most of your current and potential customers use Instagram and Facebook for interaction. So, you should give the necessary importance to managing Facebook comments and messages, as much as you care about Twitter monitoring and Instagram social listening. Because you can benefit from Facebook by having your Facebook comments under control. There are several benefits we can list quickly:
Managing Comments on Meta Enables You to Provide Prompt Customer Service
Providing prompt customer service in response to both good and negative evaluations shows how much you appreciate your customers. They are more satisfied when they receive immediate answers to their questions. 
It is best to reply to all comments and at least give a reaction. This way, you can soothe your brand's reputation as an interactive business and ensure customer trust. However, managing comments involves more than just replying to comments. Using the right tools like Juphy for Facebook comment management is the best way to effectively control your business' Facebook interactions.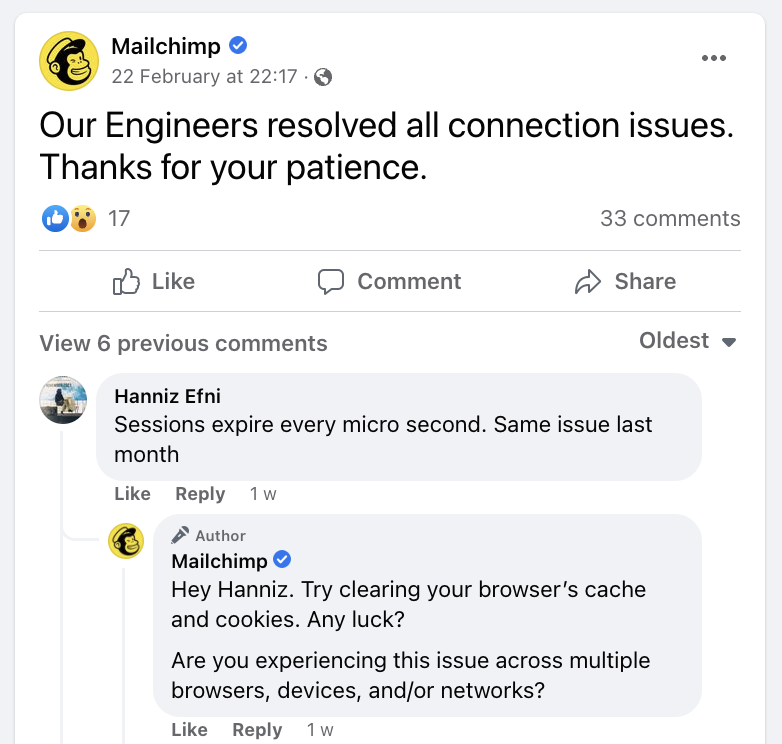 Facebook Helps You to Build Brand Awareness
Keeping in touch with your audience through comments and messages on social environments like Facebook creates soft weather for your brand.

What did I mean by soft weather? Obviously not spring… but similar… Most people love soft weather as it feels pleasing. Alike, when you interact with your audience warmly, it showcases your brand, makes your users happy, increases credibility, and eventually builds awareness.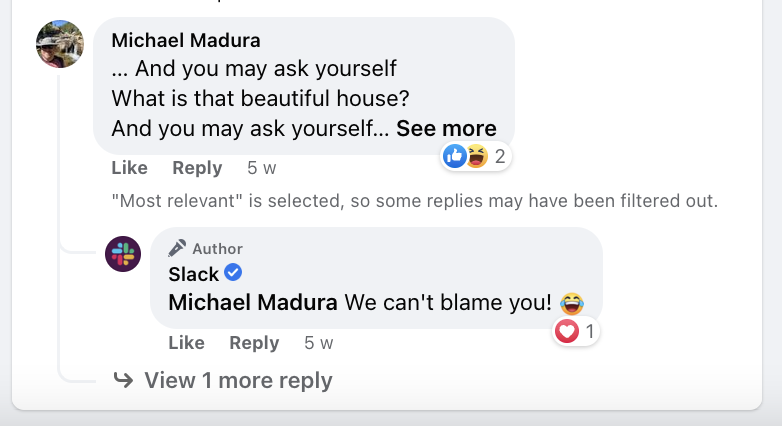 Happy Users Become Loyal Customers
Apart from building brand awareness and credibility, your overall presence on social media, especially on Facebook, will help you to create stronger bonds with your users that will make them loyal to your brand for a longer time.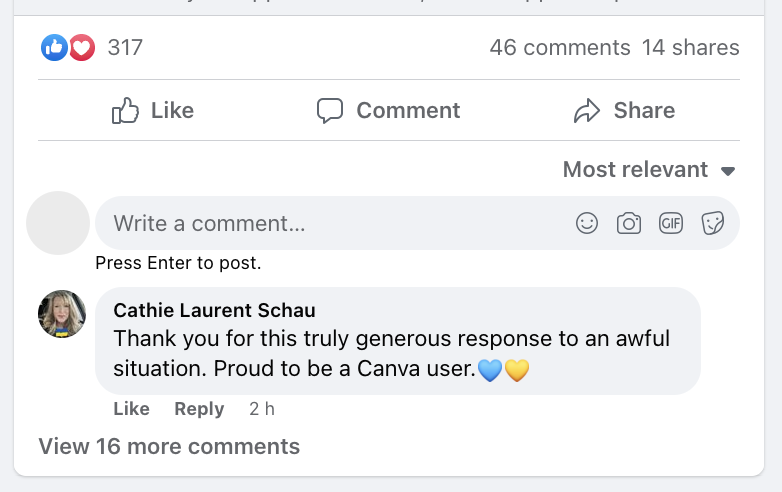 How Precisely Can You Manage Facebook Comments and Messages?
Because Facebook is one of the most popular message platforms, companies may improve their communication strategy by connecting customer interaction tools with Facebook channels. These tools help manage Facebook comments and messages by providing easy-to-use interfaces that show all Facebook data in one place and your team's engagement.
Respond to everything. All comments are critical for your business. You should respond to every message and comment you get on Facebook. Even if you like the message, the customer will feel important and cared for by your business. However, there will be all kinds of messages. At this point, we should say that negative remarks, if handled correctly, can help you advance your online image.
Responding to every interaction will increase your consumer participation in future postings while improving your online reputation as well. Since most Facebook profiles are open to everyone, don't forget that the issue can be seen by other users who have not been involved in the problem themselves. Responding to everything will raise user interaction, and your audience will know you are reachable and easy to communicate.
Communicate, don't "auto-reply". Rather than using automated messages, your team should really reply to messages and comments. Each message is different, so you should deal with them manually. Of course, you can have message templates, but don't use the same sentences for every message. These interactions reflect your brand tone as well as show how you treat your customers' problems.
Maintain a professional approach and a consistent writing style with your brand's overall identity. Show your problem-solving skills with your company's friendly and approachable attitude. Plus, showing that your brand is always up-to-date is possible through using a familiar language with slang and the latest trends.
Pay attention to your team. To provide a desirable and stable experience, businesses should seek a more profound knowledge of their consumer journey across channels like Facebook. Observing how the team deals with Facebook data will provide insights that can help you self-improve. Review who takes care of what in which way and make necessary arrangements.
Seeing your Facebook interactions and engagements of your team in one place is best for keeping everything under control. You might consider using the right tools for this one!
5 Best Practices for Managing Facebook Comments and Messages Efficiently
An absolute must: Best practices. You need the best possible methods that result in tangible outcomes to run good Facebook comments and messages management.

Knowing the importance and role of managing comments on Facebook for businesses was the first step; now, it comes to putting it into practice and handling it in the right way. Come on in, let's make another list!
1. Having a harmonic team and tone of voice
To begin with, the comment areas under Facebook posts are a veritable treasure of client feedback waiting to be mined. If you have a team focusing on Facebook comments and messages, monitoring and managing data will be smooth and professional.

Besides, their attitude on social media is another thing to focus on while developing a Facebook comments and messages management strategy. If your team has one single tone and the main objective, each interaction, comment, or a message means to an end.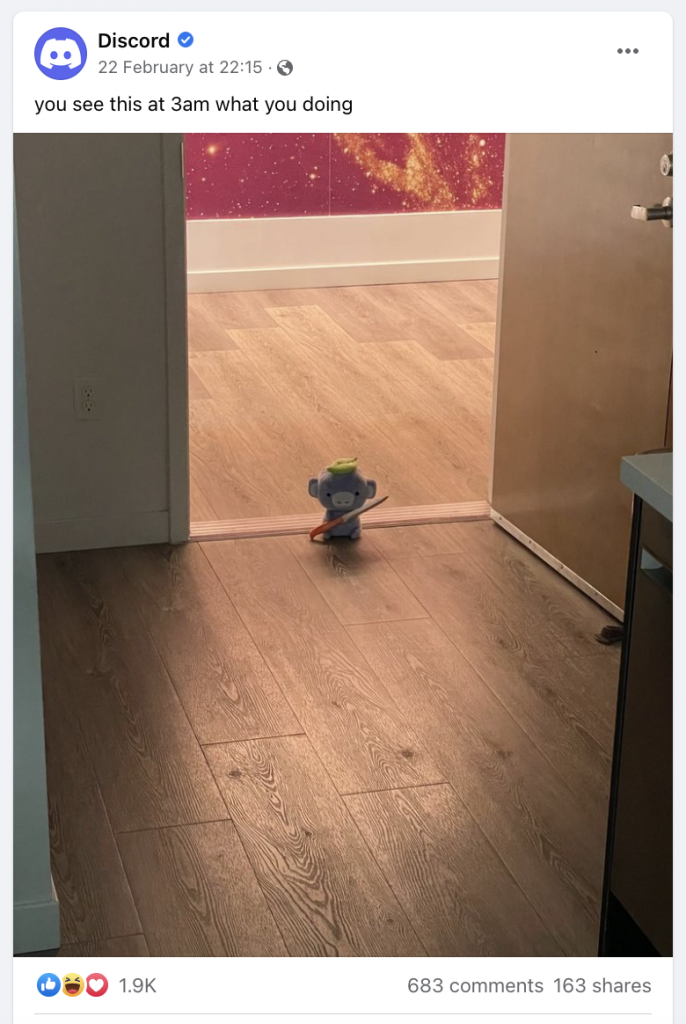 2. Internal communication and assigning team members to conversations
Even if you have a harmonic team, the team members' roles may be different, and some of them might be better suited to solve a specific case or answer a particular comment.

Therefore, it is also crucial to acquaint yourself with relevant people in a conversation and communicate internally by adding notes. These will help you to,
Solve problems more professionally and in a better way
Reply to the comments faster and more effectively
Be result-oriented while answering the comments and messages
Make your customers happy and increase the quality of the conversation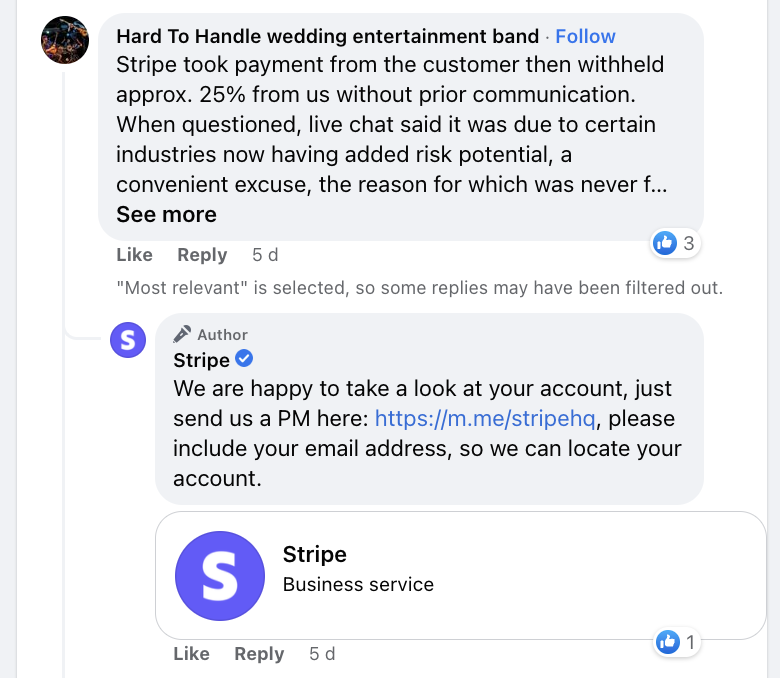 3. Detect spam chats and face head-on
You need to eliminate the spam and troll conversations first to effectively manage Facebook page messages and comments. Nobody wants to comment under a post or page full of irrelevant, advertising, troll, and spam comments. So, keeping your page clean from these extraneous activities has much importance to managing your Facebook page.
You have two options ahead; hiding or deleting them. If you can detect each of these spam messages and delete them, you'll have a more credible and attractive Facebook page. And eventually, you'll increase your user satisfaction.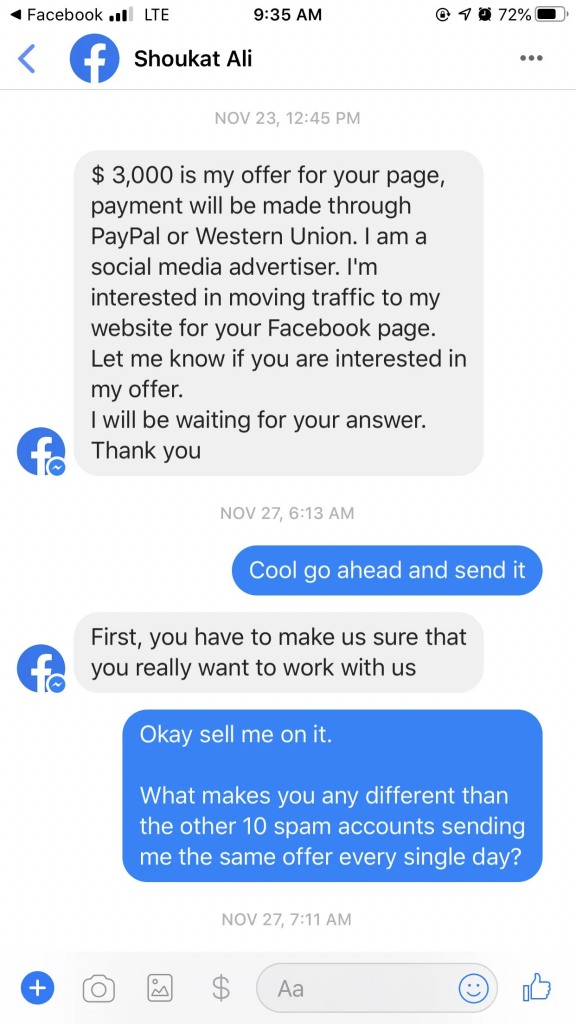 4. Filter and evaluate the conversations
If you can (and we will) find a way to filter and evaluate your Facebook conversations, bingo! It means that now we are speaking. Seeing and listing similar cases and conversations helps you evaluate your approach, identify the pain points, and improve your communication strategy on Facebook comments and messages.

Your team can observe the answers sent by the team members and give feedback to each other. Regularly reviewing these responses will also enable you to have a consistent tone of voice.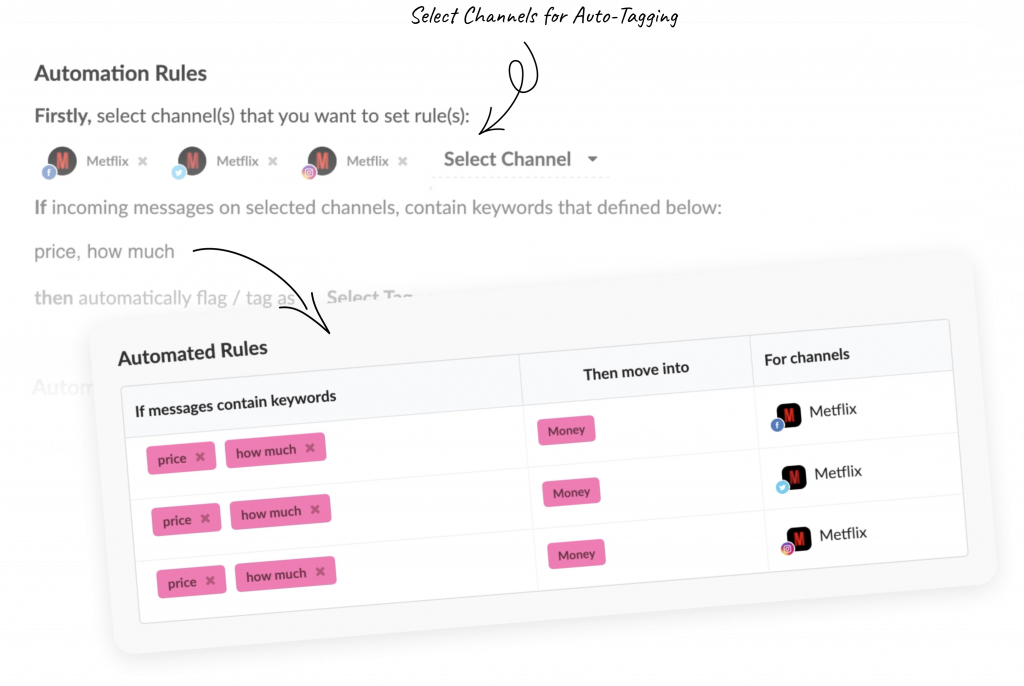 5. Use social media management tools for a better Facebook comments management
As mentioned in the upper paragraph, businesses need suitable tools to manage their Facebook accounts and pages directly and effectively.

These social media management tools help you unify all conversations, manage them in one place, assign team members, drop notes, more and more. Eventually, you can ensure your business is delivering a consistent user experience on Facebook.

I can hear you asking how; let's talk about Juphy briefly!

How to Integrate Your Facebook Business Account with Juphy?
Easy peasy lemon squeezy! One-click away integration… All you need to do is add your Facebook page or group.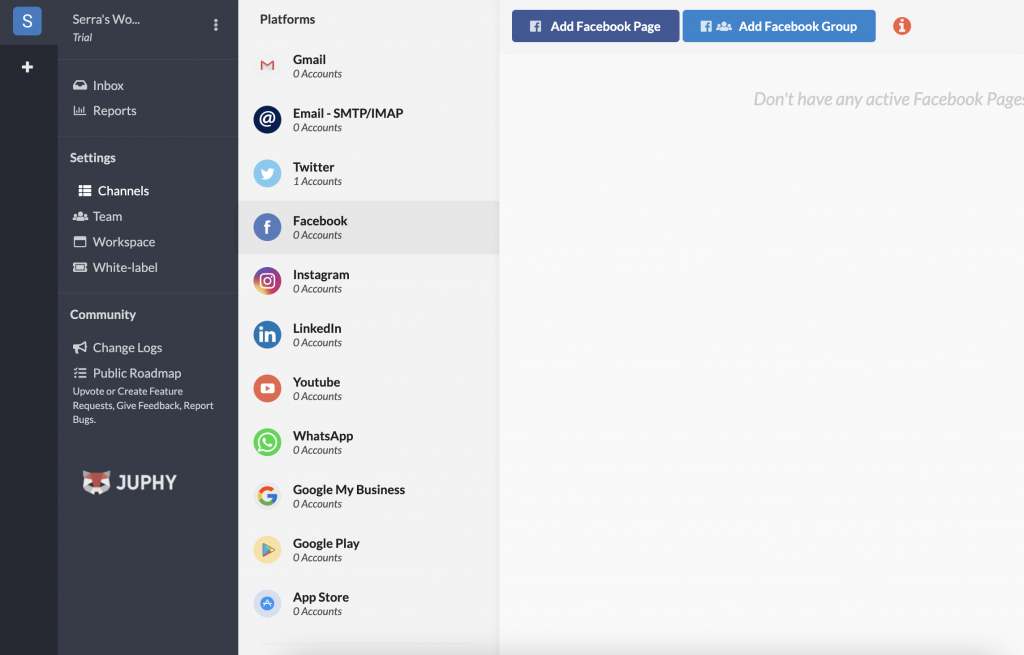 What are Juphy's features for managing Facebook comments and messages?
In general, by integrating your Facebook page or group, you can manage all your channels, comment activities, and messages here directly. Besides, all of your notifications, messages, and comments will show up on your dashboard. But, in-depth, there are some specific features for you to manage Facebook comments and messages efficiently:
Automation Rules
You can set an automation rule for tagging Facebook comments and messages. This automation setting will tag each incoming message, including the specified keywords, and put them under the relevant label.

When you have a new comment or message relevant to the matter of automation rules, the message will be tagged and can be filtered for evaluating and monitoring.
Canned Responses
Most Facebook comments or messages will be the same because all these people will experience your service or product similarly; are you ready for them? You should be. If not, you'll get tired of writing the same responses and explanations or copying and pasting them.

Juphy, therefore, provides you with canned responses to create pre-saved answers for frequently asked questions on Facebook. By doing so, you won't spend time on the same thing over and over again, and you'll be able to reply to people more quickly and effectively.
Team Collaboration
We've mentioned the importance of a team. So, Juphy gives the necessary importance to team collaboration as well. By adding your teammates, you can improve your customer support strategy on Facebook as well as customer satisfaction. You can also drop notes to each other internally about a conversation and assign the relevant team member to a ticket.
Customized Reports
One considerable challenge of businesses is monitoring the performance of Facebook comments and messages strategy to deliver a consistent experience.

With Juphy, you can measure your team performance rates and get customized reports on your actions between the specified dates. As a result, you can observe the points that need improvement and update your Facebook communication strategy accordingly.
In Short
Not Twitter or Instagram for me, but the power of Facebook can't be ignored for businesses. It is one of the most effective communication channels that enable businesses to reach a large scale of people. And therefore, it is like a show glass that displays your brand, services, and culture.

Managing all Facebook comments and messages in a single place benefits to tracking, answering, and assigning processes smoothly.

Therefore, businesses should integrate Facebook with the social media engagement tools like Juphy to better their show glass and improve their communication.