Introduction
Before getting into managing comments and messages, it is crucial to know the main cause of LinkedIn, right? LinkedIn is a social network that is designed and used for especially improving businesses and broadening business networks. This platform is now the world's leading business network and LinkedIn has currently 810 million users, in 200 countries based on regularly updated LinkedIn statistics. People are generally using LinkedIn to "strengthen their professional network" but this platform is also a good way to keep in touch with old colleagues, get referrals from your old businesses, and search for new job opportunities.
Most people are registered as a personal profile on LinkedIn, meanwhile, some owners of these personal profiles are also managing or administrating their company profiles. Companies usually prefer to have a "Company Page" instead of a regular "Profile" so that they can share their history, mission, and vision on the page's "About" section.
Importance of LinkedIn Business Page
Having a business LinkedIn page is just as important as having a website for your company. You can build a LinkedIn business page for free as long as you have a company name and email.
Businesses should manage their LinkedIn messages and comments adequately not to miss new connections, potential leads, and business opportunities. If you have a B2B business, LinkedIn is especially vital for your business to grow and shine since you have the potential to reach other businesses easily. Surely, there are efficient ways to manage LinkedIn and in this article, we'll show you a few tips&tricks to manage your LinkedIn engagements effectively, professionally, and smoothly.

How to Use LinkedIn for Your Business?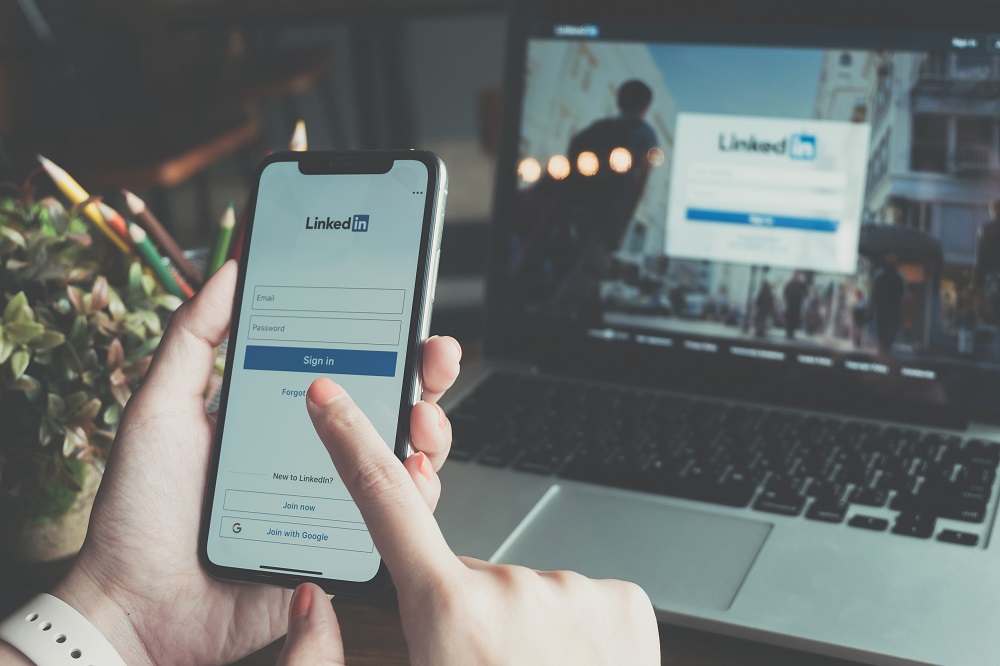 Using LinkedIn for your business would be significantly different from your personal use. While posting content, inviting people, or updating your profile, you have to be extra careful not to damage your company's current status and prestige. There are some critical points that you should keep in mind while using LinkedIn for Business:
Complete all page details, don't leave any section blank
Add important page admins and have a consistent and single tone of voice
Keep your images updated and post content regularly
Make sure to share engaging content with presenting your brand image, objectives
Post interesting, eye-catching visuals
Customize and optimize your CTA
Involve your employees by sharing content about them as well
Post content from (or mention) partners and other companies in your industry
While acting as a representative of your business when you manage the page, it is important to engage with your followers frequently. LinkedIn has a different language, posting strategy, and topics compared to other popular social media platforms. As LinkedIn is a more professional space, the language is also more professional and formal. The lifestyle topics won't work, especially when you are representing a business page.
You may share recent updates of your business, some business-related polls, questions, news about your employees, or sectoral information on LinkedIn if you want to get more engagement from and outside of your follower circle.
How to Manage LinkedIn Messages as a Business?
Depending on your business' size, managing LinkedIn messages might be a handful. Companies usually hire professionals to manage not only LinkedIn messages but also all social media platform engagements. You need to check your messages regularly, which means every day, once in an hour would be fine. 
LinkedIn usually prioritizes "InMail" rather than the general messages. InMail is LinkedIn's feature that is usually used by business owners and HR managers to connect with job seekers and professionals. You can also send messages from your company's page as well.
The better way to manage LinkedIn messages is to define a tone of voice for your company and use the same tone for everyone who messages your page to build a consistent and effective representation.
How to Manage LinkedIn Comments as a Business?
It is vital to reply to the comments as a company while you are managing your company page's LinkedIn comments. LinkedIn approves replying comments as a company if you are an admin on your company's page. You only need to follow a few basic and easy steps to make this magic happen. Check this article out to know more about these small steps.
Managing comments is as important as managing messages on LinkedIn. When you share news or an article that keeps the finger on the pulse, depending on how wide your company network is, you will receive comments that will criticize your post both negatively and positively. And of course, there will be trolls and spam comments too. Try to be patient and don't delete any comments if it is only expressing an opposite idea. This will open the doors for a high-quality debate on your LinkedIn post. You have to take everything into consideration when replying to comments because, unlike messages, all comments are visible to the public on a LinkedIn business page. You have to represent your company in the best way possible with your tone and language. Even if there is no need to reply to a comment, you can just reply as "thank you" showing you appreciate their engagement.
Here are other points you have to bear in mind when replying to LinkedIn comments:
Instead of copy-paste replies, try to write genuine and personalized replies
Don't oversell your service or product
Keep your company image consistent and train your LinkedIn page admins accordingly
Always pay attention to grammar and spelling
Tag the person who you are replying to so they can get a notification
How Do You Integrate Your LinkedIn Business Page with Juphy?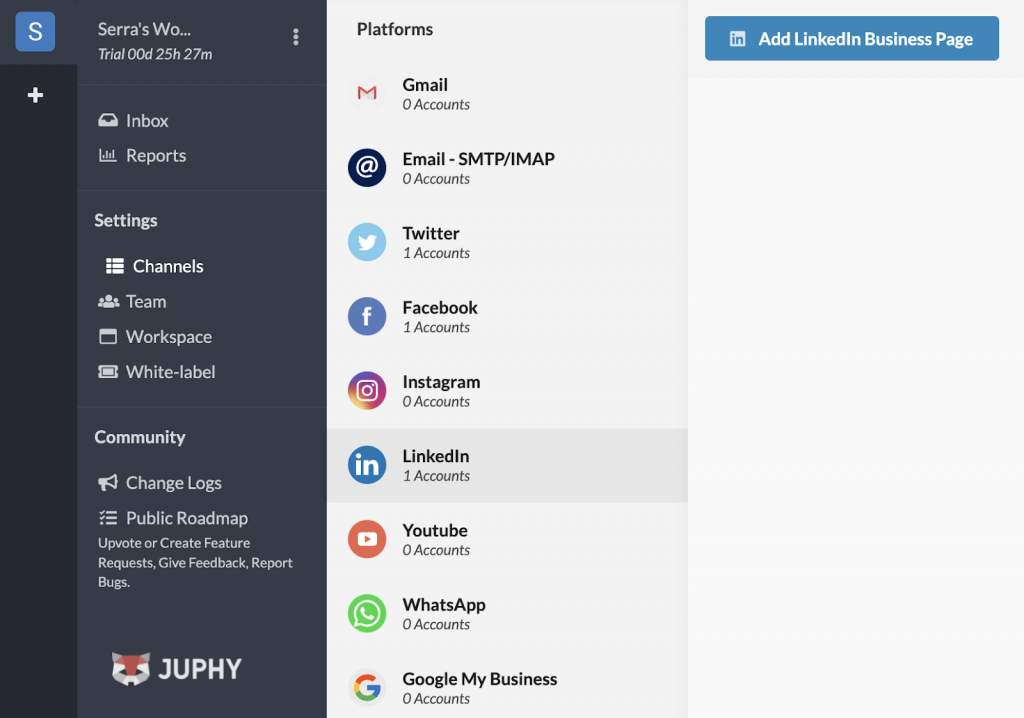 Integrating your LinkedIn business page is just one click away. Click on "Channels" on the left menu, click on LinkedIn and finally click on "Add LinkedIn Business Page". Voila! Your business page is connected to Juphy now.
Juphy's LinkedIn Comment Management Feature
Juphy is a social inbox tool that also includes LinkedIn Business Page comment management. You can see all of the comments you receive on your dashboard, you can answer them or assign them to the related teammate.

Thanks to Juphy's other features, you can add keywords and hashtags to track and can get notified when there is a comment that includes them. If there is a recent comment, all team members you grant access to would be able to see it and they also can assign these comments to the related person quickly with Juphy. You can now learn Juphy's capabilities by requesting a demo session.