Introduction
When we think about a professional network, LinkedIn is one of the first channels that come to our minds. Some might think it's boring, or its time has passed, or building LinkedIn business strategy is a waste of time, but there's life in the old dog yet.

So, what is the aim of all those people who still value LinkedIn? Developing a professional network.

Old dog… I am sorry… LinkedIn still is the best place to establish professional relationships or build new engagements with potential users.
According to LinkedIn recruitment data, over 1.6 million talented professionals are on the network, and engaging with only 1% of them can make a difference for your business or even you.
Best of all, LinkedIn allows you to display not only your professional experience but also share your professional thoughts. I mean, getting inspired or inspiring other people is at the heart of every single strategy, and the same rules apply with LinkedIn.
Since it is second to none to improve a business's social presence, developing a LinkedIn marketing strategy becomes more and more critical. Let's find out how we can get a slice of the cake.
Why Is LinkedIn Important for B2B marketing?
LinkedIn isn't only a social networking site; it's also a vital tool for businesses. We are not underestimating the power of other social media channels, but when the case is B2B rather than B2C, LinkedIn provides much more opportunities. You can create a professional, polished persona on LinkedIn that reflects the best of your business.

Besides, LinkedIn's environment is ideal for broadening your views, listening to others, seeking out new perspectives, observing and researching the sector, and of course, asking questions. You can get beneficial insights from LinkedIn and use that data to develop and improve your business.
What Are the Differences Between LinkedIn and Other Social Media Channels?
Accordingly, while other social media channels include several other engagement and connection purposes, LinkedIn is dedicated to one single goal: Growing your business with targeted networking.

In that sense, a business's presence on LinkedIn can be more effective in creating a purposeful network, communicating with real experts in specific industries, and building credibility. What will you get in return? Better understanding and knowledge on the recent industry-specific activities, inspiration from people with the same ambition as you, and making a real presence among other companies.
What Are Important Tips for Creating Your LinkedIn Profile?
First of all, you'll need to create your business page from scratch…

Starting to build a LinkedIn business profile has nearly the same importance as creating your website. Apart from creating a company page and giving the necessary information about your business, there are some more tips to have the best LinkedIn business profile ever.
Link to your profile from your official website. You can use social media icons in your footer to lead your users.
Use a cover image. Having a beautiful, branded header will take attention.
Have a custom button. You can add a button next to the "Follow" button to lead your customers to contact you, learn more, register, sign up or visit your website.
Add keywords in your description. A description paragraph containing keywords about your product, vision, and services makes a better Google presence.
Follow hashtags. By following hashtags related to your service, you can see what is currently spoken about that topic. You can comment, like, and share them right on your company page.
Update employee profiles. You can gain organic leads by showcasing your company links on your employee's profile.
Create an appealing and informative bio. You can use a LinkedIn summary generator that will help you highlight your company's unique value proposition, mission, and goals.
How to Build a Solid Communication Strategy for Your LinkedIn Business Page?
Now that we know the essentials of LinkedIn, let's get into the part where we make it a piece of our communicatiın and marketing strategy.
1. The first step to building a LinkedIn marketing strategy is to decide what you want your goals to be. There are many great ways to market yourself and your business on LinkedIn. But before you can get started, you need to know what your goal is. Is it to get more followers? Generate leads? Create brand awareness?
As we are specifically focusing on marketing and communication strategies today, I can say that LinkedIn is a great place to construct a business persona, find the right audience, and post updates on your business. And if you're also looking for more engagement with prospects, we have a supportive friend on LinkedIn called Sales Navigator. What is this LinkedIn Sales Navigator?
Sales Navigator is a service provided by LinkedIn to support our LinkedIn marketing strategies. Obviously, LinkedIn has so much data related to sales and potential, thanks to its 722 million~ users. Not using this data would be wasting and thank god, they did not do that!
The major purpose of this sales tool is to help professionals find new consumers and build great relationships with them and strengthen and improve relationships with existing customers.
What this tool does is to help reach professionals more accurately and easily by applying the right and necessary filters while searching. Plus, you can keep up with your saved person's or company's updates. This is one of the most significant aspects of establishing social sales since it is vital to closely monitor the potential client, learn about their hobbies, and grab their attention to make a successful sale.
Social selling is leveraging your social network to efficiently develop and manage your professional image, identify and communicate with potential prospects, build trusted relationships, and finally convert those relationships into sales.
With LinkedIn Sales Navigator, you can,
Contact the main decision-maker directly and bypass any middlemen. Not only will this boost your personal and brand interaction, but it will also save you time.
Get the current data quickly and accurately and speed up your sales.
View all of the changes linked to the target individual or organization correctly, and generate unique possibilities to establish strong sales relationships using the data you acquire.
Closely track new developments in the industry, adjust your present sales plan and build new sales methods following recent trends.
2. Create the perfect content plan designed concerning your goals and topics. Having a well-designed content plan for LinkedIn improves your engagement rate and, accordingly, presence. And these posts must be evenly arranged upon your goals and topics.

Once you catch a great engagement with your posts, your company might even become a source for other professionals. Besides, sometimes a meme or a #happymonday post related to your topics can be very helpful to make real connections.

3. You need to stay active and engaged. People want to see that a business is alive, developing, changing, or at least breathing every day. Therefore, even your most loyal users may leave you if you don't engage with them. What do I mean by engaging? Simple; keep them posted (we already did), never miss a single comment or message, and make further interactions with people.
You can also join LinkedIn groups related to your target market to improve your presence and engagements. It is also beneficial to get informed about the latest topics and showcase your business. More importantly, you can connect with the group member or message them.
These all mean great numbers of notifications, comments, shares, messages… How to deal with them all at once?
Integrate Your LinkedIn Business Page with Juphy
Okay, we have a company profile, decided on our goals, created a content plan, made real engagements, and finally attracted a great deal of attention. Juphy, at this point, gets into the game to ease our way of managing this interest.

And good news, it is only two simple steps away… With Juphy, you can simply integrate your LinkedIn business page and start responding and tracking all of the comments your business page receives.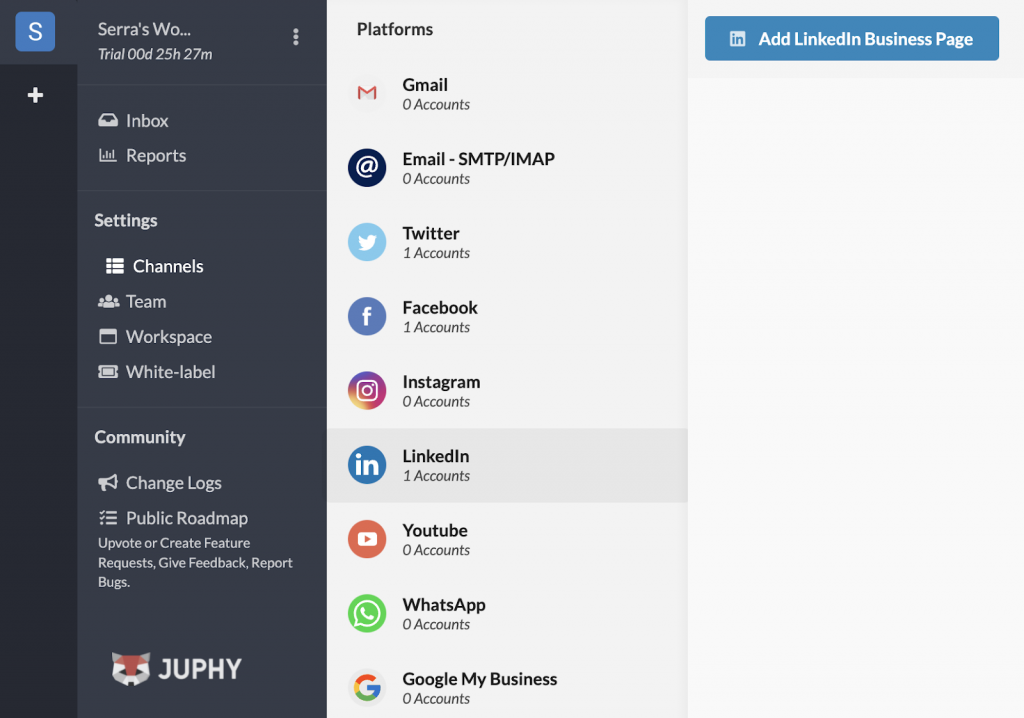 How Juphy helps you to manage your LinkedIn business page comments effectively?
Juphy is a social media management platform, and it includes managing LinkedIn business page comment management. When there is a team behind an account, it might be hard to arrange who will deal with a specific comment. And if things go wrong, your LinkedIn marketing strategy can take a knock.

To prevent confusion, Juphy enables you to get notified when there is a new comment containing the keywords or hashtags you added. And when there is a recent comment, your team is able to see that case, assign it to a relevant team member and reply with Juphy's unified inbox quickly. Generally, it saves time managing your LinkedIn business page and team members.
Conclusion
The key to a successful LinkedIn marketing strategy is to make sure that you're utilizing the platform in the most efficient way possible. Approaching your LinkedIn strategy from all angles will help you to better connect with your audience, grow your network, and ultimately generate more leads.

But all of these means you might need help… And you can get help from Juphy to manage your LinkedIn marketing strategy smoothly! So, what are you waiting for? Integrate your LinkedIn business page with Juphy and start engaging with your audience right away.