Introduction
In this age of technology, we're pretty much all aware at this point that social media usage is inevitable. As individuals we all use it, and so do businesses.
As businesses have to be relatable to their customers, they have to be present on every social platform that they can benefit from. Popular ones like Instagram, Twitter, Facebook, and Linkedin accounts are musts. However; as the business, the area, and the sector change; the platforms differ accordingly.
To come to our main topic, managing all of those platforms requires a lot of energy, a social media marketing strategy, and time. To overcome this issue, a unified approach to managing all these different platforms must be taken into consideration. Let's get into the details to understand and imply better.
What Is a Unified Approach?
Managing loads of social platforms also means managing customer support. You're not just present on those platforms to share posts like individuals or to just sell products; you're also there to listen to your customers.
Social media platforms provide a safe place to get confessions from consumers. They write reviews, comments, or complaints about your business, services, or products on those pages you have. So when they share anything under your brand, it automatically becomes a customer service issue. As you cannot manage every other platform and customer with different strategies and approaches, a unified solution comes to mind; to be more specific a unified social media strategy is strongly needed.
Think of a way that enables you to manage your presence and customers from one single place, by gathering all of the platforms and management tools you'd possibly need. Well good news, it's already a thing. 
Why Do You Need a Unified Social Media Strategy?
Unified social media, does not only mean unifying your social platforms to manage, it also means presenting a consistent and collective brand image. Brand image can be created by multiple variables. From the fonts you use on your posts, to the posting days and hours, even the smallest details determine if you're worth it in the customers' eyes.
As we've mentioned above, not only your presence gets stronger, social media has the power of easing the customer support process and there are other benefits of it. Now let's dive right into why you need a unified social media strategy.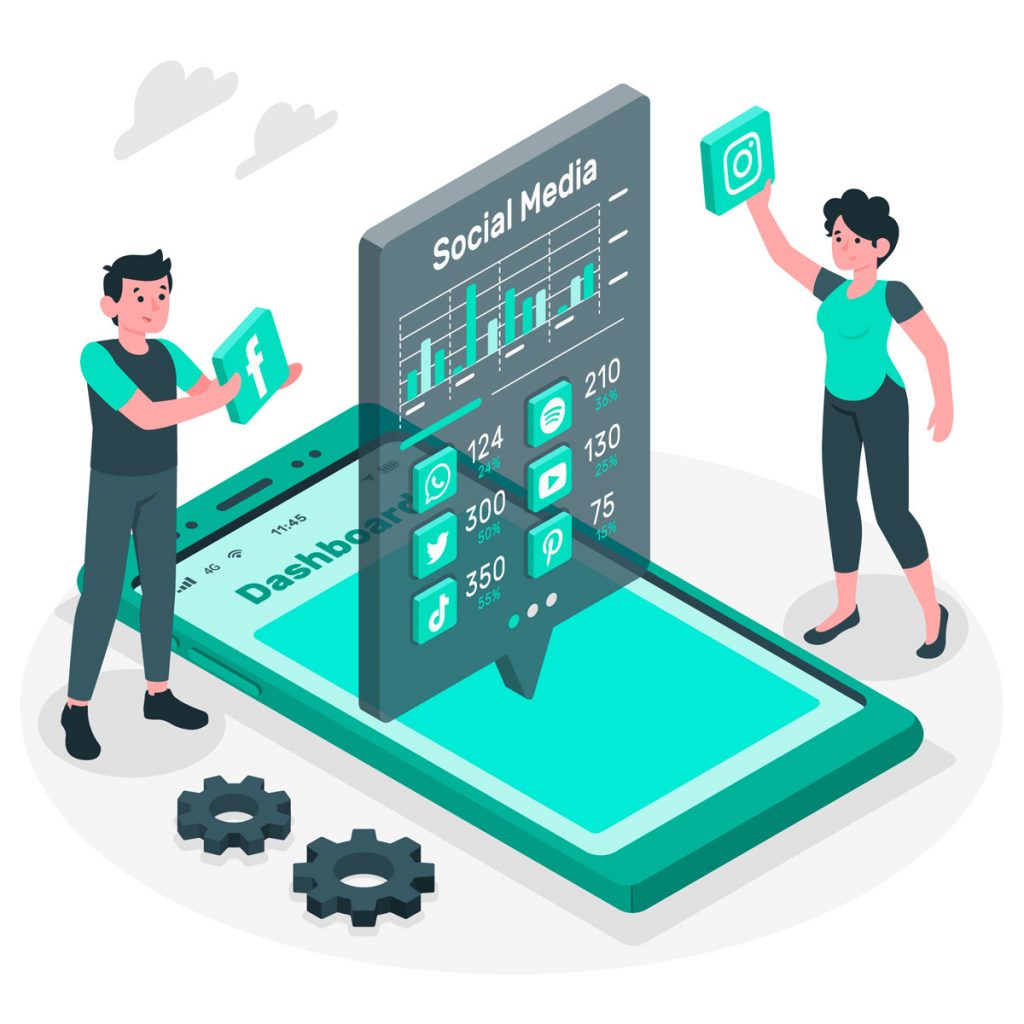 Positioning, Presence, and Consistency
Brand image can be changed by every little move that you make on social media. How you position your brand in the minds of people is important. That's why you have to determine what kind of a brand you want to be seen as. Are you a more relaxed, down-to-earth business, or a more professional and distant one? Of course, some other types of online behavior might be taken into action but you get the main idea. Whichever option you choose, you have to maintain it for the rest of your social platforms and be consistent. Otherwise, it may seem like you're unreliable and conflicting, which might aggravate your target audience.
Pro tip 1: The logo of your brand, even the fonts of your posts must be specialized to your brand. After a while, it creates "brand recall". We can see better examples of this by looking at some bigger brands, like Doritos. Do you need to read the package to understand if it's Doritos or not? No, it's only enough to see the 'play button icon' to understand that it's Doritos. It may be a huge example to start with, but always aim for the better!
Pro tip 2: It's also beneficial to keep track of your posting times as in days and times. Putting them on a schedule might help to keep the consistency. For each business type and social media platform, there are specific time intervals that bring the highest engagement rates. You can identify them by testing out different posting times.
Some Help Along the Way Is Always Appreciated
Unified social media monitoring tools usually grant the benefit of collaboration. Whether you're a team of one or multiple people, it's always beneficial to have someone by your side to help. When things get busy, or the topic is out of your knowledge, a colleague might aid you right away. Assigning certain roles, platforms, or topics to your team members is the basics of team collaboration. You don't only unify your social media, you unify your team as well.
Being Organized at All Times Is a Must
After the collaboration is established, there comes being organized. Even if you have team members to help you along the way, it's best if everybody knows what to do, when to do and who handles which part. You wouldn't want a comment replied twice, or a piece of wrong information given because of the lack of knowledge from a team member.
So to get ahead of these kinds of problems, it's best to assign roles and platforms to each team member. For example, one team member can answer comments related to the pricing, one can only answer Instagram DMs, and someone may just handle all the professional conversations through email.
Improving Performance and Increasing Satisfaction
Unified inboxes have the benefit of showing your and your teammates' performances as in graphics and reports. These metrics start to get prepared automatically according to your customer service data inside the platforms, this way you can see areas or team members that need improvement.
Time and Efficiency
When you look at tools that enable you to own a unified inbox that monitors your customer support process and social platforms, its main aim is usually to save time for you and for the customers. Time savings, productivity improvements, and team collaborations lead to high-quality yet efficient customer service.
Best Unified Social Media Tool: Juphy
Throughout this article, we've mentioned that there were tools that help you develop a unified approach to manage your social presence and customer support process. Juphy's integrations with your favorite platforms and other helpful features, make it a great unified social media tool.
To sum Juphy up, it's a unified inbox solution that helps you manage various social media platforms from one single dashboard with a simple and easy interface.
Let's dive right into the benefits of Juphy to get to know the cute fox better!
Benefits of Juphy
With Juphy's unified social inbox dashboard, you can see every other notification in a single place and never miss out on a good engagement opportunity ever again. Juphy's main goal is to save you time and increase efficiency in your social media monitoring and management operations.

Andrew L
Founder and CEO, Small-Business
"Juphy is a fast, effective and efficient way to collate feedback and messages from multiple channels. This allows me to quickly serve my clients and maintain credibility as a proactive business with my clients."

Your Favourite Platforms Are Here
When we said "never miss a notification ever again" we actually meant it! With Juphy's various integrations, it's impossible to lose control of your presence on any of the platforms. Monitoring and managing comments, reviews, and messages on the platforms below are effortless via Juphy:
Facebook
Instagram
Twitter
Linkedin
Gmail
Google My Business
YouTube
Whatsapp & Twilio
App Store
Google Play Store
Juphy Always Listens to You
Being a customer of Juphy is always a comfort. Facing a difficulty? Contact us right away! Our live customer support is always there to help you.
Couldn't see your favorite platform? Have an idea to improve Juphy for the better? Write it to our public product roadmap so that our product developers can improve or add features. You can also vote on other people's ideas from our community.
Even if you don't want to report a problem or ask a question, you can always let us know how you feel about Juphy; we're an engaged and welcoming community.
Beginner Friendly
Haven't used a unified social media tool before? Juphy is the best one to start off your journey with. As our features are core features that are essential while social media monitoring, we also provide guidelines and video tutorials of each feature we release.
Juphy has been officially selected as the "Easiest to Set Up" along with "Most Implementable" and "High Performer" software amongst 89 social customer service tools on G2, USA's largest software review platform. 
Team of One or Many
Juphy can be used even if you handle the customer support process all by yourself or as a team. Collaboration features such as assigning messages, internal communications with your team members, and many more will increase your performance as a team and increase customer satisfaction.
Don't have a team? Juphy will make you feel like you have one.
Pocket Friendly
Amongst other unified social media inbox solutions, it's the best offer that you can get for a high performer like Juphy. Take a look at our pricing to decide for yourself.