Transferring a brick-and-mortar business to e-commerce or starting a digital business from scratch can be challenging because there are so many steps to follow. Not many consider preparing a solid customer support structure and obtaining customer service tools for e-commerce as some of the first tasks to be completed. After all, when a system works properly, why would anyone need customer service?
It would be wise to lay the foundation of a customer support system for your e-commerce business before being forced to find out. Building your business with a customer service oriented mindset can distinguish you from the competition.
Create Your
Social Inbox Now
Manage all social media customer support inquiries in a unified inbox.
The Significance of Customer Service in E-commerce
Like in any other business, e-commerce customers may encounter problems or need answers to their questions throughout their shopping experience. Customer service in e-commerce is mainly for helping out the existing or prospective customers or providing them with the information to find a solution themselves. Unlike traditional customer services, e-commerce usually utilizes digital communication points such as e-mail, direct message, and live chat instead of voice calls. Also, e-commerce customers tend to deal with their problems on their own by reading FAQs and watching walk-throughs before seeking support.
If you're in the early stages of setting up your e-commerce business, a customer support tool may look like a delayable investment. On the other hand, conducting research for budget-friendly, scalable, and multifunctional options and preferably testing them before the need presents itself will pay off in the long run. Just bear in mind that you might not need a whole pack of tools to run your business effectively. The first question to be answered in this research should be, "What are the different tools being used in e-commerce and how will they improve my business?"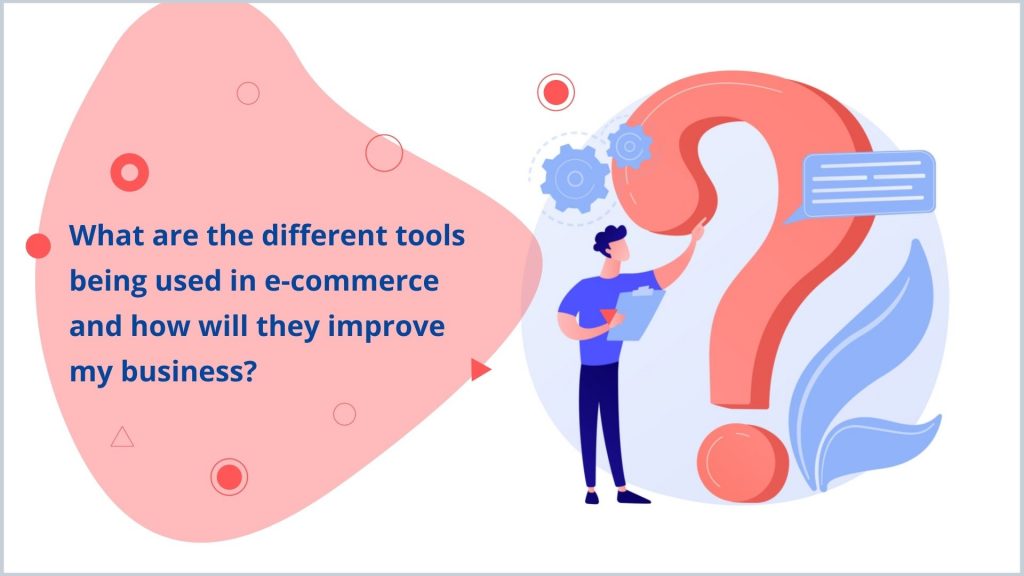 What Are E-commerce Customer Service Tools?
There are several types of online tools that can help you manage your e-commerce business and some developers provide all-in-one systems that you can utilize for more than one purpose. All these tools can improve the way you handle e-commerce customer service and some may even convert leads into customers with flawless engagement.
CRM tool for all kinds of customer management purposes
Social inbox for receiving and responding to queries on social media
Shared inbox for team collaboration
File storage and sharing space for internal and external teams
Task tracking tool to manage business processes
Knowledge base for customer self-service
Reporting tool for evaluating performance and setting new goals
Email marketing software for news bulletins and customer surveys
Live chat software on website for instant messaging
You can find several free customer service tools and customer management software on the internet but you need to make sure that you don't sacrifice safety for profit by using them. Or instead, you can try out the budget-friendly and reliable options in this customer service tools list.
Best E-commerce Customer Service Tools with Features, Pros and Cons
Juphy: All-in-one Social Media Customer Support and Team Management Tool
Juphy is a highly recommended multichannel help desk and shared inbox for social media and e-commerce-oriented teams. The unified platform helps you receive and respond to customer queries, including reviews and interactions from all the social media platforms you currently need on a single dashboard, while allowing team collaboration in real-time. Combining task management with customer support makes Juphy one of the top customer service tools.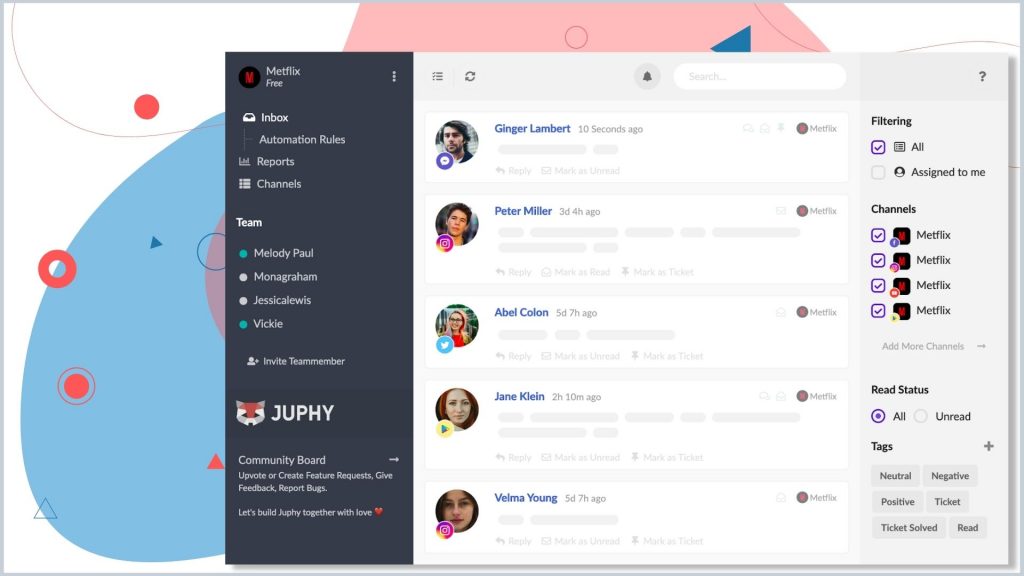 Features
Multichannel help desk for social, email, and reviews
Shared inbox for project groups or brand teams
Team collaboration in real-time with project management features
White label solutions for brand integrity
Social monitoring support on Twitter and on other social media platforms for proactive customer service
Google Business, Google Play Store, App Store reviews management
Automation rules and ticket system for keyword and mention classification
Canned responses that work like a knowledge base
Actionable reports to analyze channel and team performances

Oscar Hugo P
Founder & CEO / Small Business
"Juphy lets you add your social media and email accounts to a unified inbox to answer users comments, direct messages and messages really fast. It also let's you add you team members. UI is easy to understand and use. And the support team is very responsive."

Pros
The ability to see and interact with all the user engagement on a single dashboard
Allows file sharing
Supports integration with many apps, including real-time messaging and live-chat support
1-click set up and ease of use
No credit card information is needed for 7-day free trial
Cons
Doesn't support voice calls
No Shopify integration yet
No chatbot support
Hiver: A help Desk Built for Google Workspace
We all love Gmail but Hiver takes this love one step further by transforming it into a collaborative customer support station. If you only provide email support in your e-commerce business, Hiver allows you to access, assign and track emails coming to your shared customer service account.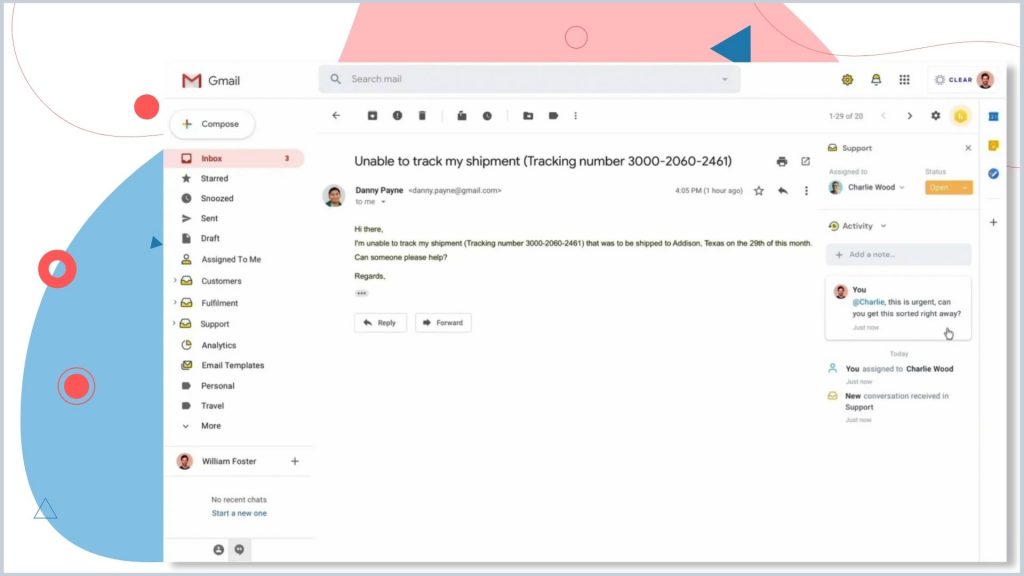 Features
Email delegation and tagging for prioritization
Collision alerts to ensure single user to a single task
Automating workflows and email templates for faster responses
Reports to analyze team performance
SLA (Service Level Agreement) monitoring to ensure timely customer service
Pros
A great tool to organize workload without leaving Gmail
Round Robin Assignment feature automates email delegations
Shared drafts make it easier to collaborate on responses
Offers customer surveys at the end of emails
Cons
Doesn't support instant chat with customers
Help desk for one channel and platform only
Sprout Social: All-in-one Social Media Management Tool
You can engage in e-commerce through your own website, a couple of online marketplaces, and social media platforms but in any case, many of your support demands will come from social media. How to use social media as an effective customer service tool for e-commerce is a larger issue that requires more detailed features but for managing social media accounts, there's Sprout Social. It is especially efficient for remote social commerce/e-commerce managers. It allows you to schedule and publish content while responding to user engagement on social media platforms on a single dashboard.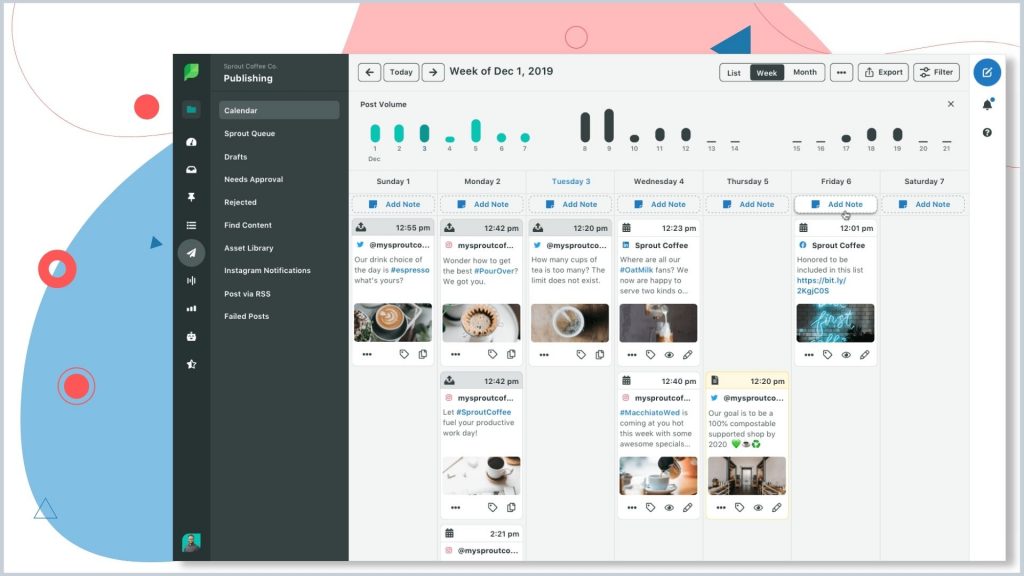 Features
Social analytics to understand the audience better
Social publishing and engagement on a single dashboard
Social listening for proactive customer management
Chatbot builder for Twitter and Facebook
Automated inbox rules for message classification
Pros
Great for social media managers as it allows posting content
Offers collaboration tools to work on responses as a team
Can be integrated with other customer support and team management tools
Cons
Covers only social media and does not allow other platform integrations
Being one of the most well-known customer support tools, Salesforce Service Cloud can be used for a number of customer-related tasks. Since Salesforce offers an extensive product range for many business needs, Service Cloud can also be integrated with sales data and team management tools.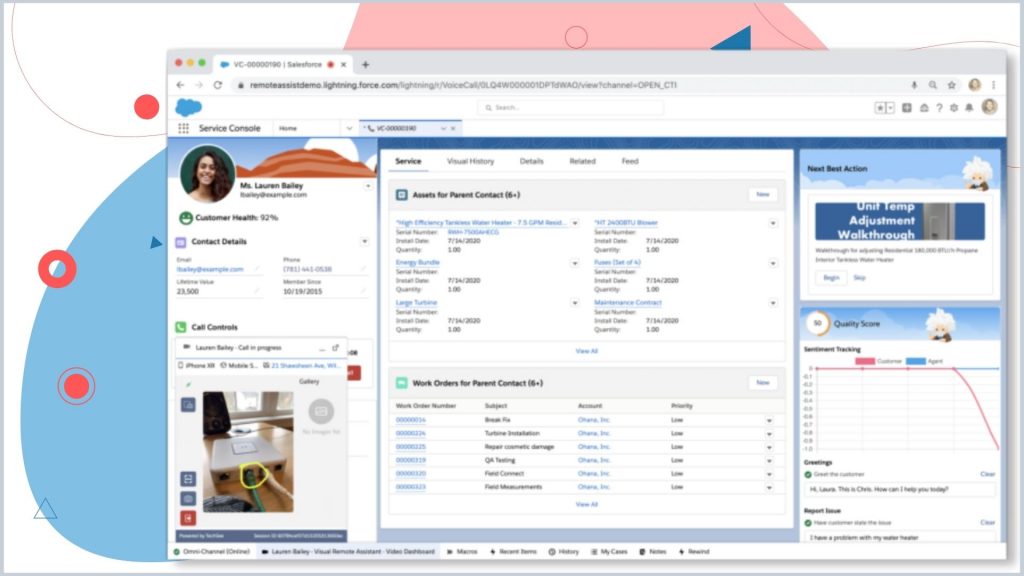 Features
Omnichannel customer support including email, social, instant messaging, voice calls
Knowledge base and self-service help center
Field service with remote assistance
Detailed customer analytics to assess your e-commerce KPI's better
AI-powered predictions, recommendations, and chatbots on digital channels.
Pros
Having an extensive choice of customer communication channels
Utilizes lots of embedded tools, apps and extensions to provide a complete picture
Report builder to create custom reports
Cons
Packed with so many features that it becomes overwhelming to work with
The complex user interface doesn't help either
Annual billing only
LiveChat: A Tiny, Yet Very Useful Customer Service Tool
You know the little, eye-catching bubble that says "Can I help you with anything?" on the lower right corner of some websites? That helpful little thing is LiveChat and it does what its name suggests.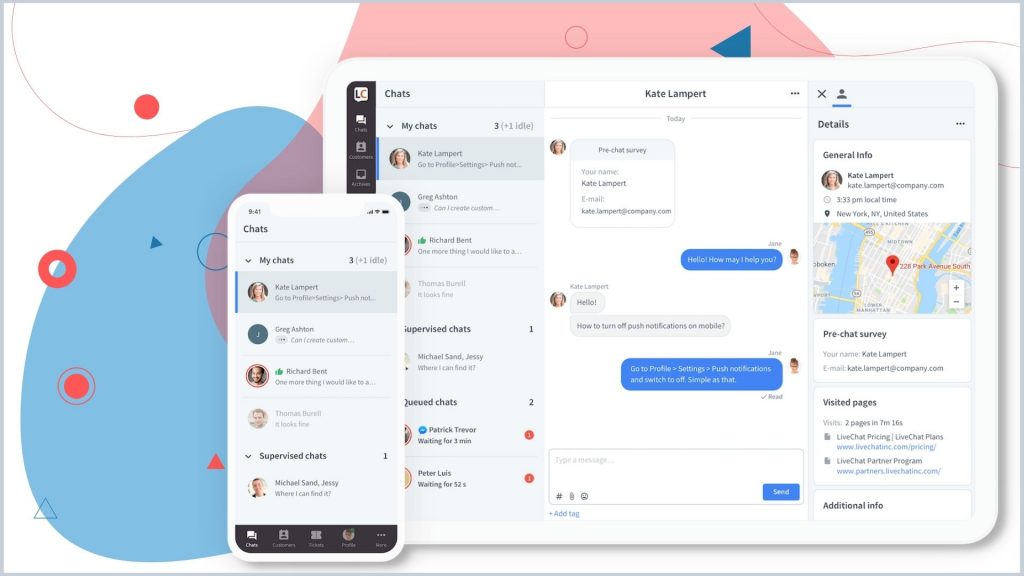 Features and Pros
Provides a direct line between customer support agents and customers
Integrates easily with many popular tools
Automates message delegation with chatbots and AI support
Cons
No time to wait, no room to collaborate
Doesn't keep user engagement history
How to Improve Customer Service with Digital Tools
Today customer services are based on speed and reliability. Digital tools can help your teams collaborate on tricky situations and solve problems effectively in less time. Using a scalable all-in-one customer service tool and customizing it according to your changing needs with additional integrations will surely pay off in the long run and help you excel in supporting your customers.
Create Your
Social Inbox Now
Manage all social media customer support inquiries in a unified inbox.
Related Article