My father and brother, managing different departments of our family's B2B business, perfectly exemplify the generation gap. My father, a traditionalist, interacts with customers and employees personally or over the phone, shuns computers, and jots down notes on any handy piece of paper. He's never shopped online and likely never will, yet his business acumen is unyielding unless digital challenges arise.
On the flip side, my brother, shaped in a more digitized era, adopted online banking and B2C e-commerce early on. His exposure to the efficiency of online transactions led him to spearhead the digital transformation of our company, gradually extending our brand's digital footprint to reach a larger audience.
Their contrasting approaches highlight the transitional phase many B2B enterprises find themselves in, some embracing modern digital tools while others lag, potentially missing valuable growth opportunities.
Create Your
Social Inbox Now
Manage all social media customer support inquiries in a unified inbox.
The Rise and Significance of B2B E-Commerce
Evolution starts with minor, versatile elements and later changes to more complex structures. The rise of B2B e-commerce started with the changing demands of consumers, many of whom are also, in some way or another, in business. It was no wonder that B2B purchasing was slowly yet steadily following the footsteps of B2C, but the Covid-19 pandemic gave its digitalization a massive acceleration. The response to a crisis turned out to be the next normal, as it provided convenience, accountability, and significant cost savings. Gone were the days of pen and paper, endless bargaining, and cold calling for wholesalers, manufacturers, distributors, and other types of B2B sellers.
This fundamental shift in how businesses engage, transact, and thrive in an increasingly technology-driven world not only poses valuable opportunities but also challenges adaptation.
Global B2B E-Commerce Market Growth
The rapid growth of the global B2B e-commerce market further elucidates the paradigm shift mentioned earlier. Wunderman Thompson's 2021 report mentioned that 49% of all B2B purchasing was conducted through digital channels back then. The Gartner Future of Sales 2025 report predicts that by 2025, 80% of B2B sales interactions between suppliers and buyers will occur in digital channels. According to Forrester, US B2B e-commerce will reach 3 trillion dollars in the US by 2027, up from $1.7 trillion in 2021. This growth is part of a broader trend, with a significant increase in businesses transitioning to online platforms to leverage the expanding global B2B e-commerce market.
These statistics and forecasts tell us that things have irrevocably changed in the B2B e-commerce arena. For many businesses, it is not a question of whether or not they should enter this domain but a matter of rapid adaptation. Decision-makers need to take strategic steps toward further digitalizing various processes to take advantage of this new era of business.
With such promising statistics, understanding the core definition and mechanics of B2B e-commerce becomes imperative.
The Definition of B2B E-Commerce
As mentioned, B2B e-commerce refers to the digital buying and selling of goods and services between companies. B2B transactions occur between suppliers, manufacturers, resellers, wholesalers, online retailers, distributors, NGOs, etc.
B2B e-commerce can be conducted through:

Company websites where other businesses can obtain detailed information on products or services, place large orders, and automate the whole procurement process from payment to invoicing.


Product and supply exchange websites, which work like B2C marketplaces and allow shopping from multiple vendors, and even bid on products in some cases through e-procurement interfaces.


Specialized online directories or industry portals where product listings and dedicated information are provided.


Social media is another channel for B2B e-commerce, especially in the procurement of services such as SaaS.


The digital channels facilitating these transactions were once approached with hesitation, a sentiment that has seen a significant change over the years. Utilizing B2B e-commerce development services can optimize the digital buying and selling processes between businesses.
Historical Reluctance and Current Embrace
Compared to B2C, B2B commerce usually involves larger quantities with significantly higher transaction amounts, changing all the rules from managing the supply chain to regulatory compliance and security to personal relationships. While B2C can be pretty spontaneous, B2B requires highly calculated, rational buying decisions with long-term goals and approval from multiple departments.
That's why utilizing digital channels for B2B commerce was limited to small amounts of goods within set limits. But since, as customers, we enjoy the speed and convenience of online shopping to meet our individual needs, we quickly adapted to self-service and remote interactions to get information and place orders as business people.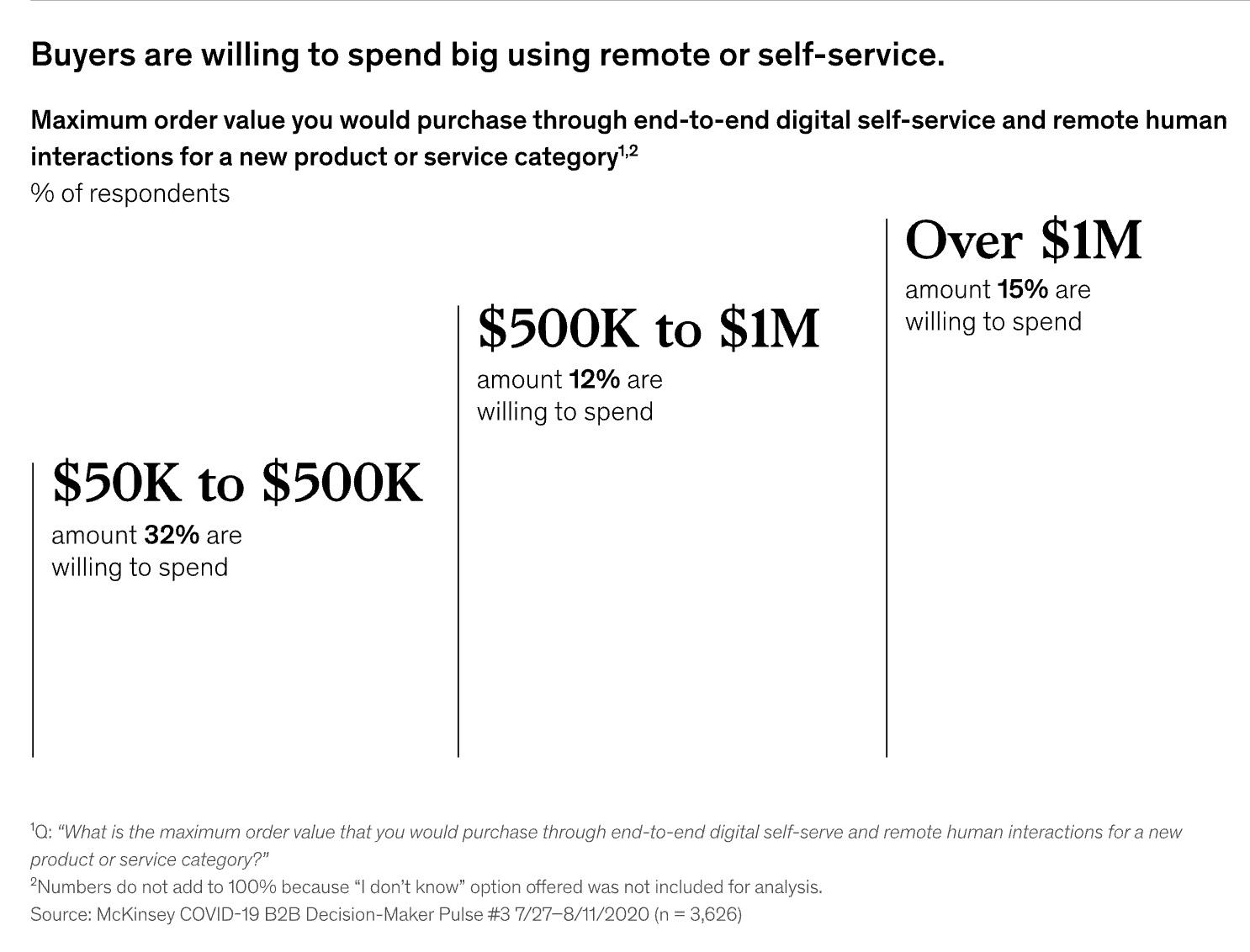 Now, B2B e-commerce is a fundamental part of business operations. According to McKinsey, "70% of B2B decision makers say they are open to making new, fully self-serve or remote purchases in excess of $50,000, and 27% would spend more than $500,000."
The evolution from reluctance to acceptance is largely due to the altered buying dynamics in the B2B sphere.
The Shift in B2B Buying Dynamics
Cash is almost totally replaced by changing numbers in bank accounts, computers reduce the need for all kinds of stationery, traveling long distances to search for adequate products, and closing the deals face to face feels like serious labor. While older members of GenX still cling to traditional methods of commerce, the younger generations, who make up the majority in today's business world, are not willing to step away from digital and hit the road. They research products and services by gathering intelligence online, prefer social networking over cold calling, and embrace an omnichannel approach instead of in-person engagements. The pandemic has further accelerated this shift, reducing the emphasis on face-to-face interactions in B2B sales processes, a change that's likely to endure.
Today, my 70+ father has a hard time adapting to this new, super fast-paced environment. I believe it will feel like magic (or plain ridiculousness) when my brother tells him about the smart shelves, real-time supply chain tracking, and warehouse automation someday.
As buying dynamics shift, so too do the expectations of B2B buyers, now demanding a level of convenience akin to their B2C experiences.
Evolving Buyer Expectations
Speed and efficiency are the two main concepts that define today's business world. Buyers now demand the same level of convenience, personalization, and transparency in their purchasing experiences as in consumer interactions.
B2B purchases are indeed far more complex. For example, buying office furniture can require a series of investigations and approvals from seven different departments, or ordering in bulk regularly for cost efficiency may bring transportation and storage issues with it.
But we now know that all these internal and external processes can be streamlined with advanced e-commerce systems like CRM tools, and businesses can close deals faster, with minimal in-person interaction, throughout the globe more efficiently. Furthermore, the trend towards personalized B2C-like experiences and customer self-service continues to grow, reflecting the evolving expectations of B2B buyers.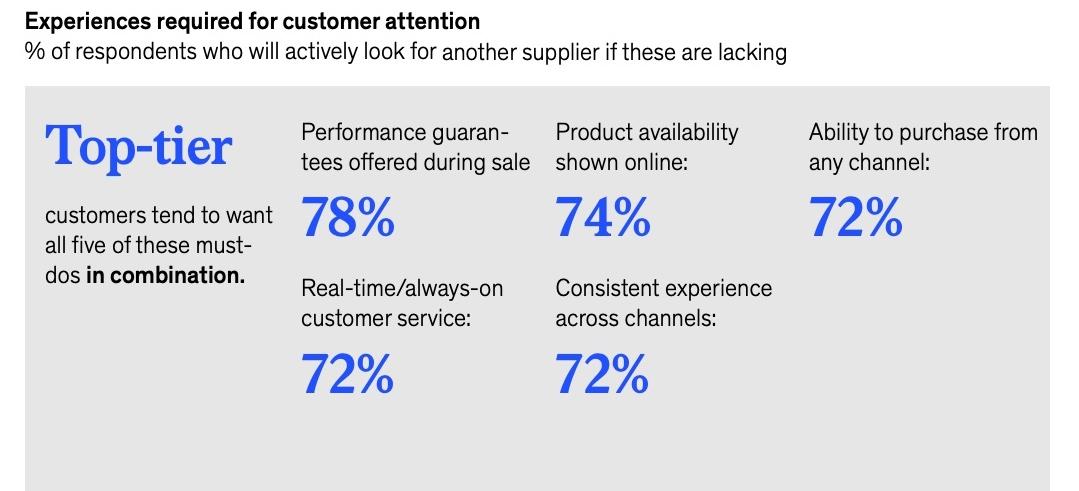 The Decline of Traditional B2B Methods
Negotiating over a cup of tea is not a requirement in commerce anymore. We can conduct our product and service searches online, contact other businesses in an omnichannel environment, have our client meetings on Zoom and share notes with our team on Slack, purchase large amounts of products with a few clicks, make our payments in a secure system that allows a variety of options, track our orders efficiently, receive and respond to all kinds of client queries in real-time with Juphy, and reuse the stored CRM data for further sales and purchases.
This highly controlled environment champions speed, efficiency, cost-effectiveness, and transparency. But even this level of digitalization doesn't mean that client relations don't need to be nurtured with sincere attention. An enduring professional relationship depends on trust between parties. This can be built by professionally providing pre and post-sales assistance and creating high-end digital customer journeys.
The Power of Customer Experience in B2B
Just like in B2C, customer experience became one of the major differentiating factors in B2B e-commerce. B2B buyers expect intuitive online interfaces, personalized recommendations, and responsive customer support.
One of the leading B2B e-commerce platforms, Salesforce, explains how it streamlines the buying experience in its demo video.
B2B E-Commerce Models Explored
As explained earlier, B2B e-commerce transactions involve all kinds of buyers except individuals and governments. Some companies can operate in more than one business model. For example, Samsung is both the most prominent rival and one of Apple's largest suppliers. While manufacturing smartphones under its brand, Samsung also manufactures and sells OLED screens and several other parts used in manufacturing iPhones. So the lines might get a little blurry, but basically, there are four business models in B2B e-commerce:
The B2B2C Model
One of the newer business models, B2B2C stands for "business-to-business-to-consumer". It is somewhat like distribution without the need for storage. Also known as "dropshipping", the manufacturer or distributor sells the goods to the retailer after the retailer sells them to the end-users. This approach allows manufacturers and wholesalers to tap into larger markets without building their e-commerce tools. The intermediary business that stands as a storefront may have a significant role in marketing, branding, customer support, and customizing the product for end-users at times.

Wholesale in the Digital Age
In a wholesale setting, a business can supply raw materials to manufacturers or bulk volumes of manufactured goods to retailers. Alibaba and Amazon are two leading B2B online platforms connecting wholesalers directly with retailers and other business buyers. As well as establishing marketplaces, wholesalers adapted to the e-commerce landscape by utilizing advanced systems to manage inventory, pricing, and shipping cost-effectively.

Manufacturers Going Online
Typically, manufacturers sell to wholesalers and distributors, but B2B e-commerce practices have made it possible to bypass intermediaries. This streamlined sales process empowers manufacturers to maintain better control over pricing, product information, and branding, as well as helping them establish closer relationships with their clients.

Role of Distributors in E-Commerce
Although manufacturers can reach retailers and even customers directly through e-commerce, distributors still play a pivotal role in the supply chain. Unlike B2B2C, distributors have limited or no role in marketing or product customization, but they focus on logistics and efficiently get products to where they need to be. Processes prone to human error, such as updating orders, managing inventory, and tracking shipments require the distributors to embrace e-commerce technologies.
Real-world B2B E-Commerce Success Examples
Grainger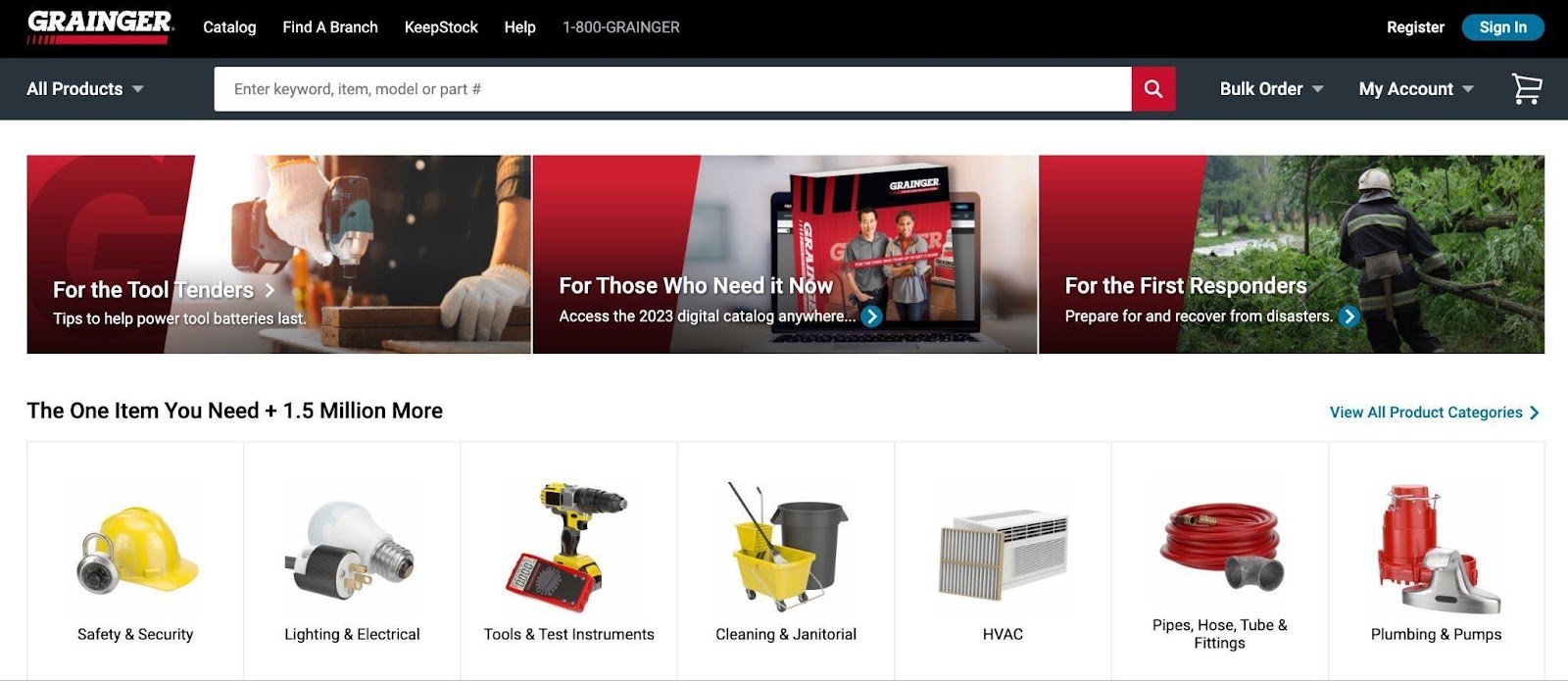 Many B2B operating companies from various industries now reap the benefits of digitalization and e-commerce, and Grainger is one of the success stories in the industrial supply sector. Founded in 1927 and grown into a Fortune 500 company, Grainger offers more than 4.5 million customers worldwide industrial products as well as maintenance service, technical support, and inventory management. As an old-established company that successfully adapted to the digital era, Grainger boasts a wide range of products, fast shipping, reliable support, and strategic safety and facility services.
Chocomize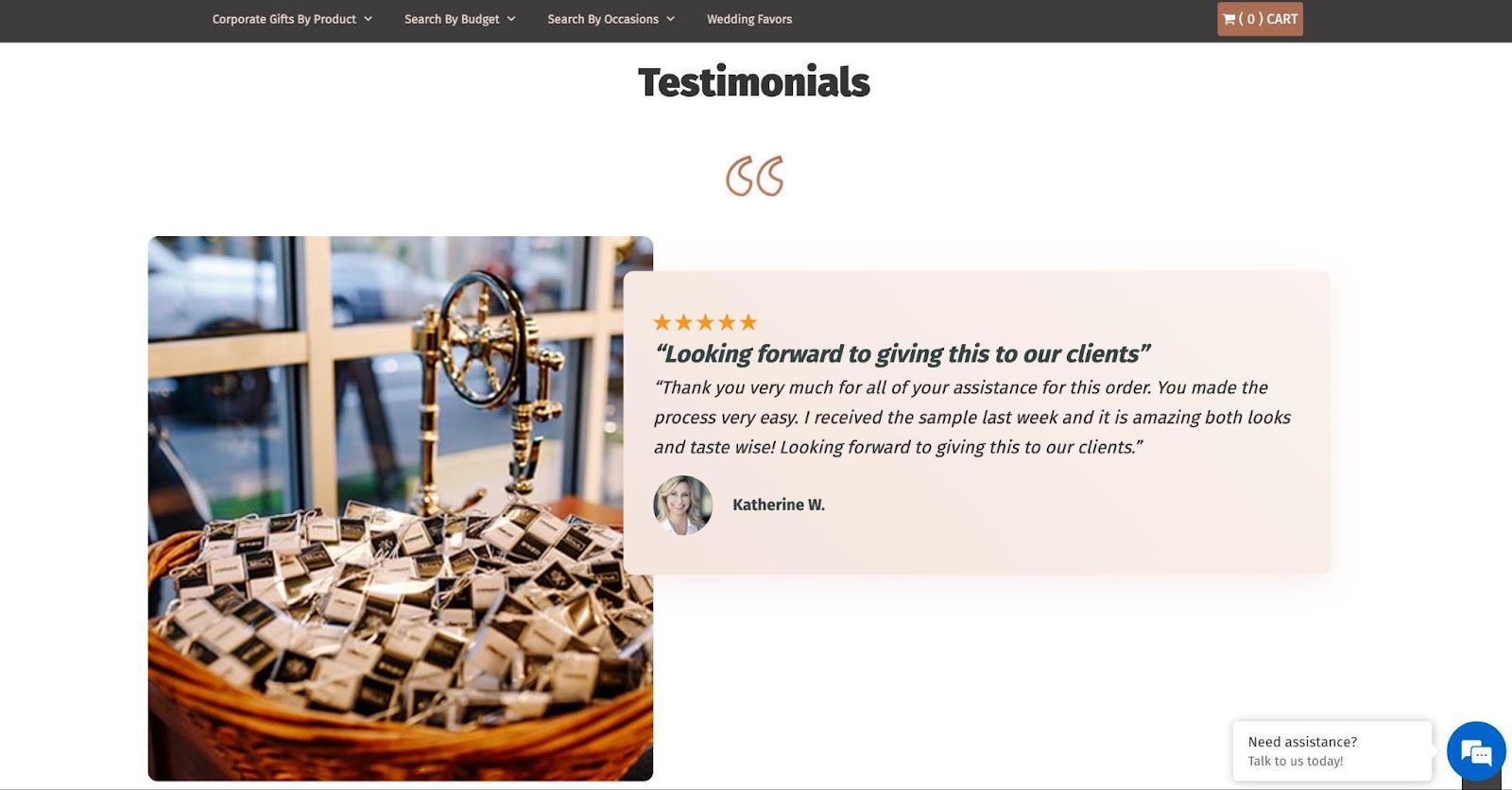 Chocomize is another interesting success story that started in the e-commerce domain and unfolded with a different kind of transformation. Initially, Chocomize was a B2C company that offered customized chocolate bars. However, with an influx of publicity, the company became inundated with customizing up to 1,000 orders daily, packaging and shipping them to individual addresses. Not only to optimize but also to survive, Chocomize opted to discontinue its individual sales and focus exclusively on corporate gifting and the hospitality industry. They streamlined their operations to focus on the most sustainable path, and by providing excellent personalized service to their clients, they made office treats, tradeshow gifts, and wedding favors a little sweeter.
The Role of AI Chatbots in Modern B2B E-Commerce
Individual customers and corporate buyers have one thing in common: They prefer round-the-clock services. This point is where AI chatbots come in as a cost-efficient way to manage sales and customer support processes in a streamlined manner. These virtual assistants can provide 24/7 assistance to customers, answer inquiries, guide them through products and catalogs, and offer alternative products on demand. Businesses can automate qualifier questions with chatbots to determine the lead quality and save sales teams a lot of time in seeking out and securing new customers to help drive revenue.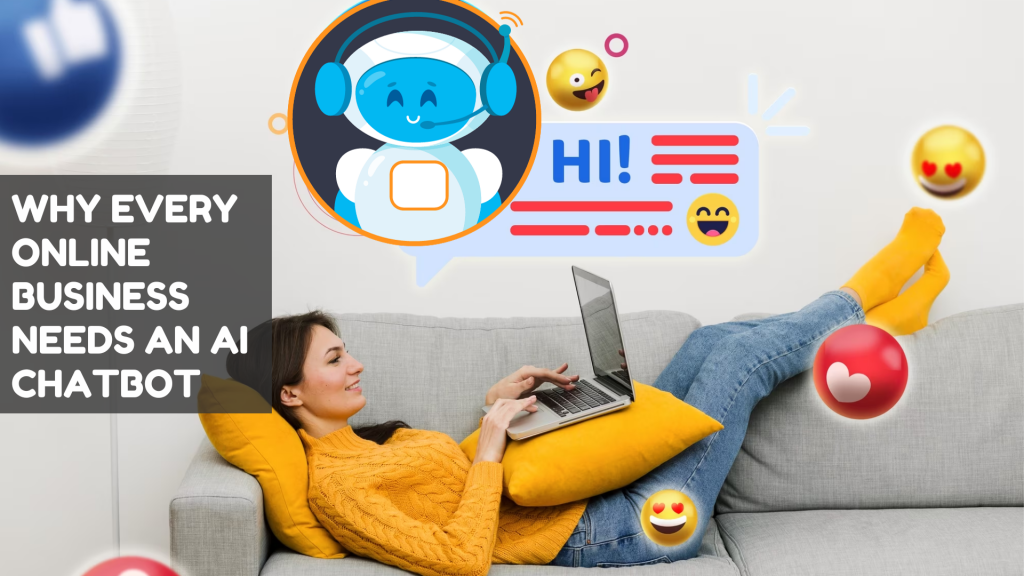 Discover why an AI chatbot is a must-have tool for online stores. Explore its importance and its unique advantages over your competition. Read more now.
Conclusion
In conclusion, B2B e-commerce has emerged as a driving force in modern business transactions, reshaping global commerce dynamics. It empowers businesses to operate more efficiently and competitively in their buying journeys while helping them provide streamlined services to their clients.