A while ago, observing a small yet significant event offered a fresh perspective on customer satisfaction. During a family dinner, my brother's 1.5-year-old daughter experienced the taste of added salt for the first time. This new flavor dimension had her reaching out eagerly to the "adult food" throughout the meal. Her joyful reaction was a living example of soaring "Customer Satisfaction" or CSAT. Although limited to her mother's cooking now, her newfound expectation sets a standard for future meal choices. Like her, once exposed to higher satisfaction, customers anticipate the same level or more in their future interactions with a brand. To keep pace with evolving expectations and diverse choices, e-commerce platforms must consistently enhance their CSAT metrics, ensuring they efficiently meet and exceed customer satisfaction.
Create Your
Social Inbox Now
Manage all social media customer support inquiries in a unified inbox.
What Is CSAT?
CSAT, short for customer satisfaction score, is a metric that indicates customer satisfaction levels around a brand, product, or service. It usually involves ratings on a numerical scale or customer feedback, such as negative and positive reviews on social platforms, that can be translated into calculable data. CSAT scores help businesses assess their performance in meeting customer expectations and identify areas for improvement, which can, in turn, enhance overall customer satisfaction and loyalty.
How Is CSAT Measured?
If we take "customer satisfaction metrics" as an umbrella term, CSAT is the most commonly known method indicating how well you meet customer expectations. You can ask the customers to rate several aspects of their shopping experience, such as quality, speed, ease of transaction, packaging, customer support, etc.
Measurement methods include:
Star ratings
Thumbs up and down icons
Sad and happy smiley faces
Questions answered on a scale of 1 to 10.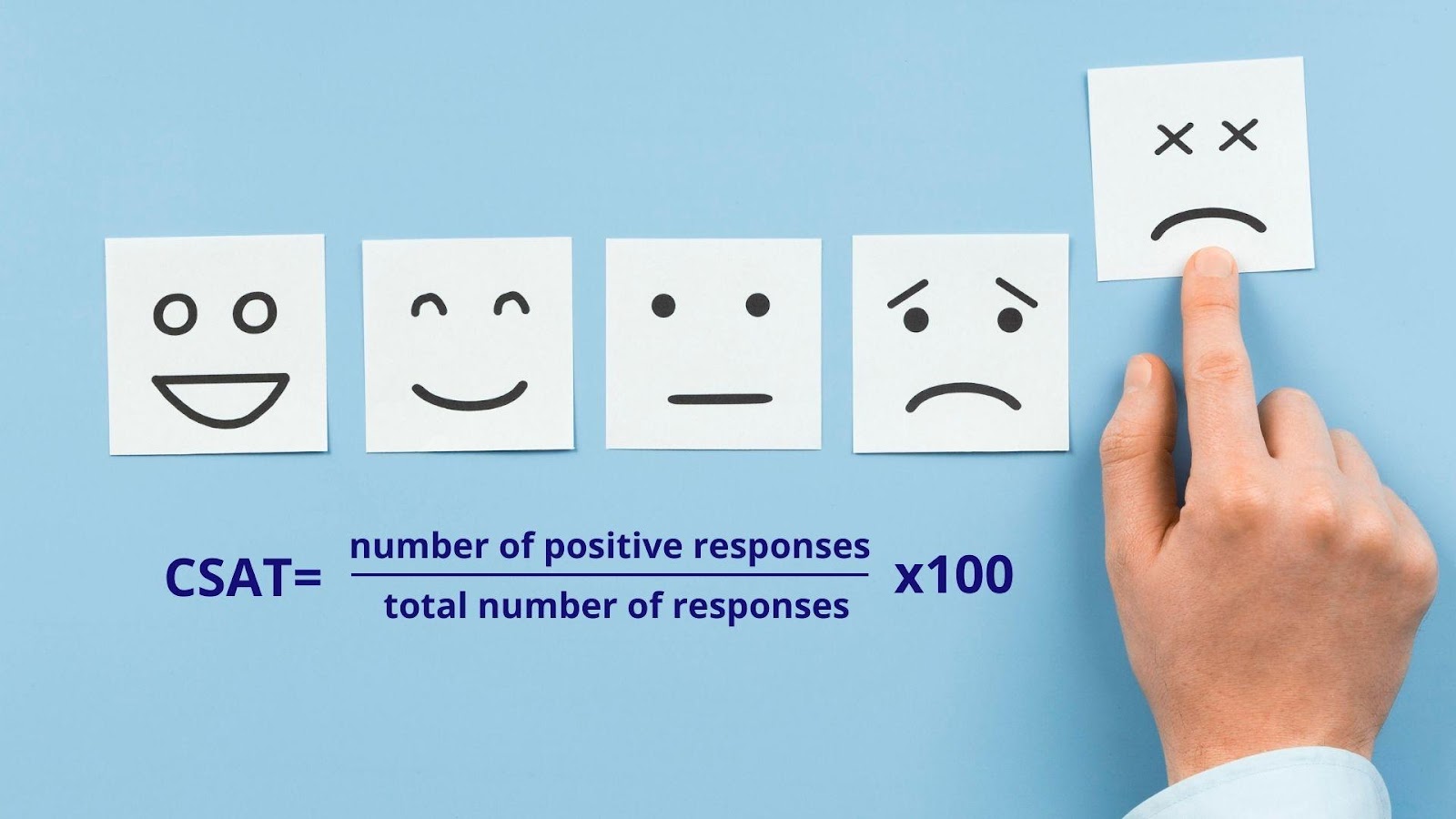 To measure CSAT, take the number of positive ratings, divide it by the total number of ratings, and then multiply the result by a hundred. A good CSAT mostly depends on the industry you're operating in. But having most of your customers, at least more than 60 percent of them, satisfied with what you offer is obviously preferable. Typically, a good CSAT score is between 75-85 percent, and the aim should be making a hundred percent of your customers happy.
Other Methods for Measuring Customer Satisfaction
Another method is NPS, short for "net promoter score", in which you ask customers how likely they are to recommend your product or service to others on a numerical scale. NPS makes it easier to measure overall satisfaction because if a customer is willing to recommend your brand to loved ones, it automatically means that he or she is satisfied on some level.
NPS categorizes customers as:
Promoters (ratings of 9-10)
Passives (ratings of 7-8)
Detractors (ratings below 6)
To calculate NPS, subtract the percentage of detractors from the percentage of promoters.
There is also a new model called CES, short for "customer effort score", which determines how easy it is for customers to achieve their goals through what you offer. From easy product setup to frictionless transactions, the less complicated you make things for your customers, the more satisfied they will be.
Last of all, some advanced tools like Juphy analyze and classify user feedback based on tone and intention. Either with social media monitoring or through customer surveys, you can obtain information about perceptions around your brand, industry, products, and services.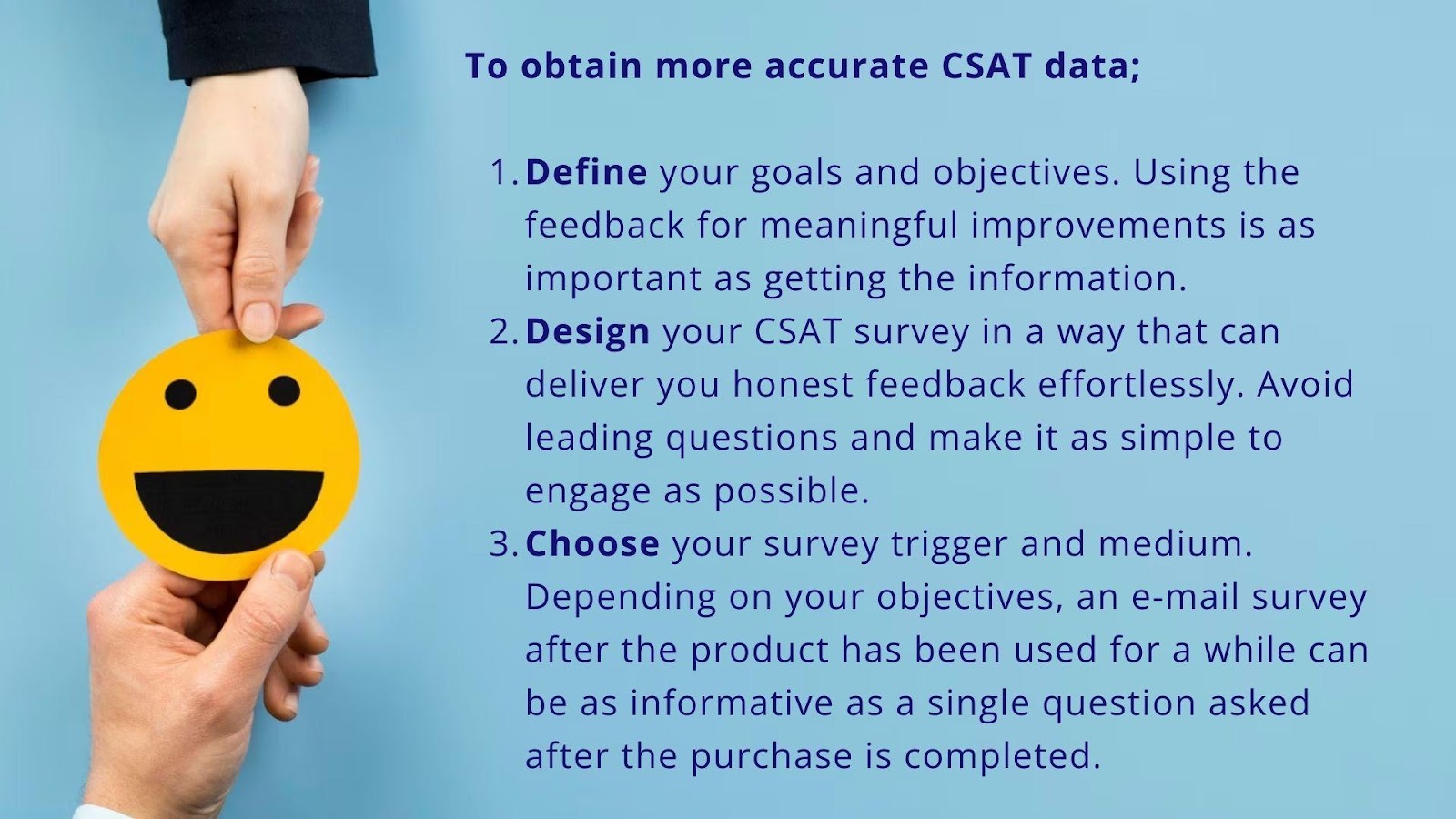 Why Do We Need to Measure Customer Satisfaction?
We usually appreciate silence as gold, but it can be misleading when it comes to business relations. People don't mention brands in their daily conversations unless they are extremely satisfied or frustrated with their shopping experience. But the majority, who are more or less content with their experience but continue to search for a better alternative, are generally quiet.
Brand owners and marketers may believe that they offer great products or services with adequate pricing and communicate their superiority over the competition well. They may also believe that they are adding a pinch of salt to their campaigns and customer-related services for better taste. But they can never know for sure if their guesstimates are working fine unless they ask the customers what they actually feel about the brand's overall performance or specific aspects of the operation. For example, a small problem in the checkout process can result in cart abandonment, and you may never know the reason behind it unless you ask.
And merely obtaining answers wouldn't be enough. The answers need to be processed and analyzed as numerical data. "25% of our customers have a hard time when entering payment information" sounds like a more actionable result than "Quite a lot of our customers are abandoning their carts".
Types of Questions of a CSAT Survey
Typically, CSAT surveys focus on the most recent customer experience. You can learn about the general perception around your brand, as well as the satisfaction levels related to specific operations such as customer service, site use, and delivery process.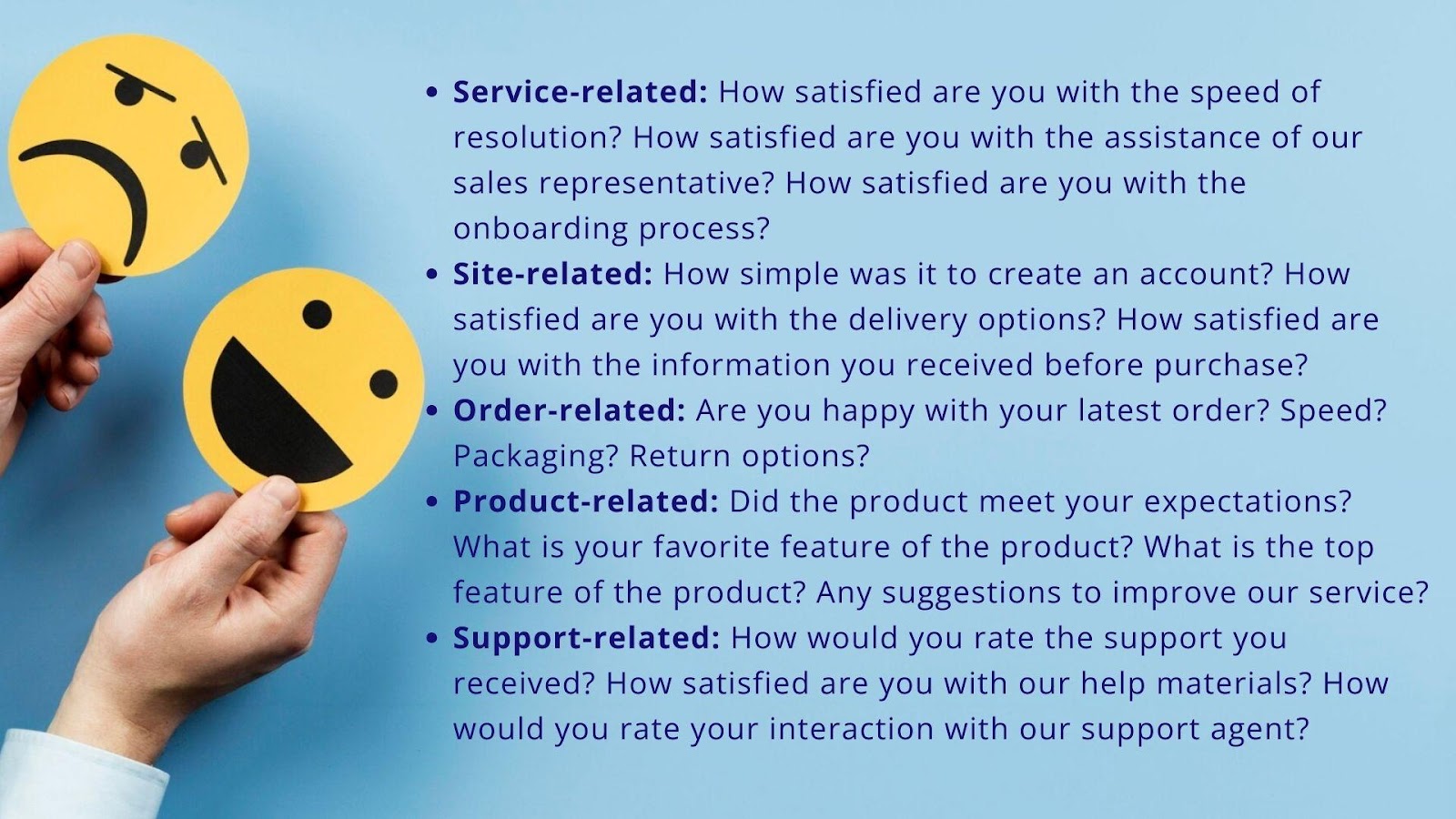 Timing, design, and relevancy are the three main factors affecting your CSAT survey's success. The appropriate timing can be right after a completed transaction, a day after delivery confirmation, or following the next login. The design should be clear and uncluttered, and the number of questions needs to be limited. Streamlining the survey to focus on the most critical questions not only ensures a higher response rate but also respects the time and effort of the respondents.
The Role of CSAT in E-Commerce
According to customer intelligence platform Invoca's 2022 study, while 63% of respondents say that they will pay more for a product or service to get better customer service, 76% of consumers will stop doing business with you after just one bad experience. This means that customer satisfaction plays a pivotal role in determining the success or failure of an e-commerce business.
As the e-commerce landscape is continuously evolving and customers are just a click away from an abundance of options, improving your CSAT can guide your business toward long-lasting customer loyalty, sustained growth, and enhanced customer experiences.
Direct Impact on Customer Loyalty
Exceptional shopping experiences create repeat customers. When customers are satisfied with the pricing and quality of the product, as well as the related services such as payment, delivery, and support, they don't tend to seek adventure elsewhere.
CSAT and Repeat Purchases
While customer satisfaction enables repeat purchases, it can also bring forth cross-selling and upselling opportunities. According to McKinsey, businesses that increase customer satisfaction by at least 20% can increase cross-sell rates by 15 to 25% and boost companies' share of wallets by 5 to 10%.
Reflecting Brand Image and Reputation
Increased satisfaction fosters greater repurchase tendencies and reduced sensitivity to pricing. Satisfied customers not only tend to be loyal but also more likely to become brand advocates, sharing their positive experiences with others. Word-of-mouth referrals can be accompanied by user-generated content on social media. This can have a positive effect on reflecting brand image and reputation, as well as sales potential.
Benefits of High CSAT for E-Commerce Businesses
Customer satisfaction is not only beneficial but also essential for an online business. Amy Gallo from Harvard Business Review wrote that "acquiring a new customer is anywhere from five to 25 times more expensive than retaining an existing one", adding that increasing customer retention rates by 5% increases profits by 25% to 95%. Thus, higher retention caused by higher customer satisfaction scores can positively affect overall financial status.
High CSAT benefits online businesses in three areas:
Enhancing Customer Lifetime Value
Customer lifetime value is the total value that a business derives from a single customer's engagements throughout their relationship. As mentioned before, satisfied customers do business with a brand longer and may drive new prospects with referrals. The level of spend you can expect from a customer can be boosted with a higher CSAT score as it helps with retention, cross-selling, and upselling.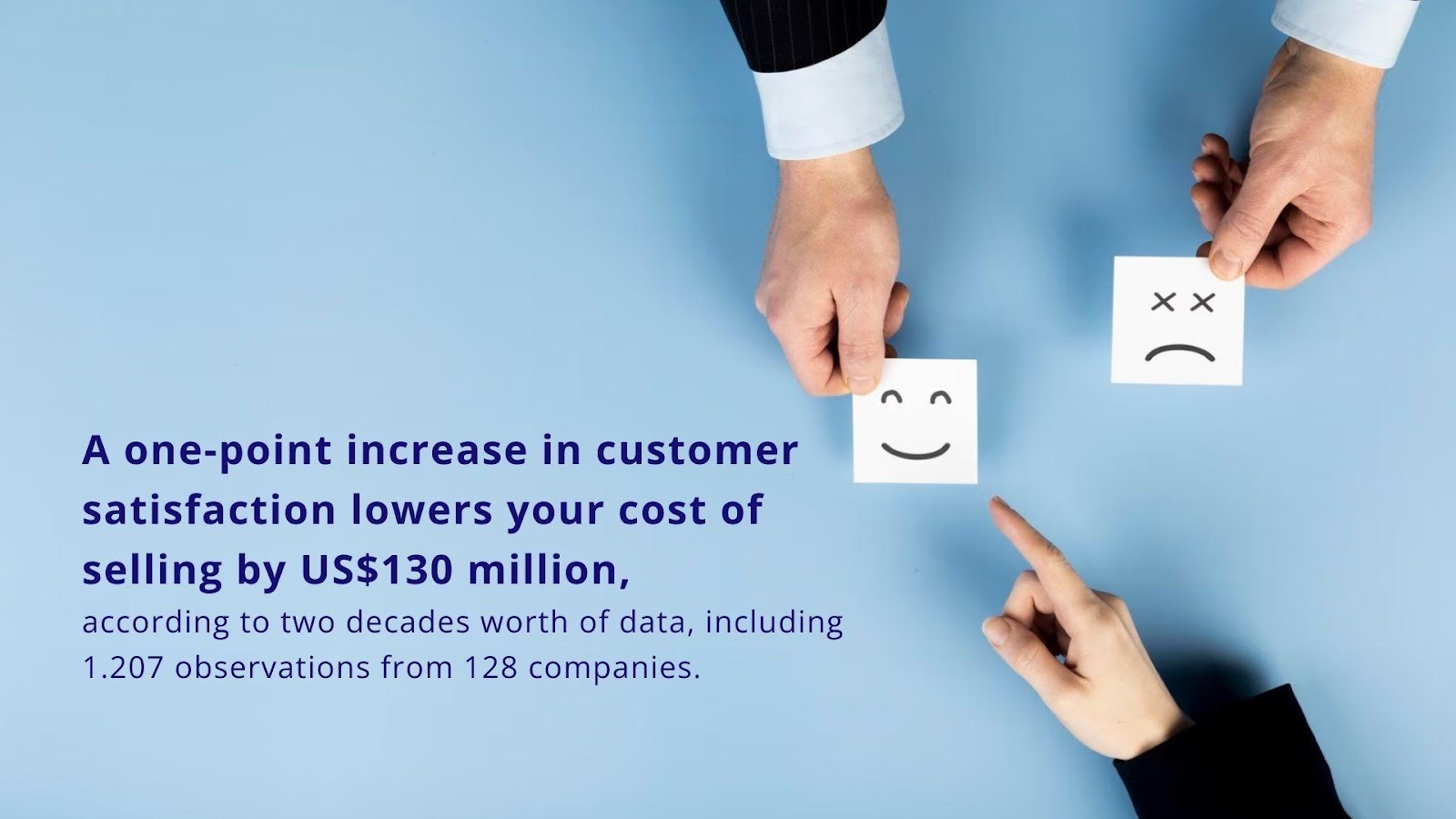 Reducing Customer Churn Rates
CSAT scores enable you to create specific customer segments according to satisfaction levels. You may find that the silent majority's satisfaction levels are around average (6 or less), and they are, in fact, candidates for customer churn. With this information, you can work on improvements or special initiatives like loyalty programs.
CSAT surveys can also reveal issues about specific areas of your business. For example, an ignored inaccuracy in product descriptions can create false expectations, and you might never know the reason for increased returns until you ask your customers.
Boosting Organic Word-of-Mouth Marketing
Customers who are exceptionally satisfied with their experiences can become enthusiastic brand spokespeople. They can tell about their positive experience to their friends and family and address larger audiences on social media with reviews, comments, endorsements, and recommendations. This provides valuable social proof, as 92% of customers trust peer recommendations and other unpaid recommendations above all other forms of advertising.
Factors Influencing E-Commerce CSAT
The digital arena is a highly dynamic place, and customer expectations are constantly changing. Just like my cousin's first taste of salt, a new way of doing things can create a whole new world of expectations. But while watching out for new technological advances and consumer trends, always keep in mind that 3 main factors affect CSAT in e-commerce.
User-Friendly Website Design
Customers may be willing to spend time on your e-commerce website, but that doesn't mean they want to waste their time searching for a way to reach their target. An easy-to-use website structure, combined with quality product photos, videos, and accurate information, creates a smooth customer journey, contributing to customer satisfaction levels. Leaving room for adaptive content, such as personalized recommendations based on past purchases or related items that were purchased together by other shoppers, can also encourage customers to spend more time on-site and possibly spend more than they planned.
Efficient Customer Support Channels
Customer support plays an important role in customer satisfaction levels. First response time, whether a personal or an automated message, and resolution time are two important KPIs you need to watch for to improve CSAT. You may not be able to provide round-the-clock assistance to your customers, but they actually expect you to at least inform them that you received the message and will work on a solution within business hours. Better yet, you can lead them to self-help resources with chatbots and create happy customers by solving simple issues quickly and effectively.
Seamless Checkout and Delivery Process
E-commerce is based on successful transactions, so a seamless checkout and delivery process is a must for customer satisfaction. A long and complicated checkout process is one of the leading reasons for cart abandonment. Disruptions at the payment stage may result in the customer giving up on the purchase and never returning to your website. On the other hand, delivery issues are more likely to create anger and frustration if not handled effectively. In the worst-case scenario, the customer can come back for a vengeance on your brand reputation.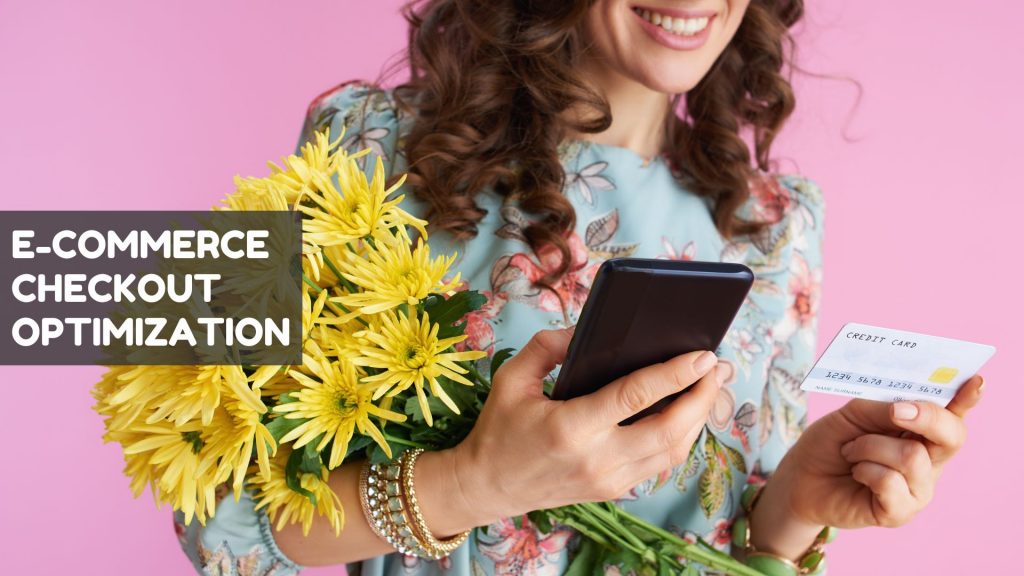 Learn the steps of e-commerce checkout optimization not to lose customers on the checkout page. Apply these practices to boost conversions. Read more now!
Improving CSAT: Strategies and Best Practices
Improving your CSAT actually isn't very complicated. It just requires you to put yourself in your customer's shoes and find out how to make shopping easier and more enjoyable. Of course, it is easier said than done, but questions with an unbiased, strategic approach can provide valuable information on what to improve. Although CSAT benchmarks differ across industries, some main areas require constant care and optimization, such as personalization, feedback, and monitoring.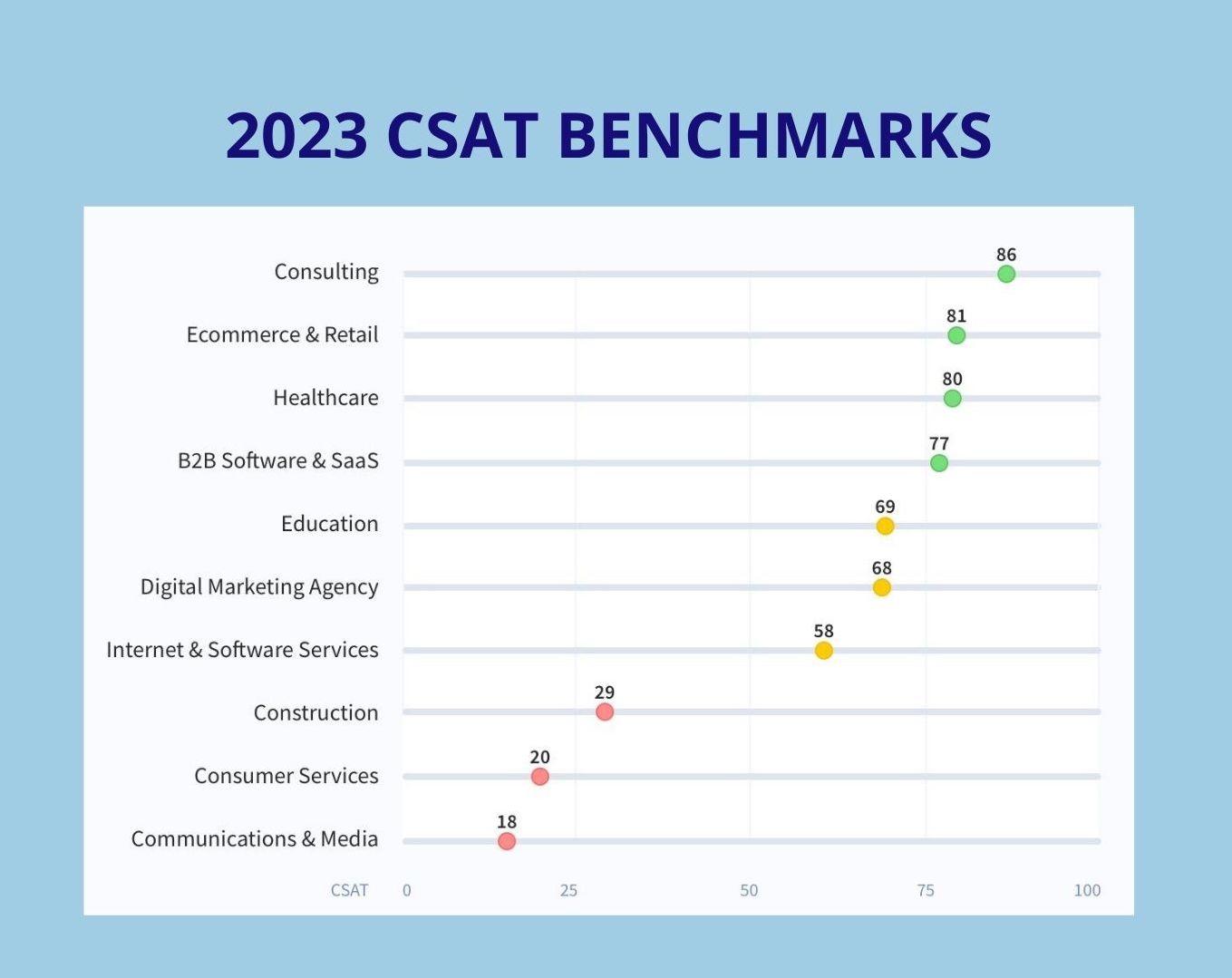 Personalizing Shopping Experiences
According to the research of Epsilon, 80% of consumers are more likely to make a purchase when brands offer personalized experiences. These personalizations in conversational commerce range from greeting repeat customers with their names to knowing about their style preferences and making offers accordingly. First-time visitors can also benefit from personalization through customer service, as a sales representative or a chatbot can provide prospects with options that meet their product search criteria.
Implementing Effective Feedback Mechanisms
Several feedback mechanisms can be beneficial at the right time with the right design. For example, star ratings can work better right after the completed transaction or customer support session. At the same time, multiple choice questions on an email survey can provide some more detail about areas of improvement.
Categorizing these inputs will help you identify trends and define pain points, enabling you to solve issues proactively.
Regularly Monitoring and Addressing Pain Points
Analyzing website data to track user behavior and customer support data analysis for identifying recurring issues can be as effective as surveys for obtaining information. On the other hand, monitoring social media platforms provides you with organic data from different target audiences, and the accumulation of information helps you address issues before they become problems.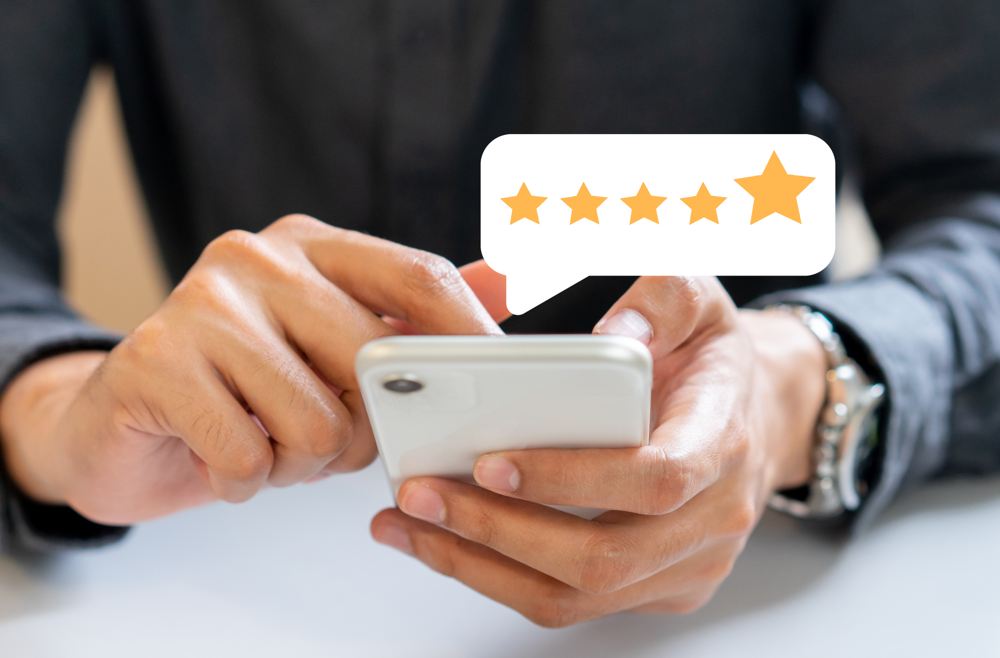 Here are all the customer satisfaction metrics that you should track. These are the KPIs that every marketing leader needs to know about. Read more now!
Juphy's Role in Elevating CSAT for E-Commerce
As a data-driven sales and support platform, Juphy offers a line of features to streamline all customer interactions in an effective manner and contribute to overall customer satisfaction. While the social inbox enables you to receive and respond to customer queries in real time, social selling features and automation rules help you monitor, classify, and analyze audience behavior for personalization purposes.
Here are some prominent features that can help you with a higher CSAT score: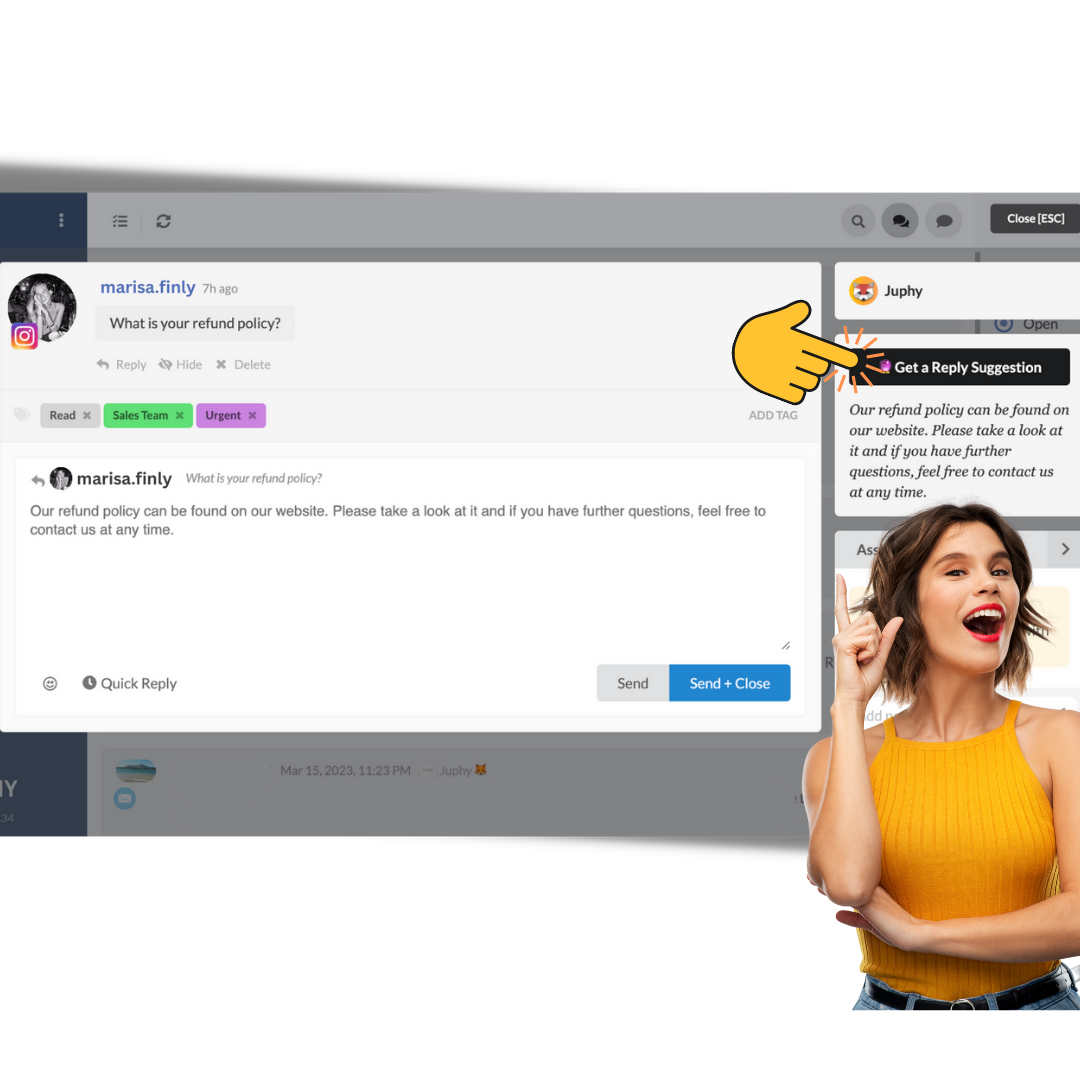 AI-Powered Customer Interactions: Juphy's Open-AI integration enables faster responses, especially when customers flood in with various queries. If Chat-GPT suggestions fall short of answering specific questions, such as a sales procedure that requires accurate information from another department, you can always collaborate with your team behind the curtain in real time.

Integrating Multi-Channel Support: You can easily manage conversations on all social platforms thanks to Juphy's unified inbox structure. The multi-channel support feature enables you to engage with your customers on their favorite platforms, whether through comments and reviews or real time messaging on WhatsApp, Facebook, and Instagram.

Real-time Response and Issue Resolution: Juphy supports real-time messaging both on social platforms and on the e-commerce website with its chat widget. It improves first response time significantly and enables faster issue resolution thanks to automation rules and canned responses.
E-Commerce Success Comes from Customer Satisfaction
Continuous success in e-commerce is only possible with happy customers who come back to you time and again instead of searching for satisfaction elsewhere. In order to keep them satisfied, it is important that you know what your customers want, how satisfied they are with what you offer, and how you can improve your business and exceed their expectations. Having the crucial data will empower you to add a pinch of salt and some seasonings to your service, making your brand more desirable and trustworthy in the eyes of your customers.
Utilizing a tool like Juphy to optimize customer service, segmentation, and personalization can greatly improve your customer satisfaction levels. Book a live online demo or start your 7-Day Free Trial now!
Create Your
Social Inbox Now
Manage all social media customer support inquiries in a unified inbox.