In 2005, YouTube changed how people consume and create online content forever. A decade later, the younger generation was greeted with TikTok and its bite-sized videos on anything and everything for people with short attention spans. In 2023, the average viewer dedicates 17 hours per week to watching online videos, ranging from 1-minute clips to extensive 2-hour webinars. Marketers are perfectly aware of the opportunities this heavy usage presents, and they are constantly evolving their approaches to leverage video marketing for e-commerce.
Videos play an instrumental role in e-commerce success. This guide will walk you through the nuances of creating compelling e-commerce videos, ensuring your brand stands out and connects with its audience.
Create Your
Social Inbox Now
Manage all social media customer support inquiries in a unified inbox.
The Role of Video Marketing in E-commerce
E-commerce is a progressive domain in terms of both technology and content. Retailers try to narrow the gap between the expectations and reality of their customers and aim for more engaging, interactive, and actionable content. Videos meet all these requirements and are preferred by most users over other media types. In fact, according to Wyzowl's 2022 study, when asked how they'd most like to learn about a product or service, 73% of users said they'd prefer to watch a short video, while only 11% would rather read text-based content, 4% preferred infographics, and 3% chose ebooks, manuals, webinars or a sales call, respectively.
Depending on your marketing and sales strategy, you can make educational videos to offer a better understanding of the product, raise awareness and drive sales with promotional videos, address pain points with testimonials, engage with your customers further by creating interactive videos, and utilize live videos to make actual sales on the spot.
This substantial viewership, coupled with the advancing commerce-friendly technologies, makes videos an essential asset in e-commerce. Thanks to mobile phones and social platforms' improved capabilities, video content creation is easier and cheaper than ever. But this availability comes with a challenge: How will your brand's videos stand out and be noticed in this crowd?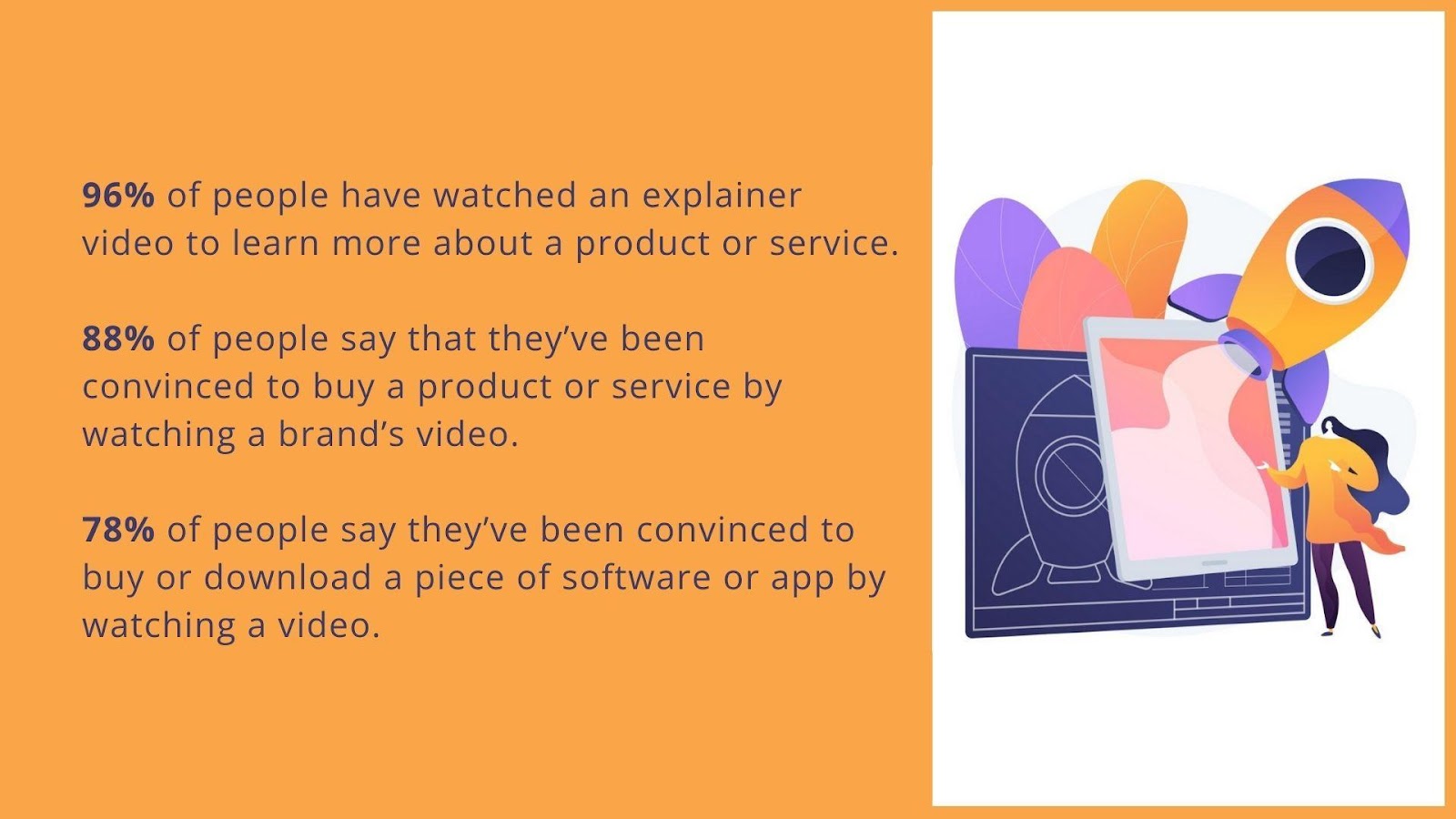 Importance of Engaging Video Content for E-commerce Businesses
As mentioned before, video content doesn't only demonstrate product functionalities or create awareness around your latest campaign. Videos are a combination of visuals, sounds, and storytelling. They offer a more immersive experience and create the closest experience to physical shopping. This, in turn, leads to informed purchasing decisions and enhanced trust. Furthermore, engaging videos that are deemed share-worthy by users support your overall social selling potential.
According to Data Reportal's July 2023 survey, a user's second most common interaction method with a brand is watching a branded video. But the digital arena is overloaded with information and branded content, which can make it harder to get noticed, let alone remembered. Videos capture attention better than text and static images; that's a fact. But on platforms like TikTok and Instagram Reels, when a short video is instantly replaced by another, your content can make a difference only if it is engaging and well-crafted.
Essential Components of E-commerce Video Marketing
E-commerce video marketing has the potential to attract customers and drive conversions, but there are some essential components you need to consider in order to succeed.
One size doesn't fit all: Every platform has an audience of its own. Apart from technical differences, what works on TikTok may not be suitable for a YouTube viewer. Keep your audience's preferences in mind when styling your content. Keep in mind that a significant portion of online videos is viewed on mobile, so it is important to ensure that your videos load quickly and look great on smaller screens.


Present your product beautifully: Showcasing the products beautifully is the primary goal of e-commerce videos. Clear, detailed shots of the product from various angles instill confidence, highlighting key features and benefits increase desire, and demonstrating use cases can add value.


Production quality matters: Good lighting, professional editing, and high-quality audio are the three elements that make a video "viewable". Investing in these three essential areas for your e-commerce video production pays off because they play a significant role in buying decisions.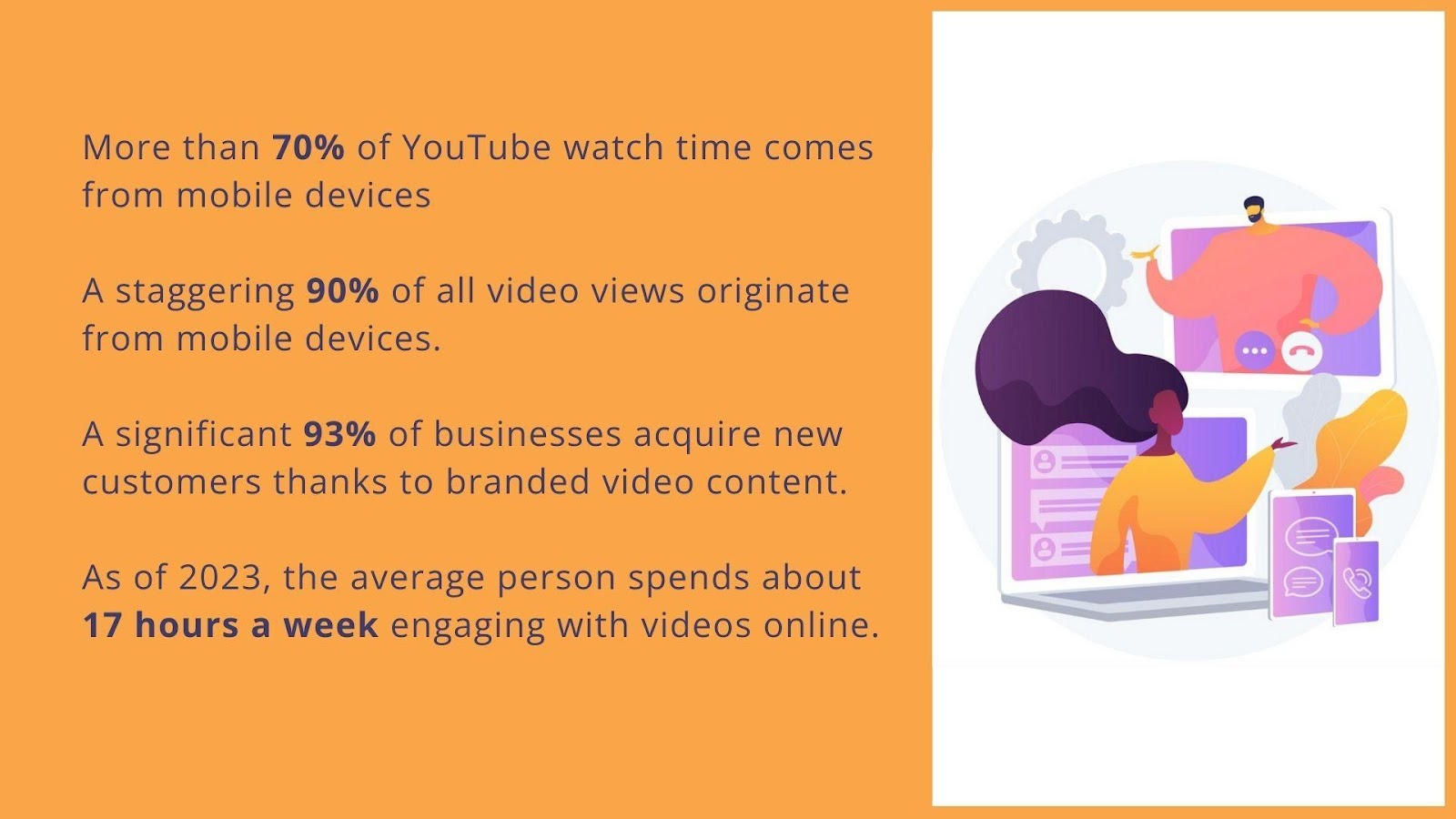 Keep it as long as it needs to be: It's a fact that attention spans are short online, but that doesn't mean your videos need to be a maximum of 30 seconds long. However, capturing attention instantly and delivering your message clearly within a reasonable timeframe is important. Don't forget to guide the viewers towards the next step with a call to action such as "Share to spread the love" or "Check out the summer essentials!"


Tell a relatable story: Not all videos are created to tell stories, but to invoke a feeling, you need to tell a story – or at least make your new video a part of your overall brand story. Depending on your strategy, you can utilize different narratives that connect the product to the viewer's life. Make sure that what you tell is consistent with your brand's personality and visual style.


Optimize, track, measure, and analyze: The process with e-commerce videos doesn't end with shooting and publishing. Make sure that you optimize your video content for SEO to improve visibility and discoverability. After publishing the content, track metrics such as views, engagement, click-through, and conversion rates to determine its efficacy.
Types of Video Content for E-commerce Businesses
There are several types of video content that you can utilize for your digital communications and sales, depending on your objectives and budget. From product videos that can be shot with relatively simple gear to event videos that can be repurposed in smaller pieces, there are several alternatives that can amplify your social presence and sales potential.
Product Videos
Product videos can provide details about the appearance, features, benefits, and use cases of individual products. While close-ups show the finer details that reflect quality, demonstrations highlight the features and benefits to help customers understand the product's value.
Although animated videos are often treated as a separate type of content, how you present your products to the audiences is entirely up to you. You can combine animation and real imagery, support your narrative with motion graphic elements, or simply shoot a beautiful video.
Tutorials, Explainers, and How-To Videos
Some customers may consider your products beneficial and desirable, but they might need to learn how to operate them masterfully. Tutorials and how-to videos provide step-by-step instructions. Explainer videos are quite similar, but they usually simplify complex processes on how a product works, and sometimes, they can be as simple as sharing your screen. These videos can address common questions and concerns and help customers understand how to make the most of their purchases. Tutorials help build trust and reduce the risk of buyer's remorse.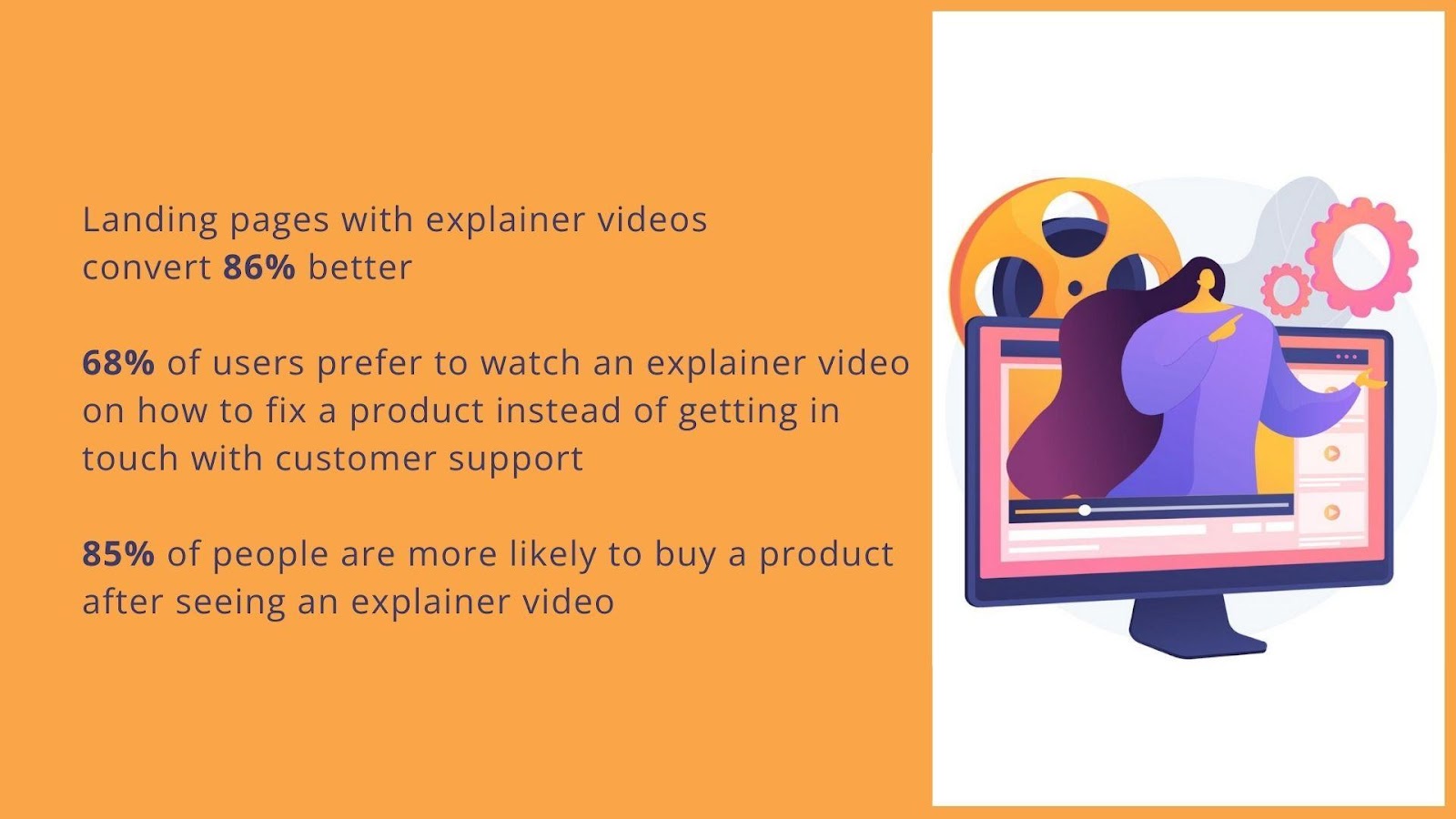 Case Studies
Customer success stories can highlight the benefits of using the product or service by explaining how it solves certain problems or revealing positive changes in the user's life thanks to the product. These videos can also leverage user-generated content like testimonials to create greater confidence.
User-Generated Videos
From unboxing videos to testimonials and reviews, user-generated video content enhances the product experience with its authenticity. While unboxing videos create some kind of anticipation and highlight the quality of packaging and delivery, user reviews and testimonials are some of the most valuable assets because they build trust and credibility. These videos can be repurposed as compilations as well.
"Behind the Scenes" Videos and Brand Stories
Rather than directly emphasizing the product itself, these videos intend to spotlight the values and strong foundation underpinning the product, as well as the importance attached to meticulous quality during the production process. While humanizing the brand, this type of content creates a deeper connection between the customers and the brand.
Educational and Informative Videos
Educational videos provide valuable information that is related to the product or service, such as insights, industry trends, tips, and collaborative content with thought leaders. Compelling information can position a brand as an authority and build further trust.
Live Streaming and Live Sales Events
Live videos engage customers in real time, which can endorse in-app purchases where available and directly reflect on sales results. In these live events, customers can interact with hosts and ask questions. Live streaming can be used for product launches, Q&A sessions, and educational events. They can further be repurposed in smaller pieces to address different audiences on different occasions. For example, short and catchy videos designed for platforms like Instagram Reels, TikTok, and YouTube Shorts can capture attention quickly and drive engagement.
Interactive Videos
Interactive videos combine technology with the brand's narrative and allow viewers to interact with the content by making choices that lead to different outcomes. These videos create a more immersive experience, thus taking the digital shopping experience one step further.
Promotional Videos
A well-crafted video can help your brand stand out from the crowd and drive sales during peak shopping periods, such as holidays or special occasions. Seasonal tips and tricks may work, as well as limited-time offers.
Planning and Production of E-commerce Videos
Creating a successful e-commerce video requires careful planning and a meticulous production process. Creativity is not a must, but it can increase the visibility of your video and reach a wider audience.
The planning process should include a comprehensive strategy that outlines the objectives, target audience, messaging, and distribution platforms. Then comes the elements concerning the brand narrative. Depending on the type of video you will produce, you'll need to manage the scripting, storyboarding, and selection of the right talent or spokesperson.
On the road from planning to production, you must coordinate aspects like location, lighting, camera work, and sound to ensure high production quality. While certain video productions may demand substantial budgets, others can be effectively managed with only slightly more resources than those needed for product photography.
The production phase is followed by post-production, in which you transform raw footage into polished videos. This stage includes editing, adding motion graphics, and optimizing the videos for different platforms.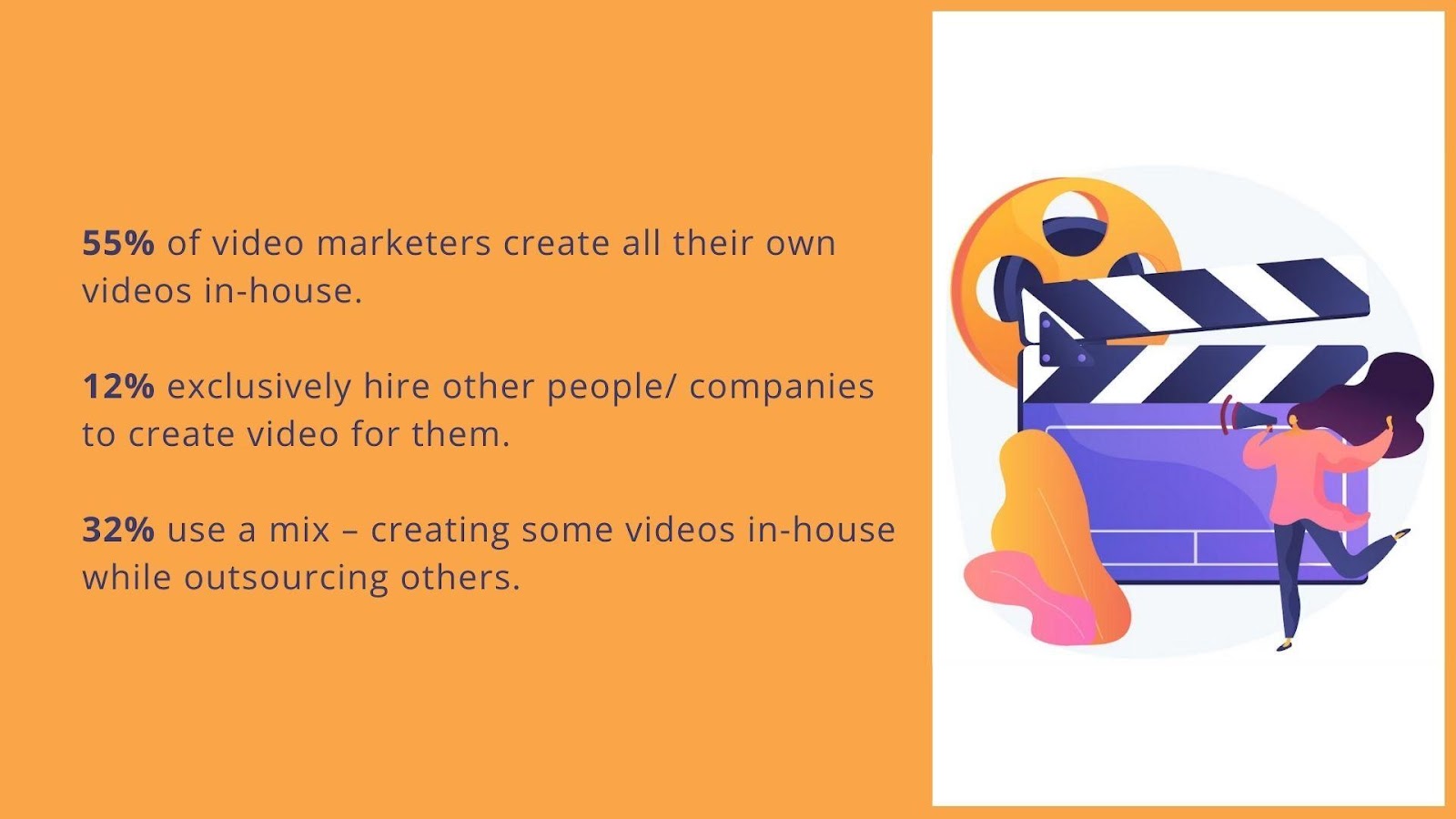 The last steps of creating engaging e-commerce videos are optimizing them for SEO, tracking and analyzing the results, engaging with customers, and continuous refinement based on feedback. Following these steps, your e-commerce videos are likely to resonate with viewers and drive sales.
Implementing Video Marketing into Your E-commerce Strategy
An e-commerce strategy comprises various components, with video marketing being a crucial element. Just like the other elements in your business plan, implementing video marketing into your e-commerce strategy needs to be based on solid objectives and a meticulous plan. Otherwise, you'll only be adding to the noise.
As explained earlier, your objective in video marketing can be raising awareness, boosting sales, providing useful information, or simply engaging customers while improving your position in SERPs. After checking out the types of content your e-commerce store can use, you can create your own videos, collaborate with influencers to promote your products, or make use of other user-generated content in your communication endeavors. Remember that video marketing is not a one-time activity, and your assets should be enriched with new content regularly.
While implementing, it's vital to treat e-commerce websites and social media as distinct entities with unique requirements. Although you can use the same video types both on your website and social media accounts, the technical details and audience differences require you to make some optimizations.
Where to Place Videos on Your E-commerce Website for Maximum Impact
Both brand websites and marketplaces offer a variety of areas to make video placements. Here are some of the popular and effective ones:
Product pages are perfect for product videos because they help users make informed buying decisions by showcasing finer details, features, benefits, and usage.


Homepage is one of the ideal spaces to introduce the products you want to highlight, such as bestsellers or seasonal products, in video format.


Landing pages that are created for specific campaigns or special promotions can contain videos that elaborate on the offer, explain how it works, and encourage visitors to take action.


Category pages can contain videos that inform users about the features, applications, or special offers on a group of products.


Blog posts and review pages that include video content can benefit SEO efforts as they increase time on the site.


FAQ or customer support pages are great areas for placing instructional or troubleshooting videos, addressing common questions visually to enhance customer satisfaction.
As a bonus that can improve click-through rates and customer loyalty, you can integrate videos into your email campaigns and customize them for an engaging and memorable experience.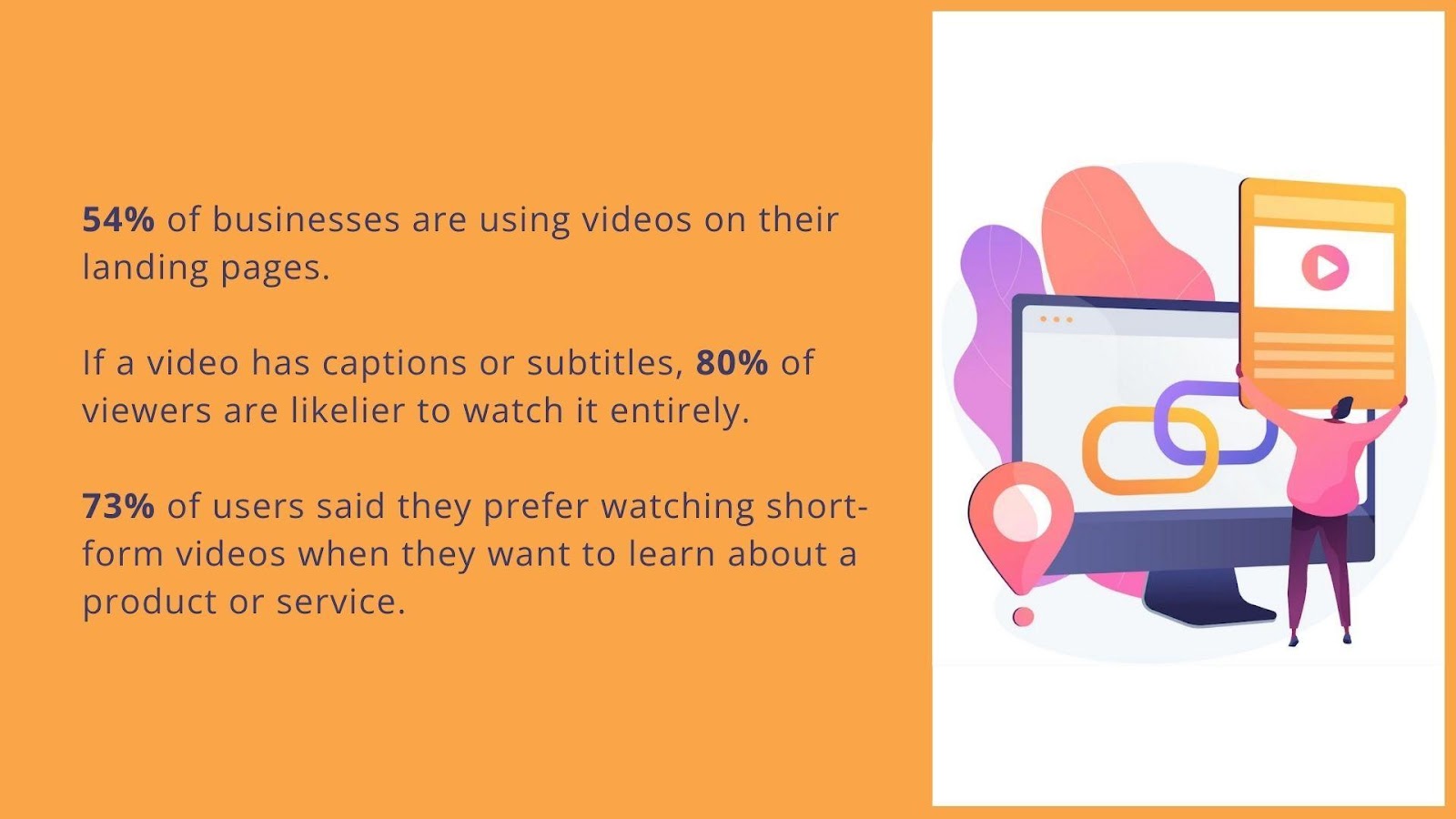 Integrating Videos into E-commerce Product Pages
It is obvious that product videos are an essential part of product pages, but their placement matters as much as their quality. Because, after all, consumers need to find them to watch, don't they?
According to Baymard Institute's UX research on product videos, users generally expect images, videos, 360° views, and similar visual content to be placed together on the product page because they see them as supplements to the product images. It also says that users can easily discover and distinguish product videos from images as long as they have some sort of "play" icon and are displayed next to or as part of the image gallery thumbnails. It is quite interesting that 35% of major e-commerce sites fail to get these details right.
Optimizing E-commerce Videos for Social Media
Every social platform has different technical requirements, but more importantly, they have different types of audiences. Short, attention-grabbing videos are essential for platforms like Instagram Reels and TikTok, catering to younger audiences with limited attention spans. On the other hand, platforms like Facebook and YouTube allow for longer-form content, ideal for in-depth product demonstrations or brand stories.
Some platforms offer a variety of user interaction possibilities, such as Remixes or live shopping events. Engaging with viewers through comments, replies, and call-to-action buttons can enhance the overall social experience.
Tailoring Video Content for Different Social Platforms
There are a number of platforms that host video content, including Facebook, Vimeo, and Twitter (or X or whatever Elon Musk calls it these days), and also you can utilize videos from all platforms in WhatsApp marketing, but three platforms drive a massive portion of e-commerce video marketing practices.
Reach a wider audience with YouTube
YouTube is the foremost global hub for video sharing. It is an unparalleled platform for extending your content's reach and driving engagement. It offers long and short-formed videos as well as live events, playlists, and diverse sharing options. One of the relatively recent features, YouTube Shorts, is tailored for mobile users with a vertical video format and targets a younger generation dominated by TikTok.
Comment management plays an important role in branded YouTube channels, so you might want to check this piece out.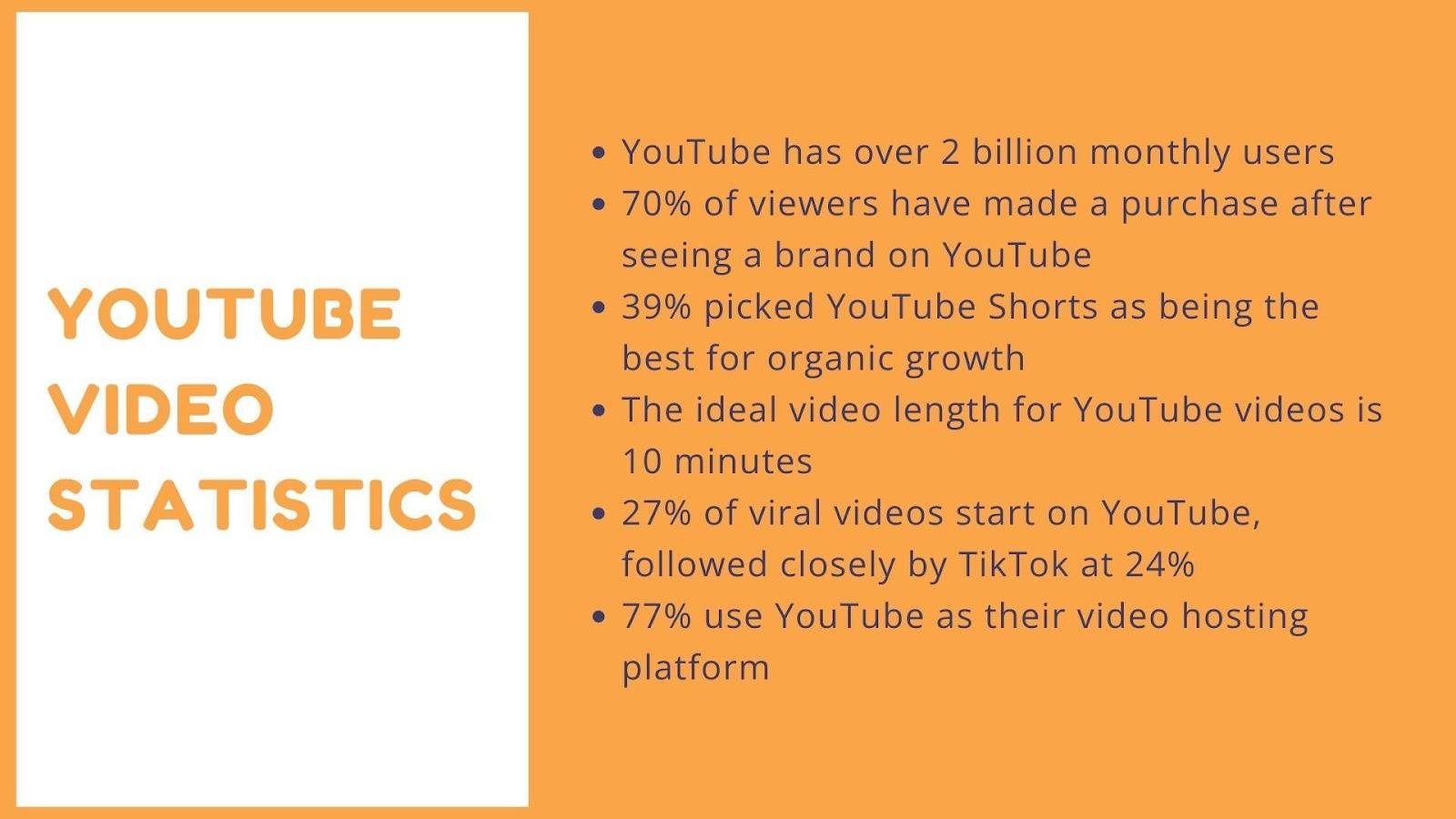 Reach a more dynamic audience with TikTok
In recent years, TikTok has emerged as a dominant video-oriented social media platform, gaining significant traction, particularly among younger audiences. For example, #TikTokMadeMeBuyIt is a real thing, totaling 61.6bn views and counting. TikTok provides extensive tools for users to craft short videos, comprehensive discovery mechanisms, and advanced sharing features. The videos are suitable for various purposes, from showcasing products and delivering informative tutorials to engaging and entertaining users.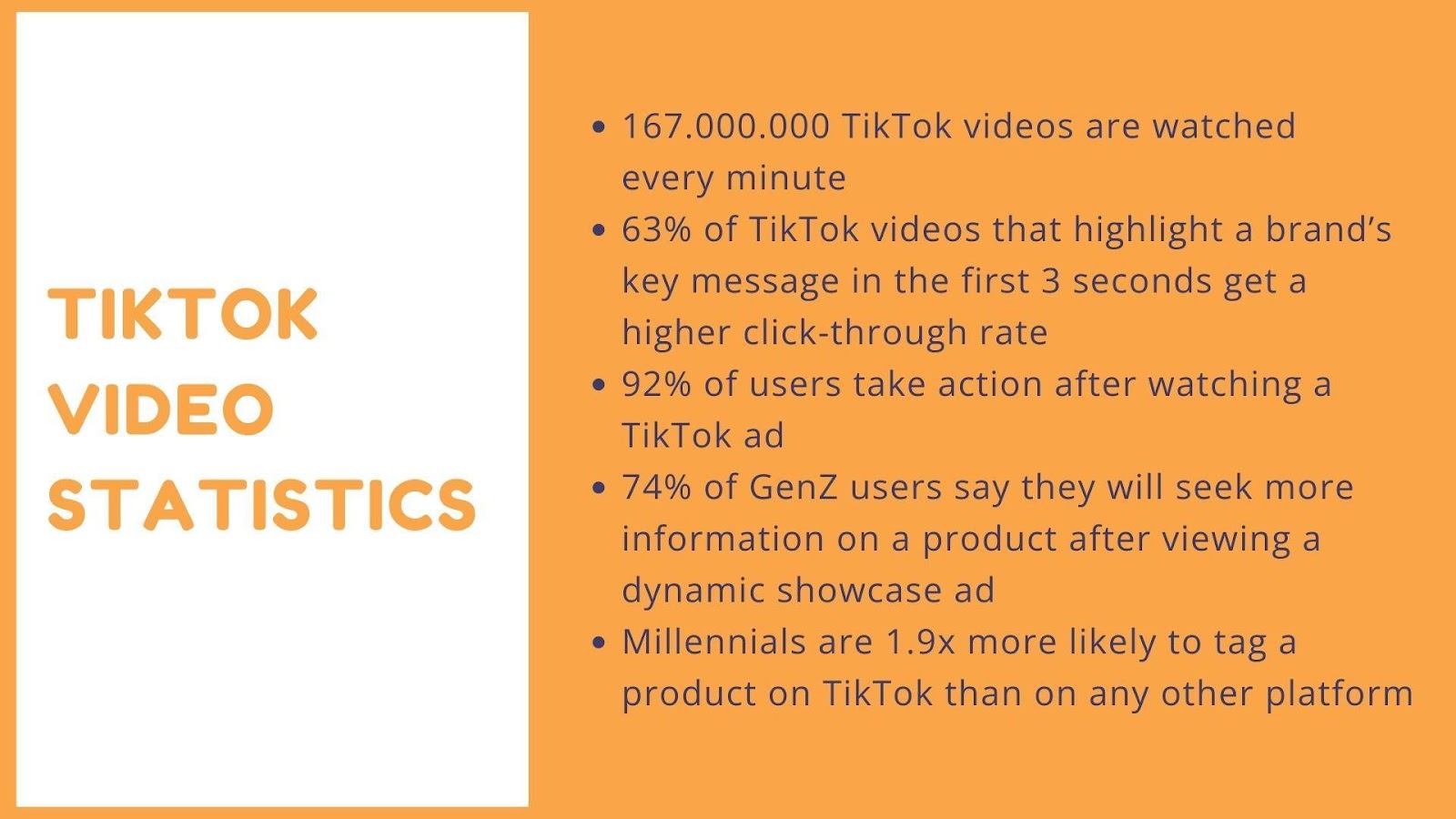 Reach an impulse buyer audience on Instagram
Instagram offers a number of spaces for e-commerce video marketing, including Instagram Stories, Instagram Reels, and IGTV. Instagram Stories are transient videos with a 24-hour lifecycle with different use cases. On the other hand, Instagram Reels offers short-form videos designed for integration within the app's feed. IGTV is for sharing more extensive, long-form videos where the host can interact with viewers and provide directions for in-app purchases.
You can find further details on Instagram Shopping here.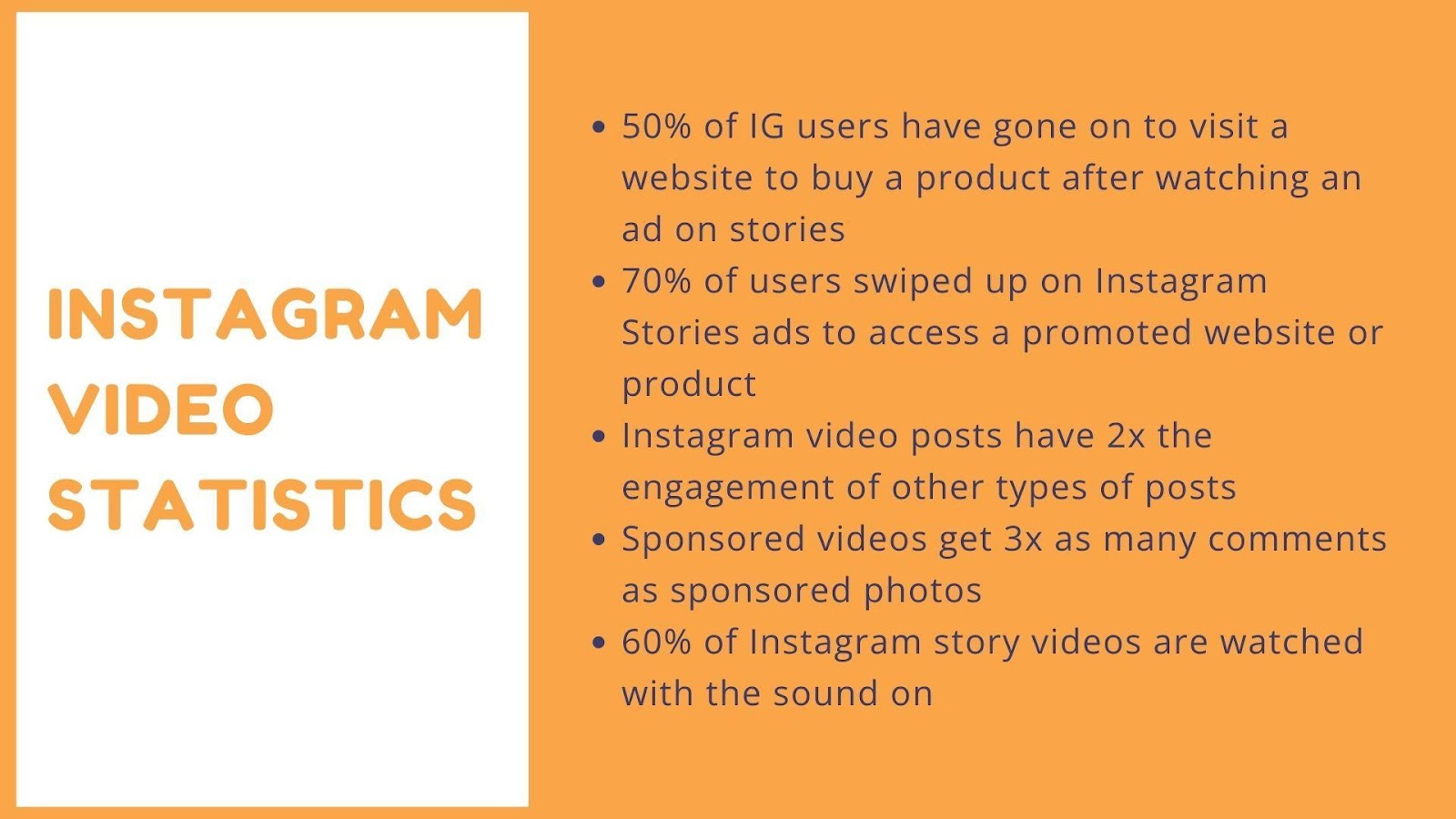 How Social Media Boosts Your E-commerce Video Reach
Social media platforms amplify the reach and impact of e-commerce videos and enable a more effective audience segmentation. Platforms like Instagram, YouTube, and TikTok offer the means to target specific demographics, tapping into user preferences and behaviors. Through strategic content sharing, user interactions, and the use of trending hashtags, promoting e-commerce videos on social media can help drive quality traffic to your e-commerce website and increase sales.
While different audiences have varied communication preferences, you don't need to create unique videos for each. Instead, you can edit existing assets in short, shareable formats for:

highlighting prominent moments and redirecting users to the longer version of the content
enabling seamless sharing and increasing reach
utilizing in showcasing individual products on different platforms and ad formats
capturing the fleeting attention with captivating visuals and concise messaging
optimizing the spending for video production
When repurposing videos, remember to optimize them for search engines as well as the viewers.
The value of short, shareable video content lies in its attention-grabbing, easy-to-consume style. They are to-the-point videos that resonate with audiences when they are well-crafted and meticulously optimized for different video-oriented platforms.
How to Effectively Repurpose Long-Form Videos
Long forms take time and resources to produce. So, it would be logical to use bits and pieces to create a whole new line of content, including blog posts, podcasts, and, of course, new videos. These videos can be shared individually on social media, supporting your sales and customer support processes.
Extract key moments, insights, or visually striking scenes to highlight the most important content.
Create GIFs to use on your product pages or blog posts.
Create teasers to generate curiosity and anticipation for the longer video, for example, a product launch or seasonal offering.
Break down the video into several smaller snippets, each addressing a specific topic or point.
Create behind-the-scenes content to offer viewers an exclusive look at the production process.
You can also make compilations with these videos or edit them in a way that provides a bite-sized summary. To enhance accessibility and engagement, remember to add captions and subtitles to your videos.
Clipping and repurposing long-form videos is a budget-friendly way of catering to different audience preferences and increasing reach. Another way of extending the reach of your video content to new audiences is collaborating with influencers and creators to promote or endorse your products.
Teaming Up with Influencers: Why It's a Win-Win
Collaborating with influencers or creators to promote your products is a strategic move that can amplify your brand's visibility and improve its credibility. User-generated content provides powerful social proof thanks to its authenticity, which in turn builds a genuine rapport with viewers, driving conversions and strengthening brand loyalty.
There are three types of influencer collaborations. You can create your own videos and host influencers who resonate with your target audience. Or you can skip the production process and collaborate with creators, who can promote or endorse your product on their videos and drive their follower base to your e-commerce store. Last of all, an influencer can refer to the video content you have created and provide relevant links, which will indirectly support the sales of your product.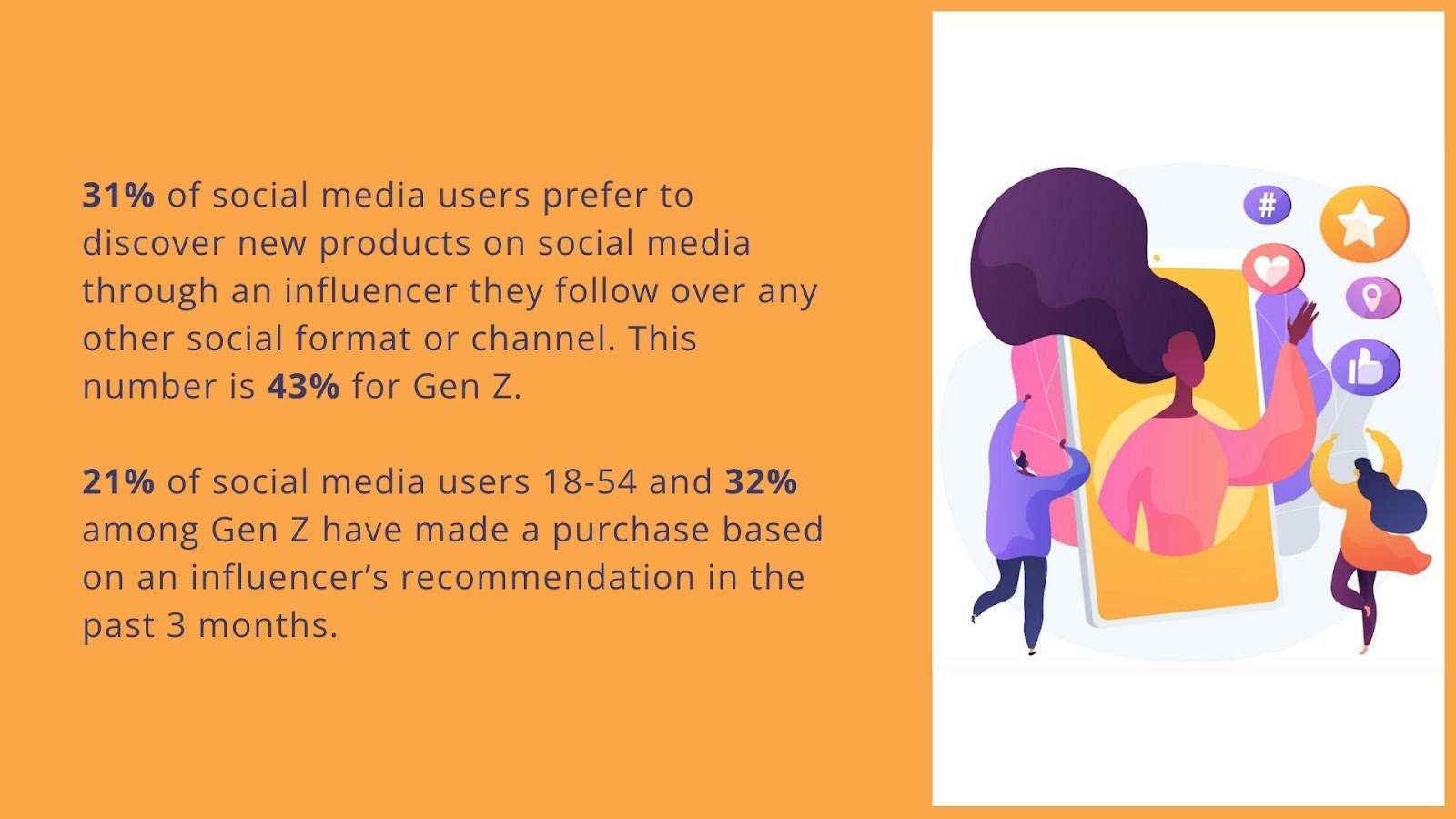 The Role of Influencers in E-commerce Video Marketing
As well as bringing authenticity and credibility to branded content, influencers help you tap into their established trust, fostering a more receptive audience for your products. Influencers can contribute to your brand through product endorsements, unboxings, tutorials, or showcasing their genuine experiences with your offerings.
Influencer collaborations should leverage the influencer's creative input as well as their follower base to amplify your brand's message. Here are ten tips for fostering successful influencer collaborations:
Choose your influencers whose niche, values, and audience align with your brand.
Allow influencers creative freedom to incorporate their personal style and voice into the content to resonate with their audience. But define clear goals that outline expectations, deliverables, timelines, and compensation so things don't get out of control. Ensure that the content remains on-brand and aligns with your messaging.
In order to foster loyalty and a deeper understanding of your brand, consider building long-term relationships with influencers rather than one-off collaborations.
Diversify and optimize across various platforms to maximize your reach. A popular YouTube influencer may not be appropriate for a TikTok user.
Establish metrics to measure the success of the collaboration, such as engagement rates, traffic, sales, or follower growth.
Depending on your collaboration type, you can encourage influencers to engage with their audience by responding to comments and questions related to your product. Or you can manage all your YouTube and Instagram comments with a sales & support platform for social commerce.
Managing YouTube and Instagram Comments with Juphy
Juphy is a top-rated social media inbox management tool that enables you to receive and respond to all YouTube, Instagram, and Meta Ads comments, as well as other social channels, in real time.
It is extremely easy to integrate your YouTube and Instagram accounts with Juphy. All it takes is 1-click to set up and manage your social conversations going on around your video content, identify potential buyers, and increase sales on your e-commerce website. Juphy helps you generate leads on YouTube and Instagram by empowering you to reply to all messages, comments quickly, mentions, reviews, and tags with high purchase intent and improve sales performance with its AI-driven features such as;
Advanced automation and filtering: Classify incoming messages from social media based on content, urgency, intent, and tone using automation rules.
Comment management powered by AI: Easily send public or private replies, hide or delete comments, and compose the perfect responses swiftly with AI support.
Conversion tracking on social channels: Monitor and analyze the behavior of your social audience when they visit your website.
Bulk messaging on WhatsApp: Leverage your promotional videos by creating contact lists and sending targeted bulk messages.
Actionable performance reports: For better segmentation and optimization, measure your video and platform performance based on your customer interaction data.
Conclusion
Video content narrows the gap between expectations and reality in e-commerce. It can significantly improve sales performance by increasing visibility and trust. To harness the true power of video marketing for your brand, you should have a solid strategy, adequate production capabilities, and a reliable partner to help you manage the results. Ready to elevate your e-commerce game with high-quality videos? Start your Freemium Plan now and witness the transformation!
Create Your
Social Inbox Now
Manage all social media customer support inquiries in a unified inbox.