Have you ever thought about the number of marketing messages you're exposed to every day? Back in the '70s, when the shopping experience was almost entirely physical, it was about 500 to 1,600. In 2007, the number rose to 5,000 per day. Although there are no official figures, it is estimated that today a single person encounters between 6,000 to 10,000 ads every single day. These numbers should come as no surprise as you scroll down on your favorite social platform to see every other post carries some kind of marketing message. According to Psychic Ventures Ltd's press release, the global social commerce market is expected to grow to $604.5 billion by 2027, as 15% of e-commerce companies worldwide are already selling on social media, while 25% are planning to start. So if you haven't considered selling your products through social platforms yet, it is time to start thinking about what social commerce is, how it differs from e-commerce, and how it can benefit your brand.
Create Your
Social Inbox Now
Manage all social media customer support inquiries in a unified inbox.
What Is Social Commerce and How Does It Differ from E-commerce?
Social commerce is a branch of e-commerce that allows users to reach products directly through social media content. While traditional e-commerce is conducted through brand websites and online marketplaces, social commerce occurs on social media platforms such as; Instagram, Facebook, WhatsApp Business, Twitter, YouTube, Snapchat, Pinterest, and TikTok.
With social commerce, consumers don't need to search for product details online. All the product information and visuals they want are already there on the platform, as well as all the social proof they need. They can always DM the brand for more detail if it's not enough. And some platforms even offer in-app checkout, so the customers don't need to bother visiting the website to complete their purchase.
Why Is Social Commerce Important for Businesses?
Until recently, social media platforms used to be utilized solely to increase awareness and lead generation. Many brands offered platform-specific coupons to find out which platform created more leads. From this point, marketing and sales activities continued advancing as the platforms started offering features that drove the consumers further into the sales funnel. According to Shopify's report, "two-thirds of all social media visits to Shopify stores originate from Facebook", and an average of 85% of all orders from social media originate from the platform as well.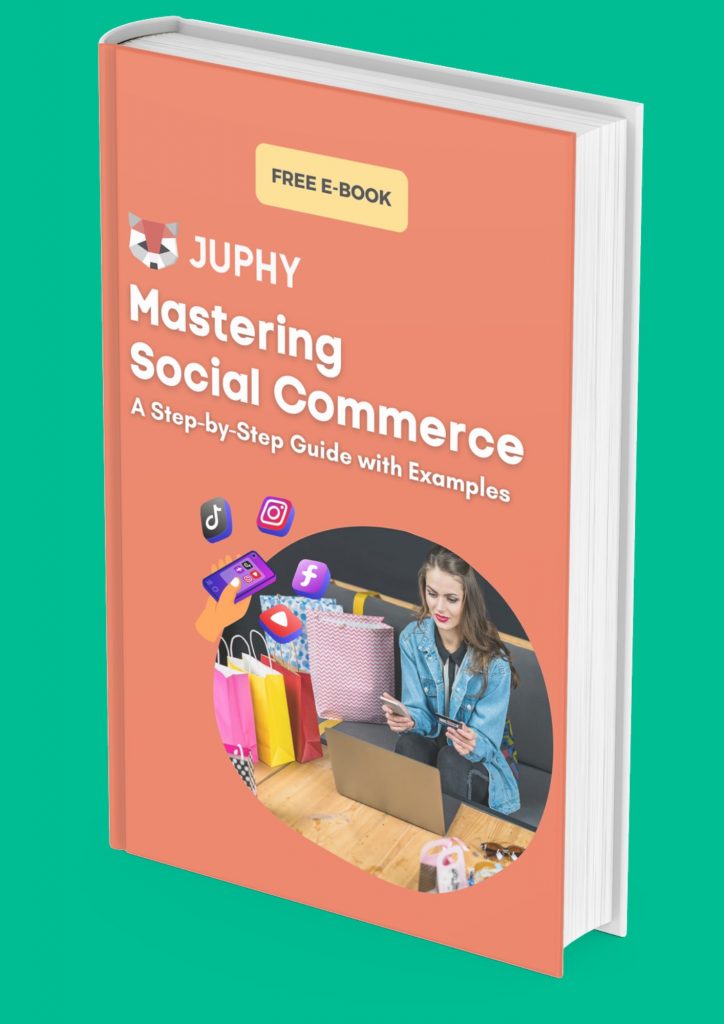 Looking to excel in Social Commerce? Dive into our in-depth e-book that covers the essentials you need to know to elevate your business in the digital marketplace. Download it for free now!
The Most Common Applications of Social Commerce
All social media platforms support social commerce in one way or another. For example, you can share a link to your product page on any platform. But some platforms take e-commerce a little further and let you create storefronts, seasonal product collections, shoppable posts, or live shopping events. Besides the platform's capabilities, marketers find new and exciting formats to persuade customers to purchase.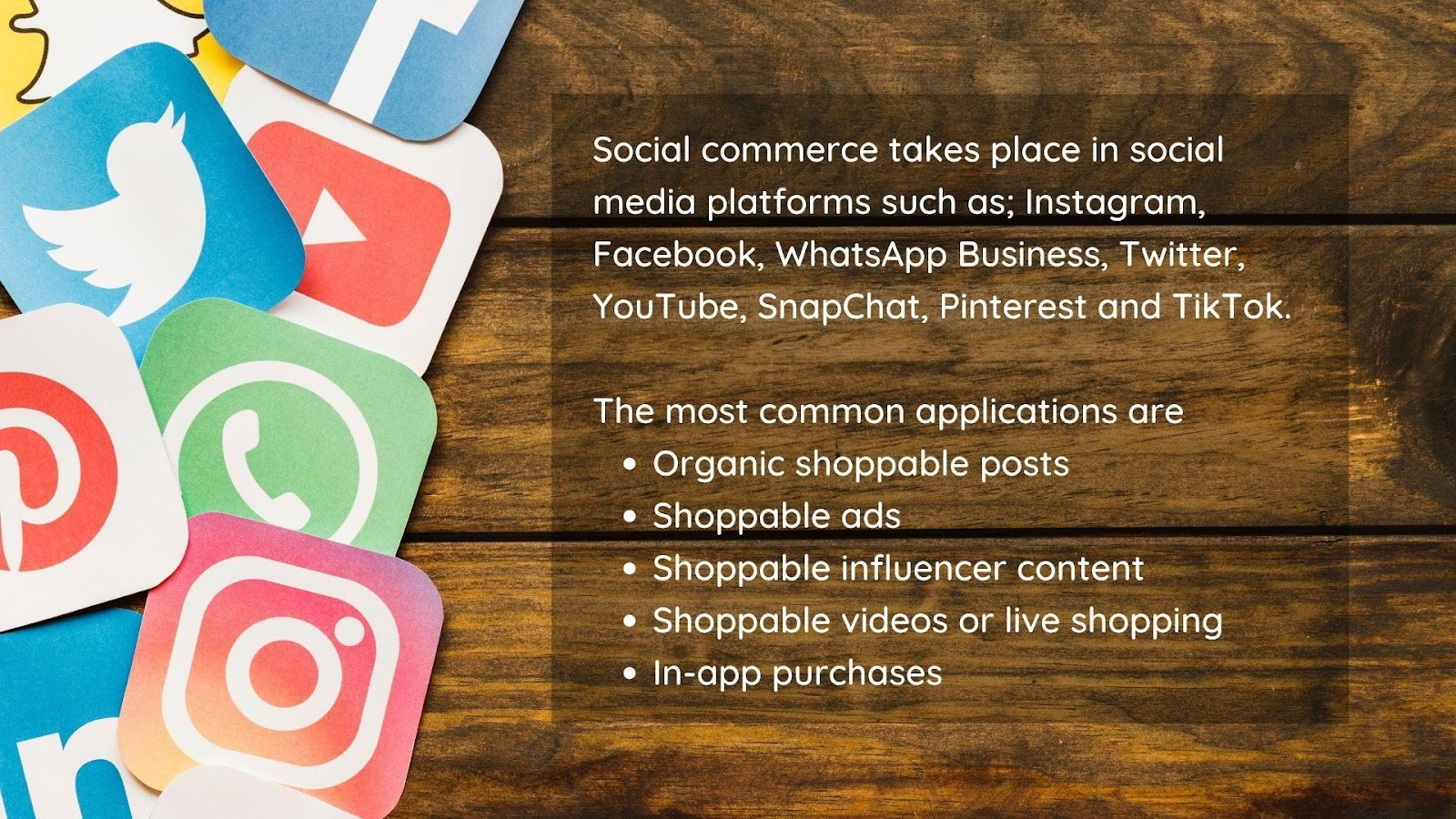 Organic Shoppable Posts
When brands tag products within their organic posts, the customers can tap on it to visit the product page on the brand's website to make a purchase. Different platforms offer different shopping styles, but the feature basically turns the brand's account into a shop window and allows users to reach the product details with a single tap. Furthermore, shoppable posts can help increase brand visibility and drive traffic to the website. The biggest downside is you won't be able to reach many of your target audience unless you promote your content, even when they follow your account. To counteract this, brands should consider using a mix of organic and paid strategies to maximize reach.
Shoppable Ads
Shoppable Ads is the paid version of organic shoppable posts. They are shown to a targeted audience, usually based on the products and categories the audience has already viewed or the brands already followed. The ads are not limited to feed posts; you can promote stories, reels, videos, and live streaming, depending on the platform. By utilizing advanced targeting options, brands can ensure their ads are seen by the most relevant users, thus improving the chances of conversion and reducing advertising costs.
Shoppable Influencer Content
Brands can use user-generated content through influencer partnerships. The influencers can share branded content and tag products on their feed posts, stories, or other media. When the viewer taps on the tag, they are directly taken to the brand's in-app product page. This approach combines the power of influencers' credibility and the convenience of shoppable posts, making it a highly effective strategy for increasing brand awareness and boosting sales.
Live Shopping
Live shopping works like the old shopping channels where you call the number on the screen to order the product in real-time, but this time it's happening via social media videos. The promotions stay valid as long as the live stream continues, and it's a highly engaging method that is quite popular among Chinese consumers. Additionally, live shopping allows brands to interact directly with their audience, answer questions, and demonstrate product features, creating a more immersive and personalized shopping experience.
In-app Purchases
As mentioned earlier, some platforms allow customers to complete the purchase without leaving the platform. For now, it's not available worldwide, but it looks like in a couple of years, more platforms and locations will provide its users with this seamless shopping experience. In-app purchases not only streamline the buying process but also help reduce cart abandonment rates and increase customer satisfaction, making it a valuable addition to any social commerce strategy.
Social Commerce Examples
I'd like to name this section "5 brands that are doing social commerce right," but unfortunately, it is nonsense. It is like asking, "Which of these brands owns a brick-and-mortar shop?"
When brands decide to utilize social media tools and strategies in their marketing and sales practices, they all do it right in their own way. You can visit many brand accounts on Instagram and Facebook to see that they all have shopping pages that are neatly organized with tons of product information accompanied by visuals. You can see lookbooks uploaded to Pinterest that are linked to shopping sites, product launches on Snapchat, product catalogs on WhatsApp Business, and live shopping events on TikTok. In this area, a brand's success depends on finding out what features to utilize and putting effort into using them consistently with the brand persona.
H&M is one of the first brands in the fashion industry that integrated social tools and technologies into its sales practices. Before Twitter made their shop module available, H&M used Tweets linked directly to purchase the products online. Nowadays, the brand experiments on metaverse and continues to benefit from the abilities of different platforms.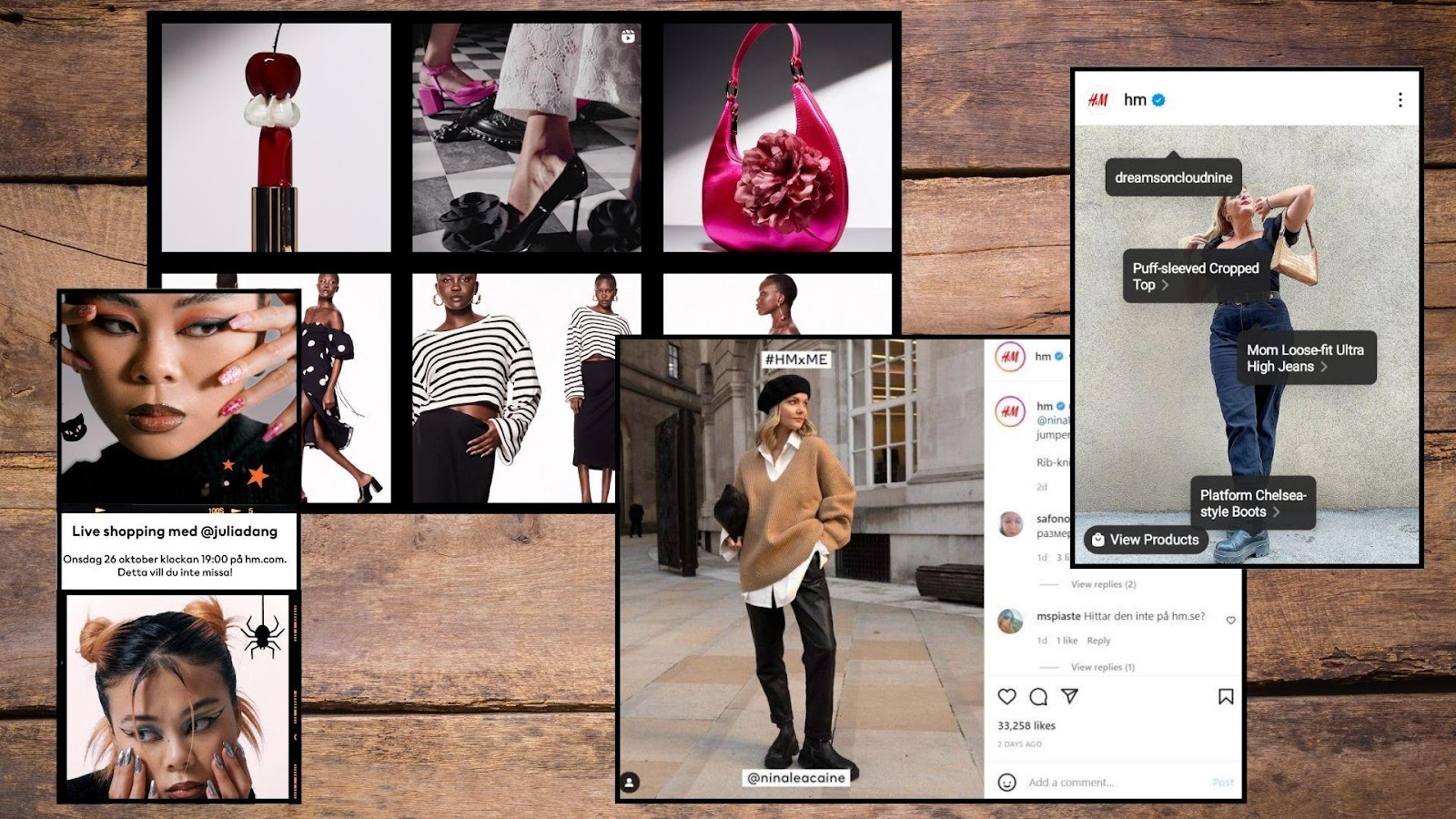 Nike: Leading the way both in technology and in sports
With its various apps, social accounts, and innovative approaches, Nike's presence in social commerce is hard to miss. Their pre-release of the Air Jordan III "Tinker" on Snapchat was an industry first, resulting in the shoes being sold out in 23 minutes. Back in 2012, they let the customers pay with their sweat instead of money, using the miles on the Nike+ app and the #makeitcount hashtag on their Facebook page. So if you want to integrate technology into your marketing and sales practices, the brand is a go-to for inspiration.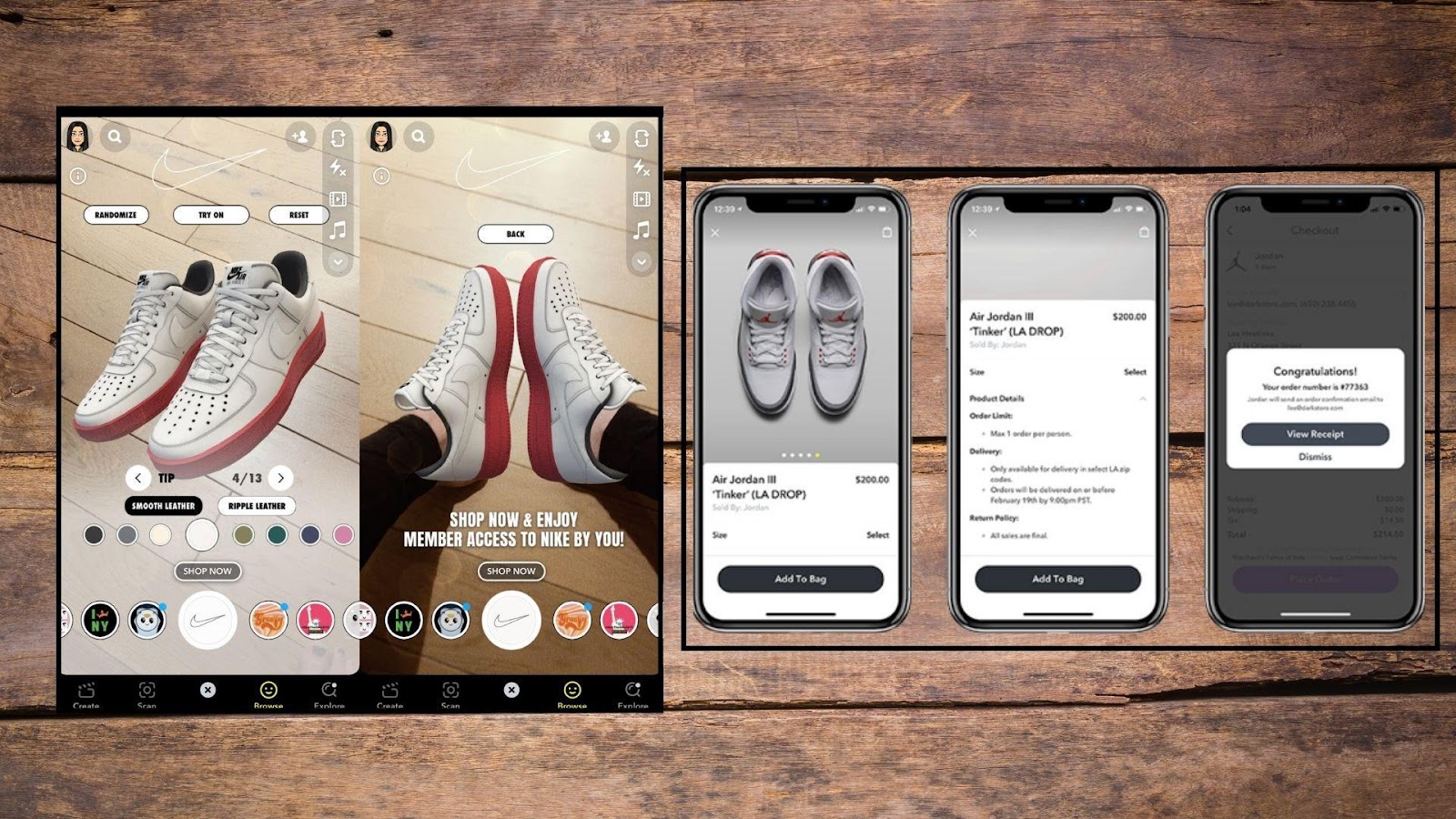 Clinique: Showcasing the products in an appealing and educating manner
One of the leading personal care brands, Clinique differentiates itself from the competition with its educational tone. While many cosmetics brands endorse celebrities and influencers in various ways, Clinique makes exploring and purchasing their favorite products easy. Their Skin School Live videos on Facebook that aired every Friday at 12 pm allowed users to ask questions to the professionals and shop the products without leaving the live stream.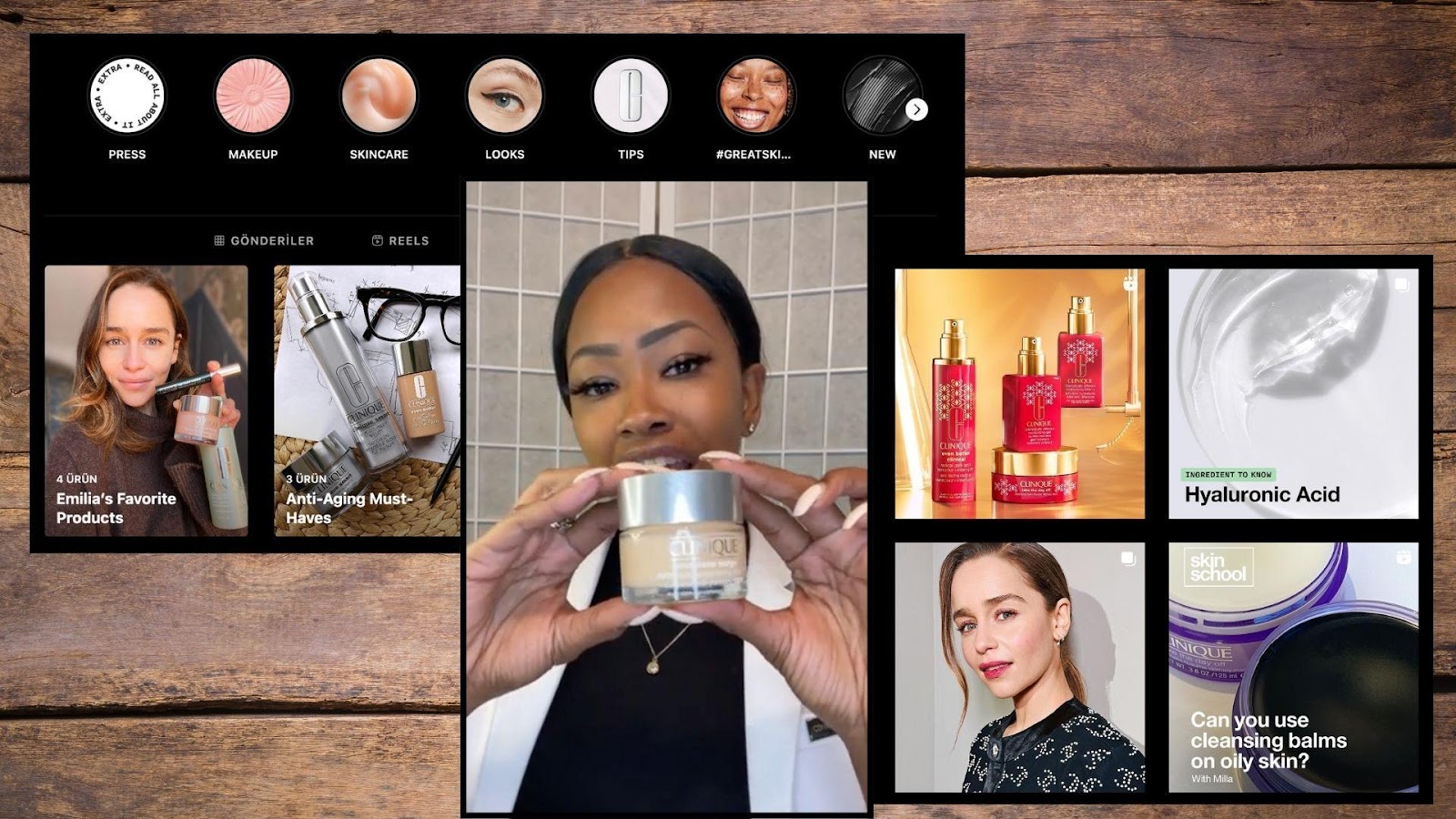 Not many brands think of Pinterest when it comes to social commerce, but Dollar Shave Club uses the platform both for publishing funny user stories and for backlinking to their website. It has been a quirky brand from the start, and even after being acquired by Unilever in 2016, it maintains its unique tone of voice on all the platforms it operates and stands as a great example of consistency.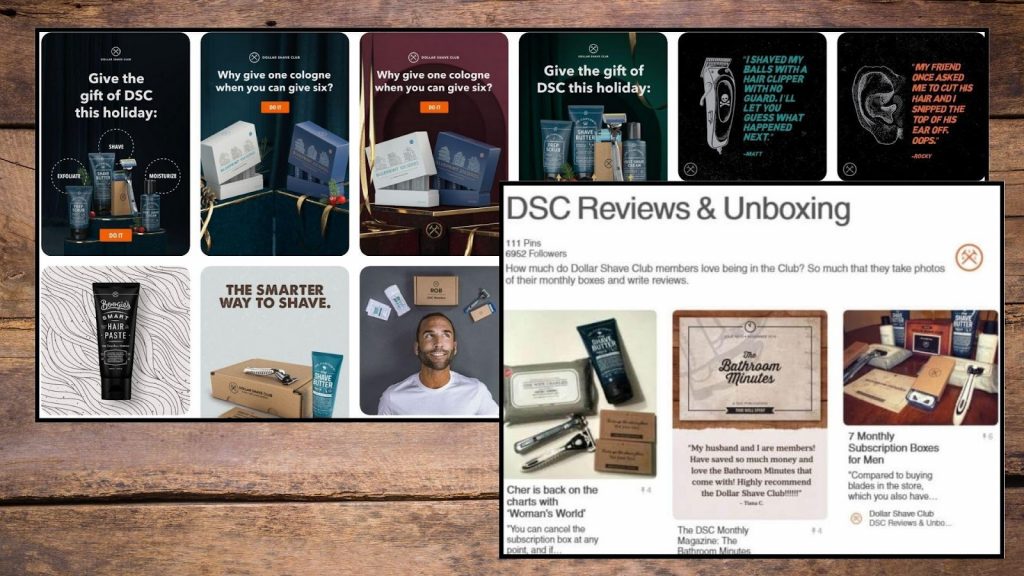 TikTok is famous for its viral videos that people see on other platforms even if they don't use the app. The brand launched in-app shopping quietly in 2022, but the commercial capabilities were already booming, hence the famous hashtag #TikTokMadeMeBuyIt. Although Ocean Spray wasn't promoting its products on the platform, a user-generated video featuring the brand's cranberry juice, a longboard, and Fleetwood Mac's "Dreams" turned out to be a big hit that resulted in tons of copycats. The brand was wise enough to embrace the content creator as an unexpected brand ambassador.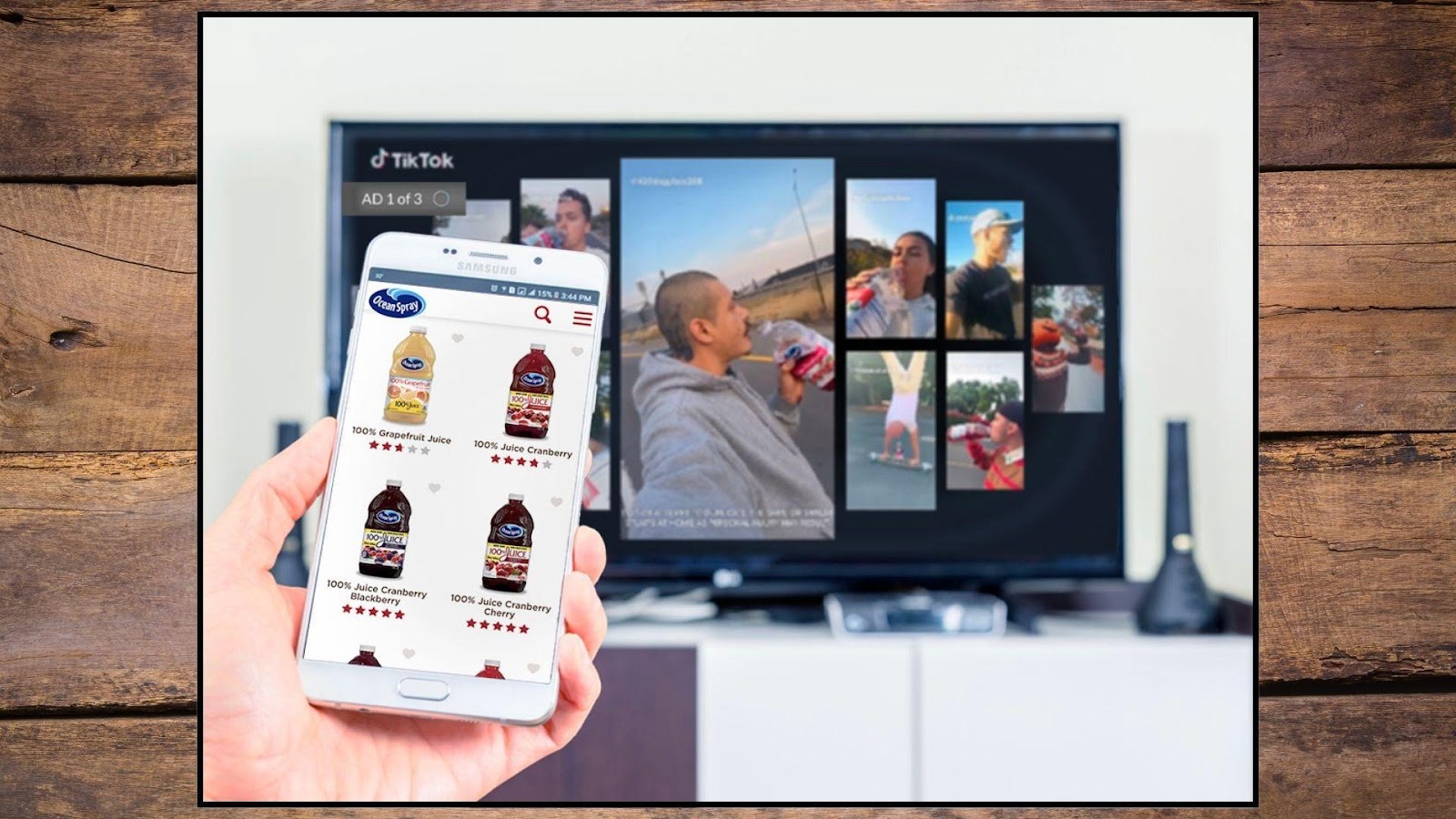 So Many Platforms, So Little Time
All social platforms start their life cycles as places where users create communities and share their stories with others. While their popularity grows day by day, so do the commercial possibilities. For brands that embrace an omnichannel approach, the time has never held such importance as today. With so many platforms and millions of users to care for, brands need a reliable partner like Juphy that enables healthy dialogue with customers.
Juphy is a top-rated social media inbox management tool that allows brands to receive and respond to customer interactions in real-time. It's an essential tool for social commerce as it supports integrations with the most popular social media platforms and saves you an incredible amount of time managing them with its highly functional features.
Key Juphy features that boost social commerce success include:
Unified dashboard: Manage all your social commerce accounts from a single, user-friendly dashboard and filter them quickly without leaving your inbox.
AI-powered automation and canned responses: Juphy's OpenAI integration enables advanced automated responses, while automation rules tag messages based on urgency, content, and tone. Combined with canned responses, this allows you to provide quick and accurate replies with a single click.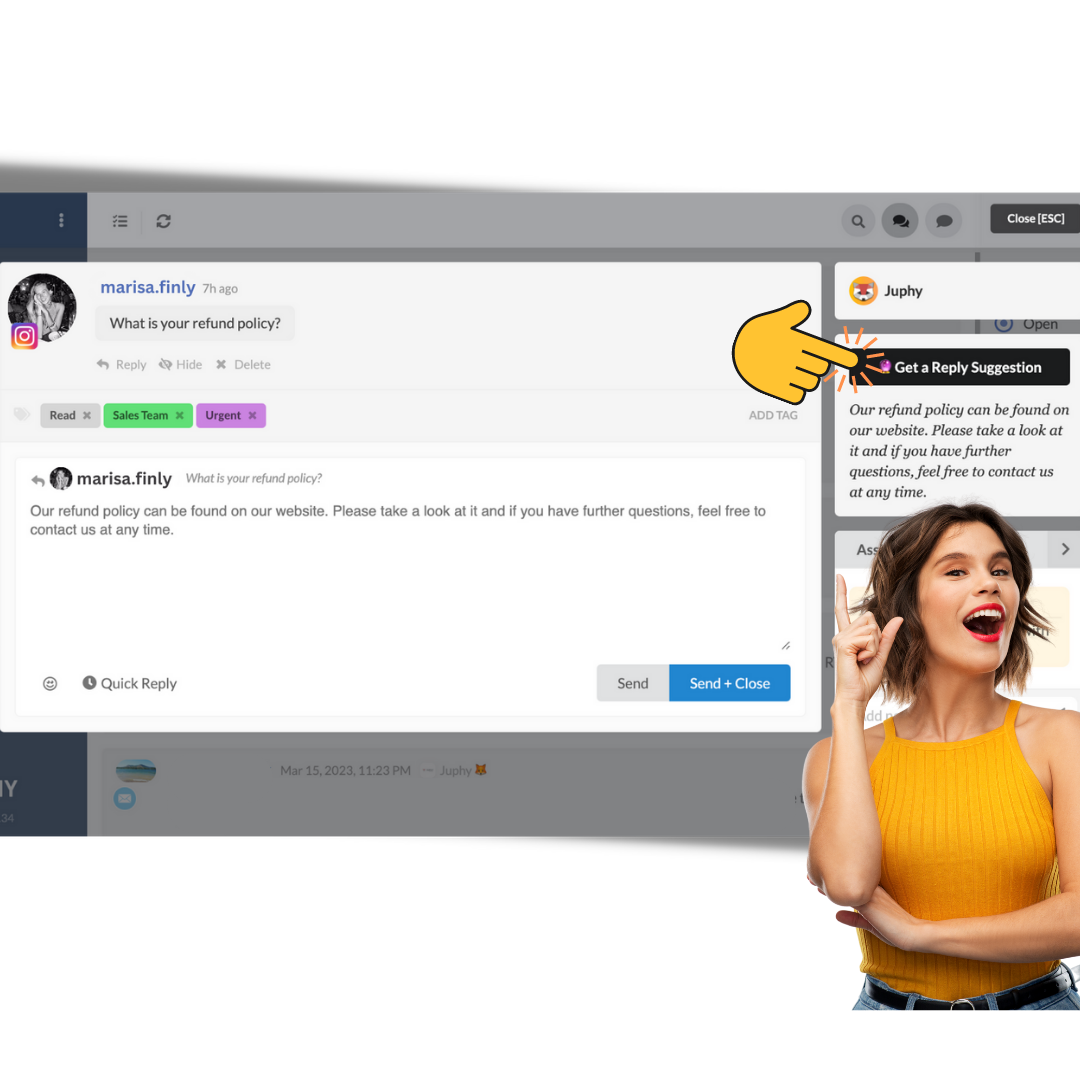 Facebook and Instagram Ads comments: Juphy lets you manage comments on your Facebook and Instagram Ads, helping you maintain a strong social presence and driving engagement with your target audience.
WhatsApp features: Juphy offers seamless integration with WhatsApp, enabling you to manage customer interactions, send multimedia messages, automate replies, track conversions, and utilize bulk messaging capabilities. All these features are available within the same dashboard, providing a unified and efficient customer support experience.
Social CRM: Juphy's Social CRM feature allows you to track and analyze customer interactions, helping you build stronger relationships and make data-driven decisions.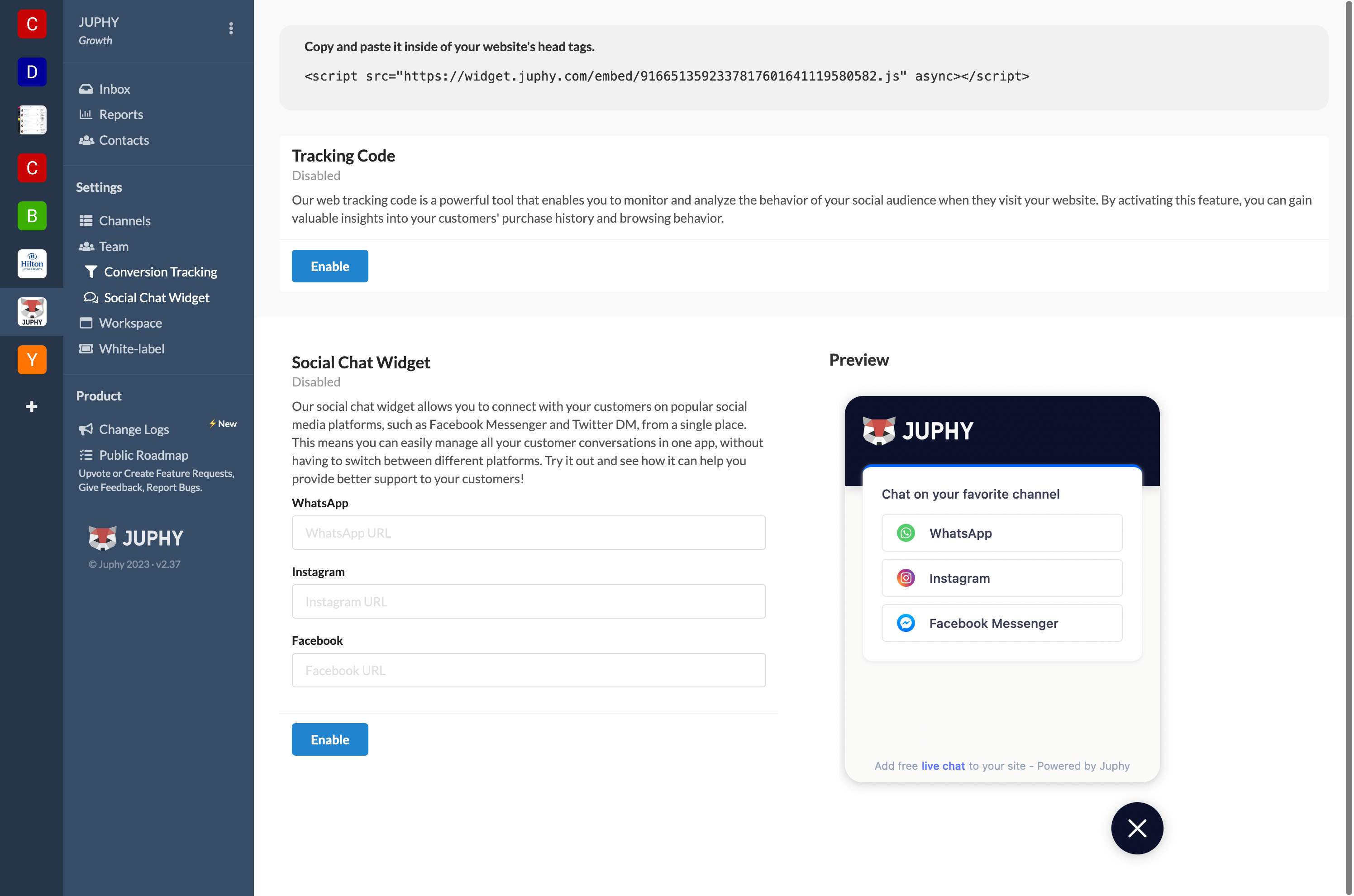 Team collaboration: Juphy brings marketing, sales, and support teams together, enabling you to gather critical information and discuss it with teammates before responding to customers.
Actionable insights: Juphy's clear, insightful reports help you assess customer sentiment and message distribution across platforms, allowing you to allocate resources effectively.
Great customer experience brings greater success in social commerce, and customer service is indispensable. Try Juphy for free to discover how it can help you with the social commerce side of your business.
FAQ
1. What is social commerce?
Social commerce is the integration of social media platforms and e-commerce, allowing users to make purchases directly within the social media app or be redirected to the brand's website.
2. How does social commerce benefit businesses?
Social commerce increases brand visibility, drives traffic to the website, enables better targeting, boosts sales, and enhances customer engagement and satisfaction.
3. What are some popular social commerce examples?
Examples include organic shoppable posts, shoppable ads, shoppable influencer content, live shopping, and in-app purchases.
4. How do in-app purchases work in social commerce?
In-app purchases allow customers to complete transactions without leaving the social media platform, streamlining the buying process and reducing cart abandonment rates.
Create Your
Social Inbox Now
Manage all social media customer support inquiries in a unified inbox.
Related Article – The Power of User-Generated Content in Social Commerce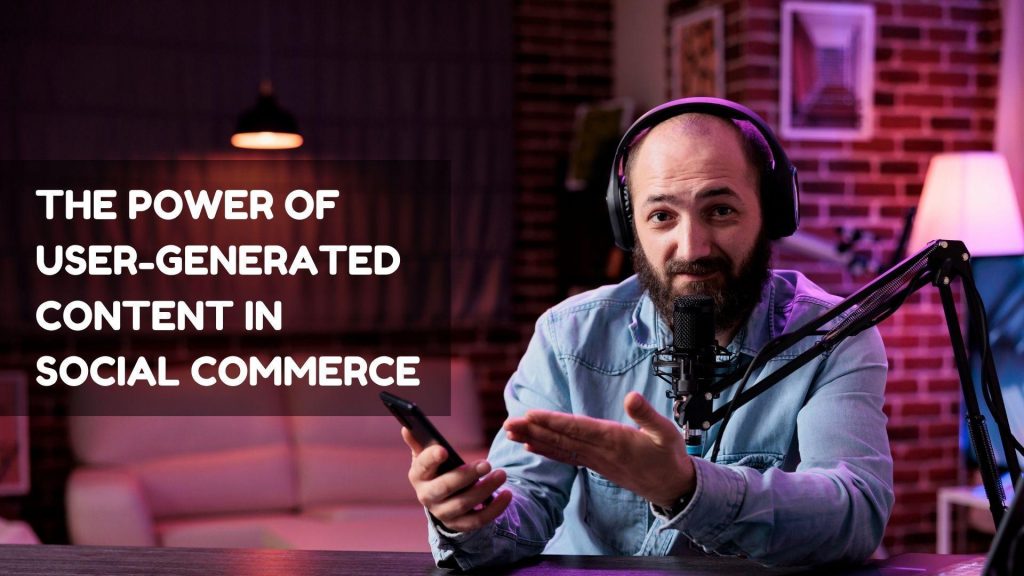 Want to Make an Impact with Your Social Media Marketing? Discover the Benefits of User-Generated Content Today. Read More Now!