WhatsApp was launched on iOS as a chat app for personal use in late 2009 and hit a milestone of 200 million monthly active users only five years later when it was acquired by Facebook. Today it has more than 2 billion monthly active users globally, making it the most popular mobile messenger app among the top social media platforms. Although most people use it for communicating with friends and family, this popularity is also reflected in business. With its 99% message opening rate, WhatsApp Business bludgeons email, SMS, and IVR in terms of conversation and practically helps all kinds of businesses to offer instant messaging in customer support. WhatsApp Business has over 50 million monthly users worldwide, and it's no surprise since the tool has some powerful features for business growth.
Create Your
Social Inbox Now
Manage all social media customer support inquiries in a unified inbox.
​​4 Reasons Why WhatsApp Business Is Important for Your Company
Different interaction styles
Being a customer-oriented business is very important for making valuable interactions. In WhatsApp, you can post stories to keep in touch with your clients, add a profile picture that will express your business, and add a catalog of your products. These ways of interaction provide different ways to approach your audience and widen your presence.

Automatic messages
Quick replies, greetings, and away messages ensure your clients get immediate responses, even during the off-hours. Deploying a chatbot with WhatsApp API makes handling common questions easy. With templates and shortcuts in quick replies, you save the time you would waste answering the same questions over and over again. Plus, with greetings and away messages, you can interact with the customer while you are unavailable and let them know when they are getting an answer. Briefly, quick responses will satisfy your customers and enhance their experience with your business while making life easier for your business.


Labels
WhatsApp Business offers labeling options for your chats, with up to 20 different labels and different colors. You can apply your label(s) to a single message within a chat, or you can label an entire conversation. This way, your messages will be more organized and easier to reply to.


Internal communication
WhatsApp Business is also a platform for communicating with your employees. With WhatsApp's group chat feature (in which you can include up to 256 people in one group), being in touch with the team is as easy as it can be!
WhatsApp's beneficial features are not limited to these, of course. Still, in short, we can say that if you have a business in which you regularly communicate with customers, WhatsApp will probably be a pretty good platform for you.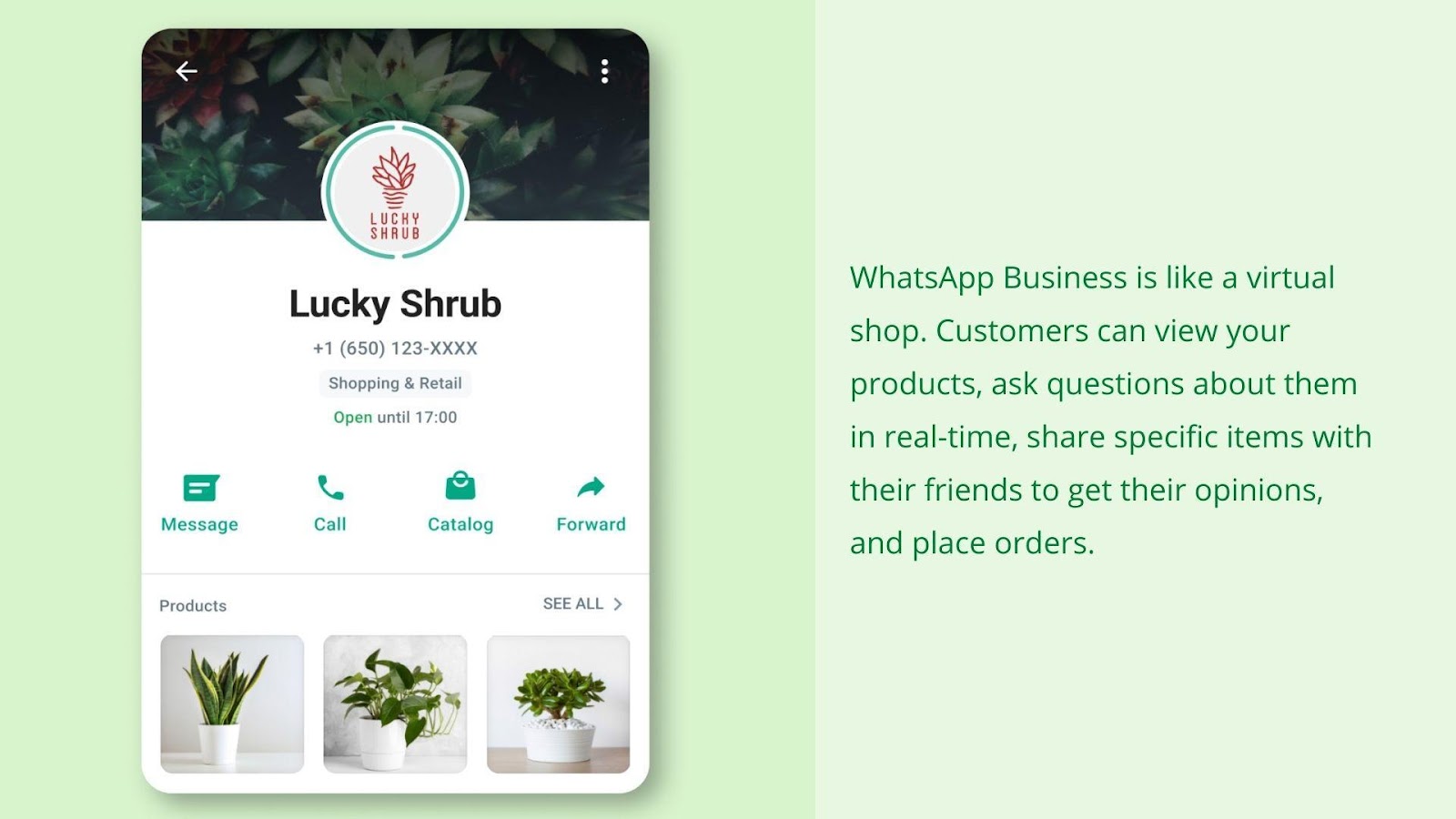 What Is the Difference between Whatsapp and Whatsapp Business
WhatsApp is the version that everyone uses for personal messaging, whereas WhatsApp Business is designed for companies. The primary difference between WhatsApp and WhatsApp Business is that businesses get verified so customers can trust who they're chatting with.
Is Whatsapp Business Free?
Whatsapp Business accelerates the shopping journey with two different products. The free WhatsApp Business App is for small businesses that personally manage customer conversations. The second product is the WhatsApp Business Platform, where larger businesses communicate with customers at scale through programmatic access. Whatsapp Business Platform is not free, and you can contact them to learn more about their pricing.
For now, you can't make or take payments on the free version of WhatsApp Business, but you can use it like a virtual shop. Whatever your business is, WhatsApp Business makes it easier for your customers to shop and for you to connect with them.
How to Use WhatsApp Business
According to Meta, 80% of adults agree that messaging is a quick and easy way to communicate with a business, and 175 million people message a business account daily. Customers contact businesses to ask about product features, report problems, or deliver complaints. We explained here that an ordinary customer chooses the fastest and most effective way available to communicate with a business, and most of the time, it is through social media.
WhatsApp comes right after Facebook and YouTube in "the most used social media" ranking and has far more users than Facebook Messenger. So if you use WhatsApp Business for customer service, you have already won your customers with accessibility.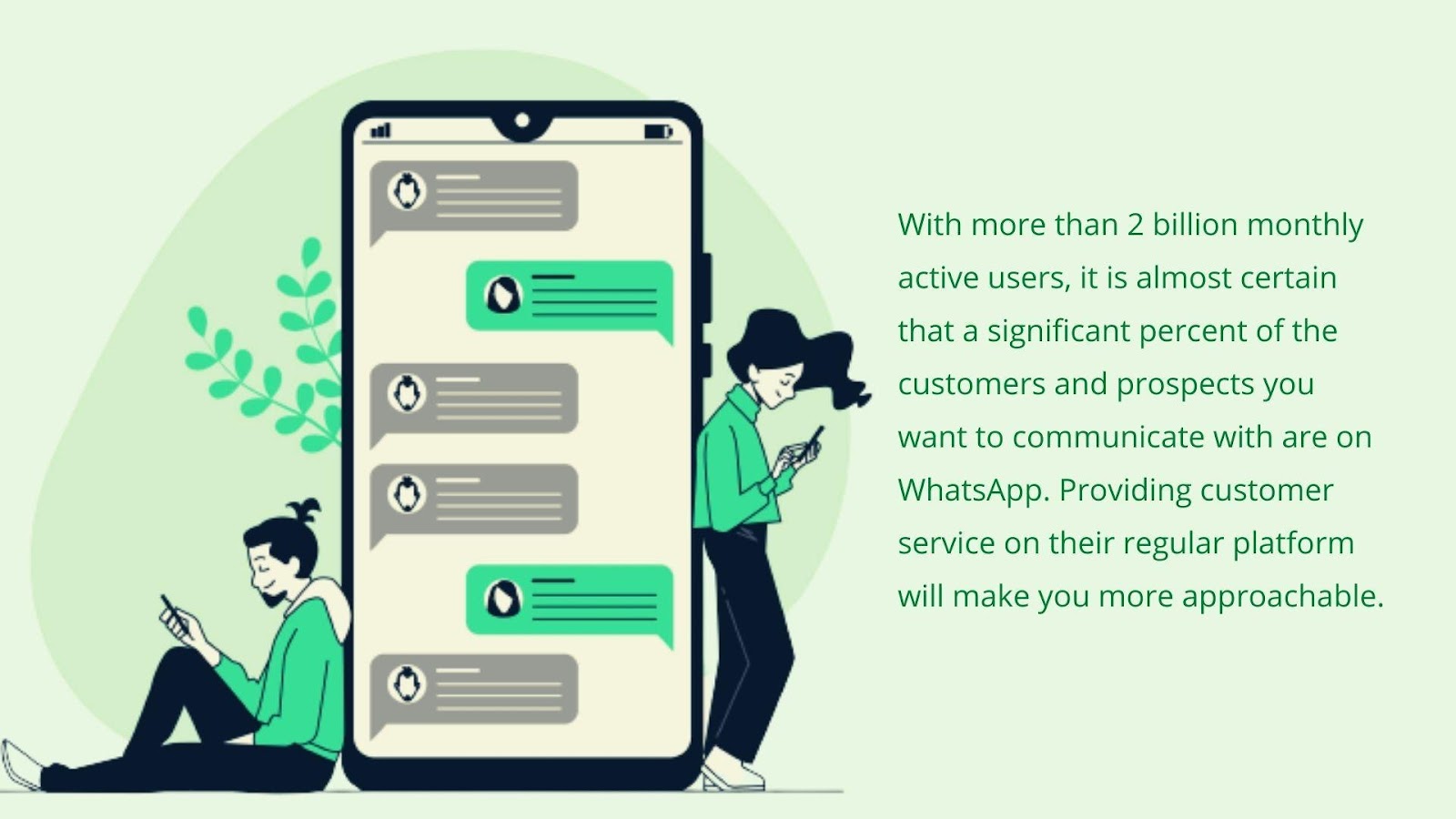 Here is what you can do for your customers on WhatsApp Business:
1. Welcome them with a customized greeting
When customers start a conversation with your business for the first time, you can send them a customized greeting message like "Welcome to my shop. How can I help you today?", just like you greet a customer who comes through your doors. You can also track older messages, if any, and try a more personalized greeting.
2. Showcase your products
WhatsApp Business allows you to create a catalog of your products and services with details like pricing and description. You can link them to your sales channels for actual conversions, answer customer questions about products in real-time, and show specific items from the catalog to meet their needs.
3. Assist your customers instantly
Since WhatsApp is a conversation-based app, customers would expect real-time answers to their questions. WhatsApp business offers team inbox and third-party integrations as a solution. With the team inbox, the whole support team receives the queries, and the available one responds. When the tool is integrated with a multichannel help desk like SalesForce, ZenDesk, or Juphy, the team leader can allocate the queries to certain agents in order to provide better service.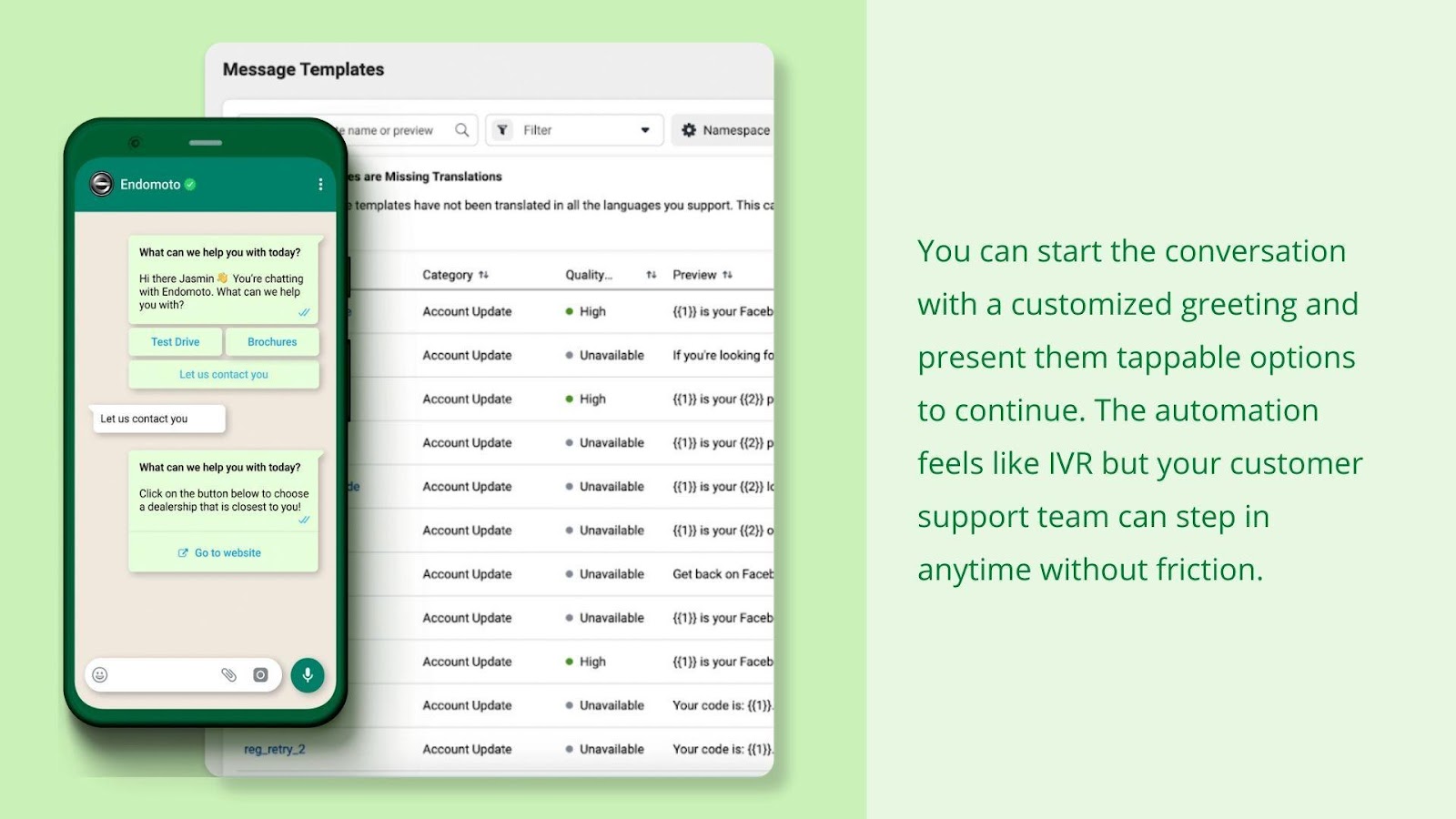 4. Set response time expectations
Depending on your line of business and global coverage, you can provide 24/7 chat support, or you can limit it to business hours. When customers try to reach you outside your customer service schedule, they can receive an automated message to set their response time expectations or maybe refer to a chatbot for basic requests.
5. Manage customer relationships
WhatsApp Business offers tools to automate and sort messages so you can easily interact with customers who have reached out to you. You can also view messaging history and respond accordingly, so the customer won't need to express the same issue repeatedly to different support team agents.
6. Manage the orders
You can't receive payments on WhatsApp Business, but you can place orders. The cart tool allows customers to choose several items from your online catalog and send them as a single message to you. The order management system also works with bookings and appointments. You can conveniently confirm orders or bookings and send shipping updates, tracking numbers, or appointment reminders from a single platform.
7. Send updates
Most conversations take place between a single customer and a customer support team member, but you can also send updates to a specific audience. With the broadcast feature, you can simultaneously announce promotions, special offers, and new inventory to multiple customers. Keep in mind that WhatsApp is mainly intended for personal communications. Overusing this feature, sending too many updates or irrelevant information can result in customers opting out of your service.
Communicating on WhatsApp is not only about text messages. You can share images, videos, audio files, and pdf documents or even continue your interaction with video chat. Even when the conversation continues in a text-based manner, you can adorn your remarks with emojis and stickers or provide tappable options through a chatbot. Remember that the conversation goes two ways. For example, a travel-related business can ask customers to share their travel photos after the trip and build a marketing campaign.
9. Collect customer feedback
WhatsApp Business is a great platform for conducting customer surveys. A simple question such as "How was your experience? Rate it by typing a number from 1 to 5" after each interaction is an easy way to collect feedback.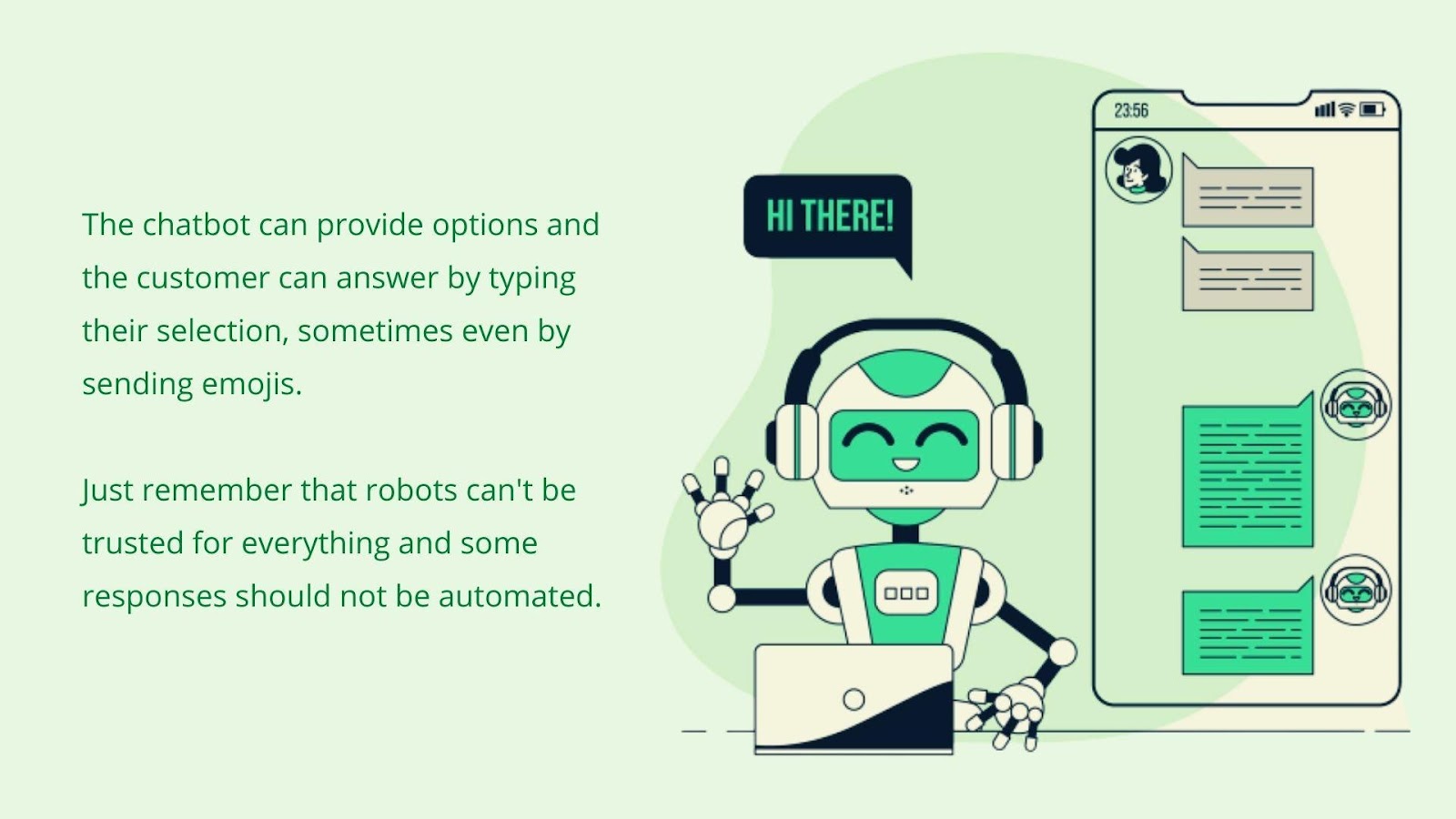 Automated Messages and Tone of Voice
WhatsApp Business' chatbot capabilities can lift some burden off your customer support team. You can create automated answers for common product-related questions or canned responses for messages received outside your business hours. Since these are predetermined and delivered by a bot, they will fit your brand's tone of voice and need no personalization.
On the other hand, some issues require a little more human touch and should not be automated. While the transition from machine to human is seamless in WhatsApp Business, the tone of voice can cause confusion on the customer's side. Just like your normal social media customer service practices, greet your customers with a warm welcome and introduce yourself, and let them know that an actual human being is answering their questions. This means personalized, to-the-point responses that are supported with some empathy statements.
How to Use WhatsApp for Business Growth
Normally customers or prospects initiate conversations on WhatsApp Business. In order to reach out to you, they need to know that your business is available for chat. Even though the tool is not an advertising medium, being acquired by Meta provided it with perks like turning a Facebook post into an ad that sends new customers to your WhatsApp Business number. You can make it easier for your customers to find you by adding a "click to chat" link to your digital profiles and Facebook and Instagram Shops. The tool also offers QR codes to add anywhere, such as your product packaging, with a call to action like "Chat with us on WhatsApp for support or place your next order!"
It would be a waste not to add WhatsApp Business to your marketing arsenal when it is almost certain that the customers and prospects you want to reach use WhatsApp regularly. Combining the features of a powerful app that serves a huge user base with an advanced multichannel help desk like Juphy can improve your social media customer service performance significantly.
How to Manage WhatsApp Business via Juphy

People find WhatsApp easy to use, communicate, ask or request something, and more. So, it will most likely get lost in customer chats. In order to prevent this chaos and not leave your customers unresponded, Juphy enables you to;
Manage all WhatsApp chats in one inbox: All the conversations opened in WhatsApp get into Juphy's inbox so that you can track these messages, answer them, make the necessary arrangements, chat with your team before answering, tag it, and more.
Create canned responses: You can create answers and save them to use when dealing with frequently coming up issues more quickly. For example, when your customers ask about your pricing, you can send them the ready-to-use answer.
Tag WhatsApp chats: By tagging each message and chat, you keep track of similar conversations, filter them, and deal with them with a proven strategy.
Track keywords: If you need social monitoring for your Whatsapp interactions, you can track certain keywords by Juphy's automation rules.

Measure your team's performance: The success is not hidden in numbers, but if you have a customer service strategy that can be monitored through Juphy's reports. This helps you to review your methods and approaches, then create a chance to improve the performance for better communications.
How to Connect Your Whatsapp Business Account with Juphy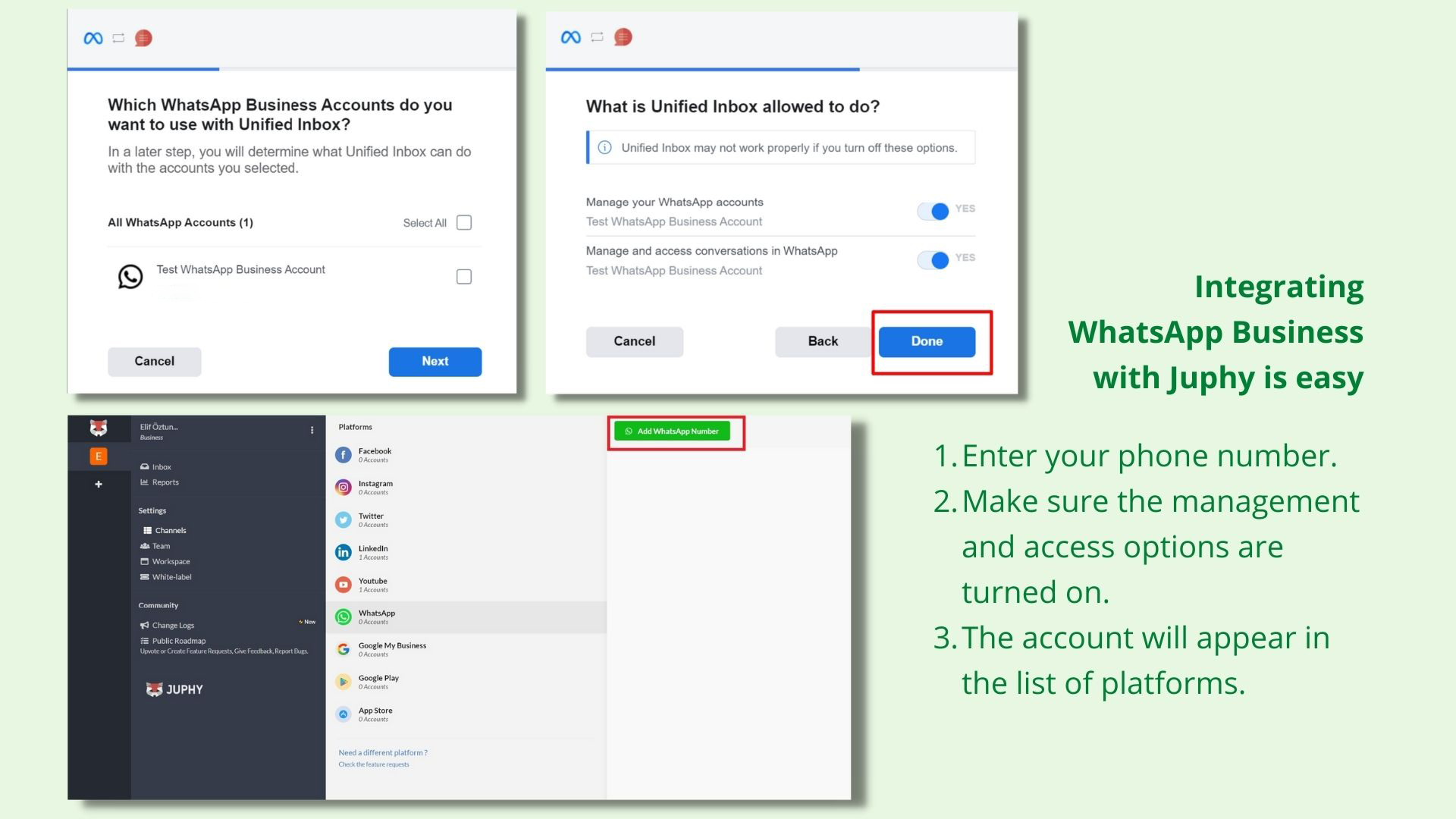 To integrate with Juphy, you just need to enter the phone number dedicated to your WhatsApp Business account and make sure the management and access options are turned on. The account will appear in the list of platforms, and you'll be able to receive and respond to all customer messages on a single dashboard.
In Short
WhatsApp Business enables you to help your customers with prompt and advanced customer service. It is a great tool to improve the quality of your customer support and take your communication to another level.
Nowadays, WhatsApp Business is one of the best social selling tools. Plus, WhatsApp has become important for marketing since you can carry out surveys, campaigns, and advertising promotions through the platform.
But as in most business workflows, you might need software that will support you to manage WhatsApp better and more efficiently for your business. Juphy helps you answer queries and needs, create tickets, and handle your WhatsApp chats in one inbox. Start your 7-day free trial today!
Create Your
Social Inbox Now
Manage all social media customer support inquiries in a unified inbox.
Related Article – Business Transparency on Social Media and Its Advantages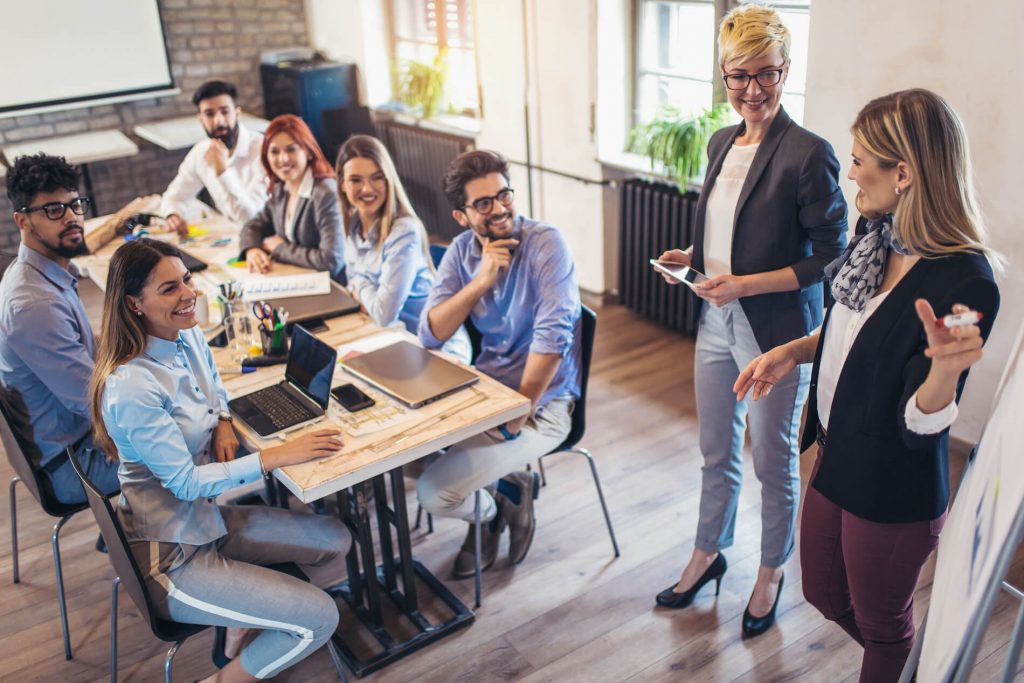 What is business transparency on social media? How can social media transparency build customer trust? Read now to learn more!