Adobe is one of the world's leading software providers to help businesses engage and connect with customers digitally. Adobe's social media customer service team provides a wide range of support services for Adobe customers, including:
Social media and digital marketing education
Social media engagement strategy and implementation
Social media reporting tools,
Social media monitoring and analytics,
and other social media support needs. Adobe also offers a variety of free resources for social media training and resources for businesses that want to use social media as a marketing channel.
Adobe makes it easy to connect with customer service through social media. The company's customer service team has more than 600 employees and is available on Facebook, Twitter, and Google+ to answer questions and address issues. For example, you can post a question or use the #adobe hashtag to get an answer from Adobe's social media team. You can also send a direct message to @AdobeSupport on Twitter.
Let's see how they deal with customer service through social media.
Create Your
Social Inbox Now
Manage all social media customer support inquiries in a unified inbox.
Adobe's Social Media Customer Service
Adobe is a recognizable global brand with a significant social media presence. Adobe's social media presence is strong, with over 6.5 million followers on Facebook, 1.4 million followers on Instagram, and more than 800 K followers on Twitter. The company maintains this strong presence by regularly posting updates, photos, videos, other engaging content, and links to its blog.
Adobe's social media strategy focuses on improving brand awareness and increasing customer engagement. By posting engaging content, such as behind-the-scenes videos from its conference events and more, Adobe can build a sense of community that leads to better brand loyalty. It's impossible to miss their success in social media strategies when we check their social media accounts.
On Instagram, Adobe has an official account, but it is not the only one. You can find accounts of different software that Adobe offers, such as Adobe Creative Cloud, Adobe Drawing, Adobe Video, and Adobe Express accounts (and these are only some of them!).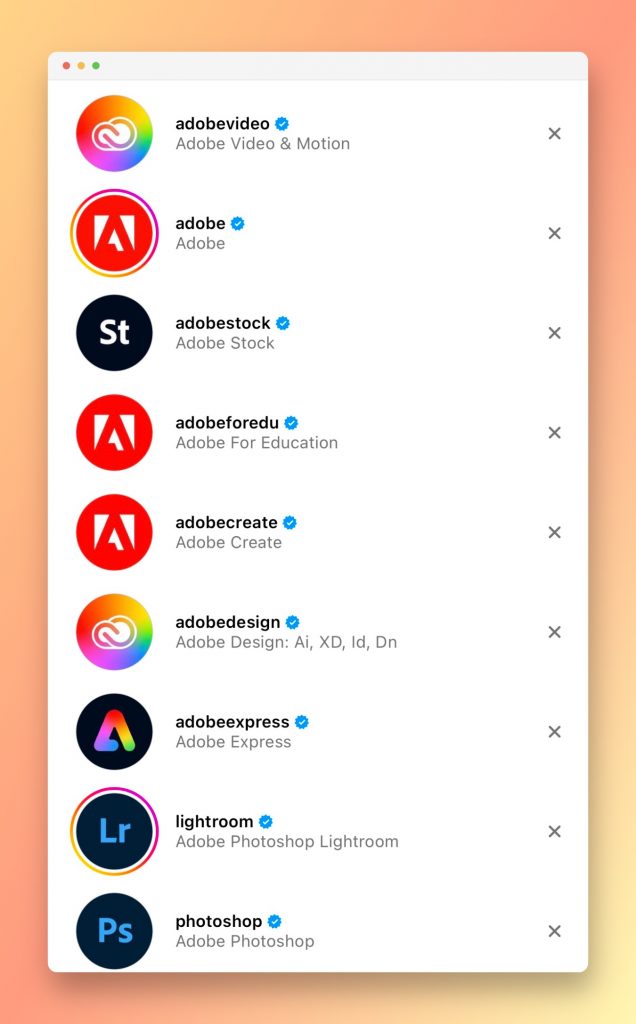 This strategy raises the chances of someone seeing adobe on Instagram. Each account has different engaging content, but we think two are worth mentioning, especially;
The first one is the Adobe Photoshop account, in which they share tutorials, tips, edit processes, and some inspiring images. This account has 5.4 million followers. Other than the images, you can find very useful content here.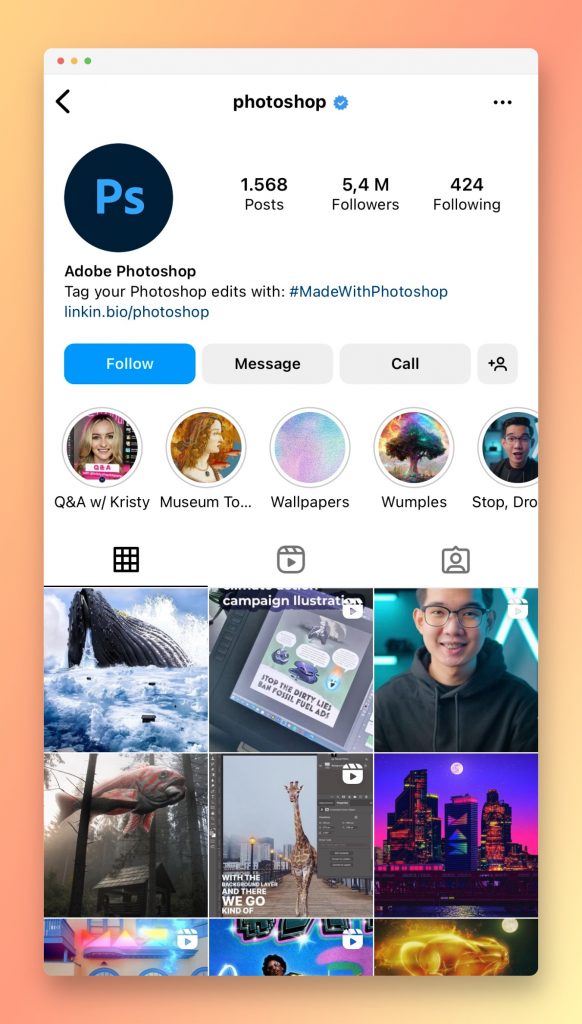 Similarly, Adobe Lightroom account is followed by more than 3.2 million people. In this account, you can find inspirational photos, amazing views, remarkable images, edit process videos, and much more content that makes people engage with the company through social media.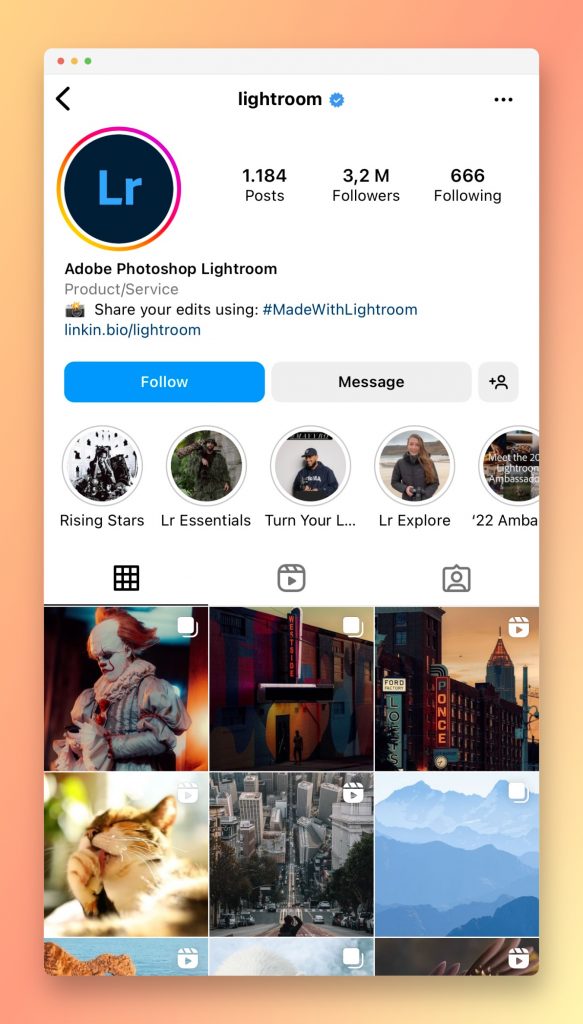 There are different campaigns in which people can join and share their work. These kinds of user-generated content increase social media engagement and strengthen the connection between Adobe and its users. 
I mean, don't we all share lovely photos with our friends on Instagram, or don't we share some posts that we like in our stories? Plus, this content shows other people what they can accomplish with the apps (in terms of editing), which is why this type of engagement is also one of the best marketing methods.
As for Facebook, the case is similar. They share the news, blogs, and engaging content from their official account. There are also Facebook pages for photoshop and several other Adobe apps.
Analysis of Adobe's Social Media Customer Service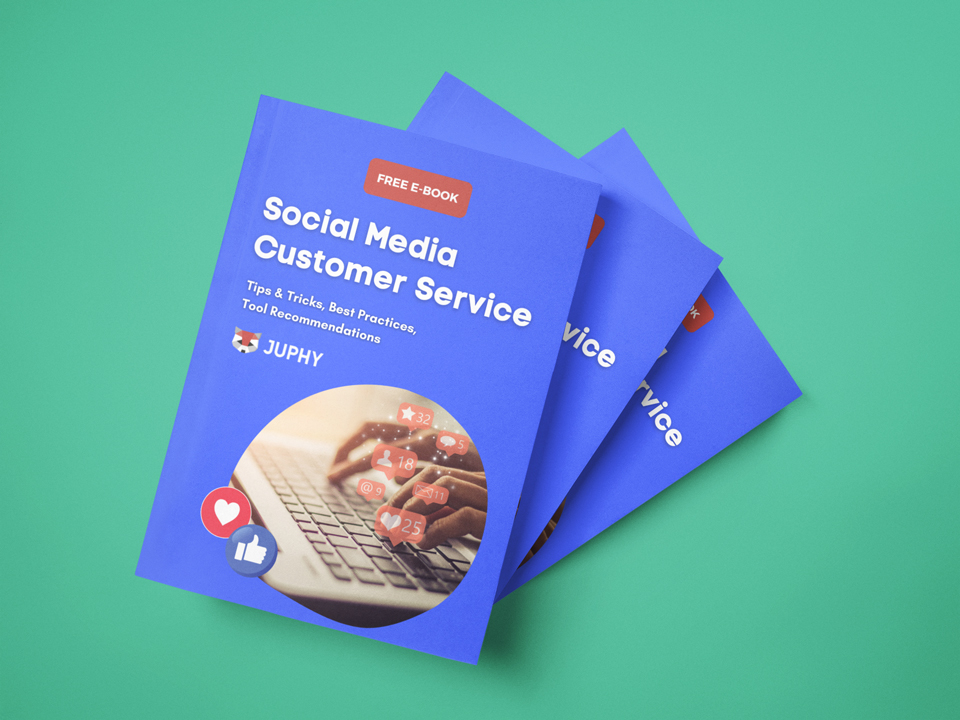 Social media customer service is providing customer support on social networks. All you need to know about social customer service is in this free e-book. Download it for free now!
Adobe's Accessibility and Response Time
Adobe is one of the companies that offer social media customer service. But how fast are they and can we reach them easily?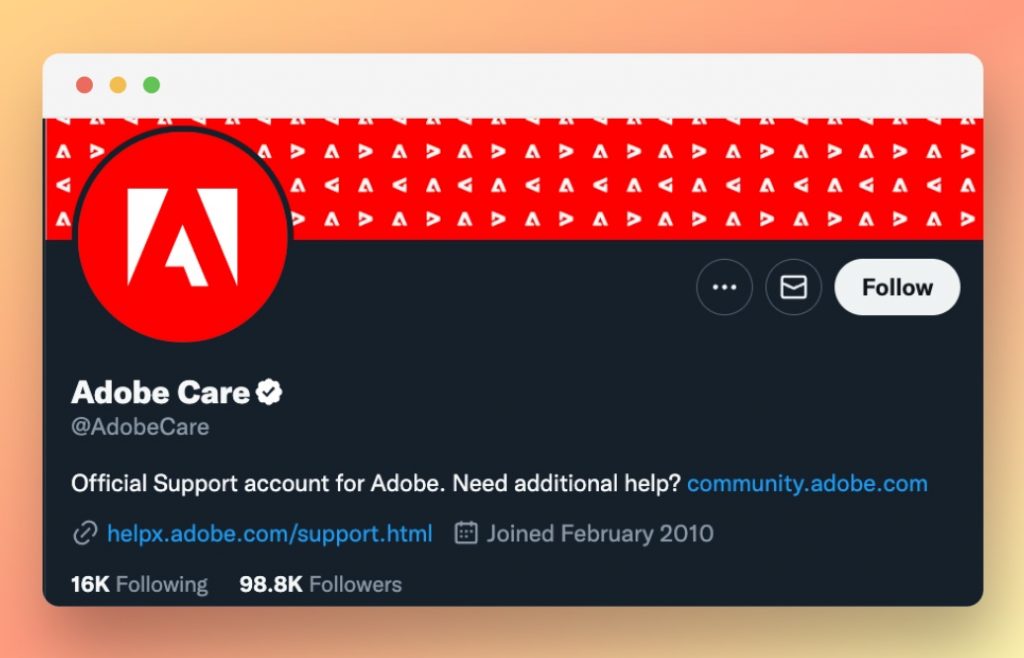 On Twitter, Adobe has an account called Adobe Care, from which they communicate with customers. Adobe is doing something very nice with this account because they not only answer the questions directly and quickly (and they reply with a possible solution to the problem rather than automatic responses😱) but also tweet some common problems and how to solve them! But before that, let's check their accessibility and response time.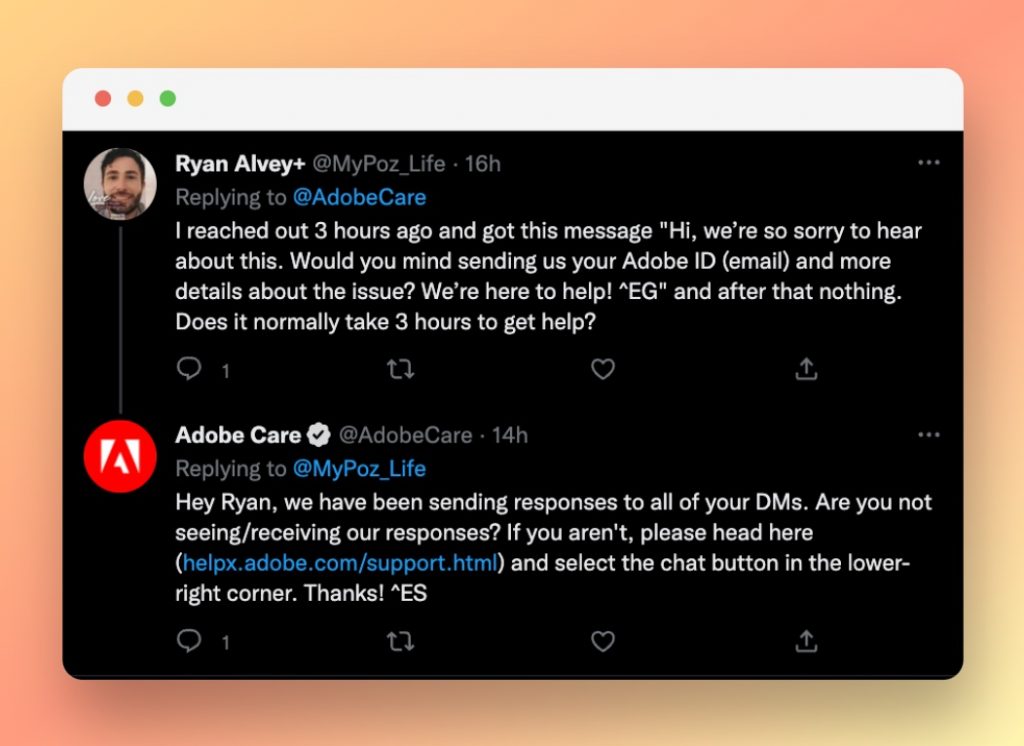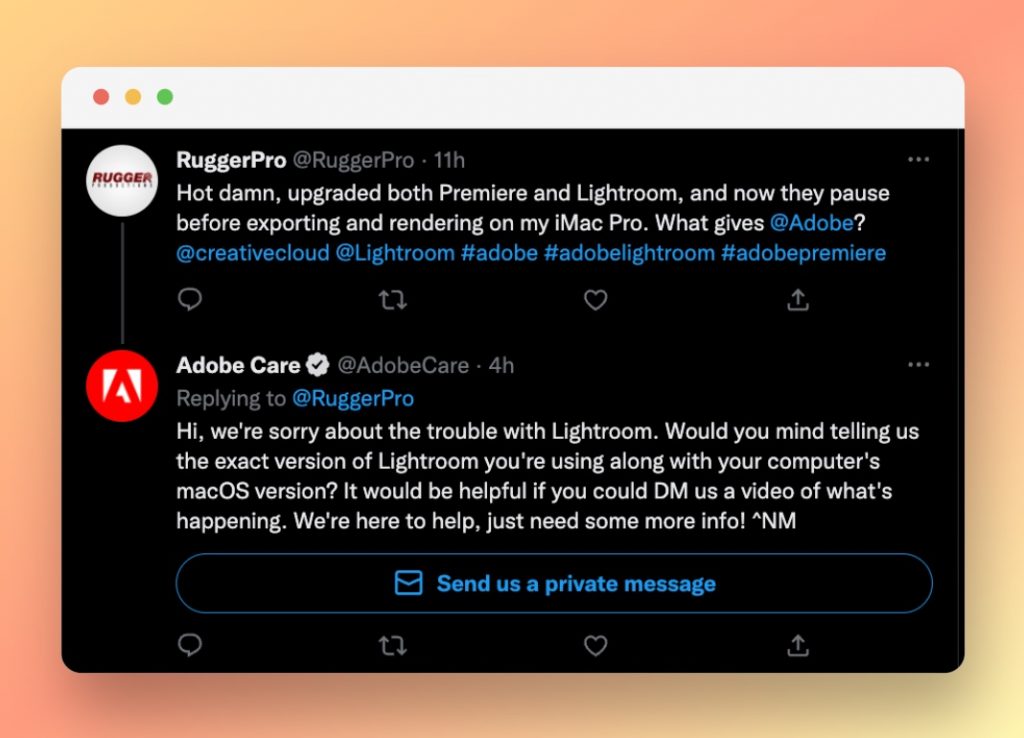 Twitter is the primary platform for Adobe's customer care services. As far as it is seen, they reply within 24 hours, and generally, the reply comes within 4-6 hours.
There are even examples of replies within the same day from different Adobe Twitter accounts: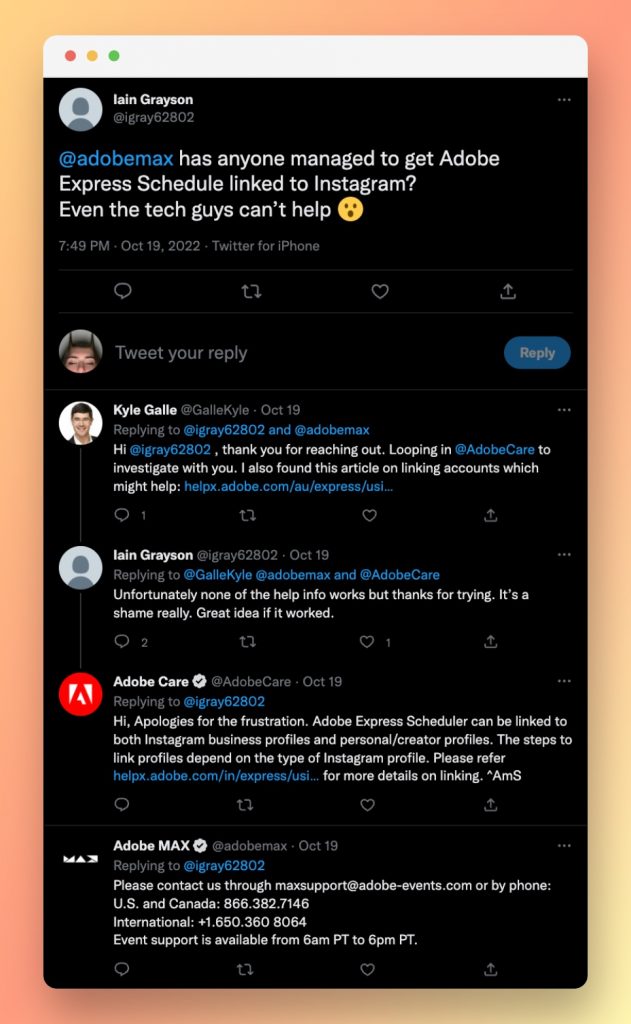 So, to us, it seems that Adobe really cares – or let's say they are doing their best to engage with the customers and provide solutions.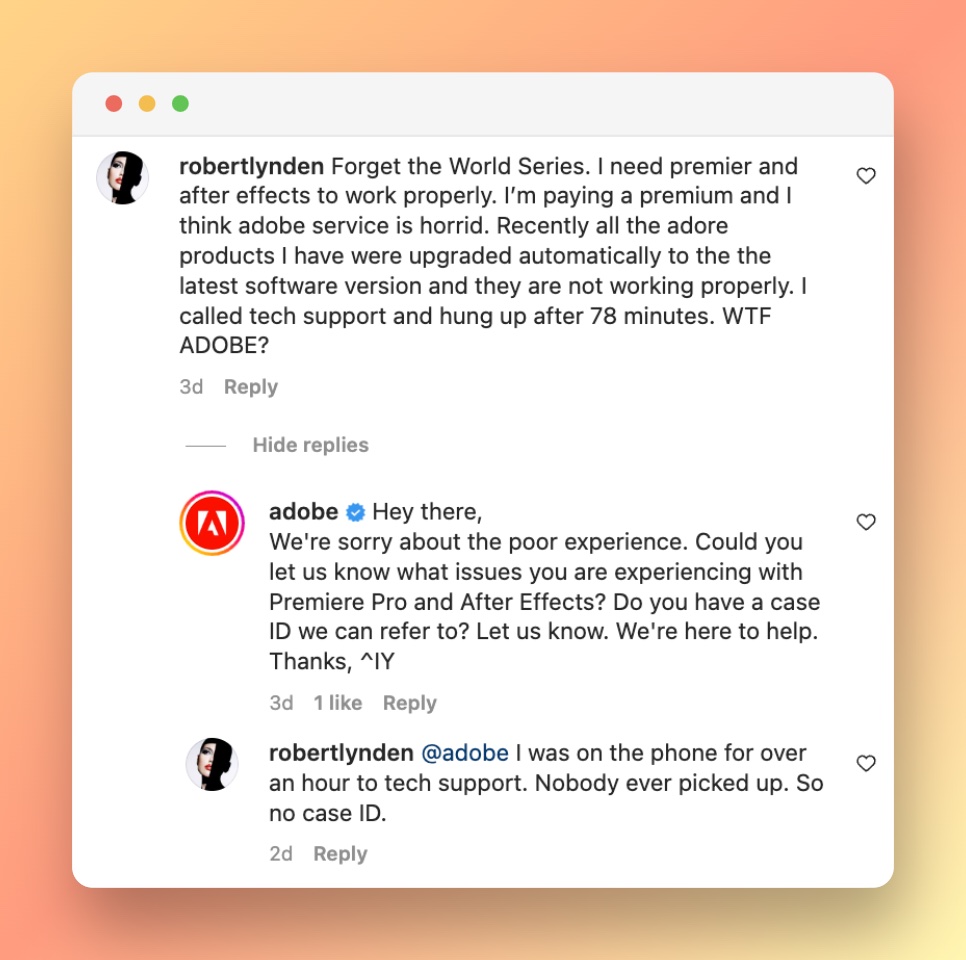 Adobe also sometimes replies to the comments on their Instagram posts, and they seem to care when they do, but we would advise you to try your shot on Twitter since their response time and responses are way better there.
In short, we can say that Adobe replies in less than 12 hours most of the time. They are generally accessible through all social media accounts, but Twitter is the best way to reach them.
Adobe's Style and Tone
Adobe sure is doing something – many things right, and one of the nice details about their customer service on Twitter is that they do not keep the answer to themselves. It is very unusual to see a reply that doesn't say, "Please send us a DM with your info", and it is even more unusual to see the possible solution right away!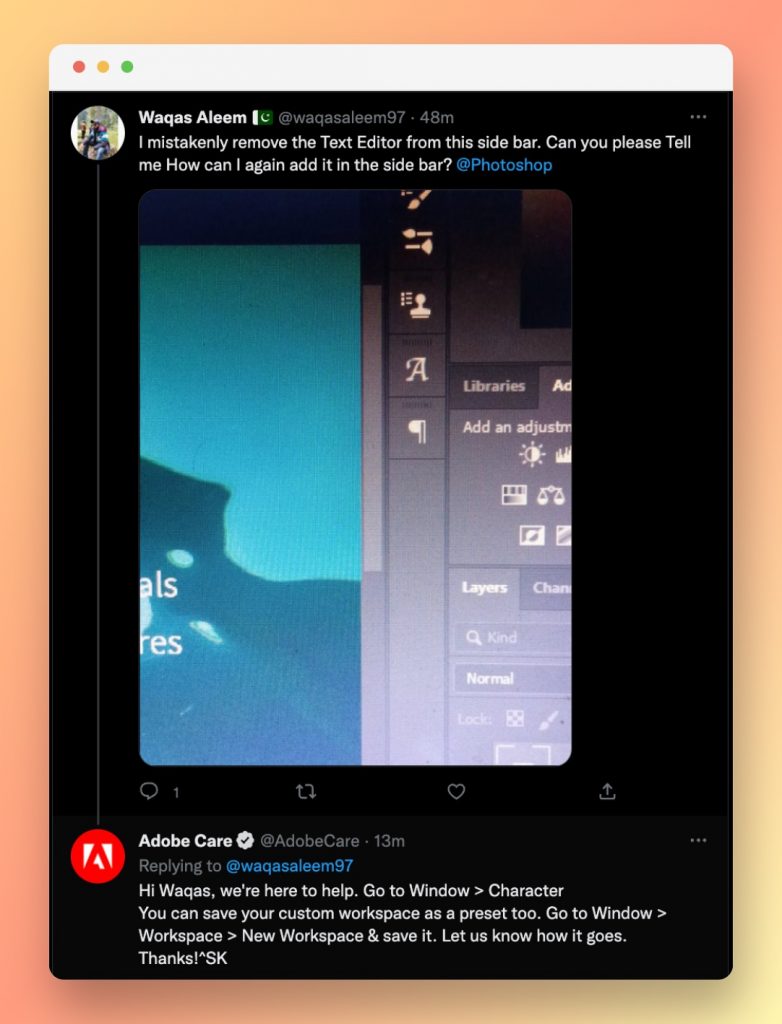 Other than answering in less than an hour, the answer is open to everyone! Can you believe this?
Of course, there are some canned responses, but many of the replies include possible solutions or details to look for if you have the same problem.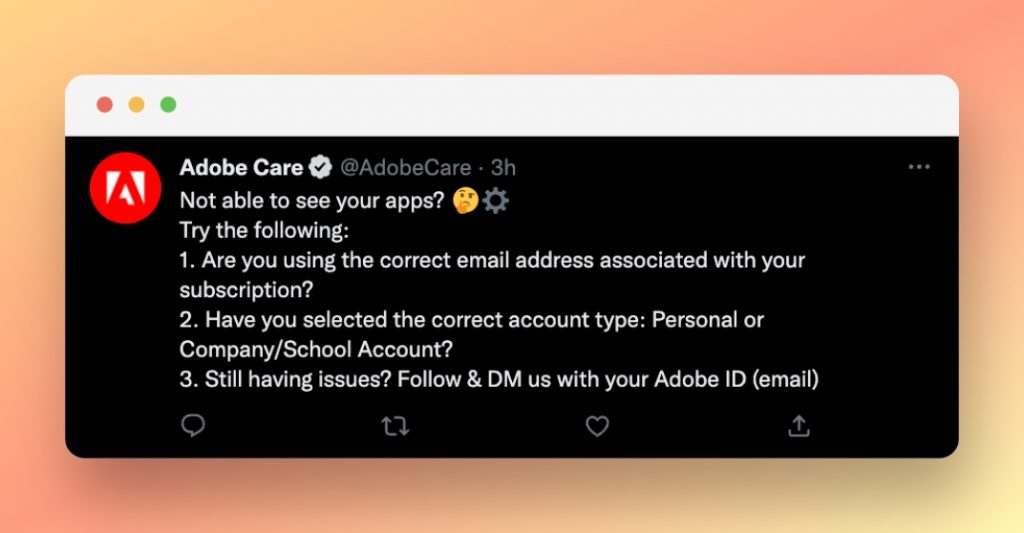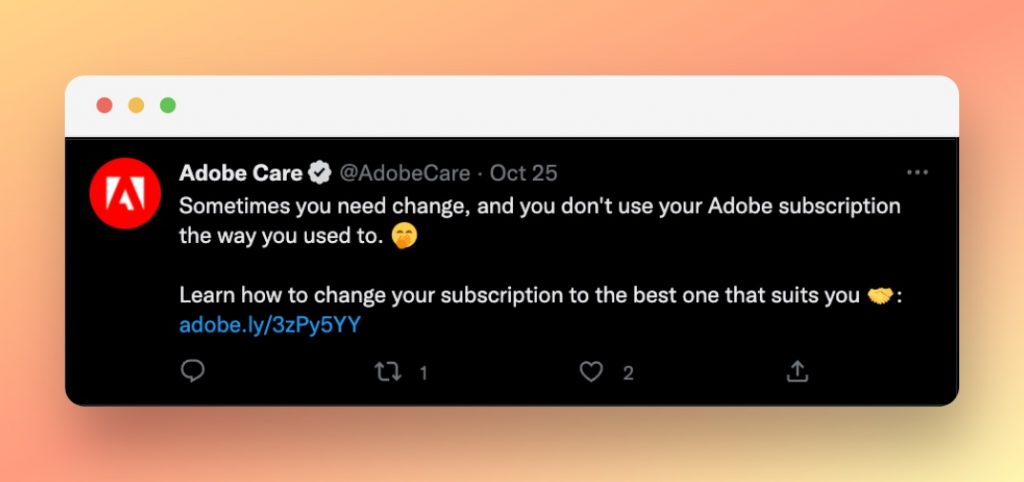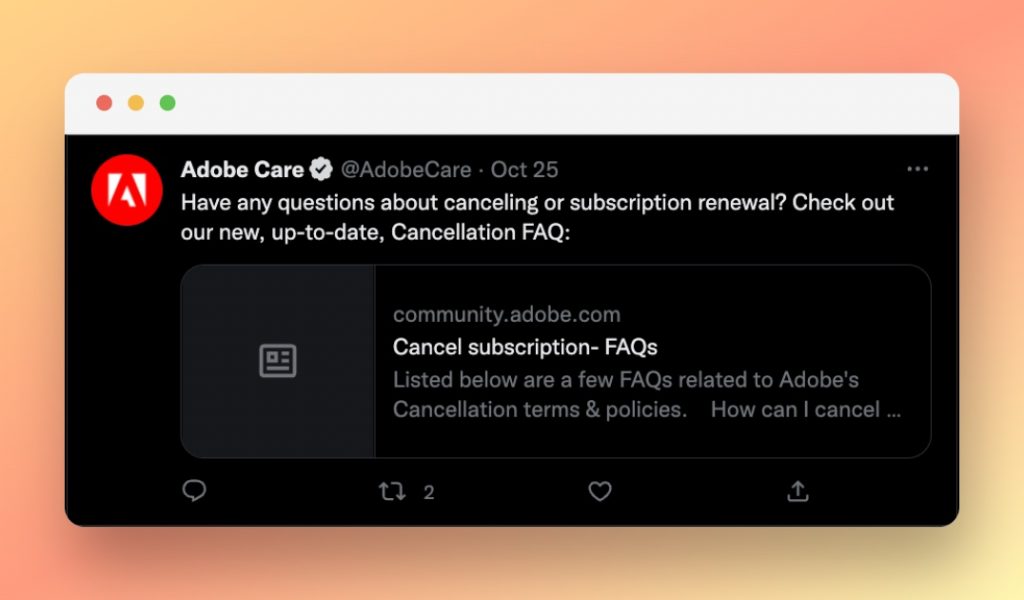 This example of customer self-service can be very helpful for people since seeing the problem without explaining and waiting for a reply will save time and effort and give easy solutions to the customer. This practice is a win-win for both parties since Adobe care workers will also save time for other help needing customers.
They are accessible through many platforms but providing an option to solve your problem without waiting for the customer care process is a brilliant strategy.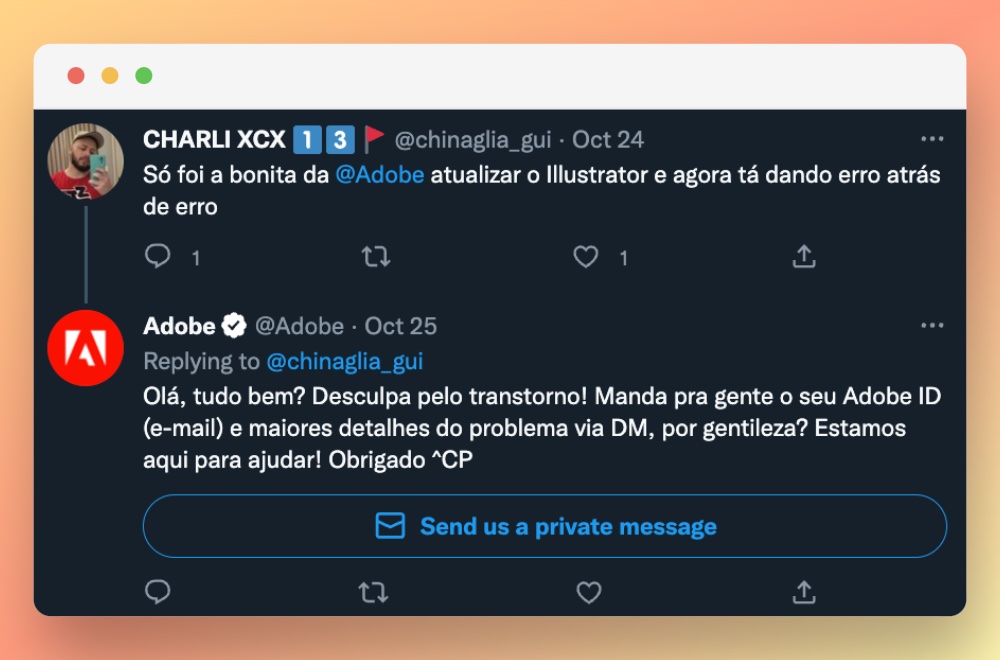 Even though their official Twitter account normally tweets in English, Adobe replies in other languages; for example, they replied in Portuguese to a customer who is having a problem with their Adobe Illustrator app.
They don't reply to the comments on their Facebook profile as much as they do on Twitter, but when they do, they respond caringly.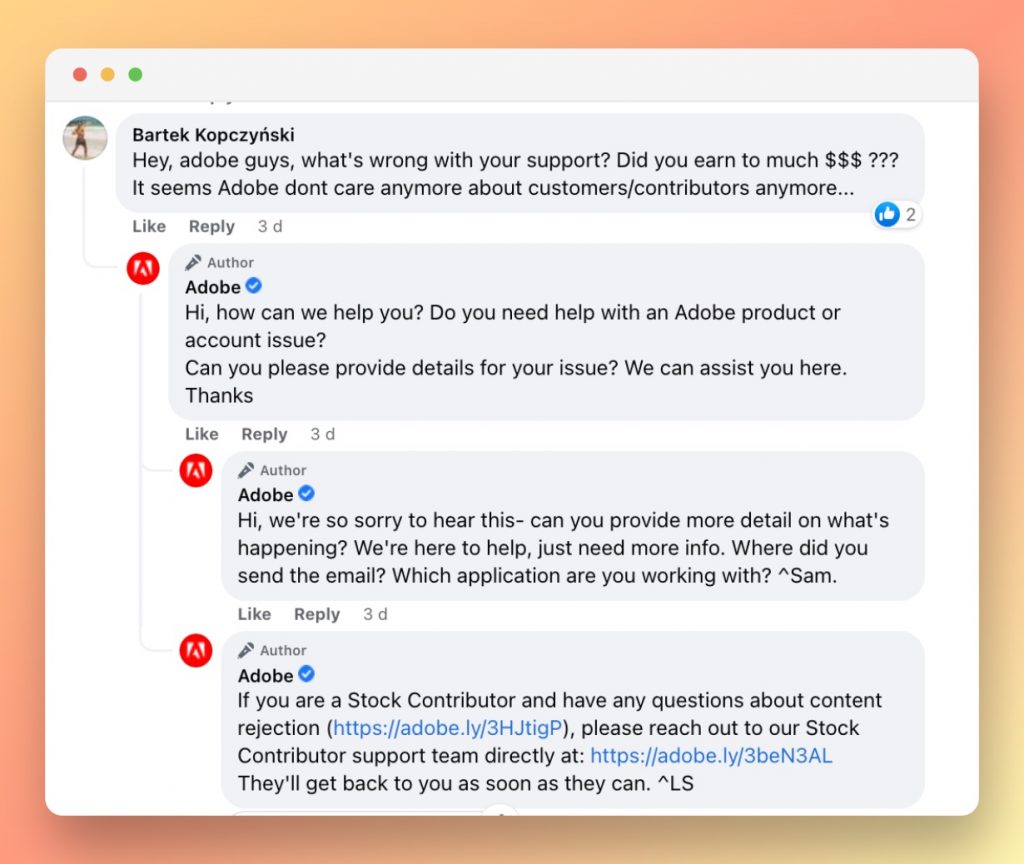 Their style and tone are familiar. They personalize their messages by replying to each person personally and adding their initials to each message. 
This consistent and sincere tone assures the feeling of being cared for.
Final Verdict
All in all, we can say that Adobe's social media customer service works well enough to make the customers feel cared for and safe. Adobe's social media channels are integrated into the company's overall marketing strategy, allowing brands to reach new customers and build loyalty. As long as they maintain this social media customer service performance and develop it, it seems that they will keep their place in the market.
***These ratings are based on our research and tests.
Accessibility – 8/10
Adobe's Facebook, Twitter and Instagram accounts are easy to find, but Adobe Care's account on Twitter seems to be the right address for customer service. They help customers through mentions and comments and save time for both the customers and their social media customer service team. It's not hard to reach them. But of course, there are some unresolved issues too.
Response Time – 9/10 
Adobe's response comes in less than 12 hours on Twitter; it can be up to 24 hours on other social media platforms.
Tone of Voice – 9/10
Adobe has a consistent and sincere tone that protects its brand identity.
Personalization – 9/10
We can see that 20% of their responses are canned, and 80% are personalized.
Engagement – 9/10
Some of Adobe's posts make people comment or tag someone, and they receive user engagement through sharing user-generated content, how-to videos, and more interesting content. Multiple Instagram accounts have more than a million followers, showing that their strategy works well.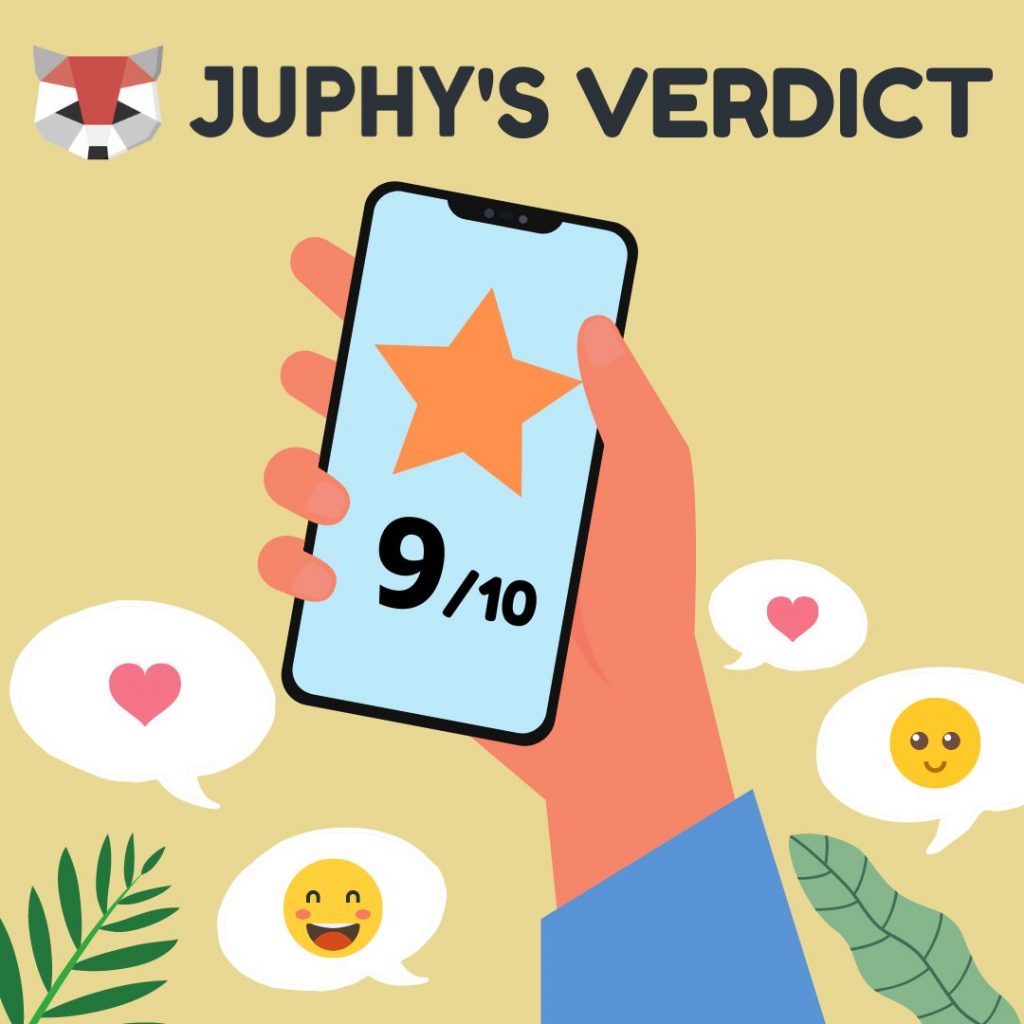 The Best Tool for Ideal Social Media Customer Service Performance: Juphy
Juphy offers an omnichannel help desk for your company's social media management and customer service departments. When there are a lot of customers, things can get out of control quickly.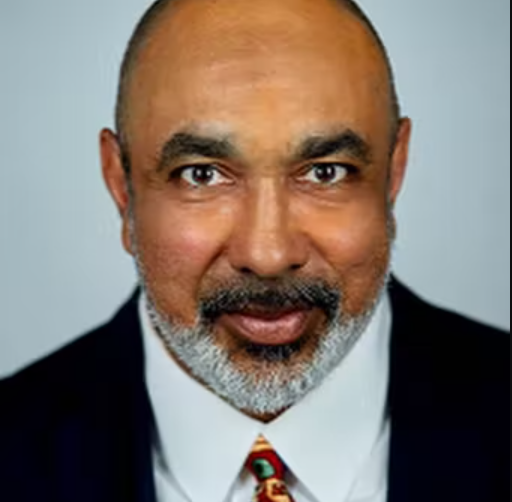 Shoan Snoday
Digital Marketer
"WE have been using Juphy and it has helped us 2x our company with one word … ENGAGEMENT! We were really struggling following up with all of our social media comments and interactions and Juphy helped us connect and engage with every single prospect AND helped us convert 33% more leads in our first week using Juphy. Our customer service department is happier."
✓ Product Hunt Verified Review
Juphy provides a Juphy multichannel help desk to assist your social media management and customer service teams. With Juphy, your team may respond to real-time interactions effectively and efficiently. Start your 7-day free trial with Juphy today!
Create Your
Social Inbox Now
Manage all social media customer support inquiries in a unified inbox.
Related Article – Domino's Social Media Customer Service Performance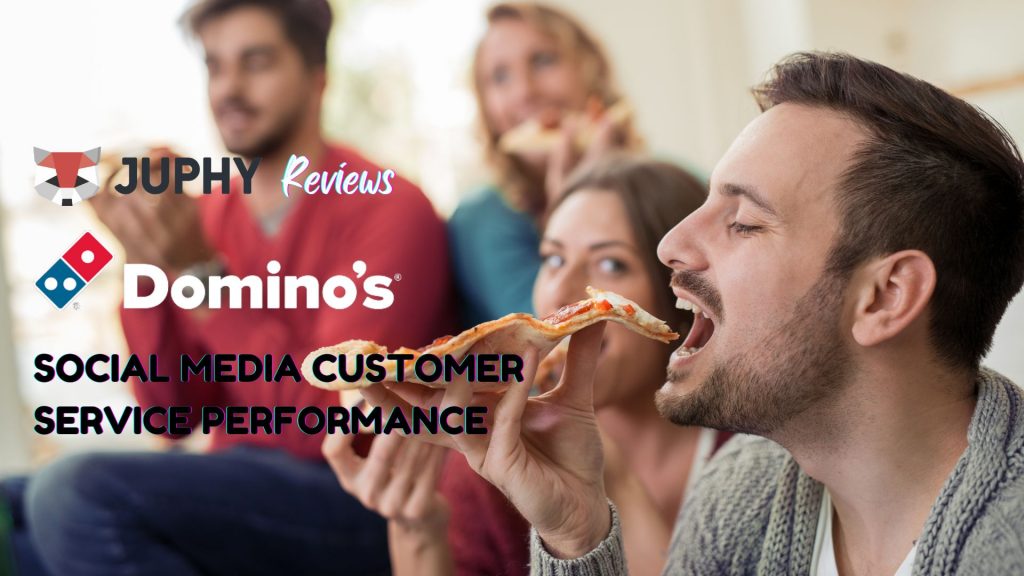 Let's check out Domino's social media customer service performance and create action points from the brand's strategy and examples. Read more now!