Customer service is a key component of any brand, and brands that are able to provide excellent customer service are more likely to be successful in the long run. The best way that companies can improve their customer service is by using social media as a way to engage with customers. By providing social media customer service, companies can reach a wide range of customers and ensure that they offer the best possible experience.
In that sense, the social media identity of a brand started to take an important place in constructing its overall presence in the market. In this article, we will evaluate how Domino's ensures that they offer their customers the tastiest pizza and how they can be sure that their customers enjoy each bite of their social media customer service.

Let's check out Domino's social media customer service performance and make our mouth water.
Create Your
Social Inbox Now
Manage all social media customer support inquiries in a unified inbox.
Brand's Social Media Presence
Domino's takes place on every main social media platform, actively responds to customer problems, engages with them, and provides a positive customer experience.

Domino's social media customer service team responds quickly and effectively when their customers have questions or concerns. They also deliver consistent, quality content across all leading social channels like Facebook, Twitter, and Instagram.

By doing this, Domino's builds a loyal following that provides them with valuable insight into how much their customers are satisfied with their customer services and how they are responding to their content.
Domino's Social Media Accounts
When we take a look at their presence on social media platforms separately, we can say that;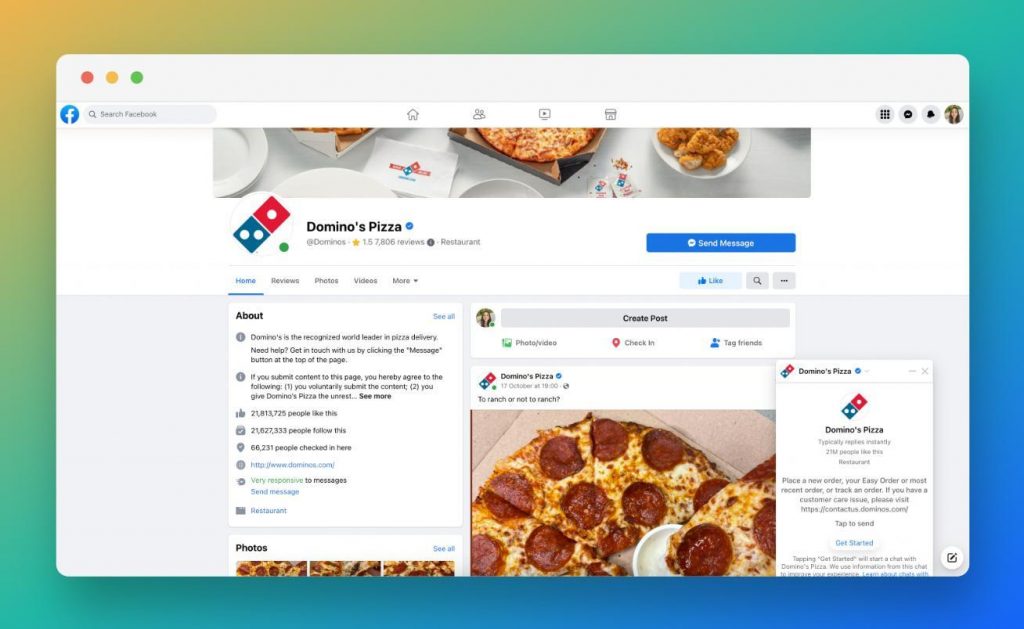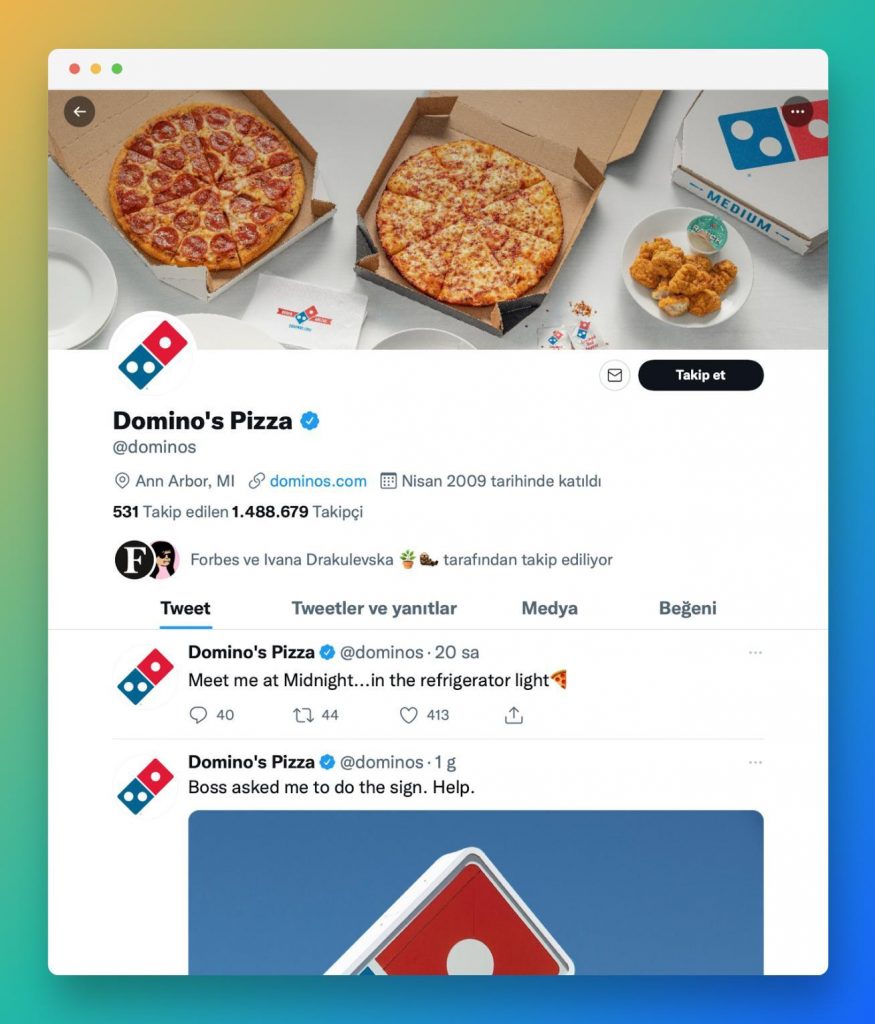 And finally, Domino's appears on Instagram with pretty engaging content, from reels to posts. As of October 20, 2022, Domino's has 1,7M followers on Instagram.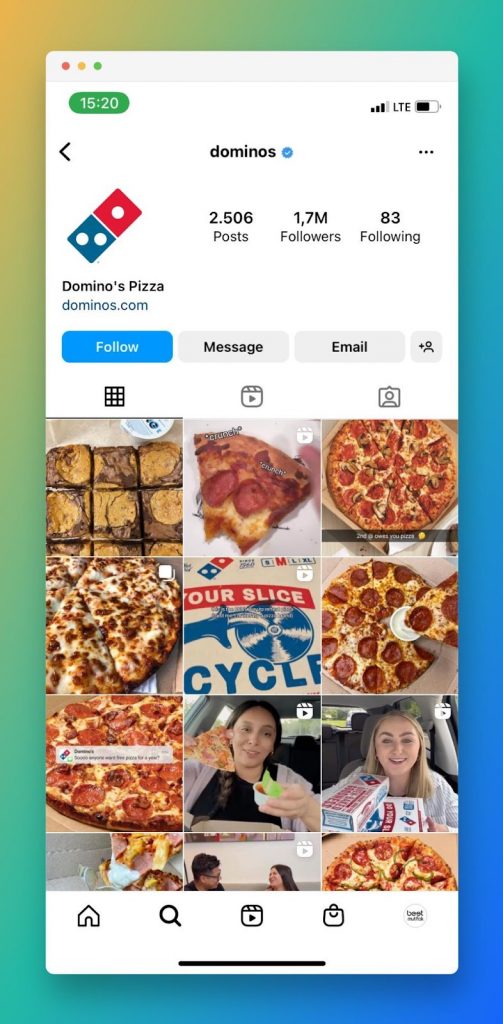 Domino's Accessibility on Social Media
One of the biggest challenges with social media customer service is accessibility. Social media platforms tend not to have the same features as other websites, like forms or menus that people can use to navigate easily. This lack of resources can make it hard for customers to receive customer service on social media.
When we evaluate Domino's social media customer service strategy from this perspective, we see that the company is very accessible on social media. For example, once a customer enters Domino's Facebook page, a message appears immediately, enabling them to start a chat.
This automated message shows that Domino's provides highly accessible customer service on Facebook by opening a chat immediately.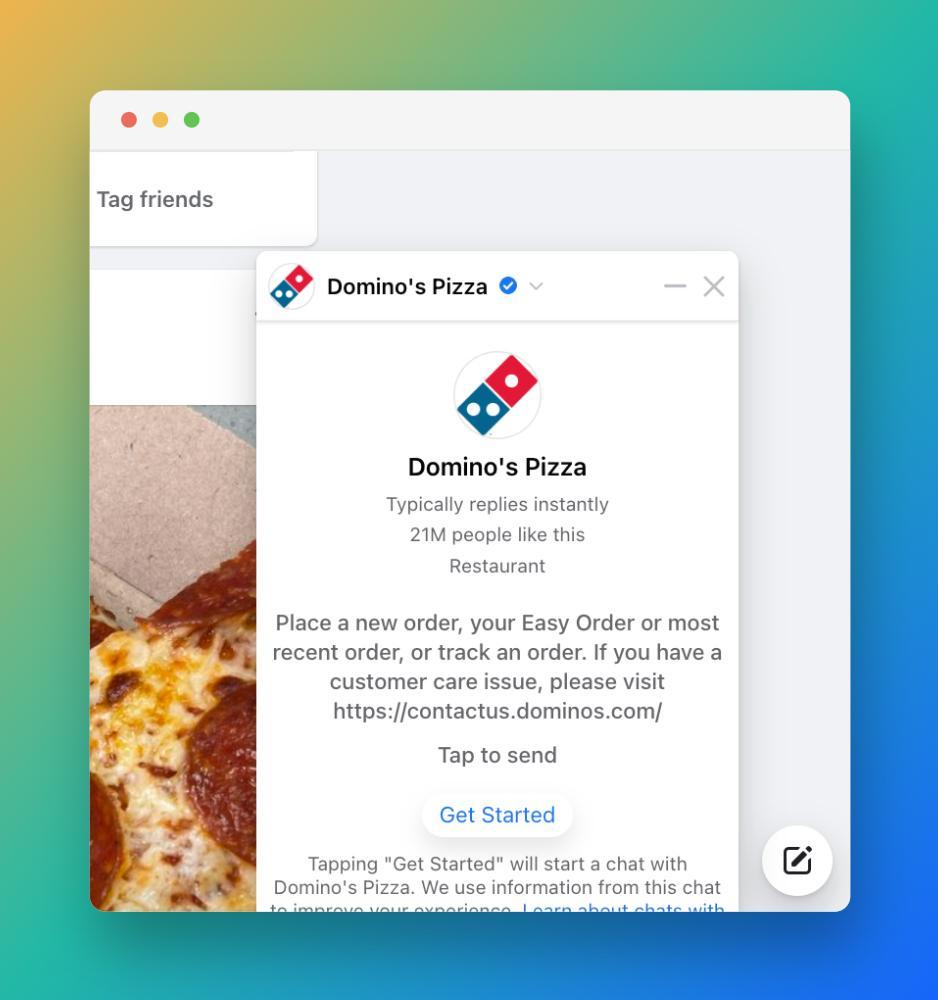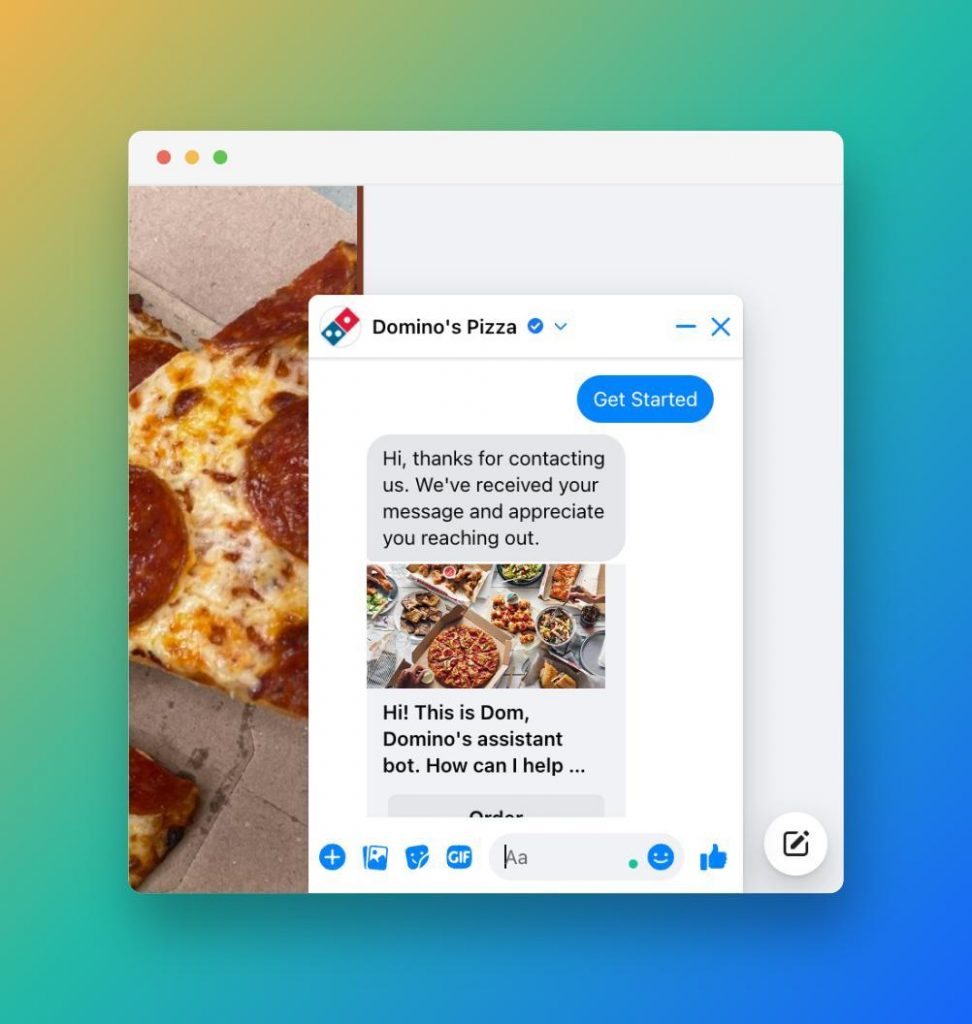 Domino's Response Time on Social Media
Another challenge is response time. Social media posts, comments, or mentions can quickly get lost in the sea of content. Those who want to respond can find themselves overwhelmed by response times, making it hard to provide timely responses. With these challenges in mind, businesses should ensure that their social media customer service or engagement management teams are efficient and productive. Investing in tools and AI for more efficiency is also a great idea.
When we evaluate Domino's response time on social media, we cannot deny its speed! They typically reply instantly on Facebook, Twitter, and Instagram. In the example below, we see that they responded to a customer complaint in 12 mins in a friendly way.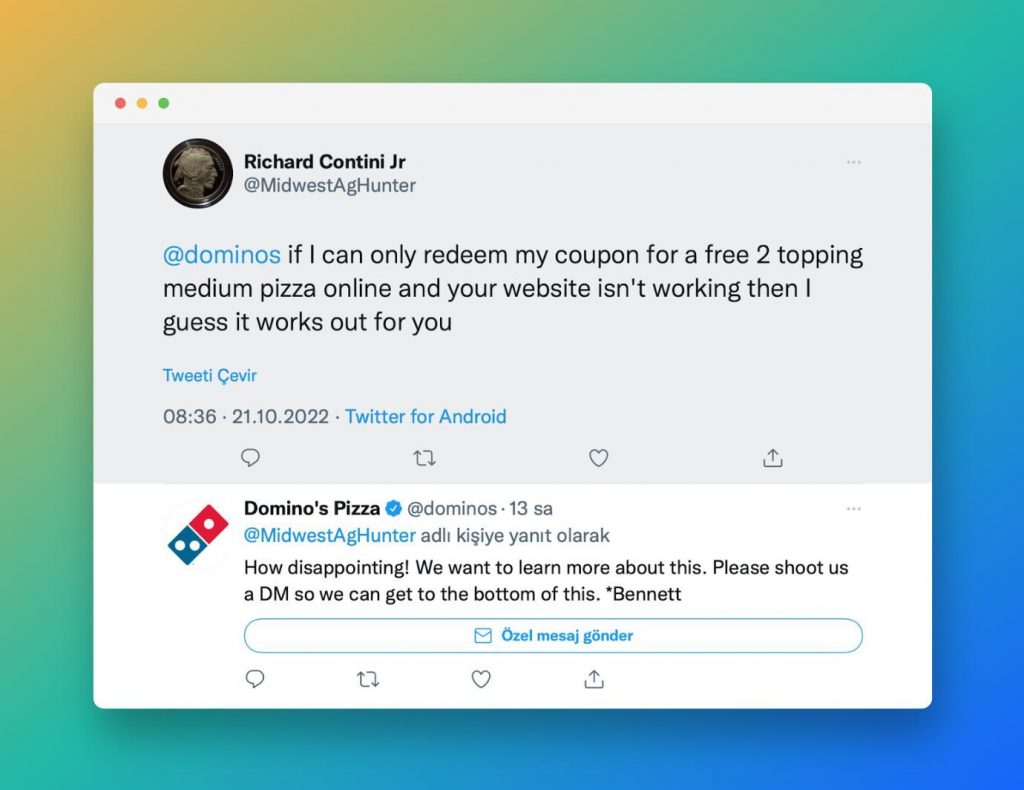 Domino's Social Media Content
As much as providing direct customer service, the indirect ways of engaging with your audience are important to construct a good social media customer service strategy. Each comment under a post can turn into a customer inquiry at any time!

Domino's runs a great content strategy on Domino's Facebook page to keep its large audience engaged with the brand.
For instance, Domino's posted a photo of a pizza, asking, "To ranch or not to ranch?" –a reference to "To be or not to be". This way, they get their customers to respond creatively to the post with their Domino's pizza photos.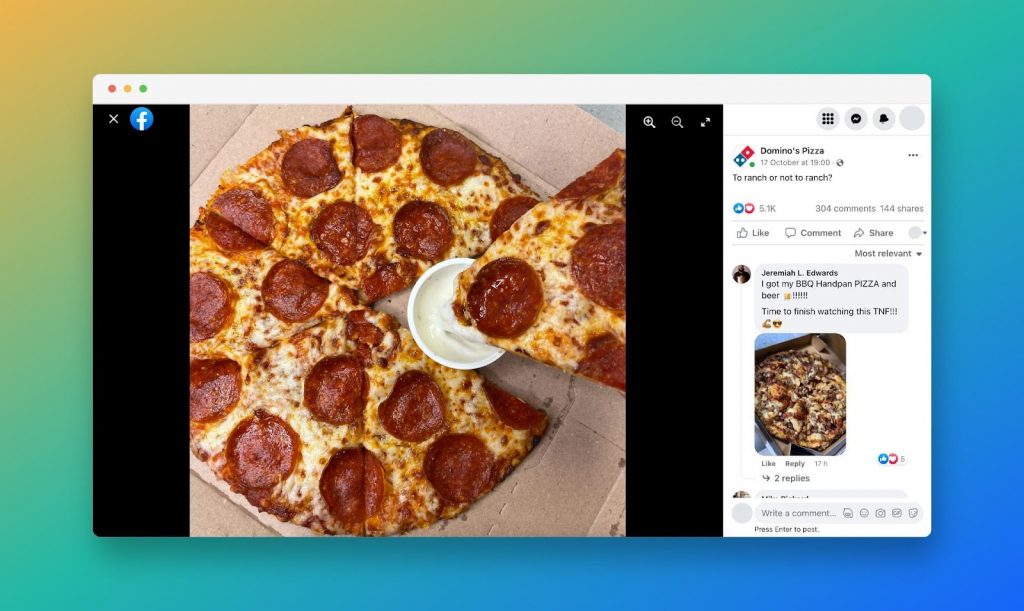 As much as on Facebook, Domino's creates engaging content on Instagram, too. These two platforms might have different audience profiles, so they build a content strategy accordingly.
In the example below, Domino's replied to a customer comment via reels –a popular way of user engagement on Instagram, and also turned this into social media content material. This way, while keeping the quality of their customer engagement high, they also created new content. Win-win!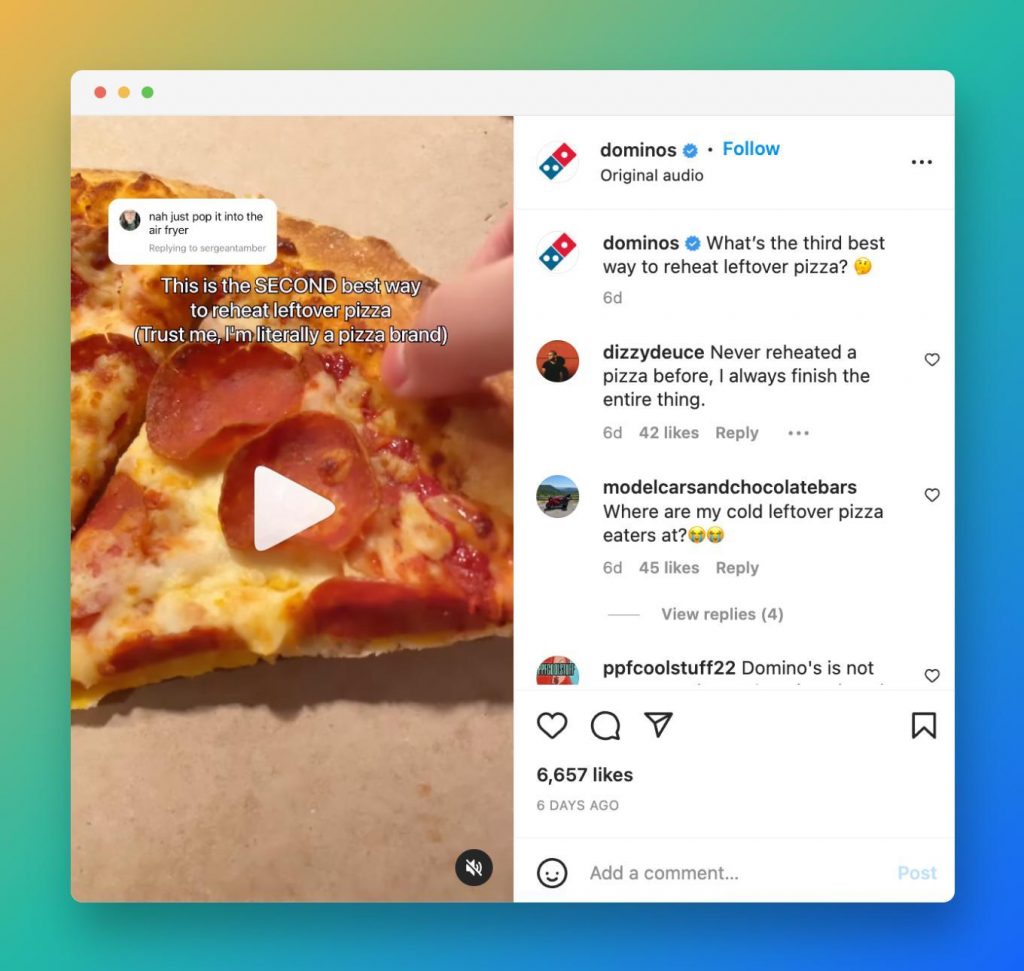 They also collaborate with Instagram influencers to engage with their customer.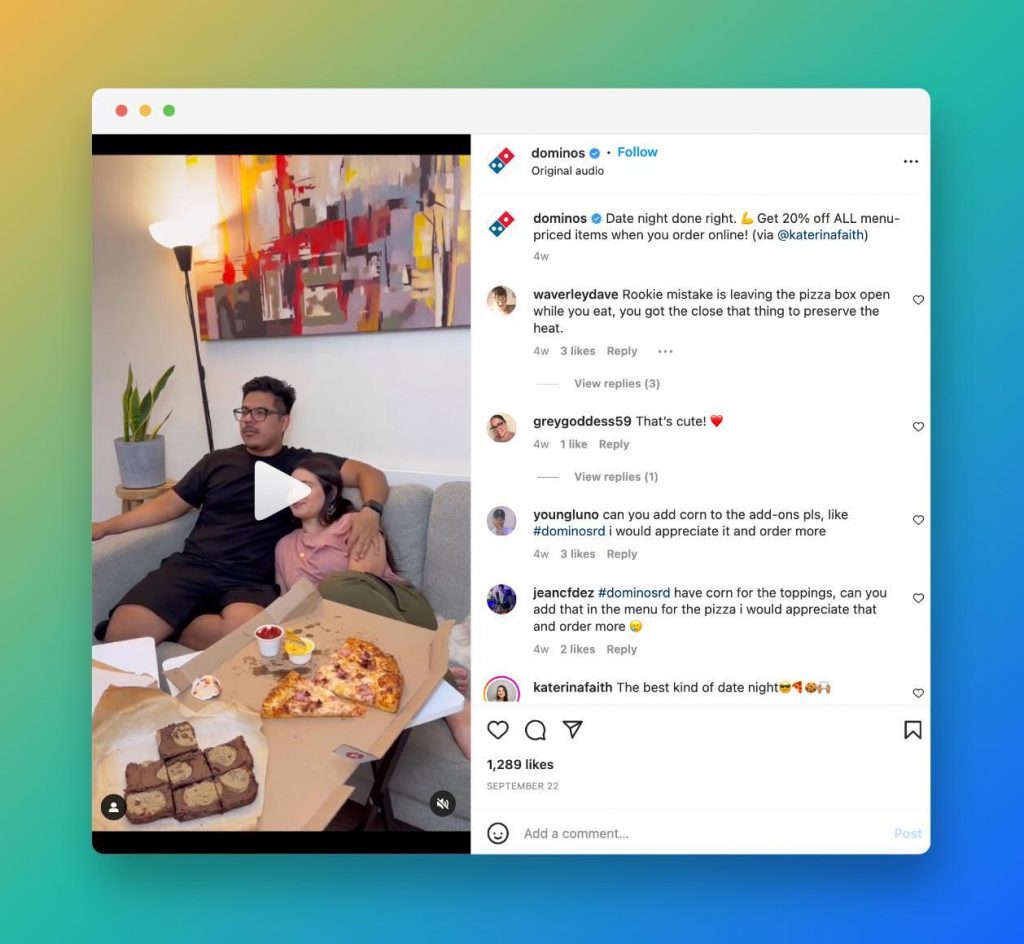 Domino's Style & Tone on Social Media
Social media is a visual medium, which means that a brand's style and tone while providing customer service on social media can have a significant impact on how people perceive the brand. Therefore, companies need to ensure their social media style and tone match their brand and are consistent.
Domino's tone and style on social media are friendly and consistent, as can be seen in the example below. Their social media customer service team connects with the audience and surprises them in a moment of high advertising saturation by being creative and having a tone of authenticity, warmth, and above all.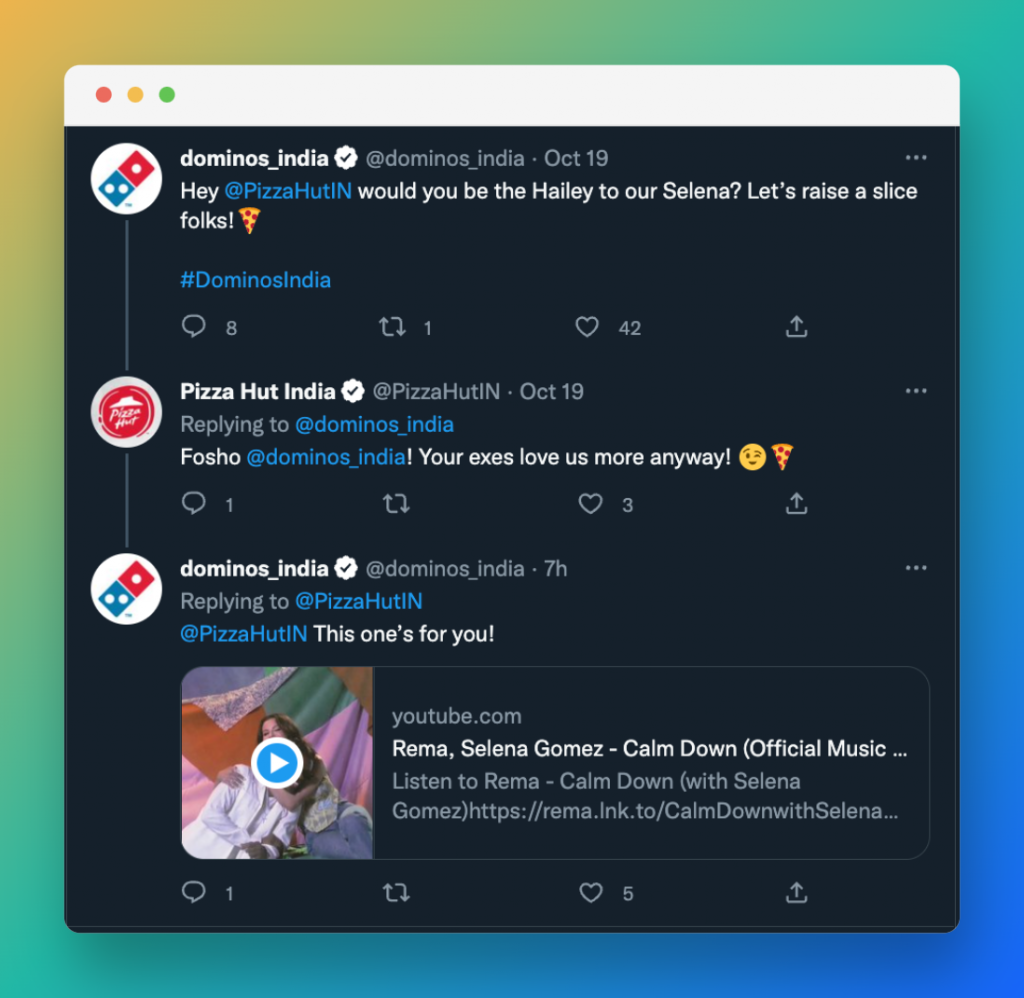 They, of course, have several canned responses, but they always personalize their response by stating the name of the social media customer service specialist.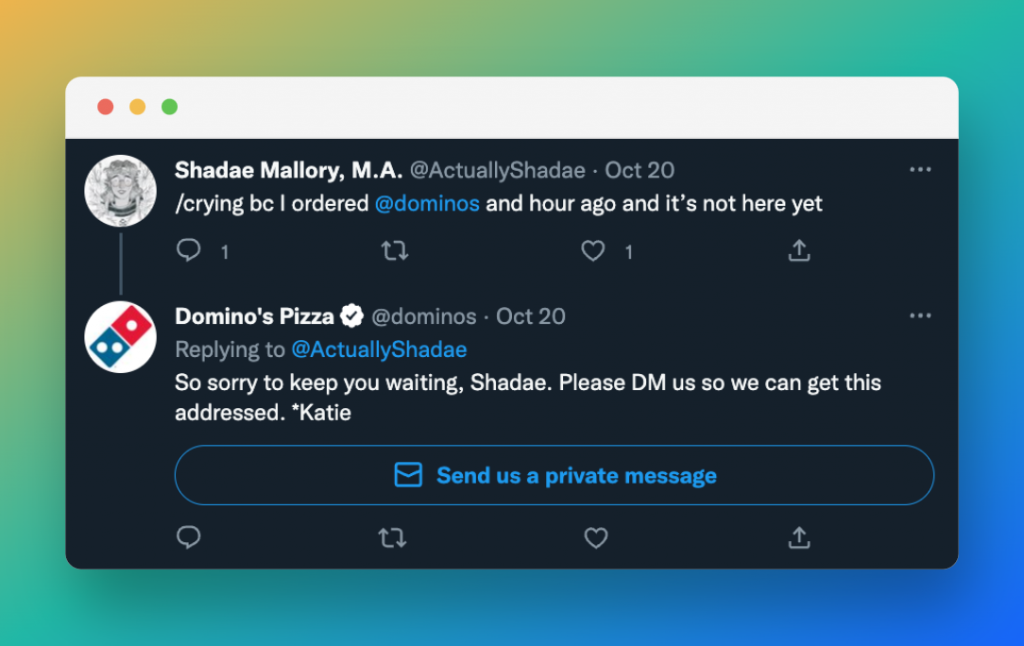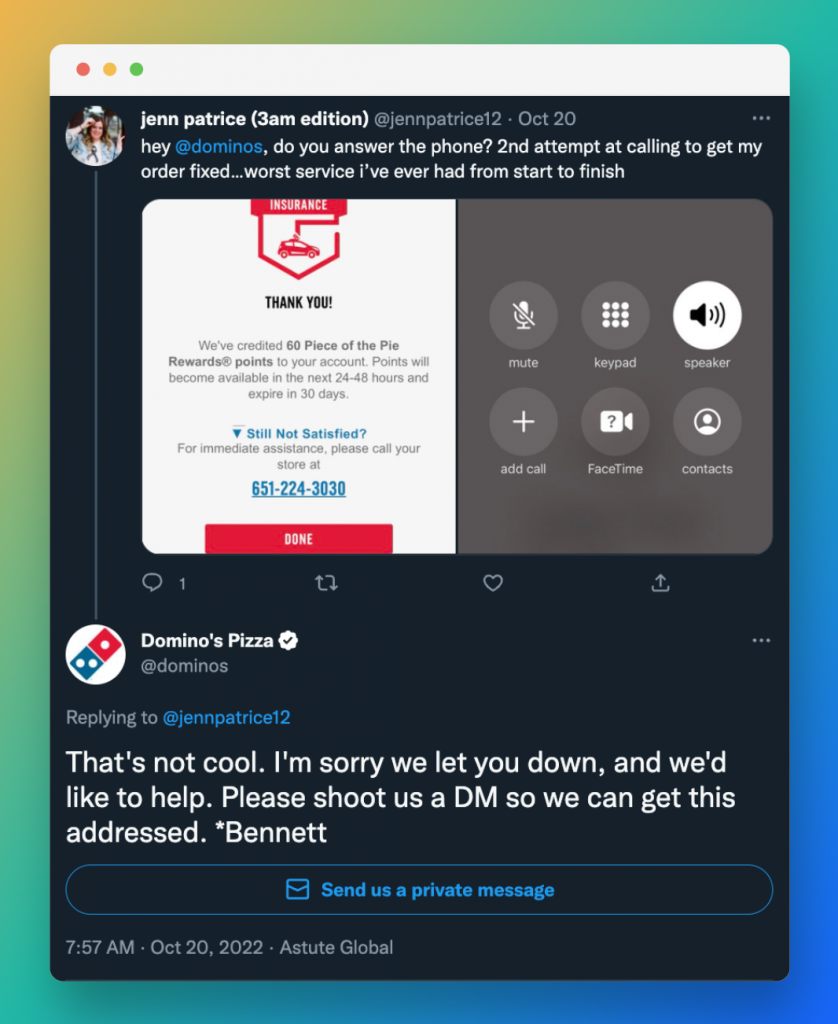 Final Verdict
Domino's achieve a lot online through multiple social media platforms like Twitter, Instagram, Facebook, etc., in addition to being good at taking advantage of them. They are also listening to what their customers say to improve their brand and customer satisfaction. They are very open in their communication by soliciting both good and bad feedback from their customers and critics, including negative ones. Enough praising; let the ratings speak!
***These ratings are based on our research and tests.
Accessibility – 9/10
Domino's social media profiles are easy to find and always accessible to start conversations and connections. Their social media customer service is available 24/7.
Response Time – 10/10
As much as they are accessible, they are also fast! So, we can say that Domino's really sticks to its slogan " 30 minutes or free!" in its customer service, too.
Tone of Voice – 10/10
Domino's social media tone is authentic, warm, and friendly. They reply to all customer comments and tweets in the same style & tone consistently –even the bad ones. So far, so good!
Personalization – 8/10
Domino's mostly creates personalized answers or tweets to each unique customer inquiry. However, as with every social media customer service strategy, they use the power of canned responses for several cases. The good news is that they state their names at the end of their reply to create a personalized experience.
Engagement – 10/10
Domino's engages with its customers through every possible platform. Their content keeps the customers engaged through comments, likes, and mentions, and they provide an excellent service, after all.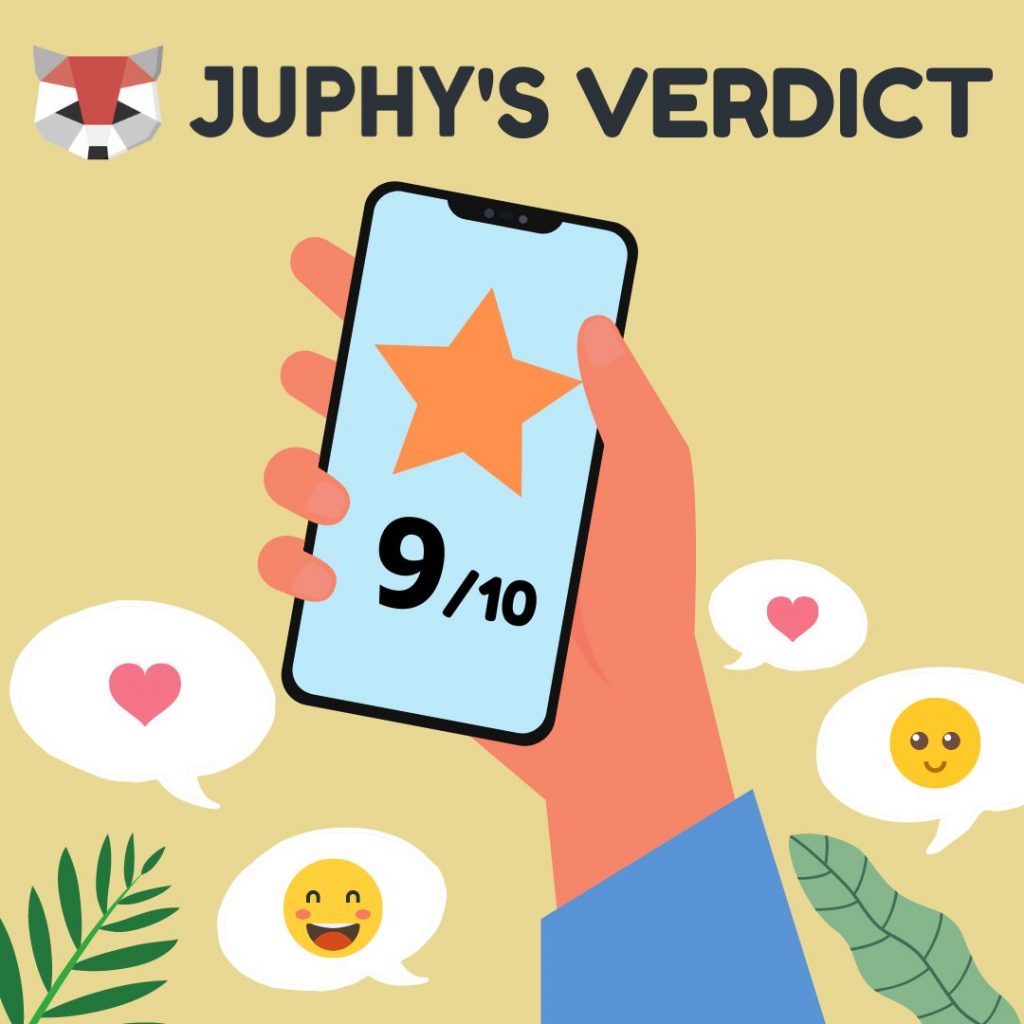 Create Your
Social Inbox Now
Manage all social media customer support inquiries in a unified inbox.
Related Article – AIRBNB's Social Media Customer Service Performance