Social media is essential for a business like Airbnb since it may help develop trust between Airbnb and its users. It may also allow guests and hosts to interact and ask questions about the rental experience. The main benefits of the social media presence are that it keeps communication lines open between the company, hosts, and guests, thus enabling a better understanding of how people use Airbnb services. However, we could not keep ourselves from noticing the unhappy users. Though Airbnb seems to be using social media, they aren't as active since comments and mentions are full of dissatisfied people. This review will objectively evaluate Airbnb's social media customer service performance.
Create Your
Social Inbox Now
Manage all social media customer support inquiries in a unified inbox.
Airbnb on Social Media
Social media is essential for all businesses, especially for Airbnb, since its customers are most likely active social media users. It is known that nearly %60 Airbnb users are millennials, meaning most of them are active on social media. Airbnb uses social media accounts to share news, experiences, and some lovely houses worldwide. Of course, besides the supportive commenters, unhappy customers run to the comments sections when they need to explain themselves or find a solution to their problems.
Before we get to the customer service part, let's see how Airbnb appears on social media;
Instagram is the most-used social platform of Airbnb. We will explore two of the verified accounts here. Firstly, there is the main account, which can be regarded as an active account with posts every 10-15 days. This account provides a collection for a better understanding of the variety of houses around the globe.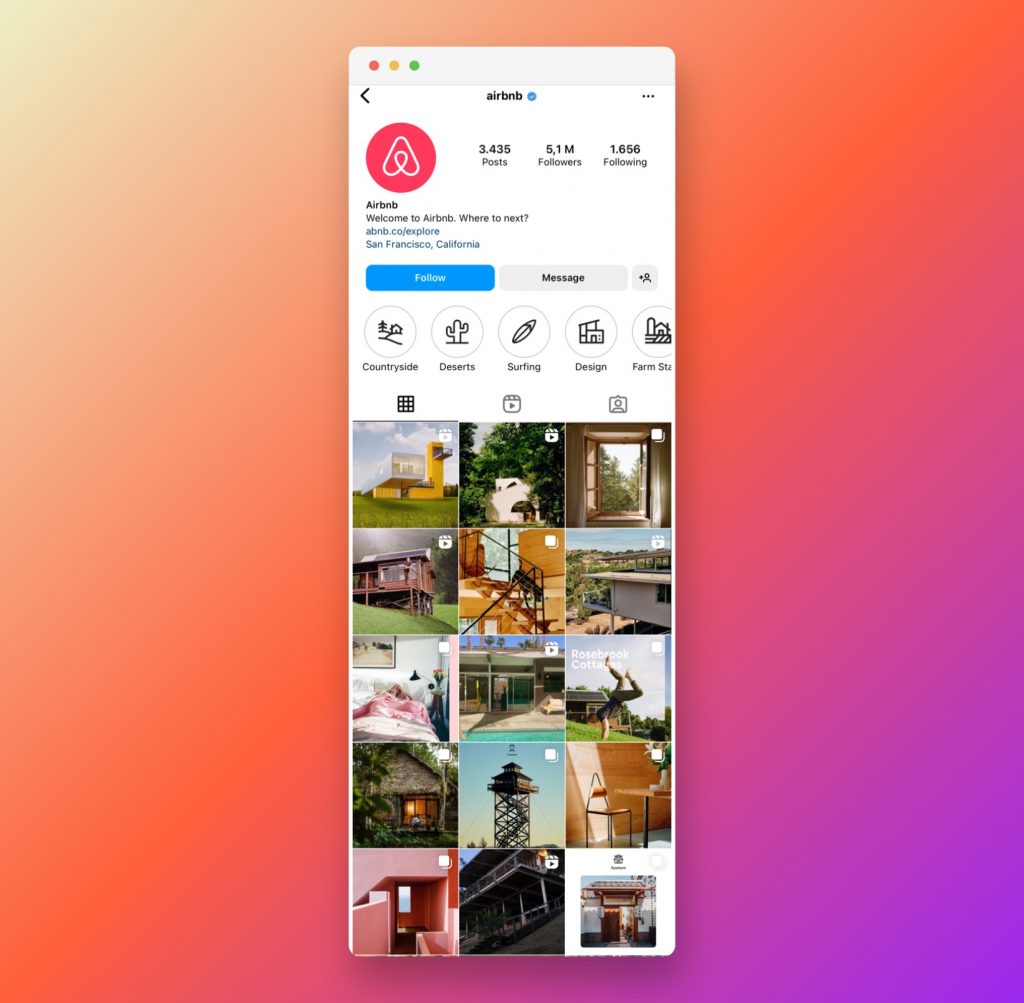 They share homes from their "Design" category, which consists of homes designed especially for Airbnb stays, news, inspirational houses, boat houses, forest houses, and more.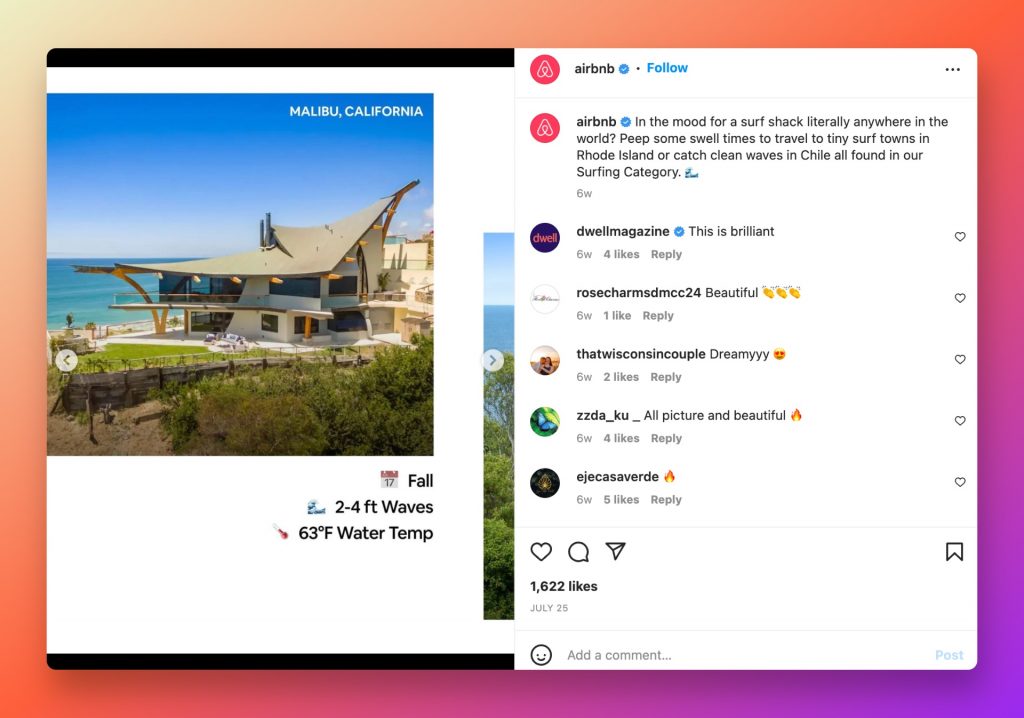 The second most active account is best_Airbnb, and by sharing users' Airbnb experiences, reels, TikToks, and more. This account interacts with the users while keeping up with the latest trends.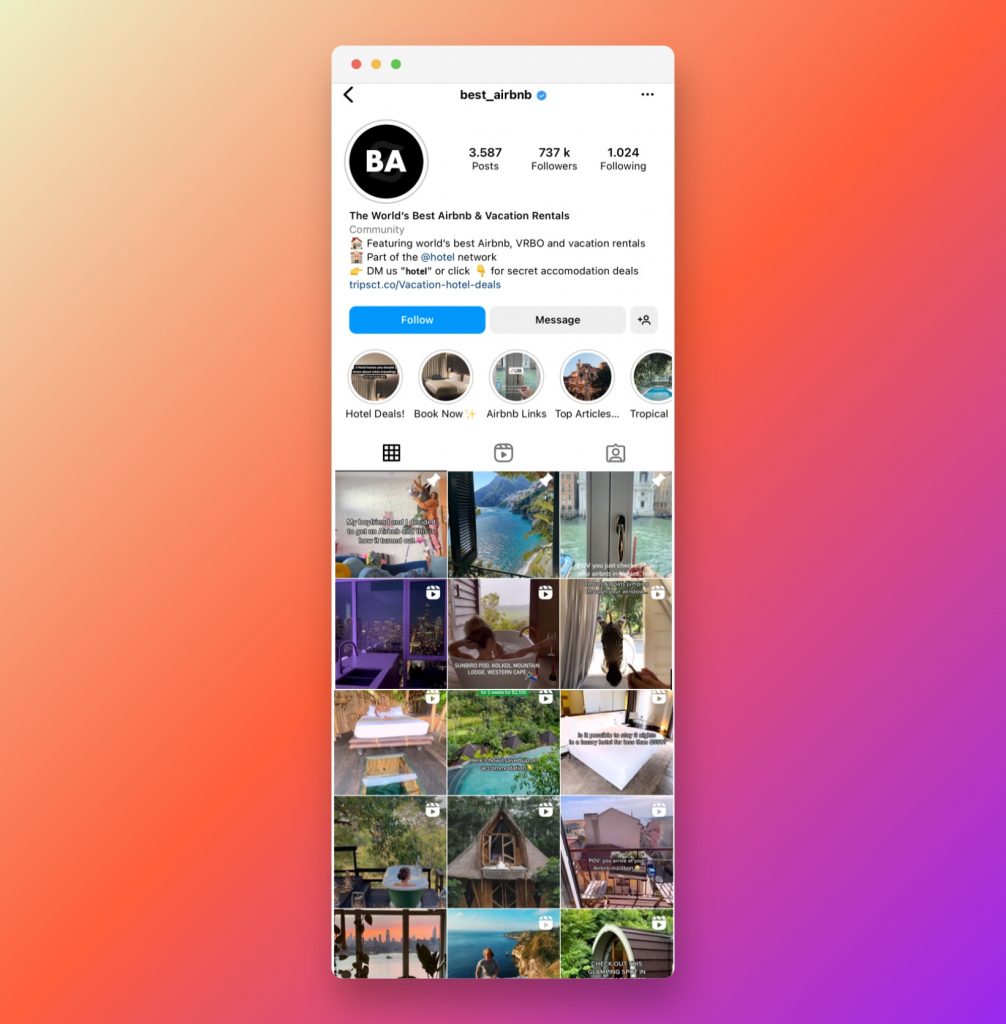 Here you may find some fantastic views and homes, details about the houses, collaboration posts with other accounts, and more.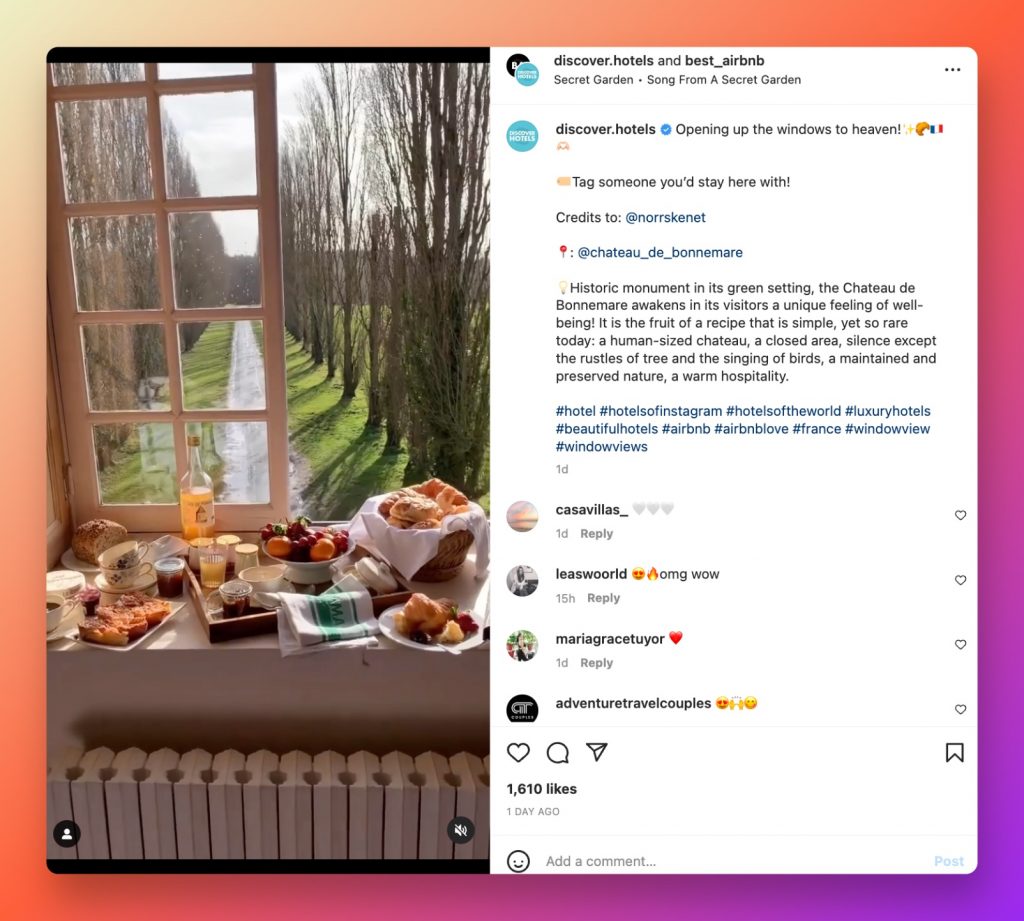 On Facebook, we see the news and activities of the Airbnb team and users.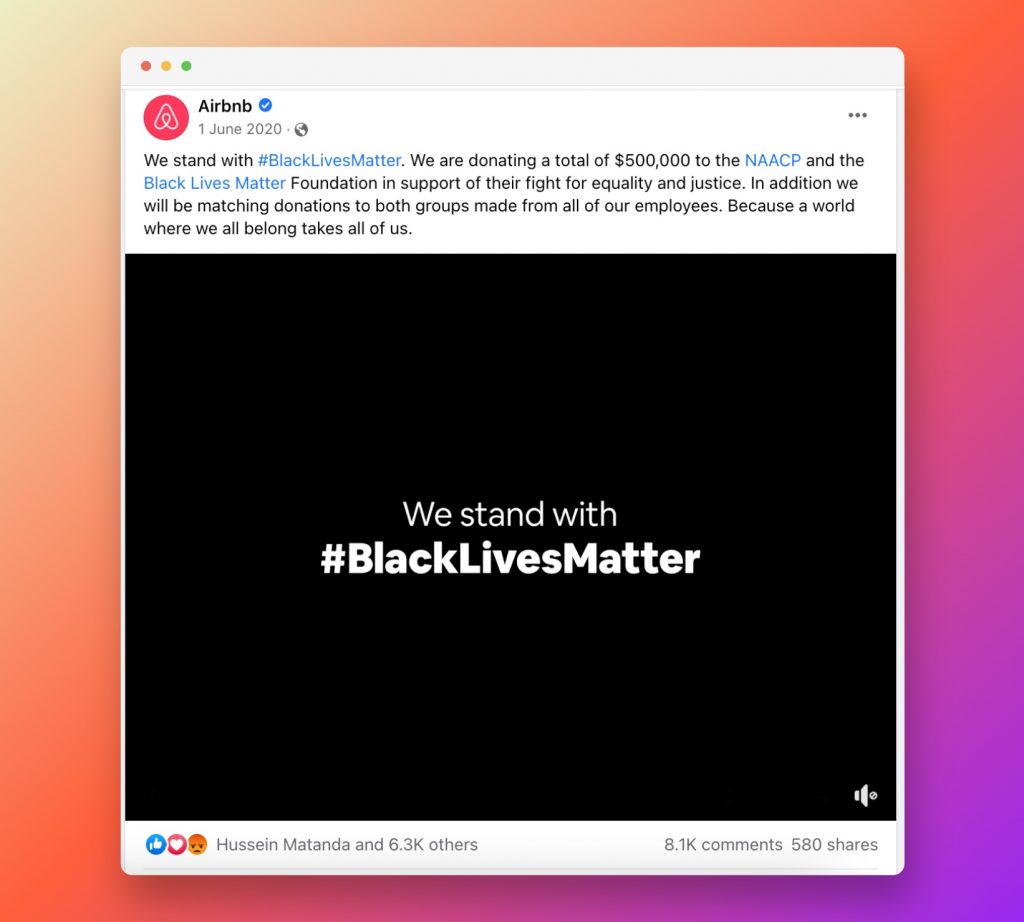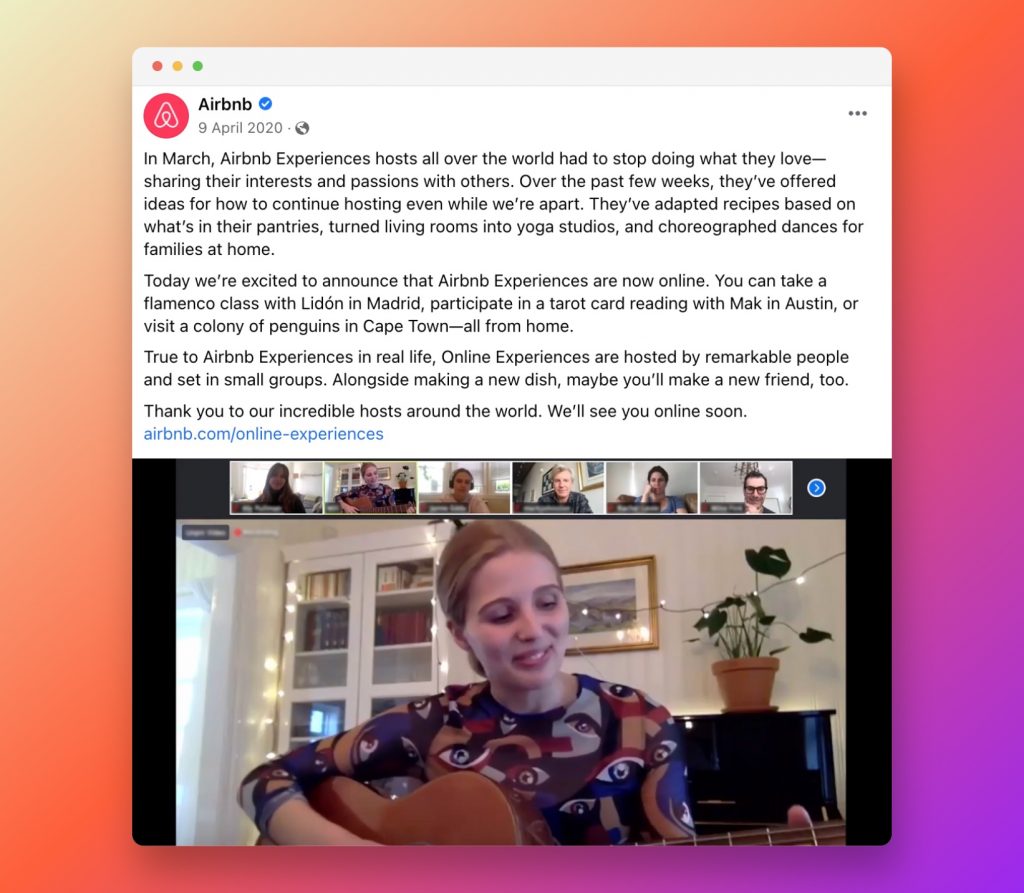 And lastly, on Twitter, Airbnb has a main account and another account for customer services. It seems that Airbnb's main account mostly retweets the user's tweets and avoids communicating with unhappy customers through mentions.
Despite the engaging posts and brilliant views, it's impossible to ignore the comments section that sometimes shows a long dissatisfied comment or many short, angry comments. Let's see how Airbnb deals with them.
Airbnb's Social Media Platforms and Engagement Strategies
The company's social media engagement strategy mainly focuses on user-generated content that customers share via the best_airbnb Instagram account. It's clear that Airbnb understands and acts in accordance with situations like the Covid19 pandemic, racism incidents, etc. Airbnb chooses to interact with customers through Instagram and Facebook posts that include homes, stories, news, etc., but it's hard not to see all the comments underneath.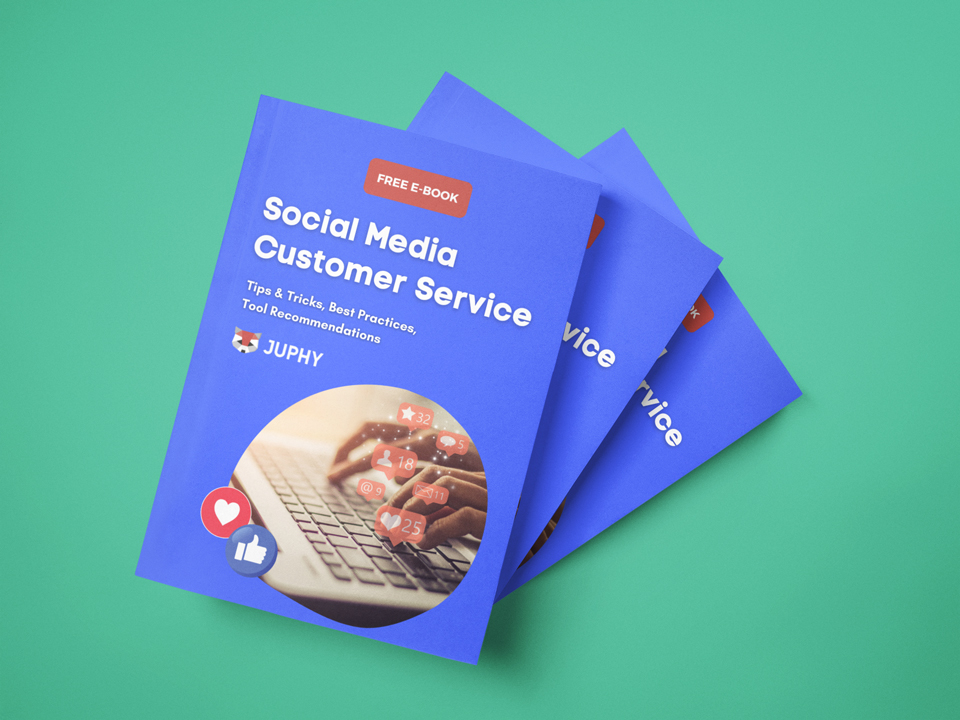 Analysis of Airbnb's Social Media Customer Service
Airbnb's Response Time
Airbnb has an Instagram account that 5 million people follow. There is no verified help account, only some Airbnb Experience accounts. As you may expect, not all comments include heart emojis and love words.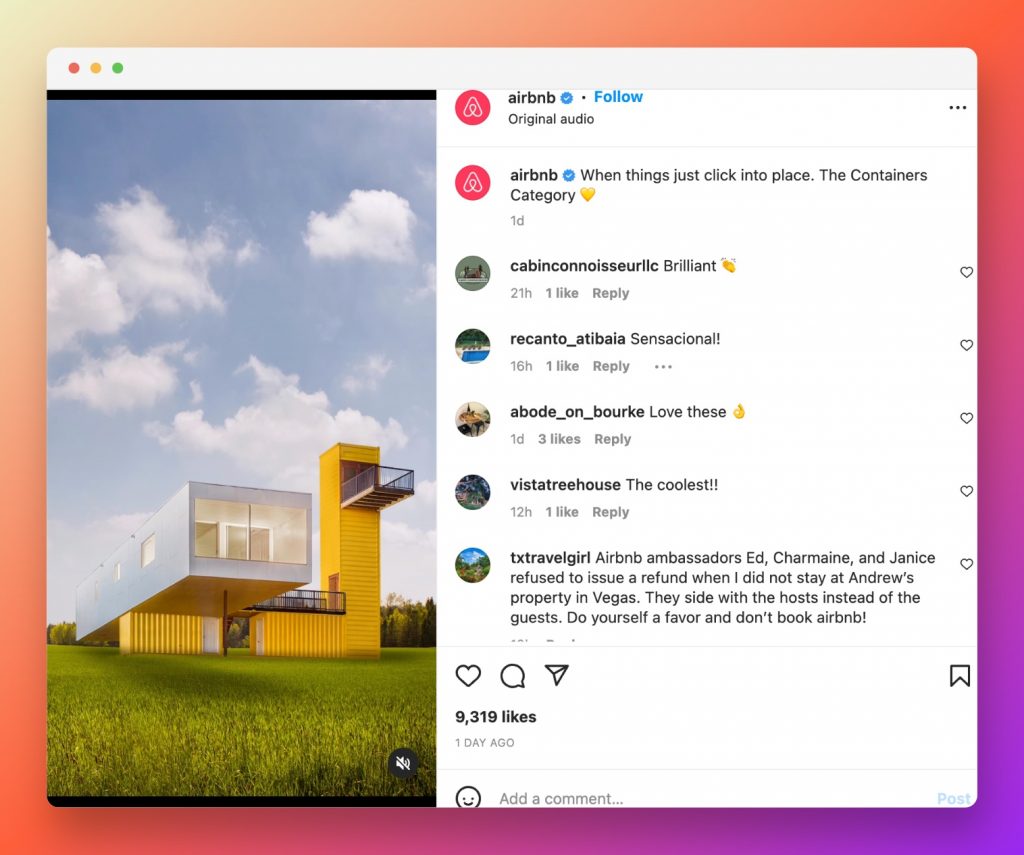 Unfortunately, it was hard to find a post that did not have a dissatisfied comment under it. Not all comments have an answer, but it seems that Airbnb replies within 24 hours when they do.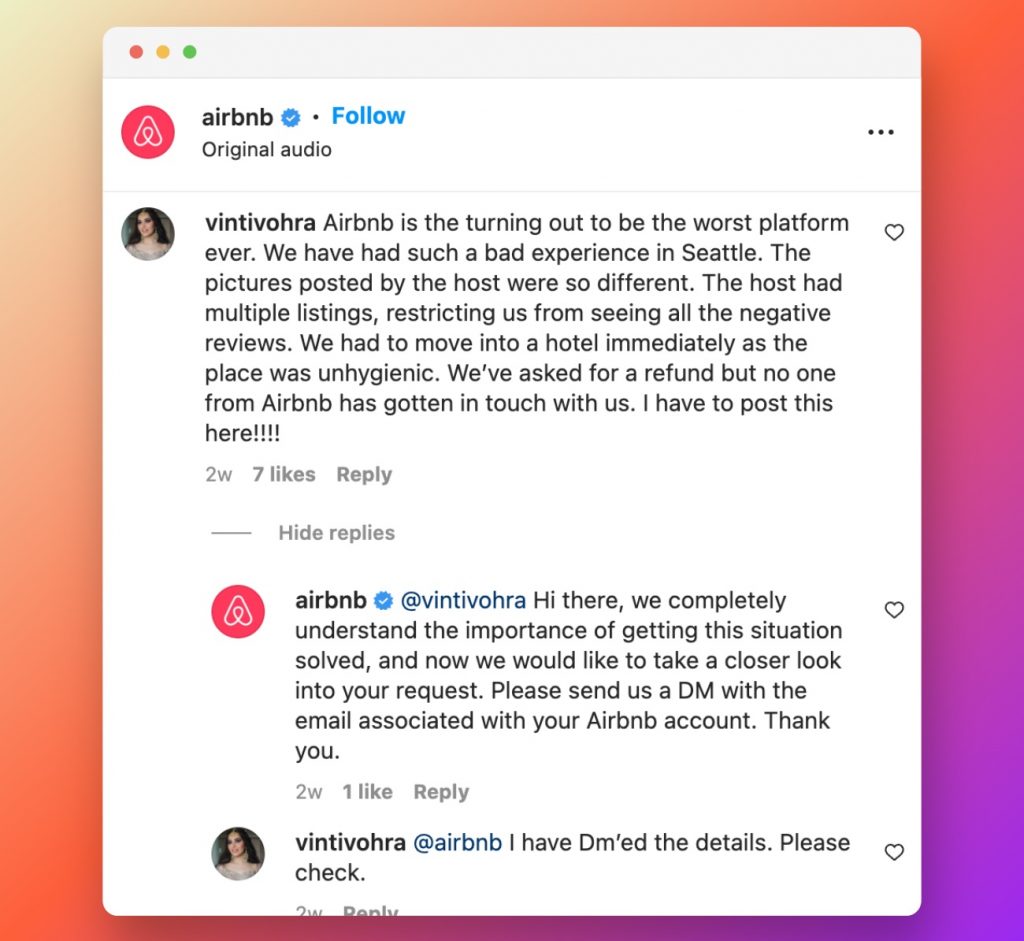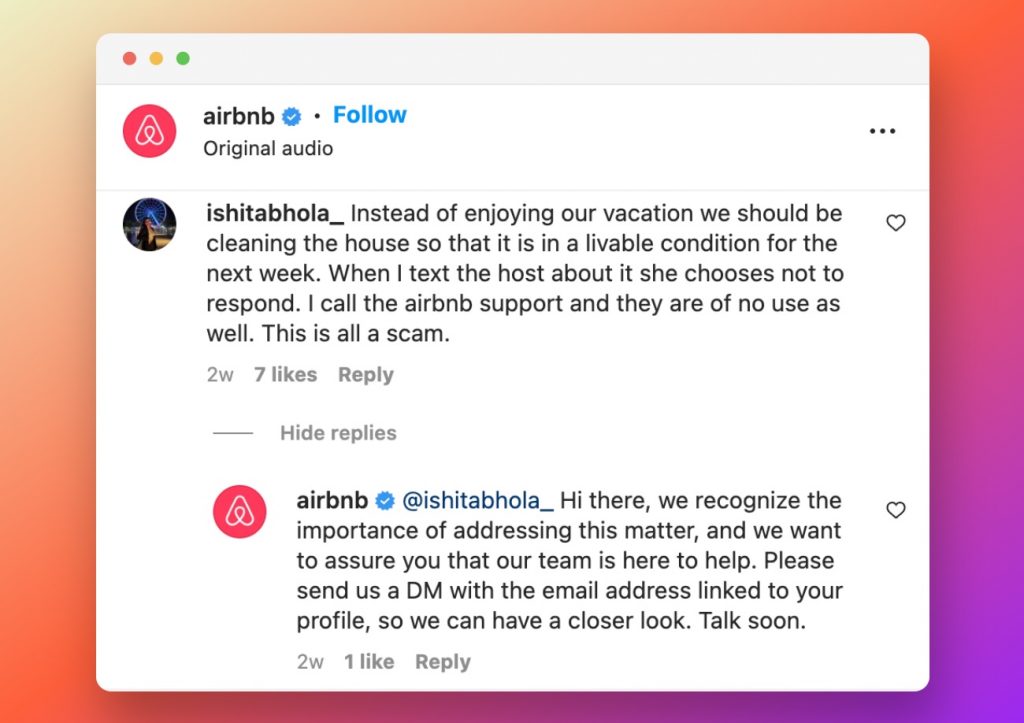 In one post, there is support between the commenters for a user that explained the problem he faced: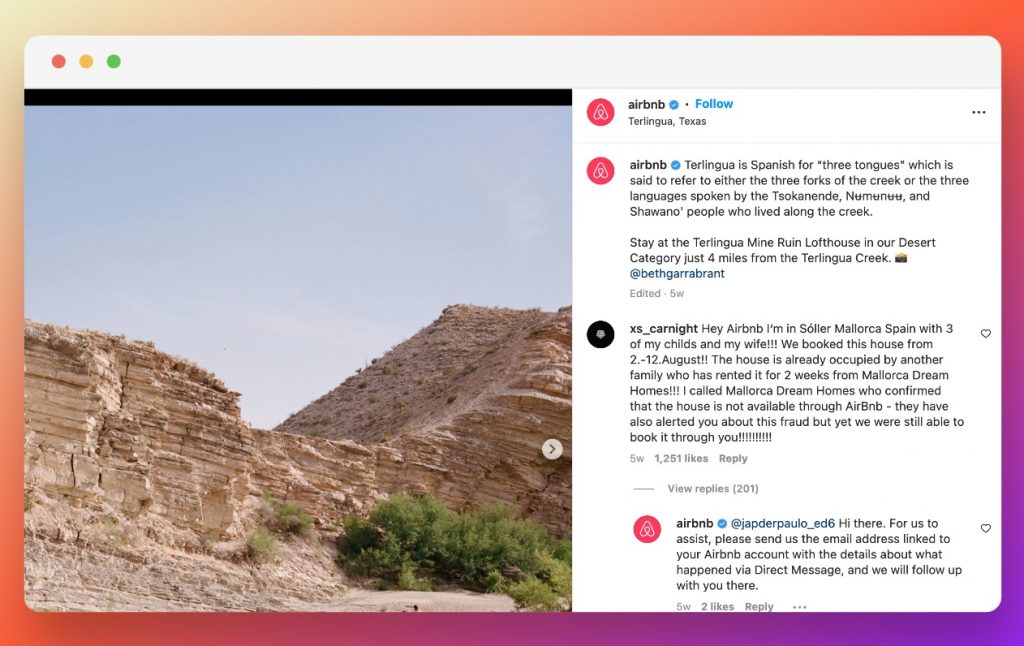 Unfortunately, it seems that it took a while and a little too many "help!" comments for Airbnb to notice and reply to the comment.
Similarly, on Facebook, comment sections are not the best place to have an idea about Airbnb's reply success. The replies seem to be within 24 hours, sometimes as quick as an hour.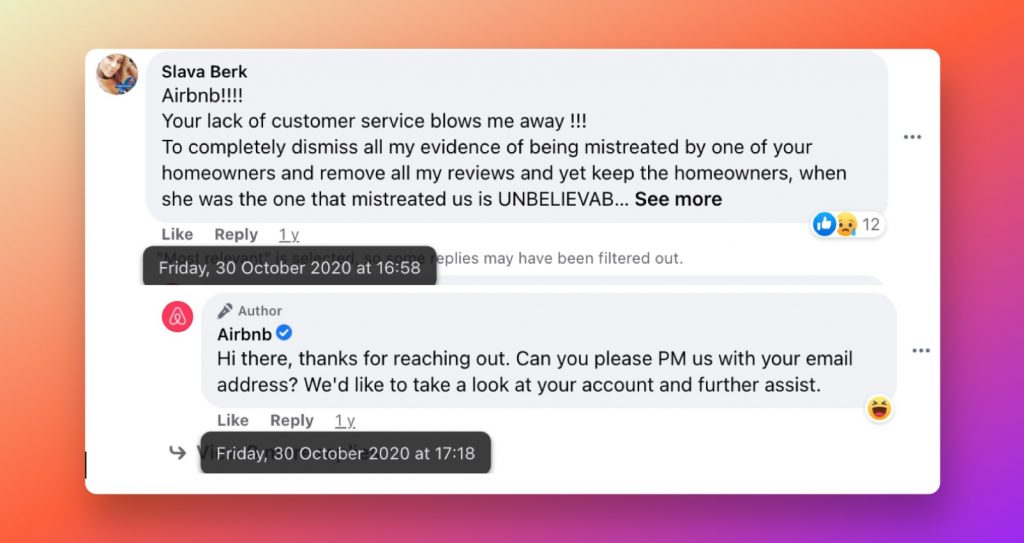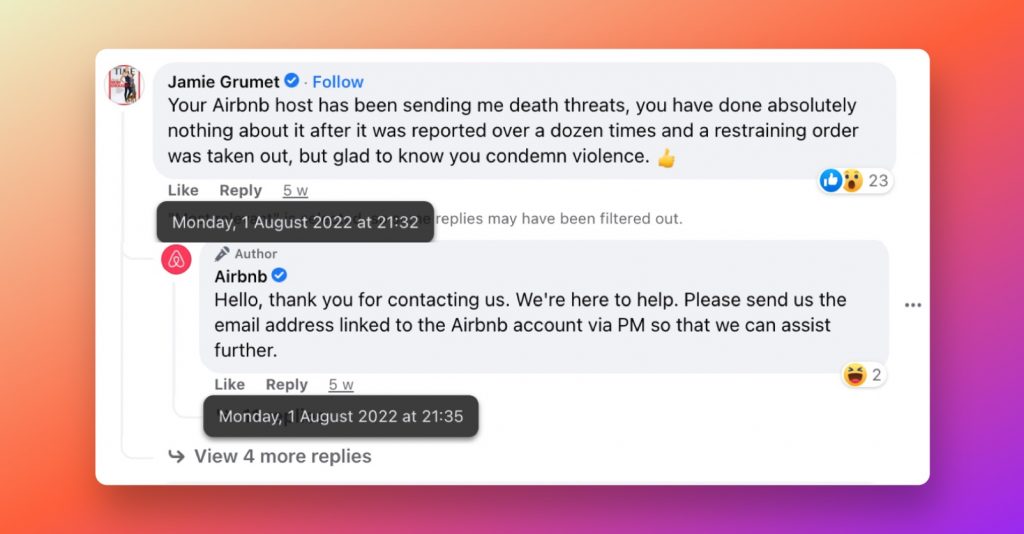 However, fast replies are not enough to make the customers satisfied.
You see, there are many replies in the comments section. It's the same for many of the other FB posts. However, customers are not satisfied with the results.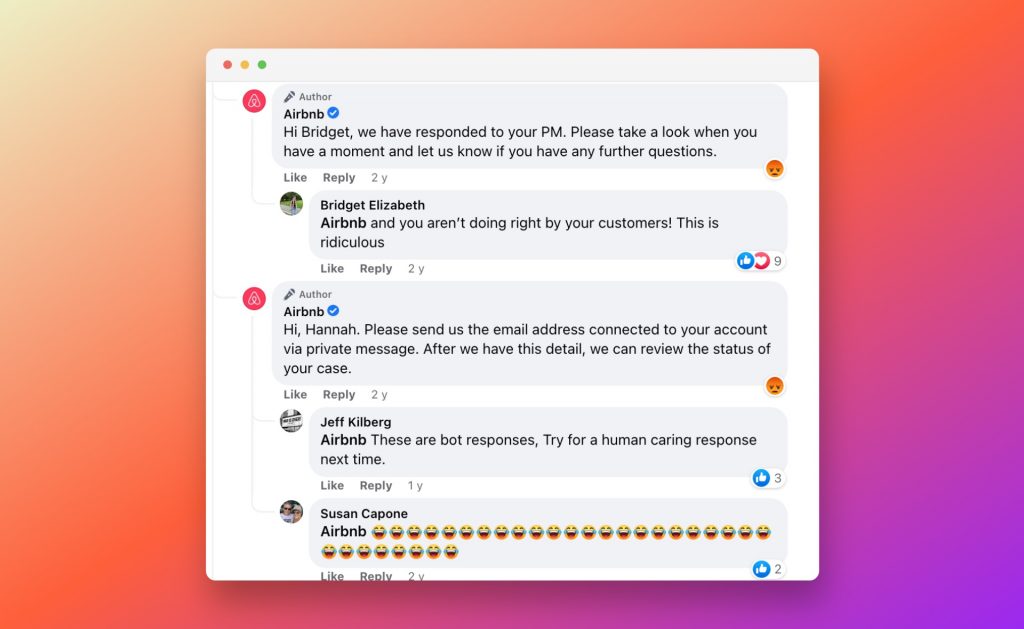 Similarly, their response time is very quick on Twitter, but the canned responses are also there.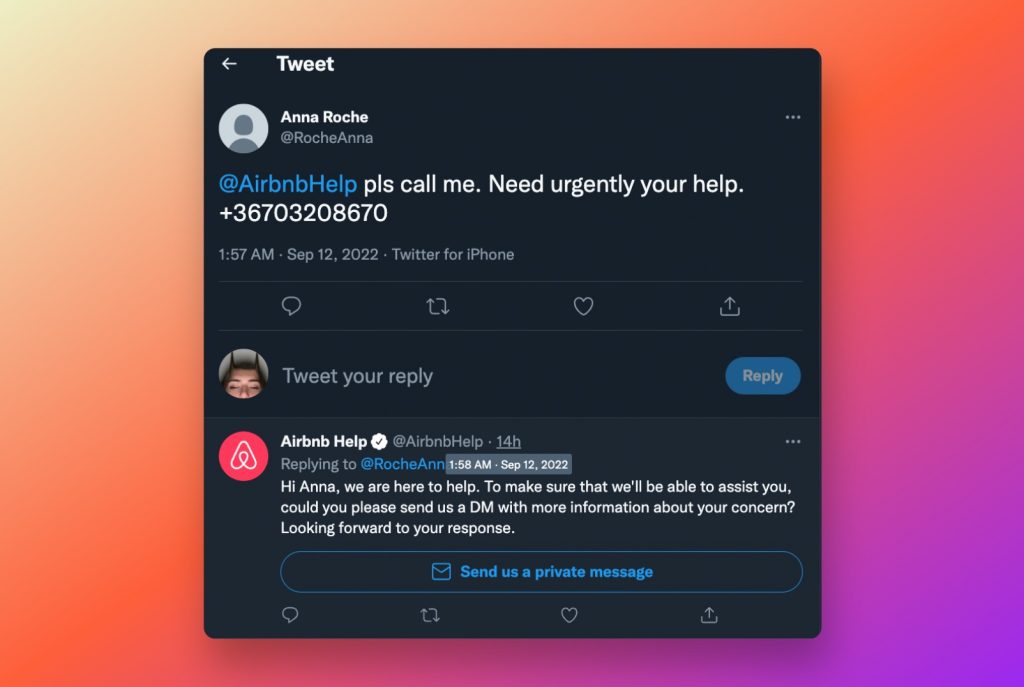 The reply is in a minute, but what is the meaning of an unnecessary quick reply? I mean, who would like to get a "dm with more info" as a reply to a tweet that included the urgent need for help and a personal number?
The only personalization in the tweets seems to be adding the user's name to the beginning of Airbnb's response. More personalized and humane replies would be better in solving customers' problems. This way, Airbnb creates the idea of not being cared for by the company.
Airbnb's Style and Tone
Nearly all replies are paraphrased versions of one another. In 99% of the cases, Airbnb does not directly respond to the problem but instead asks for more info through DMs. But this does not always solve the issue.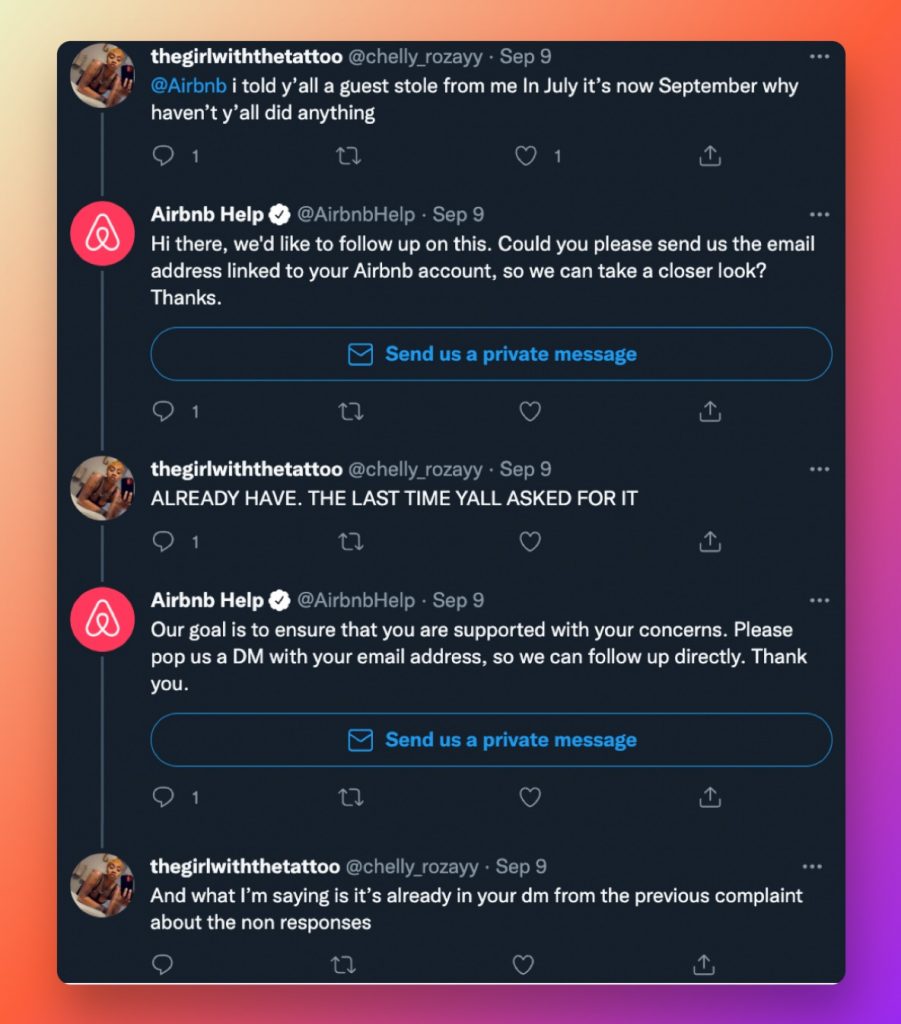 The importance of managing canned responses can be understood from this instance. As someone who has never used Airbnb before, I would rather not since these comments and mentions show how the problems do not resolve.
Another example is Brian, who tweeted about a reply from the Airbnb Support team and asked a direct, straightforward question.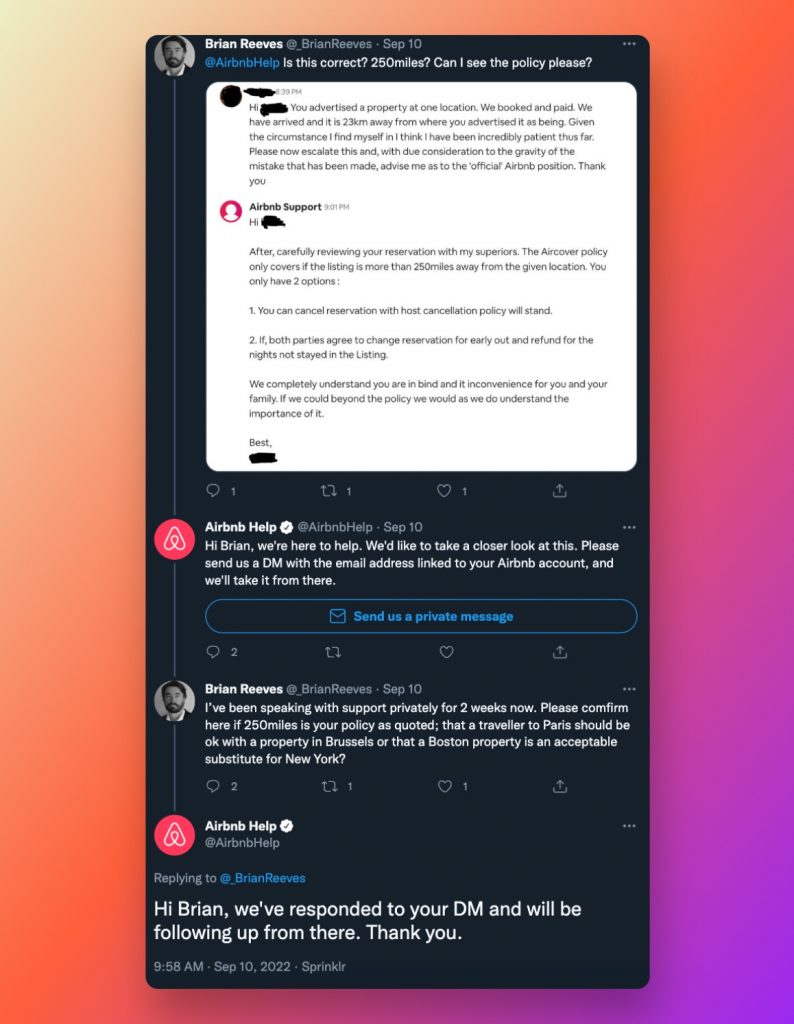 Here, we see that Airbnb chooses to reply with "DM us for more" sentences rather than answering the question directly. And with a further look, you can see he still does not have an answer after two days.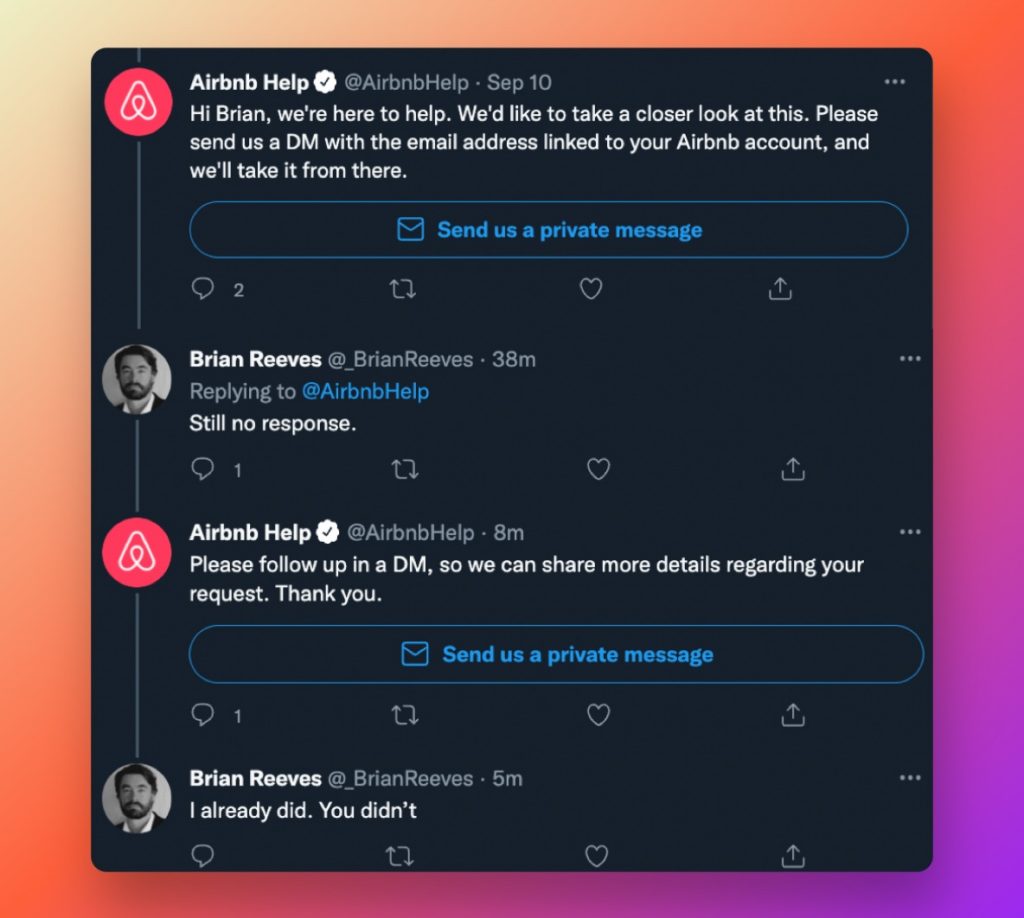 In short, it is seen that Airbnb's tone is consistent but in vain.
Final Verdict
Airbnb meets houses with guests all over the world, and that means a significant number of users around the world. We know it may be hard to deal with them; that's why Juphy offers numerous features that make managing social media platforms easier; we'll get to that later. First, let's see the ratings!
***These ratings are based on our research and tests.
Accessibility – 4/10
Airbnb's Twitter and Instagram accounts are easy to find, but for customer service, there seems to be only the help account on Twitter and the website. Unfortunately, as far as the replies and comments, people cannot have their issues solved.
Response Time – 8/10 
Ok, Airbnb does not reply to every comment or mention, but the response comes in less than 24 hours when they do.
Tone of Voice – 10/10
Airbnb's tone is consistent and professional but a little dull on Facebook, Instagram, and Twitter. However, their posts are to the point and effective.
Personalization – 5/10
You see the same sentence in different words when you wander through their responses. Addressing the person is not enough for personalization! The company is exploiting the use of canned responses.
Engagement – 5/10
Some of Airbnb's posts want you to comment or tag someone, and they receive user engagement. But other than that, Airbnb does not interact with the customers except when its customer support team uses canned responses.
Airbnb provides us with homes worldwide, but they certainly don't provide the social media customer service we prefer. When we compare other brands' social media customer service performances, it is hard to be content with what we have on Airbnb's social media platforms. Since Airbnb has an active user base, its priority might not be customer satisfaction. But if this goes on like this, Airbnb's relationship with the customers might be on the rocks soon!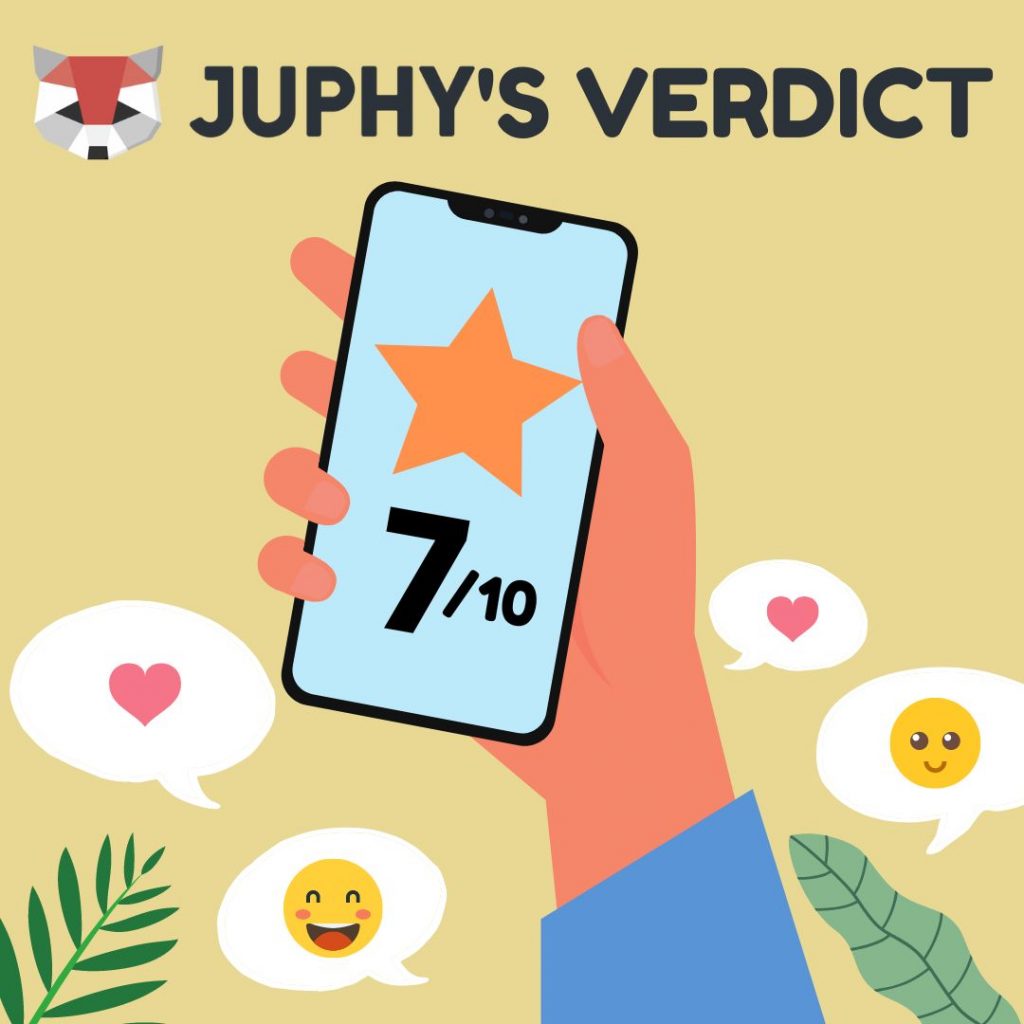 #1 Tool for Ideal Social Media Customer Service Performance: Juphy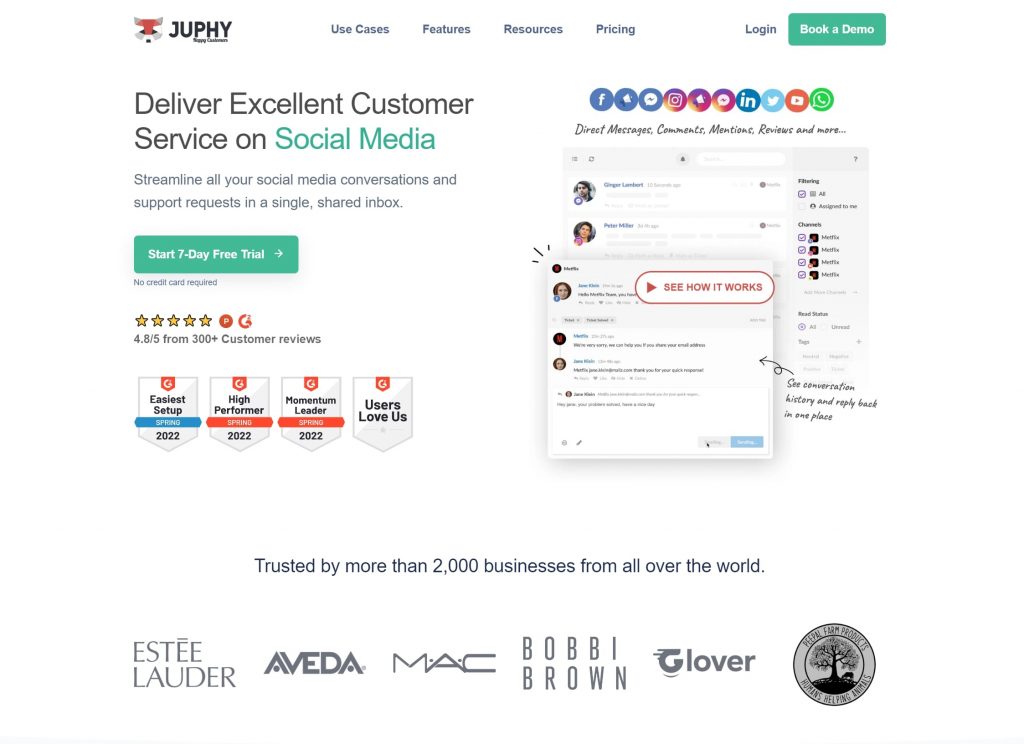 Things may get out of hand easily when you're dealing with a great number of customers. That's where Juphy comes to the scene! Juphy provides a multichannel help desk for your business's social media management and customer service teams. Juphy's easy-to-use interface makes managing social media easier since it enables you to receive and respond to real-time interactions. Your team may cooperate easily on Juphy.

David Hooper
Production Expert
"Juphy has been great for my connection with customers and social media followers as it allows me to put everything in a single "inbox" and easily reply via multiple channels at the same time. Customer service and communication have been great and it's something that I use daily. I highly recommend it for anybody doing social media or in need of a good customer service option."
✓ Product Hunt Verified Review
When things get complicated, like in Airbnb's case, Juphy is your #1 helper. With Juphy, you never miss a comment or a mention, reply quickly, send the issue to the relevant person, monitor Twitter, solve customers' problems and do more with ease. You can continually improve your services and take your business forward with Juphy.
Create your Juphy account now and start your 7-day free trial!
Create Your
Social Inbox Now
Manage all social media customer support inquiries in a unified inbox.
Related Article – MCDONALD's Social Media Customer Service Performance