Any chance you have ever seen a brand that isn't on social media? I bet you haven't…  Social media can be a great way to connect with your customers and build a loyal following. But, many businesses still struggle to improve their social media presence.
Fighting through social media noise is a challenge many businesses face, as content gets lost in the crowd. Another potential pitfall is an ill-thought-out strategy. However, it doesn't have to be as scary as it seems! 
Before you invest in social media, it's crucial to have a clear plan and build a strategy for how you want your brand to appear.
If you find that your social media efforts aren't yielding the results you're looking for, don't give up!

With the correct planning and implementation (and some tips 🤫), you can improve your social media presence and increase brand awareness for your brand.

I hear you saying tell me more…
Create Your
Social Inbox Now
Manage all social media customer support inquiries in a unified inbox.
Why Is Social Media Presence Very Important for Any Business?
A company's social media presence gives the world access to its business, culture, and mission. It offers customers a chance to see how their company can add value to their lives and provides a channel for better communication.
With social media, companies can engage with their customers on an ongoing basis, which allows them to build relationships that last long after the purchase or sale of a product is complete.
By connecting with potential customers through social media channels like Facebook, Instagram, LinkedIn, Twitter, and other platforms, businesses can get valuable insights into their target market and better understand what motivates them. Therefore, it can be used to promote a business's product or service.
Social media also allows companies to engage with customers in a more personalized way, which will increase the likelihood that they will buy from them. For example, if someone posts about where they are eating lunch on Facebook, their friends might start asking where they will eat lunch next time. When you share their experience on Instagram with the tag #yummypizza, perhaps someone will follow along and find out about your pizza shop in the neighborhood!
How to Create a Positive Social Media Presence
There are a few things that you can do to create a positive social media presence. First, make sure that your social media accounts are updated regularly. These relevant and frequent updates will help to keep your followers interested in what you have to say. Next, make sure that your social media accounts are well-managed. This means that you should keep your posts concise and to the point. Finally, make sure that your social media accounts are engaging. You should keep your followers interested by posting interesting and engaging content.
Positive social media presence brings;
Increased brand awareness
Higher web traffic
Increased brand loyalty
Better numbers in sales
What Happens If You Have No Social Media Presence?
If you have no social media presence, you may be less visible to potential customers and may not be able to attract as many leads. Additionally, you may not be able to develop as much interest in your brand.
Without a social media presence, you may miss out on many of the online marketing world, potential networking opportunities, and customer leads.
Lack of social media presence causes;
Decreased brand awareness
A lower number of potential customers
A lower conversion rates
Decreased website traffic
Decreased customer loyalty
Lower sales
Social Media Presence Examples
Keeping up-to-date with social media platforms can take time, though, so it's essential to have a strategy in place before you start.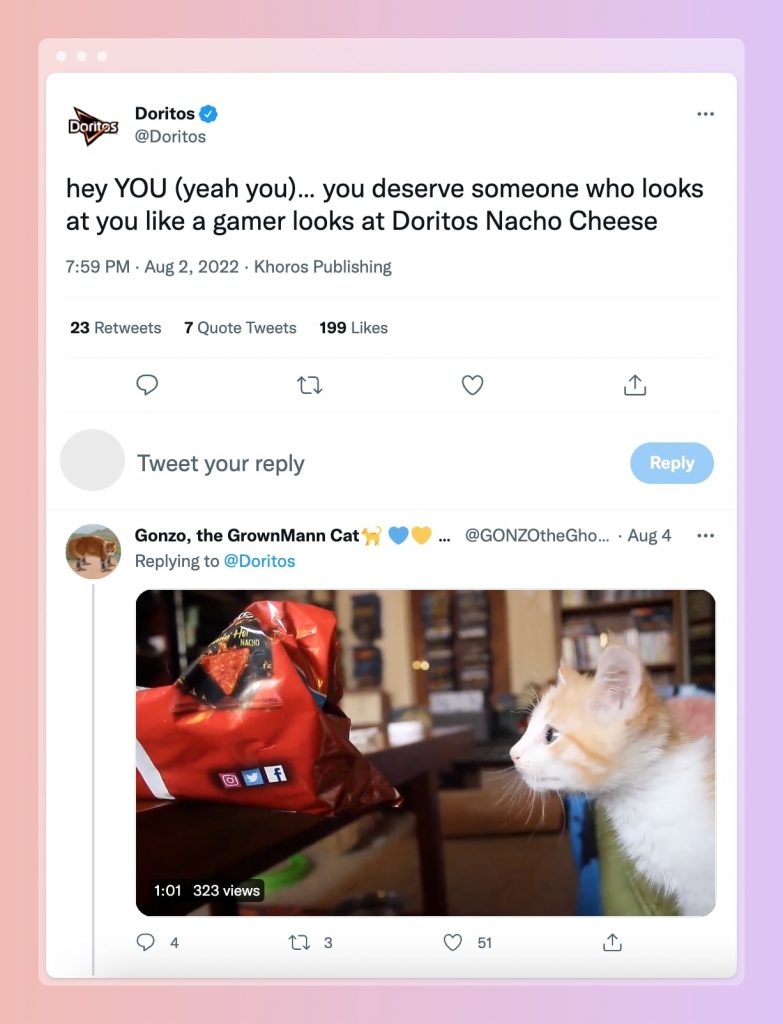 When choosing a social media platform, companies need to consider what kind of communities they want to build. For example, Doritos often posts tweets that their community can engage with. The plan is simple, engage with your community as if you are friends.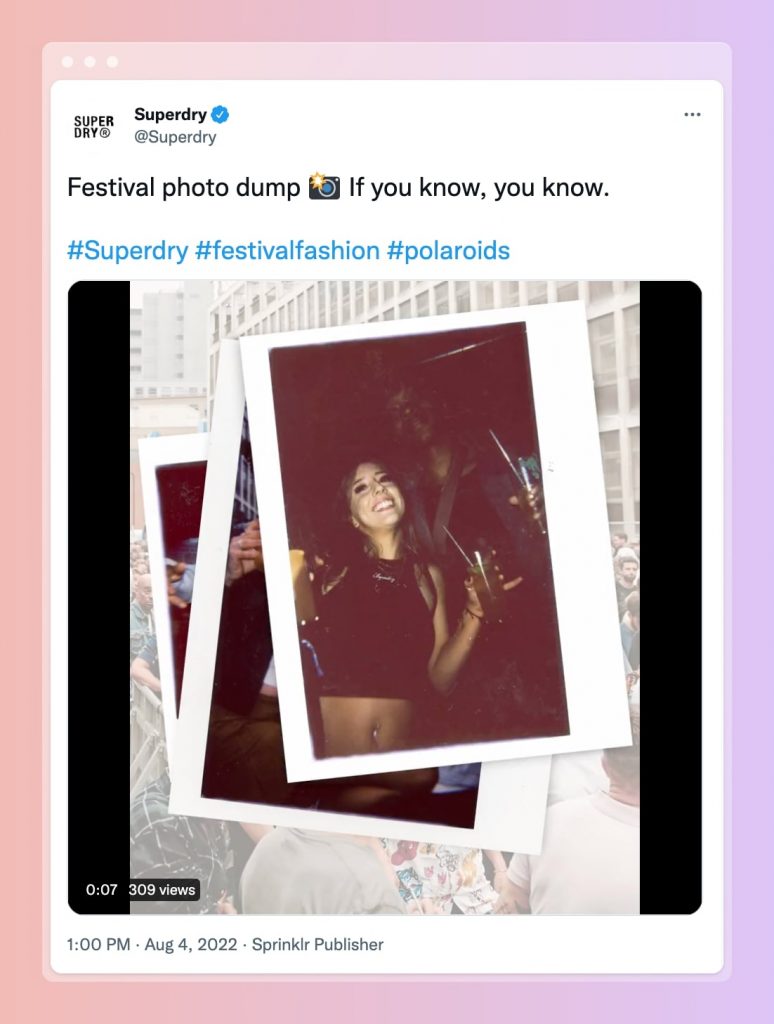 For example, if you sell designer clothes, like Superdry, you might want your Instagram account to look more like a fashion magazine or fashion culture than a storefront. You should also consider posting relevant images and videos to your brand and audience. The plan here is to depict a culture rather than a brand.
It is evident even with these examples that the ability to maintain an online presence for your business is essential. The benefits of having a social media presence include greater exposure, more engagement from fans, and the potential to drive sales.
Several ways to improve your social media presence include posting regular updates and engaging with followers. In addition, you can use tools such as video analytics to track metrics such as how many people view your posts and how many comments they generate.
Best Ways to Improve Your Business's Social Media Presence
A successful social media presence is not only about having a Twitter account and posting updates. Your social media strategy should include engagement, content creation, community building, and amplification strategies.

It is important to consider how you can use social media to engage with your audience and ensure that you put the right amount of time and effort into it. It is also crucial to be consistent with your social media efforts to see results. By taking a strategic approach to your social media presence, you can see great results in terms of visibility, engagement, and growth.
Engage with Your Community AT EVERY TURN 🤝
The key to any successful social media strategy is for your brand to be present and engaged with the community. Social media channels provide an ideal platform for customer interaction, as they are often frequented by people looking for information or seeking advice from others.
By engaging with users on social media, you can build trust and create a more intimate connection with your target audience.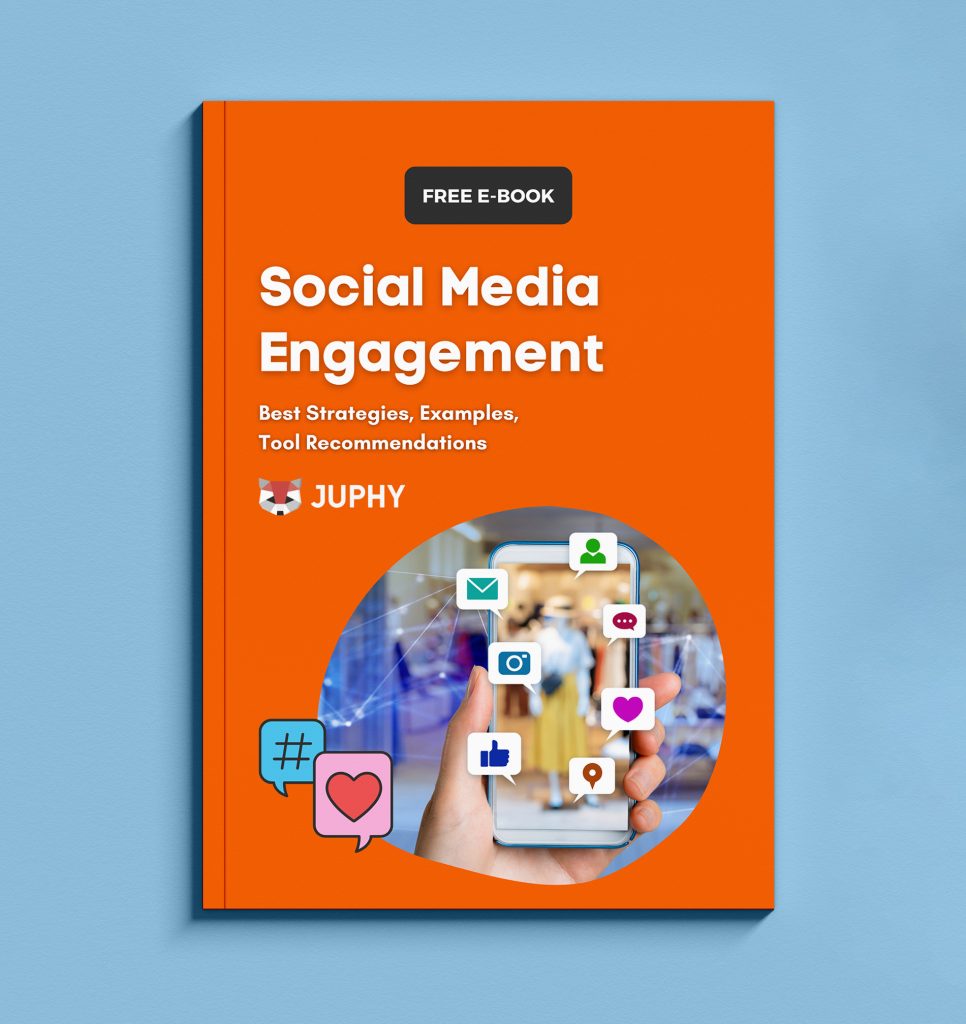 Social media management does not only consist of publishing content. You need to monitor and manage your content's engagement as a business. This guide will provide you with all the tips & tricks you need. Download it for free now!
Nowadays, people spend a lot of time on social media platforms. It's not hard to find people talking about your company and products these days. With this in mind, engaging your followers and customers through social media channels is essential. 
You can do this in several ways, including posting regular updates about your business on Facebook and Twitter, posting engaging content that encourages user engagement, and sharing customer testimonials. You can build trust and create a more intimate connection with your target audience by consistently engaging with users on social media.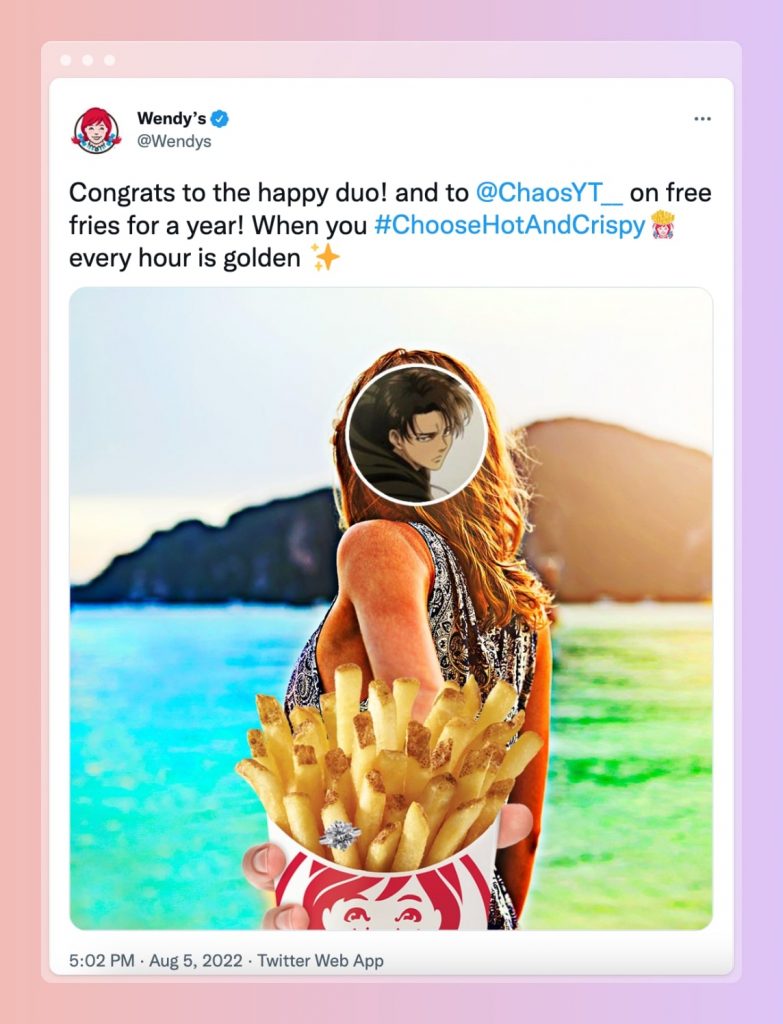 For example, Wendy's powerful social media presence comes with solid communication and engagement with its audience. They periodically create campaigns, choose one of their followers as the winner, mention them in a tweet and announce! This way, they build a strong relationship with their users while promoting their products at the same time. Or just remind your users to wear sunscreen like Slack's post below! 😎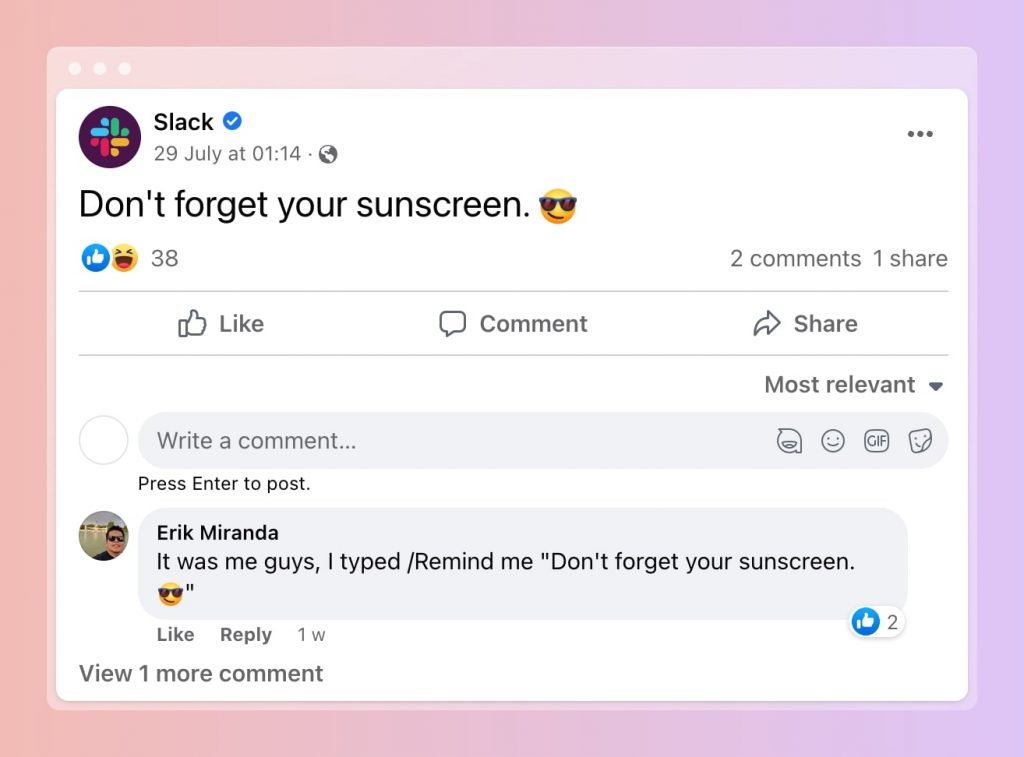 Determine Your Target Persona, Find THE ONE ❤️
Determine who your target persona is on social media. They are the people you want to reach out to, typically defined by their demographic information (age, location, gender).
If you're trying to spread awareness about a cause or event, the people you want to reach out to will likely be a certain age or living in a specific area.
On the other hand, if you're selling something relevant to everyone, it might make more sense to target an individual rather than an entire demographic.
It's important to figure out which persona you're targeting before you start posting content. This will help you determine how much time and effort you need to create engaging content for your target audience.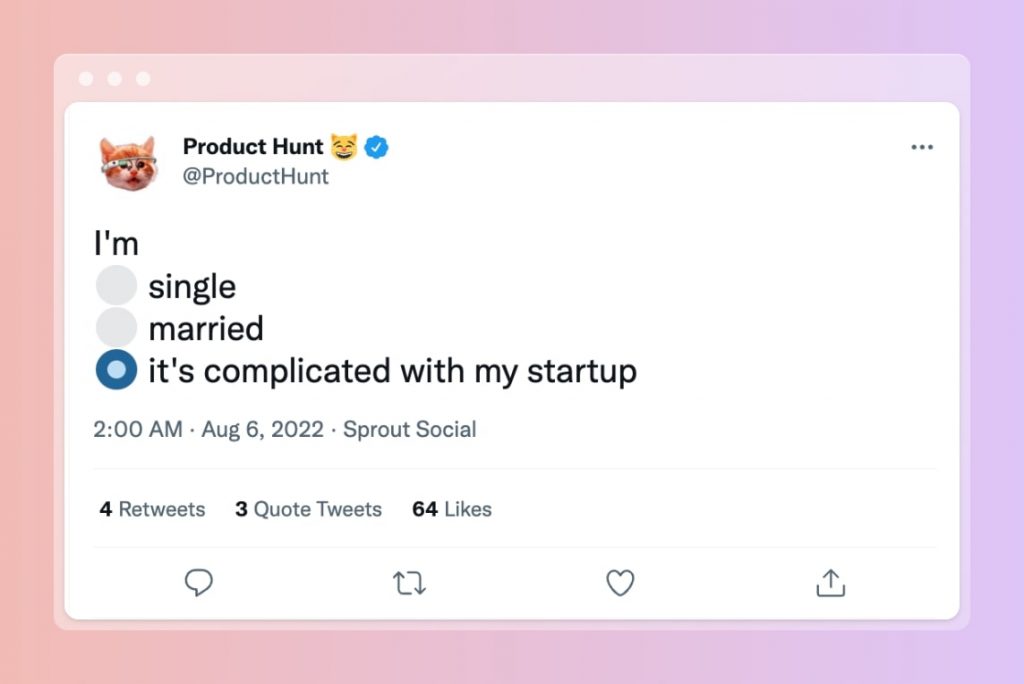 For instance, Product Hunt's target audience is very clear, isn't it? People that own or love startups! With this in mind, Product Hunt creates content relevant to this group of people and improves its social media presence based on this.
Keep up with the Trends @ACTIVELY 📡
A savvy business's ability to identify and follow trends on social media is an important skill to possess. With this knowledge, you can stay ahead of the curve and ensure your business is positioned for continued growth.
One way to keep tabs on what's happening in your industry is by regularly checking out the top posts on your favorite social networks. Regularly checking will help you stay up-to-date on all the latest happenings in your niche and give you valuable insight into what people are talking about right now.
By paying attention to what's trending, you can quickly identify which topics are most relevant to your business and figure out how best to respond. You can also avoid missing out on valuable marketing opportunities by monitoring social media trends.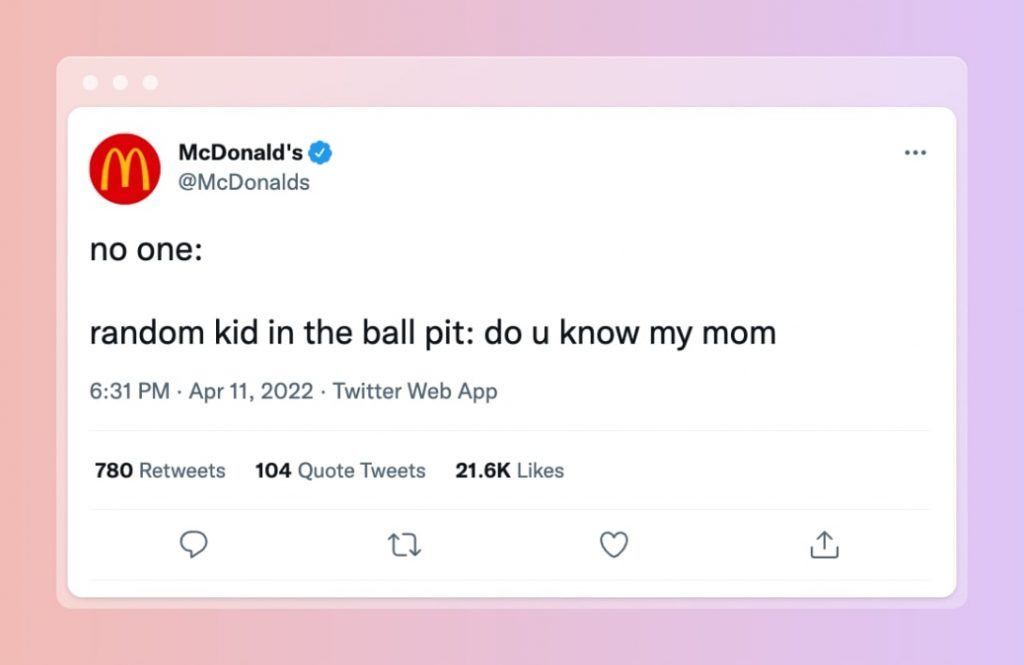 McDonald's knows the "no one:" chat trend and adapts it to their own content. They make fun of things relevant to their concept, people enjoy them, and they keep their social media presence at high levels!
Make Use of Videos and GIFs 😎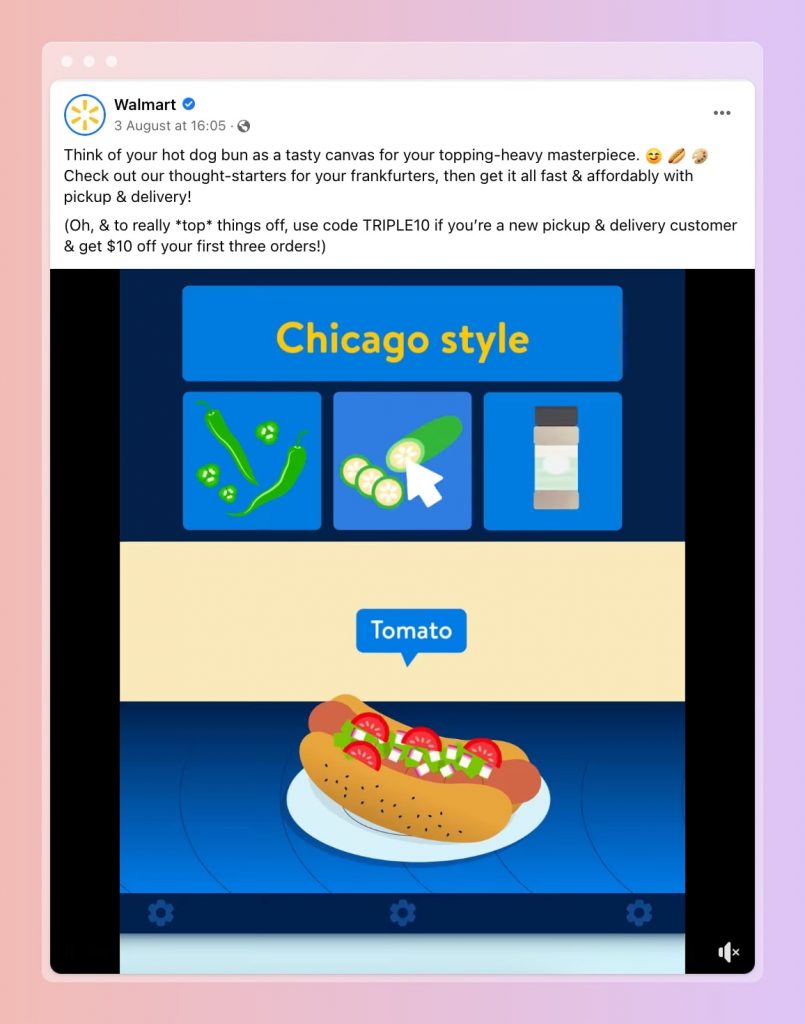 It is true that posts, including visuals, get more attention on social media. If you want to keep up with the competition and stand out from the crowd, you need to make sure that you're putting out engaging content that people want to interact with. Videos and GIFs are one way to do just that. By creating compelling videos that people want to watch and share, you can reach a much larger audience and better social media presence than you would if you were just posting regular status updates.

And by offering your customers and potential customers something they truly value, you can build loyalty and trust that will ultimately lead to more sales.
In short, it is also vital for businesses to create and release short, to-the-point videos or GIFs to share with their social networks. These can be anything from a simple "here's what we're up to these days" update to a full-on explainer or sales pitch.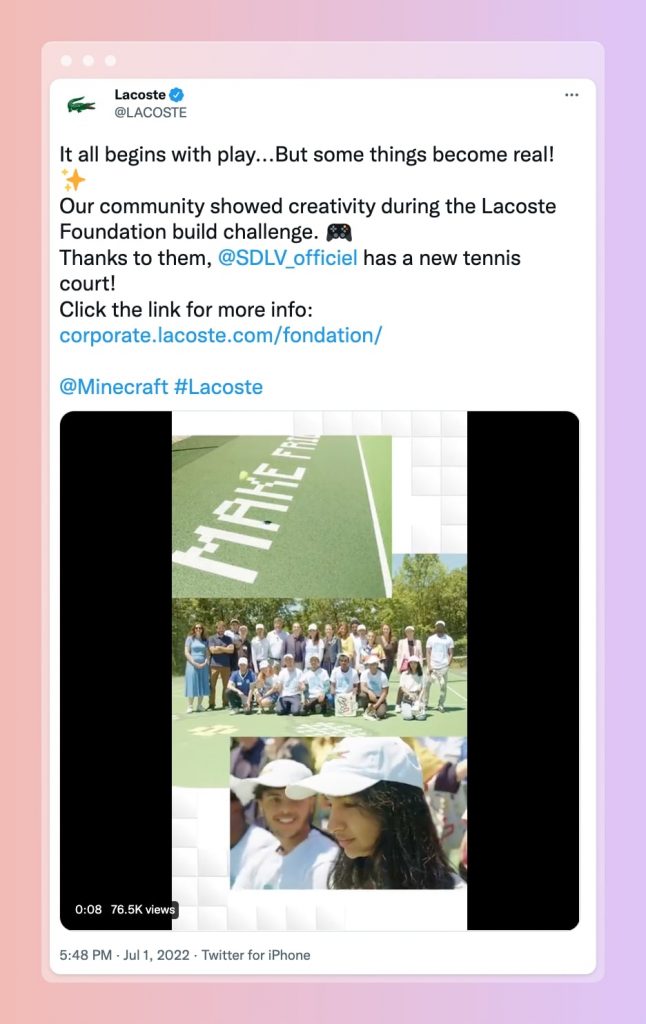 Don't Forget to Provide EXCEPTIONAL Customer Service 🧑‍🔧
Customer service is expected to be a top priority for any business, but social media can help you spread the word about your company and build your reputation.
Once people know you're willing to answer questions, they'll be more likely to turn to you if they have a question. While social media can't make up for the lack of quality customer service, it can help nudge things in the right direction.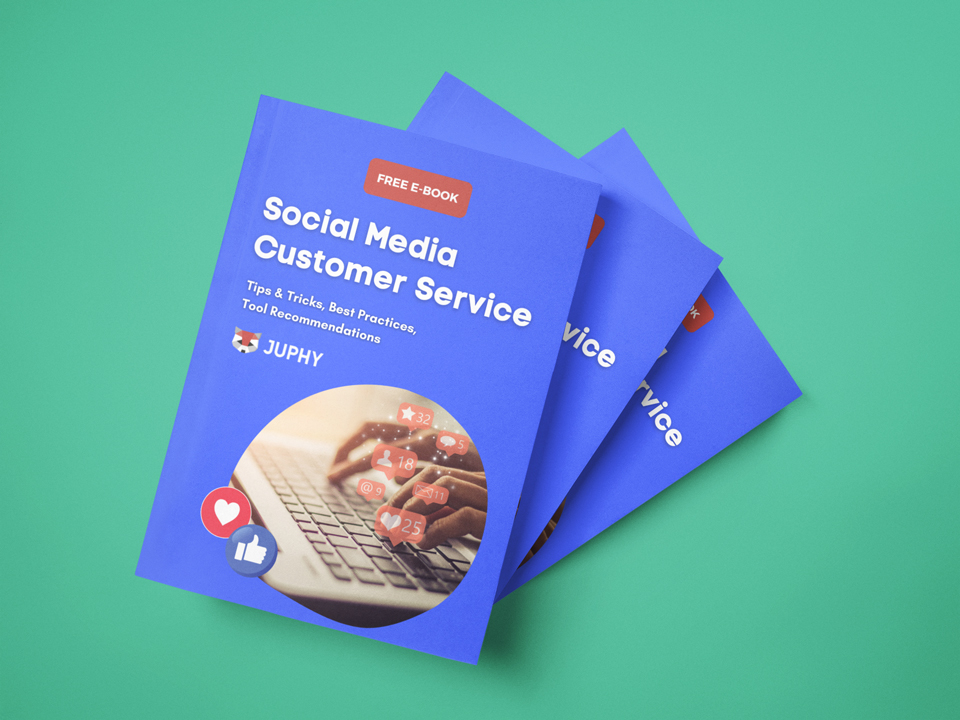 Social media customer service works through managing social media engagements and providing customer support on social networks. All you need about social customer service is in this free e-book. Download it for free now!
This allows customers to send a message to your company and get a response from a real person. Live support on social media will enable customers to talk directly with one of your employees. This is a great way to engage with your customers because they can ask any questions they want and see the interaction firsthand.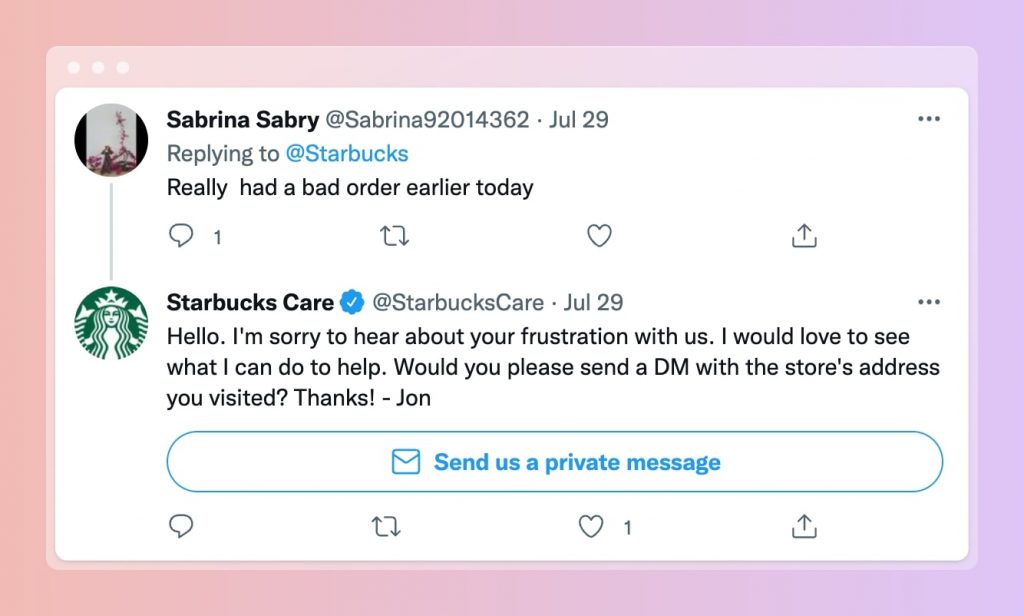 Starbucks writes back to people that had a bad experience immediately! I mean, millions of customers visit its stores per week, and they still open with customer services.
The Best Social Media Customer Service Tool: Juphy 🦊
After all, to perform all these ways efficiently and maintain a good social media presence, we need a little help, don't we?
From following trends to providing customer service on social media, Juphy helps you to create a positive social media presence by never missing out on engagement and responding to social media inquiries as quickly as possible.

Let's learn more about Juphy with this video below:
For a business that needs to level up its social media presence, it is a kind of a MUST to manage all the social media activities easily.

Don't look far, far away… Juphy is a social media management tool that helps you create and manage your social media accounts in one place. It includes various features such as automation rules, keyword tracking, team collaboration, canned responses, reports, and more.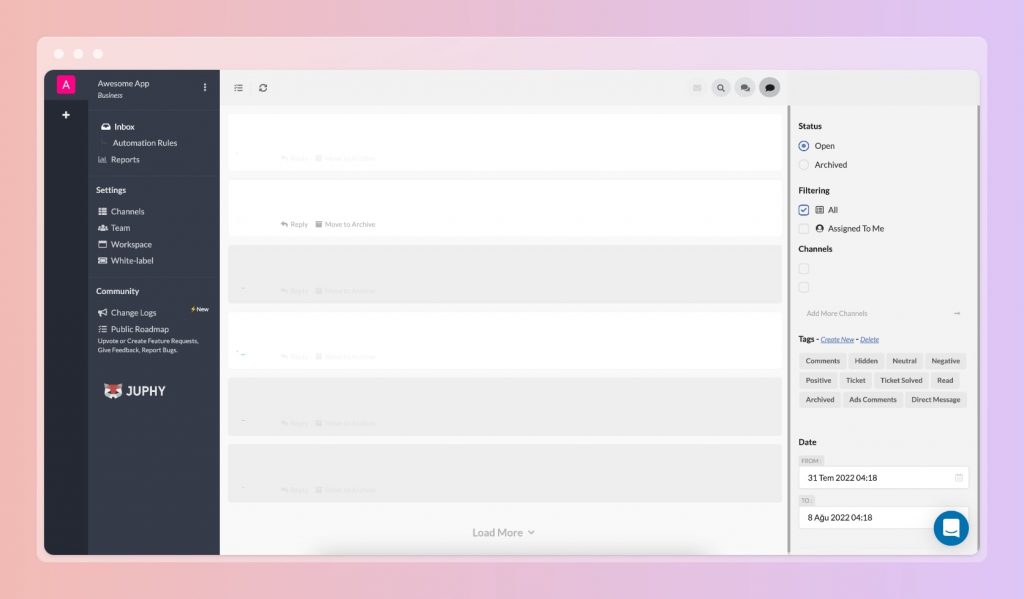 For engaging with your community actively, Juphy has an intuitive dashboard that makes it easy to see all of your social media communications in one place. Every social media conversation, including messages, mentions, and comments, drops into Juphy's Inbox, and you can provide the fastest and best answer to your audience.

Juphy enables you to add keywords and hashtags for streaming and track them to keep up with the trends.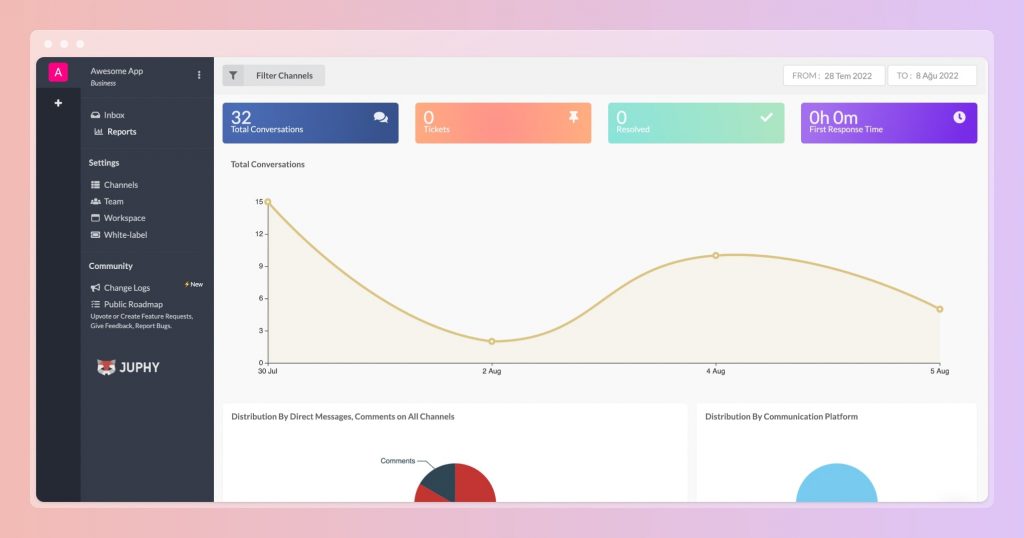 For analyzing your social media presence, Juphy provides you with extensive social media reports.

Just S.
Founder, Small Business
"The user interface is really clean and intuitive. It supports all of the important social platforms. The ticketing system is really well organized and it is easy to assign tasks and tickets. Good number of reports. Love the agency features which are well thought out and simple to use. The single omni-channel dashboard for everything is beginning to be very beneficial to our systems. Getting setup is a snap."

Final Notes
If you're looking for benefits beyond brand awareness, you need a strong social media presence to build relationships and create community. It's a great way to connect with potential customers and build a rapport with people in your niche.
Using social media to build relationships can nurture connections that eventually lead to business opportunities. It can also help you to create a sense of community among your followers.
If you think that social media may be a good fit for your business but aren't sure how to get started, follow several easy ways we've shared with you and get started with a good social media management tool like Juphy!
#teamjuphy gives warm wishes for @you ❤️
Create Your
Social Inbox Now
Manage all social media customer support inquiries in a unified inbox.
Related Article – NIKE's Social Media Customer Service Performance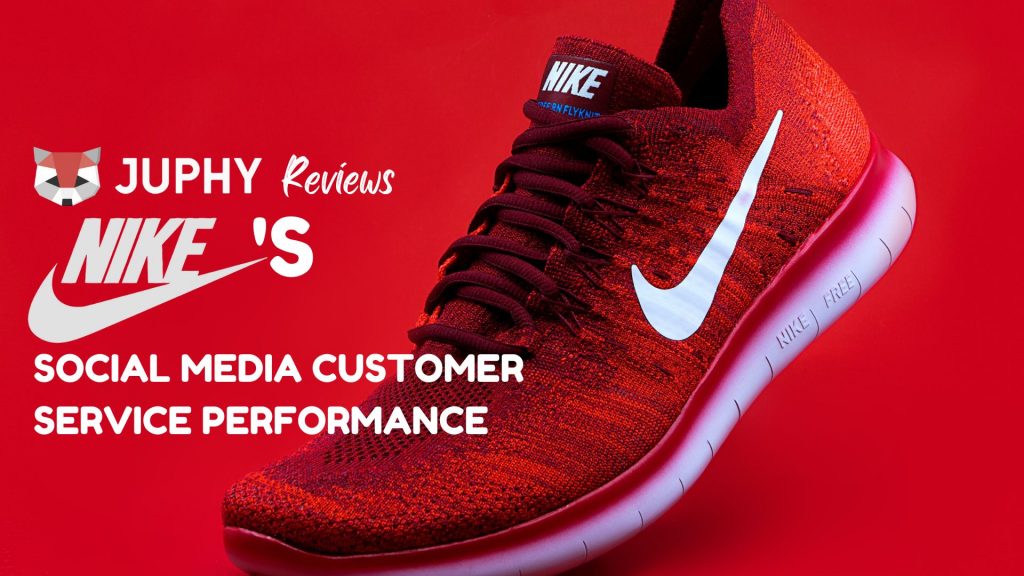 Curious about Nike's social media customer service? We reviewed the company's performance with examples and analysis of social media accounts. Read now!