In the current era, consumers are spoiled for choice when choosing service channels. Social media is fast becoming our way of life and is a staple of customer care today. Social media now plays a significant role in customer service. In fact, 67% of consumers have engaged with the brand's social media customer service representative for queries. While social media and customer service may not have been an intended combination when developed, it is logical for businesses to use social platforms to attend to customer issues.
The mutual benefits of easy brand accessibility via social platforms allow easy customer contact and engaging social interaction, which helps brand building and wide-scale communication through omnichannel customer service.
Social media is the new wave of forward-thinking customer service and has gained significant importance. Companies are now hiring customer care representatives for customer support activities such as providing guidance, answering questions, addressing complaints, responding to online reviews, and issuing refunds via social channels.
In this post, we will learn more about social media customer service and the role of social media customer service representatives.
Let's get started.
Create Your
Social Inbox Now
Manage all social media customer support inquiries in a unified inbox.
What Is Social Media Customer Service?
Social media customer support refers to providing customer service and support through social media platforms like Twitter, Facebook, Instagram, and more.
It is the practice of using tools to resolve customer concerns and offering prompt customer support via channels such as Facebook, LinkedIn, Twitter, or WhatsApp.
Offering social media customer service means customers can contact the brand directly from their social media profiles if they have ‌questions, queries, or issues with the product or services. These interactions can happen publicly (a comment, tag, or post on social networks) or privately through DMs.
Social media customer care is highly effective and usually sought after because it is so immediate and accessible. 90% of consumers use social media ‌to communicate with a brand. According to a Nielson study, over 33% of customers prefer to contact brands via social media.
Social media customer service, when done right, is loaded with benefits such as:
Immediate Communication
Encourages Brand Mentions
More Personal Brand Experience
Positive Customer Experience
Transparent Conversation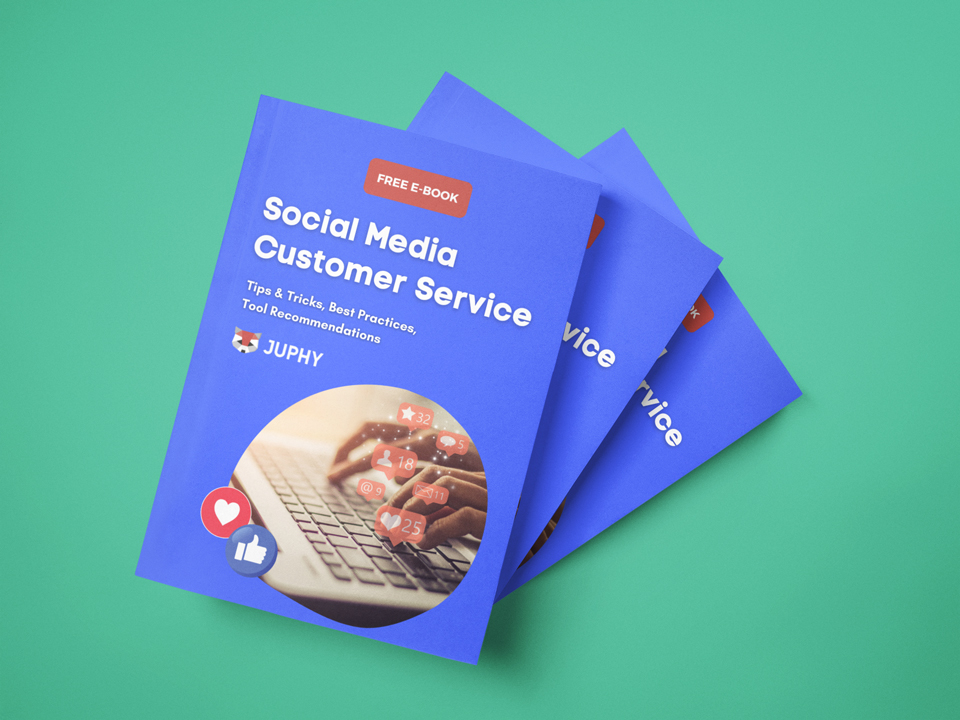 Social media customer service works through managing social media engagements and providing customer support on social networks. All you need about social customer service is in this free e-book. Download it for free now!
Traditional Customer Service Vs. Social
Media Customer Service
In the olden days, companies employed several methods, such as phone calls, to support customers. However, with the evolution of the internet, email became the epitome of rapid customer service. With the skyrocketing popularity of the internet and social networks, social media redefined the face of customer support forever.
Everyone is on social media, and it is rare to find a person who doesn't have a social media account, which makes social media a critical contact channel between businesses and customers.
Social media engagement is an instant process that allows easy and quick communication between two parties. The customers usually receive responses to their queries on social media within minutes to perhaps an hour or two.
Even the transfer of media is super-fast. Customers can upload images or videos of products they want to complain about or provide feedback from anywhere. In reply, the social media customer care representatives of brands can send to-do videos from anywhere to attend to customer issues and complaints.
The below statistics clearly illustrates the importance of social media customer service:
⅓ of customers say they would instead seek out customer support over social media rather than make a telephone call or email
About 70% of consumers rely on Facebook and Twitter for issue resolution.
Resolving a customer issue on social media is 12 times cheaper than solving it over a call.
The customer service interactions on Twitter increased by 250% within the past two years.
30% of consumers say they will purchase from a competitor if the original company didn't respond to their social media message
Sources: GWI Social Media 2021 Report, Letter.ly, V12, Brandwatch, Social Media Today
What Roles Do Social Media Customer Service Have?
Social media customer service representatives optimize a company's social media goals. Their primary duties include:
Responding to customers' queries via social media
Reviewing social media campaigns
Managing the company's social media visibility
Listening
They are the main point of contact for customers who want to engage with the company via social media.
A social media customer care representative is in charge of communicating with customers and providing answers to customer queries via social media platforms related to products and services. They should ideally know effectively use various social media platforms, tools, and technologies. Moreover, a social media customer service representative should have a solid understanding of the customer experience.
To use social media for customer service efficiently, it is essential to hire well-trained social media customer service representatives and provide them with the best social media customer service tools to provide the best digital customer experience.
This snapshot of a Twitter exchange below between a customer and the Apple customer Support team is one of the best social media customer service examples. The below image shows a customer seeking support for an unnamed Apple product.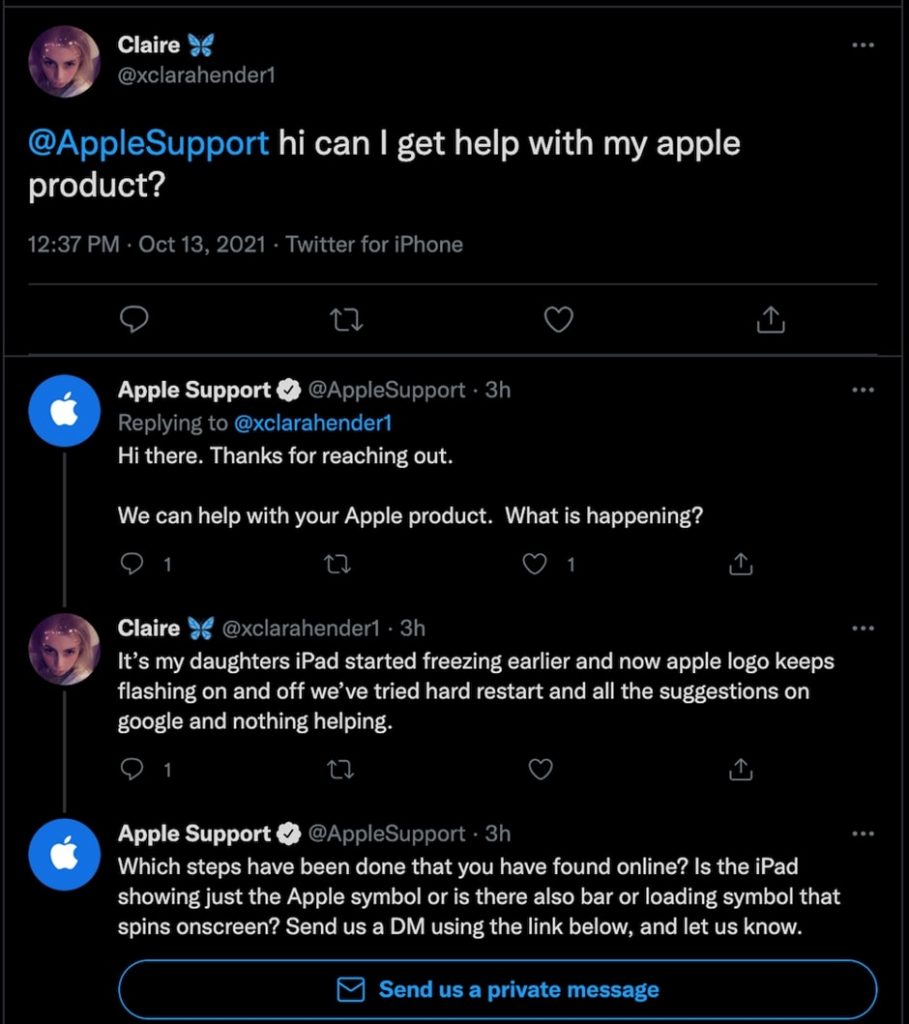 How is it superb?
The representative thanked the customer for reaching out
Asked for specific details to determine the product the customer needs help with
Prompt response
Asked about the steps taken by the customer to resolve the issue
Asked for more clarity about the specific issue and provided two potential problems for the customer to choose from
Provided a link so that the customer can directly message the support team

Social media response time is correlated with customer satisfaction. The faster the reply, the higher the satisfaction.
Depending on the social media channel, customers expect customer service reps to respond as soon as possible. Ideally, within an hour or less. Therefore, social media customer service agents need to have a sense of urgency in everything they do.
Best Buy is next in the list of great social media customer service examples, as seen in the screenshot below. Although the brand did not receive a direct @ mention on Twitter. Proactive customer care responded within an hour with a helpful response specific to the customer's pain point. In addition, the rep also suggested items on sale.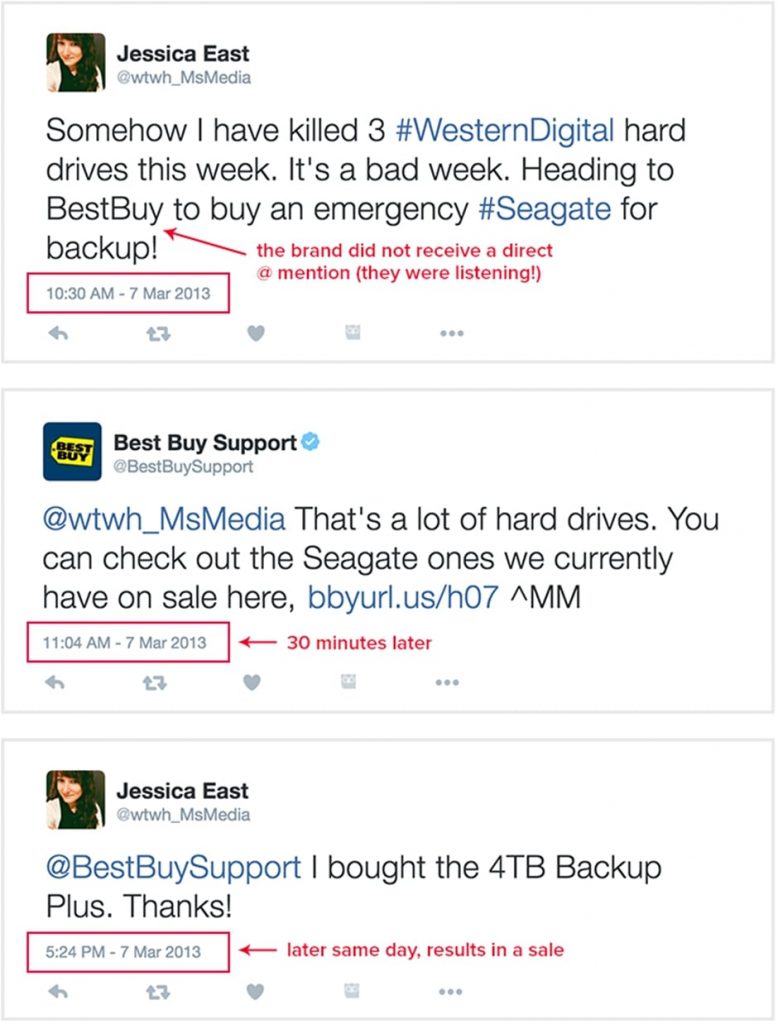 The result: The customer purchased from the Best Buy brand on the same day.
While excellent customer service can boost sales and increase your customer base, we cannot ignore the effects of poor social media customer service. It can cause people to:
Call out about the bitter experience
Use another medium to escalate their concerns
Not recommend a brand's products or services
May never use the brand again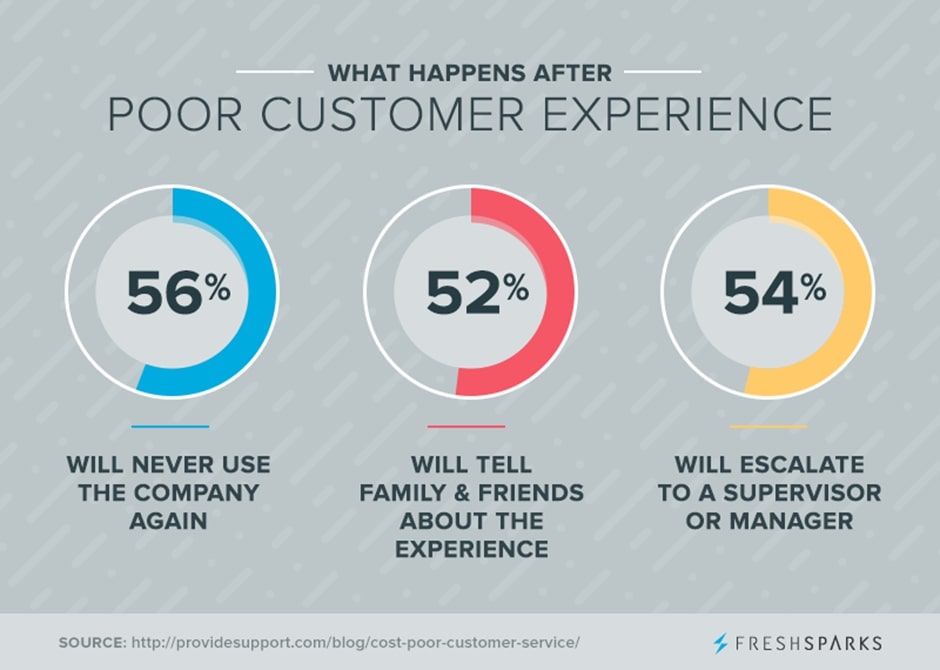 There's way too much at stake. A strong team of social media customer care reps, a proper strategy, and powerful tools is all you need to up your social media customer service game.
What Is an Example of a Social Media Customer Service Job Description?
Excellent customer service is the number one job in any company, but what about the job of customer service representatives?
While the world of social media has its language and nuances regarding customer support, many primary customer service principles still apply.
An ideal customer service agent is a great communicator and listener, is empathetic, and has a problem-solving mindset. To simplify, they should be able to solve problems, show empathy, and make customers feel heard, valued, and appreciated.
Here is an example of social media support job description:
Adapt the brand voice and communicate with customers and social media followers over all social channels

Provide excellent customer service with great attention to detail
Reply to customer queries and comments posted on the company's social media page.
Resolve customer inquiries efficiently and quickly via social media based within the scope of work
Review social media posts to ensure that all inappropriate content is removed and all queries are answered
Knowing company products and services to effectively communicate with customers and provide them with the correct resolution
Staying informed on all the current and latest social media trends, innovations, and changes
Social Media Representative Requirements and Qualification:
A bachelor's degree in social media management, marketing, or a related field.
A minimum of 1-year experience as a social media representative or a similar role.
A year of customer service experience would be beneficial.
Strong knowledge of the social media channels and their best practices
Ability to provide a positive customer experience
Excellent writing skills with good attention to grammar and sentence structure
Ability to manage and handle customers on social media platforms like Twitter, Facebook, Instagram, LinkedIn, and Google+.
Working knowledge of social media tools.
Solid customer service skills.
Good communication and interpersonal skills.
Ability to work in a fast-paced environment.
If an agent already has these skills, the right digital tools and training can help them shine in the digital customer service realm.
Empower Social Media Customer Representatives with Juphy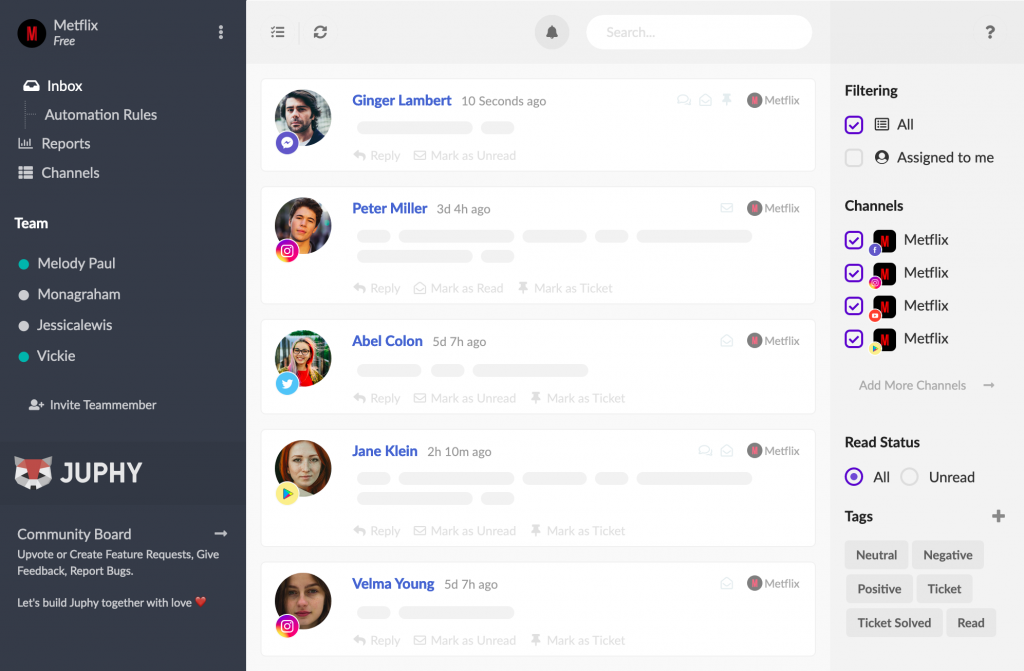 Juphy is an award-winning, all-in-one platform for effective social media management. It helps businesses to build meaningful and lasting relationships with their customers and help them with their social media engagement strategy.
Juphy primarily focuses on social media customer support and enables businesses to handle all kinds of user engagement, such as reviews, chat, direct messages, mentions, comments, tweets, and ads on all public platforms. Juphy is integrated with several leading platforms, including:
Social Media Platforms:
Instagram: Direct Messages, Comments, Ads Comments
Facebook: Facebook Groups Comments, Pages Comments, Facebook Messenger, Ads Comments
Twitter: Tweets and Mentions
LinkedIn Business: Comments
YouTube: Comments
Additional Platforms:
Google My Business: Reviews
App Store: Reviews
Google Play: Reviews
Whatsapp (Twilio): Text Messages (Working on direct integration)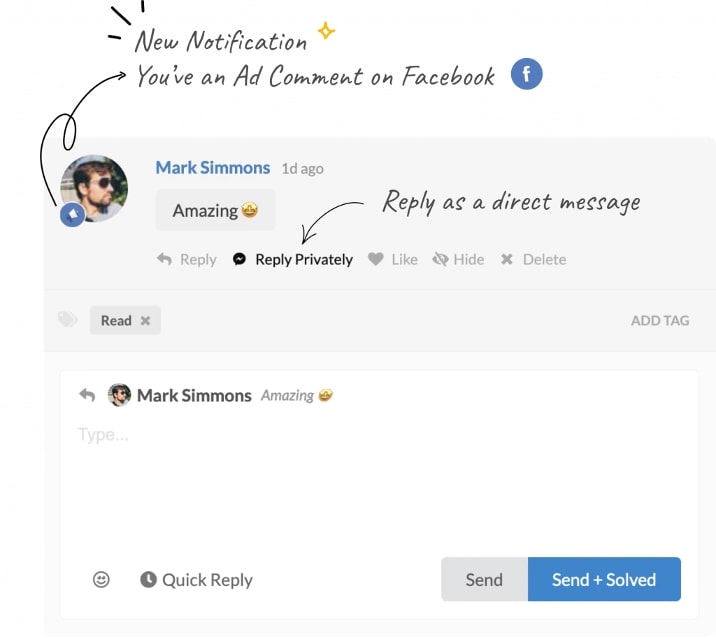 Juphy's unified inbox helps to facilitate audience engagement by managing all the different messaging and customer service channels using the all-in-one dashboard. It will pull all the mentions, messages, and retweets from your social platforms into a single inbox. This is cost-effective as each message ends up in one inbox from which any team member can promptly respond to messages, comments, and mentions.
With close to 50% expecting a response time within 24 hours to a social media customer service query and more than 62% expecting a response within an hour of posting it, it is clear that speed is key to quality providing social support and a solid overall customer experience.
But it is impossible to have a representative available round the clock to like and respond to every single comment or message across multiple social media accounts. So, Juphy's canned response feature accelerates replies by answering common queries on social media, making customers happy as they receive the solutions sooner.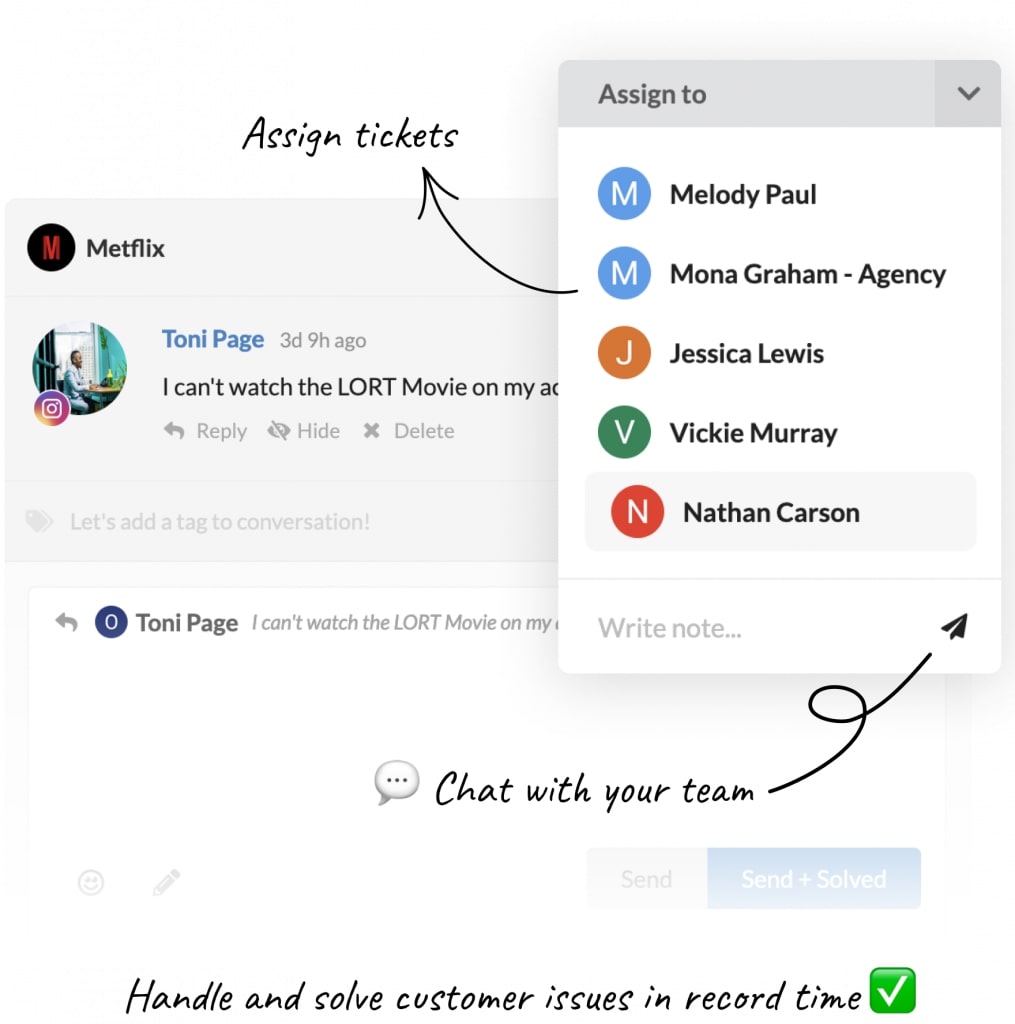 Collaborating with team members is important but is often one of the most overlooked features of social media tools for customer service. But Juphy has your back.
Team collaboration helps assign tickets and streamline tasks that usually require much more time and effort. You can also add internal notes regarding the background of customer conversations with teammates before replying.
A comprehensive report will help you identify your goals, strategies, successes, and failures. The actionable information lets you measure and share your social customer support performance and the impact of your efforts. This enables you to see what's working and improve on what's not and ultimately help you improve your customer service on social media.
Automation helps in message prioritization as it automatically categorizes, manages, and measures inbound messages with Automated Inbox Rules. It classifies the incoming messages from social media and segregates them based on content, urgency, and tone with the pre-set automation rules. That means reduced spending time on repetitive tasks, reduced response time, and better digital customer experience.

Oscar Hugo P
Founder & CEO / Small Business
"Juphy lets you add your social media and email accounts to a unified inbox to answer users comments, direct messages and messages really fast. It also let's you add you team members. UI is easy to understand and use. And the support team is very responsive."

Final Words
Excellent social media customer service plays a crucial role in the longevity of any business. It fosters brand loyalty, sales, customer retention, and advocacy through digital customer experience.
With the right team, tool and strategy, social media customer service can take your digital community to the next level. Bring in your A game in customer service and get the best out of your social media customer service with the aforementioned tips and Juphy.
With Juphy, you can save time, respond faster, engage more, improve customer delight, and exceed customer expectations.
Create Your
Social Inbox Now
Manage all social media customer support inquiries in a unified inbox.
Related Article – How to Provide Customer Service with the Right Tools in 2022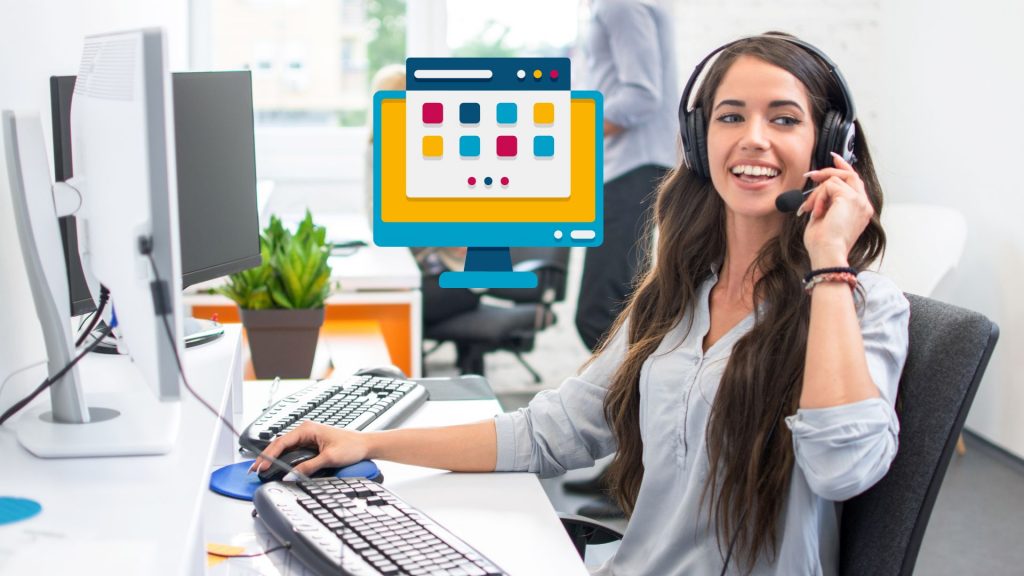 There are many different types of customer service software out there. Finding the right one can be hard, but we're here to help. Read more now!