When it comes to social media customer service, Starbucks truly shines. In fact, the coffee giant has a pretty impressive record of responding to customers on Facebook, Twitter, and Instagram.
In 2017 alone, Starbucks responded to more than 5 million posts on its various social media platforms—an average of more than 18,000 posts per day! Compared with other brands that post to social media regularly, Starbucks appears to be one of the most responsive brands on the market.
As of 2022, Starbucks has 36M+ likes on Facebook, 17M+ followers on Instagram, 11M+ followers on Twitter, and 360K+ subscribers on YouTube.
Seeing this success, we can't keep ourselves from asking, "How?"!
Create Your
Social Inbox Now
Manage all social media customer support inquiries in a unified inbox.
Starbucks on Social Media
Starbucks began actively engaging in social media in October 2008. The official Starbucks Facebook fan page is one of the company's major social networking sites. Starbucks entered the cyber world of social media, and the number of "Fans" the company has engaged with speaks for itself.
Facebook is a social media platform where you can find various types of videos and content, and through these, Starbucks carries out interactive activities with its fans.
Let's look at the most-used platforms of Starbucks.
Starbucks on Facebook
Besides the information in the About section, Starbucks' Facebook page is beneficial for creating useful content. Starbucks uses Facebook posts to share news, updates, reminders, and other engaging content.
Sometimes it's just news;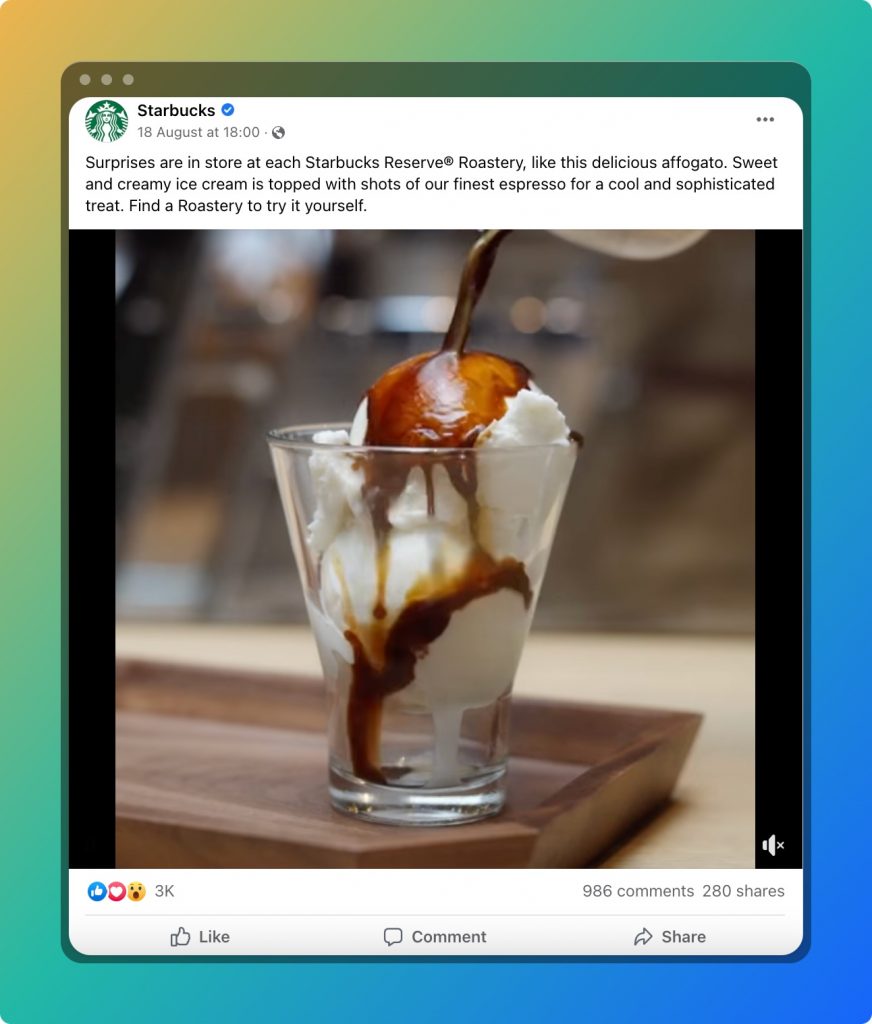 Sometimes, it's an interactive post;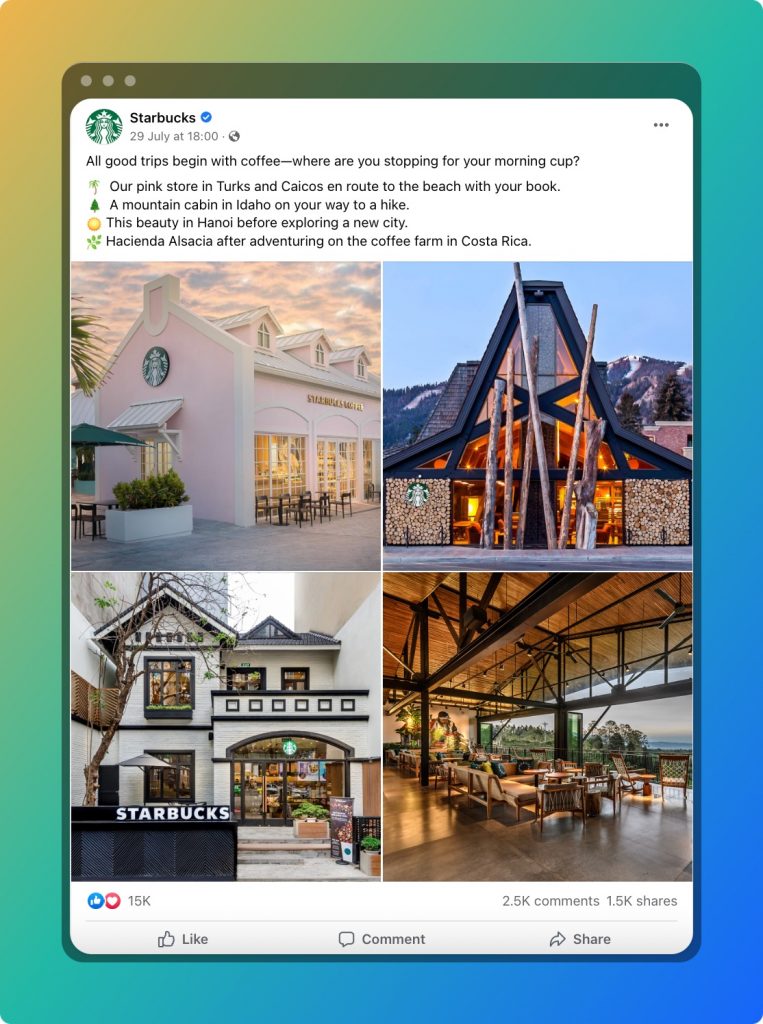 Sometimes, it's a post about their employees;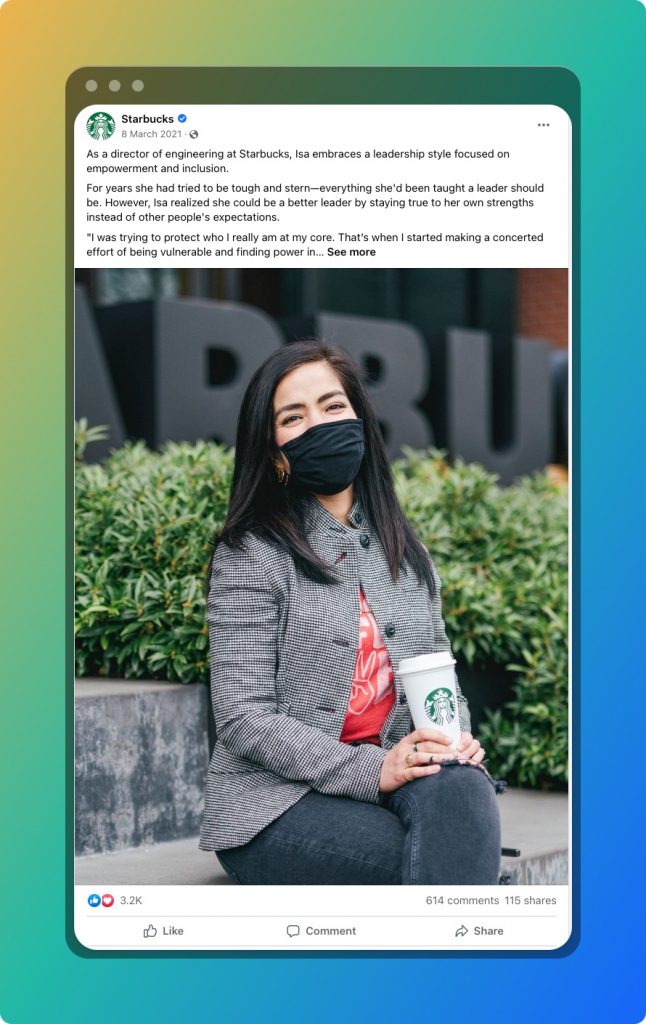 Sometimes it's a repost, sometimes this, and sometimes that.
In short, there are many kinds of posts they create on Facebook. Don't miss the number of reactions, comments, and shares! Like these examples, 99% of Starbucks' Facebook posts engage with their customers, whether it is a product update, a post with one of the drinks, news, etc. They always manage to create posts that make people want to comment on, engage, or share them.
Plus, the replies are quick and personalized too!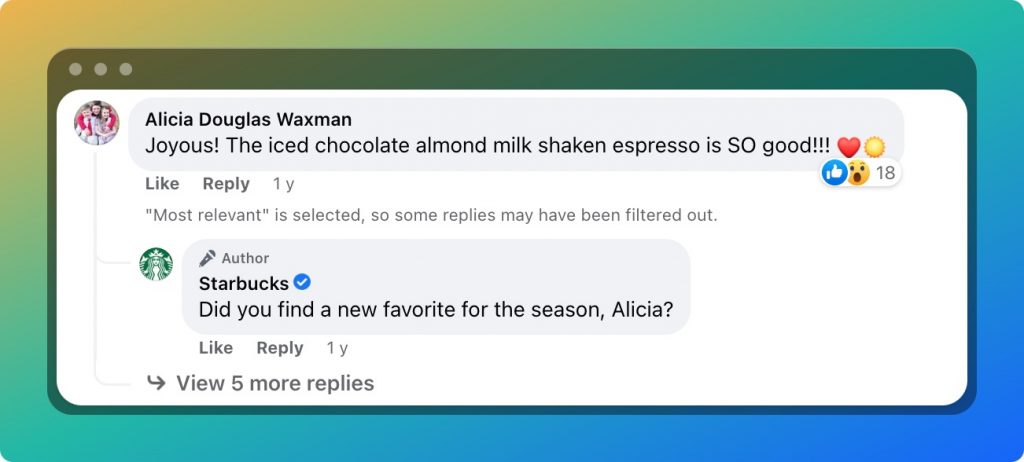 You see, Starbucks does not hesitate to reply the comments in a personalized way, which makes them seem sincere, friendly, and caring.
Starbucks on Instagram
When it comes to Instagram, Starbucks runs two types of accounts. We have the original Starbucks account, which connects with customers by announcing the news. The second type is the "local" account, which connects with customers through local stores or franchises.

While both accounts are essential to Starbucks's customer service strategy, local accounts are arguably more important. That's because it provides a direct connection between the Starbucks store and its customers. In other words, it's a place where people can go to interact with their local Starbucks employees personally. When used effectively, this kind of account can be an invaluable tool for customer service.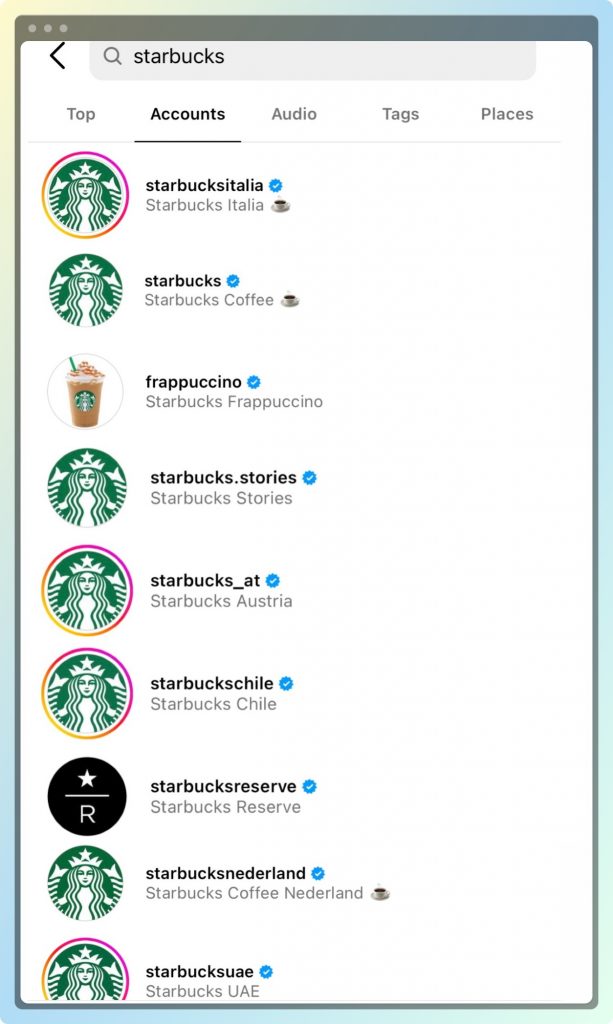 Imagine that you're having trouble with a local store but don't have time to get there in person; with these accounts, you can use your local Starbucks account to ask for help instead. Or, if you've recently moved, you can check your local account or ask about store hours and locations before making the trip.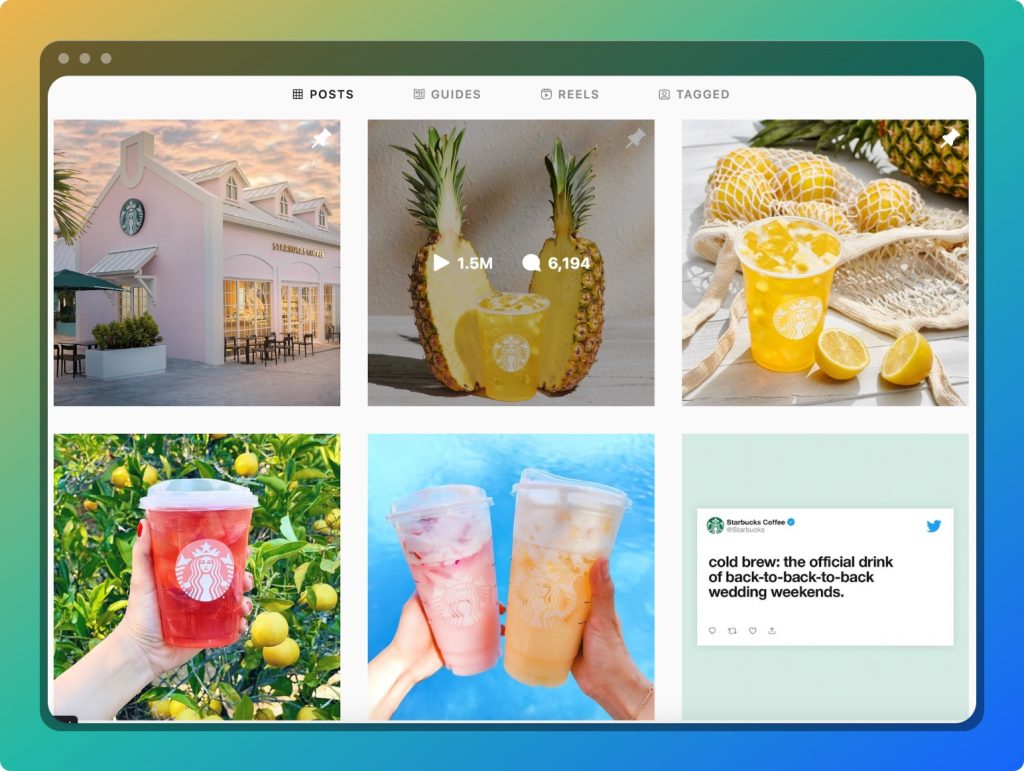 Starbucks has an active and engaging Instagram. And similarly on Twitter, Starbucks engages with its followers and customers through interactive, informative, and fun posts.
Overall, with its unique tone that matches our everyday conversations, a social media strategy that follows the latest trends, and listening to the customers' expectations, Starbucks has exceptional engagement on its social media platforms. 
Social media can be a great way to engage with customers but it can also be chaotic. When things go wrong, you need to be able to respond quickly and effectively. Starbucks knows this all too well. 
Analysis of Starbucks' Social Media Customer Service
In addition to its responsiveness on social media, Starbucks also performs well in overall customer service performance. There's no doubt that Starbucks is committed to the idea of "coffee as a community," but it needs to consistently show customers that it's putting this philosophy into action for them to believe it honestly.
Let's analyze Starbucks' social media customer service through some aspects;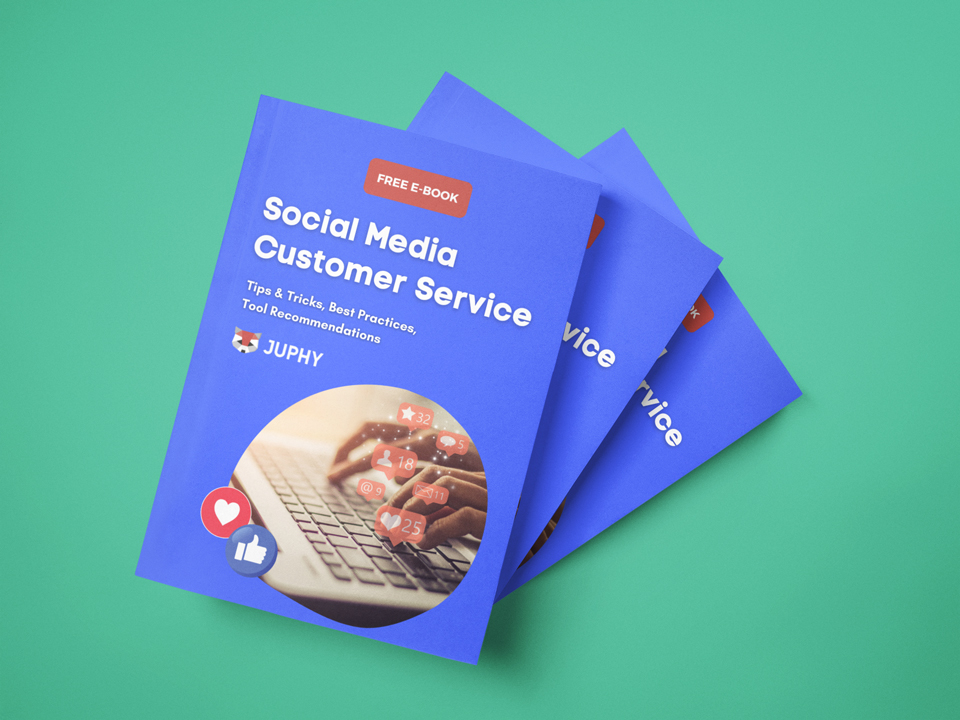 Would you like to successfully provide customer service on social media like Starbucks? Learn tips, tricks, and secrets with this free e-book. Download it for free now!
Starbucks' Response Time
When we look at their response time, Starbucks seems to be always online!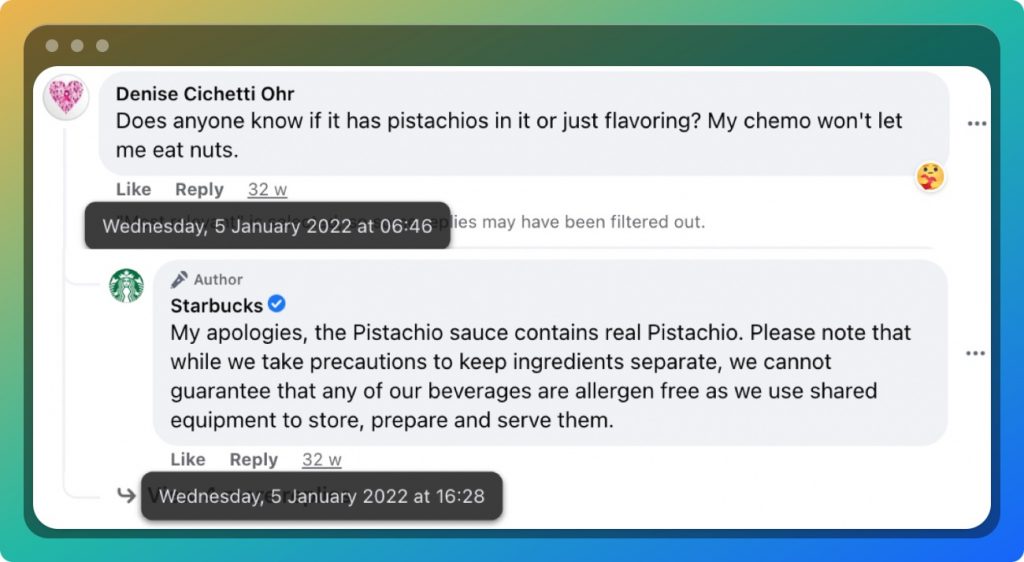 As we see from the Twitter mentions and Instagram comments, Starbucks does not miss a mention or a comment, whether it is a question or just a thought. Mostly, their response time does not exceed 24 hours.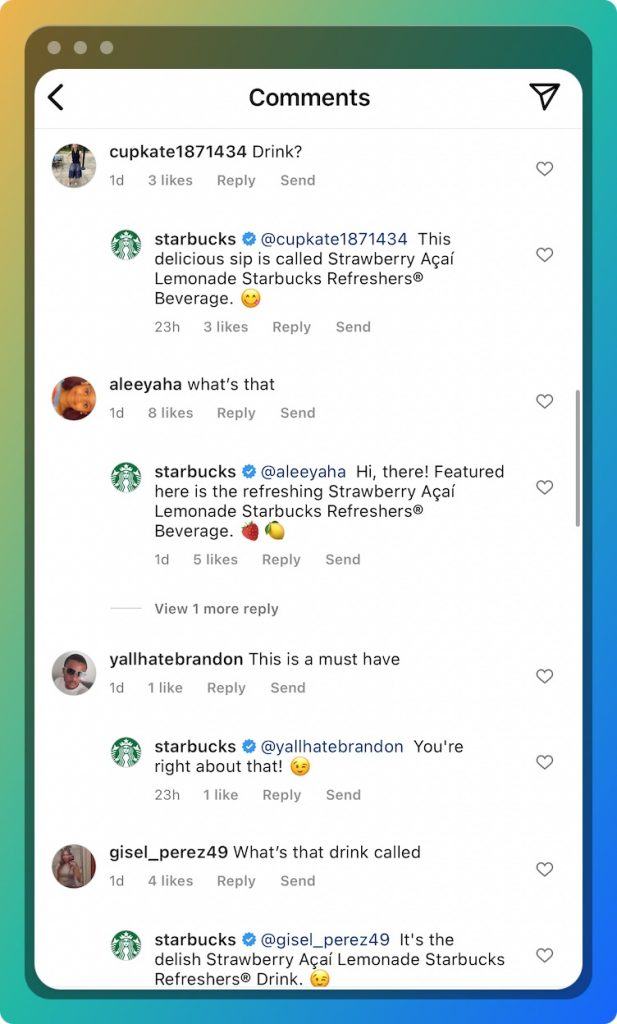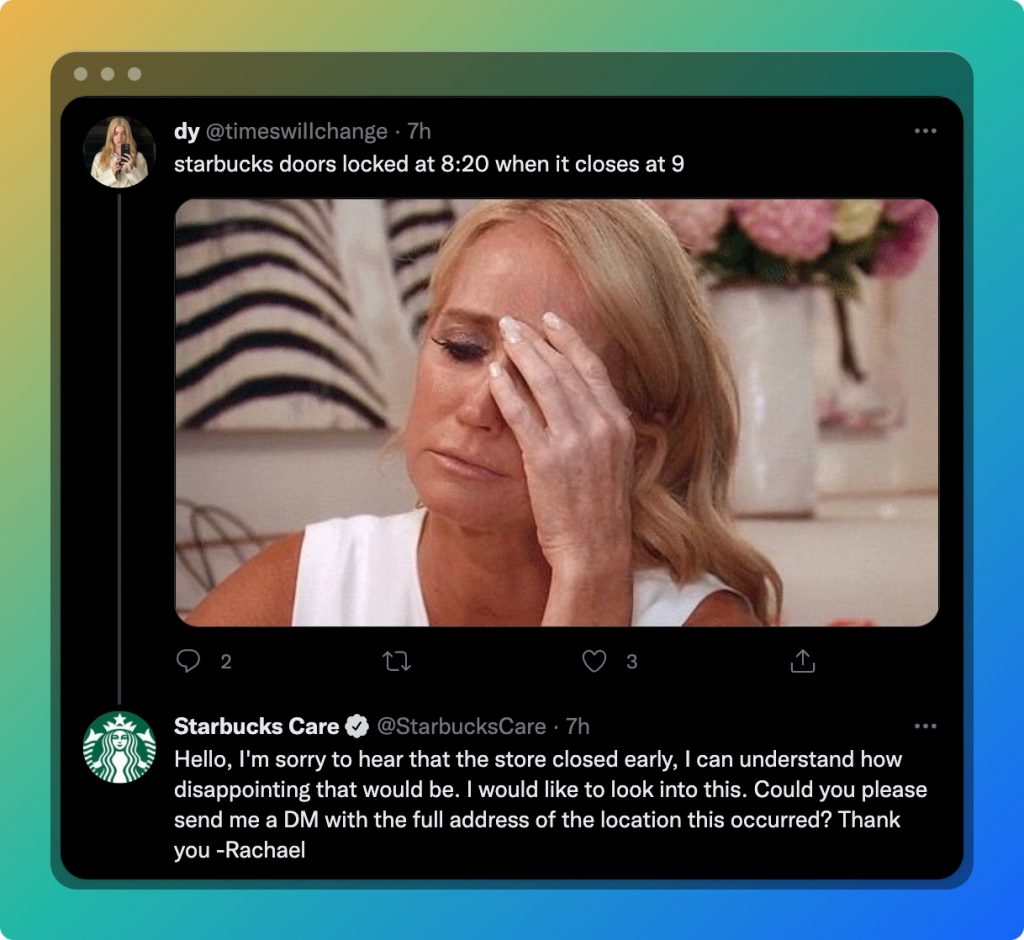 This responsiveness shows how much they care about their customers' thoughts, problems, and all other comments.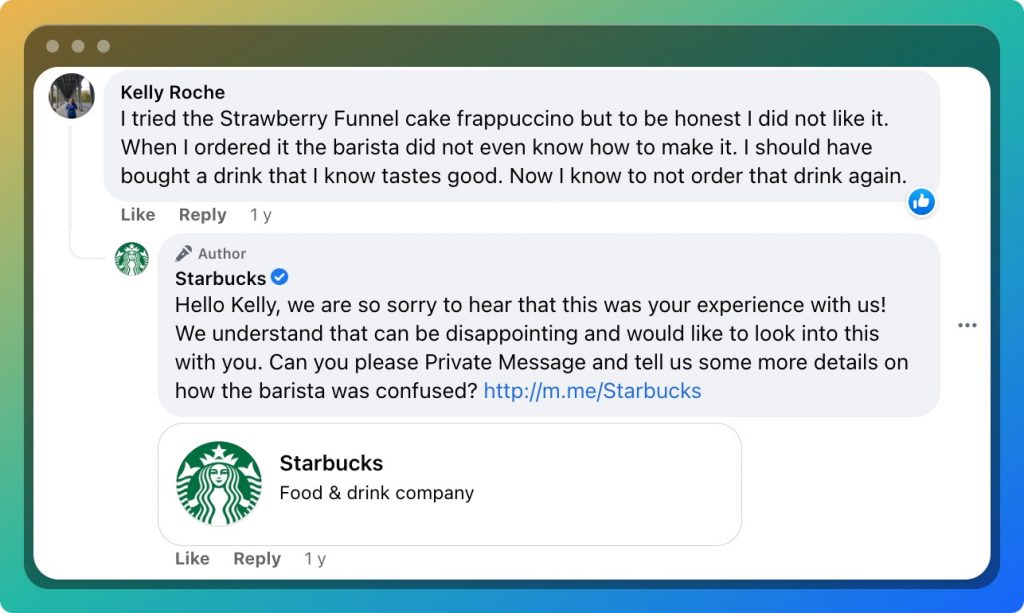 Starbucks' Style and Tone
Starbucks is active on many social media platforms. Its tone of voice does not change whether they are answering a tweet about a customer's problem, replying to a friendly comment on its post, or answering questions.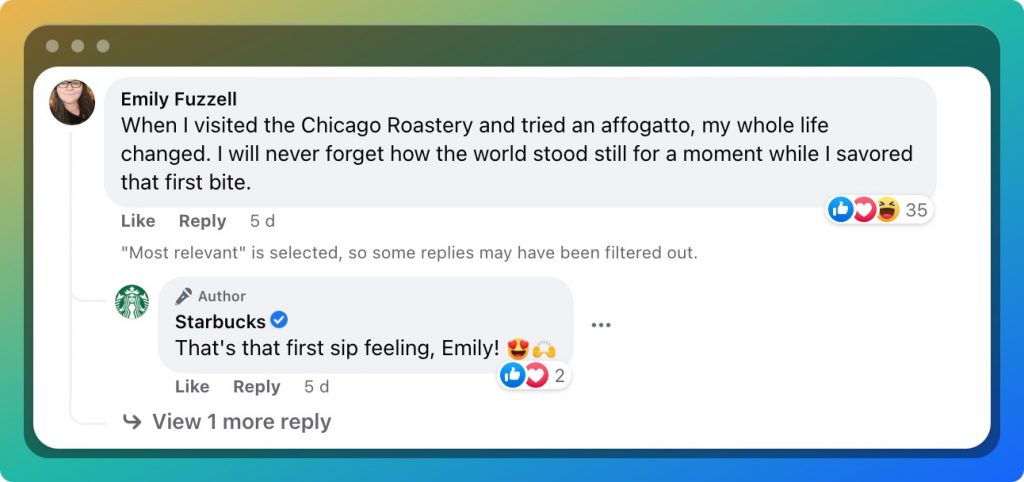 Besides the website and mail support, Starbucks has a Twitter account called Starbucks Care, which provides customer service by answering questions or handling customers' problems.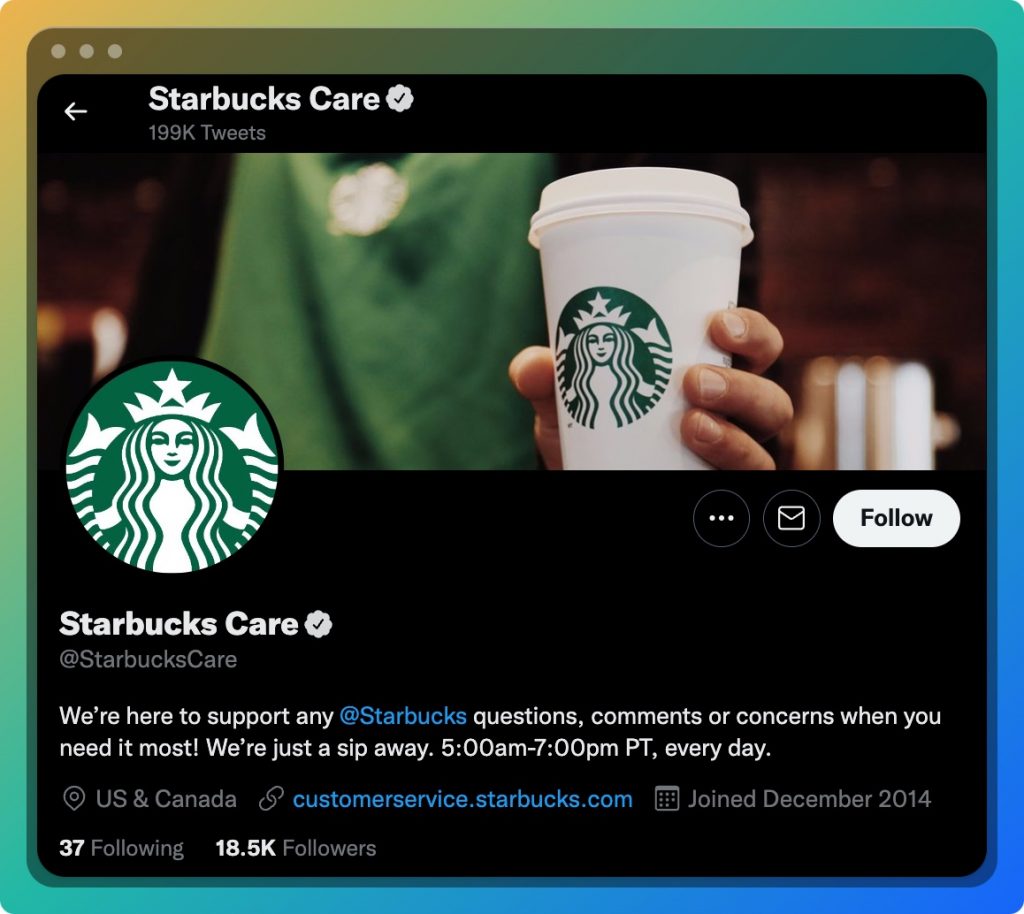 They have a familiar, friendly style, and they don't just prefer automatic messages when replying to someone.

Rather than that, Starbucks replies to comments by addressing the commenter and on Twitter, the team member adds their name at the end of the tweet. Thus, it is seen that they do not forget to edit or, let's say, personalize the answer.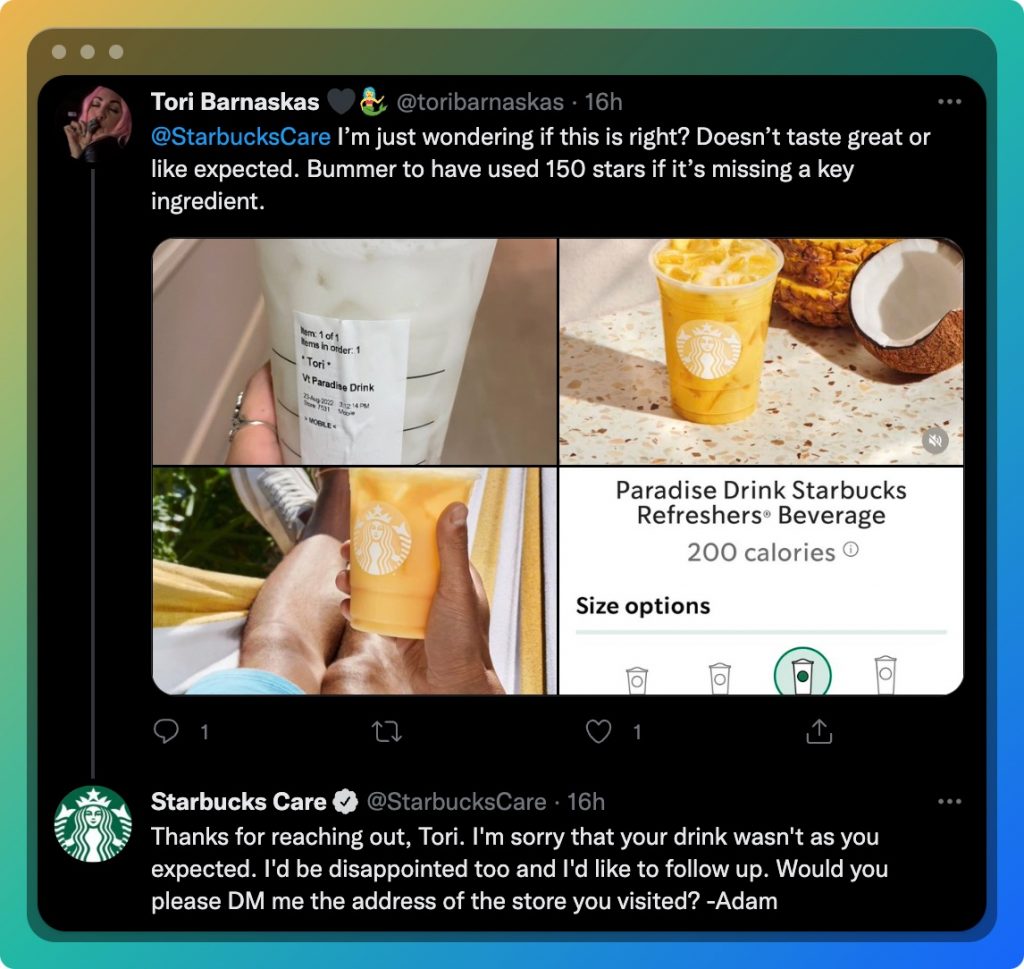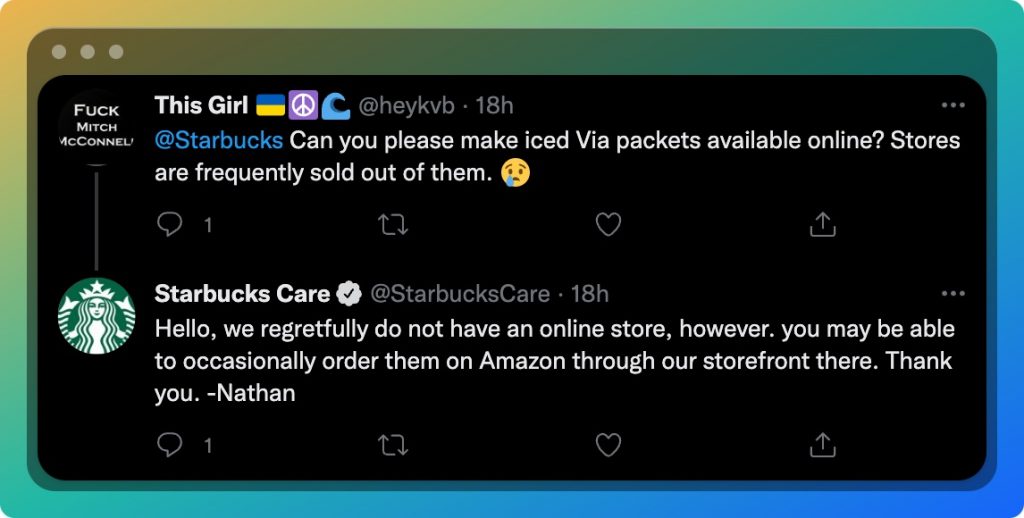 Starbucks should appeal to everyone; in other words, they don't have a specific "target audience". I mean, everyone might want to enjoy their delicious drinks. That's why this attitude is one of the reasons why they win on social media engagement. Their style and tone are appropriate for most digital media users.
For Instagram, the above-mentioned local accounts are where customers seek help or advice. Their official Instagram account seems full of engaging content, news, and lovely comments. Still, when we check some local Instagram accounts, it appears that people prefer commenting about their problems.
Some of the local accounts show the same customer service performance as their Twitter customer care account, for example, this Starbucks Malta account. It goes the same for the Turkish, German, and other local store accounts. However, we also saw some unnoticed angry comments – some were VERY angry in some other local accounts.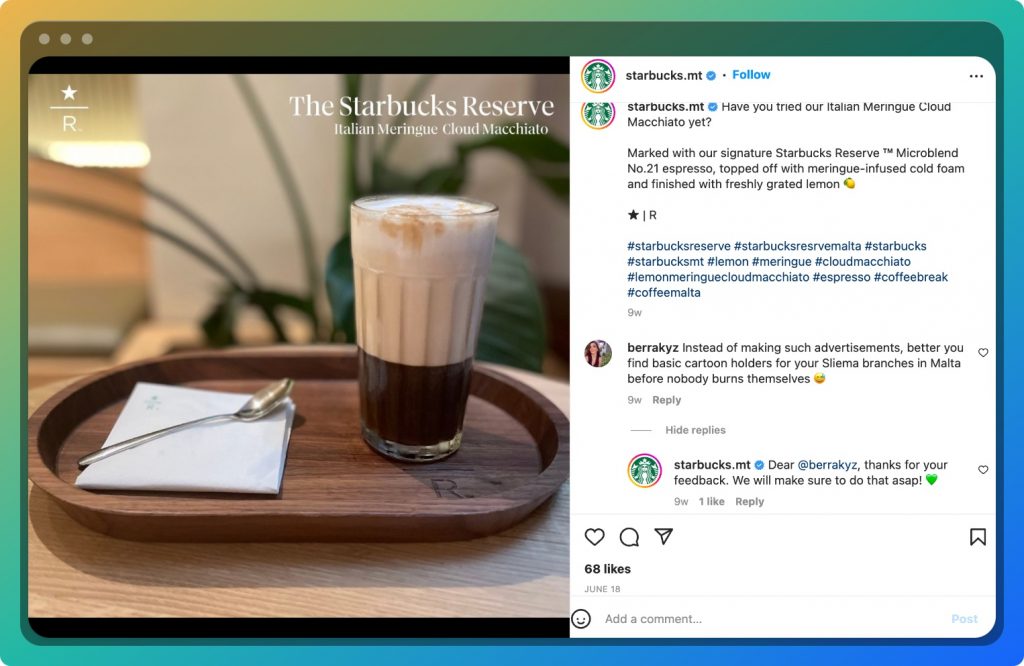 If you have a problem with Starbucks, it seems that Twitter would be the right social to get the attention you need.
Starbucks' Social Media Platforms and Engagement Strategies
The company has built an extensive and engaging social media presence over the years, which has helped it reach customers globally. In addition to being a leading coffee brand, Starbucks has gained a reputation as a leader in social media engagement.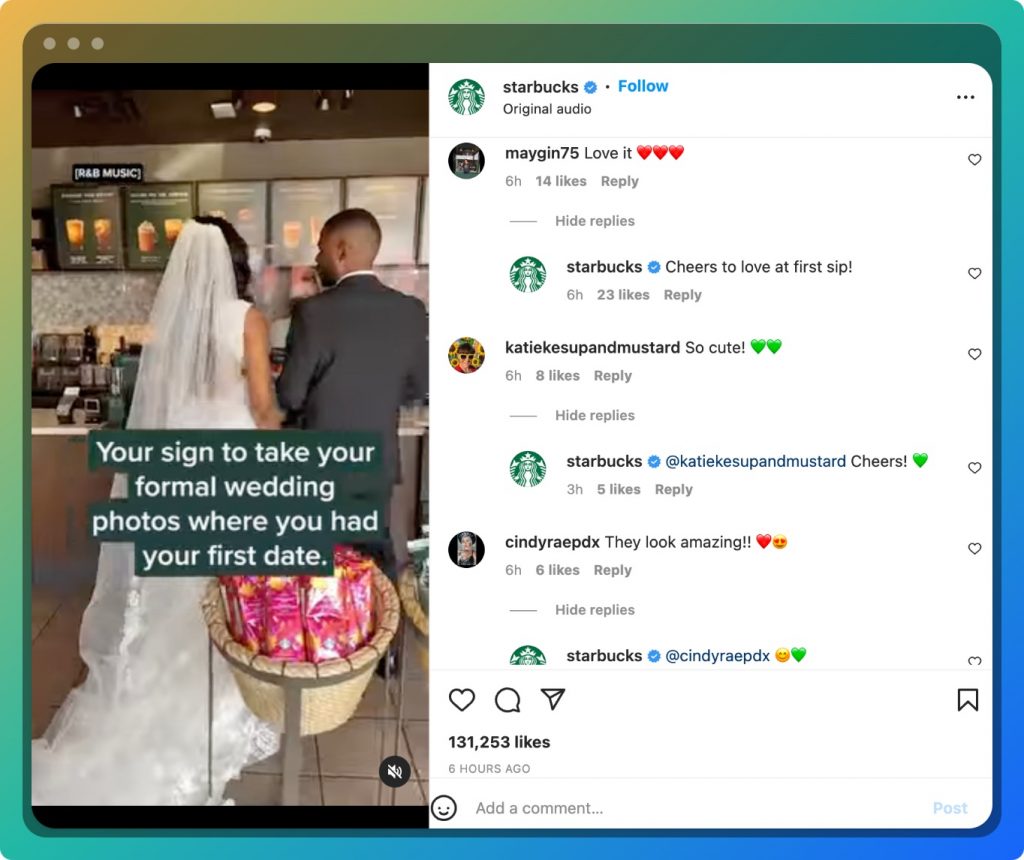 Starbucks follows the trends and keeps up with what is happening in the social media world. With this perspective, they create engaging content and regularly interact with customers.
It is clear that Starbucks has invested in social media customer service platforms like Instagram, Twitter, and Facebook. Starbucks's social media customer service performance is definitely better than many businesses. They are constantly engaged in conversations with customers online. This includes not just posting news, entertaining content, or photos of coffee but also engaging customers in Q&A sessions where they can ask questions and have their voices heard.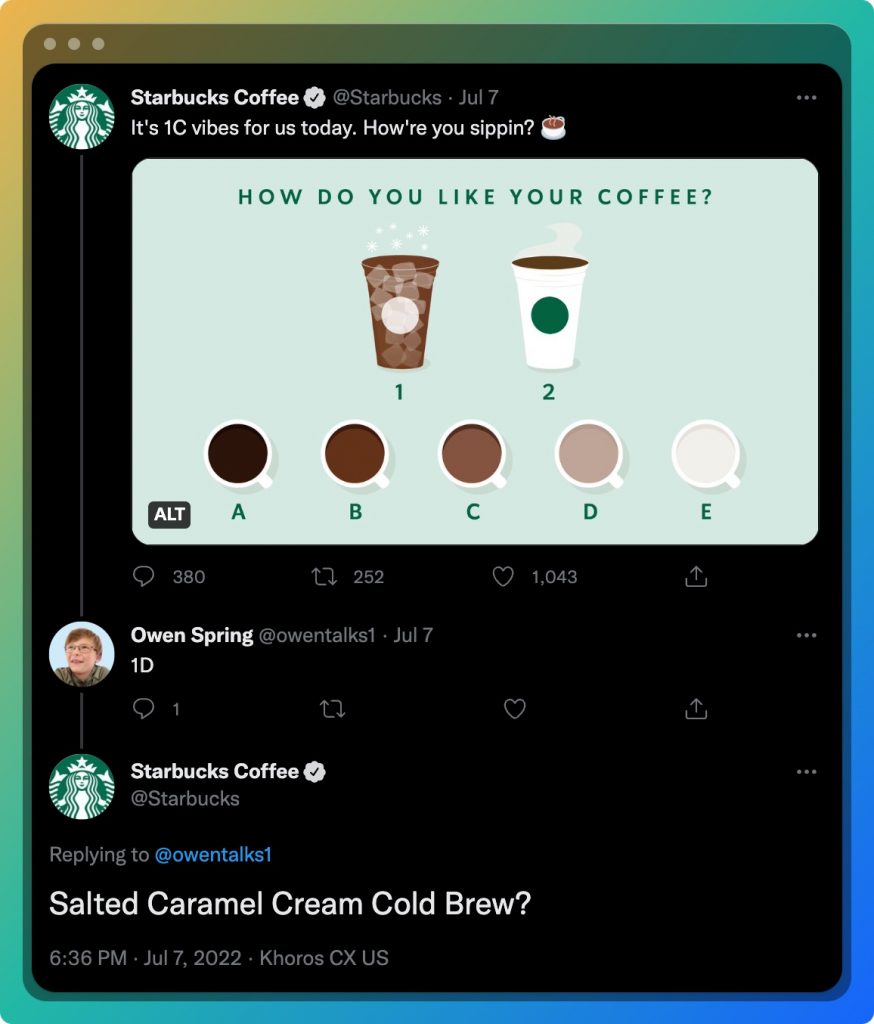 By staying active on social media, Starbucks is able to engage with its customers and build brand loyalty. By understanding its customers' needs and desires, it can create products that meet those needs and increase sales.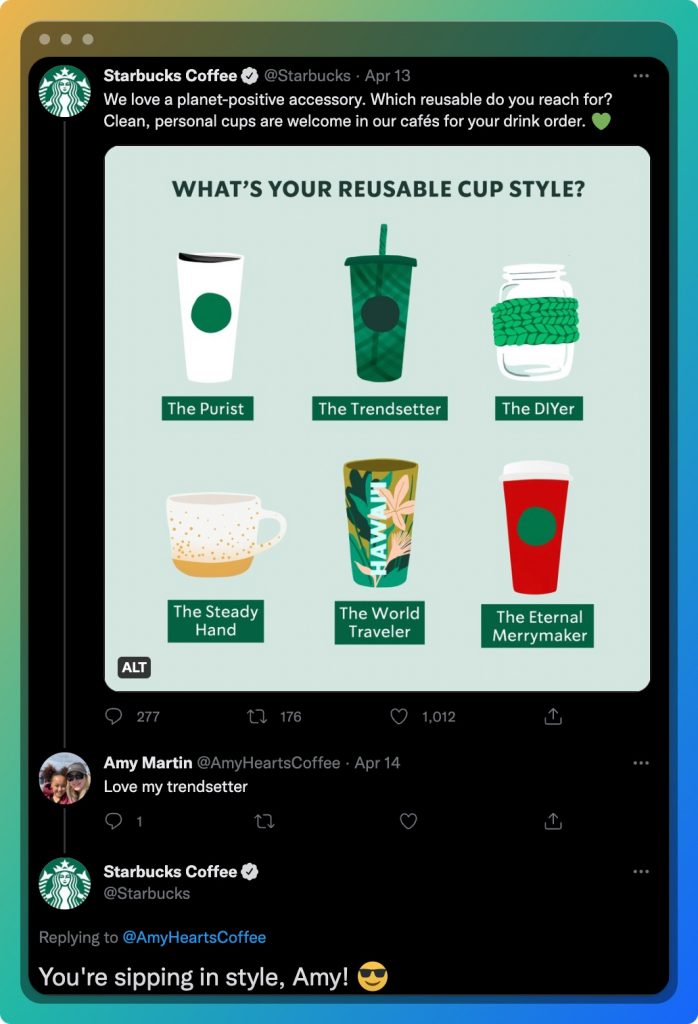 In addition to promoting its products, Starbucks also hosts competitions and offers discounts to customers who share photos or videos of themselves enjoying its beverages on social media. This helps to get people excited about upcoming events and promotions at the coffee chain and posts about Starbucks.
Starbucks has also made an effort to connect with consumers on a personal level. It has created personalized experiences for each customer's unique tastes, lifestyles and preferences by tailoring its offerings accordingly and keeping up with the trend topics.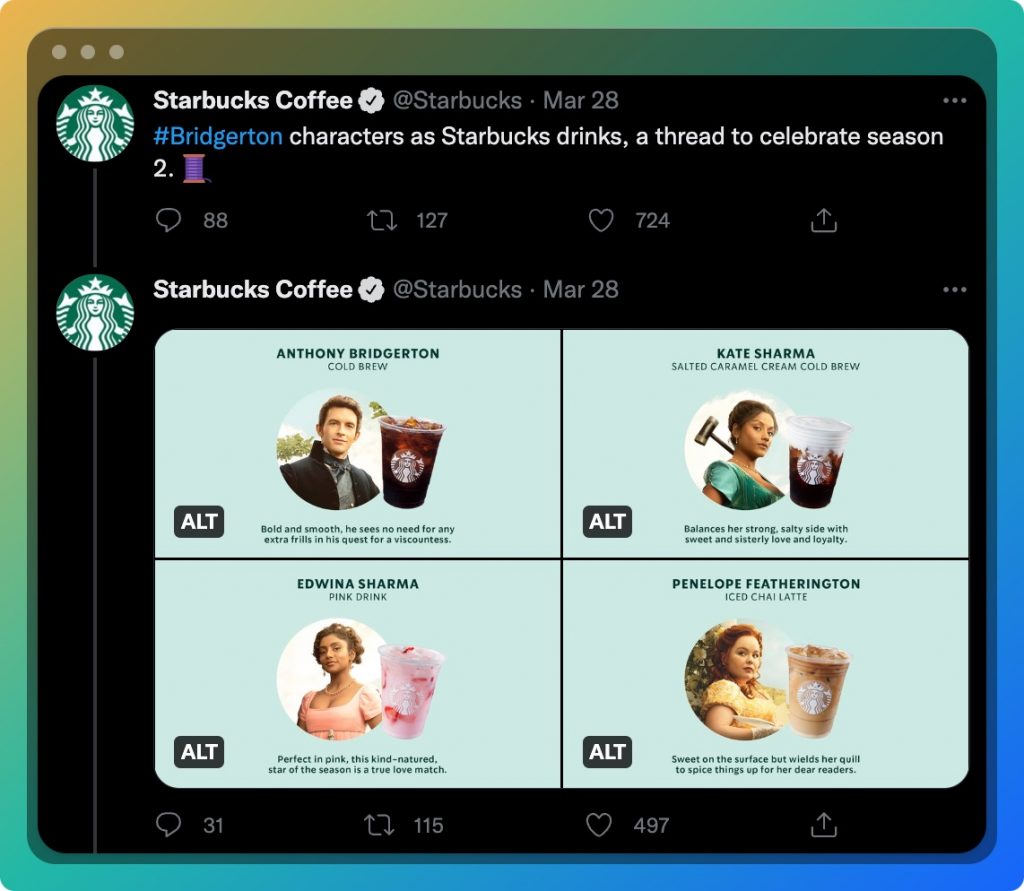 The Final Verdict
Starbucks is the coffee powerhouse for a reason: its superb product and professional customer service approach. They may not be able to deliver 100% client pleasure for various reasons, but they show how social media engagements and customer service can be awesome. Starbucks's social media customer service performance can be an example for all businesses.
***These ratings are based on our own research and tests.
Accessibility – 7/10
Starbucks' Twitter and Instagram accounts are clear enough to distinguish them from other accounts. It seems that they try hard not to miss a person on Twitter. However, not all the local accounts answer comments.
Response Time – 10/10
Whether it is a Facebook comment or a Tweet, Starbucks' replies come no longer than 24 hours.
Tone of Voice – 10/10
Their tone is very familiar and matches the brand identity.
Personalization – 9/10
Starbucks uses scripted messages but replies to each user personally, showing that they value personalization.
Engagement – 10/10
Other than solving problems, Starbucks tries hard to engage with customers with the help of interactive content.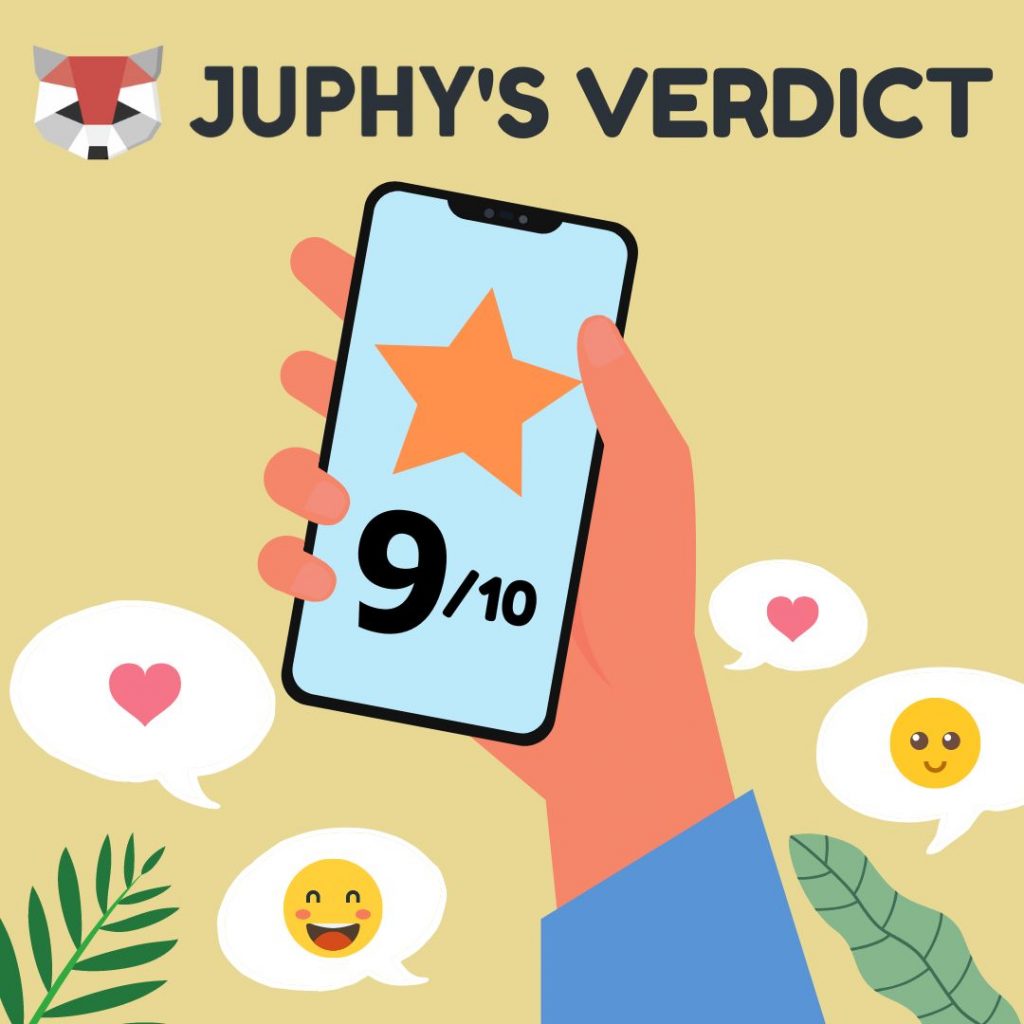 #1 Tool for Managing Social Media Customer Service: Juphy
Businesses that aim for success in social media management should consider Juphy as a solution for engagement management, especially for social media customer care.
Juphy, a single inbox for social media-oriented customer care teams, assists you in receiving and responding to real-time user interactions from all social media platforms, review sites, and messaging apps you currently use.
As we mentioned, Social Media Customer Service is one of the most important business topics. Juphy helps you manage your social media platforms in one place professionally. Its easy-to-use interface makes managing your social media accounts easier and unique features provide all you need to maintain a successful social media strategy. Your team will cooperate easier and quicker with Juphy's features.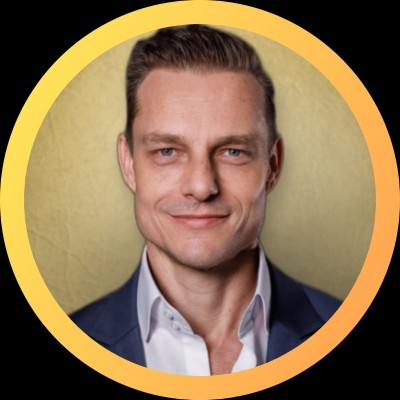 Dan Remon
Founder of Fitcorp Group
"Juphy is great, one of my favourite tools!"
✓ Product Hunt Verified Review
With Juphy, you will boost your customer service team's productivity, efficiency, speed, and overall performance. Create your Juphy account now and start your 7-day free trial!
Create Your
Social Inbox Now
Manage all social media customer support inquiries in a unified inbox.
Related Article – NETFLIX's Social Media Customer Service Performance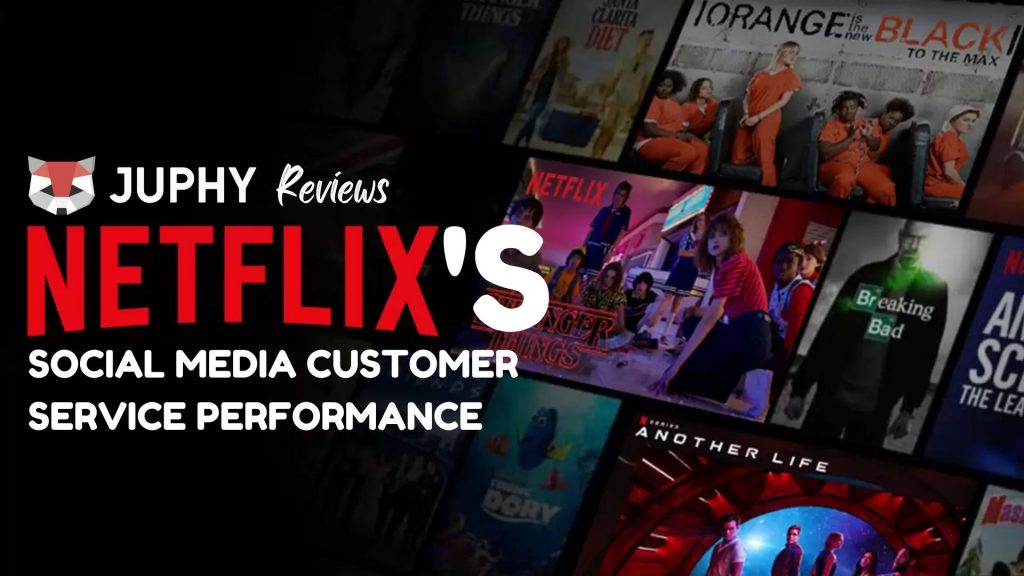 Netflix made huge changes in its social media customer service strategy, and we reviewed how these changes affected the brand's customer care performance. Read now!