Some people are lovin' it, and some consider it the mother of all unhealthy eating habits. McDonald's is the world's 4th oldest fast food chain and the 9th most recognizable brand. The founders of McDonald's are the creators of the modern method for cooking and serving fast food. First, they standardized the process throughout their restaurants and then, the whole industry. The brand has practically put the word "fast" in fast food, possibly in every country it operates. In terms of customer support practices, McDonald's is different from every global brand we've reviewed so far. The brand has many local and global touchpoints in physical and digital domains. At the same time, it works with delivery service hubs that handle a considerable portion of the load related to delivery issues. McDonald's social media customer service team's real work starts after the delivery. The support team needs to deal with hungry and possibly disappointed people. As another brand's brilliant ad puts it correctly, "you're not you when you're hungry."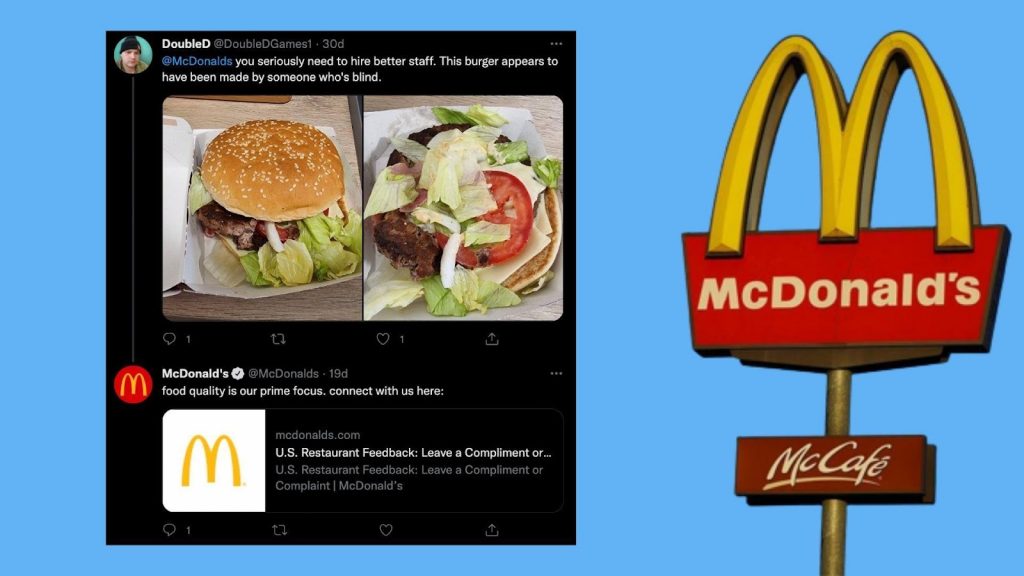 Hungry people tend to be cranky. They need answers fast. Having to deal with thousands of customers worldwide on a public platform is the infallible recipe for trouble. But this doesn't keep McDonald's from conducting customer support on social media beside faster alternatives such as live chat and call center.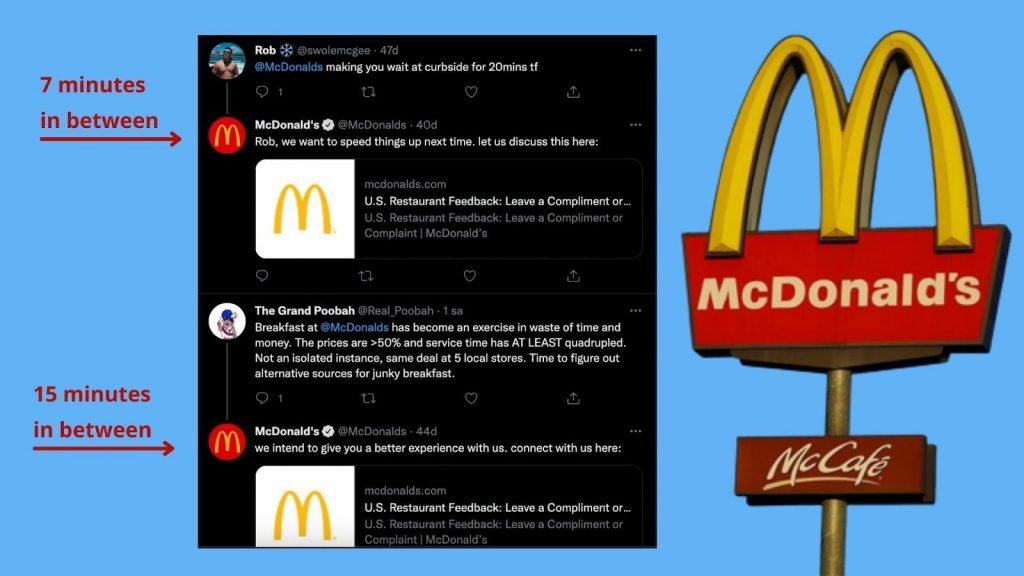 Create Your
Social Inbox Now
Manage all social media customer support inquiries in a unified inbox.
The Social Media Presence of McDonald's
McDonald's has a solid social media presence on all platforms, including Spotify and Tumblr. The brand connects with its customers through country-specific pages along with the flagship US accounts. Each country's team keeps in touch with its local audiences in their special languages, and the communication styles vary according to their localized strategies. But the overarching brand identity remains consistent in every country, and people who engage with the brand expect a light-hearted and relatable persona.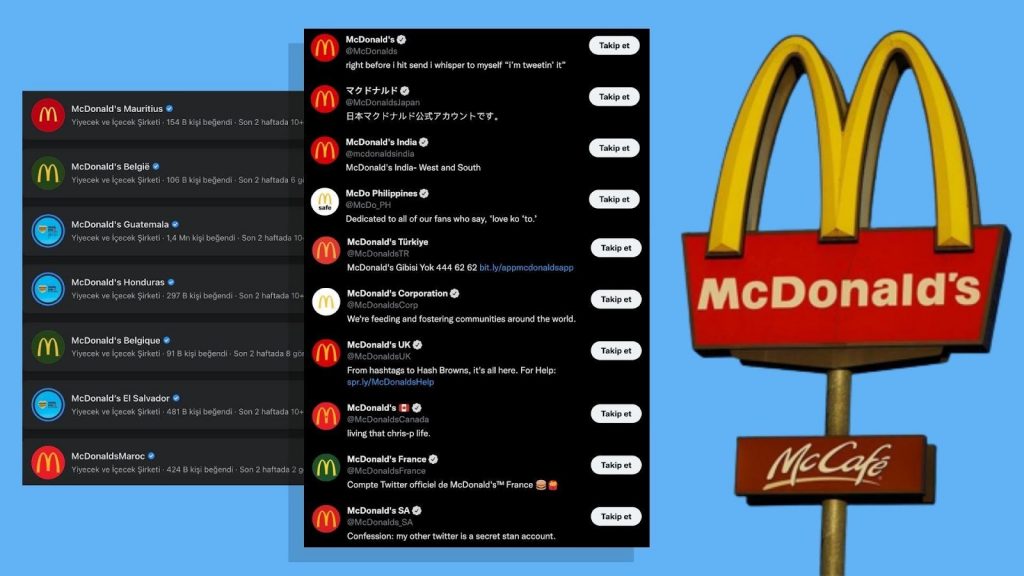 Besides the website and social profiles, McDonald's has a mobile app that allows ordering from WhatsApp – though this feature can be location-specific. As for customer support, the website's contact page has it all. Instead of combining all kinds of issues under one umbrella, McDonald's has different contact forms for restaurant feedback and complaints, mobile app problems, and general inquiries. Both the website and the app offer live chat, while Facebook Messenger stands as another tool for instant communication. 
With all the call center and instant chat options owned by the brand and those belonging to third parties like delivery partners, would McDonald's really need to perform social media customer support? Well, of course they do. And they should do it in a way that befits their brand values. Because, after all, which brand doesn't?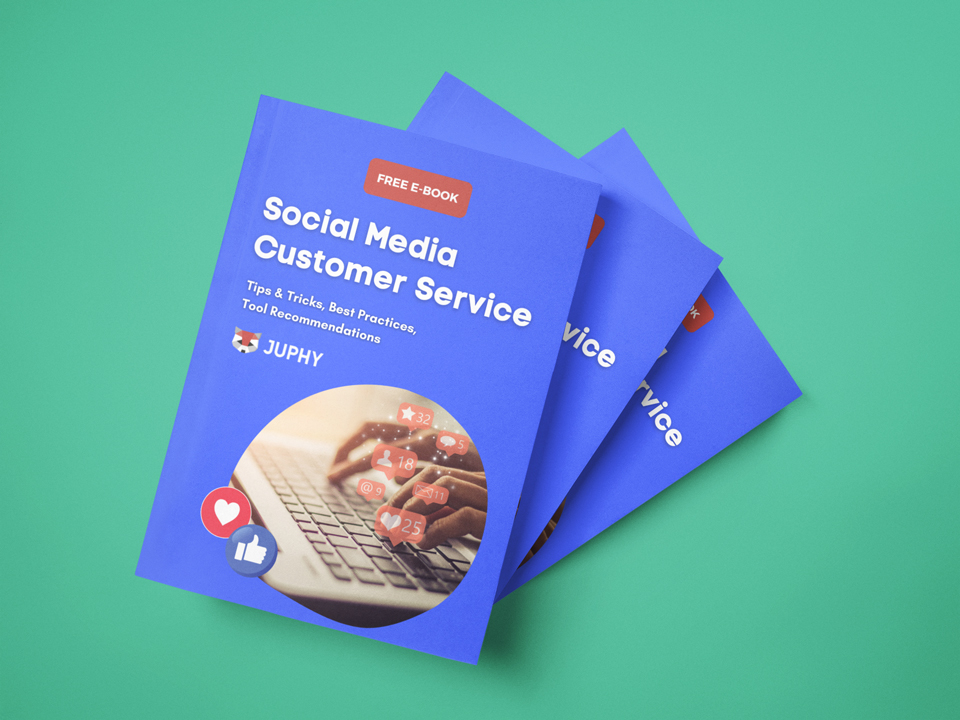 Would you like to successfully provide customer service on social media like McDonald's? Learn tips, tricks, and secrets with this free e-book. Download it for free now!
Humorous on Content, Serious on Support
McDonald's offers social media customer service on Twitter, and teams respond to relevant comments on Facebook in some locations. Although the brand doesn't engage with commenters on Instagram and YouTube, it drives dialogue and obtains information with the content itself.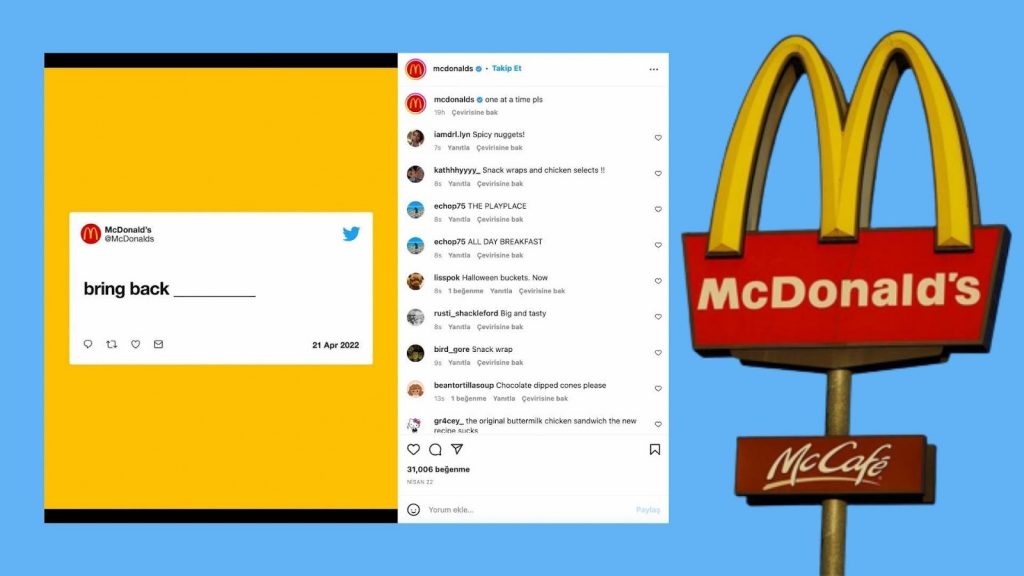 The brand doesn't have a separate customer support account but only engages in dialogues with the users if there's a support issue. The responses are quite flat, even dull in some countries, but this is understandable. Nobody should speak to a person who's hungry or unsatisfied with food in a cheerful tone in real life or on social media. It will probably end badly. McDonald's keeps it quite serious, a bit formal, and the closest thing to a cheerful tone is the exclamation mark in "Thank you!" that comes at the end of McDonald's responses.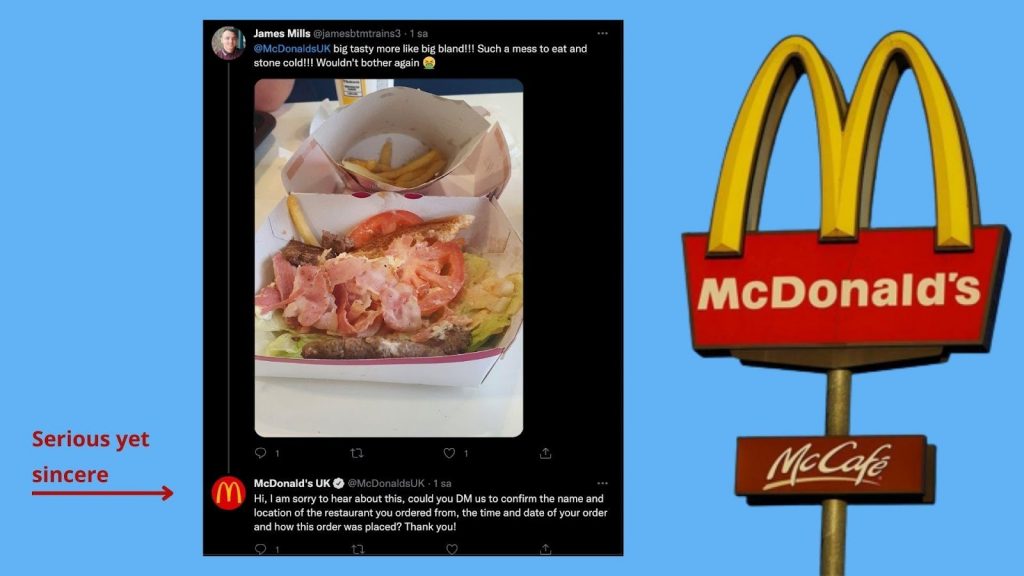 Responses as Fast as the Food… Maybe Even Faster
McDonald's is like the Flash Gordon of social media customer care on Twitter. The timing can vary depending on the local account's policy, but the flagship account responds to every customer support demand within 15 minutes, usually less. McDonald's steers the conversation to private messages if additional personal information is needed or leads the customer to fill in the official contact form on the website.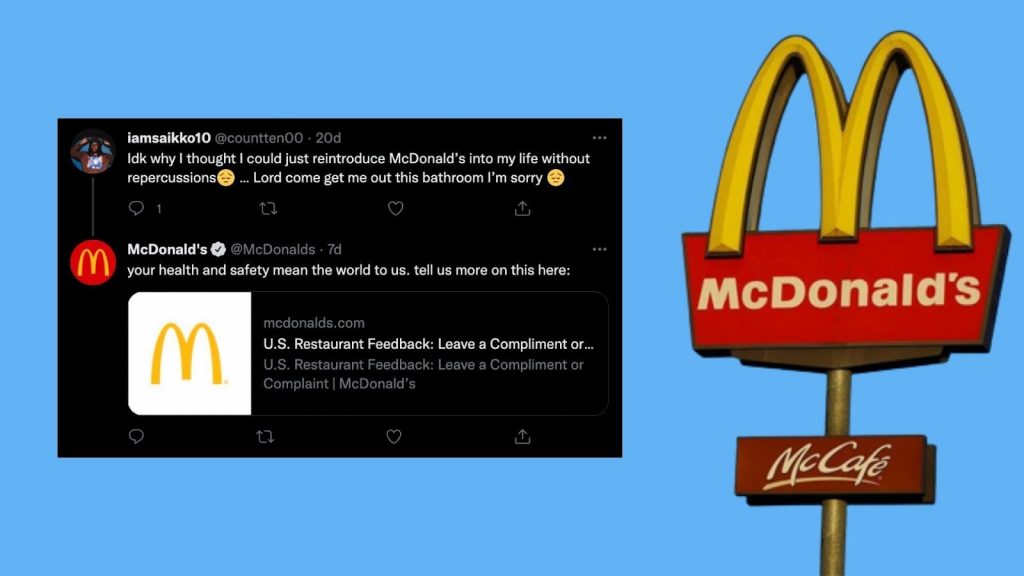 From time to time, McDonald's receives customer complaints on Facebook through post comments. Although not as swift as Twitter, the brand responds to these complaints within a couple of hours.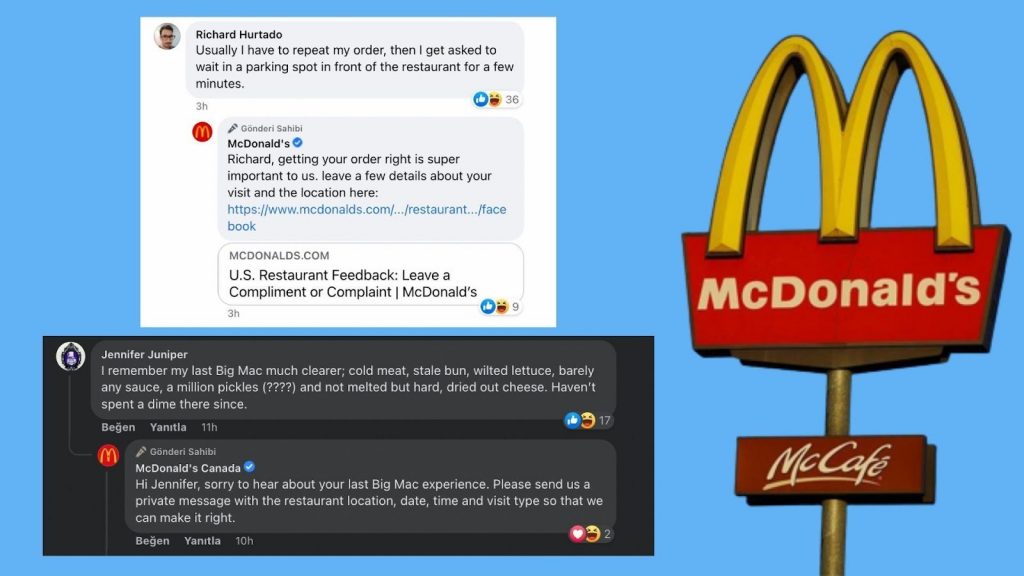 A Brand That Learns from Its Mistakes
Ten years ago, engaging with customers on social media was still something new, and many brands relied on people's good intentions because they didn't know better then. McDonald's was one of those naive brands. It launched a Twitter campaign and asked the customers about their McDonald's memories, expecting a bunch of heartwarming stories from brand enthusiasts. Like many brands back then, McDonald's learned the hard way that you can't trust user-generated content, especially when you're already drawing negative reactions from certain crowds.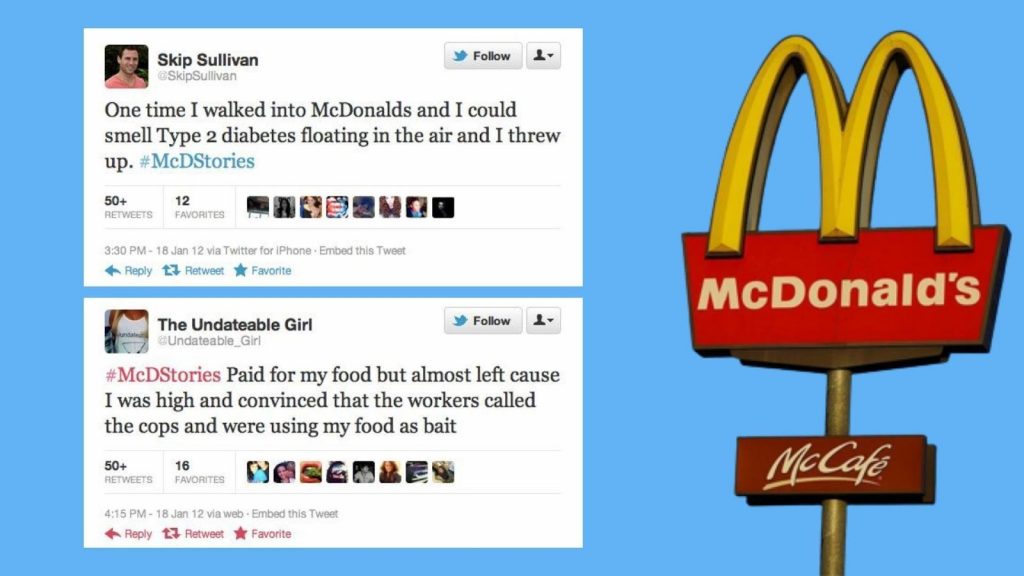 Today McDonald's still encourages customers to generate content, only on a more controllable and less public platform: Its website. As the brand controls the narrative on social media with short, engaging, and to-the-point content, it minimizes the possibility of controversy and helps customer support teams to deal with more important issues.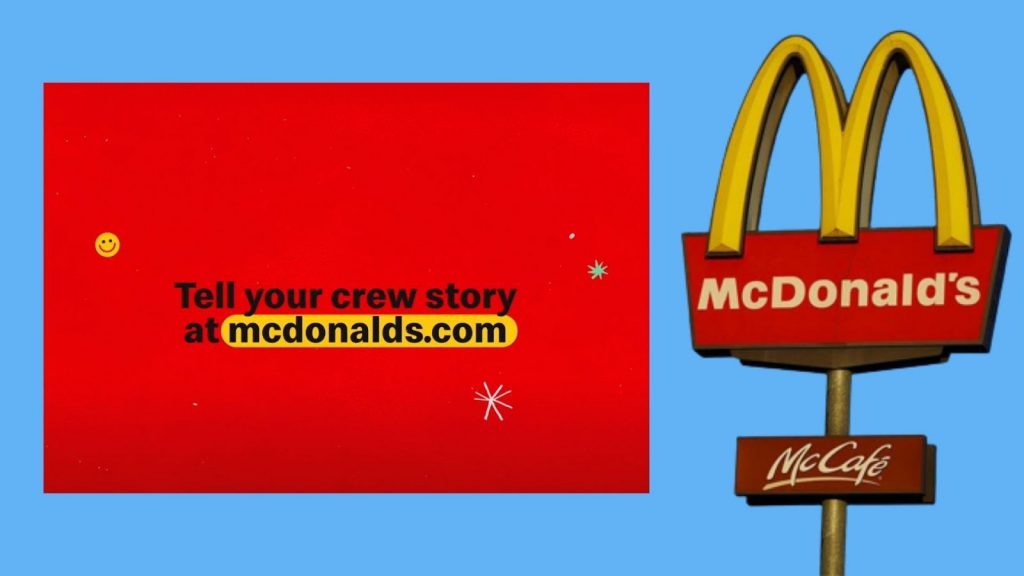 The Final Verdict
With its platform-oriented content approach, serious yet sincere attitude to customer issues, and smart localization strategy, we can confidently say that McDonald's is one of the brands that has mastered social media communication. The brand conducts social media customer service consistently and sustainably and stands as an exemplary success.
***These ratings are based on our own research and tests.
Accessibility – 10/10
Their strategy is totally based on localization, offering easy access from multiple platforms.
Response Time – 10/10
15 minutes or less. The fastest one up to date.
Tone of Voice – 10/10
Score may vary between local accounts, but the US account serves its purpose with short, clear, and personalized answers.
Personalization – 9/10
The US Twitter account almost always responds in two short sentences. The first one contains the commenter's name and the second sentence refers to a link. It is so simple that it doesn't even resemble a canned response.
Engagement – 9/10
The company shows no engagement more than necessary, but McDonald's is there whenever you're hungry or need assistance.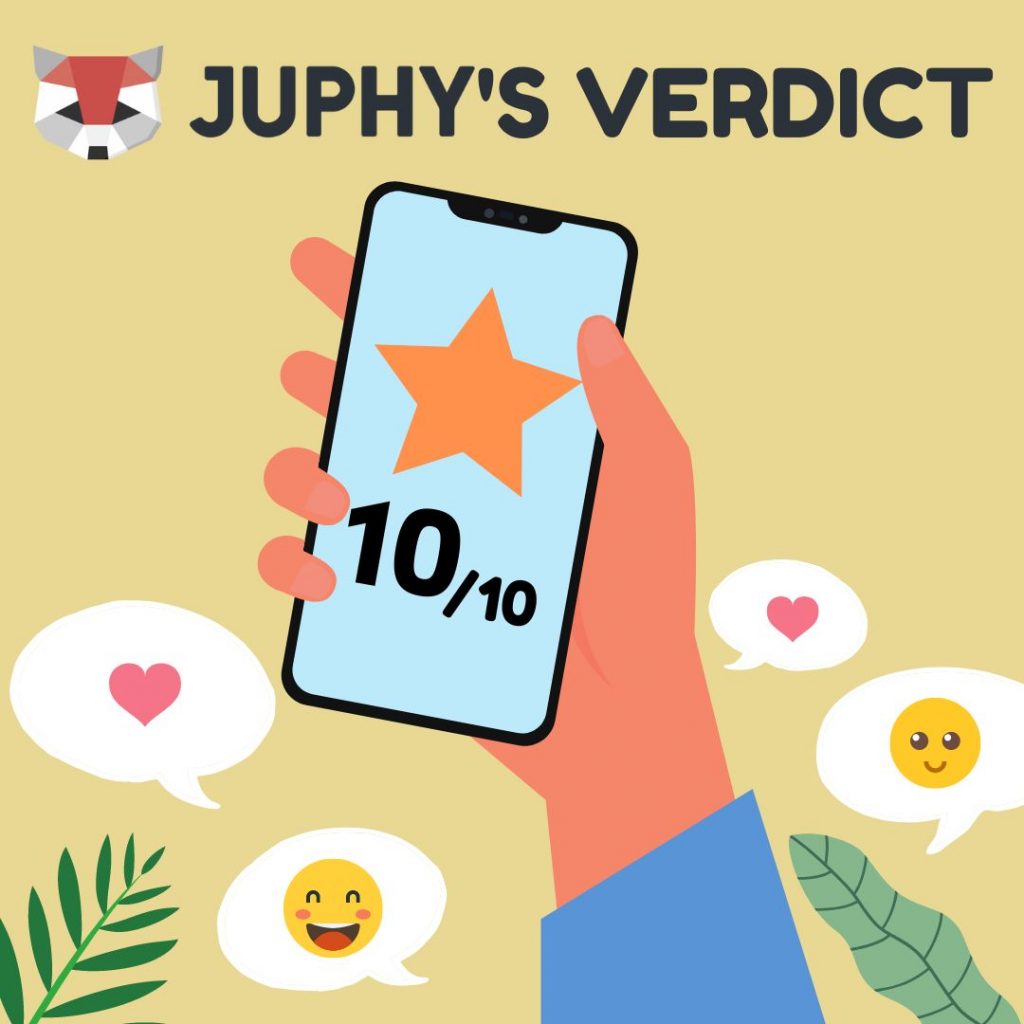 A Social Media Customer Service Tool for Perfect Scores: Juphy
Juphy is an advanced multichannel help desk for social media focused teams, and it helps you receive and respond to all customer queries in real time. It supports all the social media platforms you currently need, along with integrations with various instant messaging apps like WhatsApp. Juphy also allows you to perform social monitoring on Twitter and significantly improves response rate and response time.

Oscar Hugo P
Founder & CEO / Small Business
"Juphy lets you add your social media and email accounts to a unified inbox to answer users comments, direct messages and messages really fast. It also let's you add you team members. UI is easy to understand and use. And the support team is very responsive."

Create your account in two minutes to start your 7-day free trial now, and improve the quality of your social media customer service in a flash!
Create Your
Social Inbox Now
Manage all social media customer support inquiries in a unified inbox.
Related Article – STARBUCKS's Social Media Customer Service Performance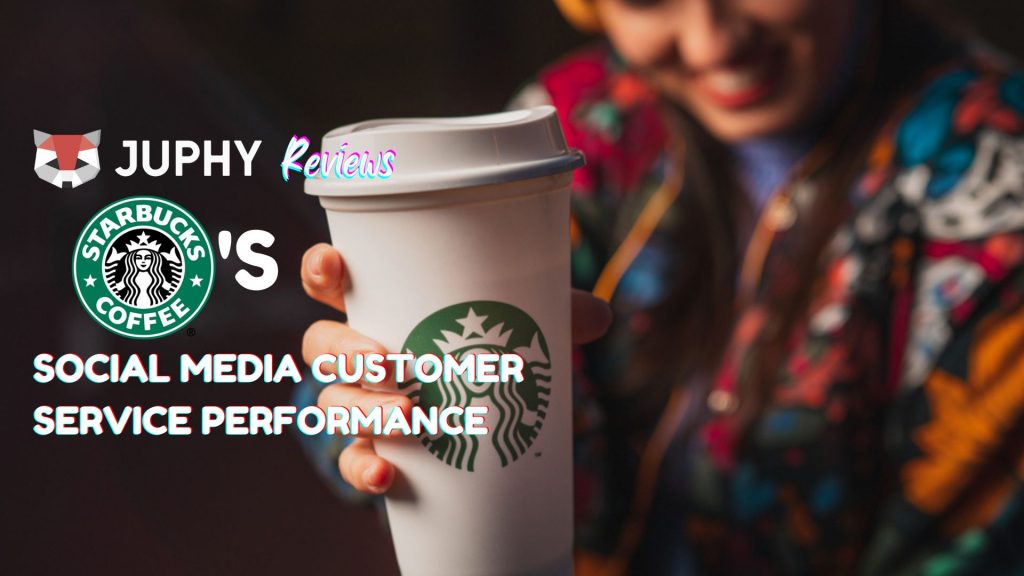 When it comes to efficiency and effectiveness, Starbucks's social media customer service performance is exemplary for businesses. Read more now!