Social media is inherently public and used by various businesses and organizations to promote their brands and engage with customers. Several types of content are spreading in today's social media community, such as images, videos, texts, and music. The social accounts of businesses act as brand representatives. They engage with their followers, inform, spread awareness, and build community by posting on social media. But have you ever heard of social media moderation tools?
Social media users can express their views about any topic, whether excellent or hurtful, wherever they want. However, there has not been a universalized way of objecting to harmful content.
When a brand is attacked online, the brand image, followers, and existing and future customers are at stake. Brands do everything to defend themselves from various detestable content such as profanity, spam, hate speech, nudity, offensive gestures, etc.
Hence, the role of social media moderation comes into play as it monitors user-generated content and manages the content quality while keeping your brand's integrity intact and making the social media platform safe for brands and users.
The moderation of user-generated content is crucial for fighting against misinformation, as negative information is 63% more likely to be clicked than positive information.
Against this backdrop, this blog will shed light on the best social media moderation tools in 2022.
But for starters, let's find out more about social media moderation.
Create Your
Social Inbox Now
Manage all social media customer support inquiries in a unified inbox.
What Is Social Media Moderation?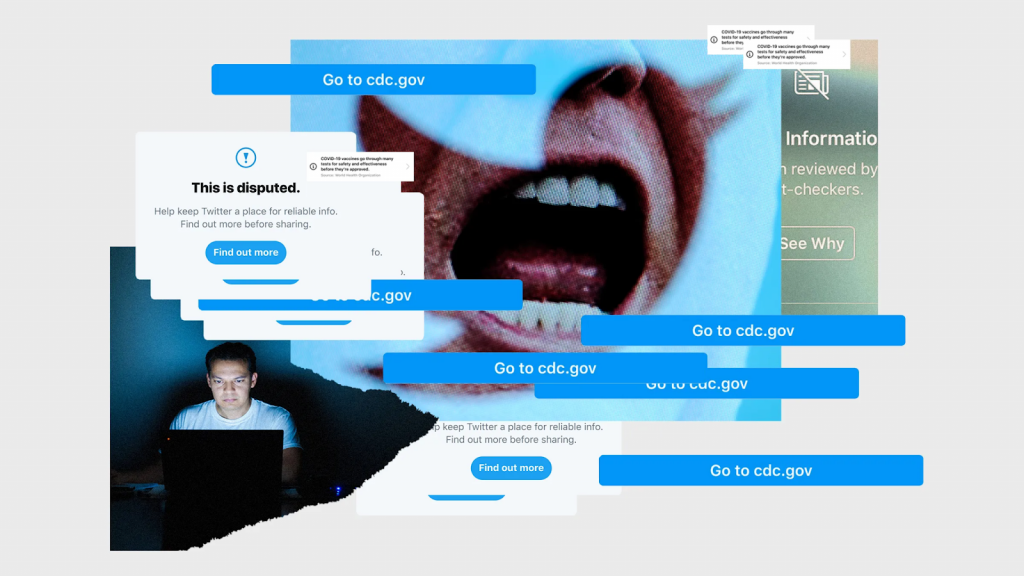 Social Media Moderation refers to the monitoring and managing of various user-generated content (UGC) and activity on online social media platforms. This helps to prevent undesirable content from being posted and uploaded online.
With the help of social media moderation, any offensive or obnoxious content that is unsuitable for all age groups is controlled. The content posted is closely monitored by experts, also known as social media moderators or content moderators, who check and decide whether to allow such content or remove it.
Any offensive or objectionable content is sent for approval. When it reaches the content moderation team, it is meticulously reviewed to remove it from the user's account and take actions like blocking them with a ‌warning or approving it and making it visible to the public. There are four types of content moderation for being an effective moderator, namely:
Pre-Moderation–This type of moderation prevents UGC threats from spreading undesirable content online. The post submitted by the user undergoes reviews that determine if it is safe, appropriate, or harmless.
Post Moderation–This type allows users to upload their content or post in real time. After this, once inappropriate content is discovered that violates the social media community's guide, rules and policies, they filter it out.
Reactive moderation–Reactive moderation is where the users participate in flagging down any inappropriate content posted online by clicking the infamous "report" button, to stop spreading any abusive, harmful or inappropriate content. It is an effective method of moderation and instills a sense of community within your users.
Automated moderation–AI-based content moderation system automatically reviews content uploaded by any user. AI has been a game changer for content moderation. According to reports, over 99.2% of comments removed from YouTube were flagged by AI moderation.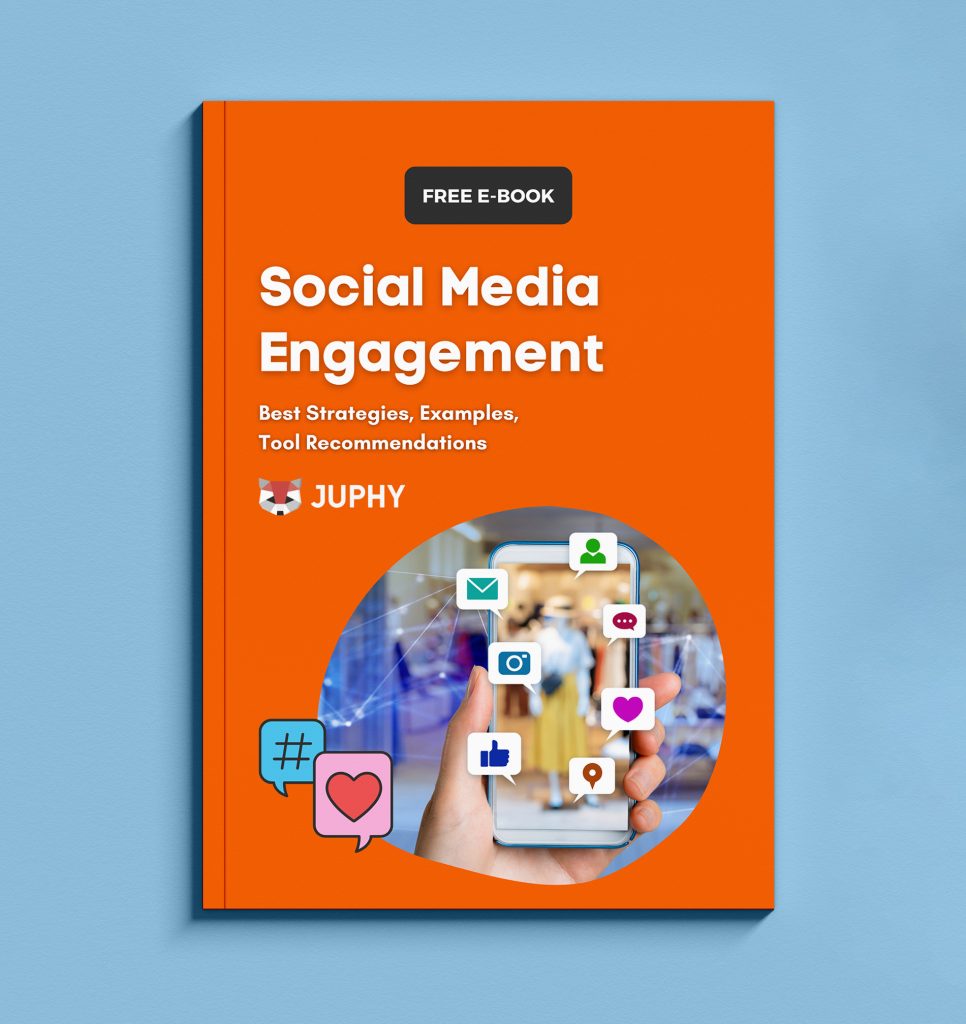 Social media moderation goes in hand with managing your social media engagement. This guide will provide you with all the tips & tricks you need. Download it for free now!
How Do You Moderate Social Media?
The essential component of how to moderate social media effectively is the existence of social media moderation guidelines, restrictions, definite rules, and policies on each platform that everyone must strictly abide by.
Here are five steps that can be used as social media moderation guidelines.
Determine and state clear rules and guidelines–The Moderator must make, apply and implement restrictions to set the tone of voice for the brand and online community and discourage abusive and harmful behavior.
Consider all the feedback, positive or negative–Any feedback is welcome. Customers want to feel heard and valued. Negative feedback will give a clear picture of what the users want from the brand.
Archive all your posts for legal purposes–Archiving all your content will help you to use it as legal proof for future use. Keep a record of anything that has been posted at any point in time.
Train your moderators–Platform management is a daunting task, and it's not designed for a single person to manage. Utilize extra moderators and train them to uphold your specific guidelines as it can maximize your efforts to keep your online community safe.
Assign community pages–If you have a lot of content to manage, hire more managers and distribute the workload to each community manager for a specific online community.
What Are Social Media Moderation Tools?
A social media moderator tool regulates and moderates the user-generated content posted by the users on social media and manages the activities performed in the online social media community. This tool is responsible for handling the content that is uploaded online, using specific rules and guidelines.
A reliable social media moderation tool is expected can:
Handle any content format, including audio, video, text, and images.
Handle all types of content, like reviews, emails, blogs, comments, etc.
Provide a dashboard facility where online traffic can be monitored and managed.
Have filters for vulgarity, profanity, pornographic content, violence, etc.
Permits delegation of specific tasks
Allow automation of tasks where possible
How to Choose a Social Media Content Moderation Tool?
Brands usually consider the various types of social media content moderation to decide on one particular social media content moderator tool from the plethora of the best content moderation tools. These tools help to moderate any user-generated content. The defined rules and guidelines support the moderation process to be more effective.
To pick the right social media content moderator tool, ensure that the tool primarily focuses on:
1. Social media moderation–built-in moderation tools
2. Social media profile moderation–incomprehensible, vague, incredulous profiles
3. Profanity filters–irrelevant or misguiding content
4. Content motivation–posts, videos, reviews, blogs, etc.
5 Best Tools for Social Media Moderation
Hootsuite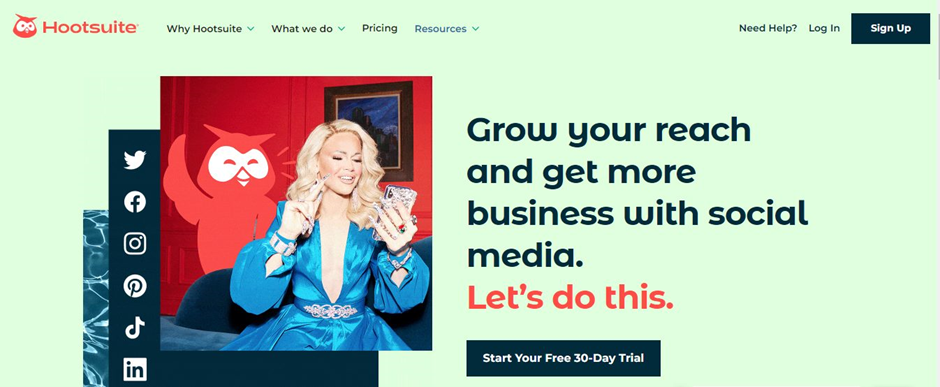 Hootsuite offers a Smart Moderation app for users for social media moderation for free. The Smart Moderation app is an AI software platform that offers real-time monitoring and automatic moderation. Users can add all the profiles to one Smart Moderation account that helps them moderate everything via a single dashboard.
It also lets the users block unwanted spammers and users. Hootsuite Smart Moderation software has a 95% accuracy rate and is used as a social media monitor app for players in publishing like TechCrunch and The Washington Post.
Key features:
Detection of inappropriate/illegal comment
Supports Facebook, Instagram, and YouTube
Automated Publishing
Contact and Content Management
Conversion Tracking
Pros
Customizable feeds with no filler
Highly flexible post composer and scheduler with bulk option
Simplifies the most challenging task drastically
Inbox merged with every message, comment, and mention
Cons
No psychographic and demographic data for the audience
NapoleonCat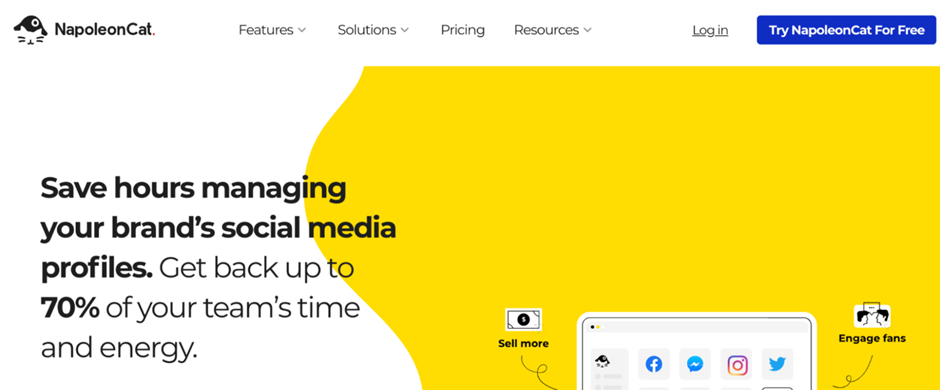 Napoleon Cat is a great content moderator tool if your brand receives loads of hateful or spam comments for your posted ads. With their auto-moderation solutions, users can automatically delete any spam comments (the one with links) that is shared on Facebook, Instagram (organic posts and ads), and Facebook Messenger.
Apart from just taking care of inappropriate comments on social media pages. It also helps businesses to reply to questions quickly.
Key features:
Unlimited auto-moderation rules
Social Inbox with content filters
Built-in translation feature
Facebook Ads Moderation
Competitor Tracking
Pros
Multi-hashtag searches
In-depth analytics on social profiles
Social Inbox that consolidates messages
Publishing and scheduling for social media
Cons
Difficult-to-use and glitchy interface
Confusing billing options
Juicer

Businesses of all sizes trust Juicer, and their client list includes big names like McDonald's, Ralph Lauren, and Lyft. The social media moderation and filtering functioning are included in all its paid plans, which helps businesses to combine all the social media posts into a unified feed that can be embedded on the website.
This will help curate and moderate the content displayed on the brand's page and empower users with total control. Depending on the level of control the user wants, they can either send all the posts to moderation and manually approve or reject posts before they go live on your feed or let Juicer automatically moderate them.
Key features:
Social media moderation filters reject selected posts
Content curation and management
A profanity blocker
Duplicate post prevention
Customer Targeting
Keyword Filtering
Pros
Content Curation for fresh content daily, hourly, and even by the minute
Straightforward moderation lets the user delete any unwanted posts
Responsive and look great on all devices, including iPhone, iPad, etc
Cons
Some social media sources are not added
Taggbox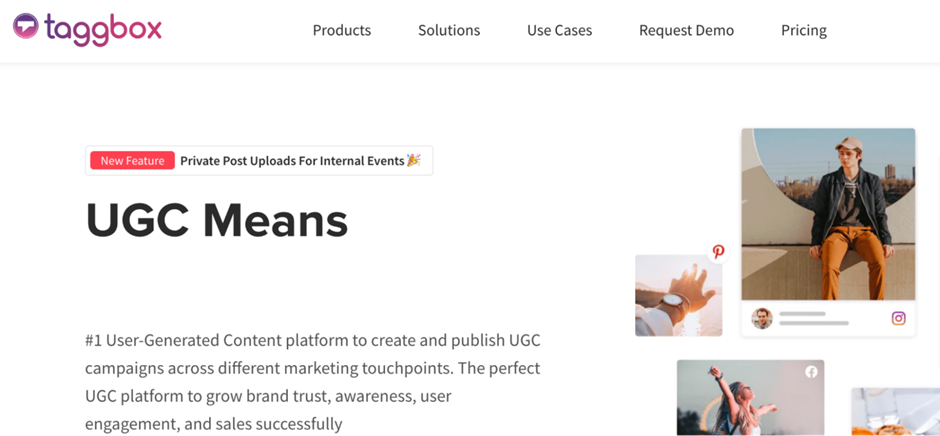 Taggbox is one of the top social media aggregator tools with a social media moderation feature trusted by thousands of international brands like Marvel, Microsoft, and PayPal.
Taggbox empowers the user with manual moderation and auto-moderation. It also offers other powerful features such as a profanity filter, profile moderation, image, video, and reviews for all major social channels.
Key features:
Platform Integration
Content Curation and moderation
Social Hub Customization
Posts Filter & Moderation
Profanity filter
Profile moderation
Pros
Content Play
Social Wall Integrations
Beautiful designs
Website Integrations
Cons
Only a limited number of feeds can be embedded on the website
Juphy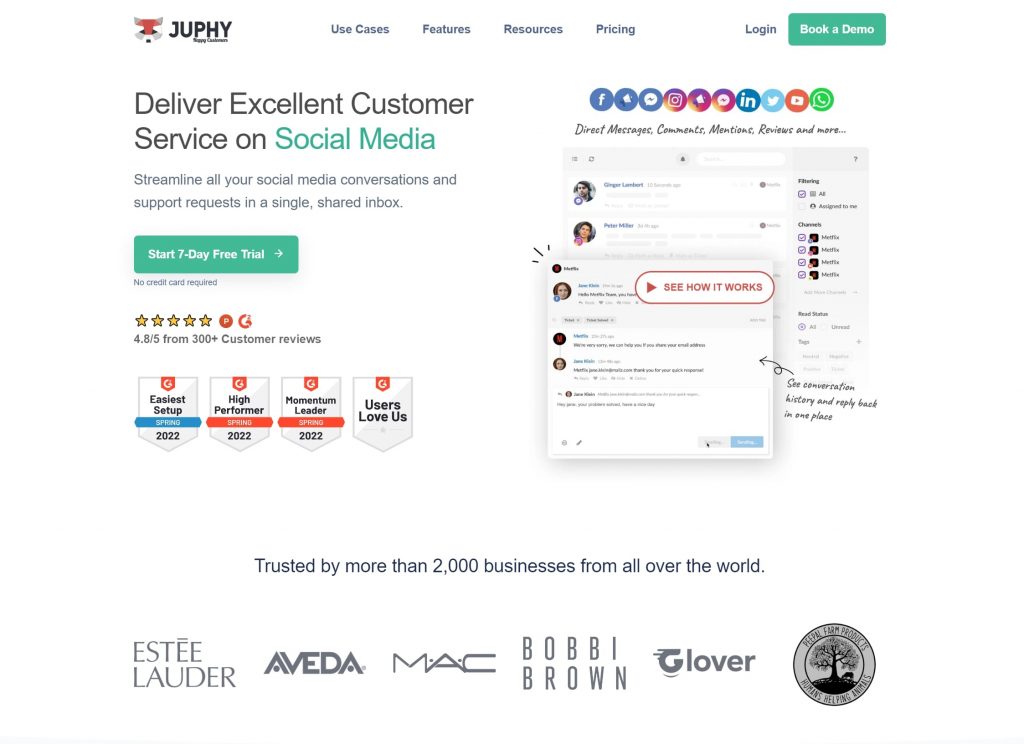 Juphy is an all-in-one cloud-based platform that empowers businesses to provide seamless social media customer service. Juphy allows users to monitor and manage all their social media engagement. Users can organize all their social media interactions in a single dashboard without the need to toggle between different applications.
Businesses of all sizes can use Juphy for content moderation with advanced tools and accelerate customer satisfaction by merging all the social media messages in one place. Users can hide comments and even reply to direct messages, emails, reviews, and ad comments from the dashboard.
Key Features:
Unified Inbox to streamline and manage every customer engagement
Social Inbox to manage social media comments, ads, comments, and direct messages from a single dashboard
Automation Rules to classify all the incoming messages
Automatic keywords filtering
Quick and canned responses to answer the most FAQs
Real-time team collaboration to address customer inquiries
Multi-client and Social media management
Pros
One-stop destination for social media management
Quick setup and ease of use
Consolidated Inbox for messages
One-screen dashboard to manage social media
Cons
Only for business accounts and pages
Content management or publishing features are not included
Also Read: Social Media Engagement: The Ultimate Guide
Level Up Your Social Media Moderation Game
As social media users continue to rise, it is becoming increasingly crucial for brands to keep their online presence organized and appropriately managed. While reviews of users are critical, technology is equally important to remove unwanted or harmful content and speed up the content moderation process.
Social Media Content Moderation acts as a filter that removes harmful content or posts and makes the platform safe for all. Choosing the right digital moderation tool is essential to maintain a healthy online presence and keep afloat atop the plethora of media content.
Juphy helps to keep your consumers engaged and safe and maintain your social presence to the highest of standards with its advanced dashboard features and benefits to drive better performance by providing an excellent digital customer experience.
Want in? Start your 7-day free trial now!
Create Your
Social Inbox Now
Manage all social media customer support inquiries in a unified inbox.
Related Article – Best 5 Tools To Manage Social Media Engagement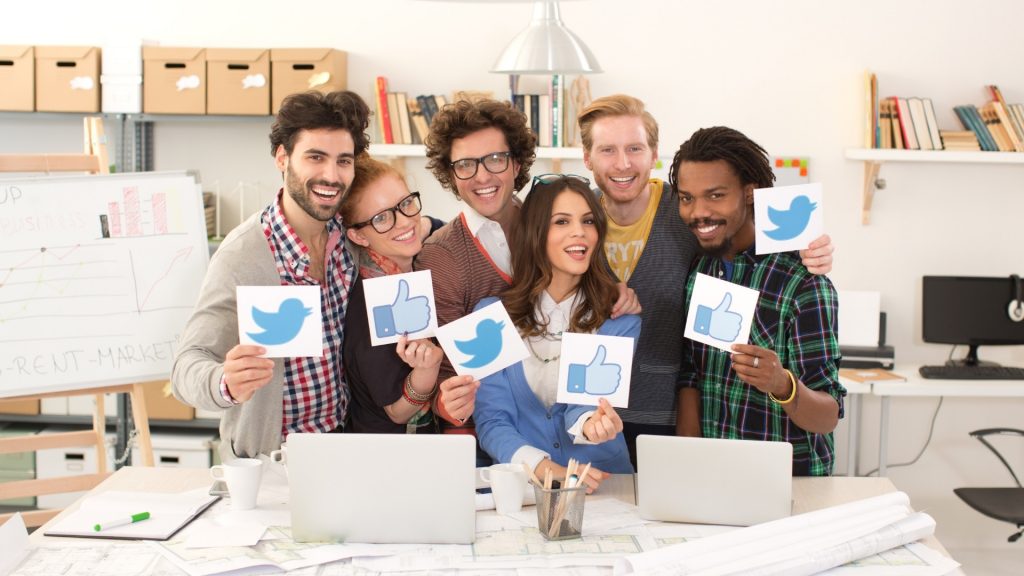 Don't struggle to keep up with the engagement you receive on social media. These social media engagement tools will help you incredibly. Read more now!