Many people work in social media-oriented agencies, and they all manage some part of this domain. Since they all have "social media" and "management" terms in their titles, sometimes it can be difficult to tell them apart. There's also a second reason that creates confusion: Depending on the scale of the business, a single person can undertake all these management tasks, or teams can be established for each function. Among them, social media management and social media community management are two of the more confusing ones. 
Create Your
Social Inbox Now
Manage all social media customer support inquiries in a unified inbox.
What Is the Difference Between the Types of Management in Social Media?
For brands, social media is a particular domain for delivering marketing messages to specific audiences, forming meaningful relationships through dialogue, offering support or handling problems, keeping up with competitors and trends, and receiving feedback about products, services, campaigns, etc.
This workload creates a couple of management processes such as;
Social media marketing management
Social media account management
Social media content management
Social media community management
Organizations may have more specific or fancier management roles like "social media security management" or "social media experiments management". Or they can combine some of these management areas within the same team.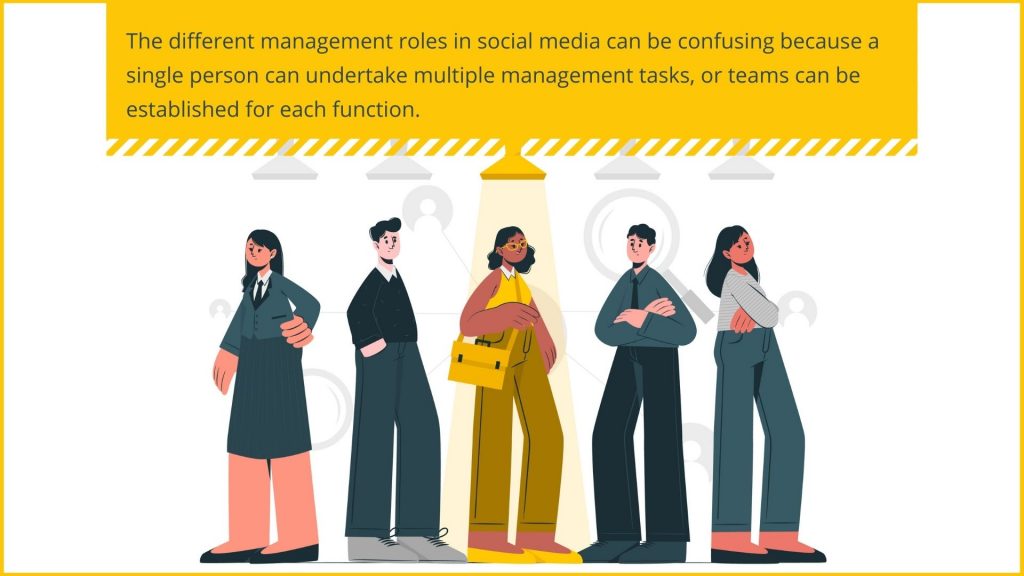 Whatever the name is, these managements' primary and common task is leading the processes towards a strategic outcome. Then comes the differences because each branch has a strategy of its own.
Differences Between a Social Media Manager and Social Media Community Manager
Marketing sets the direction, and content delivers creative work for relevant media. These two should be quite straightforward.
A social media account manager, also known as a "social media manager", is the person who knows when and what the brand says in which tone of voice and keeps it consistent throughout the journey. They systematically promote the brand's products and services, deliver news, schedule content, keep an eye on trends and real-time conversations, track performances and plan for the future, and last of all, deal with emojis and hashtags. A social media manager is the unknown soldier behind the brand's name and image.
On the other hand, social media community management focuses on the conversation and steering the target audience's perspective towards the desired outcome. The community managers may or may not have names since there are different types of communities and specific ways to engage with them. A brand can either manage a target community under its own name or invest in real people to do it for them. These real people can be the customer service crew, influencers, brand ambassadors, or industry-related pages.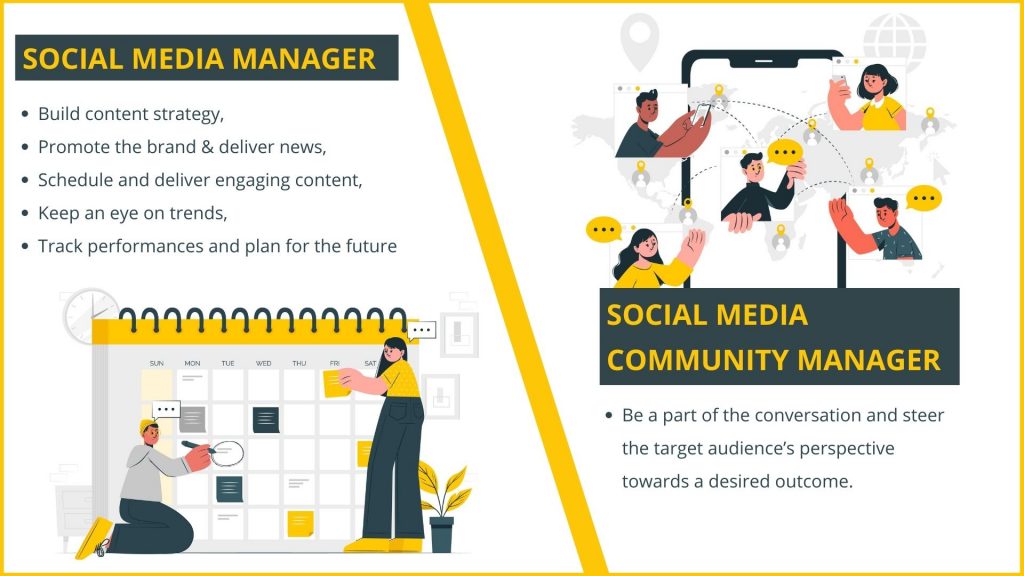 What Is Social Media Community Management?
The scale of communities can range between a group of people who follow the same brand for one reason or another or a highly engaged crowd whose lifestyle choices fit the brand's values. Employers are another type of community that can be engaged through social media. Usually, these communications bear the signature of HR instead of a single person. Still, the idea behind every community management activity is basically the same: Managing the expectations, requests, ideas, problems, feedback, and rewards of specific groups of people.
The role of the social media community manager includes,
Creating awareness around the brand
Promoting the brand's campaigns and communications by resharing content (if they are brand ambassadors or paid influencers)
Engaging in discussions around the brand, product, or service
Following leads and supporting customer acquisition
Asking for feedback and responding to questions according to the brand guidelines
Reviewing and reporting progress
Finding new ways to engage with relevant communities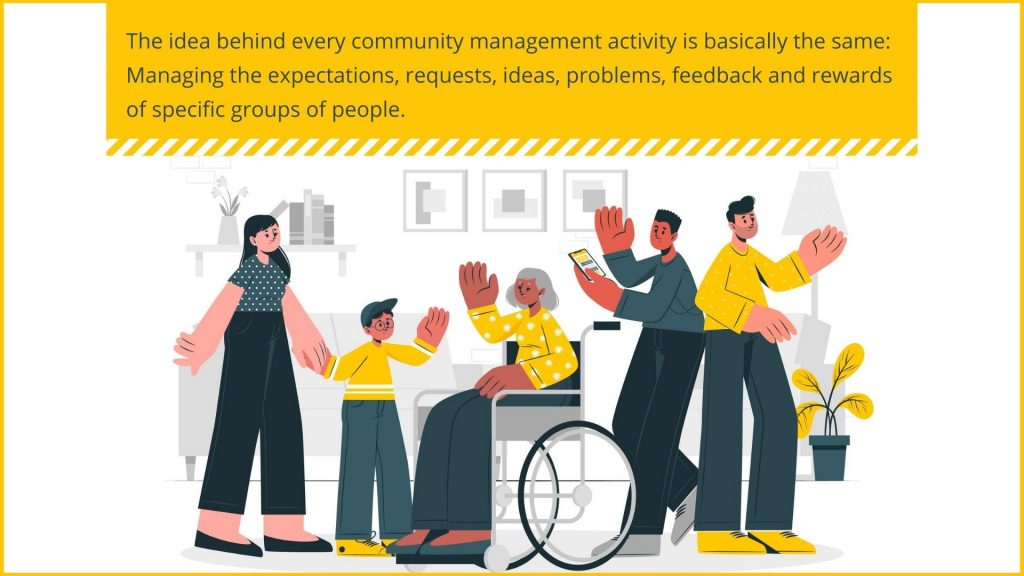 How to Build and Manage an Engaged Community
Some brands who are relatively new to social media believe that they can gain followers and drive engagement simply by existing on platforms. Sadly, this is not true. In this day and age, customer acquisition through organic reach is practically out of the question. Every year tons of brilliant content goes to waste due to lack of awareness. Then how do you create a social media community?
Typically you start building your community through friends, family, and crew. They would stand as your first community managers as they invite their connections to the brand's social media accounts. But it goes only so far, and there comes a time when you need to make the necessary investment in advertising. You'll start building a community soon by targeting the right audiences with the right content.
Social media community management at this stage can help you increase the reach of your message, provide reliable information to set customer expectations, and remind users of a specific need that your brand meets. If you've noticed tons of people talking about robot vacuums on social media lately, you can be sure that community managers are behind these conversations.
As your follower base grows, so will the chatter around your brand. And you'll realize that a brand's community is not a monolithic structure. There will be those who follow your brand without the intention of purchasing and others who not only buy themselves but also recommend you to their circle. Customers who you can easily please, those who offer constructive criticism, and those who are chronically dissatisfied will also form separate groups within the community. The group that needs support is fundamental because today, customer service is the new marketing.
How to Manage an Agitated Community that Needs Customer Service
How long does it take a customer to expect a response from the brand's support team? There are quite a few researches conducted on this issue. I've seen several different "X% of consumers expect a response in X hours/minutes" sentences on the internet. But it doesn't matter because it's only natural. The more you raise the bar, the more the customers expect from you.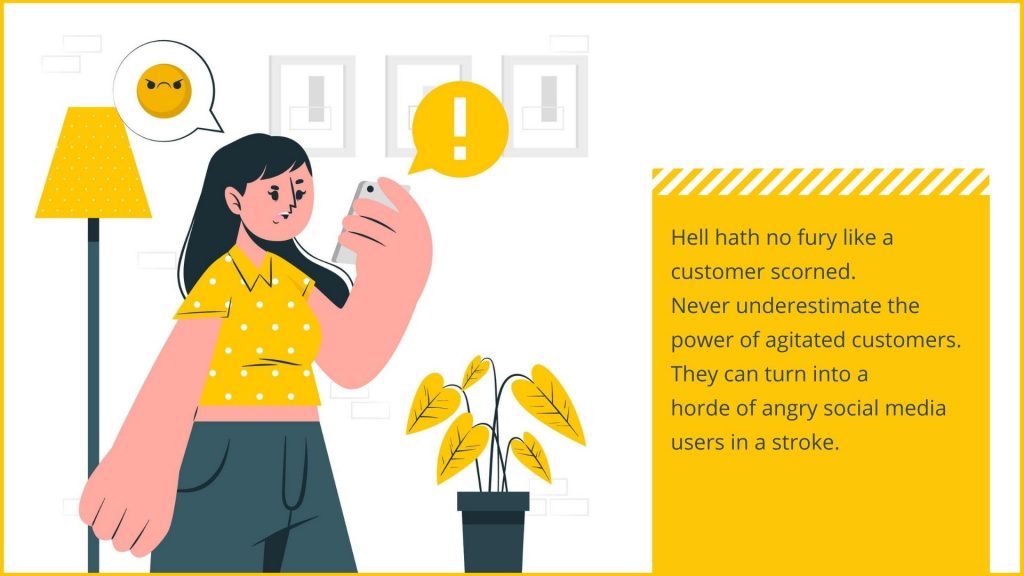 These expectations are pretty important because when you satisfy them, even the skeptical customer tends to take a step towards loyalty and recommend your brand to others. So the best practice in this area should be to act as fast and supportive as possible.
You can attain this much-needed agility with an omnichannel help desk for social media oriented teams like Juphy. It provides all the necessary tools to receive, monitor, categorize, prioritize, and respond to customer queries as an effective social media community management team. 
After covering the agility and teamwork issues with a reliable social media community management tool, if you need further help with responses to engagements, you can find valuable tips and examples here, here, and here.
How to Increase Customer Lifetime Value with Social Media Community Management
All customers are equal, but some customers are more equal than others. Customer acquisition might be one of the KPIs but repeat customers who make up a significant portion of your regular income should be prioritized and recognized in order to establish customer loyalty.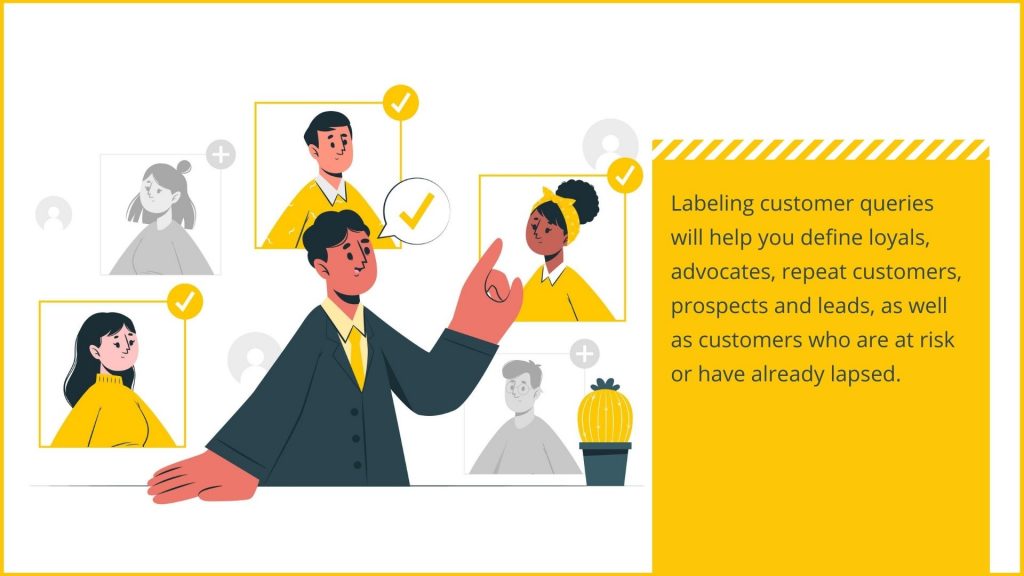 Labeling customer queries will help you define loyal ones, advocates, repeat customers, prospects, and leads, as well as customers who are at risk or have already lapsed. Each of these groups may require different levels of expertise and distinct styles of engagement according to your social media customer service strategy. They can also provide valuable insights about your business processes and ways to steer them deeper into the sales funnel.
The Best Practices to Manage an Online Community
Establish a social media community management strategy. Know your goals and KPIs.
Identify your audiences and get to know them better throughout your relationship. Prioritize their favorite platforms.
Monitor keywords that are related to your business. Be a part of the dialogue.
Not only respond to comments but find new ways to engage with the community. Leverage user-generated content.
Dissect the community into smaller groups and engage with them accordingly. Never deviate from the brand's social media community management guidelines.
Show your appreciation to your followers and reward the most valuable ones. Steer them towards advocacy.
Use a social media inbox like Juphy for faster, collaborative, and more efficient community management practices.
How to Integrate All Your Social Media Accounts with Juphy
As a social inbox, Juphy allows you to track and respond to all your customer engagement from Facebook (Facebook page and group comments, Facebook Messenger, ads comments), Instagram, Twitter, LinkedIn, YouTube, Google My Business, AppStore, and Google Play Store on a single dashboard. It also supports WhatsApp and Twilio integrations so that you can utilize real-time messaging as a part of your customer engagement endeavors.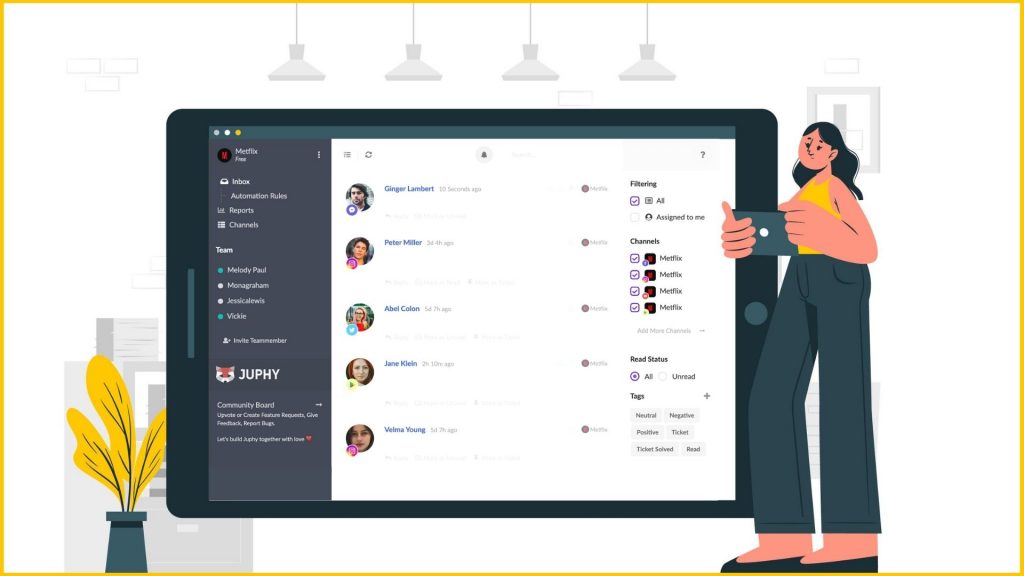 Juphy earned the "Easiest Setup" badge on G2.com thanks to its user-friendly design. It only takes 2 minutes to setup, or one click if you are a G-Suit user. You can start your 7-day free trial now and integrate all your social media accounts in three simple steps:
Choose a platform to integrate during setup and enter your account details.
Or click "Channels" on the dashboard and select the platform of your choice.
Click the "Add account" button, enter your account details, and you're done.
You can add multiple accounts to each platform and work on separate workspaces that are customized for different communities—no need to switch between platforms and accounts, no room for errors.
Why Juphy Is the Best Social Inbox for Effective Community Management?
Juphy provides you with speed and accuracy. The social inbox shows all the interactions from the chosen channels, tagged and classified automatically for you to observe and engage, right from your inbox. It allows you to organize project groups and collaborate on the best responses tailored for specific communities. And don't forget to check the reports section to see the improved results of average response time, channel, and team performances.
Create Your
Social Inbox Now
Manage all social media customer support inquiries in a unified inbox.
Related Article