Since business areas are now moving to virtual environments, businesses have started to create their draft through updates accordingly. That draft is an indicator of whether your business's channels and teams use social media parallel to your strategy.  How can you form a social media policy strategy according to the draft? How can a social media policy be developed?
Create Your
Social Inbox Now
Manage all social media customer support inquiries in a unified inbox.
What is Social Media Policy?
Nowadays, we spend hours and hours on social media, so we might also share posts on the platforms. It may seem like you call the shots to designate how, where, and when to share on social media, but if you are the employee, it is not only your preferences anymore. At this point, you must follow the social media policy that your business formed.
Social media policy protects your business, employees, and customers from legal issues. Each business takes brand image under protection by presenting a social media policy. Protecting this image goes through educating employees with their social media policy on how to use social media effectively, both individually and professionally.
Why Do You Need a Social Media Policy?
Social media policy strengthens your brand image for the better. These rules lead you towards your goals in the light of your predefined strategy. This minimizes the probability of troubles from the customer side.
What Should Be Included in Your Social Media Policy?
Businesses set some barriers to social media use as they can't impose bans on their employees. In this way, brand image is maintained while they remain active on social media. Social media policies of companies are formed by considering some factors. We can collect these factors under four headings:
1) The Roles and Responsibilities of Your Employees
Defining the roles of your employees beforehand will annihilate the upcoming confusion. You should assign a social media platform for each employee to manage. You should also keep in mind to set the access permissions for each social media platform. A limitation in access for the particular platforms according to your social media policy is sensible at this juncture, but before taking action, make sure that you define all the required fields for your employees to access on those platforms.
2) Security Rules
Regardless of the scope, each business has a risk of security. What matters is to be aware of how to deal with those risks and take action for them. To achieve this and minimize the risks, you should know them in detail. To identify these risks and take precautions, you need predetermination of the answers and solutions to the following questions.
Who can your employees communicate with in case of a problem?
How frequently is your corporate software updated?
How frequently are the passwords of your social media accounts updated?
Who has access to the passwords of your social media accounts? Who secures them?
Which devices are allowed to use on the corporate network?
How is the security of the devices ensured?
In case of a security violation, how is it evaluated?
What are the precautions taken for potential social media risks?
3) Crisis Management Plan
Among the most crucial steps for companies is to prepare a crisis management plan beforehand. That's why including the crisis management plan in your social media policy is a must. It ensures preparation for upcoming crises. Your crisis management plan should contain the following elements:
Instructions for determining the area of crisis spread
A plan to ensure communication between the team
A list of contact persons
The confirmation process for crisis response
4) Social Media Guide for Employees
Your well-prepared social media policy will guide your employees in social media use. In this process, you should encourage your employees to be sensitive, instead of taking actions such as restricting their account use by disrespecting their freedom rights. Reminding them that their actions represent your company is not a bad idea. To be clear, you can list do's and don'ts. For instance;
What Are Included in the Dos?
Posts about the workplace based on your guidelines,
Visibility of the uniform based on your guidelines,
Visibility of the company name or images in biographies based on your guidelines,
Revealing comments and images about the company they work for.
What Are Included in the Don'ts?
Racist discourses or images,
Obscene discourses or images,
Aggressive attitudes and images,
Scrounged statements and images,
Inappropriate jokes.
Examples of Social Media Policy
We collect some of the brands that set an example for many companies with their effective social media policies:
Dell
Dell acknowledges: "This policy is the first step, not the last, on your social media journey" on their global page about social media policy. Dell is among the companies that lead to a successful social media policy. It clarifies the principles you should know before engaging in any online communication that might have an impact:
Be kind, have fun and communicate.
Secure the information.
Make the process transparent and explain.
Respect the laws, and obey the contact codes.
Be responsible.
Intel
Intel is also one of the top brands to mention when you speak of social media policy. These teamwork strengthening policies consist of 5 sections. Intel explains these 5 sections as:
Using common sense.
Protecting Intel.
Non-disclosure
Contractors and Endorsements
Transparency
How Can You Monitor Your Social Media Customer Service Teams with Juphy?
Juphy's provided unified inbox procures tracking your team performance. You receive data for both individual and team performances professionally. Juphy also has a shared inbox feature for your teams to access the same inbox. This collaborative inbox helps with work organization, so you can observe how your team members across different workspaces perform their tasks. You can track how your team talks, how much they talk, and what they talk about during the communication with customers.
Juphy monitors and reports the performance of your customer support service with its efficient program. By filtering the period you desire, you can determine the number of conversations, the average response time, and the total number of calls your team has made. Additionally, due to the outputs from Juphy's performance reports, it gets easy to form a social media policy and improve it.
How Can You Detect Actions Against Your Policy Through Juphy?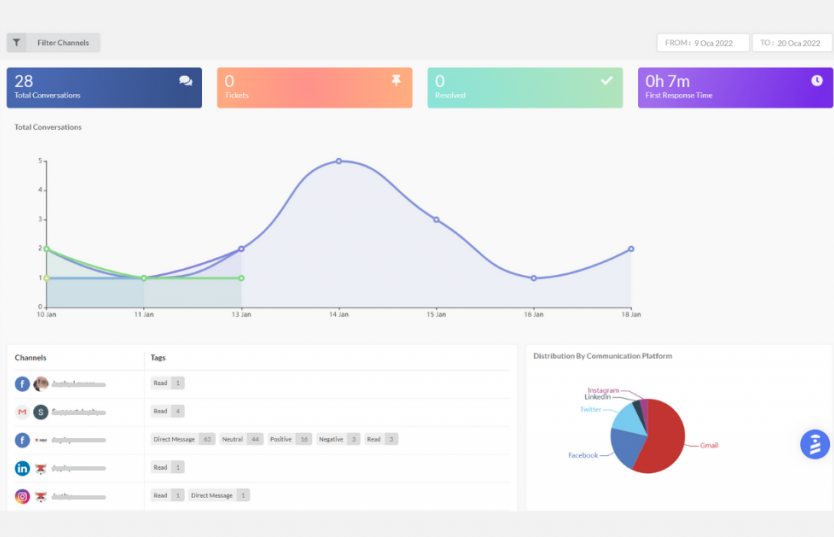 Juphy is an epoch-making social media tool that brings all the social media platforms together. It provides a single dashboard for all messages from various platforms such as Instagram, Facebook, and Whatsapp. That means fast and effective communication with your audience. Besides being the top representative of speed and efficiency, it also helps you organize the perfect team.
Social listening is important in detecting the actions against your policy. It is an early warning system that you can observe the positive and negative changes going on in your business. With social listening, you can identify criticisms, comments, and posts that are not in line with your policy.

Just S.
Founder, Small Business
"The user interface is really clean and intuitive. It supports all of the important social platforms. The ticketing system is really well organized and it is easy to assign tasks, emails, and tickets. Good number of reports. Love the agency features which are well thought out and simple to use. The single omni-channel dashboard for everything is beginning to be very beneficial to our systems. Getting setup is a snap."

Juphy activates social listening by providing categorized keywords that reflect the customers' opinions about your company. Active social listening also contributes to your social media policy. In this way, you can simply identify undesirable actions with Juphy's social listening features.
Perhaps one of the best features of Juphy, push notifications, prepares you to always be ready for those unfavorable attitudes towards your social media policy, so you can take action about it. Potential crises can only be prevented with carefully planned social listening, in addition, you can protect your brand image, as well.
You can successfully implement your policy if you predetermine the penalties that impose when an opposite act happens to the social policy rules. Your social media policies can become neat through social listening and social media audits. Are you also looking forward to benefiting from Juphy's spectacular features? You can visit our website and contact us here.
Create Your
Social Inbox Now
Manage all social media customer support inquiries in a unified inbox.
Related Article