Social media reforms a new era of brand-customer relations. Brands became available on social media for customer support besides the call centers. Social media customer service comes to the fore with its fast and efficient responses, but what is social media customer service? What are some amazing examples of it?
About Social Media Customer Service
Employees who meet and interact with customer demands through social media are called social media customer representatives. A customer representative should be able to solve customer requests practically in a short time and report them accordingly. Additionally, they should follow the course of the unsolved problems and make an evaluation as soon as possible. If we consider that the globally average use of social media per capita is 2 hours 24 minutes, businesses should make an effort on their strategies in parallel to this fact. Here is our complete guide for social media customer service: Read article
Create Your
Social Inbox Now
Manage all social media customer support inquiries in a unified inbox.
Best Examples of Social Media Customer Service?
Providing successful social media customer service means stronger brand-customer bonds. This bond brings loyal customers and increased sales amounts to the company. Here are some favorite brands that have effective customer service:
Spotify
Many reasons have made Spotify the leading music app lately, but most importantly, the way it communicates with the customers. By providing feedback at the right time, Spotify makes the communication with the customer permanent. In addition, those who use the application can easily observe that its teams create their strategies by being aware of the necessity of establishing emotional relationships with customers.
Spotify crowns this strong bond with its provided social media customer service. Besides forming bonds, it offers excellent social media customer service that upgrades customer relations. Spotify applies a test on social media customer service candidates, so we know that they honestly care. Candidates are tested in various subjects, and they should score high marks to be employed.
Spotify replies to customer concerns and demands through @spotifycares and @spotifystatus accounts on Twitter, but not only that, it also explains how the updates work. In addition, we see tweets that were posted to make the customers happy for creating permanent relationships. These posts can sometimes be encountered in the responses given to users who have tagged the social media accounts and sometimes when Spotify answers to the comments made on its post. Spotify also posts customized playlists on its social media accounts to reach users to let them explore more. Such experiences for users help Spotify to ensure customer satisfaction.

As in the example above, the Spotify support team reaches out to customers when they appeal for help. It is a perfect example of their effort to be there for customers as quickly as possible.
Netflix
Netflix is also among the active apps on social media customer service, such as Spotify. Netflix emphasizes the importance of customer service on social media with its strategies. Some of those can be listed as providing support to the users who encounter a problem, satisfying the customers with feedback, reacting to comments on the posts, and making the customer valued.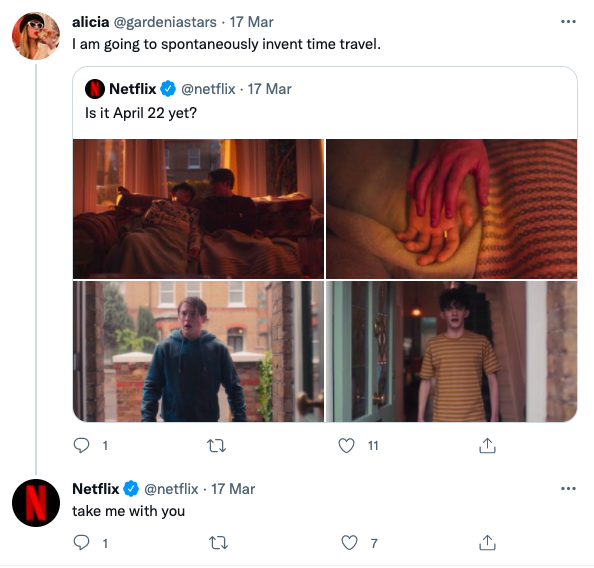 As we see in this example, a user quotes the Tweet of Netflix as "I am going to spontaneously invent time travel." and Netflix replied, "take me with you". It is truly a fun way to engage customers with the brand.
Starbucks
Starbucks sets an example just like the inventor of how to be effective on social media. Starbucks keeps both Facebook and Twitter social media customer services active. Its support team also reacts to the tagged posts on the Twitter page to improve the communication by comments. Responses are sincere as much as they are professional, so Starbucks exhibits a clear image that it is the expert in social media.
Starbucks owns @StarbucksCare besides its official Twitter account to ensure a fast support service for the problems and demands of the customers. By evaluating and responding to customer problems as soon as possible from a Twitter account, Starbucks breaks the ice between the brand and customers, which is among the best social media customer service strategies.

Take a glance at the screenshot above; we see that a user named Lucas requested help from the StarbucksCare Twitter account. Lucas tagged StarbucksCare and added his question, and he received this message in 2 hours to fix the customer's problem: "Hi Lucas, I'm so sorry to hear that you were charged twice for your mobile order today! This is certainly not the experience we want you to have. Consequently, I'm happy to help. Can you please send me a DM with the store's address that you visited? Thanks! – Brecka".
Amazon
We know that Amazon is one of the largest and most advanced e-commerce websites globally, but witnessing its customer support proves it is one of the best. Amazon never let the customers remain passive with its social media customer support system. Daily reminders, customer services provided from social media platforms, and short response time put Amazon among the best.
In particular, the positive comments and posts made by Amazon customers about the company are of great importance. Amazon has social media accounts created only for support. Amazon provides a short response time from @AmazonHelp, and @awscloud (Amazon Web Service) accounts for any demand or problem. Don't forget that the largest investment for your company is the voluntary advertisements of your satisfied customers. Let's look at the examples of customer satisfaction: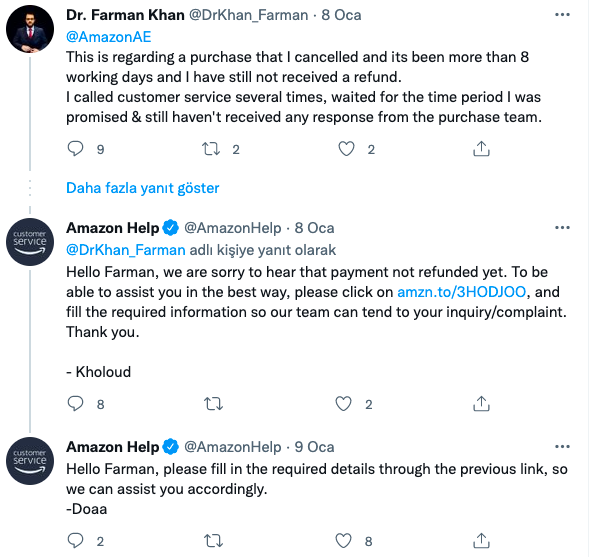 A customer complains about the refund process he experiences in the example above. Amazon guides the customer in making an official complaint, requiring a form, in response.
Nike
Nike is a brand that has a large following and boosts that with an excellent customer support attitude on social media. Nike has a separate customer support account on Twitter, that empowers its customer interactions. That account, @nikeservice, is there for you to provide a quick and efficient service, whenever a demand or a problem appears. Let's check out an example:

Here, a customer addresses an issue as "I can't submit my order for some reason, can I get help on why?" by tagging the Nike support account. The support team returns to the support call on the same day and helps the customer on how to eliminate the problem, and the answer clarifies all: "We're here to assist".
Ways to Improve Social Media Customer Services
These businesses have such a strong communication power because they are aware of the need for a successful social media customer support team. Thanks to those teams, their strategies lead to ranking foremost among their competitors, but what are these strategies? There you go:
1) Using Social Monitoring Tools
Businesses use social monitoring tools for the problems and critics beside the positive comments. Social media tools like Hootsuite and Juphy show instant replies to all the messages from customers. At this point, it is a game-changer to use social media monitoring tools since they prevent disconnection by reaching each customer about their concerns. Many brands exhibit well-managed interactions with customers thanks to using these tools.
2) Sustain the Communication
Let us tell you the secret to building permanent customer relationships: Maintaining sincere and friendly communication. Corporate image exceedingly affects customer loyalty, and also loyal customer brings new customers, as well. For this reason, strong and sincere communication takes you on the path of being a recommended and admired brand.
3) Publishing Articles for Possible Questions
It is beneficial for businesses to evaluate possible questions of customers and publish articles that offer solutions to those to ensure a quicker solution probability. The faster your customer receives a correct answer, the better service you provide for them. This is what the top brands exactly do. They offer prepared articles that cover all answers related to the questions.
Juphy: Effective Social Media Customer Service Tool
Juphy is a collaborative customer service tool that provides unified inbox and multichannel services for social media and e-commerce teams. Juphy collects emails, taggings, and comments on a single dashboard so that companies can create the best response system for their customers. Juphy's shared inbox for teams, social following support, automation rules, and question system provide keywords and their classification. In contrast, its responsive system, performance reports, and omnichannel help desk features provide an effective social media customer service tool.

Andrew L.
CEO, Small Business
"Juphy is a fast, effective and efficient way to collate feedback and messages from multiple channels. This allows me to quickly serve my clients and maintain credibility as a proactive business with my clients."

All of your brand interactions are available on a single dashboard. By providing real-time support, you can make live calls. Ease of installation prevents you from losing time. Fast response for your customers is possible now by the unified box of Juphy. You can also identify and enhance the strengths and weaknesses of your team with the provided performance tracking reports. The 7-day free trial period creates an opportunity to test the unique features of Juphy.
Create Your
Social Inbox Now
Manage all social media customer support inquiries in a unified inbox.
Related Article