A couple of years ago, I needed to contact a brand's customer support because of a tricky issue. I immediately got stressed by thinking about the waiting time on the phone, whether I had all the necessary information, or even the possibility of dialing the wrong number and prolonging the process. A friend saw me sulking and recommended that I put it on Twitter so that they would solve the problem much faster. She was right in a way, but its success depended on two things:
The brand's effective utilization of social CRM
My sphere of influence and lifetime value for the brand
We'll get to the rest of the story later but first, let's get some terms cleared up.
Create Your
Social Inbox Now
Manage all social media customer support inquiries in a unified inbox.
What Does CRM Mean and How Does CRM Integrate with Social Media?
CRM is the abbreviation of customer relationship management, a process that involves marketing, sales, orders, and support. Businesses usually utilize data analysis to study and track large amounts of customer-related information depending on the organization's scale.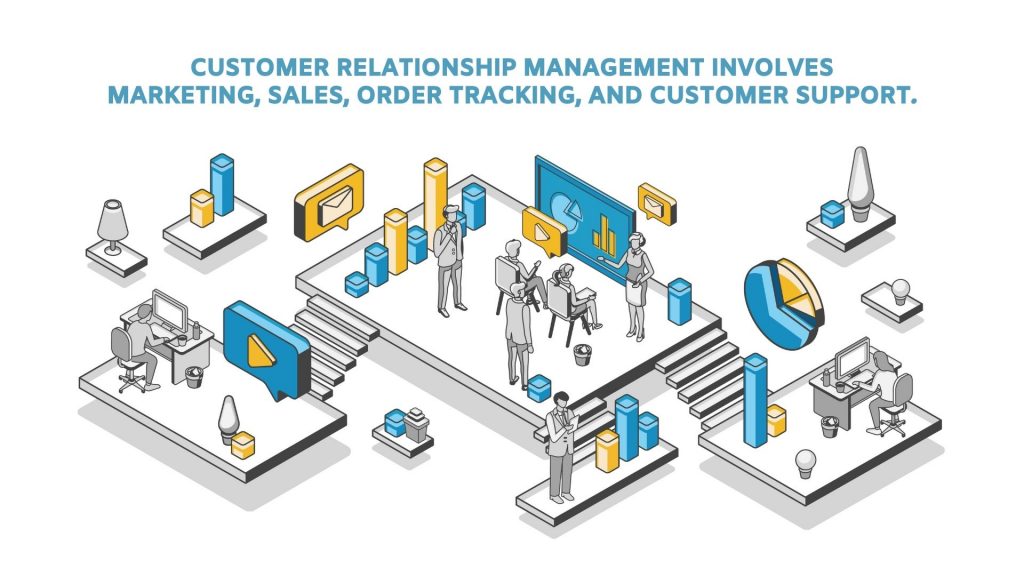 Before the introduction of social media and e-commerce to society, the customer service channels were limited to phone, email, and face-to-face surveys. Still, it required extensive tracking and data management, but it was not only simpler but also personal. Even if you couldn't deliver what you've promised, verbal gossip would only go so far. Then social media changed the whole picture. Now customers can contact or mention a business on various channels and how they communicate plays a vital role in other customers' decisions.
Going back to my story, I think what I did that day placed a couple of questions about the brand in the minds of some potential customers.
Here Is an Example of a Social CRM
Normally, my social media usage is mostly limited to observing. Still, I had a personal blog with a limited follower base back then. I did not put anything on Twitter and was a little frustrated about my brand experience. I wrote the whole process down and published it. Although I didn't name the brand in the post, it was being torn apart on social media the next day.
I've never had a massive sphere of influence, but unfortunately for the brand, some of my friends were quite popular on social media, and things could get serious with their involvement. And apparently, they did involve. While opinions about the situation clashed online, I watched in awe and waited for the brand's response. While I was reading the latest tweets, it arrived in the form of a phone call.
It was wise for the brand to take the situation to a personal level and our conversation proved to be fruitful. At least it seemed to be, at first. But we both underestimated the power of an adamant social media army.
But before we get to what happened next, we need to take a look at the social CRM tools and why we need them.
What Is a Social CRM Tool?
A social media CRM tool is simply a Customer Relationship Management software that is integrated with your brand's social media channels. This integration means the software streamlines the processes between marketing, sales, and orders. The "social" part comes with omnichannel customer service.
Before social media, only large-scale companies needed CRM software to keep track of their business. But now, the amount of data is huge; the process keeps getting faster and more interconnected. Our brains are not yet fit for processing this information flow. That's why we need social media CRM tools.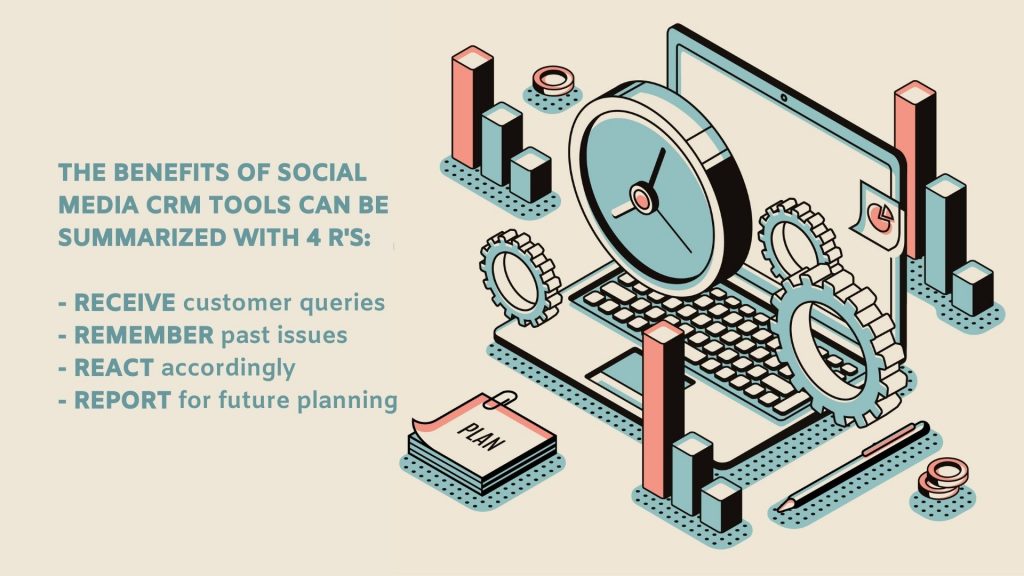 Benefits of Social Media CRM Tools
Social media CRM tools help you receive and prioritize customer queries more efficiently. We can sum the benefits in "4 R's":
Receive: Social CRM tools collect and classify the queries in real-time, so you don't need to check the accounts manually, one by one.
Remember: If there's been a past conversation with the customer or a similar issue was encountered before, you can find them in the records.
React: The collective data and the social CRM tool's team collaboration possibilities help you react to queries faster and more effectively.
Report: Insightful and actionable data analysis is crucial for productivity when dealing with a 24/7 active crowd.
If the brand in our story had completed its social media CRM integration, customer service would have realized something fishy was going on. And told the first angry mob members that they were dealing with the problem. Then they would have checked their support history and contacted me sooner to take action. Here's what happened instead.
Speeding Things Up with Social Media CRM Tools
The social media outburst alarmed the brand, and it fixed many problems on my part. Brand's customer service resolved the issue quickly, and they kindly asked me to remove the blog post. Thinking that my short-lived disappointment had damaged the brand's reputation more than necessary, I accepted the request, removed the article, and posted a short update.
If the incident hadn't happened more than a decade ago and had I known better then, instead of removing the article, I would have added a foreword stating that we have resolved the problem with the brand. Remember that no brand is perfect, but a sincere solution-oriented approach earns points.
Some other customers who had encountered similar issues with me were added to the mix. Their experiences and screenshots fueled the fire. According to the brand's request, my removal of the blog post felt like censorship to some commenters and started the second wave of backlash.
The brand could have also benefited from this stage if they conducted social CRM. They would have tracked and classified the disappointed customers and thought of incentives to win their hearts back.
They missed the chance back then. In a couple of days, another aspect of social media kicked in. The issue lost its juice, and after getting their frustration out of their chests, everybody went on with their lives. Today the hype process works basically the same, but thanks to social media integrated CRM tools, we are better equipped to deal with it.
5 Great Social Media CRM Tools to Try Out
1. Zendesk
Zendesk is a sales and customer service solution that offers collaboration tools for teams. It is a popular software for managing customer issues, and its focused function is providing seamless customer support.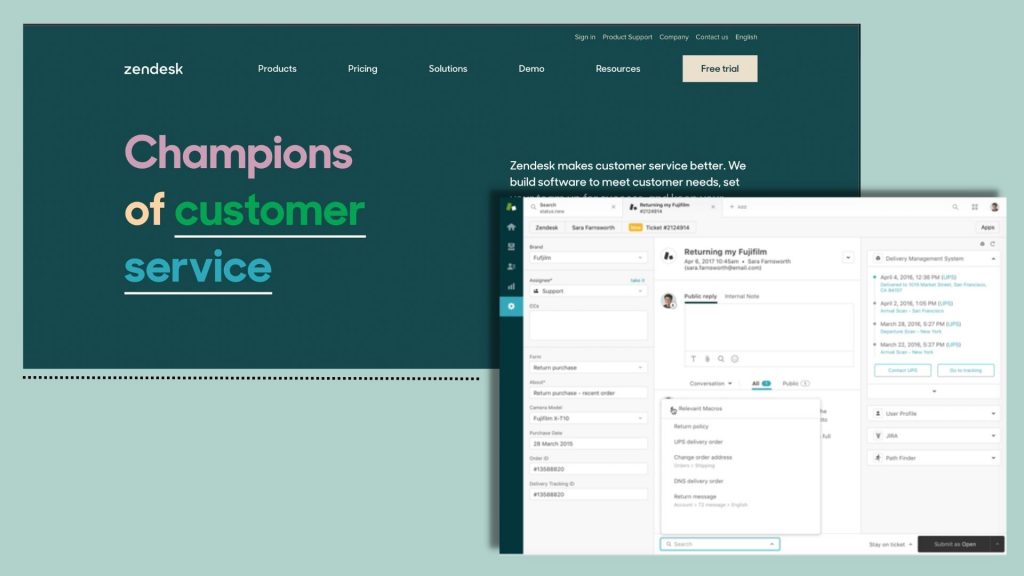 Features
Messaging across web, mobile and social
Email, voice, SMS, and live chat support
Unified ticketing and routing
Unified inbox for team collaboration
Knowledge base and self-service help center
Private conversation threads
Customizable and shareable dashboards
Pros
Prebuilt and custom integrations
Modern and intuitive UX design
Conversation routing based on agent skill
Monthly and annual billing options
Cons
Export / Import options are quite complicated to use
UI customization is limited
2. Salesforce Service Cloud
A prevalent and quite massive CRM tool, Salesforce Service Cloud is a client service solution that offers a 360-degree view of customer inquiries. With an extensive product range tailored for many business needs, Service Cloud can also be integrated with sales data and team management tools.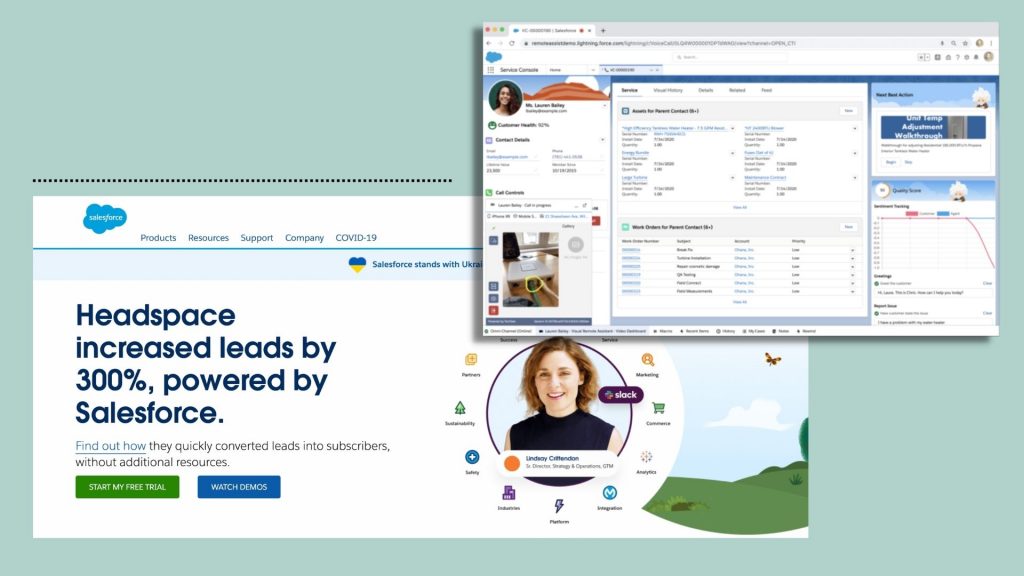 Features
Omnichannel customer support including email, social, instant messaging, voice calls
Knowledge base and self-service help center
Field service with remote assistance
Detailed customer analytics to assess your e-commerce KPIs better
AI-powered predictions, recommendations, and chatbots on digital channels.
Pros
Extensive choice of customer communication channels
Thousands of apps and extensions on its App Exchange
Report builder to create custom reports
Cons
Packed with so many features that it becomes overwhelming to work with
The complex user interface doesn't help either
Annual billing only, and the price range limits it to larger organizations
3. Sprout Social
Sprout Social is more of a social media management tool than a CRM tool. It is totally social media-oriented, and the management features include composing, backlogging, and scheduling social media posts, along with tracking and responding to customer engagement.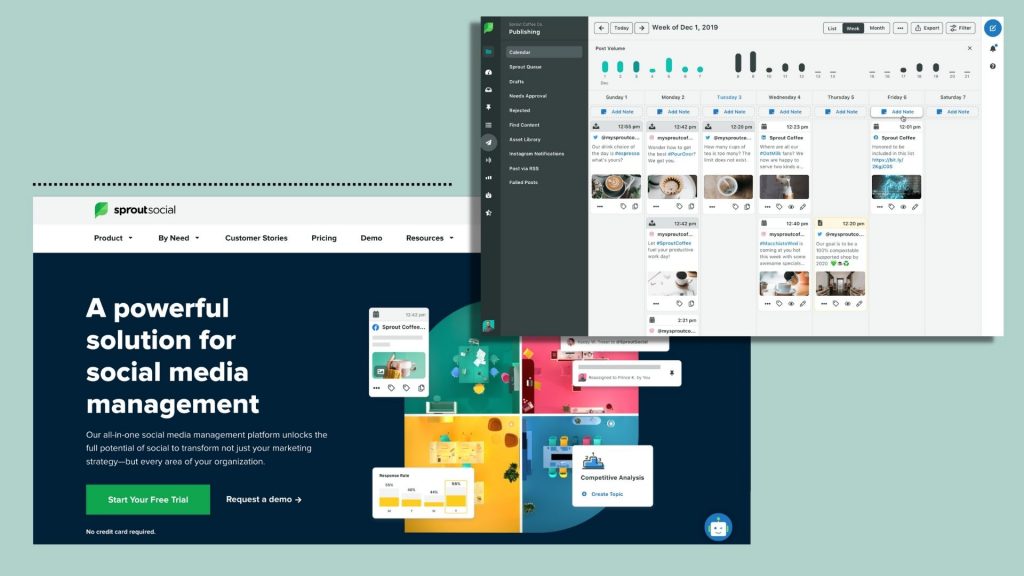 Features
Social analytics to understand the audience better
Social publishing and engagement on a single dashboard
Social listening for proactive customer management
Chatbot builder for Twitter and Facebook
Automated inbox rules for message classification
Pros
Great for social media managers as it allows posting content
Offers collaboration tools to work on responses as a team
Integrations with other customer support and team management tools
Cons
Covers only social media
Platform integrations are limited
4. Oktopost
Oktopost is a B2B social engagement suite, and it offers employee advocacy solutions, and social media account management features. It is designed to meet the needs of technology, financial services, healthcare, and manufacturing industries.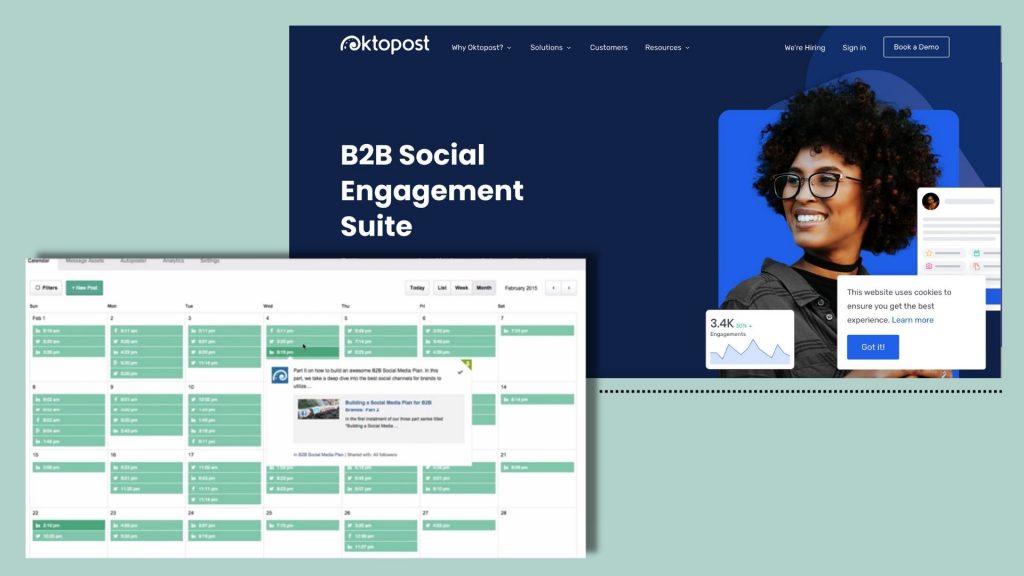 Features
Social Publishing
Social Analytics
Employee Advocacy
Social Listening
Social Engagement
Pros
Integrations with several CRM and team management tools
Easy to schedule and publish content through multiple platforms
Reminds employees that new content is published and ready to be distributed
Cons
The reports and analytics dashboard can be more intuitive and robust
5. Juphy
Juphy is a multichannel help desk with a shared inbox that allows your teams to receive and respond to customer queries from social media, email, and review platforms. It can be integrated with other CRM systems so you can provide not only impeccable service but also manage customer-related issues as a team.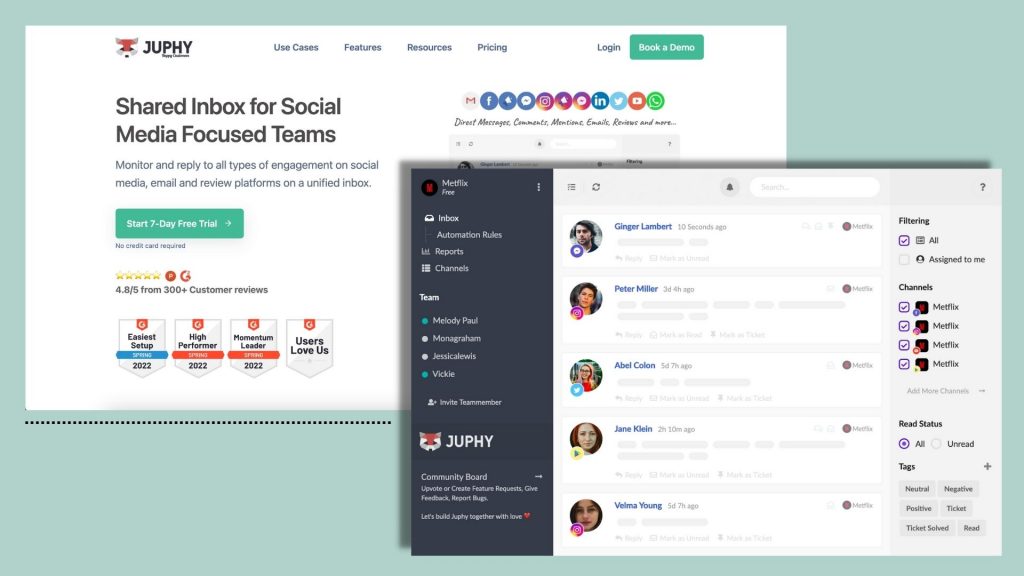 Features
Multichannel help desk for social media and review platforms
Shared inbox for project groups or brand teams
Team collaboration in real-time with project management features
Social monitoring support on Twitter and other social media platforms for proactive customer service
Automation rules and ticket system for keyword and mention classification
Actionable reports to analyze channel and team performances
Pros
The ability to see and interact with all the user engagement on a single dashboard
Allows file sharing
Supports integration with many apps, including Whatsapp and YouTube
Google Business, Google Play Store, App Store reviews management
Cons
Doesn't support voice calls
No chatbot support
Thanks to its highly simplistic setup and user-friendly interface, you can start your 7-day free trial right away without giving out any credit card information.
Paying close attention to the conversation around your brand on social media will keep you alert and ready for negative issues and helps you seize important business opportunities. Using an advanced, scalable, and affordable social media CRM tool will help you deliver exceptional customer service and provide you with valuable data for future planning.
Create Your
Social Inbox Now
Manage all social media customer support inquiries in a unified inbox.
Related Article