The digital necessities that emerge with the digital age come as no surprise. Therefore, achieving sustainable commercial success goes through the visibility of your business or your brand. You can improve visibility by applying your sales strategy efficiently on social media. Then, how to build a social media customer service strategy? How to provide top-notch customer support on social media?
Create Your
Social Inbox Now
Manage all social media customer support inquiries in a unified inbox.
What is Social Media Customer Service?
Social media customer service provides the easiest communication on social media. It is essential to be active to pursue direct interaction with customers. Hence, a fast and efficient response is the primary objective of customer services. Thus, social media platforms become the first channel to solve customer problems as soon as possible.
How to Form a Social Media Customer Service Strategy?
Strong social media customer service strategies lead to stronger customer relations and advantages than rival companies. Check out the 4 of those strategies:
Specify the Social Media Platforms
Firstly, determine your target market's age, gender, education level, etc. After that, you should analyze which platform your audience uses frequently. You can reach out to your target market with your brand account on social media. In this way, it is most likely to provide the response and solutions they need.
Build a System That Helps You Respond Quickly
Providing a system that allows the organized working of teams is essential for social media customer service. The system will not only provide customer support by each employee- but will also ensure a steady organization for your brand. The contribution of this sedentary organization to the company is that your customers get a rapid response from the customer support team. You can reply to all the messages from each social media platform on time. Your customers will be pleased to know how long they should wait for a solution. This means that you should indicate the working hours of your customer support team before.
Track Your Brand's Interactions
You can reach comments about your products or services by searching several keywords on social media. You can follow the keywords you set by social listening. Social listening is a useful guide to forming social media strategies based on the comments about your brand. Your customers might be commenting or asking questions without any tags. When it comes to customer opinions, it is better to get back to the interactions of those people. You should be sincere with your responses and provide solutions if there is a problem.
Be Selective About Your Employees
Communication is the crucial bridge between your customers and your brand. If you ignore that fact, it is likely to have trouble, including customer churn. It would be best to enhance customer satisfaction by hiring highly skilled employees in communication.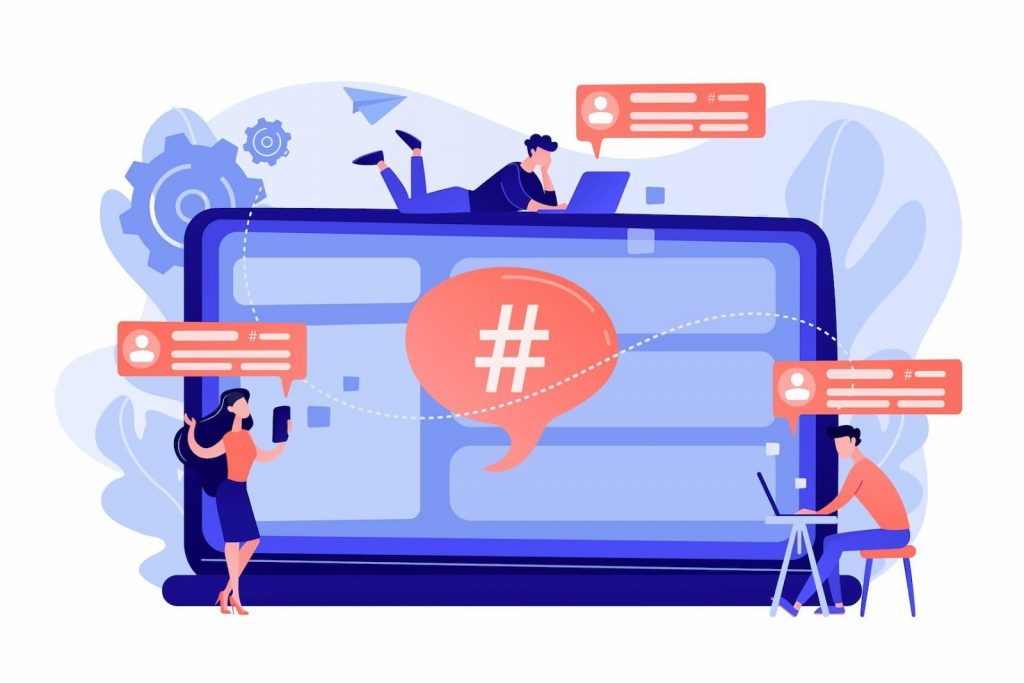 Social Media User Guide for Customer Services
There are many goals in customer services, but the primary target is to meet customer expectations. You can't make progress unless you pay attention to their demands. Customer services should have an active communication strategy on social media, but how can they provide that?
Be Active
Exist on channels where your customer can reach you. In this way, you can meet the demands and needs of your customer. You should be active on social media; social media tracking tools can help you here. As we know, brands that provide active customer service have more loyal customers. Their earnings increase parallel to that, as well.
Hear Your Customer
Hearing what your customer says shows that you cherish them. Replying to their comments or even sending an emoji enhances your relationship significantly. You make an excellent impression on your target market, as well. It is likely to receive positive feedback if you show your customers that you are active on social media.
Respond to All Questions
The key consideration to achieving successful customer service is responding to each question of the customers. Good communication substantially goes through fast and efficient replies. You shouldn't miss any of the questions, yet social media tools help you achieve your goals.
Build Customer Relations
You can build good relationships with your customers, which enhances your communication. Your comments and replies are the bridge to form intimate bonds between you and your customers. Communicating with an actual person instead of a computer promotes more interactive communication.
Create Accounts for Customer Support
You should create additional, dedicated social media accounts for the demands and problems of your customers, besides the social media accounts. That will be a chance to directly communicate with the customers, which provides detailed support service for them.
Social Media Customer Service Statistics
We can list the social media statistics of users as follows:
45% of the world's population use social media, whereas 91% of them access social media from mobile phones.

34% of social media users find out about the brands, services, and new products on social media.

64% of social media users reach businesses via messages.

60% of users indicate that poor customer service affects their purchase behaviors.

54% of the global social media users state positive opinions on brands with customer support service. 51.7% of the individuals who present a negative opinion, expect a response in 7 days.

60% of Twitter users expect a response in an hour. Their buying leanings increase by over 20% if they receive the answer. In addition, 71% of the users don't receive responses from any customer services on Twitter.

Instagram reached 1.074 billion active users in 2021. The probability of purchasing from brands with an Instagram account has increased to 80% for customers.

37% of the users text to brands about their problems, whereas 59% of the users share their positive experiences.
The Best Way to Benefit From Social Media for Customer Service
Advertising on social media will juice up the sales that take place there. You can determine the customer purchase experience and their interests in content by the interaction analysis of your social media platform. Perhaps one of the best ways to advertise on social media is by collaborating with an Influencer. It is undoubtedly a fact that people invest in brands and products with the recommendation of a trustworthy figure. For that reason, it is sensible to keep advertising your brand in collaboration with a well-known person.
Customers are likely to purchase from brands that have customer service. The confidence of knowing that they will get a response also reflects positively on their opinions about the brand. If you want to provide an active customer support service, Unified Inbox of Juphy can guide you. Thanks to the provided service in managing social media customer services, Juphy also easily meets the demands and necessities of the customers.
A Support Tool for Social Media: Juphy
Take a step back and see how tedious and time stealer it is to reply to all the messages from different platforms. With Juphy, you can save time instead of losing. You can unify all your messages in a single space and reply to them easily. Juphy knows it is tough to bat around; that's why it makes everything easier for you.

What Are the Auxiliary Features of Juphy to Form a Social Media Customer Service Strategy?
You can benefit from Juphy's great features while forming social media customer service strategies. Here are our provided features:
Unified Inbox: This feature helps you reply to all messages across different channels. You can instantly reach email, social media platforms, chat, and research website notifications and take action.
Team Collaboration: Juphy ensures collaboration among the customer support service team. An interactive environment for your team is possible with Juphy on all platforms.


Short Response Time: Juphy annihilates going between different platforms to respond to your customers; thus, it increases customer satisfaction. Juphy's inbox interface shows the notifications very clearly. Additionally, the classified messages help you to respond in a short time.

Shared Mailbox: The difference from the regular mailbox is that Juphy's is open to access by other users. While this shared mailbox allows you to reply to messages immediately, it saves you time, as well.


Performance Reports: You can reform your strategies according to Juphy's performance reports. That will be the bridge between you and the demands of the customers.


Keywords: Your selected keywords are automatically matched with tags, so this categorized order ensures a short response time for your customers.


Workspaces: Juphy provides working space to manage multiple businesses. You can carry out all your work in a single workspace where you can gather different brands.
White Label Help Desk: Thanks to white label help desk software, you can customize your working spaces. Specialize your logo with custom features. You can manage multiple platforms easily with custom colors and domain options.


Social Inbox: You can easily set up Juphy's full-featured inbox. Social inbox notifies you instantaneously to save time for responding. Teamwork is always supported with a shared inbox feature. You can filter multiple accounts, add numerous channels, and respond to conversations. Juphy also provides social listening so that you can stay tuned for the comments, messages, or notifications at any time.
An Easy Way of Customer Interaction Management: Juphy
Juphy is an exceptional tool to manage email and social media channels. It is not a dream to provide quick and efficient customer service. With Juphy, you can manage your customer interactions from only one hand. It also exhibits performance analysis results with its teamwork-supporting software. Are you also interested in Juphy's features? Contact us today!
Create Your
Social Inbox Now
Manage all social media customer support inquiries in a unified inbox.
Related Article