People follow brands on social media for several reasons. Most of the time, consumers want to know about the new products and offers, and many brands organize campaigns and sweepstakes exclusive to their followers on social media. On the other hand, some established brands don't do any of those. Many of their followers will never be able to afford shopping from those brands, yet they follow them like they are celebrities – observing them from a distance to feed their curiosity. The balance between the two attitudes creates successful social media marketing practices that are worth your time and investment.
What Is Social Media Marketing?
In its most basic form, social media marketing is promoting and sometimes directly selling your goods or services on popular social media platforms while providing online support to your existing or prospective customers. But if we leave the description at that point, we end up with the most boring and useless brand pages. Because in fact, social media is quite a personal space where you create an atmosphere around the most interesting aspects of your personality, and every interaction communicates a message.
There are many do's and don'ts of social media marketing, and many more will come as the platforms and users evolve, but if you're fairly new to the domain, you might make use of the basics.
Create Your
Social Inbox Now
Manage all social media customer support inquiries in a unified inbox.
First Things First: How to Do Social Media Marketing?
Social media can be a part of your holistic marketing plan or your only marketing channel besides your website. According to the size of your business, you can handle it with a small team or might need to get several teams on the same page. Some networks can work for your business, while some others are totally irrelevant. How you run your marketing processes on social media depends on your industry, business strategy, target audience, and so on. Still, even before creating your social media accounts, there are some things to decide.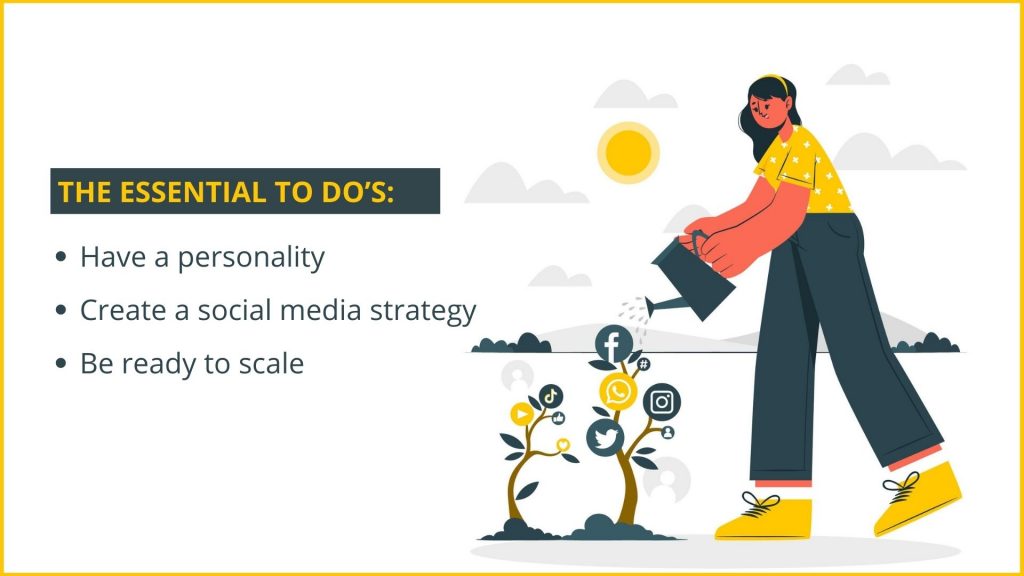 Your online personality
Your brand will need a character, tone of voice, and appearance in order to be relatable and consistent. It will react to certain things while celebrating others. It will have dialogues with people from different walks of life. Think of your brand as an attractive, helpful person who has some pretty curious stories to tell.
Your social media strategy
Brand strategy and social media strategy are two different things, and you'll need to approach them individually yet consistently. What are your goals and KPIs, who you'll be talking to, how you'll differentiate from the competition, which platforms you'll be available in, what you'll say in how many different ways, and some other questions need to be answered in your social media strategy.
Be ready to scale
Not only imagine but believe that you'll succeed and have meaningful conversations with lots of prospective and existing customers, help them when they need support and generate leads that will grow your business further. It would be wise to have a general idea of future needs and lay the foundations for scaling before the need presents itself.
What Are the Dos and Don'ts When Using Social Media for Business?
Now that you have a social media marketing strategy for your business and generated some interesting content ideas, it is time to make it work. Here is a mix of top 10 do's and don'ts when using social media for marketing purposes: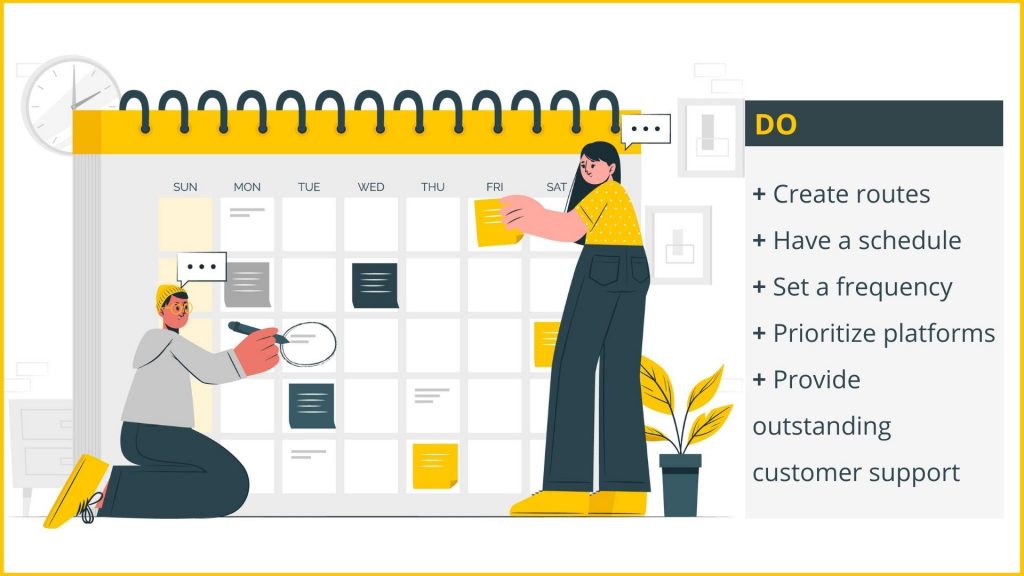 + DO create routes.
There are many ways to communicate your messages to specific audiences through different media. Having different content routes provides you with more opportunities to tell engaging stories and minimizes the risk of repetition.
– DON'T make silly mistakes.
Having a second eye read through your posts, or at least using a document with grammar and spell checking, can be really beneficial. Typos are occasionally understandable but don't let bad grammar or inappropriate timing make you famous.
+ DO have a schedule.
When you begin something new, you want to work on it, and you can't stop thinking about it because your brain constantly tries to complete the picture. But even if you find some answers or come up with ideas, put them on a schedule and avoid flooding your timeline with all you have.
+ DO set a frequency.
Posting something every day can be desirable but not achievable. Use your assets and energy productively and strategically. Optimize your frequency according to the long run and try to sustain it. Twice or three times a week works for most industries, but if you have lots of original content to share, a more frequent publishing schedule works as well. Just don't bombard and annoy your followers with too many updates.
– DON'T only sell things.
Try to provide value and engagement instead of putting a price tag on everything. While every post and interaction conveys a message about your brand, they shouldn't always communicate sales and offers but your brand's deeper personality. Try to engage with your audience and evolve your relationship through understanding.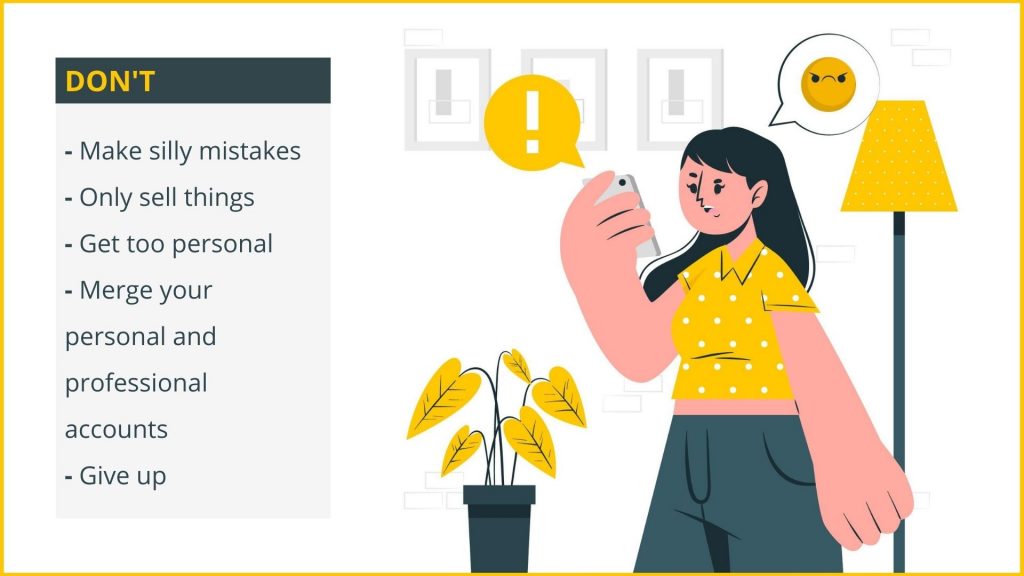 – DON'T get too personal.
Having a personality doesn't mean that the brand is a person. It doesn't have emotions or opinions, and neither you nor should your customer-facing team get emotional under stress. Don't take every piece of negative comment personally and try to turn them into wins instead.
+ DO prioritize and utilize platforms.
You might want to use every platform for the same purpose, but some are better suited for specific messages to different audiences. Focus on the platforms where a larger portion of your target audience spends time and try to improve your services there. Sparing some time and resources to experiment on new social networks can generate new leads though.
– DON'T merge your personal and professional accounts.
Constantly sharing your business updates on your personal account is like spamming friends and family. Keep it limited to occasional reminders with only the best of the best content. Also avoid commenting on your brand posts with your personal account. Leave praising your products or services to your customers.
– DON'T give up.
Several pieces of content and some interactions won't be able to get you thousands of organic followers or customers immediately. First of all, algorithms don't really work that way. You'll probably need some paid advertising to be seen. Second, you'll need to stick to your schedule, optimize if required, and endure. The first six months may be a bust, the first year may be slow, but you'll get there soon enough with smart moves and constant attention.
+DO provide outstanding customer support.
Many brands market their products or services on social media, but those who provide exceptional customer support through different channels stand out. Creating great brand experiences for the customers, regardless of the communication channel, improves awareness and generates leads in the long run.
How Juphy Helps You to Manage Social Media Engagement Effortlessly
Juphy is an advanced, multichannel customer service tool, designed for social media-focused teams. The unified inbox enables you to manage all your customer queries including email, social and reviews. Besides being easily integrated with all the social media platforms you currently need, it also offers social listening on your social media accounts.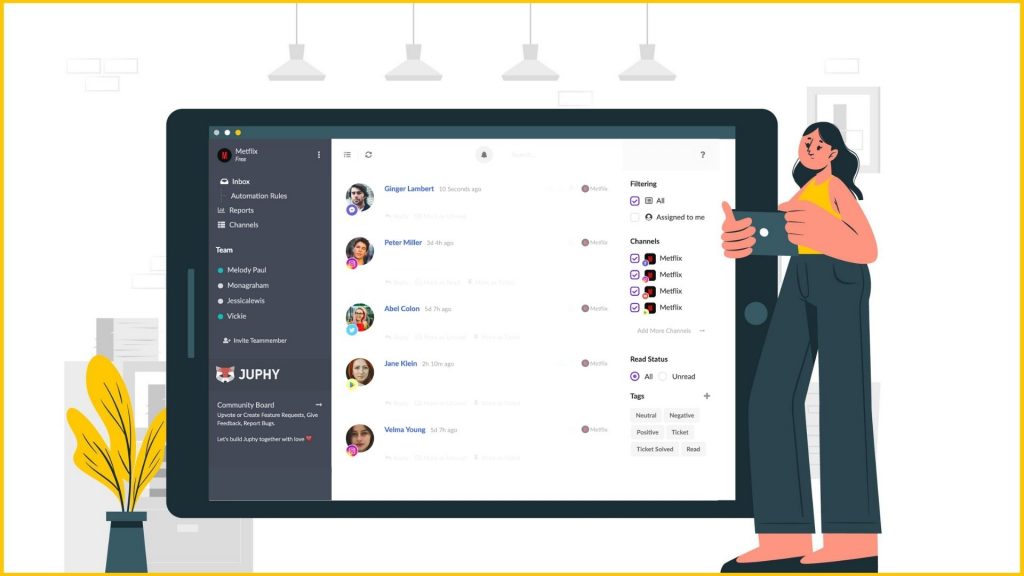 Juphy ensures that you provide fast and reliable customer support by collecting all social media messages to a single dashboard, so you can assign tasks to team members and collaborate easily. Saving tons of time with features like automation rules, real-time notifications, and canned responses, Juphy also provides actionable reports for you to make better decisions and improve your services.
Last but not least, do try Juphy for 7 days for free and get ahead of your competitors by providing expert-level customer satisfaction.
Create Your
Social Inbox Now
Manage all social media customer support inquiries in a unified inbox.
Related Article