Introduction
The 21st century is an interesting time when the distinction between physical and digital has almost disappeared. Even many consumers who prefer visiting stores over online shopping do detailed internet research before making decisions. Finding reliable information and attentive customer service on their preferred channels is essential to a consumer's brand selection. Seamless information flow between different channels leads to a better omnichannel customer experience.
"Omnichannel" is a marketing approach that allows customer interaction on multiple channels. It involves in-store experience combined with efficient engagements on several digital touchpoints, which lead to including customer service. More communication channels create awareness, leading to more traffic and ultimately boosting sales. Providing the same attentive care through all communication channels is essential for brand integrity. 
What Is Omnichannel Customer Service?
Besides in-store interactions, a customer can communicate with a brand through various channels such as call center, email, comments or reviews, live-chat either on the website or social media, WhatsApp, etc. This approach makes all the platforms and channels a touchpoint where a brand can advise and assist its current and prospective customers. Integrating all of these in a seamless network of touchpoints and devices creates consistency for the brand and great experiences for the customers, regardless of the communication channel.
Traditional customer service usually involves a helpline and a generic email address for support. With an omnichannel support approach, a dialogue can start on a social media platform, move on to emails and end with an SMS for feedback or an offer for the next purchase.
Let's create a scenario to understand omnichannel customer engagement better.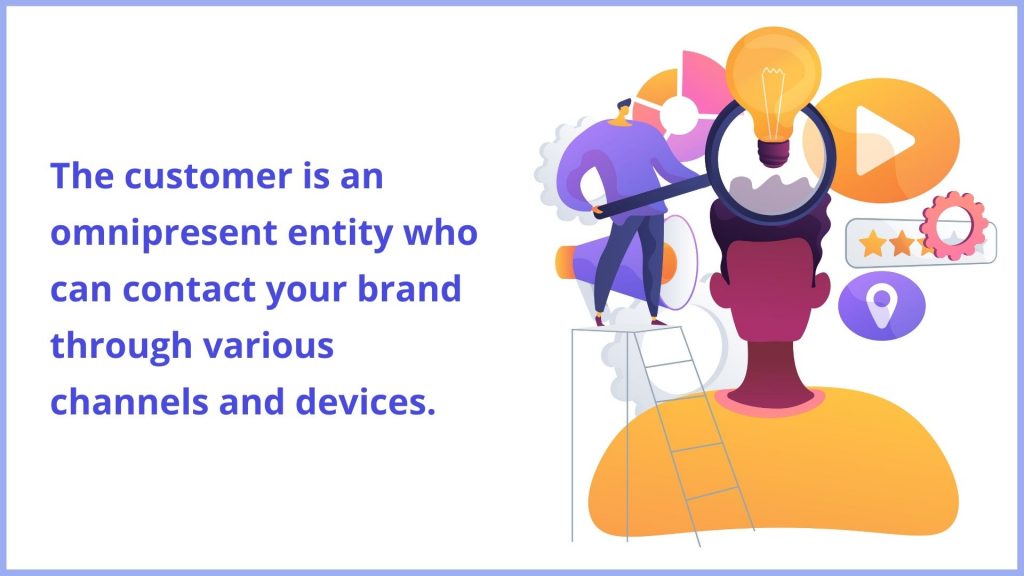 Omnichannel Customer Service Examples
Jane wants to buy Bluetooth headphones. She has several features on her mind, considers a couple of brands, and looks for a bargain because she's on a budget. She checks the models on online stores, makes comparisons, takes notes, and even asks her followers on Twitter for suggestions. Jane ends up with two brands that meet her needs. She visits the websites of both of the brands to make a more informed decision and also surfs through review sites and social media to find out more about their after-sales services and reliability. After gathering tons of information, she decides to visit the store and try the headphones for herself. After all her previous considerations, Jane purchases one of the headphones, taking the seller's recommendations into account.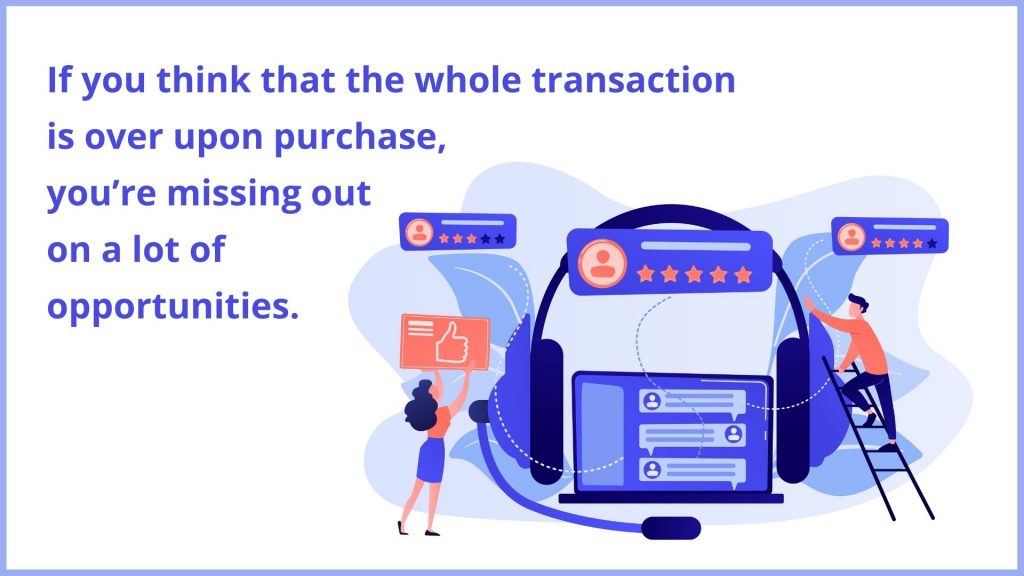 Now the brand has Jane's contact information. This brings the opportunity to open new communication channels, such as sending customer surveys via email to know her better or SMS notifications for special offers.
The third part of omnichannel customer engagement is after-sales services. When Jane fails to connect her headphones to a specific device and seeks further assistance after looking for a solution on the internet. She doesn't like waiting for an available call center agent on the phone, so she decides to send an email instead. Being already on Facebook, she visits the brand's page for contact information and realizes that it offers live assistance via Facebook Messenger. An agent attends to her needs in seconds, maybe sends a video tutorial from the brand's YouTube channel during their conversation and without further ado, provides an effective solution. If the solution requires delivering a new pair of headphones to Jane, the agent contacts the relevant parties to start the procedure and notify Jane via email or SMS about the following steps. Jane ends the conversation by rating the service and maybe writes about her experience on a review site.
What Are the Potential Benefits of Omnichannel Strategy for Customers?
We covered several neatly integrated channels in three paragraphs but providing flawless customer engagement requires meticulous planning and management. According to Jane, the brand delivered consistent quality both in purchasing and service on all her preferred channels. It was like communicating with the same person throughout the process while a complicated and highly collaborative system was working in the background.
But why build an intricate omnichannel system if it means more workload? Well, because it's advantageous and using tools like Juphy makes it much easier to manage interactions and offer omnichannel customer service.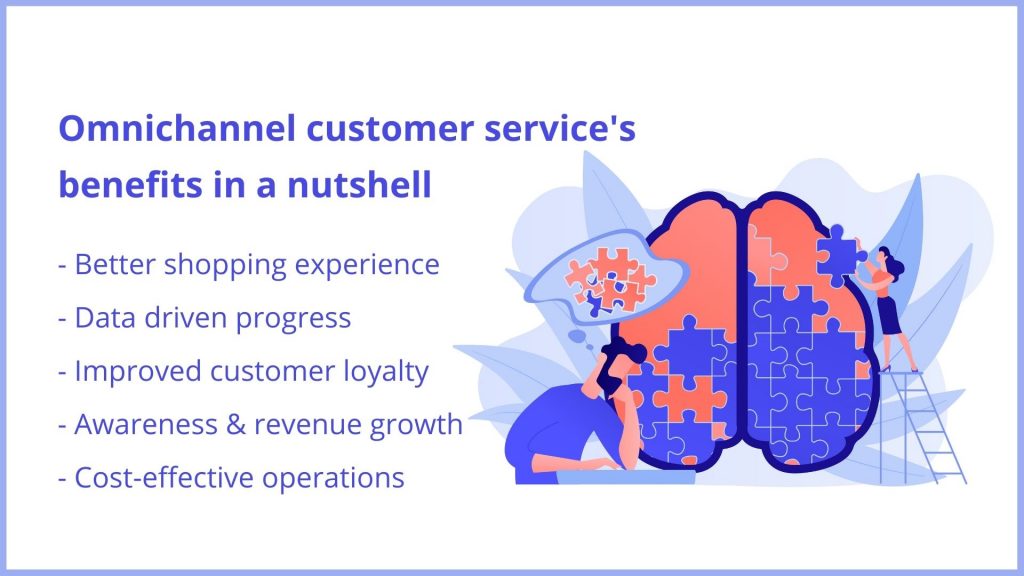 What Are the Main Benefits of Omnichannel Customer Service?
Better shopping experience for customers: Providing the customers with more convenient shopping options and delivering a single brand experience in all touchpoints improves reliability and customer satisfaction.

Data-driven progress: Gathering relevant data from several channels helps brands gain more significant customer insights and tweak their operations according to customer needs. On the other hand, anticipating customer needs can lead to product innovations and customized services.

Improved customer loyalty: A brand reminding itself to its customers from time to time and being in the right place at the right time to offer help works for building customer loyalty. A happy customer can even recommend your brand to others and contribute to your customer acquisition efforts.

Awareness and revenue growth: As mentioned before, being active on various channels improves awareness. Add more purchasing options and faster customer service to this mix, and you'll get better customer acquisition results with increased sales.

Cost-effective operations: Adopting an omnichannel approach may look costly and time-consuming, but in fact, it's the opposite. Omnichannel in customer service allows you to streamline the operations and address a diverse audience's needs faster. Instead of dedicating all your agents to phone calls, you can create an FAQ for self-help and allocate a small team for taking care of all the written communication.
How Does Juphy Help You to Provide Omnichannel Customer Service?
Juphy is a top-rated social media customer service tool that helps you manage the written queries of customers, including email, social media, and reviews, on a single dashboard. With its user-friendly design and collaborative CRM features, Juphy helps you manage the internal teams and external customer engagements in a cost-effective manner.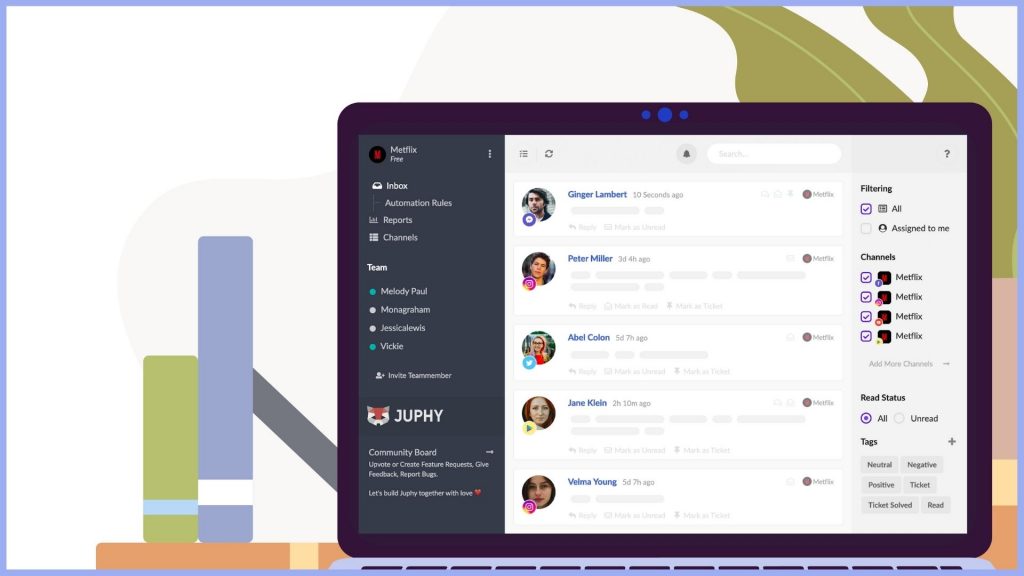 Features of Juphy that makes it a great omnichannel customer service tool
Multichannel help-desk: Track and respond to all your customer engagement from Facebook (Facebook page and group comments, Facebook Messenger, ads comments), Instagram, Twitter, LinkedIn, YouTube, Google My Business, AppStore, and Google Play Store on a single dashboard.

Respond in record time: No need to switch between platforms or accounts. The social inbox shows all the interactions from the chosen channels, tagged and classified automatically for you to observe and engage, right from your unified inbox. With a neatly organized ticketing system, you can also save time with canned responses and prioritize more urgent messages.

Real-time collaboration: Discuss issues with your teammates behind the scenes and deliver the perfect response to your customers in real-time. It's like having a team collaboration app inside a CRM tool.

Improve productivity: Some channels may require more attention than others, and some teammates are better suited to manage specific interactions. Track the overall performance through different channels, as well as individual message distribution in the reports section, and make data-driven improvements.

1-Click setup: Juphy is not only extremely easy to use, but it also takes two minutes to set up. Click here to start your 7-day free trial (no credit card information needed) and enjoy successful omnichannel customer interactions.

Just S
President + Founder, Small Business
"Juphy's interface is really clean and intuitive. It supports all of the important social platforms. The ticketing system is really well organized and it is easy to assign tasks, emails, and tickets. Good number of reports. Love the agency features which are well thought out and simple to use. The single omni-channel dashboard for everything is beginning to be very beneficial to our systems. Getting setup is a snap."