Social media has no doubt become one of the most convenient ways businesses share and connect with customers globally. It has also become a great influence on consumer behavior.
Not convinced?
Did you know that 48% of Americans between 18 and 34 have bought a product from social media?
Surveys also show that 49% of consumers between 18 and 29 buy something online because of a social media ad, and 70% of customers expect companies to provide customer service via their social media channels.
It's little wonder why most marketers today have embraced social media platforms to engage with their clients and showcase their products/services to prospective customers and their social audience.
With this spike in social commerce and online shopping activities, how can you manage to boost your social media engagement, post quality content frequently, and provide exceptional customer service on social media?
This blog post will show you how.
Create Your
Social Inbox Now
Manage all social media customer support inquiries in a unified inbox.
What Are Social Media Engagement Management Tools?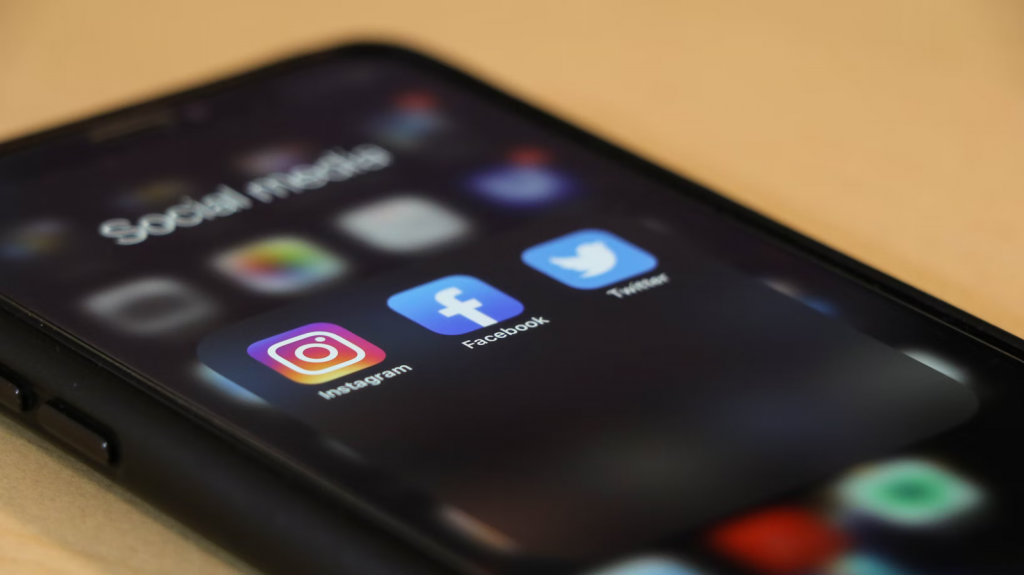 Social media engagement management tools are modern technology or software that provides companies with an easier, streamlined, and fast-tracked way to manage their social media engagement.
Most companies have a social presence on the most popular social media apps. Depending on your type of business, you can find many businesses active on Facebook, Twitter, Instagram, Pinterest, and even TikTok.
It's understandable.
Businesses want to be where their consumers are, so they can interact and engage with them better. Social media engagement management tools help marketers stay organized, save time, and boost their social media efficiency.
What Is the Best Way to Manage Social Media Engagement?
The problem with managing engagement on social media platforms is that doing it efficiently consumes a vast amount of time, especially if you want to see positive results.
You'll need to devote a lot of time to various activities such as managing your different accounts, interacting timely with your audience, responding to DMs, and creating and posting exciting content frequently.
Some of the social media management processes also become too repetitive, which leads to a lack of productivity and engagement among employees. To ease the social media management burden on your team, here are two of the best ways to manage social media engagement:
Use Free Tools to Measure Social Media Engagement
Social media engagement management tools come in handy to track audience engagement on social media. They steer you in the right direction and point your focus toward important social media metrics that you need to monitor to improve your social media marketing strategies.
Some of these tools also provide marketers with a concise overview of all social media accounts you manage so that you don't have to sign in to so many apps to keep an eye on your audience engagement.
Most social media engagement management tools also help you automate essential but repetitive tasks that may be time-consuming and energy-draining.
Work with the Social Media Platforms' Analytics
Many social media platforms like Instagram and Twitter thoroughly analyze how users engage with your accounts. Although some engagement management tools also provide you with social media analytics, working with insights directly from the social platform can also help you save time.
At a glance, you can identify what is working and what needs to be improved. You can find engagement analytics per post, follower demographics, type of content, and more without the need for any third-party apps or websites.
This is useful for marketers to make on-the-go decisions about their social media marketing strategies when needed.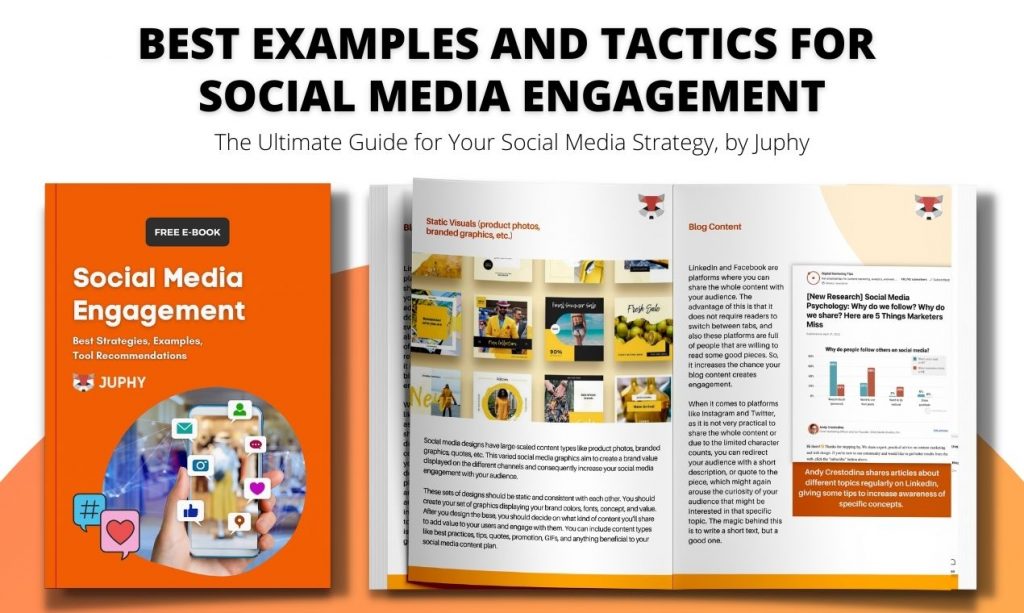 Download your free copy of Juphy's Social Media Engagement E-book here.
5 Useful Social Media Engagement Management Tools
You no longer have to lose clients because you can't keep up with social media engagement on all your social accounts.
Here are some of our favorite free tools to measure social media engagement to help: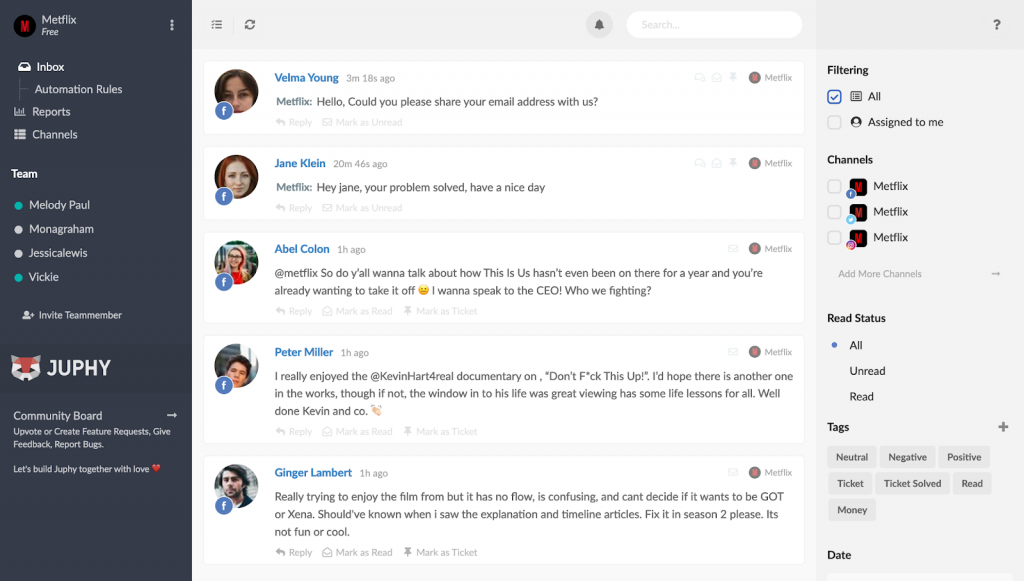 Juphy is a top management solution for social media engagement because of its unique features for social media teams, marketers, and executives.
Juphy helps you streamline social media conversations and support requests from your audience, all from a single, Unified Inbox. You can now monitor and reply to comments, direct messages, mentions, emails, and more from a single dashboard.

Just S.
Founder, Small Business
"The user interface is really clean and intuitive. It supports all of the important social platforms. The ticketing system is really well organized and it is easy to assign tasks and tickets. Good number of reports. Love the agency features which are well thought out and simple to use. The single omni-channel dashboard for everything is beginning to be very beneficial to our systems. Getting setup is a snap."

Asides from Juphy's unified inbox, it helps with team collaboration such that team members can collaborate on customer inquiries in real-time from one space. Its Ticketing feature ensures no task or support request goes unattended. You can prioritize, categorize, and assign tickets to team members both automatedly and manually.
Unique Value: Juphy's Performance Reports feature gives you a charted overview of how your customer support is performing through insightful metrics such as average response time, the number of messages and tickets attended to, best performing social channels, etc. Useful statistics like these help teams identify how and where to improve their engagement strategies.
Cons: One minor drawback to using Juphy is that it currently does not have chat-bot integration features for teams that would like to have one. Thankfully, this feature is on Juphy's product roadmap, so it'll be available to users soon.
Pricing: Juphy is affordable for all teams, large or small. It has two pricing options; Starter ($20 per user monthly) and Growth ($36 per user monthly).
To try out Juphy for your engagement needs, make the most of this 7-day free trial!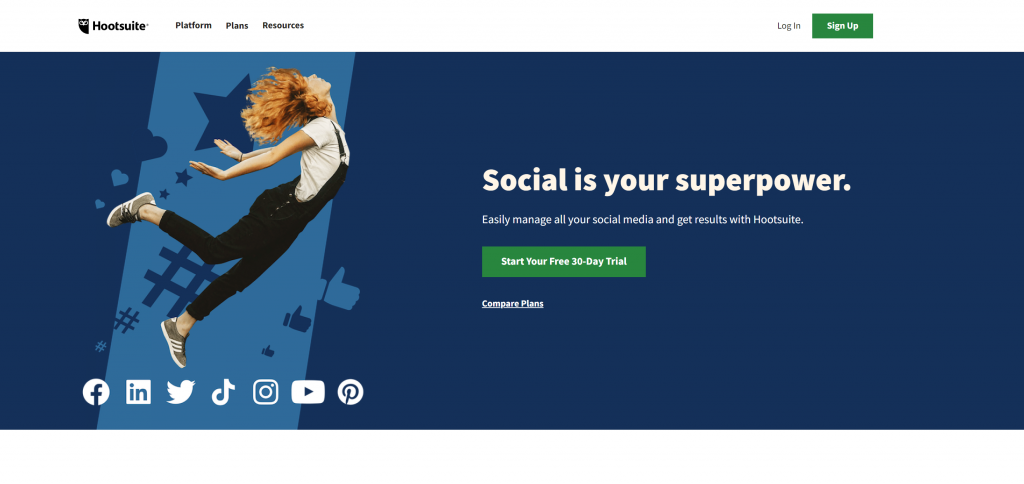 This is another well-known social media management tool with useful features to manage your social media and get results.
Hootsuite helps you save time with its scheduling feature that allows users to schedule posts on all social media accounts they own in simple steps. With this scheduling feature, your content upload becomes automated so that you can make more time for other necessary tasks.
It also helps you stay updated with all conversations around your brand, including mentions, comments, messages in your inbox, and more, helping you connect better with your audience. You never miss any details by connecting all your social networks to Hootsuite.
Other essential features Hootsuite provides include its Social Analytics feature to track post and team performance and its advertisement tool that helps you make impactful ad campaigns.
Unique Value: Hootsuite's bulk-schedule feature is easily one of its most-loved features. Every marketing team loves a tool that takes care of social media content, helping them make time for more important work.
Cons: Some users have complained about Hootsuite's mobile app flexibility; however, its comprehensive and easy-to-use web platform makes up for this.
Pricing: Hootsuite has four different plans to choose from — Professional ($49/mo), Team ($129/mo), Business (739/mo), and Enterprise plans. You will need to contact Hootsuite for a custom plan to get a price for the Enterprise plan.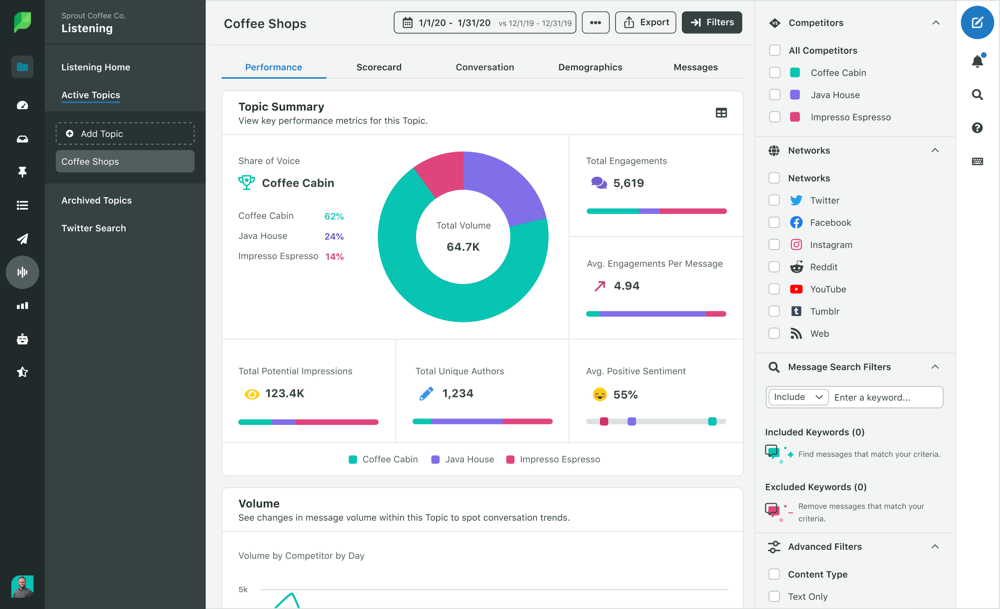 Like many social media management tools, Sprout Social provides you with social media scheduling tools to help you improve your marketing strategy and take charge of your social content.
It also provides monitoring and analysis features that give you actionable insights to understand your audience better and interact with them where they like.
Unique Value: Sprout Social is one of the few tools that provides Customer Relationship Management features to help you build profiles of all your customers. With this feature, your team can easily access useful and accurate information about your customers to help you serve them better and more quickly.
Cons: The only noticeable con to using this platform is that support can sometimes take a while to respond, but the tool has provided a section with resources to help if you ever need it.
Pricing: Sprout Social has three Plans for users and comes with a 30-day free trial. Its Standard plan starts at $89 per month, while the Professional and Advanced plans start at $149 and $249 per month, respectively.
Buffer (Buffer Engage)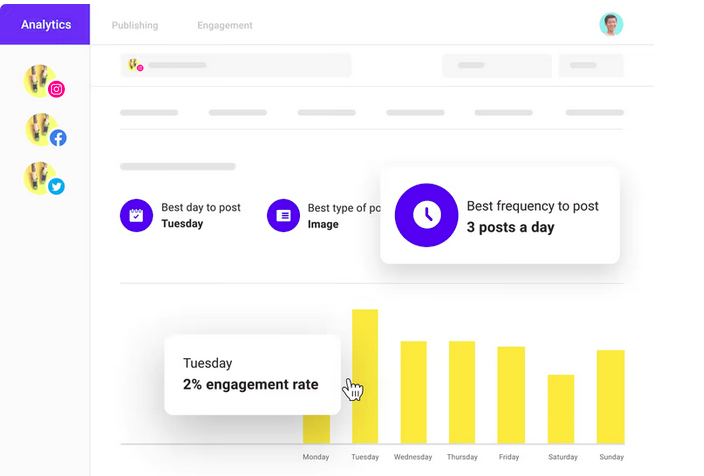 If you're looking for one of the most easy-to-use content scheduling social media management tools, then you should try out Buffer. It has advanced yet simple post-scheduling features. It can even allow you to schedule retweets on the full version.
Buffer has a clean and simple interface to help you queue posts to share on your various social media platforms, and users can integrate an RSS feed allowing them to publish posts from blogs. The tool also integrates with Reply, giving you access to an inbox for all social media accounts you own so you can reach consumers and customers in record time.
Unique value: Buffer shows you how your social media accounts perform with its Analytics feature in just a few clicks. It tells you what works and what doesn't so you can create better content.
Cons: Buffer can only cater to a limited client management support, but its content management features still top that of many platforms.
Pricing: Buffer has free and paid plans. The paid plans start at $5 per month per social media channel and go up to $100 per month for ten social channels.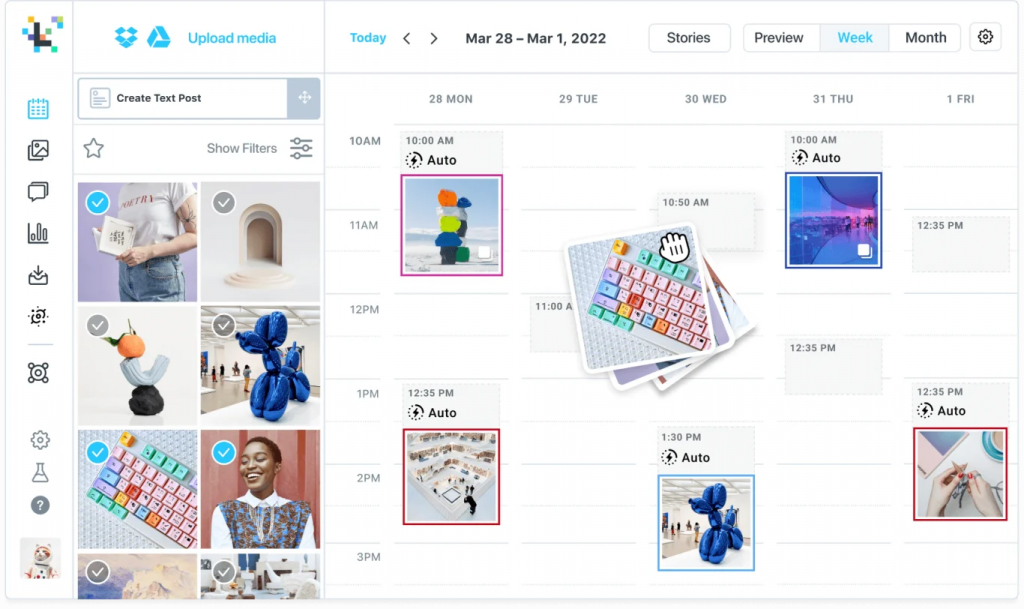 Later is an exceptional visual content calendar and scheduler that helps you manage your Instagram social media engagement seamlessly.
Although it does not have a shared inbox like similar tools, its analytic features provide you with useful insights to help you improve your social media strategy. Later is quite outstanding when it comes to supporting social media managers plan out content for Instagram aesthetically; the tool also now incorporates other social media channels such as Pinterest.
Unique value: Later is a visual-first platform, and so it's prepped with all the tools you need for a phenomenal-looking feed. It's also built for sharing, no matter the type of content — photos, videos, and stories.
Cons: Later accommodates fewer social media platforms than other social media management tools.
Pricing: Later has a free version and paid version. The Starter plan starts at $15 per user monthly, while the Growth plan starts at $25 per user monthly.
Benefits of Using Tools to Manage Your Social Media Engagement
There are many advantages to using tools to manage your social media engagement. Not only are they effective social media tools for employee engagement, but they also help your business gain a competitive advantage over others on social media.
Social media management tools help you:
Keep up with social media interactions through centralized messaging dashboards.

Manage customer requests and solutions, helping you easily identify their location in a sales cycle.

Improve and streamline team collaboration.

Monitor keywords and conversations that are relevant to your brand everywhere on social media.

Save time by scheduling and automating posts with a well-planned content calendar.

Analyze your brand's performance on every social network to help you make changes where necessary.

Identify customer support lapses and iron out issues that may affect your marketing strategy.
Final Thoughts
Social media management can become a tedious chore for marketers and teams, with the variety of tasks needed to keep up with audience engagement. Thankfully, you can manage your social media engagement with the tools we've highlighted in this article. Each of these tools has unique and valuable features that cater to your business's specific needs. Use social media tools for collaboration and engagement with your audience to connect with them better and improve employee productivity. Ready to take your engagement to the next level? Get started with Juphy today.
Create Your
Social Inbox Now
Manage all social media customer support inquiries in a unified inbox.
Related Article – Social Media Engagement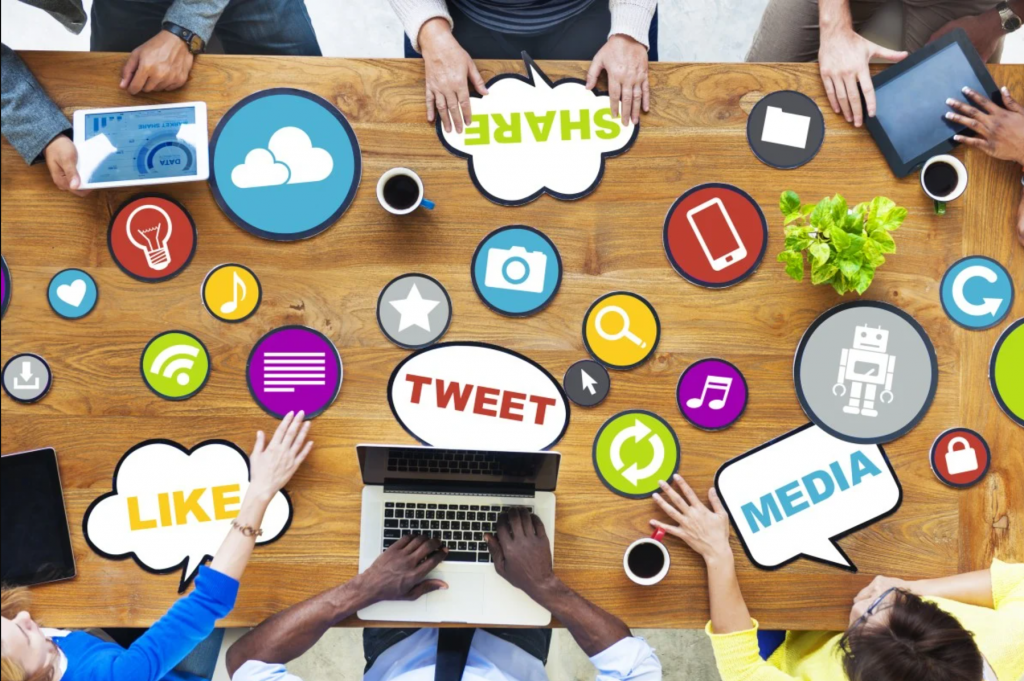 Your business needs a solid social media engagement strategy to succeed. This guide will provide you with all the tips & tricks you need. Read more.