User engagement, or customer engagement, is one of the most compelling ways to track your business growth and conversions. However, engaged users do not appear overnight. You need to cultivate a lasting and meaningful user journey using your brand's voice, content, and mission. There are many possibilities to close the deal, but there is no doubt that user engagement is essential for brands to build loyalty and authority in their niche.
With a dynamic and strategic customer engagement method, you can improve each connection, meet the users' needs, answer their questions, and reflect their uniqueness with your products.
User engagement strategies allow you to acknowledge customers as individuals, not merely an icon on a screen or a tracking ID and ultimately build a loyal customer base who return to your brand and recommend it to others.
In this article, we will take a look at what user engagement is, how a good engagement strategy helps your business, and the best practices to improve your engagement rates.
Create Your
Social Inbox Now
Manage all social media customer support inquiries in a unified inbox.
What Is User Engagement
User engagement is the cornerstone of digital marketing and is based on customer interactions across various channels, from email to social media platforms. For brands, it serves to increase customer loyalty and improve the unified customer experience. For users, this engagement is volatile. It can improve and diminish with each interaction.
However, the unchanging goal of user engagement is the same for all businesses: to keep users returning to their products and services. In other words, user engagement aims to build long-term relationships and ensures customer satisfaction, so they return for more when they need to solve their problems.
Although this engagement can take place offline, most companies define an ideal customer journey through their online channels because of the expanding nature of their target audience's online presence.
User engagement is a great way to build an emotional connection with the customer and the brand and includes many benefits. Let's take a look at how good user engagement affects your business.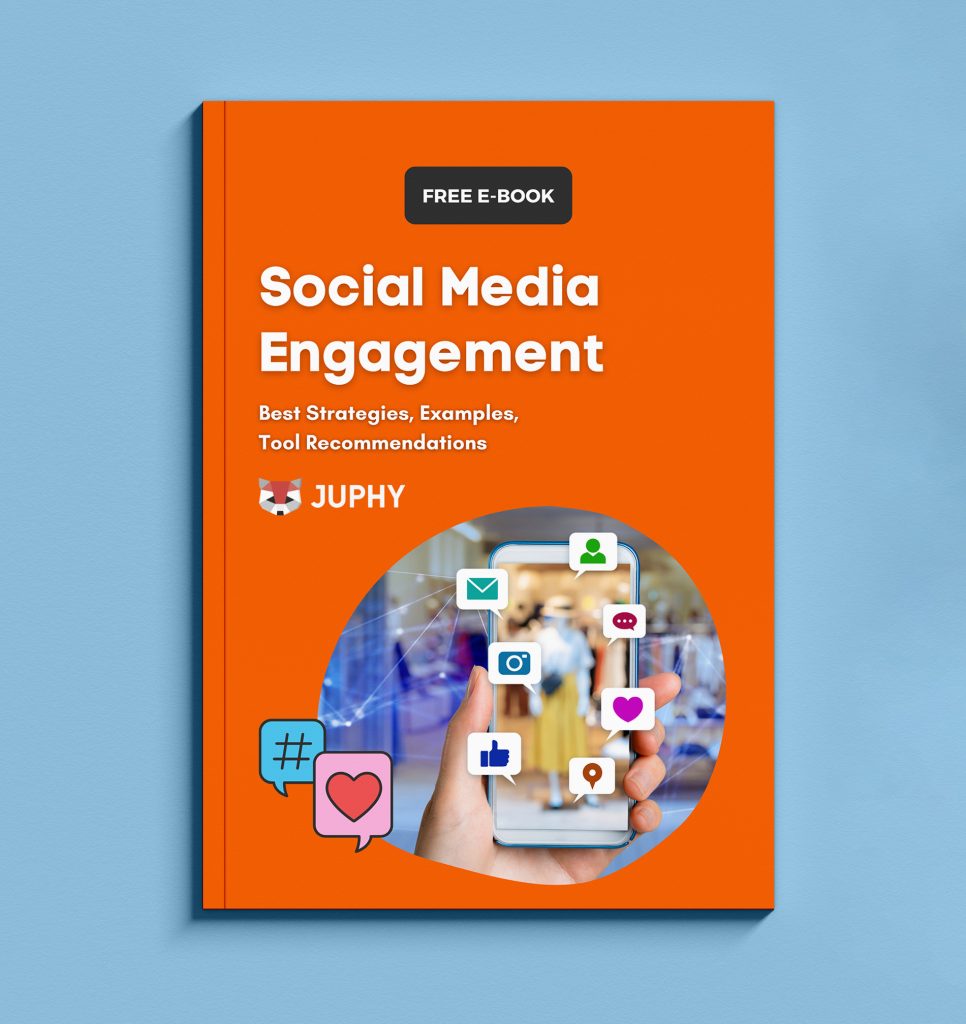 Social media engagement is also an important part of user engagement. You need to monitor and manage your content's engagement as a business. This guide will provide you with all the tips & tricks you need. Download it for free now!
Why User Engagement Matters
You want your brand to be at the exact place where your target audience is to offer immediate help whenever they need it. However, being omnipresent on all platforms can be exhausting despite having a customer team, and you might end up spreading yourself too thin and fail your business goals.
User engagement strategies take the pressure off your team and streamline the interactive process without losing that special human touch. These strategies introduce value beyond the scope of your product and keep them around for a longer period with relevant content specifically tailored for their interests, pain points, and search intent.
Here's what an effective user engagement strategy does for your business:
Encouraging Word-of-mouth Marketing
Building strong customer relationships does not happen overnight, and you cannot expect to win thousands of loyal customers in a short period of time. Nevertheless, this does not mean that you cannot accelerate the process.
Ensuring the quality of your product, addressing and answering customer questions, onboarding potential customers with a seamless trial experience, and creating inspiring content can help build trust and turn regular customers into satisfied customers.
Satisfying user experience leads to happy customers, and happy customers mean growth. To put it from a different perspective, as long as you offer value and adapt your business according to user interests, these users will voluntarily recommend your products and services online and offline to their families, friends, and colleagues. This is called word-of-mouth marketing.
Loyalty
Perhaps the most important effect of user engagement on your brand is loyalty. Customer loyalty is the best indicator that your company delivers what it promises and delivers in the best way possible, outranking your competitors.
Educating your customers about your products and services, encouraging them to use your features, creating content around their interests, countering their objections by highlighting your benefits… These factors convince people of your authority and extend the average customer lifetime because you will continue providing value, so they will engage with your brand more and repeat their transactions.
Better Knowledge of Your Customer Base
You might be satisfied with the number of current customers your company has. However, these numbers do not translate into insight about your customers most of the time. Customer engagement strategies support your actions with insightful data about your existing and prospective customers.
An effective user engagement strategy increases the number of touchpoints between you and users and improves customer retention. Customer engagement strategies develop your marketing strategy by adopting a customer-centric approach, so you get to know your customers' needs, wishes, problems, and interests better.
This knowledge allows you to create personalized and interactive content, like polls, quizzes, or videos, so you can stay up-to-date with their behavioral patterns and deliver an exceptional overall customer experience.
Boost Sustainable Growth
When you build customer relationships with a user engagement strategy instead of discounts and freebies, these connections become more memorable and durable because they stay to interact with your brand, not to get a quick and short-lived value and vanish. Investing in an effective customer engagement strategy welcomes active supporters and engaged customers, so your company will grow much easier because they will keep coming back for the experience.
After establishing a strong customer engagement strategy, you will find it easier to expand your customer base and retain customers on a better scale. Furthermore, you will better grasp what benefits appeal to users more and highlight these aspects of your business.
So how can you plan the perfect user experience strategy?
Here are three steps that will help:
3 Steps to Create A Better User Experience Strategy
You may miss the opportunities to connect with your audience and build a meaningful relationship without a user engagement strategy. Although there is no set-in-stone method that works for every business or every niche, a holistic approach of empathy, communication and clarity form the basis for most customer-centric activities.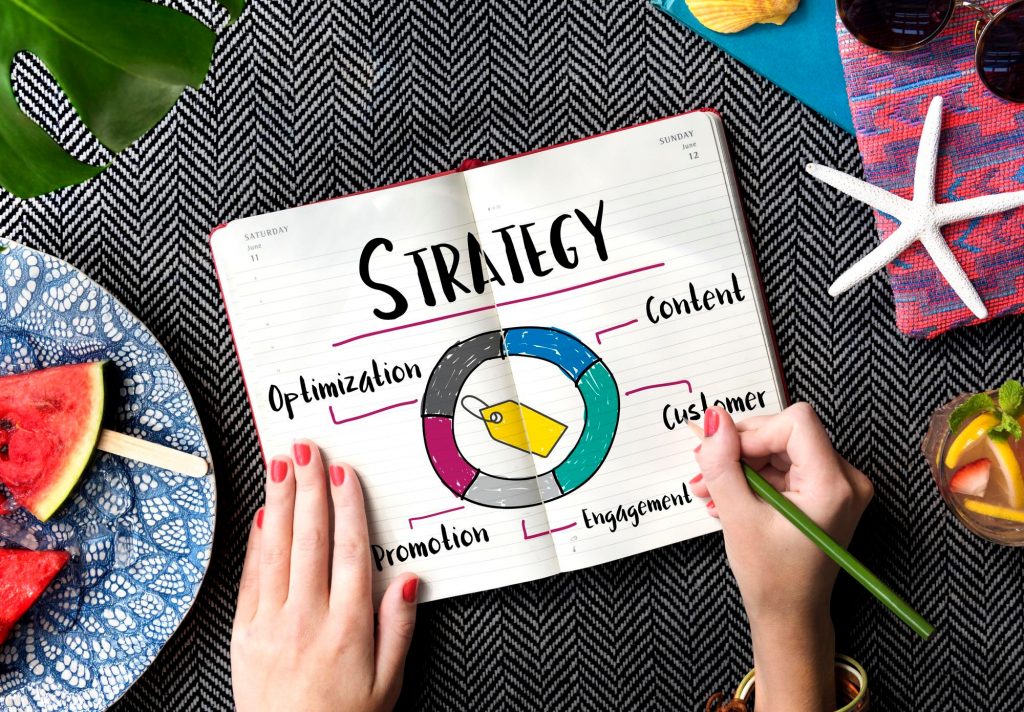 Here are three fundamental steps to creating effective user experience strategies:
1- Research and Set Goals
While setting goals for your company is encouraged by almost everyone, setting achievable and measurable goals is usually overshadowed. The road to success begins with S.M.A.R.T goals. First proposed by George T. Duran in 1981, S.M.A.R.T objectives refer to specific, measurable, assignable, realistic, and time-related goals.
What does this mean for your user experience strategy?
Start thinking about why your business needs a better user experience method. Write down a clear roadmap: What does engagement mean for your business? Which platforms will you use to collect data? How are you going to interpret that data to benefit this method? How long are you going to test your strategy before making any changes?
Answering these questions and collecting data from customers via surveys and other channels will give you a clear direction and perspective before you start your campaigns and keep them within your budget, time frame, and niche.
2- Analyze
Once you collect enough data from different channels and identify what kind of engagement is occurring in your business, it is time to analyze them using net promoter score (NPS), customer satisfaction score (CSAT), sales, and customer effort score.
3- Repeat and Adapt
After analyzing data, you are ready to put your insights into practice and repeat the process. Adapt your methods as you discover new findings and perform regular analyses to take updated actionable measurements.
5 Best Practices to Increase User Engagement
Your customer engagement strategy should reflect user journeys: It should act as an all-in-one solution to recapture disengaged customers and align with their interests. You should address common concerns, deliver valuable content that will increase the number of engaged users, consider where your target customers are, and tailor content according to their level of awareness to increase your engagement rate.
What makes a brand memorable? Surely, it is not their flash sales or discount coupons. It is their story and brand voice.
People do not want to feel like another number or user name to companies. They demand sincerity, and stories are the perfect way to demonstrate "the human side" of your company. Strengthening your brand voice differentiates you from other companies, and stories help spread your brand's message to people.
Social media is the centerpiece when it comes to creating a brand with personality. Incorporating social media engagement into your strategy makes it easier to establish a customer-centric approach. Reflect and express your customers' struggles, frustrations, and wishes and form a story centered around their experiences, ultimately proving your expertise. Use social media posts to encourage them to be authentic so they believe in your company.
2- Create Personalized Content
As we mentioned above, people find it easier to connect with brands that treat them like actual individuals instead of anonymous numbers or cash-generating sources. Therefore, providing the best personalized experience that acknowledges the users' uniqueness is important.
The most efficient method to ensure such a connection is through creating personalized content. Generic, copycat experiences are doomed to be forgotten, and so is the brand associated with the experience.
On the other hand, listening to your audience and curating a personal customer experience show that your brand is actively listening and ready to take necessary steps to accommodate users' needs. You do not need complex software to achieve personalization. In fact, simply asking how you can help is a good starting point.
You can also send quizzes to your customers to learn more about their preferences or integrate a form to fill out their user profiles. That will help you recommend products and services based on their interests, but remember that some people do not feel comfortable doing these activities, so don't be too pushy.
3- Meet Your Customers Wherever They Are
A significant portion of user engagement happens if you use the right channels with the right content. There is no meaning in shouting the success and quality of your brand on Facebook if your audience is on Twitter (if they are on social media at all). So you must place your content where your customers will see it.
Is your target customer already on your website and ready to make a purchase? Great, then introduce them to your service with a rich contextual onboarding experience that will immediately meet their needs with personalized timing.
Are they on social media lurking to see how companies interact with their customers before making a decision? Or have they already reached out to you to ask for help? Then, your content must include a "frequently asked questions (FAQ)" section, and you must organize your social media inboxes to help prospective customers in a timely manner.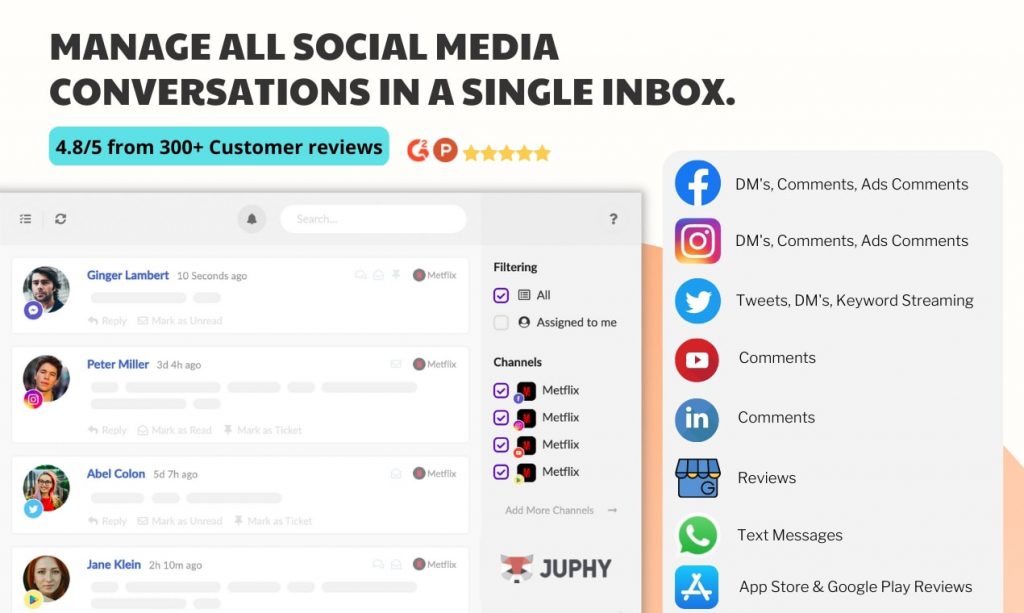 For example, Juphy's unified social media inbox is an all-in-one tool allowing you to operate user queries on multiple accounts and channels with a single click. It saves time and effort and increases efficiency, so the customers know they are your brand's top priority.
You can find the previous conversations with customers and team members using simple keywords, minimize the back-and-forth between teams with a real-time collaboration feature and automate requests based on their sentiment and keywords.
In addition, this tool can track your customer support performance to know which efforts are translating successfully for your users.
In short, your user engagement strategy should consider where and when to meet customers and respond to their requests depending on the channels you are interacting with them. Apart from online interactions, you should also consider offline engagement methods: QR codes on public places are a good example that combines the online and offline worlds, while placing billboards on avenues that get lots of foot traffic is a more traditional path.
4- Collect Feedback
Another powerful way to boost your user engagement rate is by collecting feedback. Customer surveys provide great insight into areas you may not have noticed but require improvement or help highlight well-performing sections to increase the number of new customer acquisitions.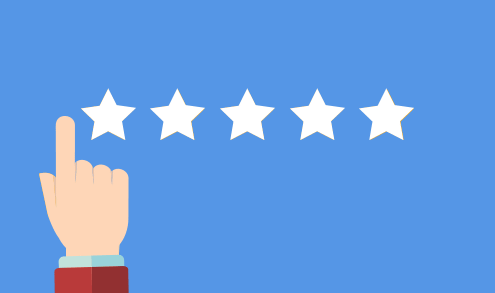 Note how they compare your company with competitors and make it easy for customers to leave feedback. Acknowledge the negative customer feedback you encounter on social media, forums, or via email and use the opportunity to win the customers' loyalty and improve your brand so that your future encounters with the customer go smoother.
5- Use the Right Tools to Improve Engagement
Resorting to the necessary technology and tools to organize and automate your user engagement strategy helps maximize the level of connection with your customers. You can create a seamless experience for users while taking the burden off your sales team's shoulders by automating repetitive tasks. The right tools and technology help optimize personalizing your content and increase growth.
3 Useful User Engagement Tools
1- Customer Churn Tools
As the name suggests, customer churn tools help understand why customers leave your company. Increasing churn can be alarming for any business or niche, so it is best to closely monitor your churn rate to understand why customers become disengaged with your brand.
Customer churn tools to consider:
ProfitWell
HotJar
ChurnBuster
2- Survey Tools
Survey tools are also great for tracking user engagement. You can also use these tools to identify the reasons behind churn and give you insight into how to improve your engagement and communication with the customers and position your product better so that the users can fully realize its value.

Directly reaching out to your customers for feedback encourages active listening so you can improve your product or service based on customer needs. A net promoter score (NPS) is most businesses' go-to solution to assess their business. With UserGuiding's promoter survey, you can measure if the existing customers are willing to recommend your business to their friends, family, or colleagues.
Although NPS is not sufficient to understand user behavior on its own, combined with a promoter survey, you can ask further questions to customers to accommodate their requests better.
Survey tools to consider:
3- Social Listening Tools
Social listening focuses on all kinds of conversations related to your business, including those happening on social media platforms. To understand your customers better and provide them with high-quality content, you need to be aware of the hot topics in your niche, competitors, other products, and support issues. Social listening takes user engagement one step further: Instead of solely depending on numbers, it highlights the sentiment behind words and conversations.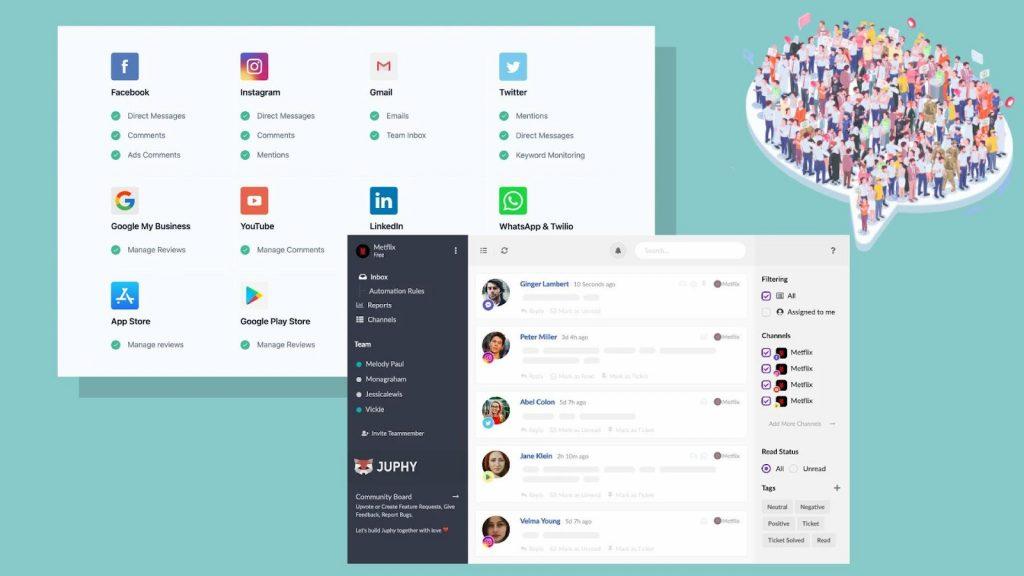 Once you dive into social media's rabbit role, it can quickly become overwhelming. There are many platforms you must keep an eye on and many customers you must help. Disoriented social media management easily becomes a matter of viability, and as a marketer or business owner, you must be prepared to manage customer relationships efficiently.
Social listening helps see customers from a new perspective, improves overall communication, and generates various reports about your brand's receptions. Juphy's social listening tool brings social media platforms like Facebook, WhatsApp, Youtube, LinkedIn, and Instagram, reducing the time you respond to your customers.
Considering that time is money, bridging the gap between your customers and brand is crucial.
Juphy keeps all social media channels' inboxes in one dashboard, eliminates possible communication problems, and improves your productivity. There are two monthly pricing options starting from $20 per month and up to five channels, and you can sign-up for a 7-day free trial to check out its features.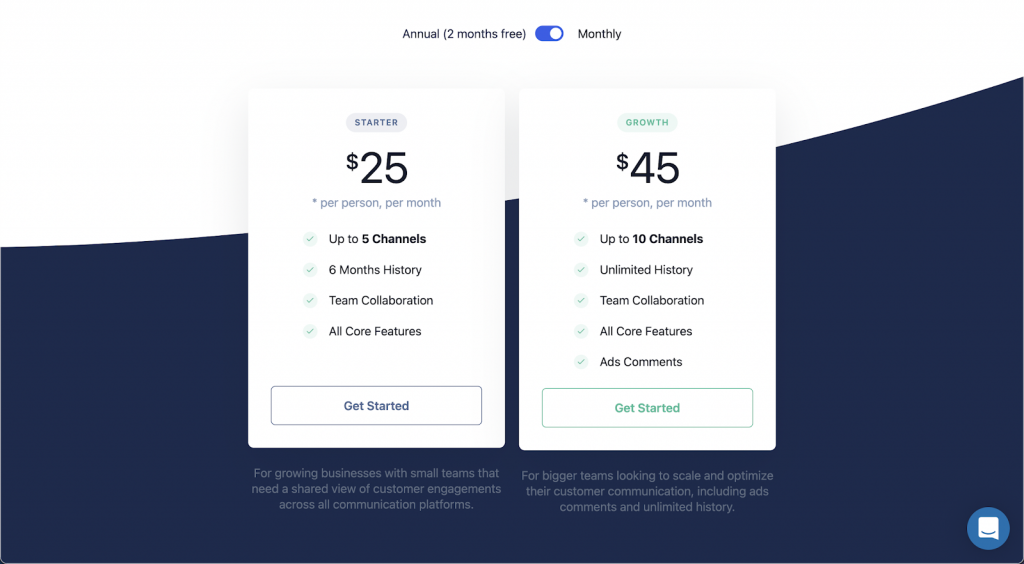 Social listening tools to consider:
Final Words
User engagement involves taking necessary actions to provide a rewarding experience for your customers and warm up target customers to your brand.
Curating personalized content, bridging the gap between your company and users with your voice and story, collecting feedback, showing up at the places where your customers are, and using the necessary tools and technology to automate the process contribute to creating a successful user engagement strategy.
Customer engagement relates to your business growth. As you increase your investment in increasing engagement rates, you will see higher productivity levels from your teams and optimize user interactions across various channels.
Guest Author Bio: Ayşenur is a Creative Content Writer at UserGuiding. She enjoys writing on SaaS, products, and growth for the UserGuiding Blog. Outside of work, you can find her reading a gothic novel or doing crossword puzzles in her room because words are everything to her.
Create Your
Social Inbox Now
Manage all social media customer support inquiries in a unified inbox.
Related Article – Social Media Engagement: The Ultimate Guide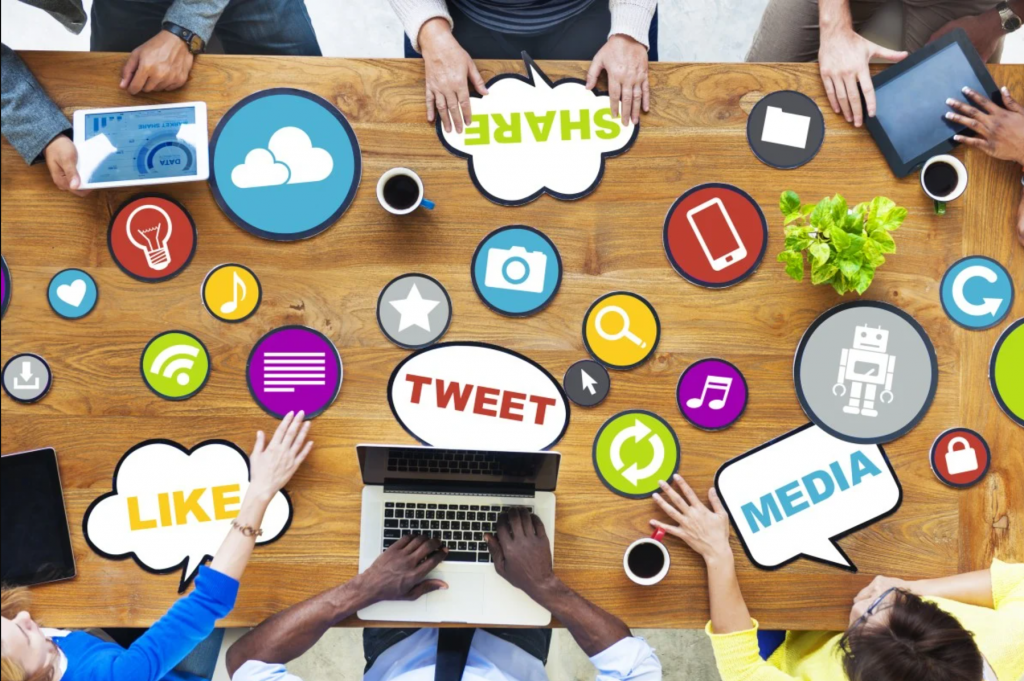 Your business needs a solid social media engagement strategy to succeed. This guide will provide you with the most effective tips & tricks, including tool recommendations. Read more now!