American motivational speaker Zig Ziglar once said: "If people like you, they'll listen to you, but if they trust you, they'll do business with you." This great advice happens to be true. The internet is a low-trust environment, and establishing customer trust online is critical and challenging. In the "Age of the Customer", building trust with customers is essential to boosting loyalty. According to Gartner's research, around 83 percent of consumers say they will not do business with brands they don't trust.
Customer trust is conditional on a company's mastership to form an emotional connection with customers by tapping into the human experience and displaying sensitivity, honesty, transparency, and dependability. When it comes to driving business, how customers feel about a brand has 1.5 times more impact than how they think.
The most common concept is simple: People do business with a company and brand they like, know, and trust. Brands are a popular proxy for trust. If customers trust that a specific brand produces quality products or delivers exceptional services, the brand has likely passed the basic trust test.
Whether you own an eCommerce store, an affiliate niche site, or a lead generation site, trust is vital to making sales and increasing conversions.
In this post, we'll share our top sure-fire tips on how to gain customers' trust online while maximizing conversion rates.
Read on to learn more.
Create Your
Social Inbox Now
Manage all social media customer support inquiries in a unified inbox.
What Is Customer Trust and Why Is It Important?
Customer trust is nothing but the faith a customer has in a company or business. It displays confidence in a company's commitment to delivering on its promises and doing what's suitable for the customer.
Customer trust is a consumer's faith in a company and is vital to forming and fostering long-term relationships with the primary audience. After all, it empowers you to deliver better experiences, increase loyalty, and retain more customers.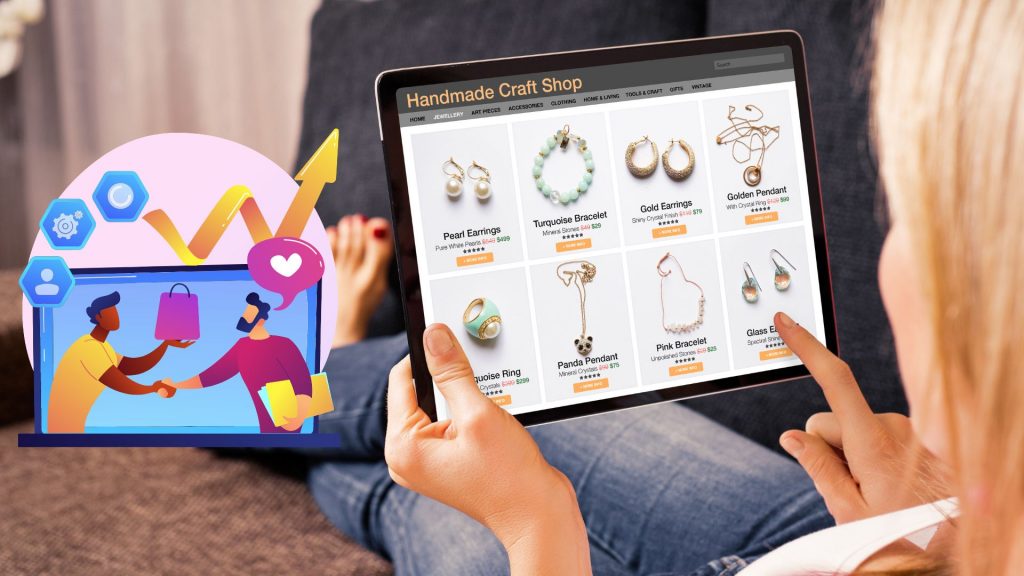 Provide Personalized Experiences
Customer trust is vital for personalization. It is a must-have expectation of today's consumers. Because you simply cannot offer a truly tailored customer experience unless you have access to customer data, this can only be collected if your customers trust you. Still, once you obtain that information, you must protect it. The relationship is pretty much over if a company misuses, shares, or sells a customer's data. It requires a lot of effort and time to regain customers' trust.
Foster Loyalty
Customer trust goes marches hand-in-hand with brand loyalty and brand advocacy. If customers believe your company is continually improving and striving to provide the best experience possible, they will act as champions for your brand, products, or services. Apart from their continued business with you, they will also spread praising word-of-mouth reviews and will serve as your go-to customers for the positive feedback.
Create Connections
Customer trust is worth developing because it leads to deeper connections, which customers want. Today the buyers no longer see brand loyalty to make repeat purchases from one company—they now seek more meaningful relationships with their favorite businesses.
In fact, Forty-one percent of customers believe "brand loyalty" means having an emotional connection to the brand.
Tips & Tricks for Gaining Customer Trust Online
Here's a closer look at the top tips on how online businesses can build customer trust and drive sales.
Maintain Transparency
Transparency is the key element in maintaining customer trust. It requires being open and honest so that customers can understand your company's actions. Transparency can include:
· Publishing thorough details about your products
· Showing behind the scenes how your company operates
· Timely responding to all the customer feedback and complaints
· Featuring stories from company employees
Maintaining transparency with your customers can display the company as honest to your customers, which can further strengthen customer trust. You can also give them a deep insight into the backend operations of your company to make them feel more engaged.
Building Customer Relationships Through Content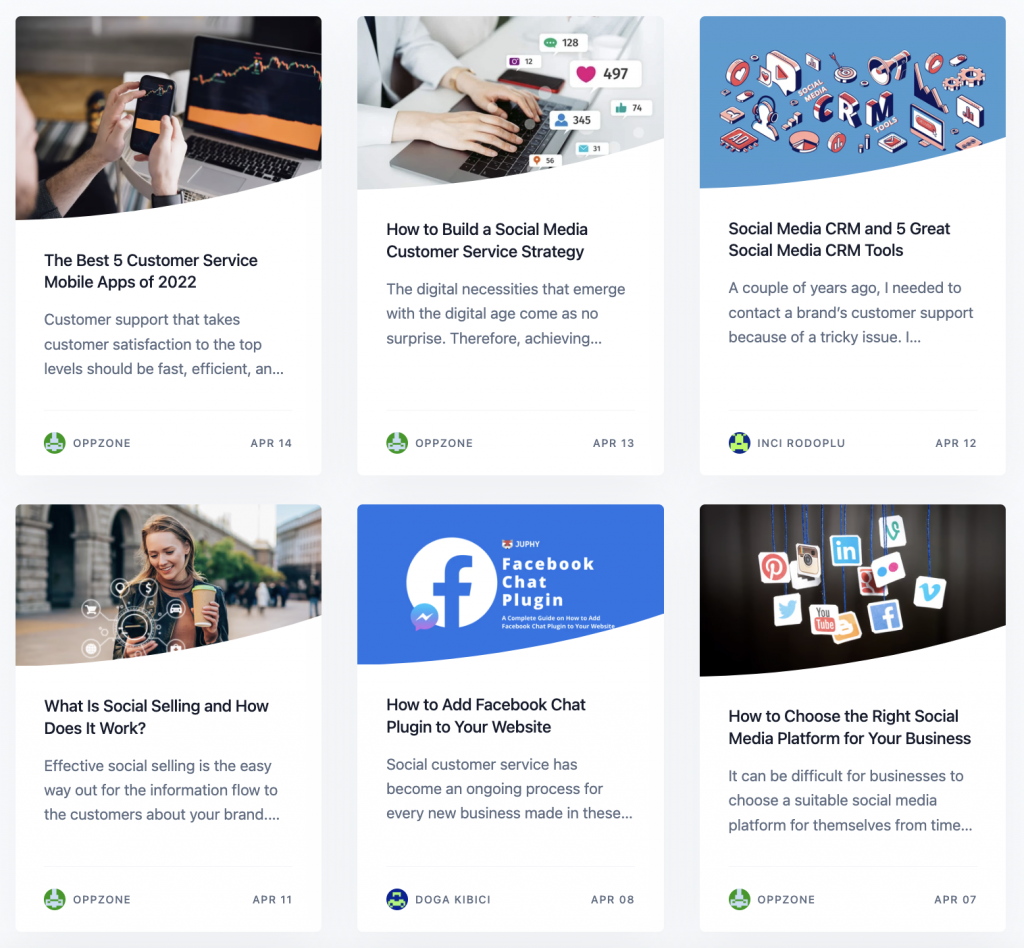 Just as you are reading an article on Juphy Blog, content is a powerful medium to connect with existing and even new customers who have no idea about your business. Content gives you a chance to gradually introduce yourself to them without being too pushy.
Blogging regularly can demonstrate that you're imbued in your business, industry, and customer problems, which is always an exemplary sign for creating a positive impact and winning consumers' trust.
Sharing stories and content by developing a distinct and right brand voice can also help consumers become more familiar with your brand. A brand voice will help customers understand your brand and help people feel like they know and can trust you.
Content marketing is also a great way to display your expertise. If consumers believe that you know your stuff as the store's owner, they'll believe in the quality of the services or products you sell.
For example, Casper, a mattress company, uses their blog to demonstrate that they know how to get a good night's rest. (Image below)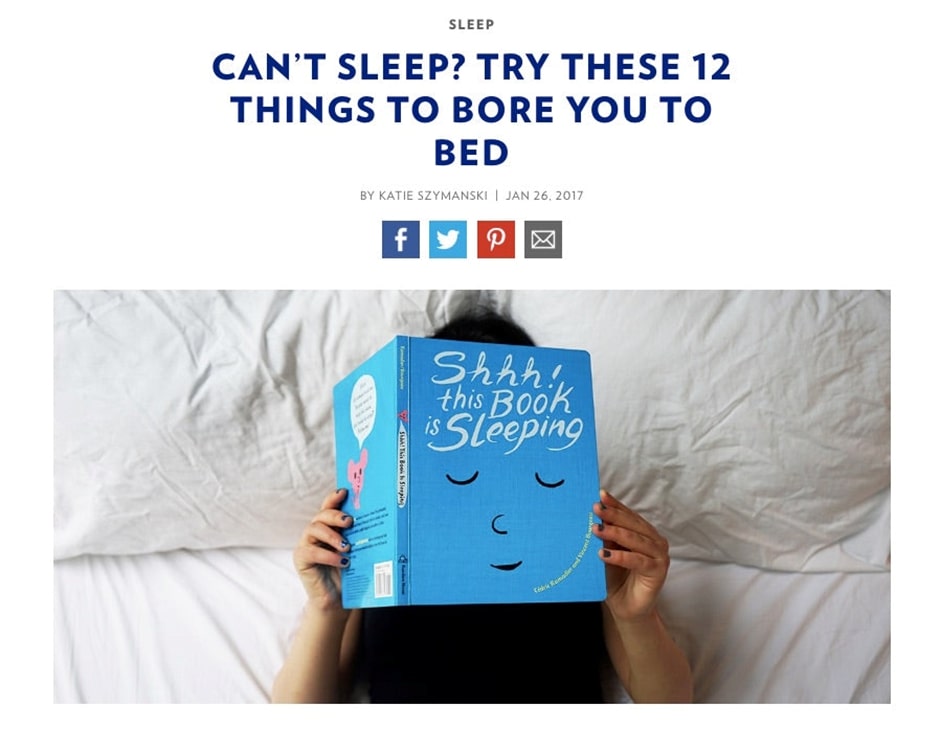 What do landlords, employers, and consumers have in common? They all demand references and run background checks to determine if the people or a company they're dealing with are trustworthy. Fair enough!
Online reviews often help customers build a solid and immediate impression of a company's product/services and customer service credentials.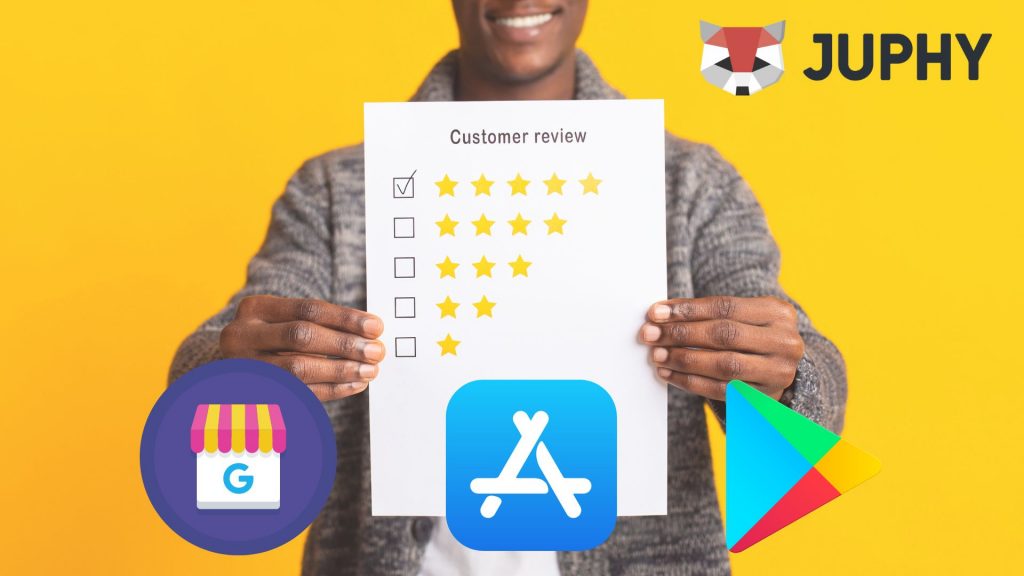 You can integrate your Google My Business, Google Playstore, and Apple Store accounts with Juphy to monitor and manage your reviews most efficiently. Click here to start your 7-day free trial.
Reviews are a massive part of customers' decision-making processes and purchase journeys. On average, customers tend to read ten reviews before they trust a company or make a purchase.
Leverage the power of reviews and recommendations by prominently displaying unedited positive reviews and feedback on your website and social media channels. Be sure to respond to each and every review (even the negative ones, for that matter!) timely and professionally to create a healthy reservoir of trust.
While there are countless other channels for reviews, Google My Business is one of the fastest-growing review sites. It offers the bonus of better local rankings for high-scoring businesses.
Give a shout-out about your success to secure the social proof you require to persuade new and existing customers to win customers' trust. For example, UK-based swim school Puddle Ducks did this brilliantly on their testimonial page with glowing quotes from their customers.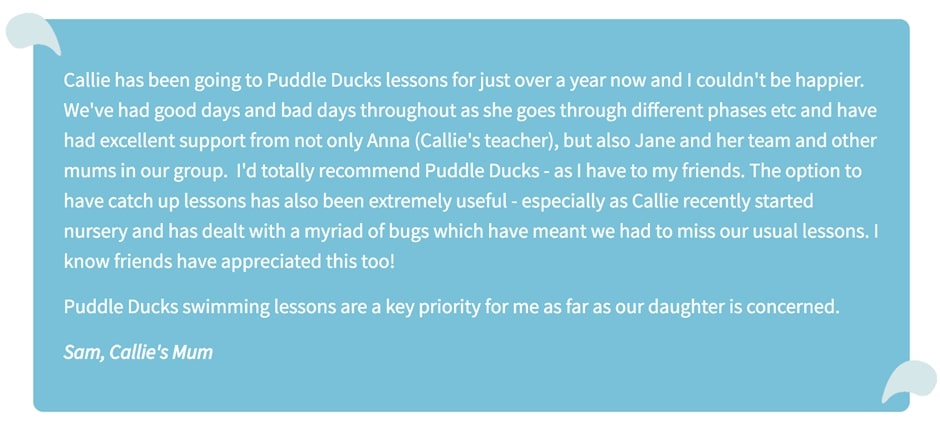 You can ask for reviews from customers and also include certified reviews pulled directly from Google and Facebook for an added emphasis. As Juphy, we also have a dedicated page for our customer reviews; just click on the image below.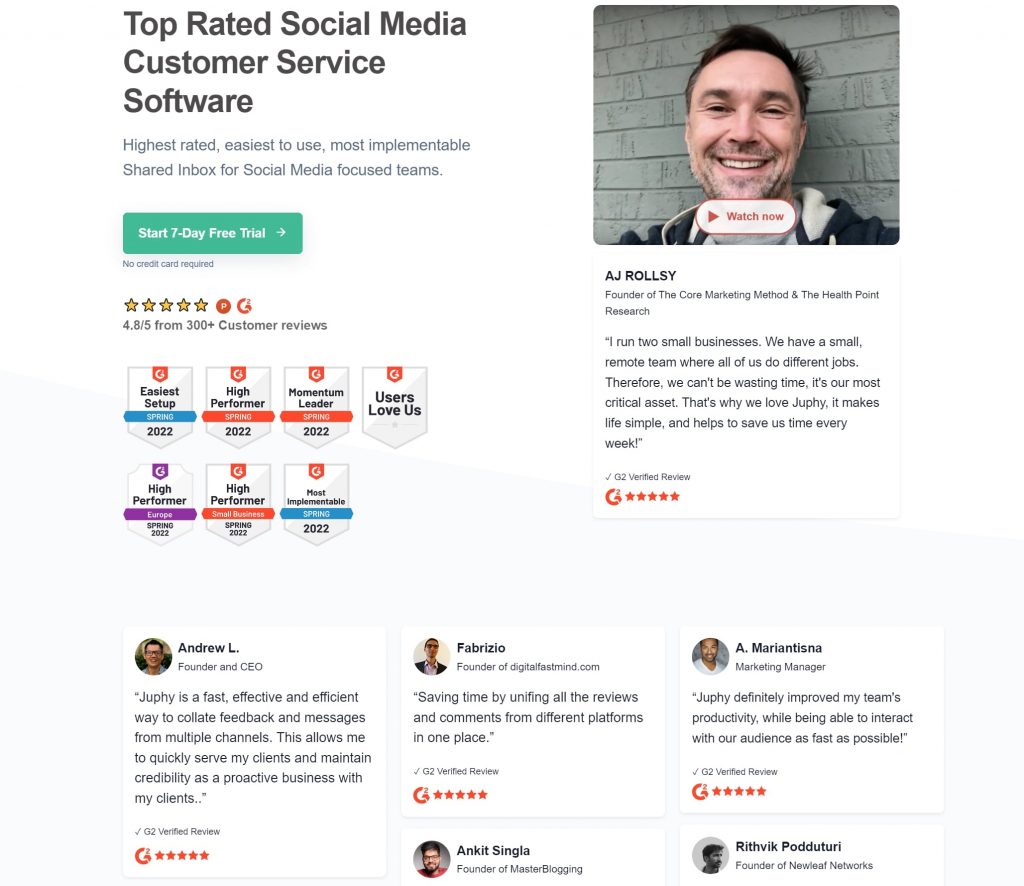 Be Reachable
A business's contact page is the primary touchpoint of customer interaction with the company. For that reason, it's one of the most visited pages on any website.
Improving the conversion rate of your business contact page and providing a human touch to conversations can benefit your business by converting ponderous purchasers into avid brand promoters.
Provide as many connection avenues as possible, such as phone numbers, live chat, email addresses, and social media handles.
It costs nothing to use dry humor and humility, too, as Choice Screening prove does it. (Image below)

If you can bring the human touch and empathy to your communications, your customers will remember you for all the right reasons.
Offer Outstanding Customer Service
Did you know that 100% of customer contacts represent an opportunity to 'wow' your customers? Yes! Trust us!
Your company's customer service greatly affects customer trust and loyalty. That is why it is crucial to hire dedicated support staff and train them to a high standard.
The aim is to provide an efficient, professional, and personable experience for your customers and beyond outstanding customer service. If your customers feel that your team has gone the extra mile to help them, they will most likely come back and recommend your brand to their friends and family.
Juphy – Award-Winning Way to Manage Social Media Customer Service
Juphy is an award-winning collaborative social inbox tool that helps your business reply to all sorts of engagements on social media on a single dashboard without switching between different social media platforms.
With Juphy, you can concentrate your incoming messages in one unified social media inbox and reply to the frequent messages with our canned response feature. It's transparent for your customers and comes with dedicated features for a delightful experience.
It has been awarded as the "Most Implementable" and "Easiest to Use" Software amongst 90 Social Customer Service tools. It even surpassed the market leaders like Freshdesk and Zendesk in the mentioned category.
Besides being a social media management tool, Juphy significantly focuses on social media customer support. It empowers you to handle all types of user engagement, such as reviews, tweets, email, direct messages, chat, mentions, and comments on all public platforms.
Juphy is one of the market's most detailed social media engagement tools. It is particularly useful for businesses trying to increase their engagement on public platforms.
Juphy has integrations with:
Social media platforms:
Facebook: Pages Comments, Facebook Messenger, Ads Comments
Instagram: Comments, Direct Messages, Ads Comments
Twitter: Tweets and Mentions
LinkedIn Business: Comments
YouTube: Comments
Additional Platforms:
Google My Business: Reviews
Whatsapp (Twilio): Text Messages
App Store: Reviews
Google Play: Reviews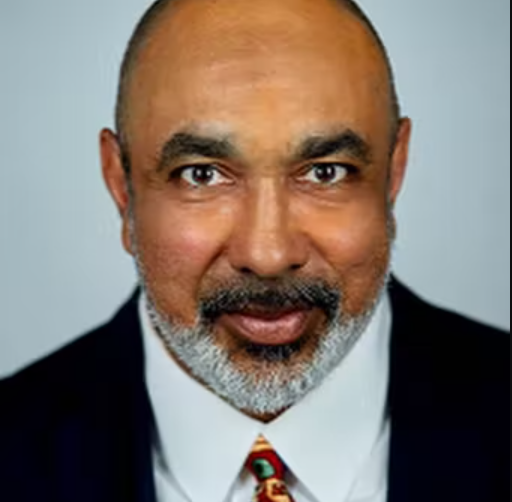 Shoan Snoday
Digital Marketer
"WE have been using Juphy and it has helped us 2x our company with one word … ENGAGEMENT! We were really struggling following up with all of our social media comments and interactions and Juphy helped us connect and engage with every single prospect AND helped us convert 33% more leads in our first week using Juphy. Our customer service department is happier."
✓ Product Hunt Verified Review
Final Words
Trust is a requisite for any purchase, especially when consumers today have countless options at the click of a mouse. Social media has become essential for brands to communicate with customers or leads. Moreover, customers are getting used to contacting companies straight from their social media handles. That's why it's now vital for brands to offer the best social media customer service.
Knowing how to build consumer trust is critical in today's business surroundings. Companies that fail to put in the hard yards to win customers' trust are limiting their business potential.
Going the extra mile for your customers and using the most trusted software like Juphy to provide exceptional social media customer support and gain customers' trust at all times is the best route for building a loyal customer base.
Create Your
Social Inbox Now
Manage all social media customer support inquiries in a unified inbox.
Related Article – How to Boost Customer Retention Using Social Media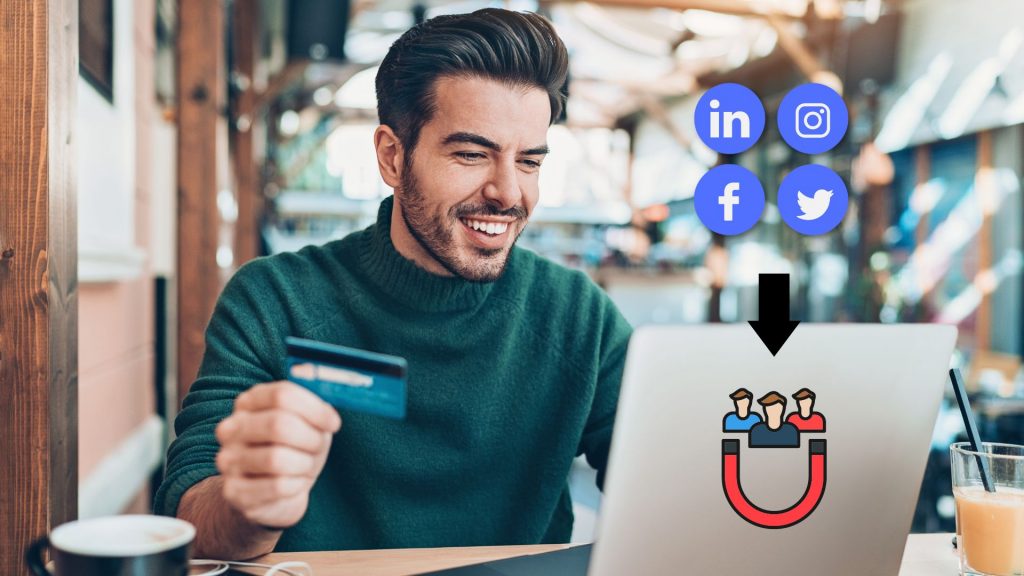 Did you know you can improve customer retention just by using social media efficiently? In this article, you will learn all the details. Read now!